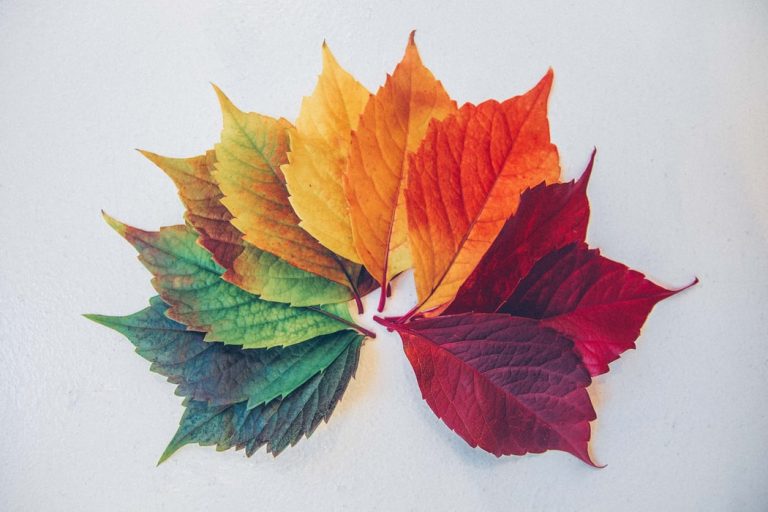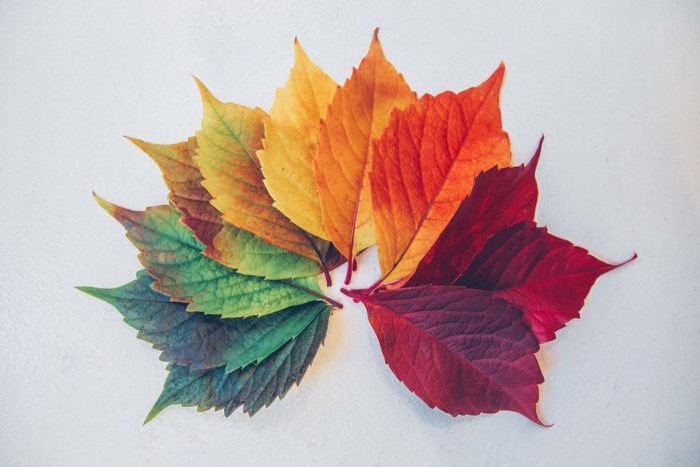 Part 1: Which Season Should I Get Married In?
With pros to every season, it can be a tough decision when choosing between them at the beginning of your wedding planning.
How will the venue will look? Which flowers are in season? Is it suitable weather for your guests? Will you need sleeves on your wedding gown?
So many choices!
To kick it off, here's part 1 of our season plus points, featuring Winter and Spring.
Enjoy
❤️
Winter Weddings and Fairytale Settings
Is there any season more magical than winter?
Think The Snowman, Disney's Frozen, Stardust and the man himself, Father Christmas.
This season is known for many a fairytale moment. Picture Princesses' waltzing down grand staircases and twirling down the aisle into their lovers arms. Well, now that princess could be you!
Winter is also the coziest time of year – bring on the big hearty fireplaces, long wooden tables, tall white candles and dark green foliage. It's such a welcoming, warming and loving atmosphere.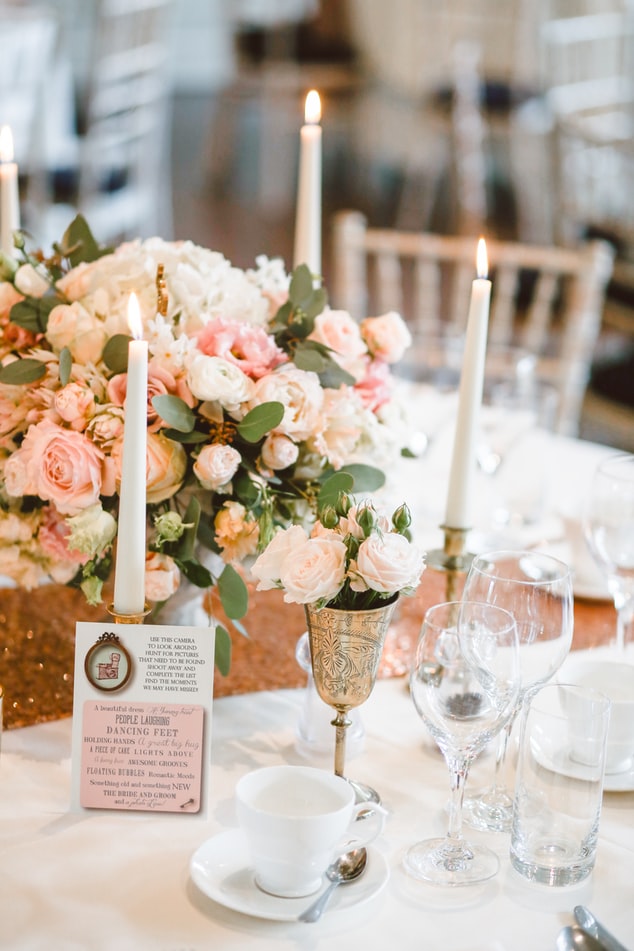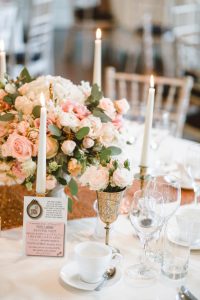 If 'cosy' is your middle name, then 'winter' is your wedding game.
One of the biggest reasons to choose this season however, is hands down the dramatic winter wedding bride style.
It's time to whip out the lacey sleeves and long sparkly earrings for the big day! We would say that the designer perfect for this style and season would be Milla Nova with their jaw dropping gowns that make any bride look like royalty.
The beautifully long tapered trains combined with long sleeves give theses dresses a sophisticated yet contemporary ethereal look, allowing you to channel your inner cinderella way before the clock strikes twelve.
All eyes are on you, so try not to lose any glass slippers.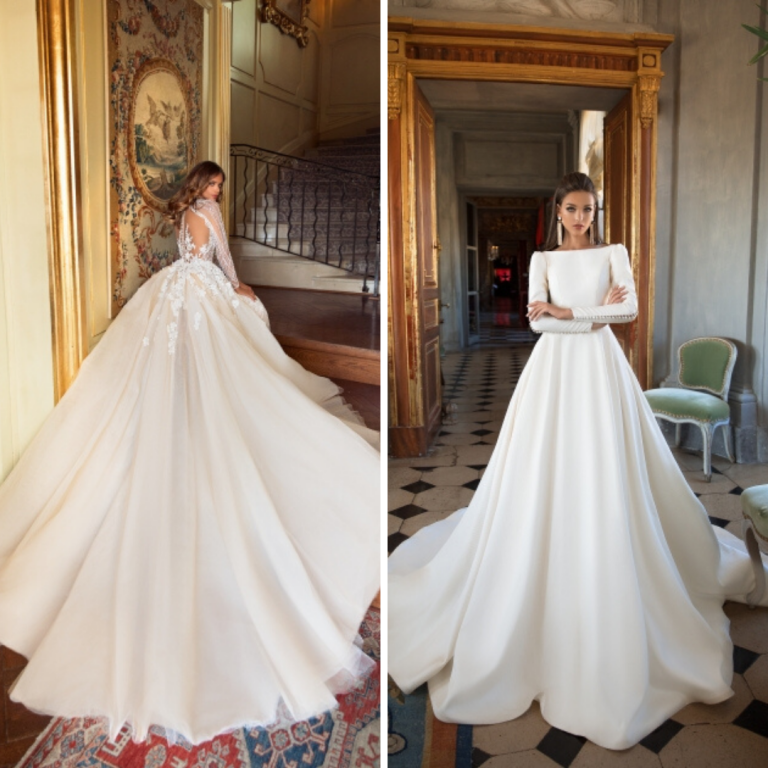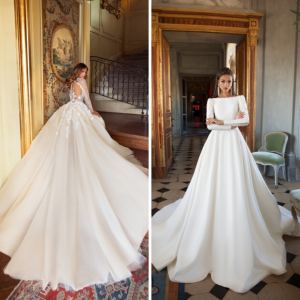 Second of all, there's an ingenious point to be made.
It's actually much cheaper to marry during winter, so if you're on a budget then this season is singing your name.
Why is it cheaper you ask? Simple, the majority of weddings tend to take place from summer to autumn, so wedding venues and suppliers have been known to lower their prices during the quieter months.There's way more availability too, so go ahead and take advantage!
This is fabulous if a big wedding is what you've dreamed of, but you're worried about the price getting a little too high.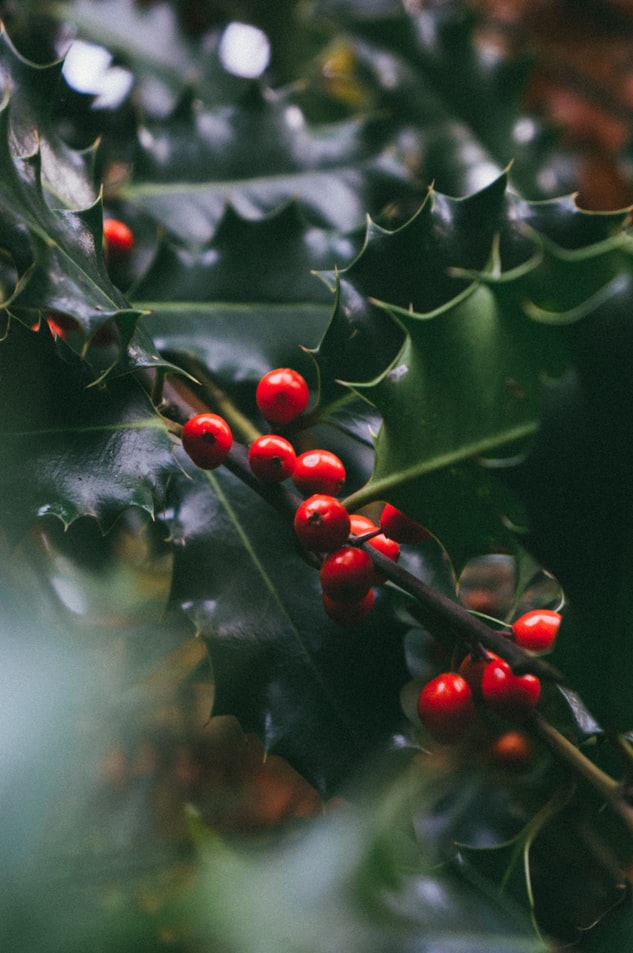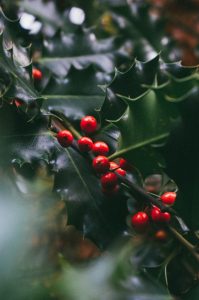 The last point to be made is one that will win your heart over for sure. Just think about the food!
Let's be honest, yes, salads are healthy and green and great, but who doesn't love a warm rich wintery dish? The aroma of freshly baked bread for a creamy velvety soup makes you feel all warm inside and this is just a simple wedding starter.
In the evening, picture your guests sitting back laughing and dancing the night away whilst sipping on the finest of mulled wines. A great drink for socialising and getting into the celebratory spirit!
Now come on, the thought of that really does warm the taste palette.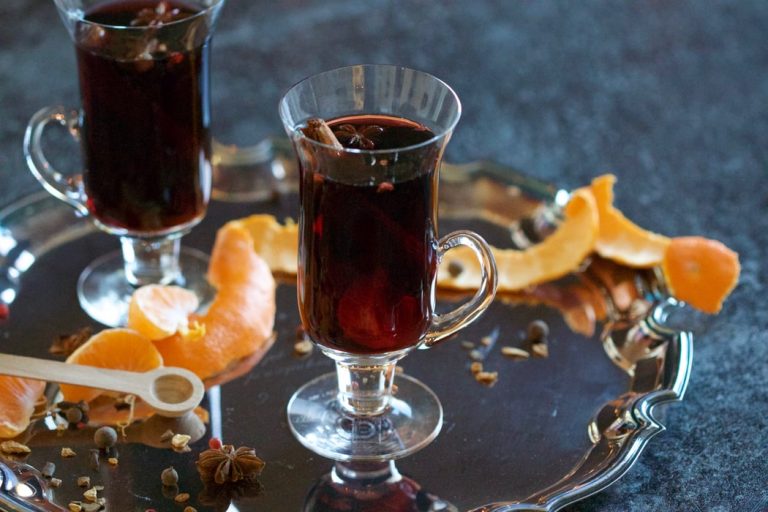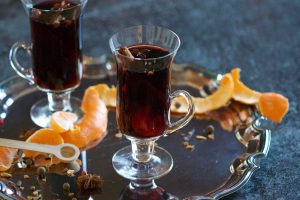 Spring time wedding chimes
Spring…that time of year where we come out of hibernation, embrace a deep breath of fresh air and feel revitalised. What better way to celebrate this than a wedding?
It's a season for throwing out the old and welcoming in all things new! Your big day is also a very big step into a new chapter of your life, therefore the spring season would be the ideal way to commemorate this admirable moment.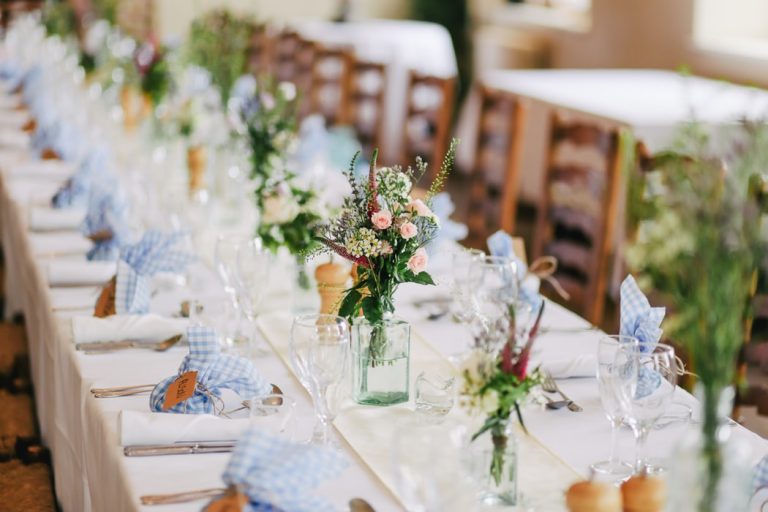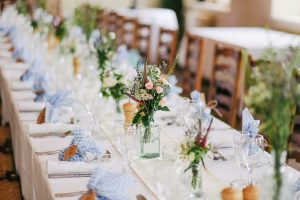 Boho. Now this is where you can have fun with the spring season and embrace your wild side… we all have one.
TWC love the idea of embracing pastels for this season, especially for your bridesmaids. It's a creative way of adding a splash of colour to your big day and straying away from traditional neutrals. These colourful ensembles can be paired with a white bouquet to avoid a colour clashing.
We love Ghost bridesmaid dresses which are comprised of the prettiest pastels you ever did see, and spoiler alert… they're currently on sale for £85 at our South Kensington SALE showroom!
For the bride, we love the thought of a Costarellos gown for this nature embracing season, with their floral embroided puff sleeved gown which is effortlessly flowy and the lightweight.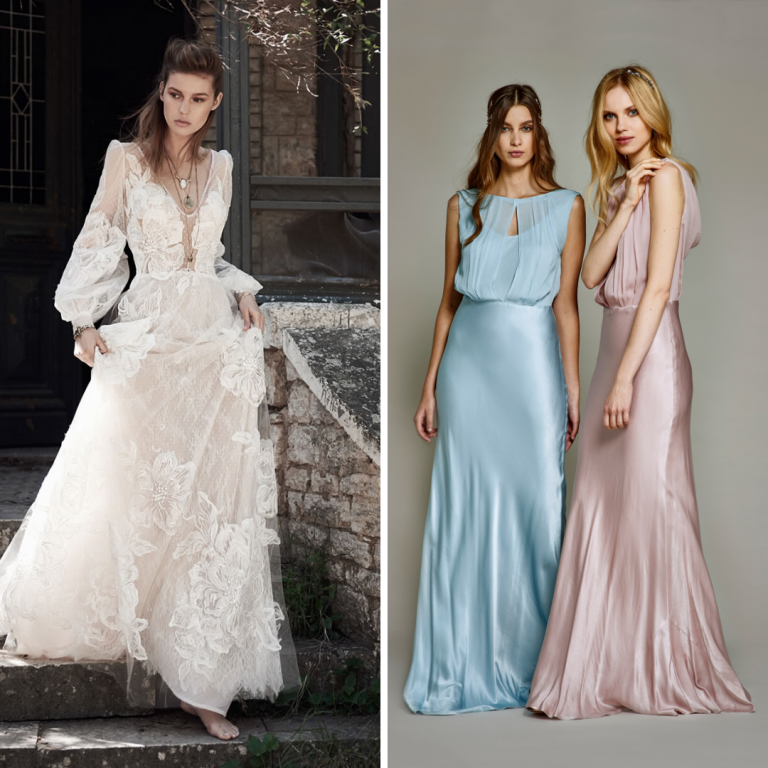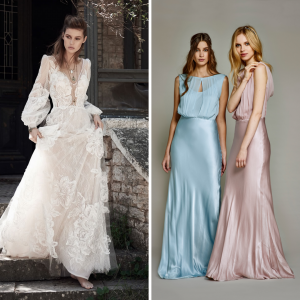 This brings us to our second point. The flowers! Oh spring knows how to create a beautiful bloom and we L O V E it. You can really work this floral theme if you're thinking about an outdoors style, too. Gardens have blossomed by late spring and will make for picturesque scenery. A super cute way to include a spring colour palette would be a fab floral arch for exchanging I Do's!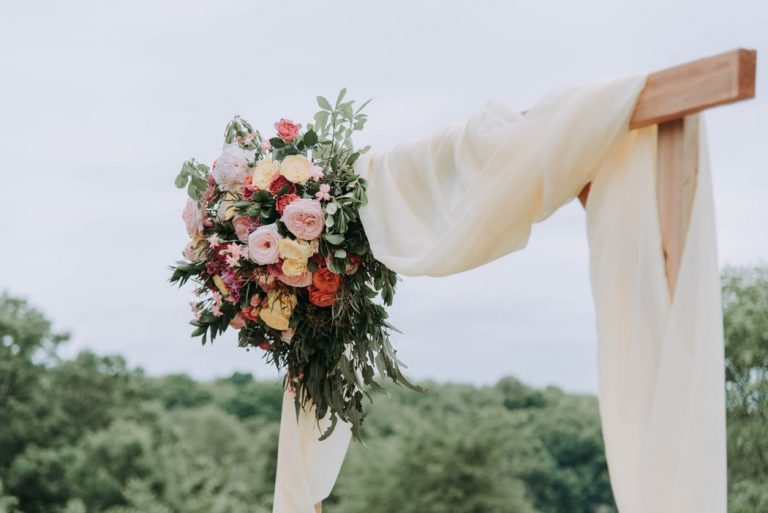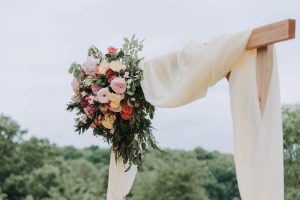 Pops of baby pink, pastel blue and yellow are great to incorporate in with traditional white flowers, in fact, why not have your bouquet match the arch, too?
If flowers aren't your thing then maybe try decor comprised of greenery, which can sometimes be more effective against a stark white gown.
Outside? Try hanging lanterns from big leafy trees to make for a romantic setting and for a dash of spring feeling, opt for colourful lanterns!
Inside? Work on weaving thick wreath like foliage around cute little tea lights along the tables for another and tie pastel coloured bows around the backs of dining chairs for lots of little pops of colour.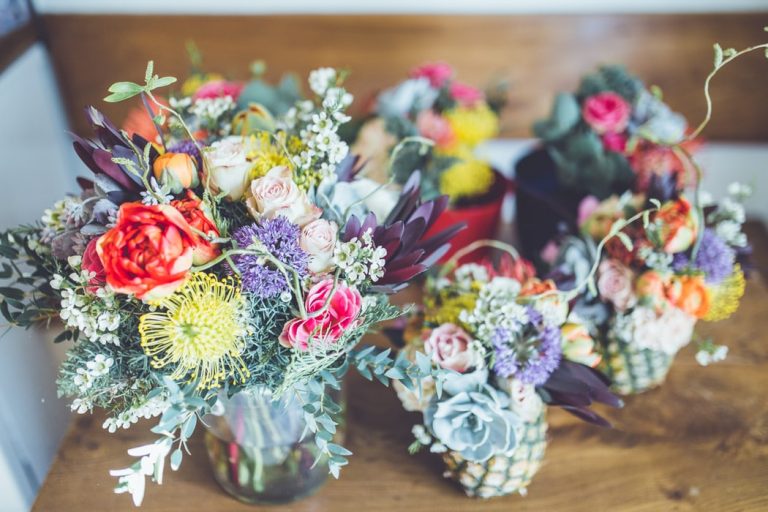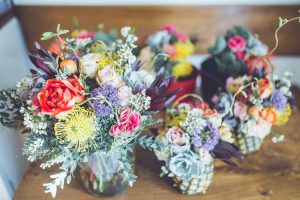 Finally, it's good timing.
Which means it will most likely work well for your guests. You've missed the new year period where everybody spent too much money on Prosecco, and it'll be just before the summer period where beer gardens swallow bank accounts whole.
TWC say job well done! Also, a few bank holidays fall in the spring months, so make the most of those, too. Guests won't have to book days of work to attend which is a huge perk and everybody loves a bank holiday celebration so it's a a win win!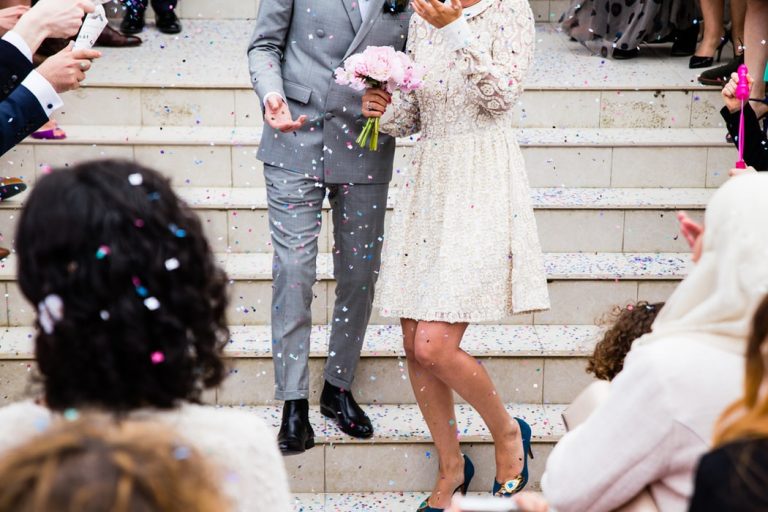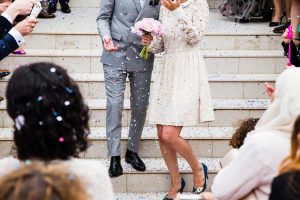 Overall, you'll have a ball
Either way, you'll enjoy your wedding season as much as we enjoy writing these headings.
You have to chose the season that works best for you and your partner. Complications such as weather, venues and what gown to wear can all be overcome, so don't get caught up pontificating over trivial negatives stopping you from choosing your ideal wedding season. Still not feeling convinced about winter and spring weddings? Keep your eyes peeled for part 2: summer and autumn!
Happy wedding planning!
❤️
Images:
Ghost
All other images taken from Unsplash