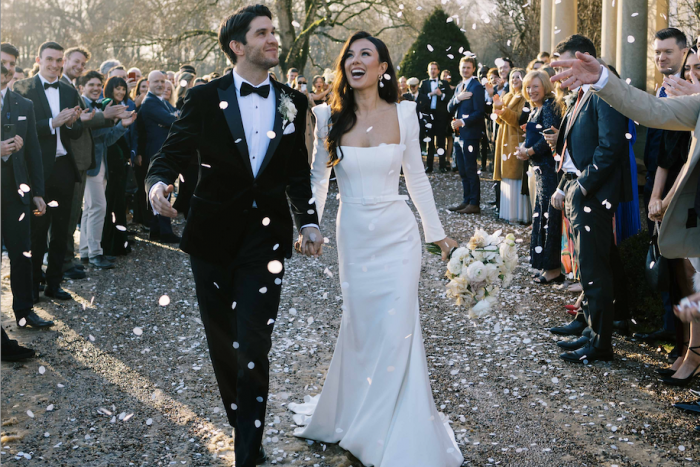 Glamorous Shropshire Wedding In Suzanne Neville Gown
❤️ The TWC Effect – Our brides, their way ❤️
Verity and Niall went from best of friends to husband and wife, the duo tied the knot in a gorgeously elegant ceremony that was followed by the wedding party of dreams! Join us here for a peek into their celebrations…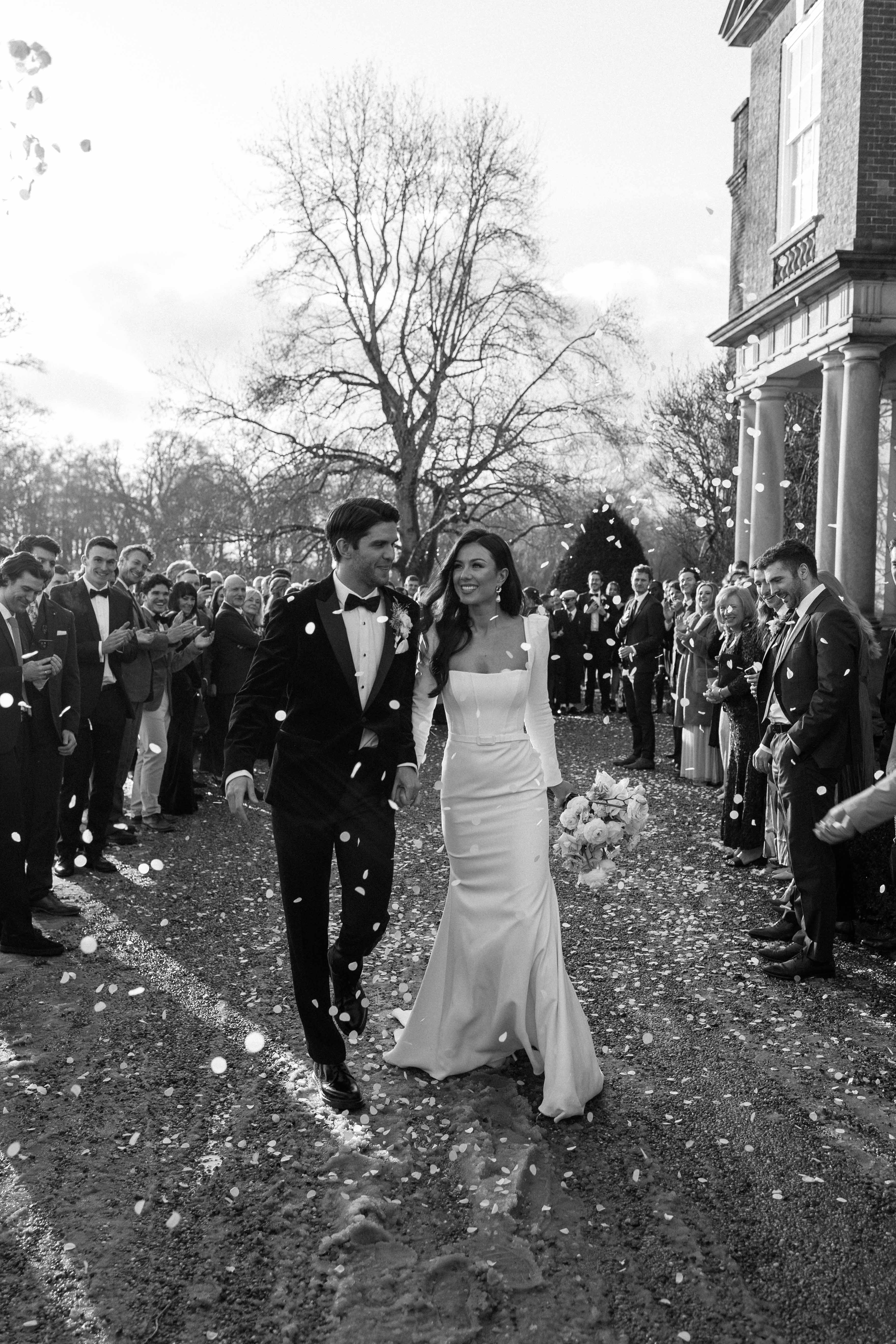 How did you meet?
We are both actors, and we met in our audition for Bristol Old Vic Theatre School in 2015. We were the two from our day that got into school and struck up a friendship from that day on!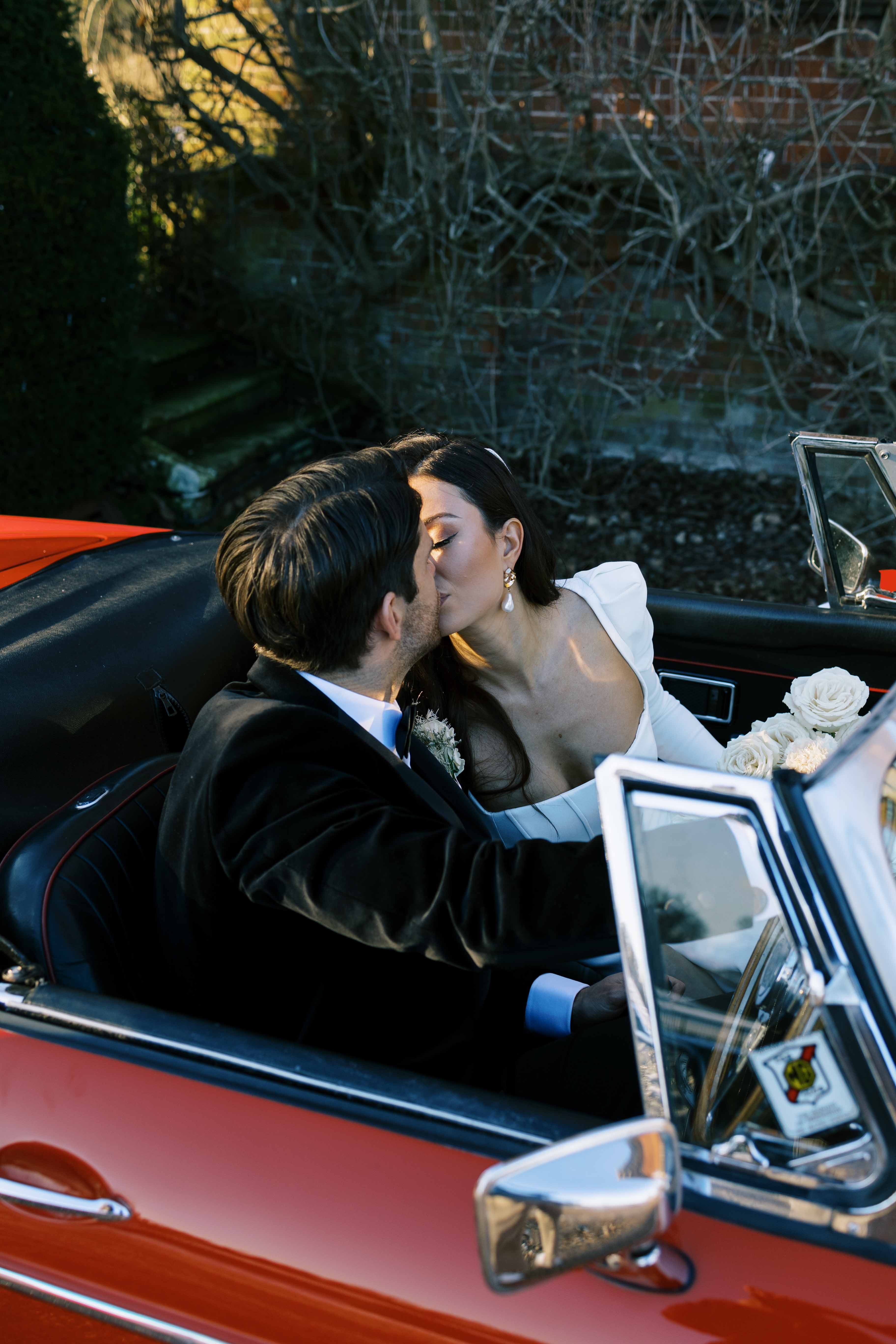 Was it love at first sight?
It was an instant connection, although I must admit we were both in other relationships. We became best friends and lived together for a year until the undeniable chemistry became too apparent, so we gave it a shot and here we are! But I definitely loved him from the moment I met him.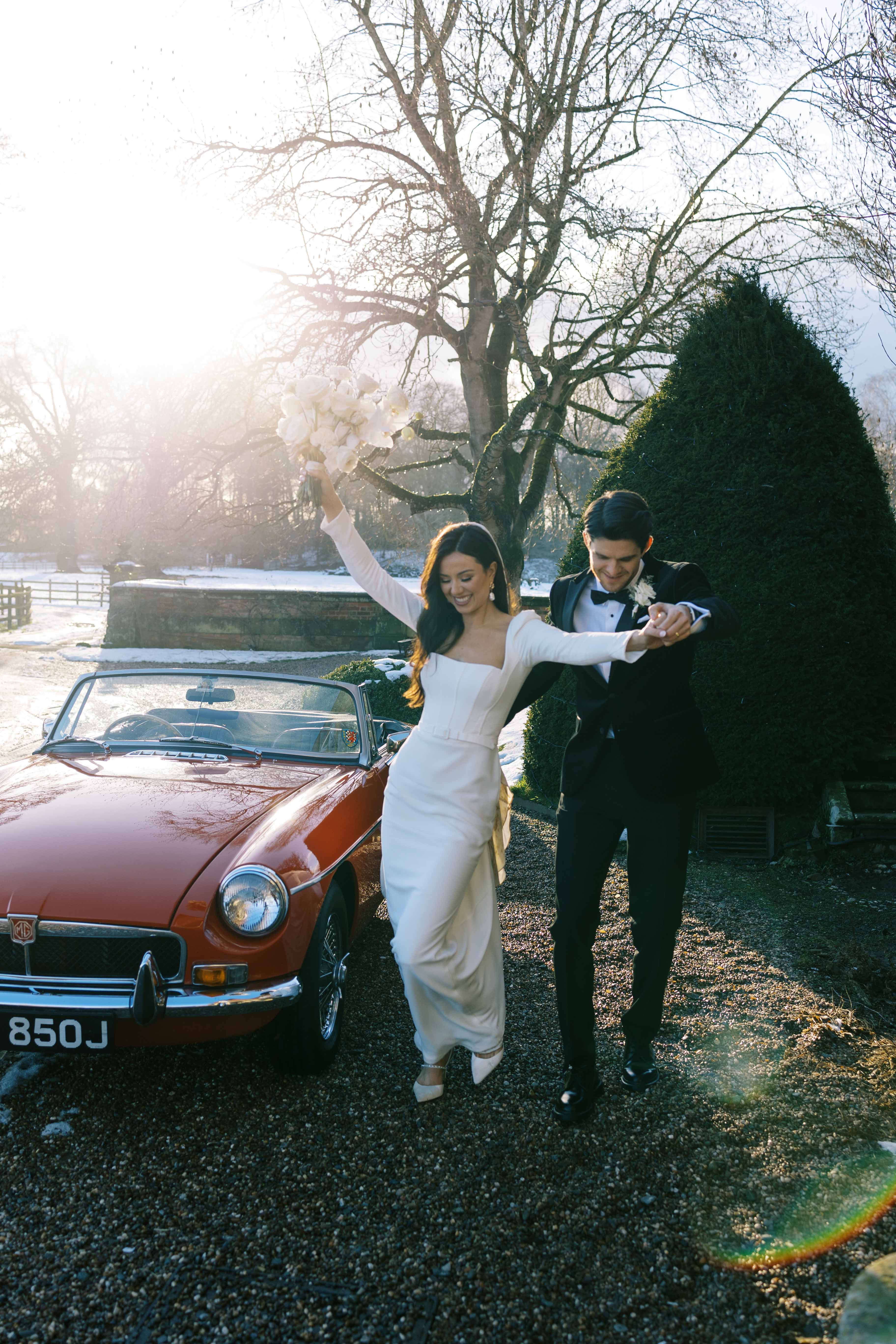 Who proposed and how? Lovely details, please!
Niall proposed after 5 years together! He hijacked his own 30th birthday which was themed 'back to the 90s'! We were dressed in the iconic Justin and Britney double denim look. I had put together a surprise birthday video for him, which we watched on a big screen at the party with all 80 guests.

He was somewhat distracted, then he got up at the end and started playing his own homemade video; clips of him and I from over the years that he'd put together to put to our favourite song. He then pulled me up in front of everyone and got down on one knee. No one knew apart from my parents so it was a total surprise – 30th birthday turned engagement party! It was a lot of fun.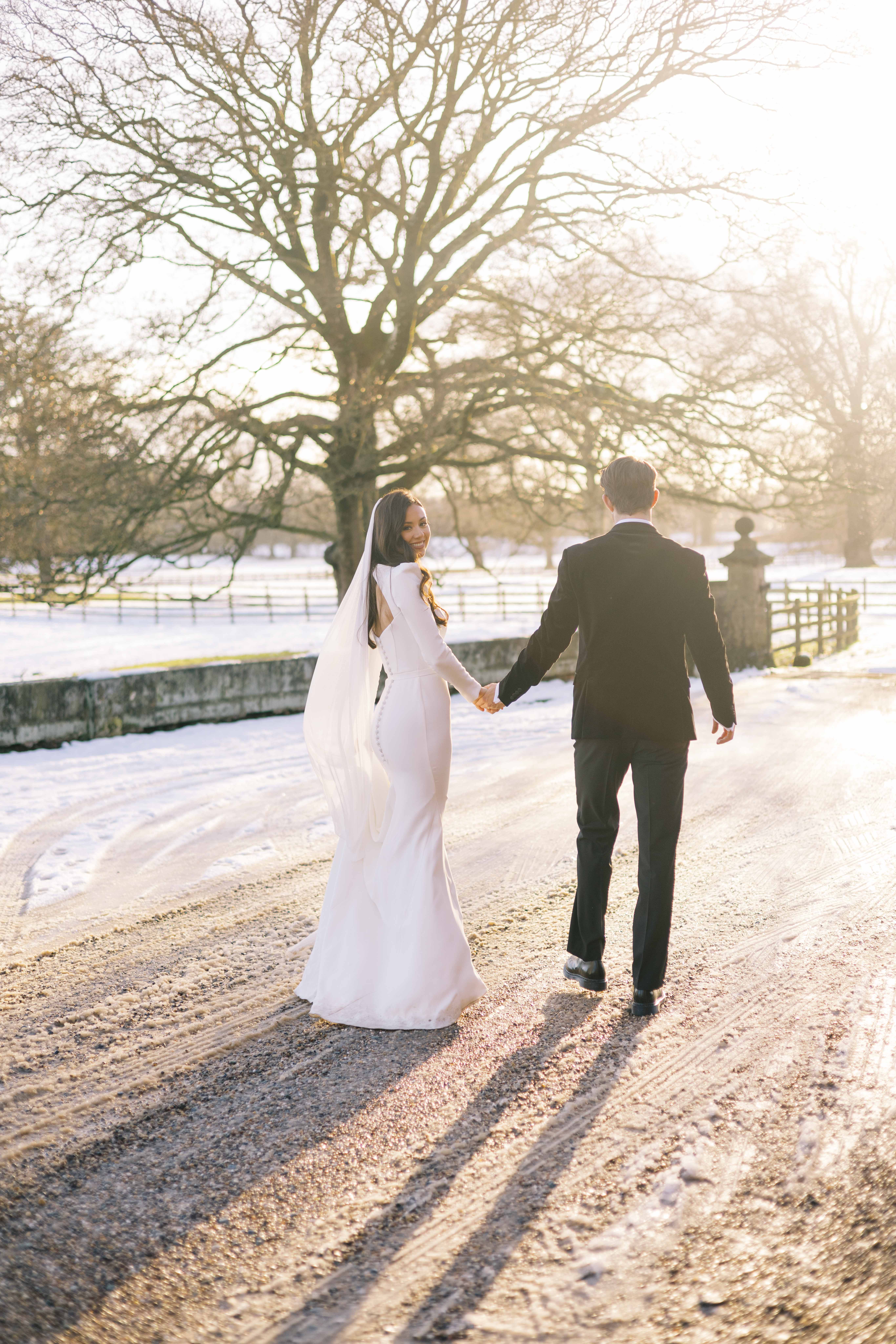 Did you have a theme for your wedding? How did it come about?
We tried to stay away from a theme as such, more an overall vibe. We just wanted our day to reflect us and our values, we are all about our family and friends so it was important that the day felt romantic, warm and filled to the brim with emotion.

Our venue was aesthetically stunning so we wanted to showcase its natural beauty by keeping the design minimal and classic, with elegance and modern touches. Flowers and stationary were kept quite neutral; whites, beiges and soft blush pinks, with the bridal parties in black to add some glamour and sophistication. So I guess you could say our theme was timeless glamour! We also got the most beautiful white snowy day so it just made everything that little more magical!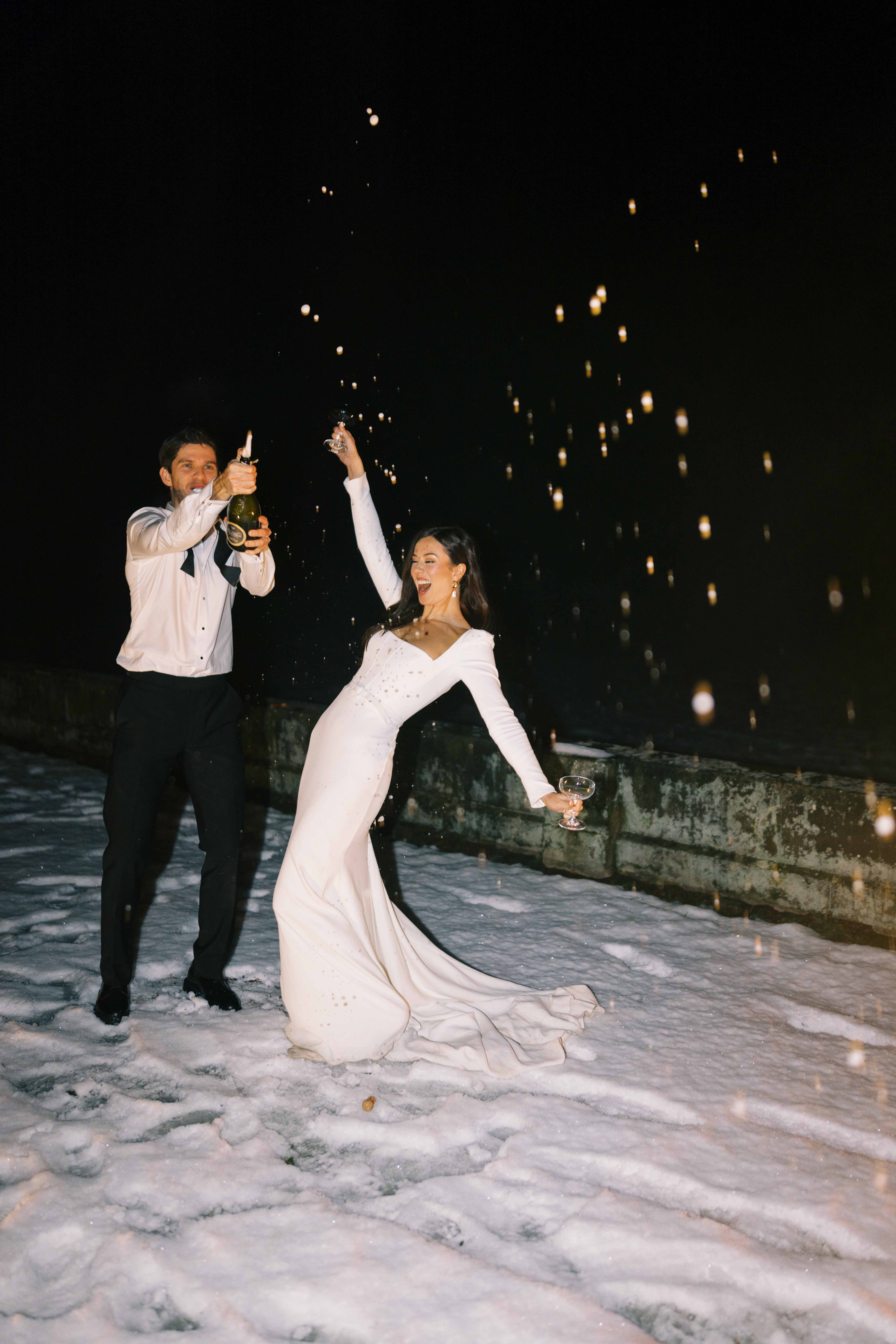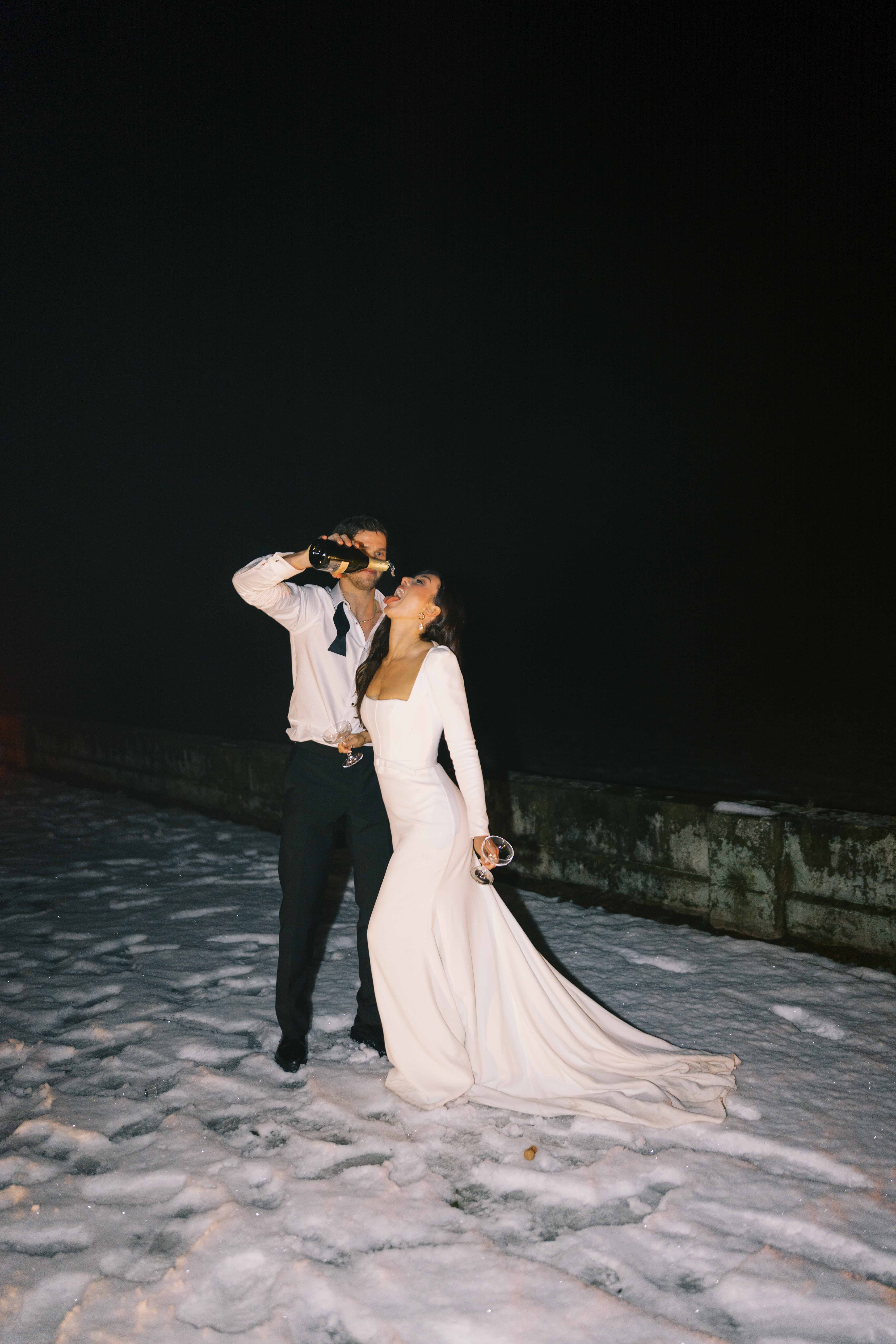 Location and how you found it?
Iscoyd Park in Shropshire. We had a list of criteria including large capacity, on site accommodation and late night party, but really we were just bawled over by the beauty of the venue. We drove up the long driveway to the house and our jaws hit the floor. And we were then greeted by the friendliest staff who made us feel like family. We knew instantly.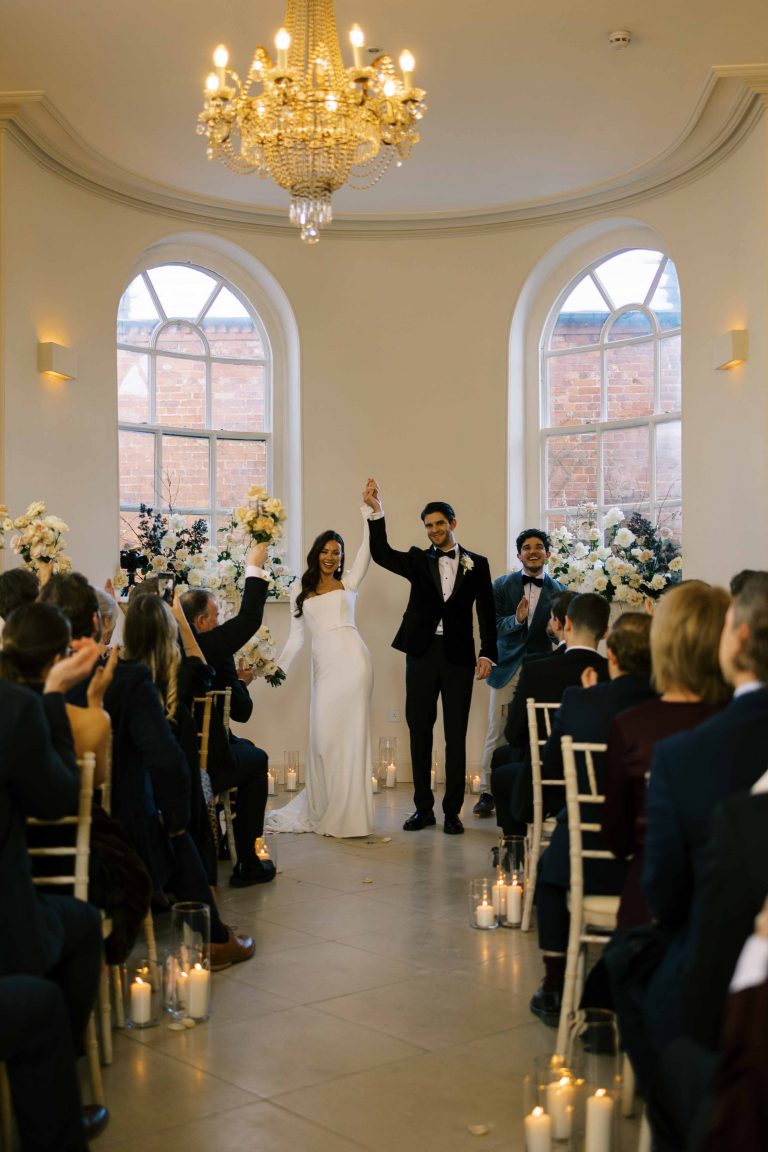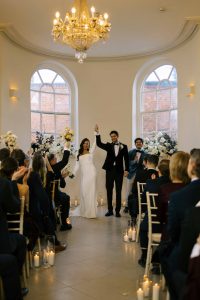 How did you find The Wedding Club? Tell us about that moment when you found and chose your dress – how did it make you feel when you put it on for the first time?
I came in with my mum and cousin after finding my dream dress online. I had seen it online and felt like I needed to try it on. It was the first dress I tried on in the store and I instantly felt like it was just made for me.

It's the strangest feeling but when they say you get that feeling, you really do. I went on to try on a few others to compare, and nothing came close. It was everything I dreamt of and more, probably one of the most exciting parts of the whole process.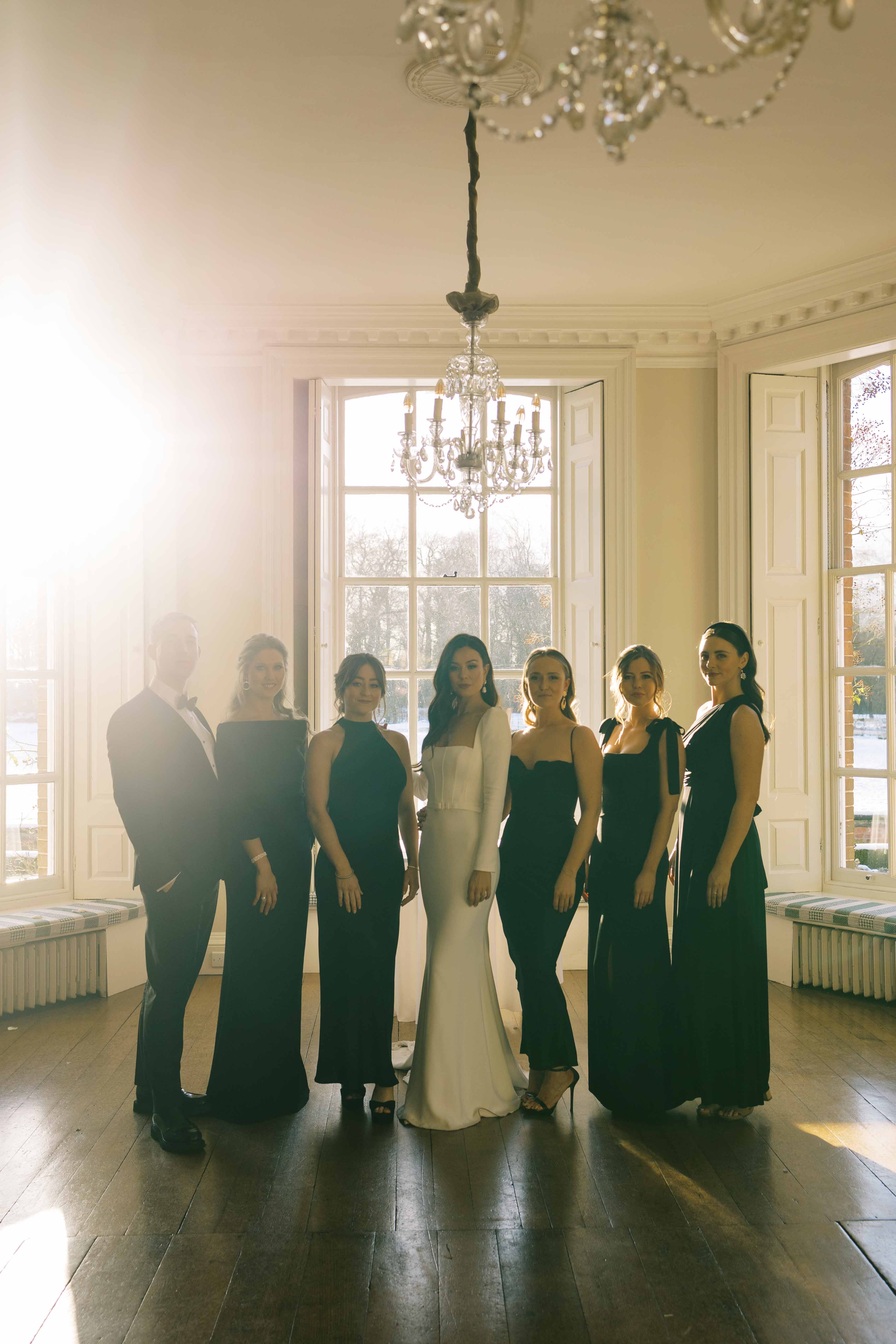 Which designer did you wear?
Suzanne Neville. I chose the Amber dress. Pure class and sophistication, whilst still being sexy and modern. It's structurally the most stunning dress and my god did I feel amazing in it. I've had a lot of people say it's the most beautiful wedding dress they've ever seen and I can totally buy that, it is an incredibly special gown.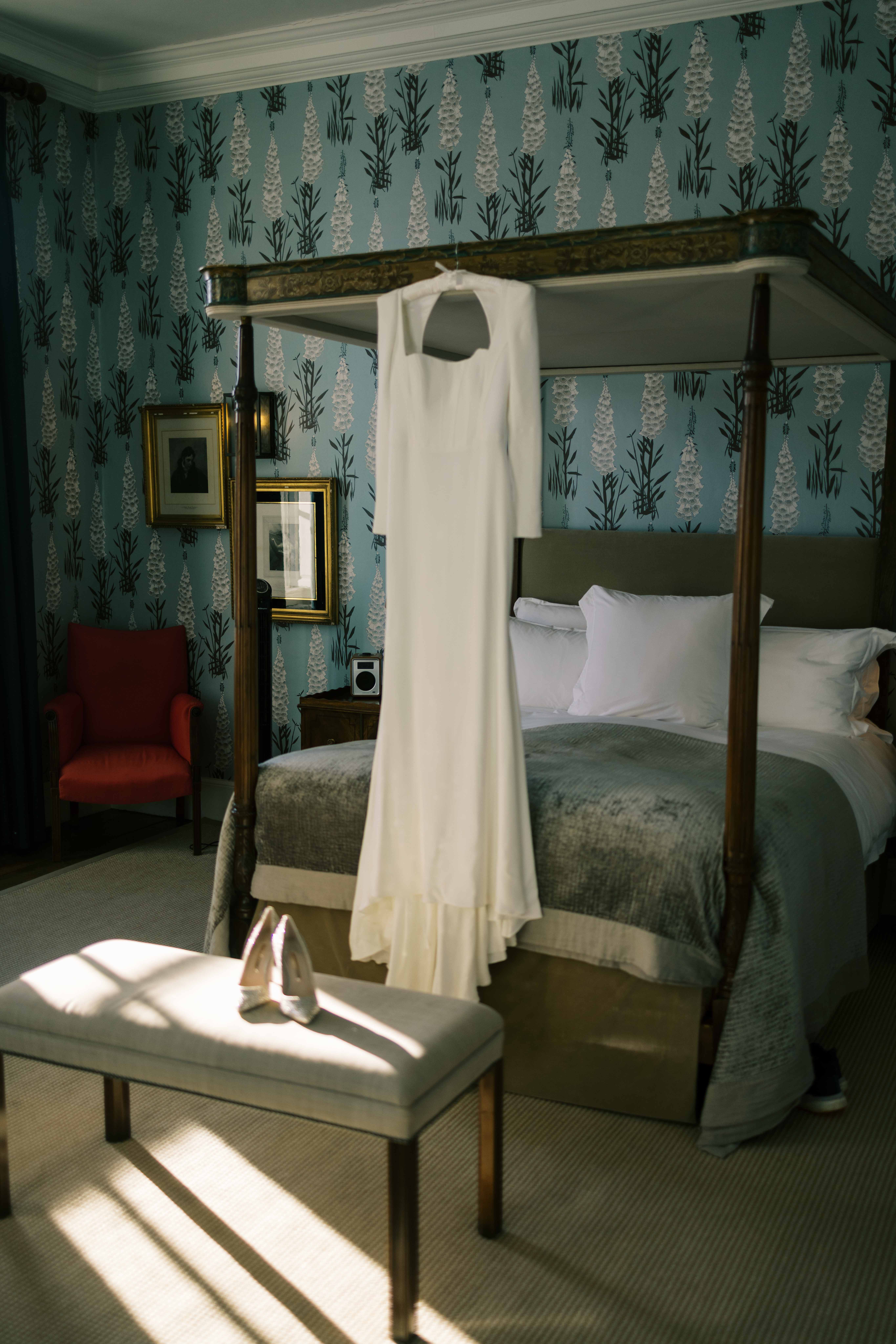 Where is the suit from? Why was it the perfect fit?
Niall bought his and his groomsmen tuxedos from Bogart Menswear in Belfast, where he is from. He knew he wanted to go super classy with a tux and he ended up going for a velvet blazer as the groom which was so gorgeous on him. He looked unreal!

He also splashed out on two variations of bow tie for him and the boys. A pre-made classic bow tie, and then an undone one for the evening! They swapped into them for the evening and they looked so chic!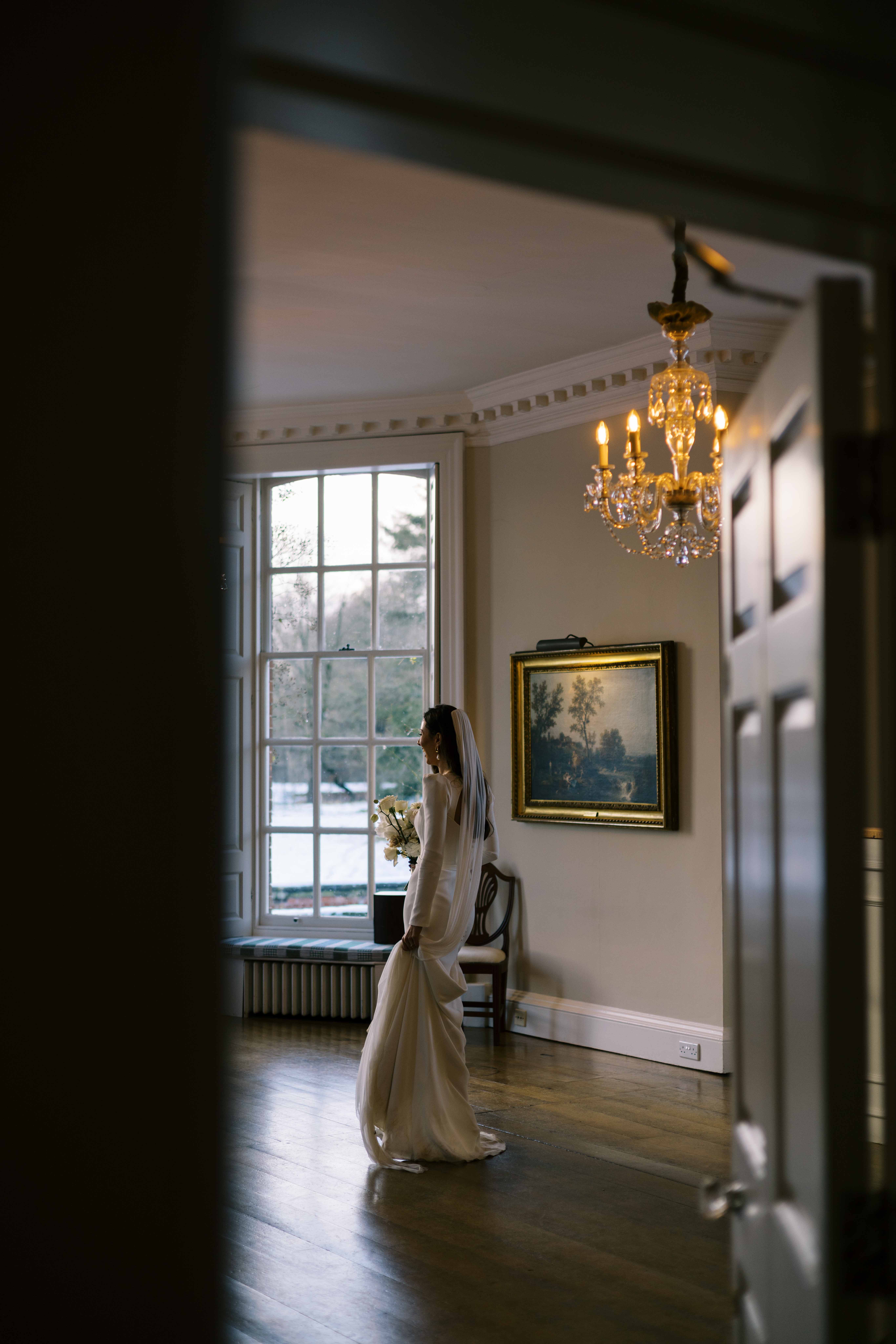 Did you have speeches? Who performed them?
We did, we started with the two dads before dinner. My dad sang a little song which was cute. We ate our meal, then had the Best Man and Groom's speeches, ending with my speech!

I'm not one to let just the men speak, so I really wanted to say a little something at the end. There's nothing quite like addressing a room full of your loved ones and talking about your love for one another – magic!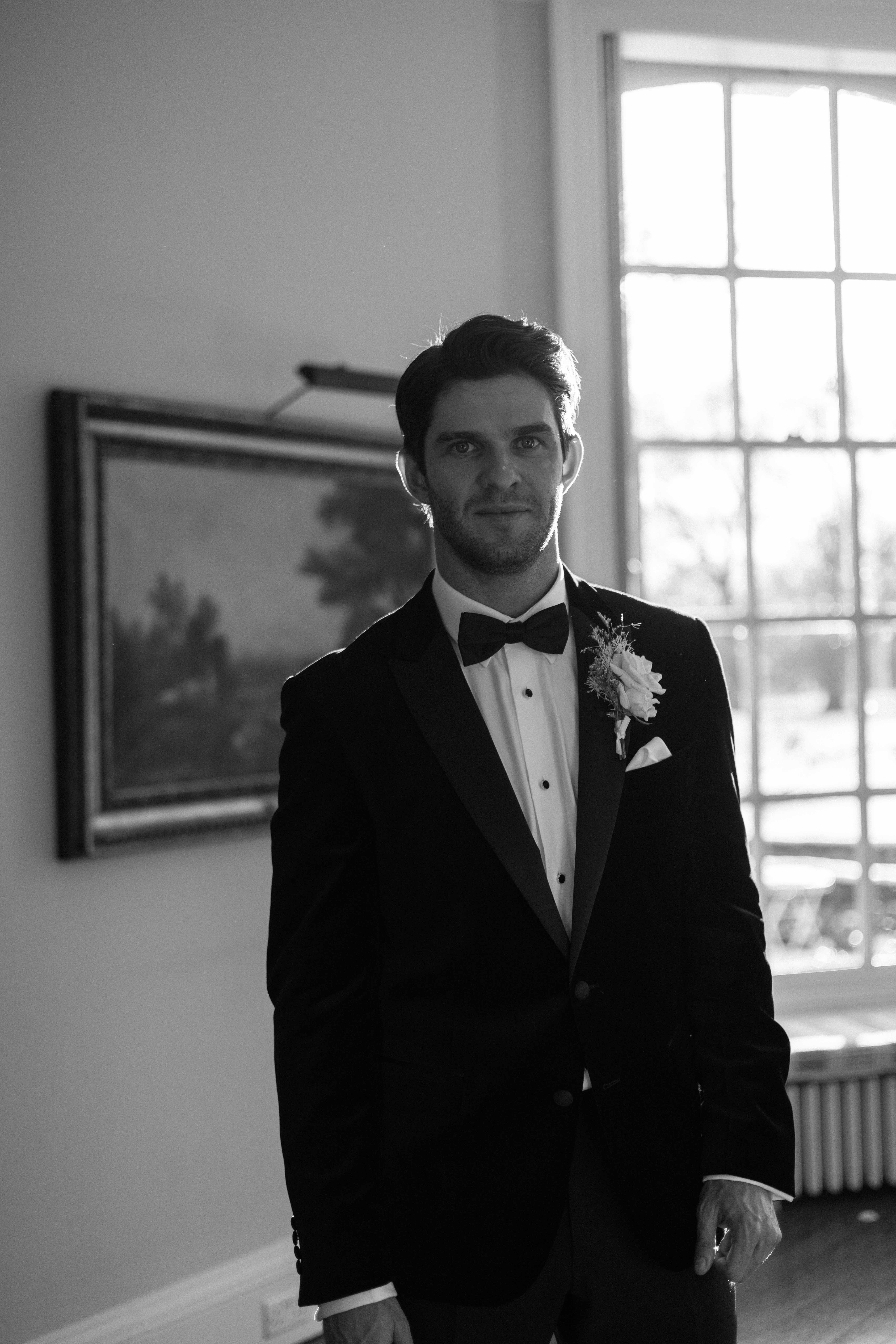 Did you have a first dance? What song did you choose and why? How was the performance?
We went a little wild with our first dance. We are both performers so felt we needed to make a big moment of it. We combined 3 of our favourite tracks together and did a funky choreographed routine – nothing too cheesy but totally us!

This then went straight into my brother's band, The New Coast, who played one of their slower songs as our first dance. It was incredible! Probably one of my favourite moments of the day. It set the tone for the party brilliantly and my brother's band went on to play a couple more of their songs before our evening band took over!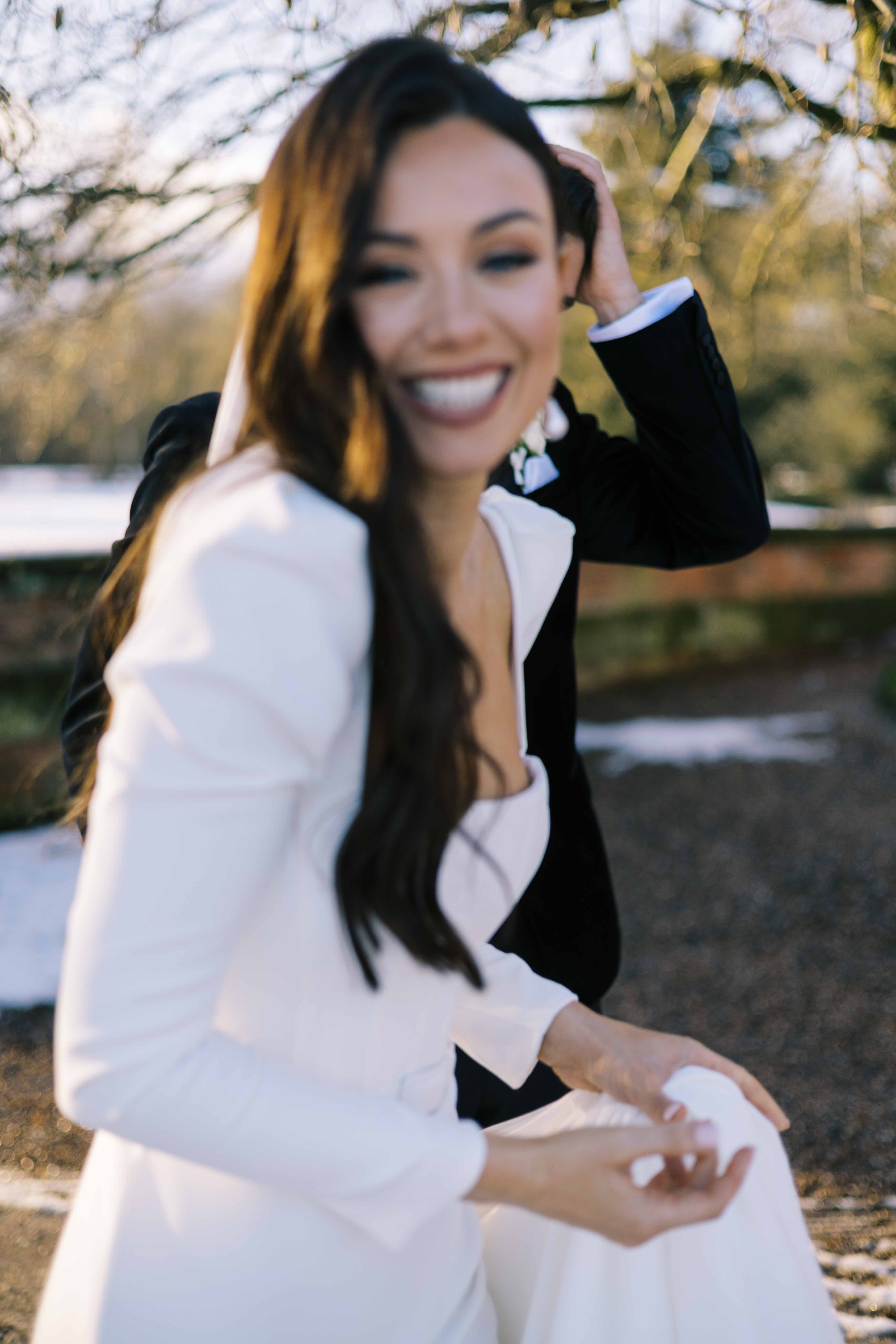 How was the party?
Iconic. The dance floor was packed from start to finish. We had TruGroove playing two sets and my god do they know how to perform. Disco, funk, soul music with so much heart and insane vocals! We absolutely nailed the band choice! After the DJ played some classics, we danced until the bitter end.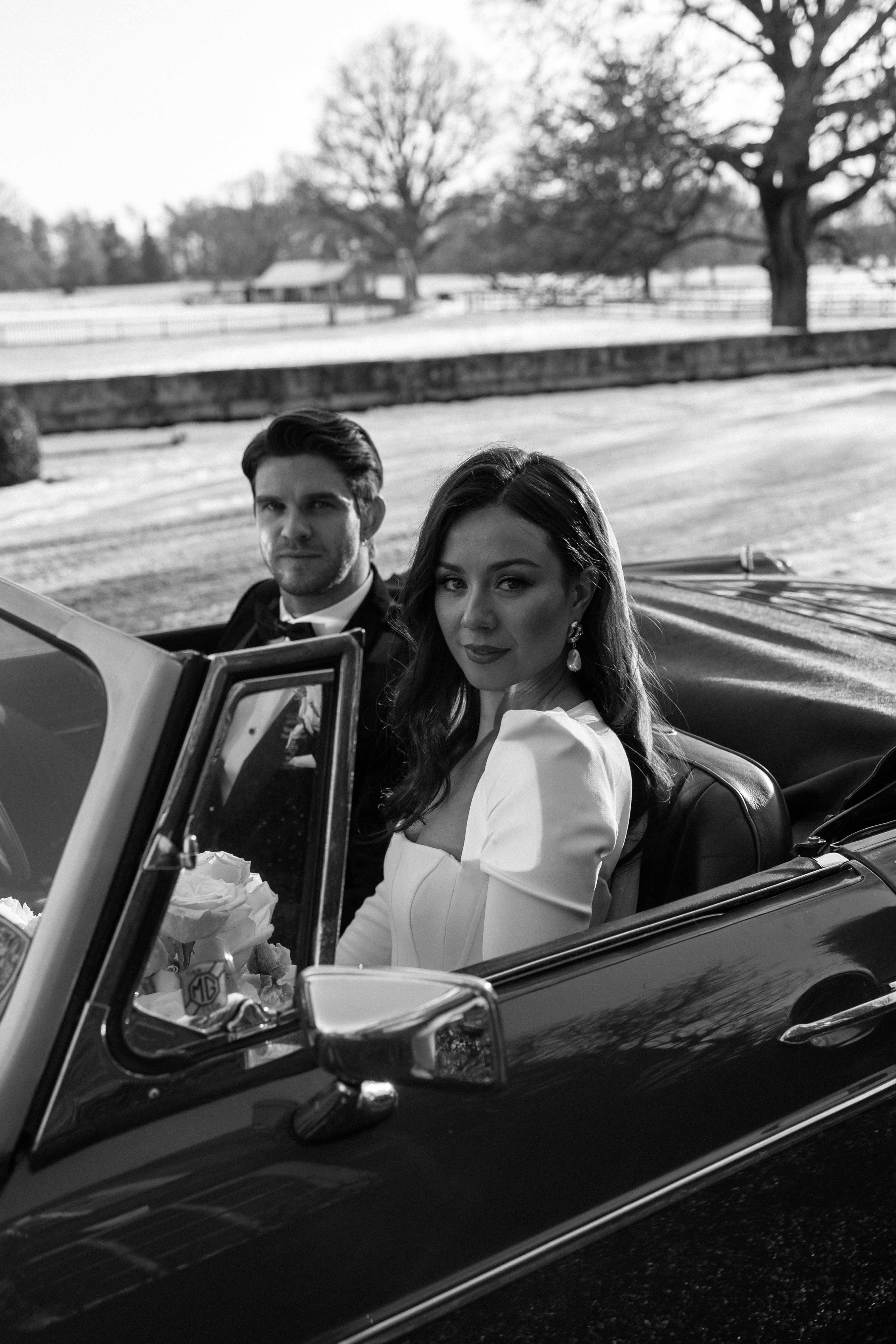 Wedding planning advice for brides to be?
My biggest tip would be to take things slowly. It's so easy to get both excited and overwhelmed with the amount of things that are out there, but it takes a while to understand your vision and what ultimately makes sense for you as a couple.

Don't hesitate to get stuck in on the big things to secure them for your date, but don't rush the small things. And also enjoy it! It's the most exciting time and remember why you are doing it, because you love each other so much. Pour that love into the planning and the day and everything will be perfect.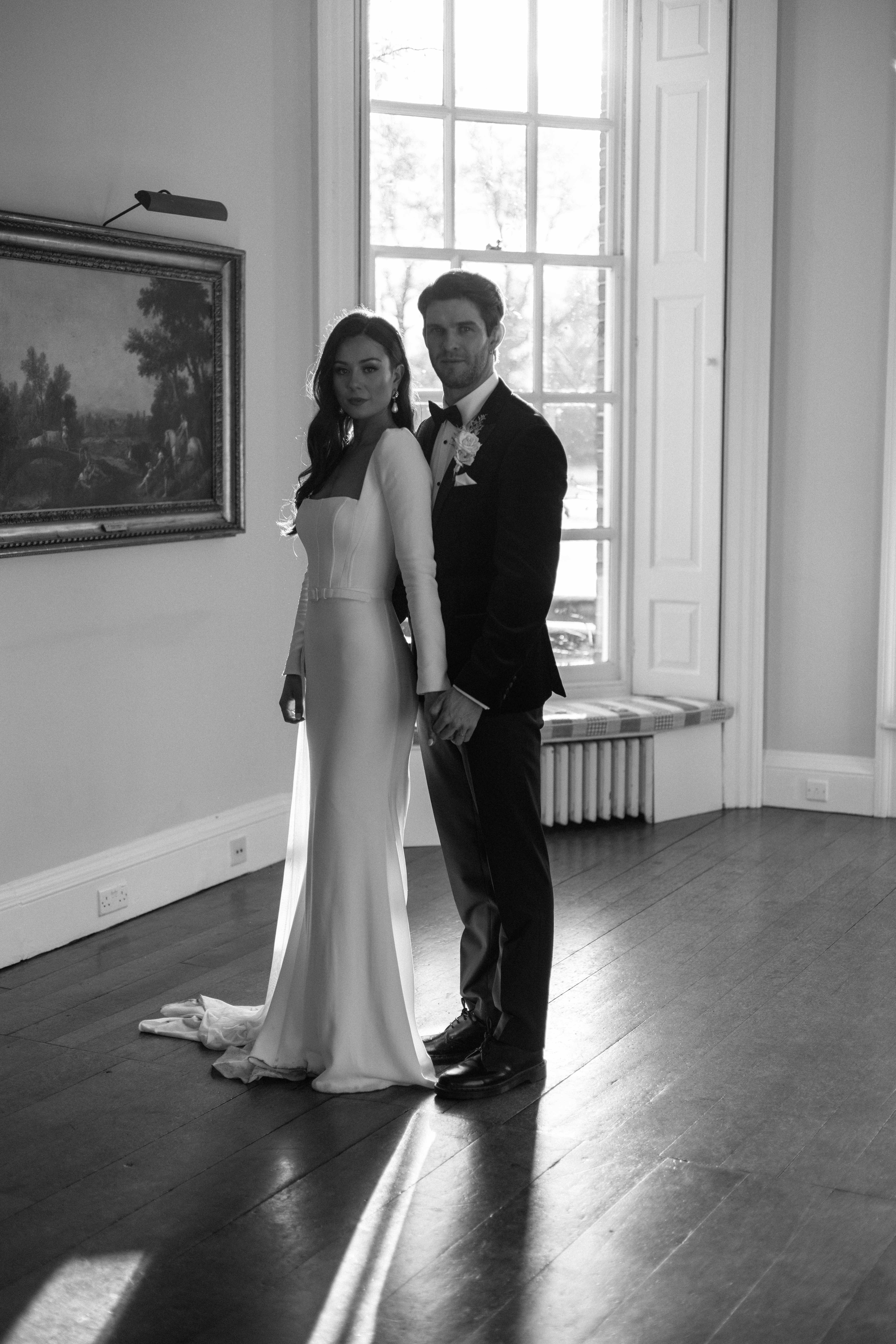 One moment you'll never forget:
The moment just before walking down the aisle. Knowing that it was all about to begin. I can't explain it, it's electric. I was so excited for Niall to see my dress and see me walk towards him to become husband and wife!
❤️
Dress – Suzanne Neville available at The Wedding Club Harvey Nichols
Shoes – Sophia Webster
Hair & Makeup – Daniella & Genevieve Brown
Suits – Bogart Menswear
Venue – Iscoyd Park
Photography & Videography – Emmy Shoots & John Taylor Films
Flowers – Sass Flower
Cake – Sally Gerrard
Music – The New Coast & TruGroove