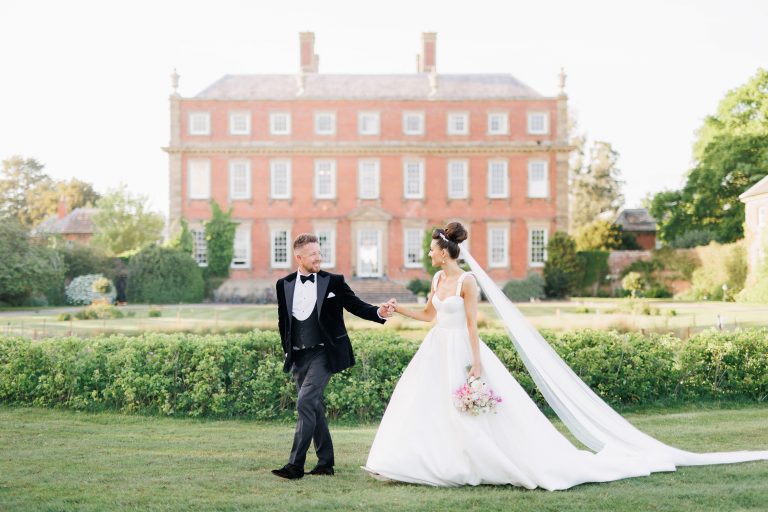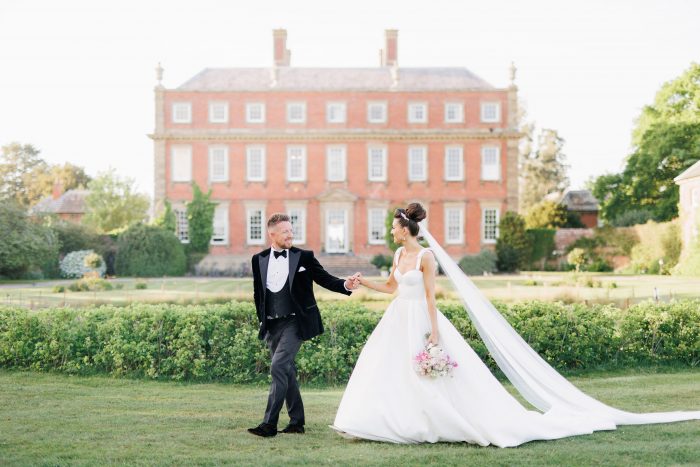 Romantic, Rural Shropshire Wedding In Milla Nova Gowns
❤️ The TWC Effect – Our brides, their way ❤️
Professional wedding snapper Ella and her groom Simon made sure that their Big Day was one to remember forever… From a four-legged friend to a surprise dinner performance we couldn't imagine a day filled with more love and fun!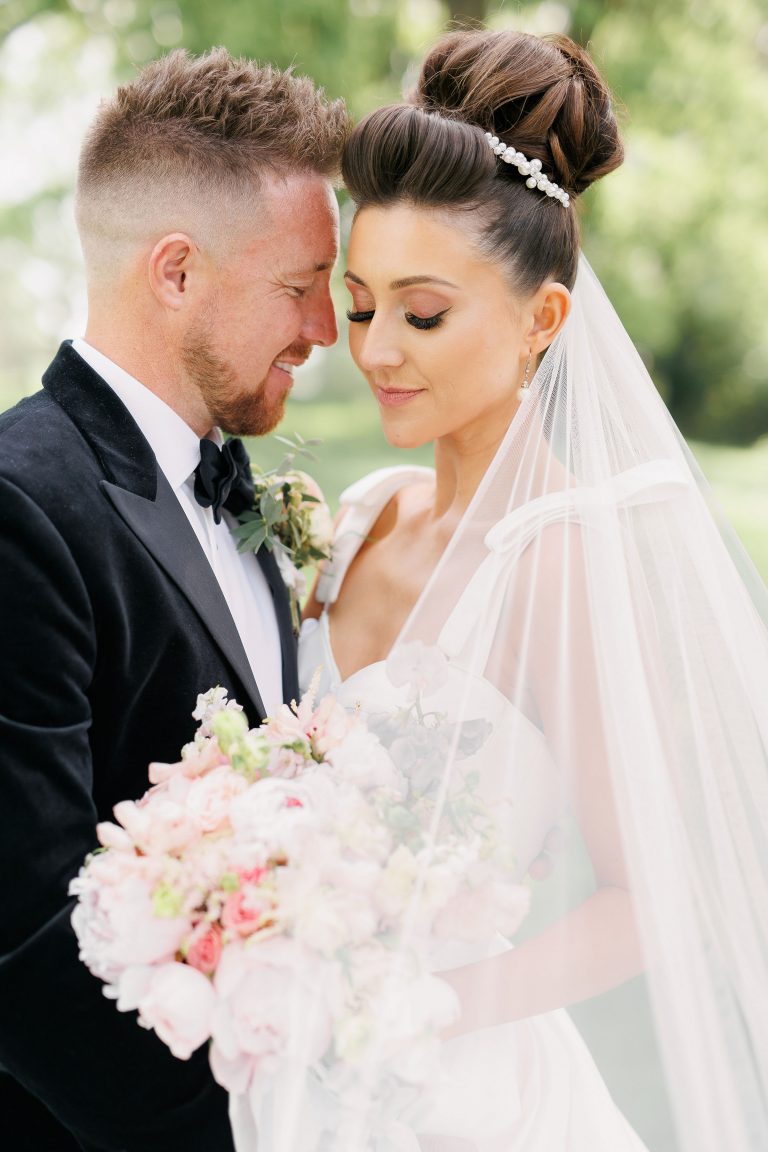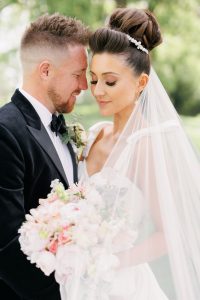 How did you meet?
We met on an online dating app, we had our first date at the Cock and Magpie, by the River Severn, in Bewdley… Simon forgot his wallet, 7.5 years later I haven't let him forget this fact!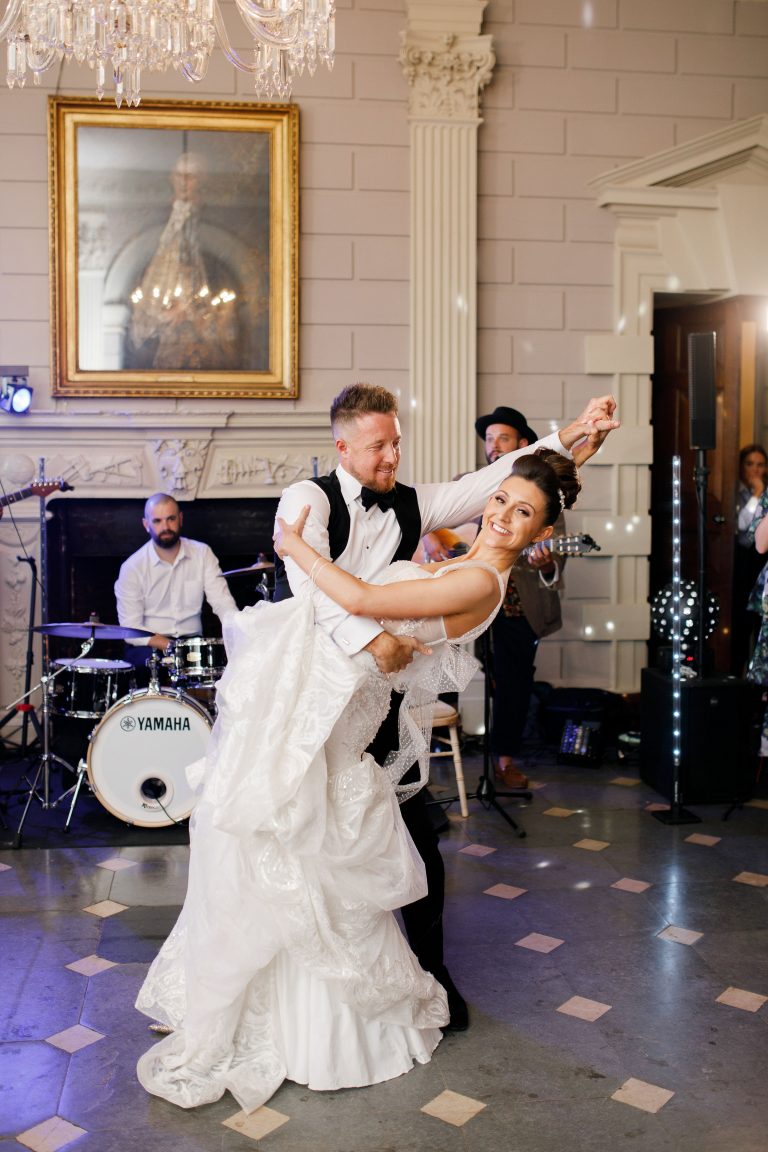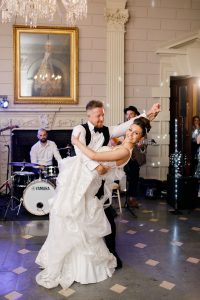 Was it love at first sight?
Ell – I was definitely pretty smitten, I talked AT Simon (and carried on ever since haha) I really really fancied him and as soon as he dropped me home I couldn't wait to see him again, when he got home he sent me a message and the rest is history.
Simon – Yes, she was gorgeous and I was so attracted to her, she gave me butterflies.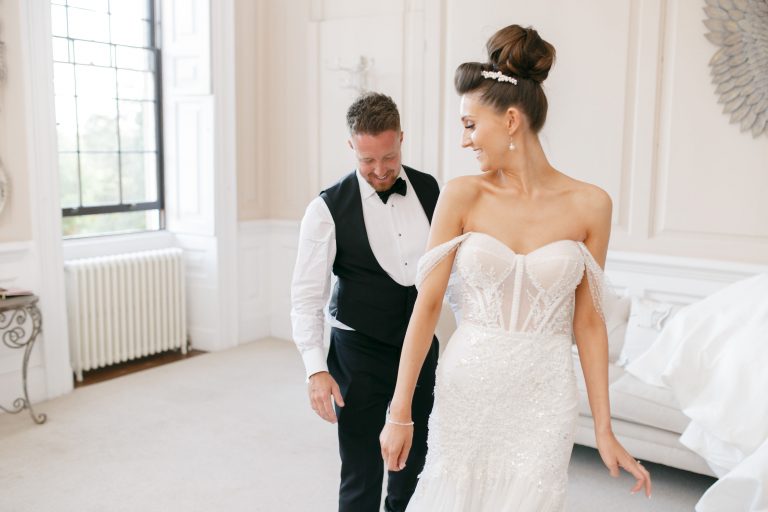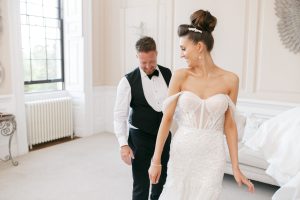 Who proposed and how? Lovely details, please!
Simon proposed to me on the 22nd Dec 2018, at my most favourite time of year, joined by my parents and his, (we are a really close family, it's the most important thing to us so he knew I'd want them to be a part of one of the most amazing moments of my life).
When he stood up and said he had something to say, a small part of me thought he was going to break up with me haha, but moments later he was down on one knee, asking for my hand in marriage, it's all a bit of a blur, I remember instantly bursting into (happy) tears and shouted YES! (Obviously) I don't really remember the rest of the day as I was floating on cloud 9 with the biggest smile plastered across my face.
With the help of his best man, he chose a platinum, Tiffany cut diamond ring that still sparkles as bright today, reminding me of that gorgeous afternoon (now joined by my dream half eternity Tiffany and Co. Wedding band).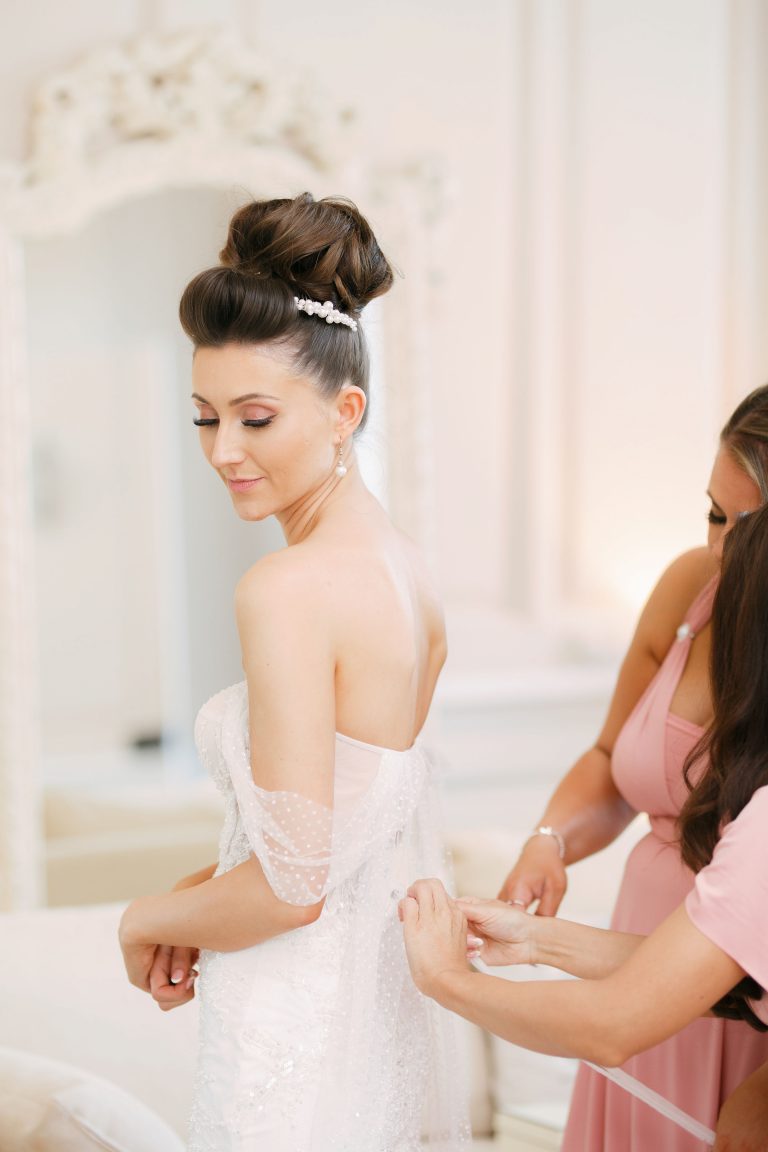 Did you have a theme for your wedding? How did it come about?
Anyone that knows me, knows, I'm slightly obsessed with blush pink, Simon… well… I guess he likes pink too (not as much) but he was happy to go ahead with a full on blush pink wedding haha! This was accompanied by subtle gold touches and soft greens to compliment the gorgeous sage green Of the venue and countryside.
Our florist (Jenny Fleur) described our wedding as 'Romantic' filled with blush pink tones and gold features! I always think pink is a pretty timeless colour too. Pink peonies were pretty non negotiable but this worked out perfectly when Jenny designed the most spectacular bouquets I have ever seen.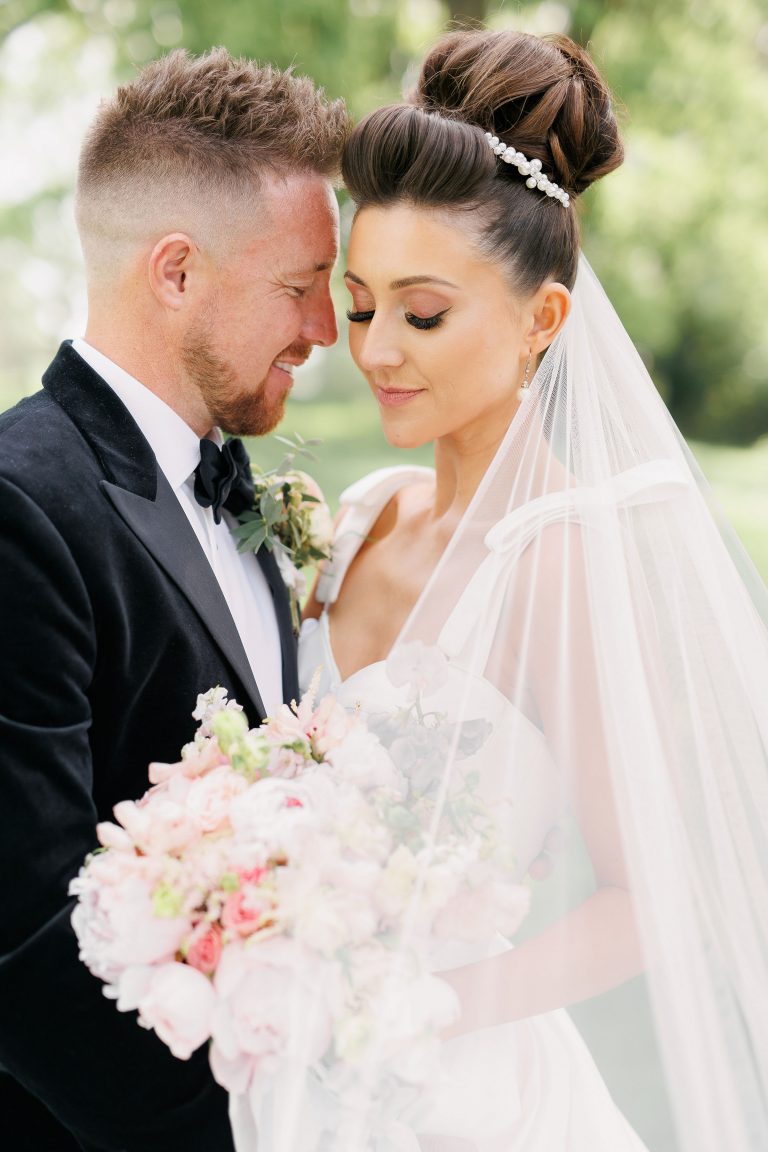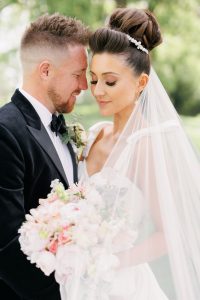 Location and how you found it?
Davenport House, the perfect venue…as a wedding photographer I have had the honour of capturing a lot of beautiful venues, however, I ideally wanted somewhere I hadn't photographed before and maybe something a little different.
Simon also loved the idea of a country Manor House in the rolling countryside of Shropshire. We found a Labrador friendly Davenport House on the Coco Wedding Venues website and just from the photographs, our eyes turned into huge heart emojis and fell a tiny bit in love.
It was the first venue we visited, we walked inside the Great Hall (ceremony room) and we both felt a bit speechless. It's an absolutely breathtaking, traditional Grade 1 Listed building, with an Art Deco modern twist. Lizzie (the owner) created the most fantastic look, of course preserving the original features but putting her own modern gorgeous touch to make it the most beautiful, bright and airy house I have ever seen.
After chatting with lovely Lizzie and gorgeous Nikki, we knew then and there, this was where we wanted to say our I DOs! We ended up booking a two day wedding, as we don't really do anything by halves haha!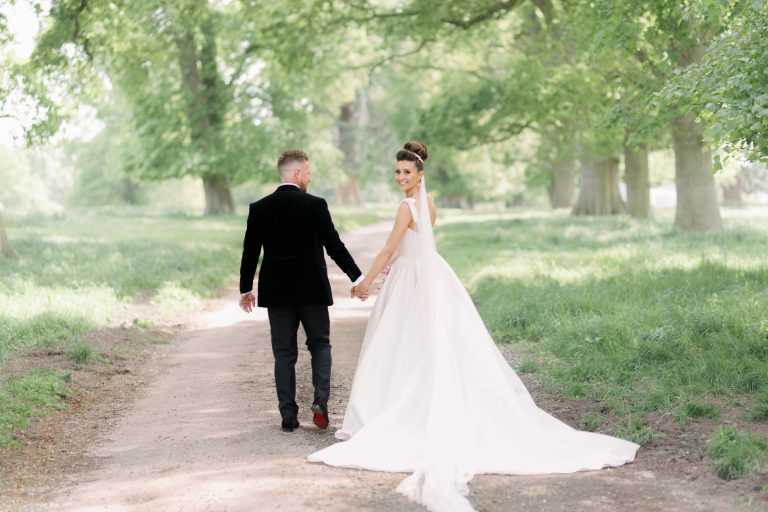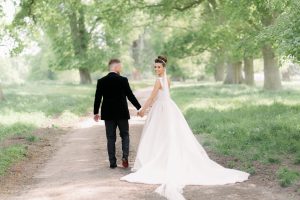 How did you find The Wedding Club? Tell us about that moment when you found and chose your dress – how did it make you feel when you put it on for the first time?
I was scrolling through Instagram wedding dress photographs for days and days, feeling a little disheartened that I couldn't find anything a little different and ME…that's when I discovered Milla Nova in TWC, I'd never known a designer where I have fallen In love with every single dress they had designed…then I found BLISSE, I was sat at my kitchen table with a cup of tea, my heart rate quickened and I thought THAT IS MY DRESS!
Due to covid, I was only allowed to take my mum to see the dress (looking back, it was really special just us two) and of course I could FaceTime my wonderful bridesmaids for their opinions too.
I saw the dress hanging within the white clouds of gorgeous materials and dresses… I had an internal scream of excitement! I knew it was the one before I even tried her on (yes, she's a her, far too beautiful to be an it), of course when I was tied into her, I visualised our wedding day at Davenport and after I looked over at a teary mama, we knew this was the dress I would be wearing as I married my now husband. I never knew a dress could make you feel so special, I quickly became emotionally attached to my beautiful dress… your wedding dress isn't just an item of clothing, it's happiness, it's how it makes you feel the most beautiful you have ever felt, the most important, most gorgeous garment you will ever wear.
Mum and I had a glass of champagne afterwards and discussed it's gorgeousness, a few days later it was secured and the gorgeous Milla Nova team started on my dress in the beautiful Ukraine. Choosing Blisse was one of the best decisions I made. I can't believe how many compliments I have had on the day and post wedding day how sensational it was. I can wear it again right?
When I was dressed in her, hair, make-up, and veil in place, I was bouncing with excitement. I would do anything to relive that gorgeous moment again… brides to be… saviour that moment with your girls!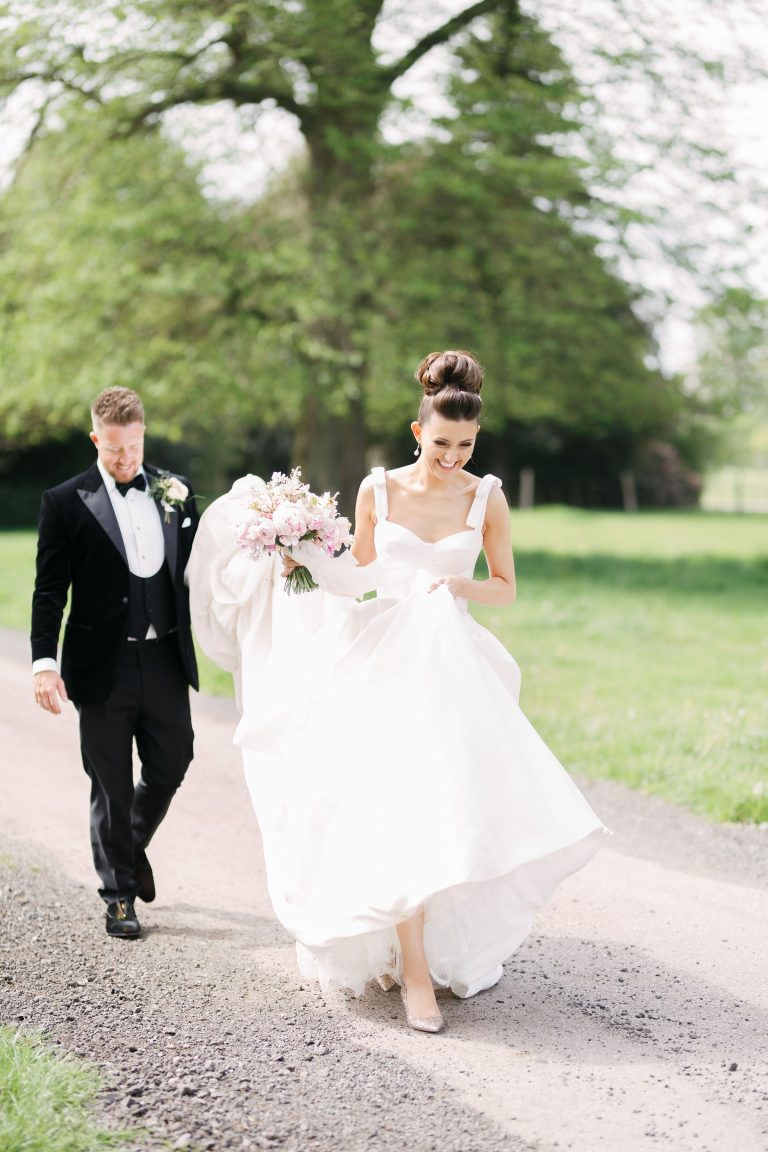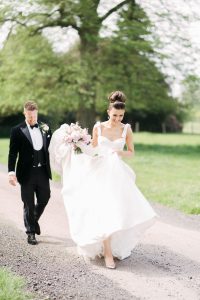 Which designer did you wear?
Blisse, by Milla Nova
Evening dress, Asya by Milla Nova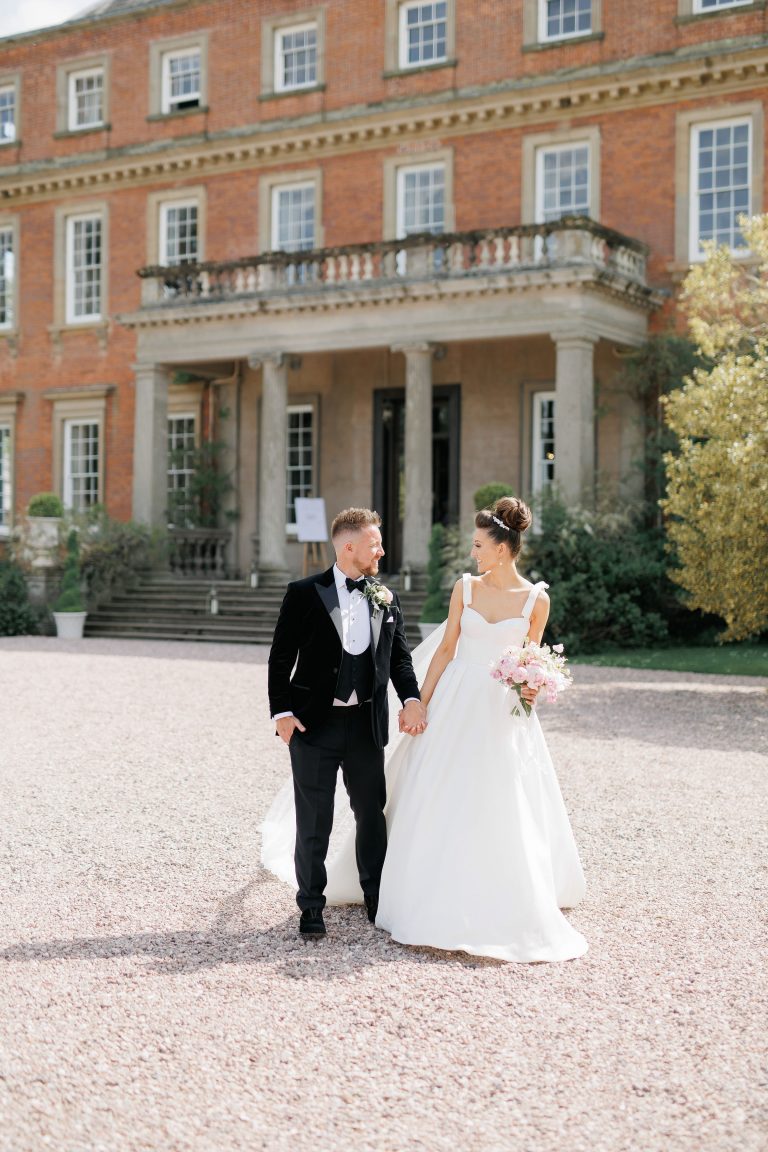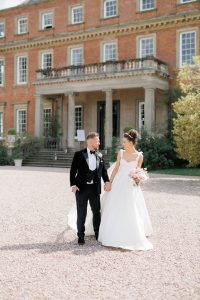 Where is the suit from? Why was it the perfect fit?
As I walked down the aisle, Simon took my breath away. He wore a velvet tux, black waistcoat, Marcella shirt, velvet bow tie and Louboutin velvet shoes. The suit was by Gieves and Hawkes, situated in the Mailbox in Birmingham. I'd never been so inlove with him than in that moment, he looked sensational.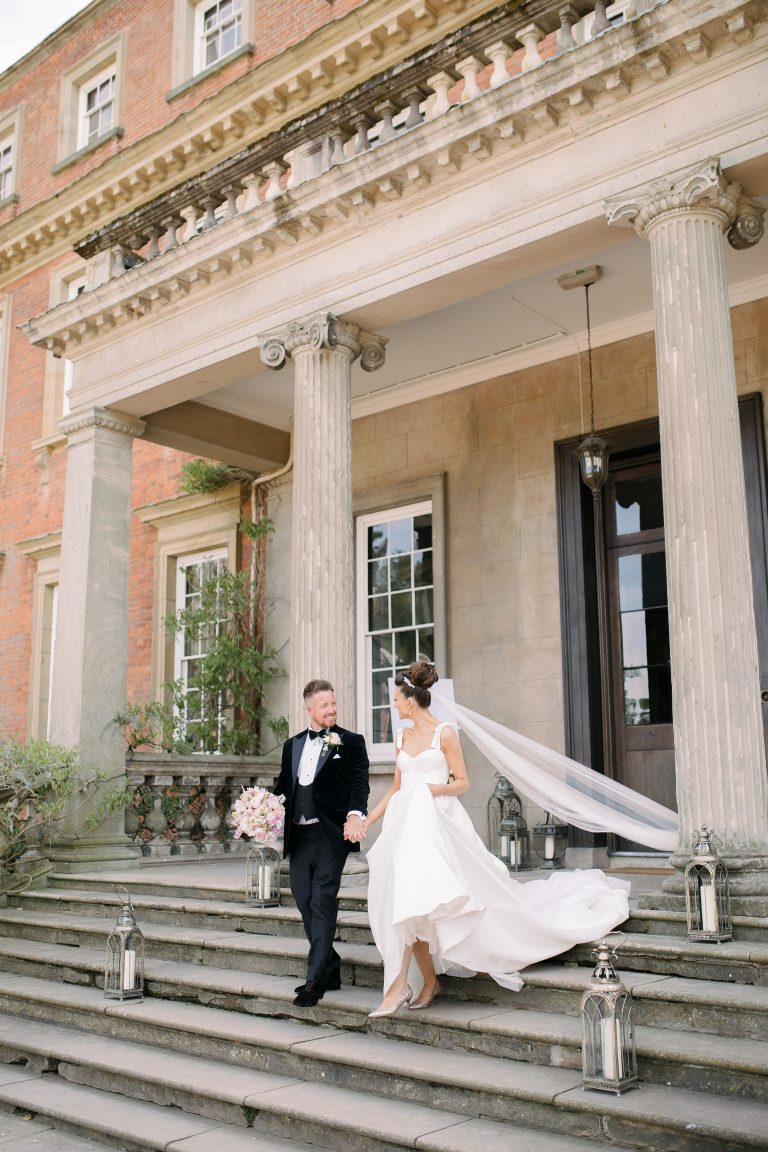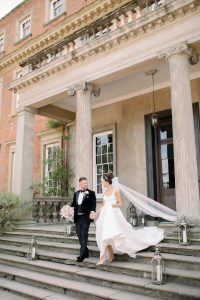 Did you have speeches? Who performed them?
We had our speeches after a fabulous performance by The Singing Waiter Masters, so the crowd was pumped! The speeches were performed by my father, Brian, my husband, Simon and our best man, Andre. We had a fantastic crowd and the men had everyone in stitches.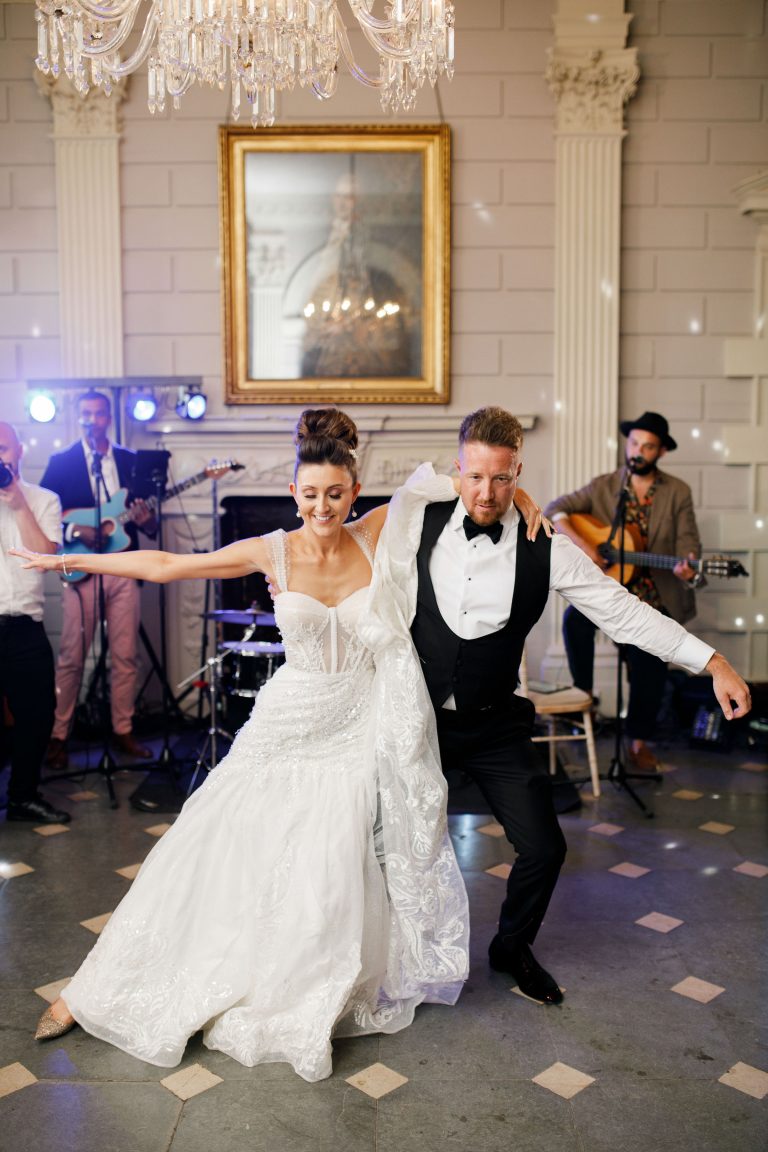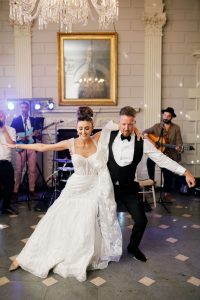 Did you have a first dance? What song did you choose and why? How was the performance?
Ok so this was super fun! Between Simon and I, we have 4 left feet so we needed a serious plan!
I photographed a wedding a few months ago, they had this fabulous choreographed dance, it was fabulous to watch (and capture). I contacted this lovely bride and asked who had taught them… she passed my details on to Csaba, he taught us our 3.5 minute dance to Perfect Symphony by Ed Sheehan and Andrea Bocelli. It was a pretty cool moment when our guests realised we had learnt a dance routine! We were a little nervous, but our crowd cheered and whooped, which allowed us to put the nerves aside and enjoy every single moment!
I think we ended up having about 8 hours of lessons with Csaba, I'm so glad we did, highly recommend, they're great date nights too!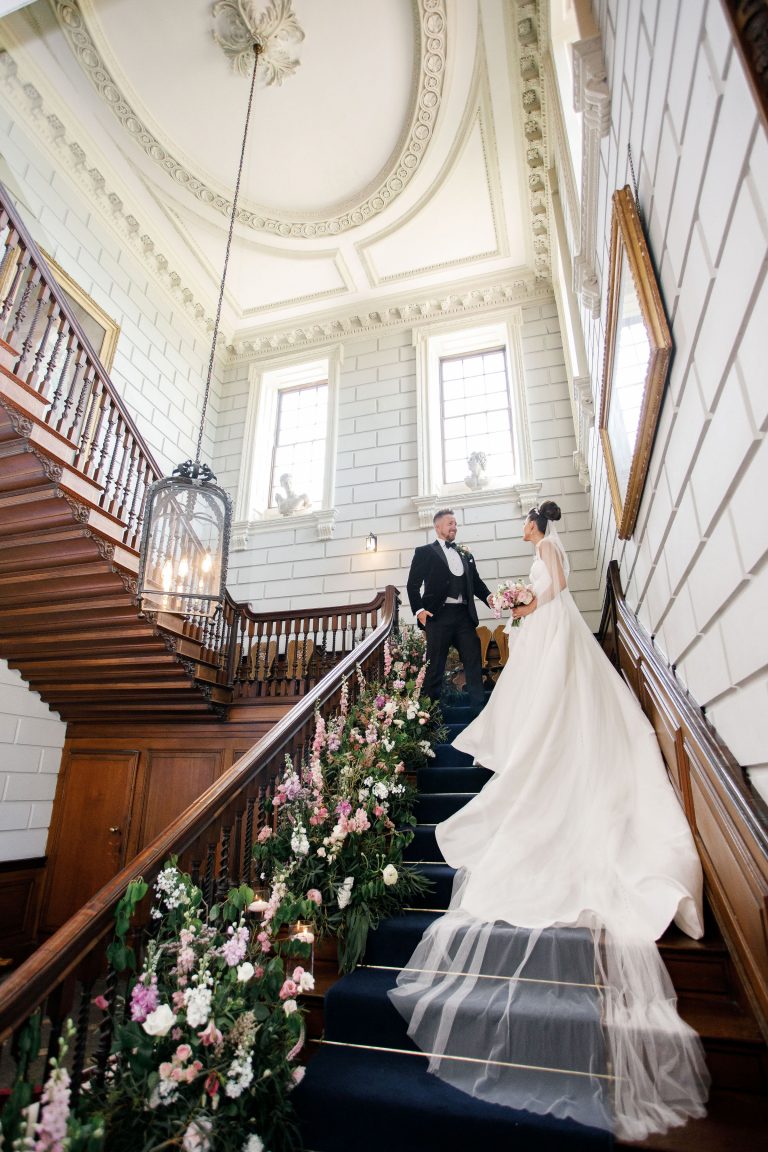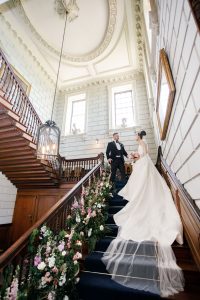 How was the party?
AMAZING! Our friends are just fabulous! They kept that dance floor packed, filled with smiles and singing. Our band, Synergy had a Spanish vibe, so everyone had a great time boogying to their performance.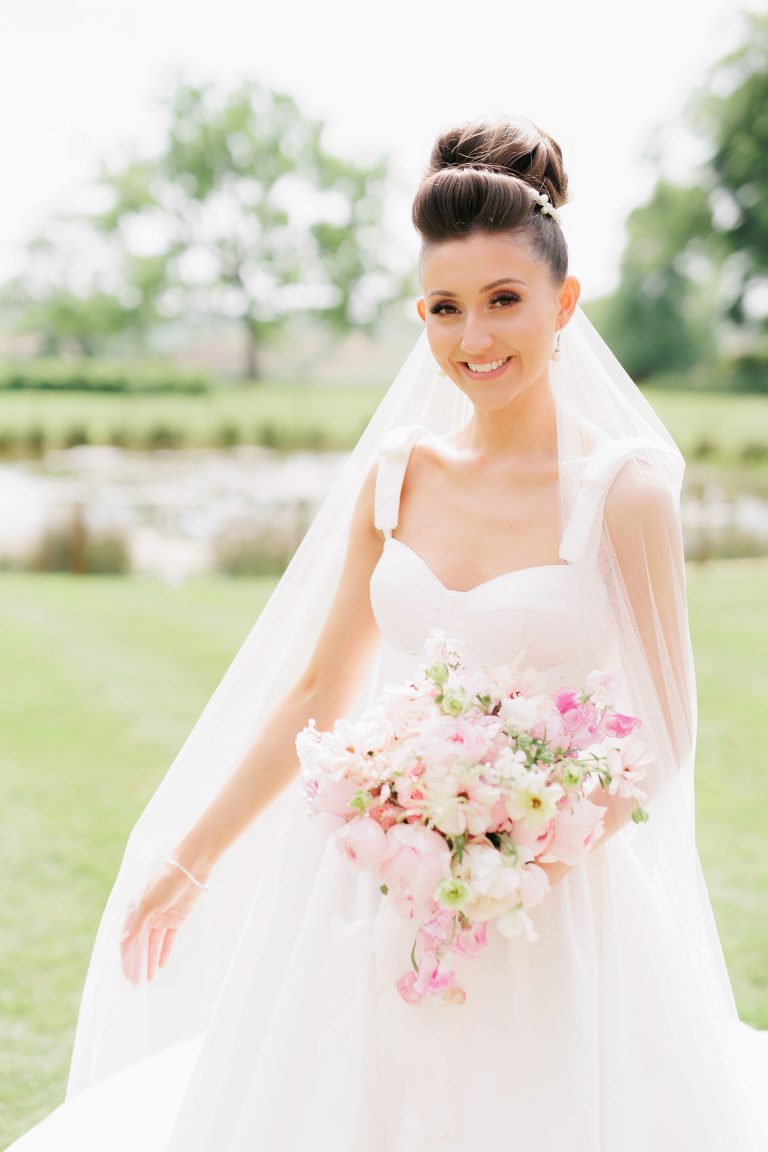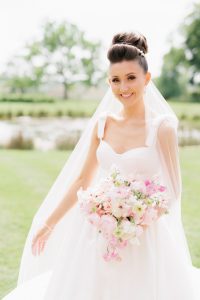 Wedding planning advice for brides to be?
Try to enjoy every moment and be organised. Make sure you sort as much as you can, as soon as you can, it's lovely to have the last few weeks to enjoy being engaged and that wonderful build up to your special day. Don't let the small things stress you out, I promise you on the day, you won't even notice. The most important thing is sharing your day with your loved ones, even more so after this awful pandemic!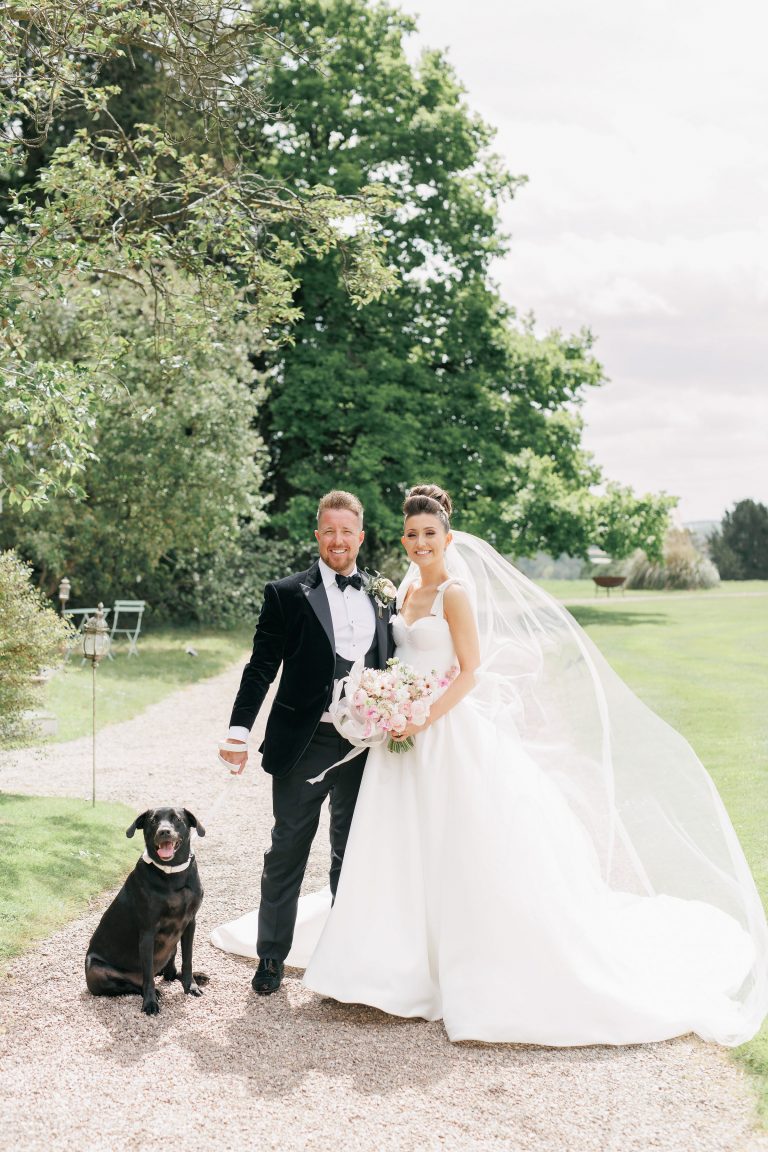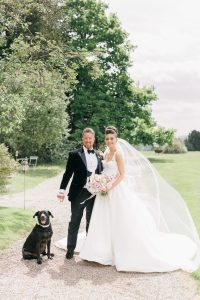 One moment you'll never forget:
Walking down the aisle to my gorgeous husband. I've never felt so happy in that moment, arm and arm with my dad surrounded by my gorgeous friends and family. I was really nervous but as soon as saw his handsome face beaming at me, all my nerves disappeared and I just couldn't wait to marry him.
I have to say, this was closely followed by our fabulous Singing Waiters performance (the singing waiters masters). Only Simon, mum and myself knew about this so the moment Gavin (from the West End) dropped the cutlery, there was a room full of shocked faces, open mouths and silence, then moments later Gavin broke into my favourite song in the whole world – Your Song by Elton John, my goodness me, I think the whole room had goosebumps and I'm pretty sure there wasn't a dry eye in the place! Then as he pretended to start the next song, Natalie walked in singing You've Got the love by Florence and The Machine, it was surprise after surprise for our guests (they had a few standing ovations – deservedly) and got everyone swinging napkins around to That's Amore!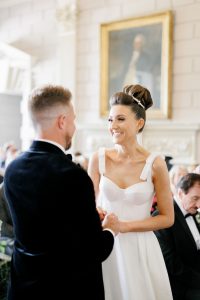 ❤️
Dresses – Milla Nova available at The Wedding Club South Kensington & Birmingham
Veil – Unveiled By Sophie
Hair – Jodie Wakefield
Makeup – Colette Bailey
Suit – Gieves & Hawkes
Venue – Davenport House
Flowers – Jenny Fleur
Photography & Videography – White Stag Weddings & Roo 1
Decor – The Luxe Collection
Entertainment – Jester Styles, Synergy, The Singing Waiters Masters