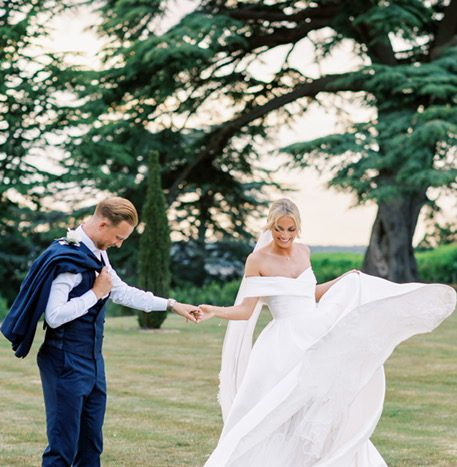 Picturesque & Elegant Buckinghamshire Wedding In Milla Nova Gown
❤️ The TWC Effect – Our brides, their way ❤️
Lara & Adam Cash may have met on Halloween but this love story is giving fairytale! The couple got engaged in New York, where Adam made sure to find the perfect view for his bride-to-be, but got married way closer to home in a stylish and luxe ceremony that we are going to hear all about now…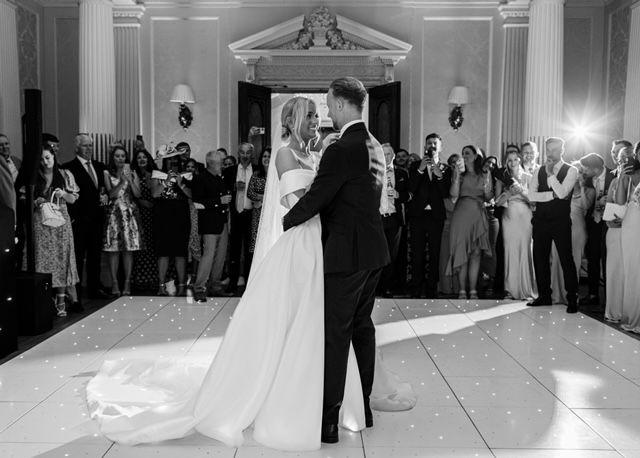 How did you meet?
We met back in 2015 at one of Adam's groomsmen's halloween house party. I actually went along with my friend who was invited so I didn't know anyone who was going! And it's funny because me and Adam never even spoke that night, I spoke more to his brother than I did to him! But he found me on social media a few days later and then the messaging started from there…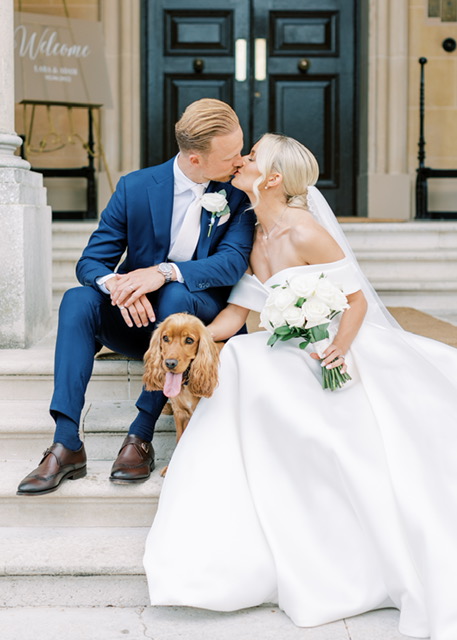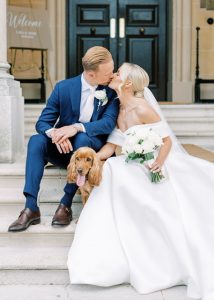 Was it love at first sight?
Following on from the above question it definitely wasn't love at first sight! And in fact, after a few days of messaging he asked me out on a date but I turned him down 3 times!! But, he eventually got me out, and the rest is history!! Safe to say he blew me away with his charm.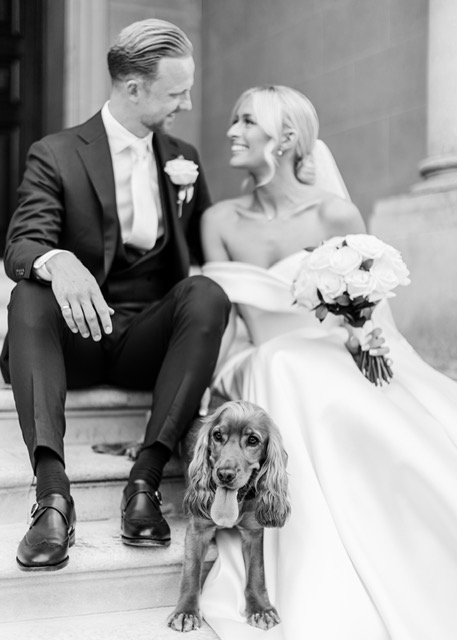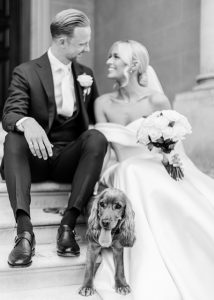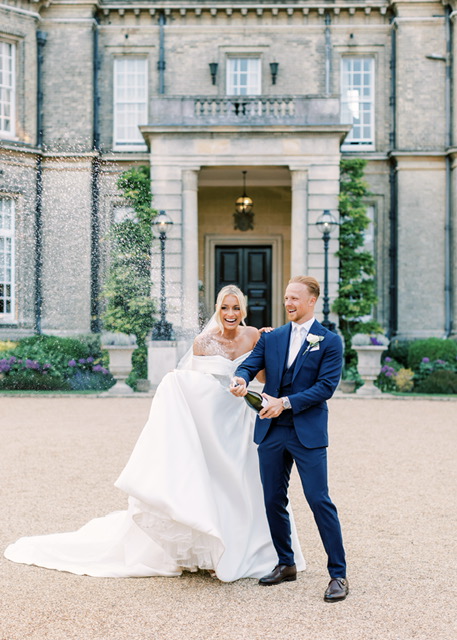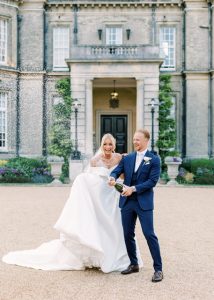 Who proposed and how? Lovely details, please!
There's a big build up to this story! Adam proposed. It was my 21st birthday and we had a big party at my parents house to celebrate. He did a treasure hunt around the whole house where I hand to go around finding clues. The final clue lead me to an envelope and in that envelope was a 1 dollar bill.
We were going to New York the following day for – what I thought was – my birthday present surprise, however that wasn't the only surprise! We flew to New York and that night he told me to get dressed up as he was taking me out for my birthday dinner. We got a taxi to the Rockefeller centre, I thought something was strange because he wouldn't look at me in the taxi, he just kept looking out the window! We then got to the Rockefeller and he wanted to go and look at the view before the meal. There are 3 levels you can go to to see the view…
He made us walk up all the floors so we could go to each level but every time we got to the level he said it was too busy so wanted to go back to the other levels again, I was starting to get annoyed!! (bear in mind I had heels on and it was 36 degrees) he had the biggest sweat patches on his shirt which he put down to the heat, but little did I know he was so nervous and was trying to find the perfect spot to propose with the view behind us!
He asked a lady to take a video of us, I said "Why a video don't be so stupid just get a normal photo!" But he had thought of everything, he got the lady to film the whole thing! I was so surprised, it was the most beautiful moment with the sun setting behind us!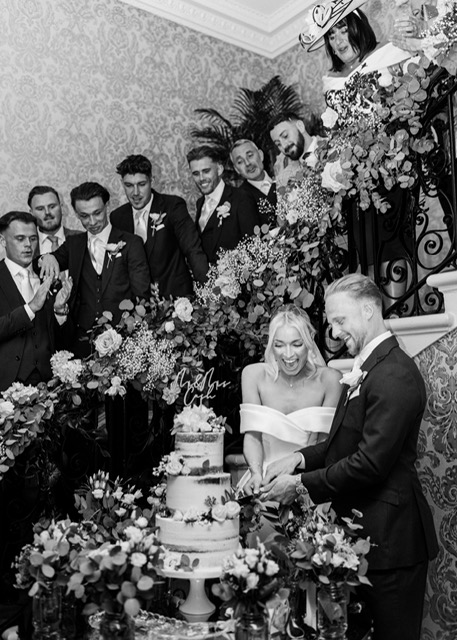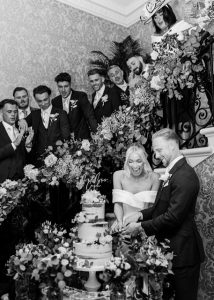 Did you have a theme for your wedding? How did it come about?
We didn't have a particular theme, other than I loved simple, classic and elegant so we stuck to neutral colours – white/ivory, green foliage, and the odd bit of nude/pale blush.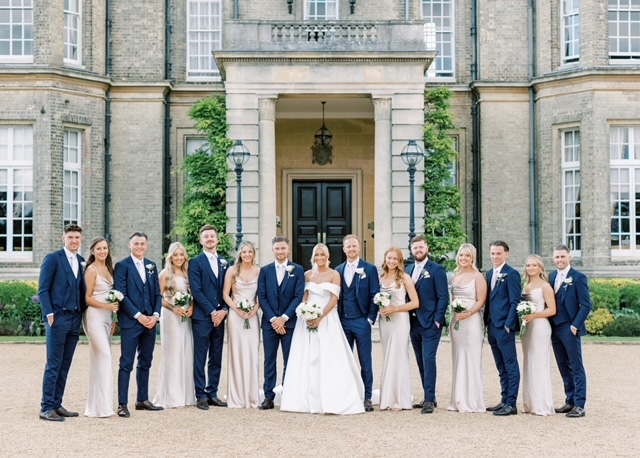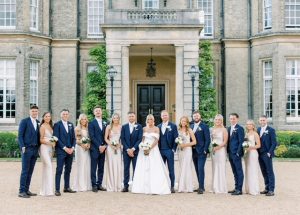 Location and how you found it?
Hedsor House, Taplow.
It's the most beautiful Manor House just 10mins away from where I live. I never wanted to get married in my local area because I thought there would never be the style of venue that we wanted, but my parents told us about Hedsor because they've driven past it many times, I never even knew it existed, but that was definitely love at first sight! It was the first venue we went to see and we knew instantly it was perfect.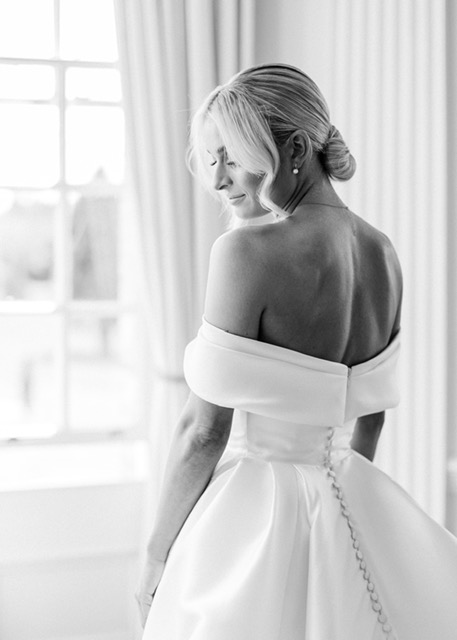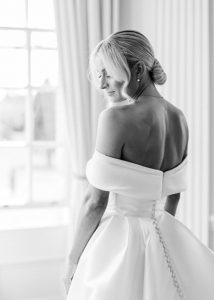 How did you find The Wedding Club? Tell us about that moment when you found and chose your dress – how did it make you feel when you put it on for the first time?
My sister-in-law was speaking to a personal shopper in Selfridges in Birmingham and she mentioned to her about The Wedding Club as they are stocked in Birmingham Selfridges.
I looked online at their website and loved every single dress they had so had to book an appointment instantly!! I found 3 dresses that were the style I had been looking at and tried all three of them on at my first appointment.
I fell in love with 'Matilda' The shape of the dress was perfect and hugged my figure. The fabric was so expensive, and the tiny buttons all the way down the back was the perfect detail. The perfect classic, timeless dress for the classic wedding I wanted.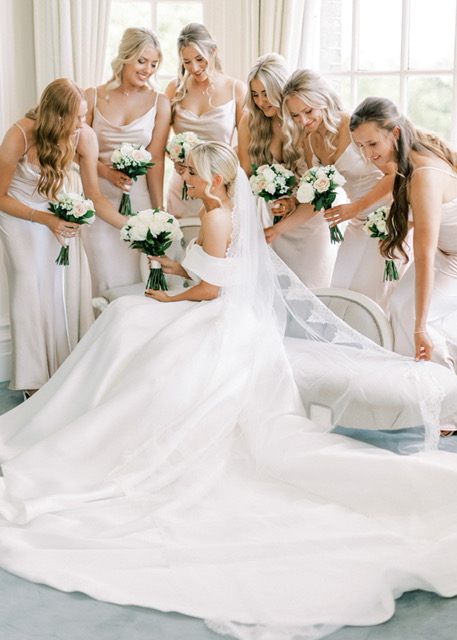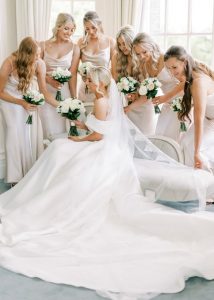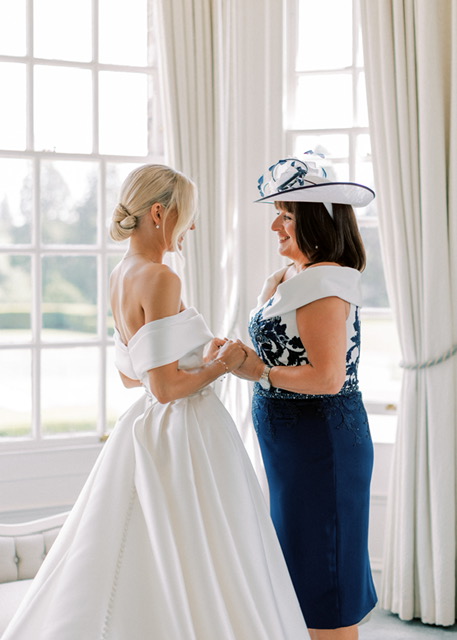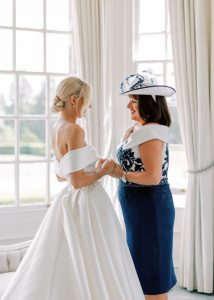 Which designer did you wear?
Mila Nova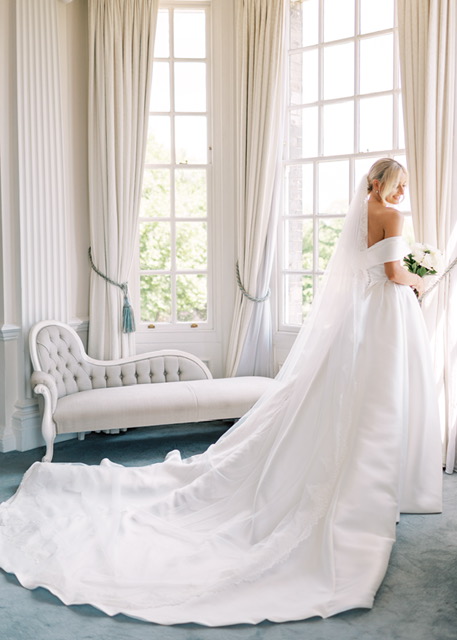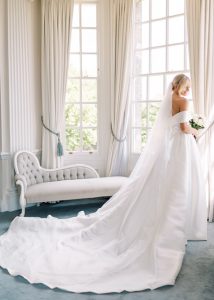 Where is the suit from? Why was it the perfect fit?
Clements and Church is where the groom's suit was from. He had it completely made from scratch so it fitted his body and style perfectly. He got to pick all the fabrics, colours and buttons. He had the inside of the blazer personalised with the words 'Made for Adam Cash'. He then had the inside of the blazer collar personalised with our wedding date, and then because he doesn't like wearing cuff links, he had the shirt cuffs personalised, one with the initials AC and one with the initials LC.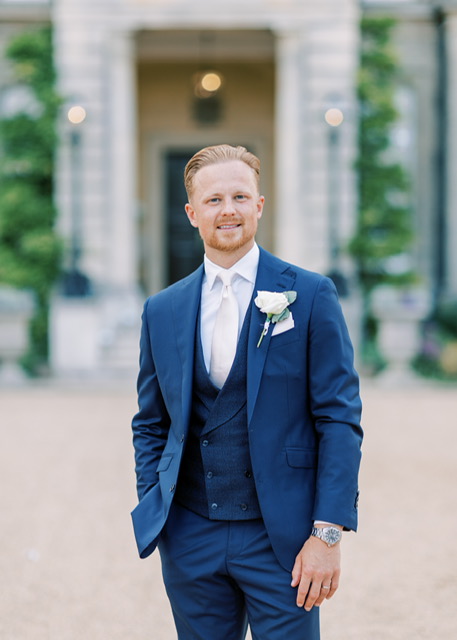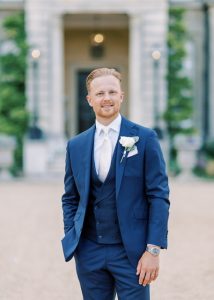 Did you have speeches? Who performed them?
Father of the bride
Groom
Best man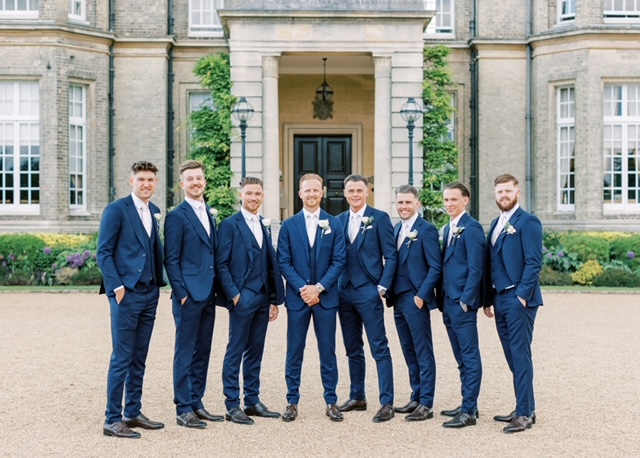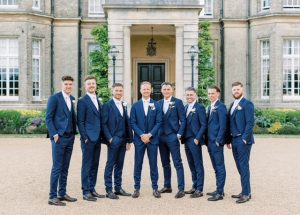 Did you have a first dance? What song did you choose and why? How was the performance?
Jason Mraz – I Won't Give Up. We were out for dinner one night in the first few months of being in a relationship. We'd had a few drinks so our emotions were starting to come out! This song was playing in the back ground at the restaurant and I just remember out of no where my eyes started tearing up.
It was that moment I realised that I loved Adam. All the lyrics in the song just seemed to fit perfectly and made me feel so emotional about our relationship, so from then on we called it 'our song', so when we had to pick our first dance song we new straight away that was the one. We specifically didn't listen to it for years because we didn't want to take the emotion away, so when we did our dance it was just so so special to hear it again.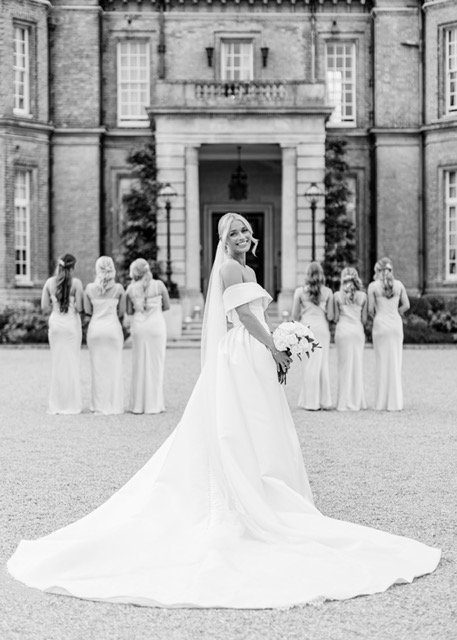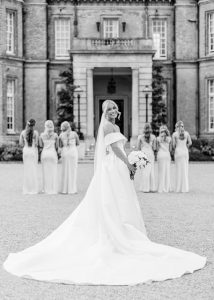 How was the party?
The party was amazing, so much fun with all our best friends and family, we just wish it went on later!! We managed to have a sneaky little after party, but we just never wanted it to end.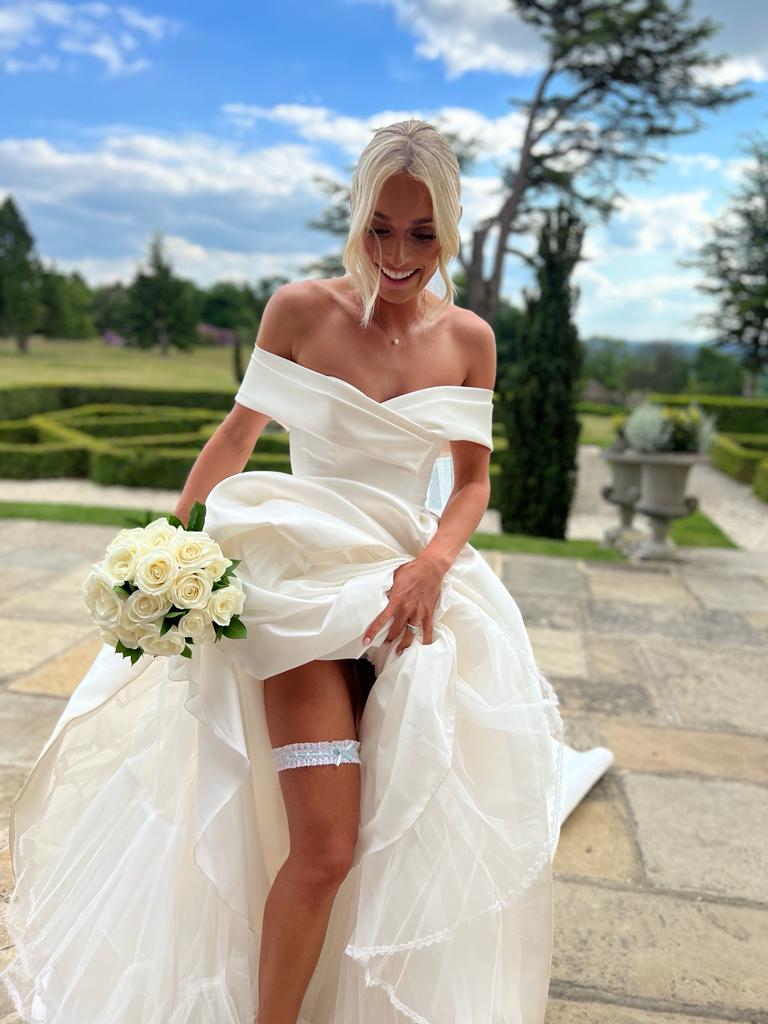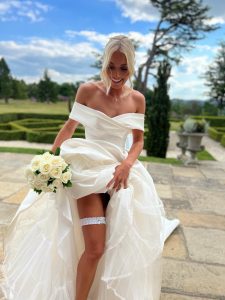 Wedding planning advice for brides to be?
I know how easy it is to say and not so easy to do, but please try not to stress! Enjoy the build up as much as possible because every little part of it goes so quick.
The week before is so much fun, don't let your nerves take over you! And on the morning, do not worry about the tiny things like if things are being put in the right place, what will be will be, and no one will notice if anything isn't right, they will all just be having the best time. Just live in the moment so you remember every minute of it.
Make sure you have time with your new husband/wife. It is so easy to go off speaking to all your guests, which is important, but make sure you have some alone time with your new partner so you can experience the magic together and have the same memories, go for a drink together after the ceremony in a private room ( this is what our venue did for us ), or go and talk to guests together, have a last dance after all the guests have gone!
Also, I would say don't buy little bits/decorations too early! I'm the type of person where I want to get everything done straight away so I can tick it off my list, but just be careful because your tastes will change along the way and you may go off things if you chose then too early.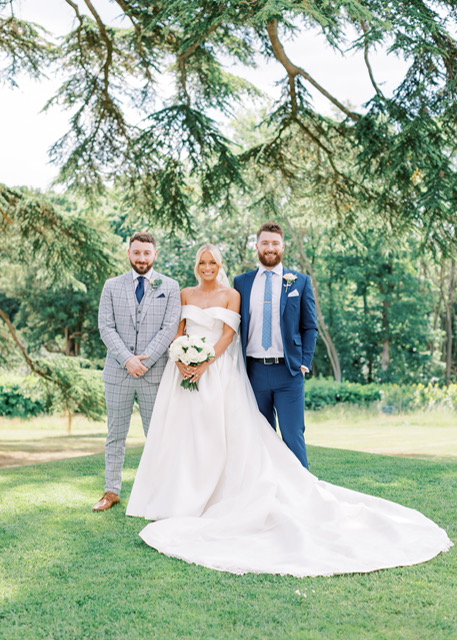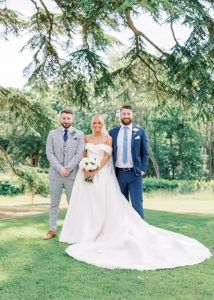 One moment you'll never forget:
Can I say everything?!
Getting ready with all my bridesmaids in the morning.
Opening/giving my parents gifts and just watching them tear up with love and happiness.
Seeing Adam for the first time and feeling all my nerves just disappear.
Dancing to the best songs with the groomsman!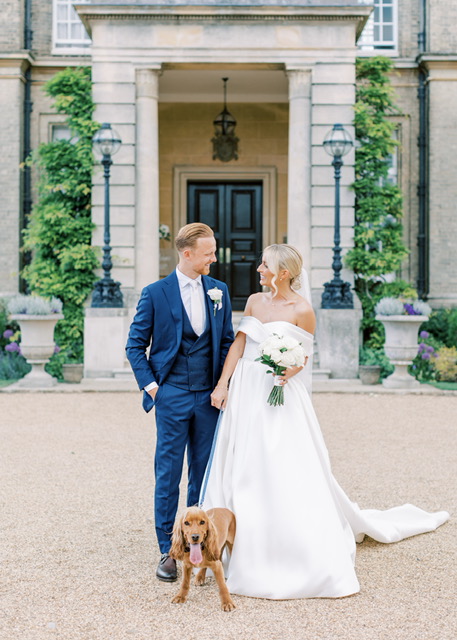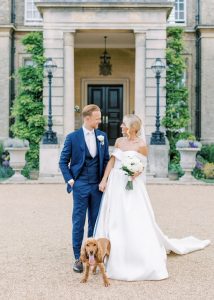 ❤️
Dress – Milla Nova available at The Wedding Club South Kensington & Birmingham
Veil – Mi Bridal Veil
Hair & Makeup – Lauren Gosling Hair & Niamh Ford MUA
Suits – Clements & Church, Frencheye
Photography & Videography – Sophie May & Ben Slingsby
Venue – Hedsor House
Catering & Cake – Caper & Berry & Le Papillon Cakes
Production Team – Class Act
Singer – Fil Straughan
Flowers – Seventh Heaven