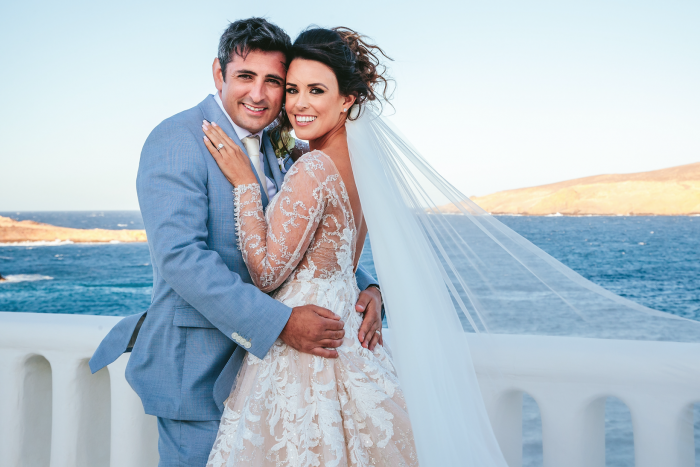 Fun & Fabulous Mykonos Wedding In Milla Nova Gown
❤️ The TWC Effect – Our brides, their way ❤️
Danika and Alex began their love story poolside in Ibiza and said I do with an ocean view in Mykonos! The couple stuck to a Grecian blue and white palette for the big day, and even bigger party…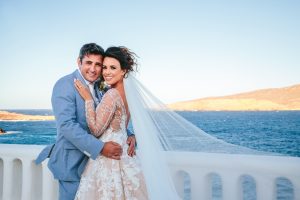 How did you meet?
We met in Ibiza! I was on a girls holiday and Alex was on a boys holiday!
The waitress mixed up our drinks orders and sent our drinks over to the guys so we complained and asked for the bill as we were going to leave, then she brought us over some champagne. We assumed it was from the hotel to apologise about the confusion and mix up but we were then told that it was from the group of guys, then one by one they joined us for a drink….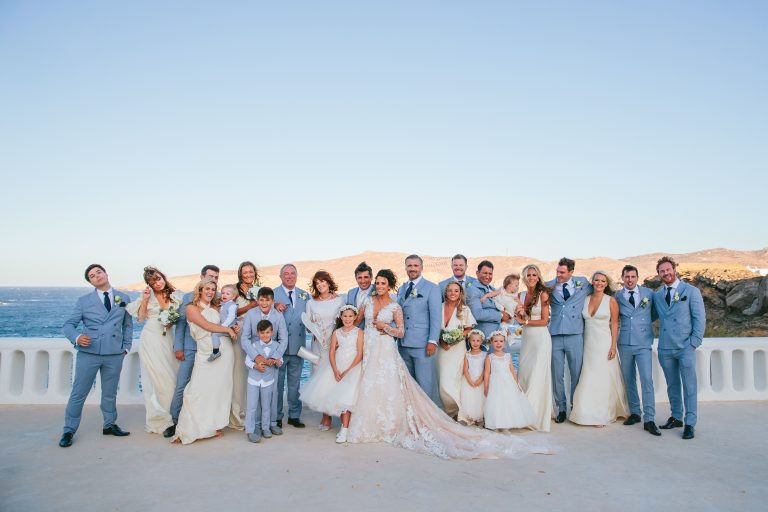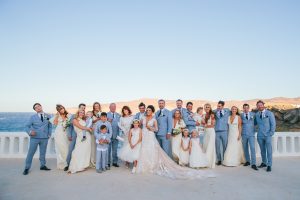 Was it love at first sight?
We definitely fancied each other. And ironically we were wearing the same floral print and colour – my bikini and his swim shorts were exactly the same!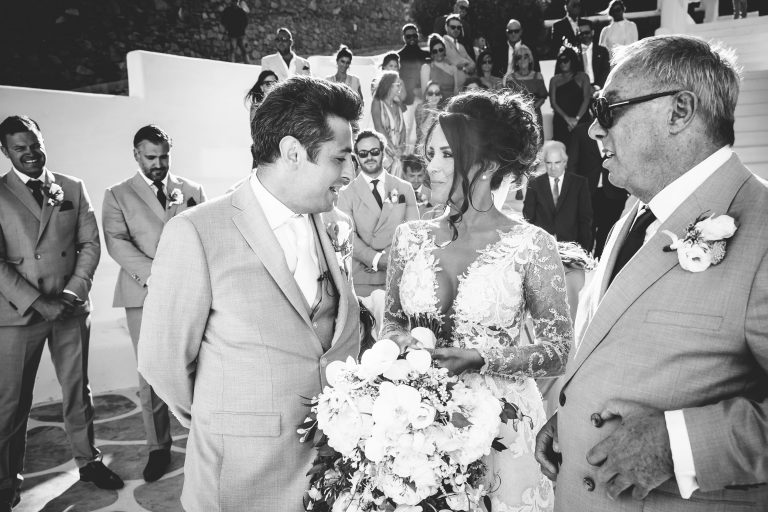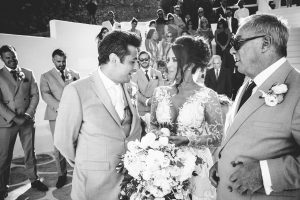 Who proposed and how? Lovely details, please!
Alex proposed in Mykonos, 11.05.2019. Mykonos is special to us because we went there on our first holiday together.
We had gone to Mykonos for the weekend and gone back to the hotel that we stayed in on our first ever trip. We had dinner on the terrace and Alex got down on one knee in front of the sunset, it was beautiful and so is my ring!
We planned and booked most of our wedding that weekend (I knew what I wanted, I was just waiting for the ring!). We set a date for 4 months later.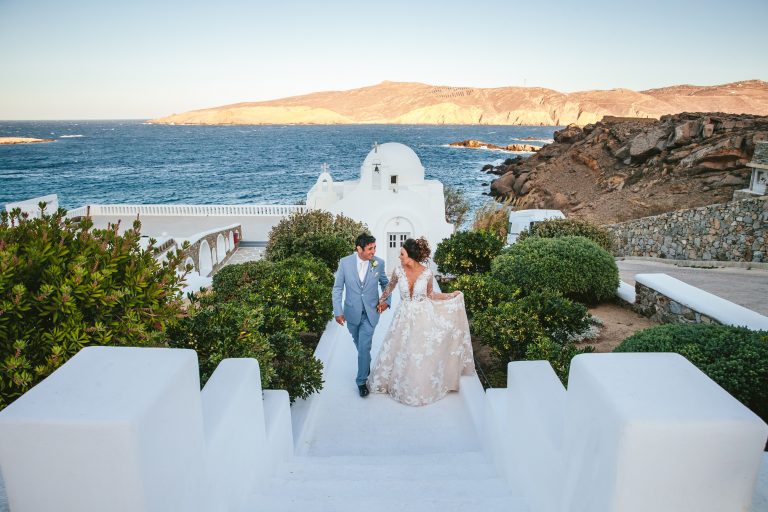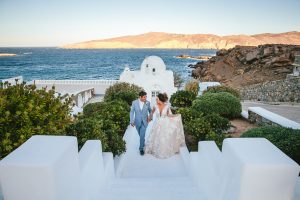 Did you have a theme for your wedding? How did it come about?
We chose to get married in Mykonos, like most Greek islands everything is white and blue so I wanted to go with that theme. All of my bridesmaids wore ivory and the ushers wore light blue. Flowers were whites and greens and we added golds to our favours and stationery.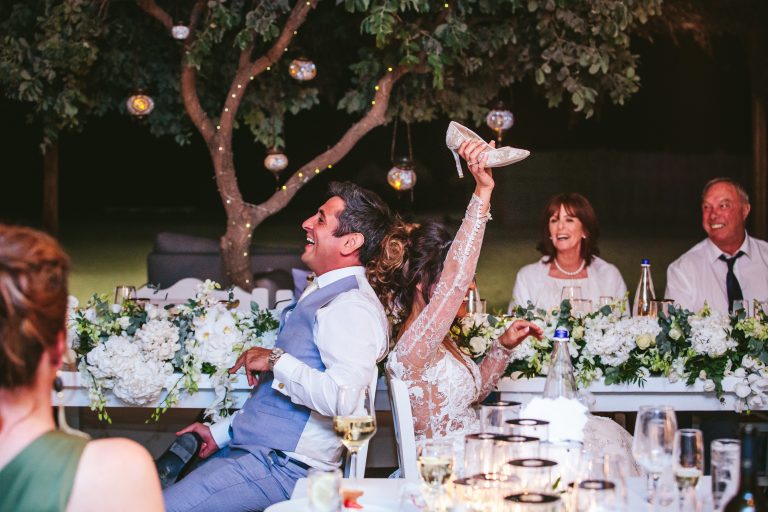 Location and how you found it?
Mykonos, we just love it there. The scenery, the weather, it's beautiful! I was wedding stalking on Instagram and came across the most beautiful chapel, I knew straight away that it would be the place that we would say I do.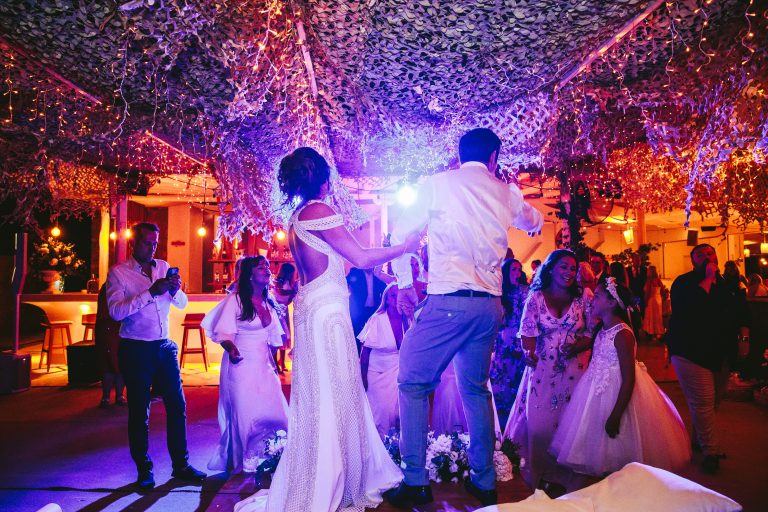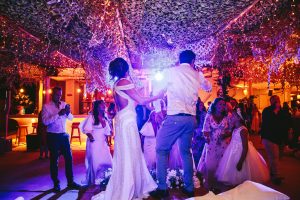 How did you find The Wedding Club? Tell us about that moment when you found and chose your dress – how did it make you feel when you put it on for the first time?
Ahh my dress – the most amazing dress I have ever seen! I was having a look on Instagram and came across 'Milla Nova', I saw a picture of my dress and fell in love with it. So I emailed them and they said that the only stockists in the uk was The Wedding Club.
We drove from Essex to Birmingham because it was only the Birmingham store that had my gown in a sample to try. I walked into the store and saw all the rails of dresses and my dress just stuck out, I saw it straight away sticking out on one of the rails. I knew it was my dress before even trying it on.
My mum said not to try it on first, to save the best till last, so I tried several dresses on but was just itching to try my one on. I eventually did and it was everything and more! There is a feeling that you get when you know that it's 'The One'.
You can't describe it but you just know. It didn't fit me as it was quite a large sample but even with all of the clips and it being miles too long I just knew. I didn't want to take it off!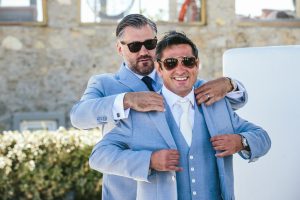 Which designer did you wear?
Milla Nova, Softy.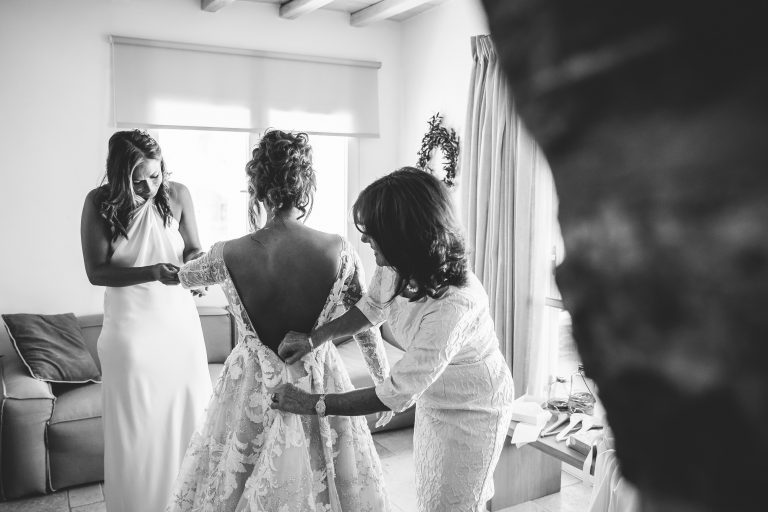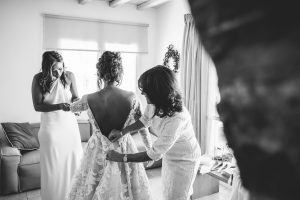 Where is the suit from? Why was it the perfect fit?
The suits (all 10 of them) were bespoke from Moss Bros. The boys scrubbed up really well!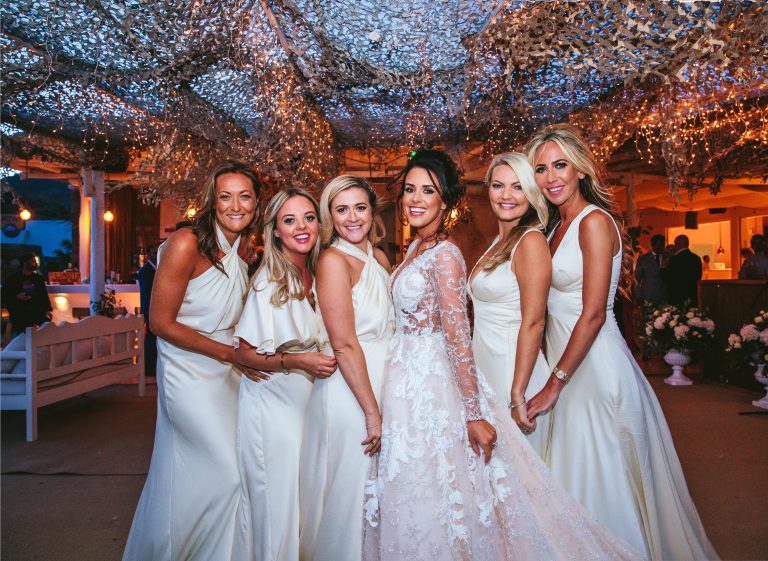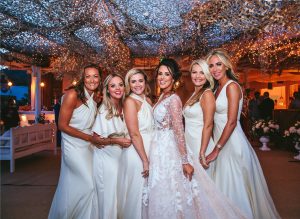 Did you have speeches? Who performed them?
The speeches started off with my Dad who delivered his really well. Then onto my HUSBAND!
I'm sure he wasn't nervous about his speech, his nerves were about the best man's speech, which was brilliant! It started off tame with the thank you's etc, then came out all of the embarrassing stories of Alex, which we all roared at!
Then they made us do Mr & Mrs… we both had to sit back to back with a shoe in our hand and had to answer the questions. A lot of which I'm sure I can't repeat here but was very funny and had everyone crying with laughter.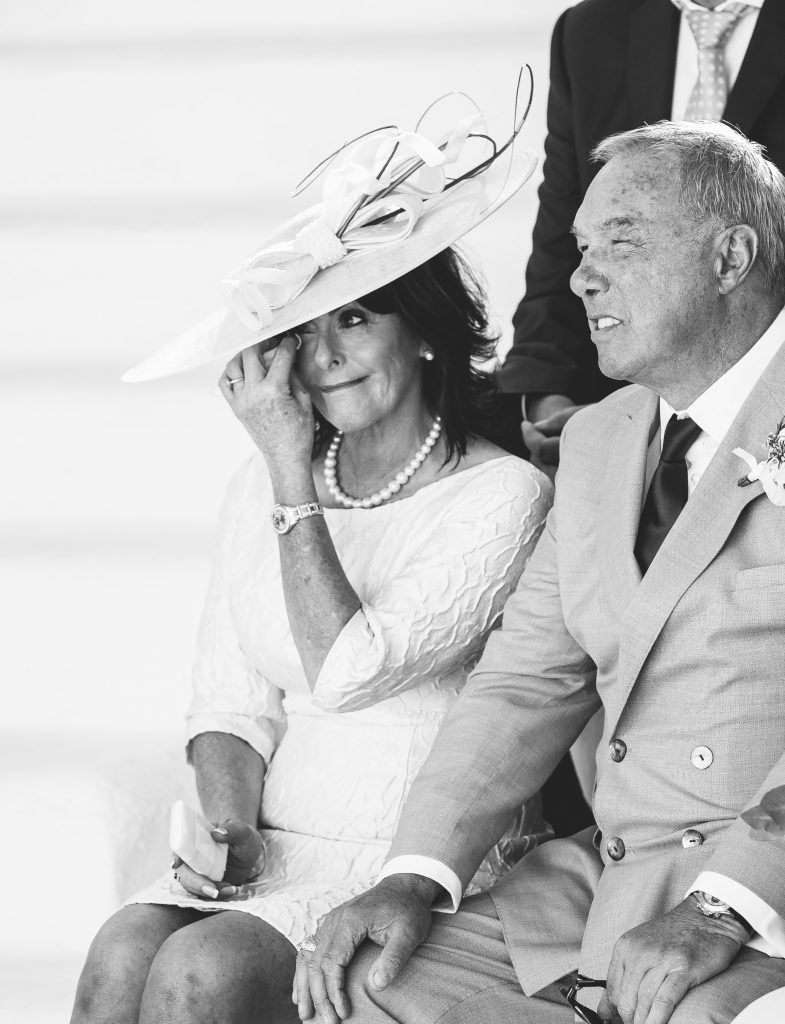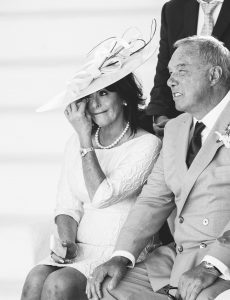 Did you have a first dance? What song did you choose and why? How was the performance?
Yes we did, we had John Legend You and I. I just loved the words, even now every time I listen to it I cry! Our singer Tony Roberts is incredible, we flew him from London to sing at our wedding, and he has such a talent, he also sang me down the aisle.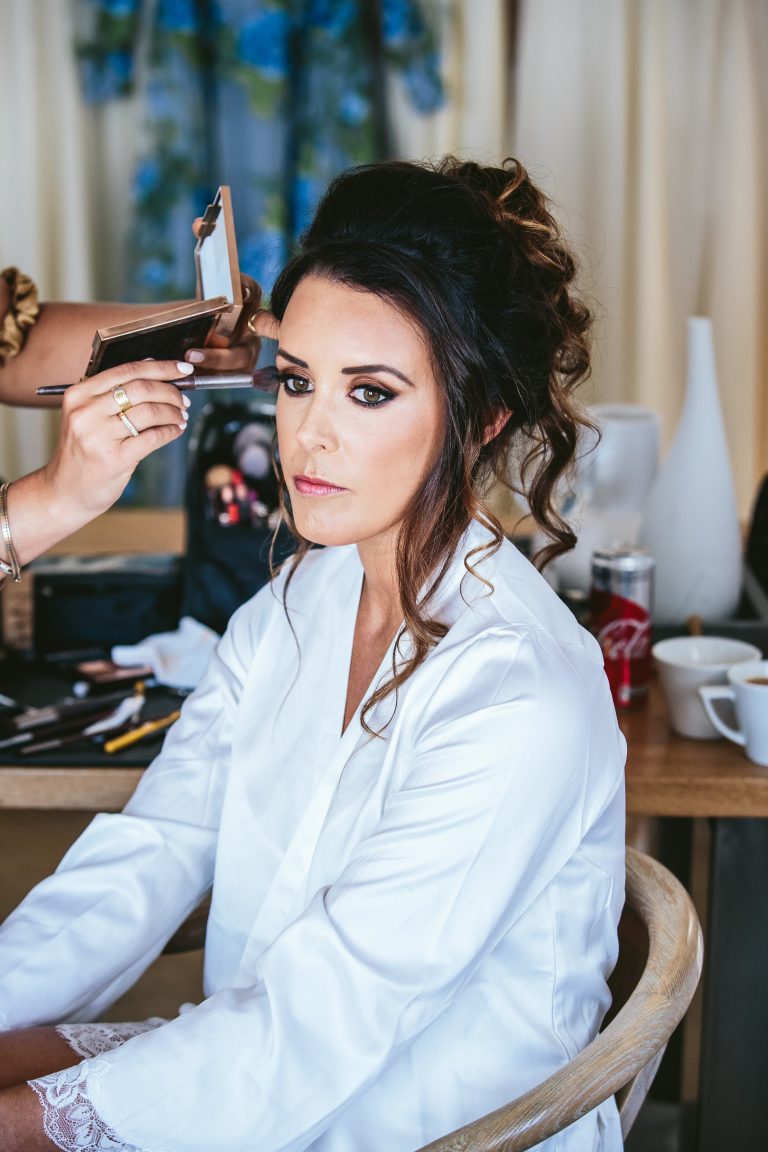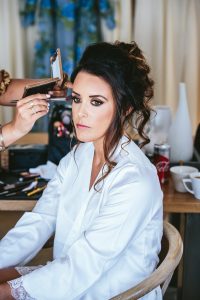 How was the party?
The party started during dinner, in between the starters and main courses the majority of our guests were up dancing. We had live music, it was great. The party was supposed to finish at 2am but we were having such a great time we went on until 4am!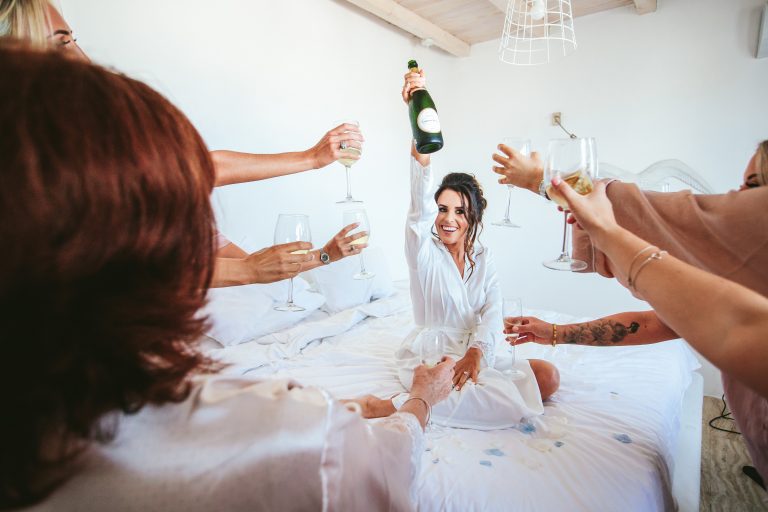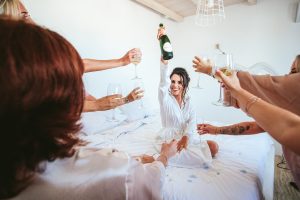 Wedding planning advice for brides to be?
Don't be a bridezilla but have a positive attitude.
All I said for the whole duration of my planning was 'sod it, we're only going to do this once!'. If there's something that you want and you are financially able to do so then do it or have it!
All the details do matter, everybody noticed my attention to detail. Don't stress about it, it's a happy time. Before you know it, it's over!
And trust me wedding blues are a real thing!!!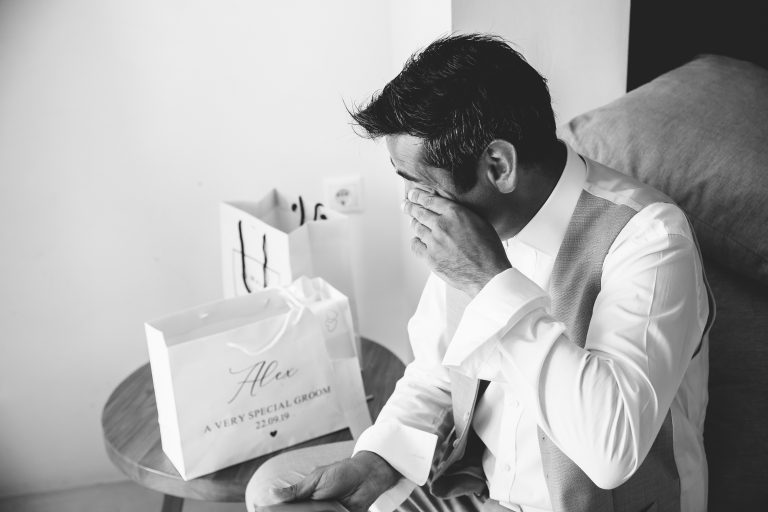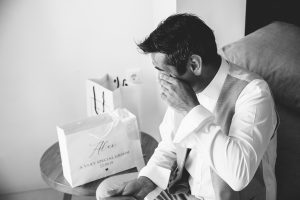 One moment you'll never forget:
Seeing my husband's face when he saw me walking down the aisle, I said I wanted to see tears and I definitely did. It felt like it was just us, nobody else mattered, we were in a bubble.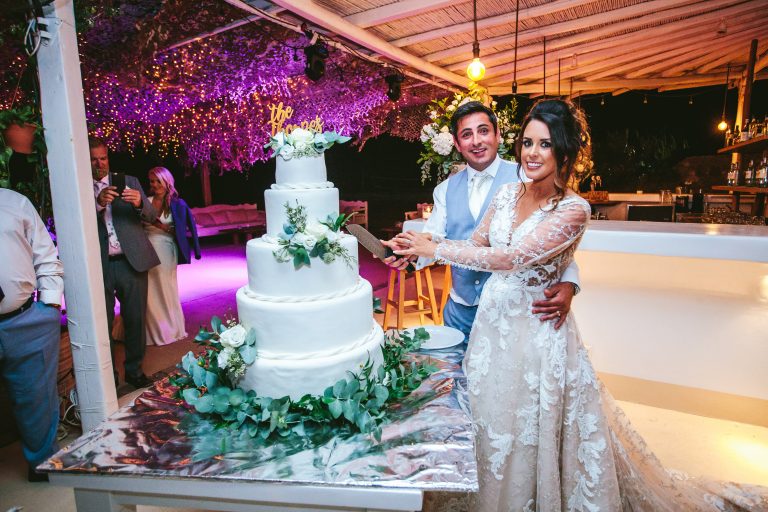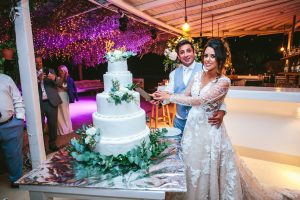 ❤️
Dress – Milla Nova available at The Wedding Club Birmingham
Hair – Maria
Makeup – Melissa Bourne
Shoes – Jimmy Choo
Groom's Suit – Moss Bro's
Bridesmaid's Dresses – ASOS Bride
Flower Girls – Children's Salon
Photographer – Naomi Barker Photography
Videographer – AK3Films
Wedding Planner – Olympia Triocoche
Venue – Mykonos Star & Liasti
Flowers – Mykonos Flowers
Music – Tony Roberts