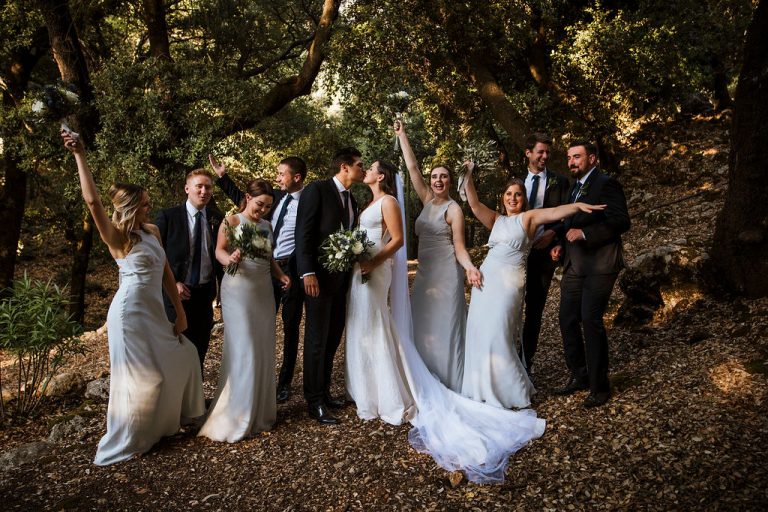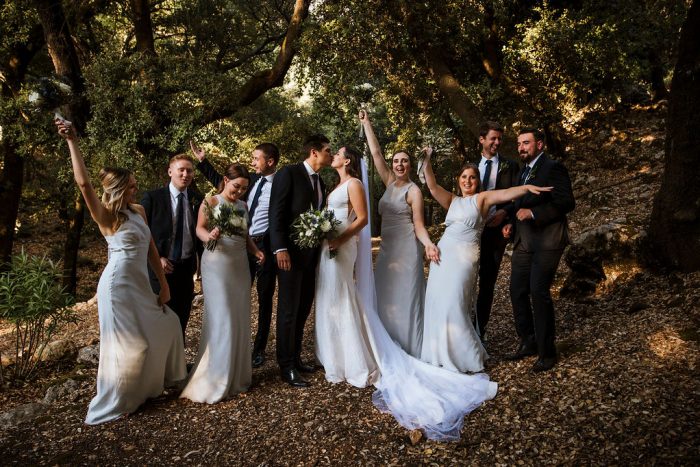 Elegant & Chic Mallorca Wedding in Atelier Pronovias
❤️ The TWC Effect – Our brides, their way ❤️
Today we are joining Alice and Matt at their chic and gorgeous Mallorca wedding! The couple met at a house party in their teens but have since ditched vodka jellies for bottomless mojitos in honour of their big day…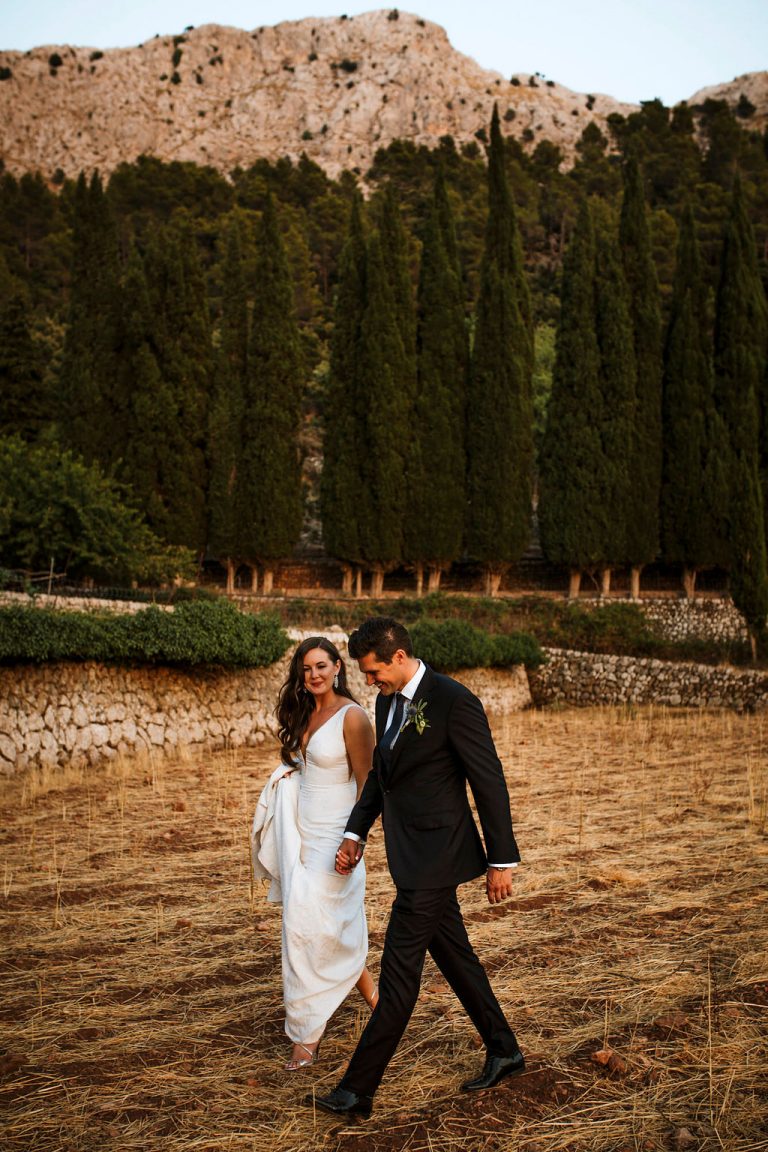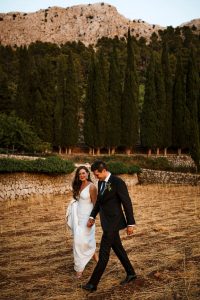 How did you meet?
Matt and I first met at one of his house parties while we were at school. In Matt's words I 'barged in and insisted on taking-over the vodka jelly-making' until we realised it was never going to set in time and that Matt should just drink it all himself!
Needless to say Matt's night didn't end well but whether it was my expert jelly-making, or just the vodka, love blossomed and we enjoyed a short romance before going our separate ways. It wasn't until four years later in 2010, when we were both home from University, that we rekindled our romance and have enjoyed nine happy years together ever since.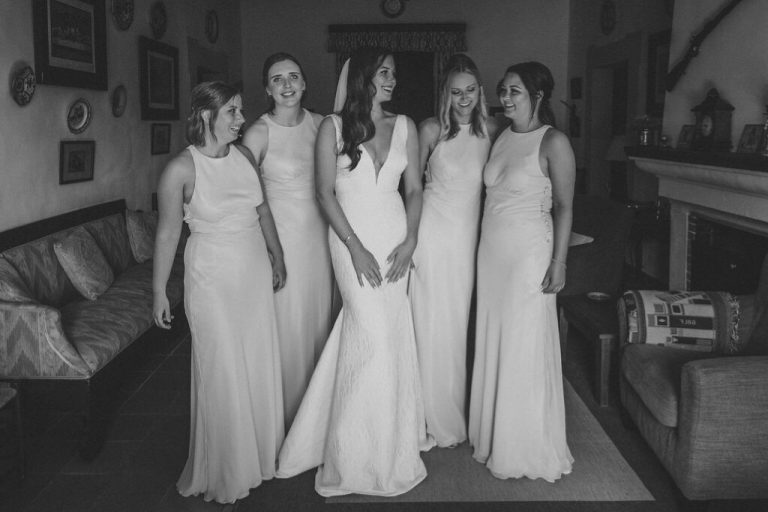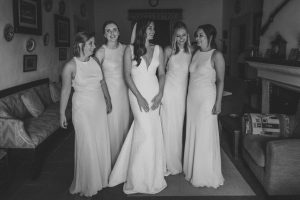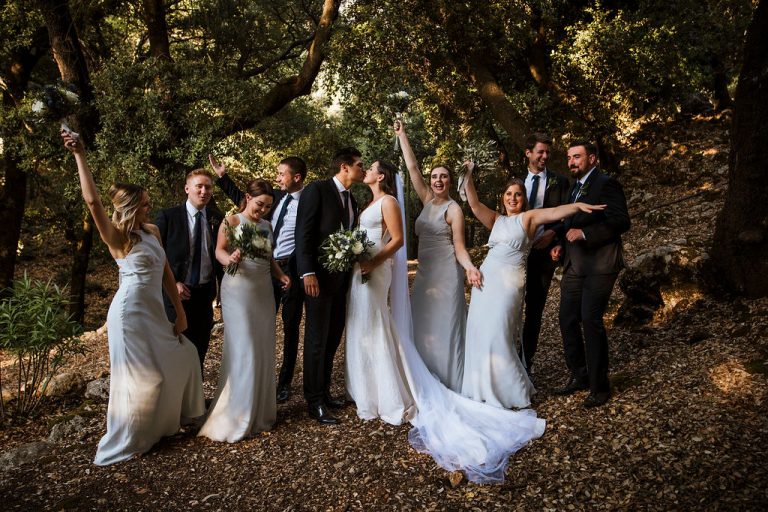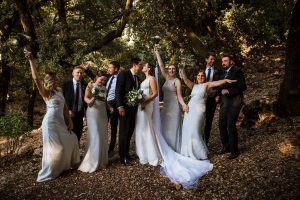 Was it love at first sight?
Walking the corridors of our school between lessons, I would always do my best to cross paths with Matt, even if it meant taking the long-route through the science block just to catch a glimpse of him!
At the time, I didn't think Matt knew who I was so he doubted he would ever suspect that I had a huge crush on him and was following him around like a lost puppy. Years later, when I confessed what I'd been doing, he told me he knew exactly what was going on but was too shy to talk to me.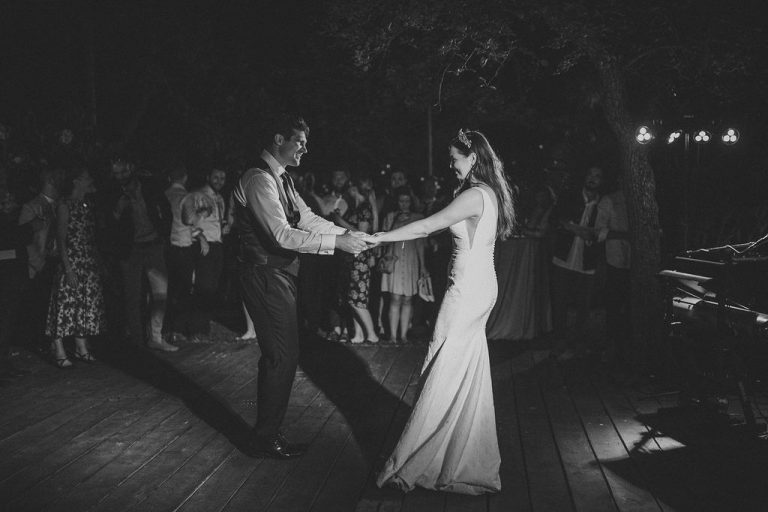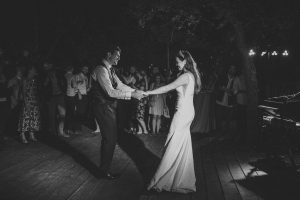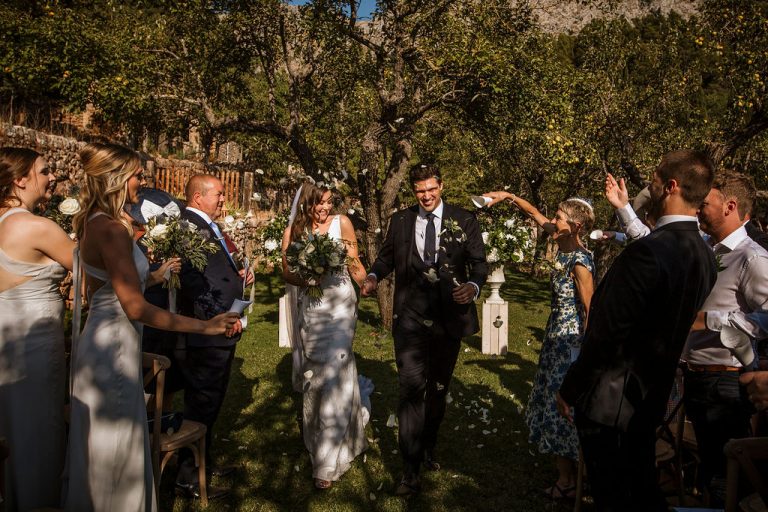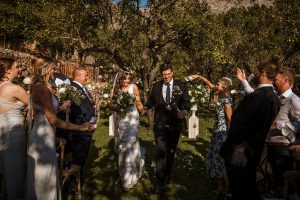 Who proposed and how? Lovely details, please!
I had been away for one of my best friend's hen weekends in Cornwall, leaving Matt to go and visit his mum back home in the Peak District, or so I thought. He had in fact spend the weekend driving back and forth to The Jewellery Quarter in Birmingham where he had chosen the most stunning diamond engagement ring, as well as planning a romantic walk in the Lake District with my parents' help.
The following week we made the trip to my parents' cottage in The Lakes and set off to the mountains for a day's walk up to Dove Crag. When we neared the peak, I was reluctant to go to the top of the mountain as it meant re-tracing our steps for a short distance and was surprised that Matt was so keen. However, he bribed me with snacks and sent me to the top to pose for a photograph.
When I turned around, Matt was bending down on one knee, making the most thoughtful speech (which I can't remember any of it because I was in such disbelief – he tells me it was romantic though!). The walk back down the mountain took twice as long as the walk up; I just couldn't stop staring at my hand and the beautiful new ring that Matt had placed upon my finger.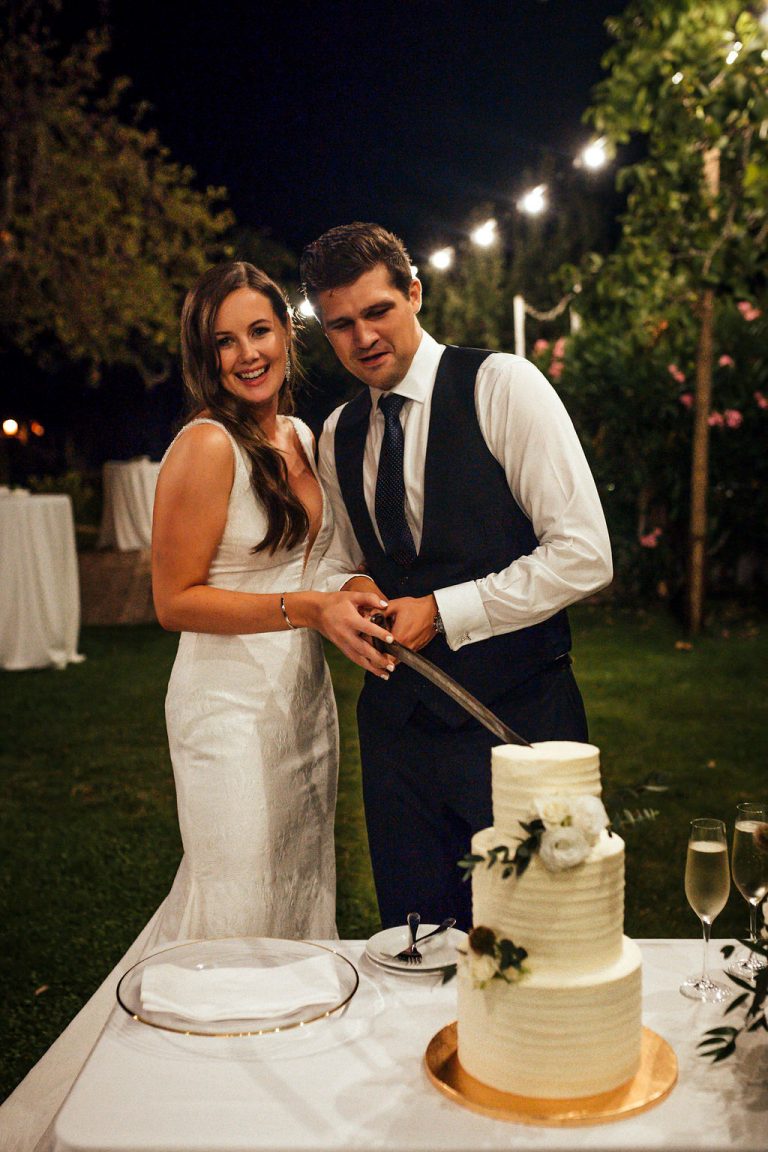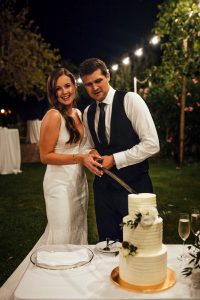 Did you have a theme for your wedding? How did it come about?
We're both very laid-back so we wanted a simple yet elegant theme in an outdoor setting. We loved the simplicity of whites and greens and our wedding planner, Judith from Mille Papillons, put together a beautiful proposal with our florist, Francis.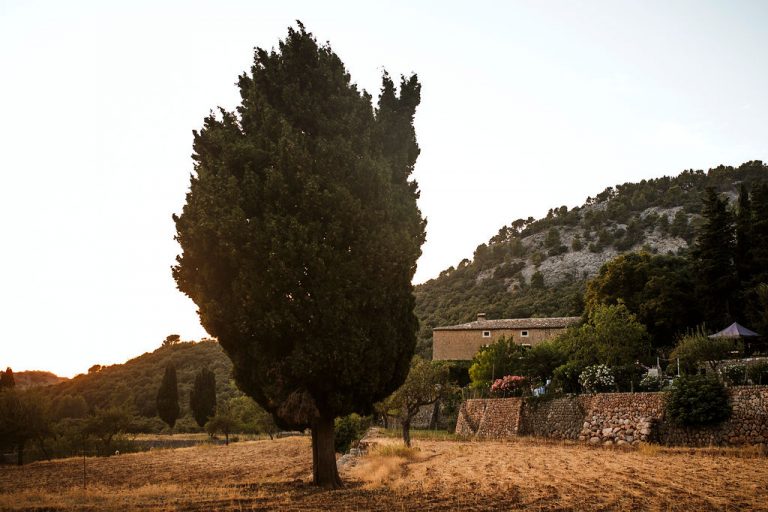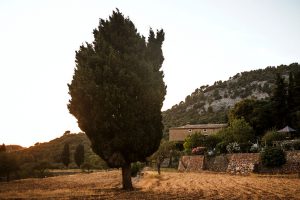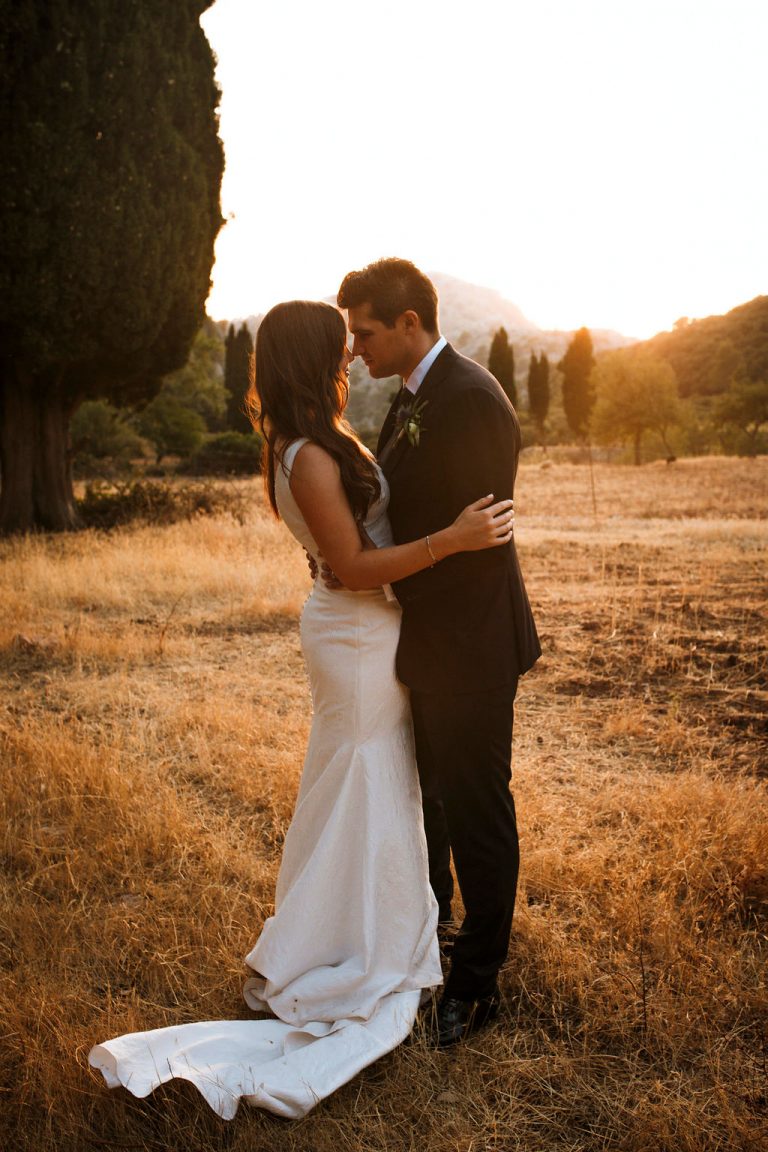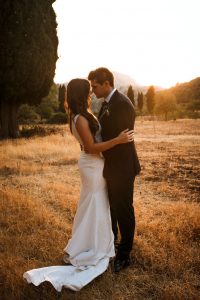 Location and how you found it?
On the odd occasion that we would discuss marriage and weddings (before we were engaged) we both liked the idea of getting married somewhere outside the UK. I had been visiting the Serra de Tramuntana mountains in Mallorca for twenty years with my parents and Matt and I had shared some special holidays there so it seemed the perfect location.
We love the laid-back Mediterranean style and, having got engaged on top of a mountain, it seemed fitting to take our vows amongst the gorgeous mountains of North-West Mallorca. Judith and her team at Mille Papillons found the most perfect venue – Finca Monnaber, a family-owned, five bedroom villa with acres of farmland and spectacular views of the mountains from the stunning, pear-tree filled garden. It ticked all of our wish-list boxes so we booked it instantly.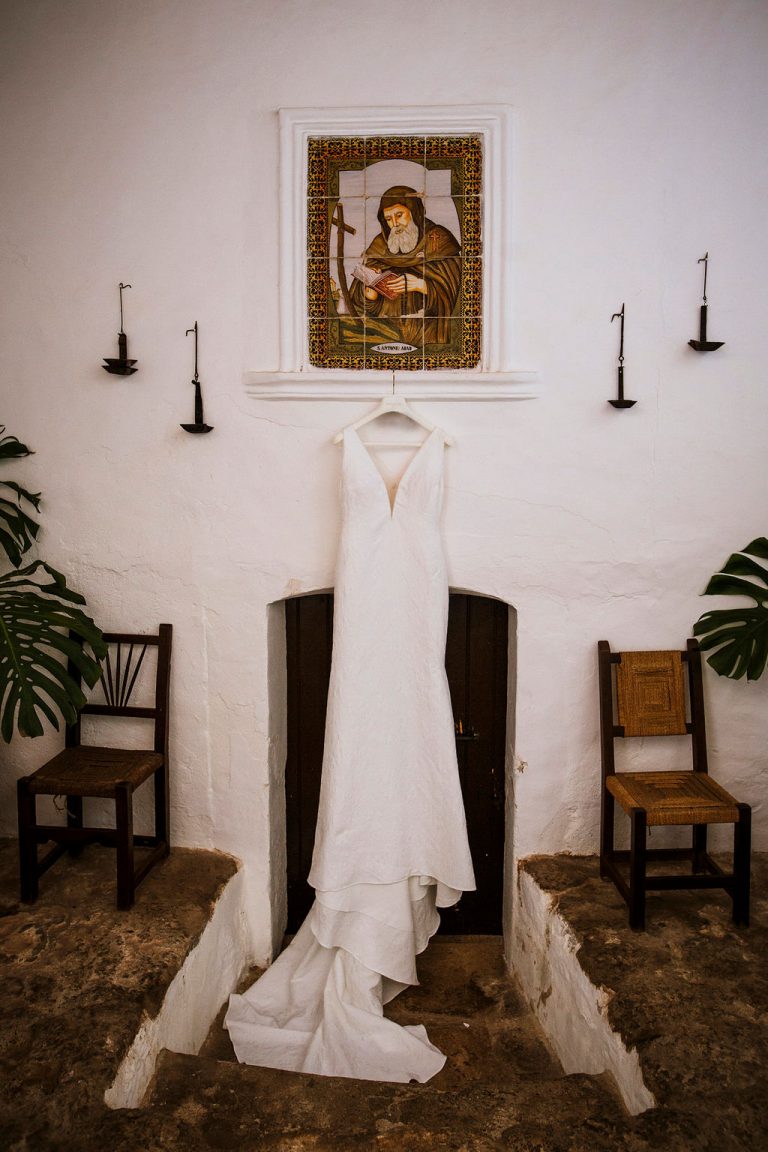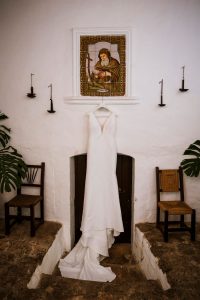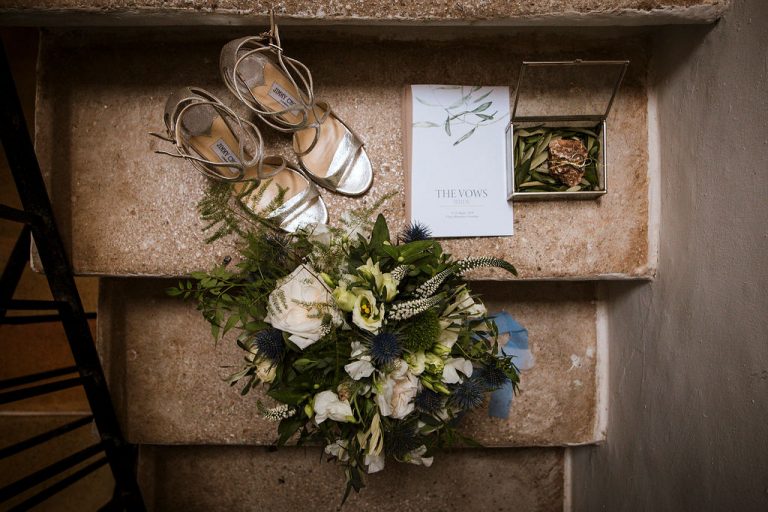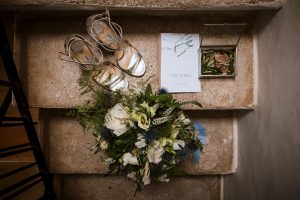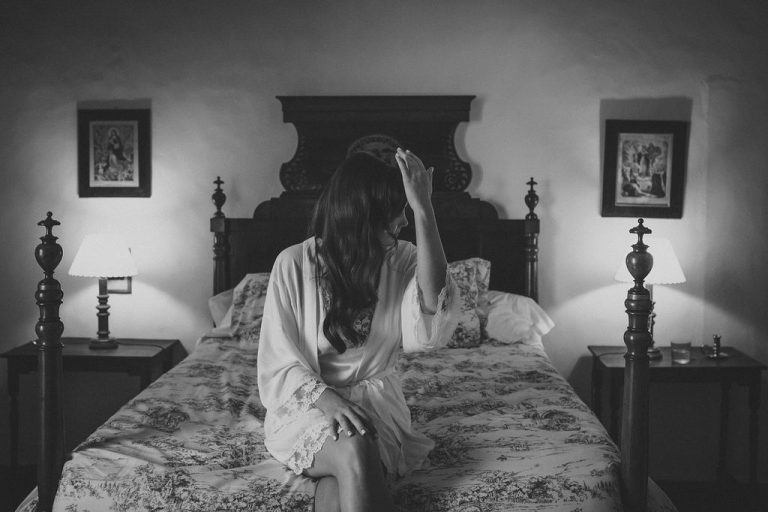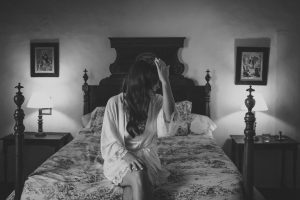 How did you find The Wedding Club? Tell us about that moment when you found and chose your dress – how did it make you feel when you put it on for the first time?
As soon as we got engaged I began following tons of bridalwear designers on Instagram and quickly became obsessed with the Valencia gown by Atelier Pronovias. Once I discovered that The Wedding Club was the only stockist near me I booked a consultation with Sami at the Birmingham Store.
After filling Sami in on all the details of the wedding, my personal style and the gowns I'd tried before but not loved, we went straight to the Valencia gown but what I saw in the mirror was not what I imagined. Sami quickly began pulling similarly lightweight gowns, including the Racimo gown by Atelier Pronovias.
I'd seen the dress online but had thought it might be too simple. As Sami closed the zip on the back of the dress, she gasped. That's when I looked in the mirror and knew it was the dress for me – Sami had picked up on my style and personality and chose the most perfect gown and it felt magical, I just didn't want to take it off!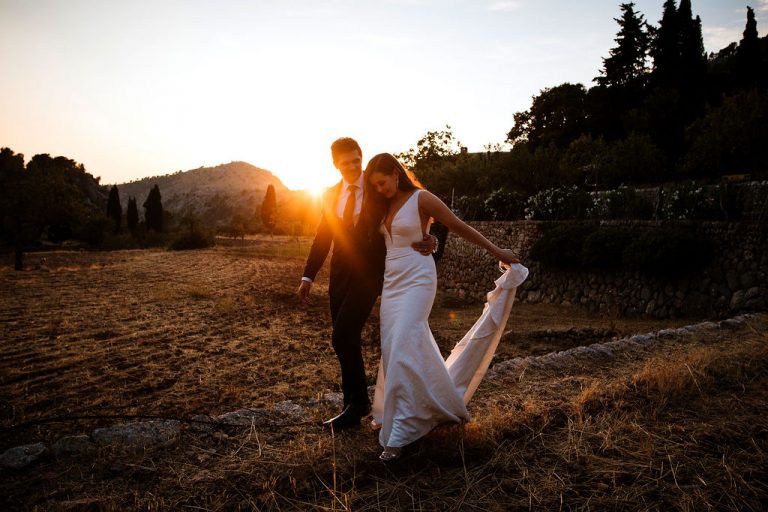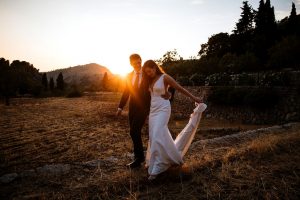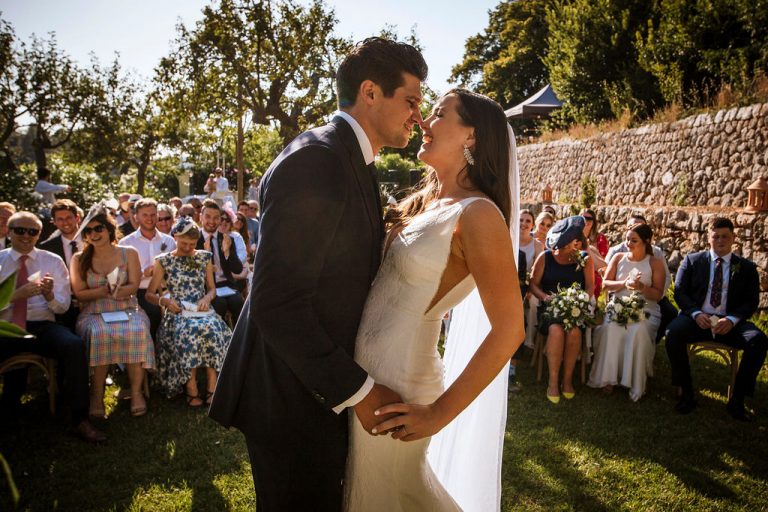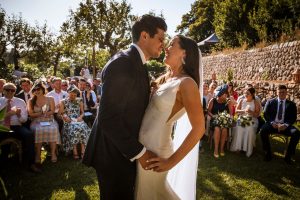 Where is the suit from? Why was it the perfect fit?
Matt decided that he wanted a tailor-made, three-piece suit and was recommended Suit Supply by a work colleague. We'd decided on a very dark, almost black, navy colour for the men so spent quite a bit of time carefully selecting the perfect weight and colour of fabric in their Westfield London store.
Once the fabric was chosen and the style selected, the suit was kept a secret so I didn't see Matt wearing it until I walked down the aisle to meet him.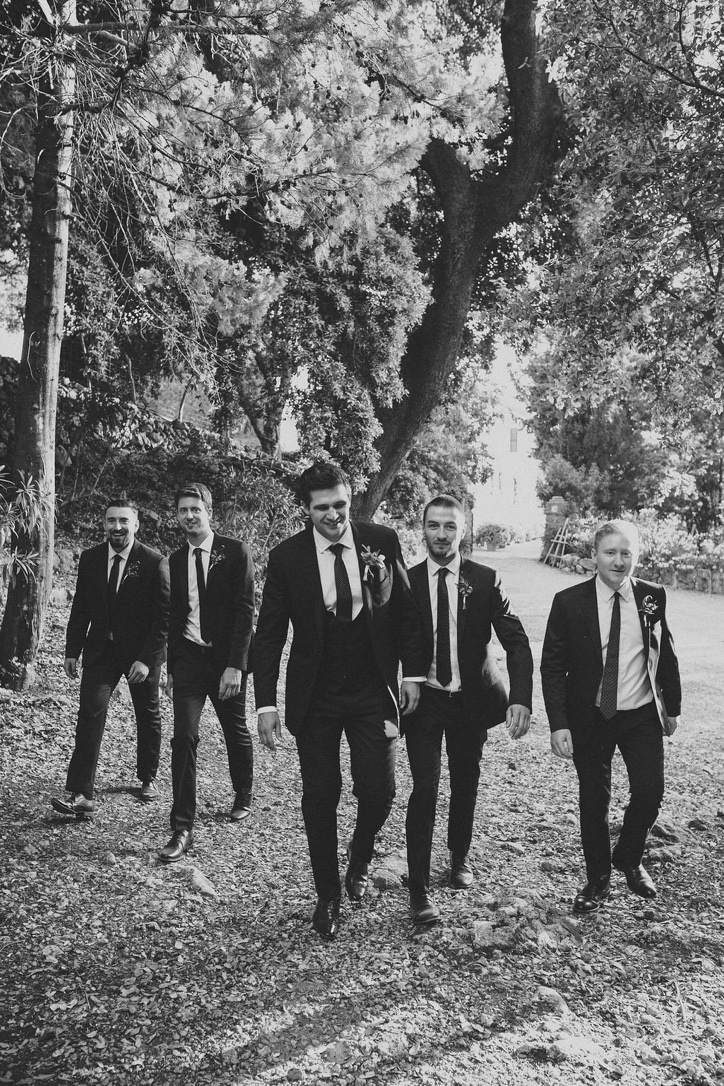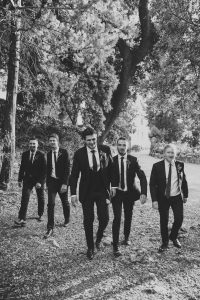 Did you have speeches? Who performed them?
We had five speeches at our wedding, punctuated by our delicious food (cooked by the amazing Andreas from The Cutting Edge Mallorca) so that our guests didn't have to sit through almost an hour of speeches in one sitting. My Dad kicked off the meal with his speech, followed by the Groom. Before desert I said a few words then Matt's two Best Men took the floor and finished the meal with two brilliant speeches.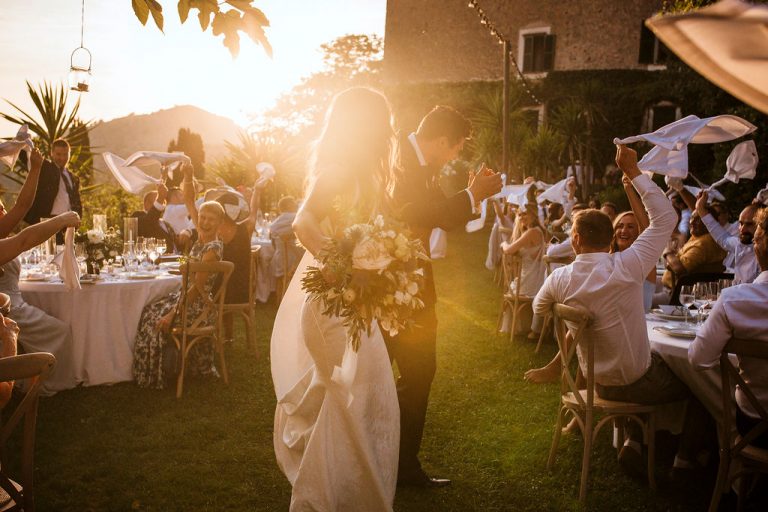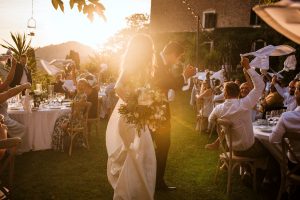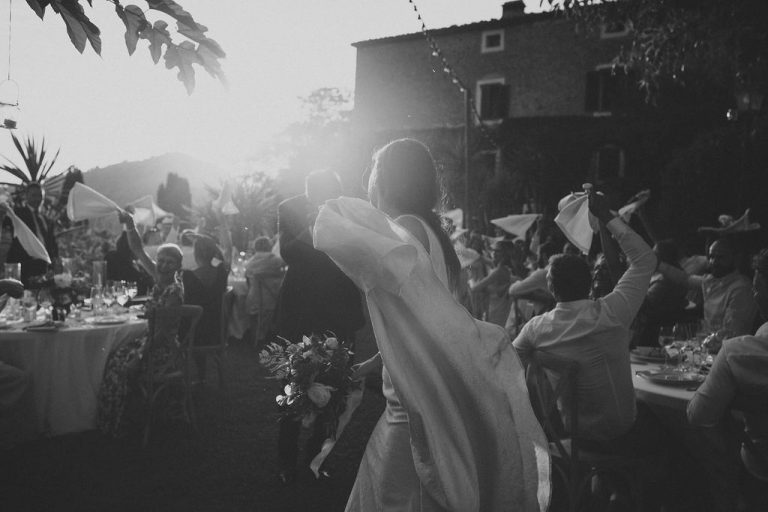 Did you have a first dance? What song did you choose and why? How was the performance?
We'd practised our first dance to an Arctic Monkeys cover of Baby I'm Yours by Barbara Lewis for a month before the wedding. With first dance nerves and lack of practise on the uneven outdoor dance floor, we giggled through the whole thing but managed to pull it off without anyone noticing the parts we'd messed-up!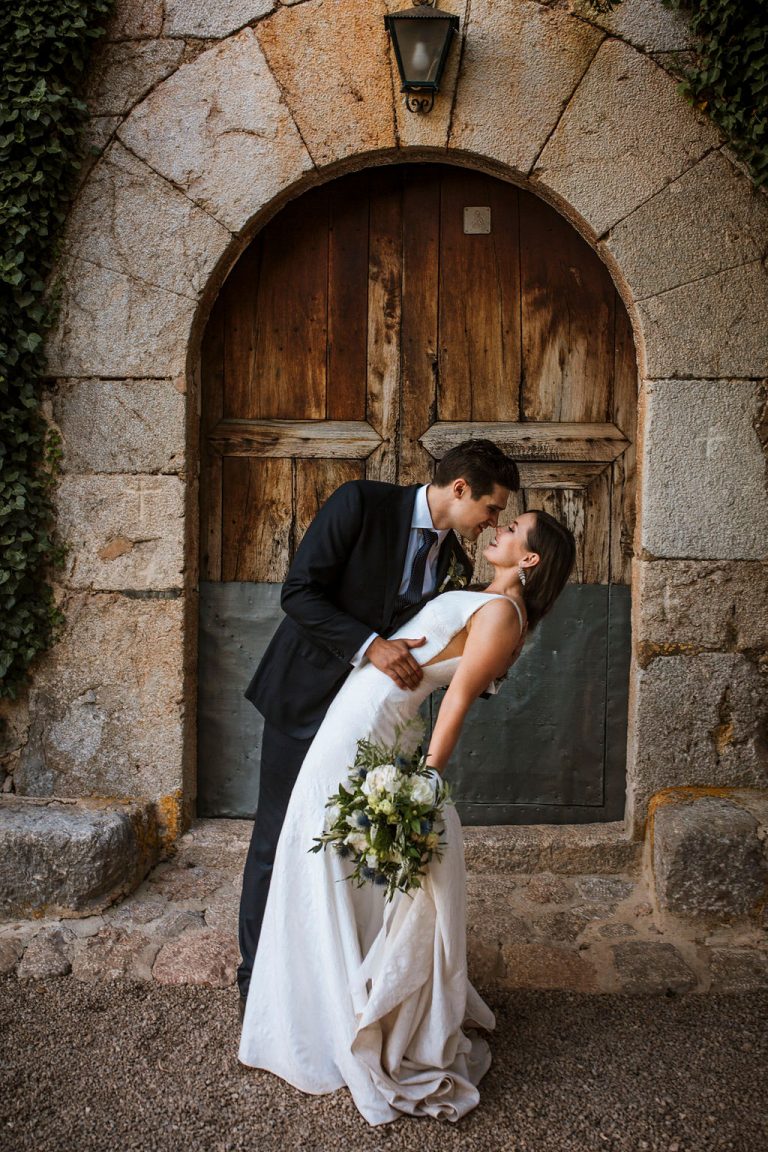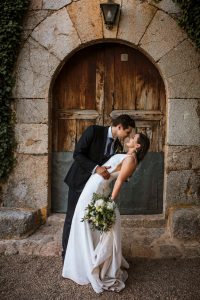 How was the party?
The party under the stars was unforgettable: Paco from Panela Productions (who provided all of our music for the day) had found the perfect band in Marco Soul Trio. The three-piece band from Mexico played a great mix of funk and soul so the dance floor was never empty; my dad, who had sworn he would never dance, even made an entrance onto the dance floor!
The party carried on until the early hours with a DJ set by Victor (also form Panela Productions) and bottomless mojitos from the string-lit bar.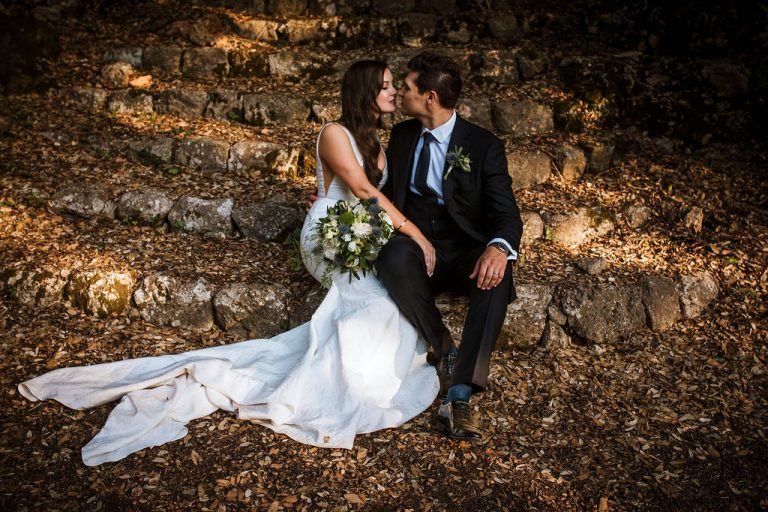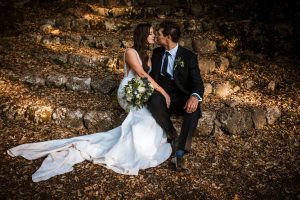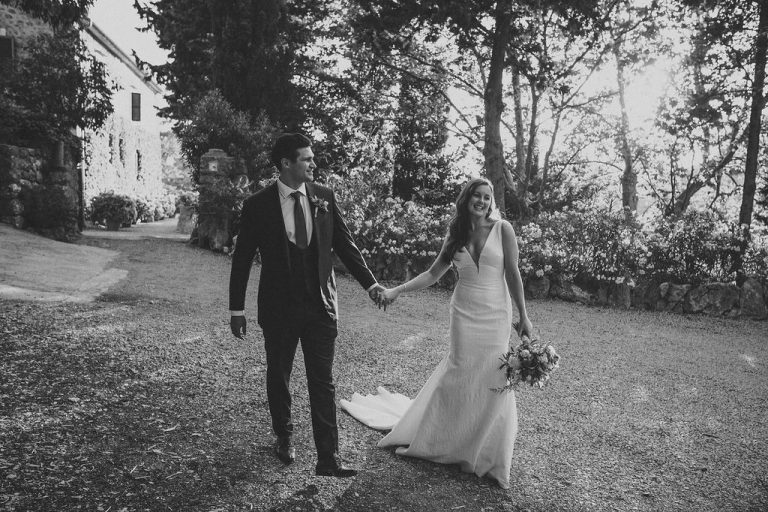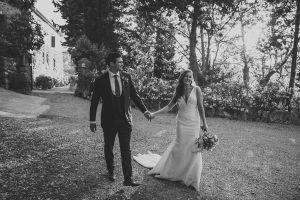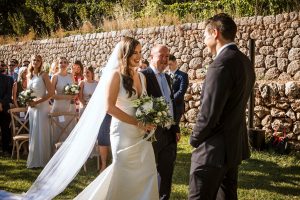 Wedding planning advice for brides to be?
Having a wedding planner was also the best decision we ever made. We initially wanted to plan everything ourselves but it soon became apparent that it would be much harder than we thought, particularly since we were getting married outside the UK. Mille Papillons made everything so easy and enjoyable and the day was totally stress-free because Judith and Marina coordinated every moment to perfection.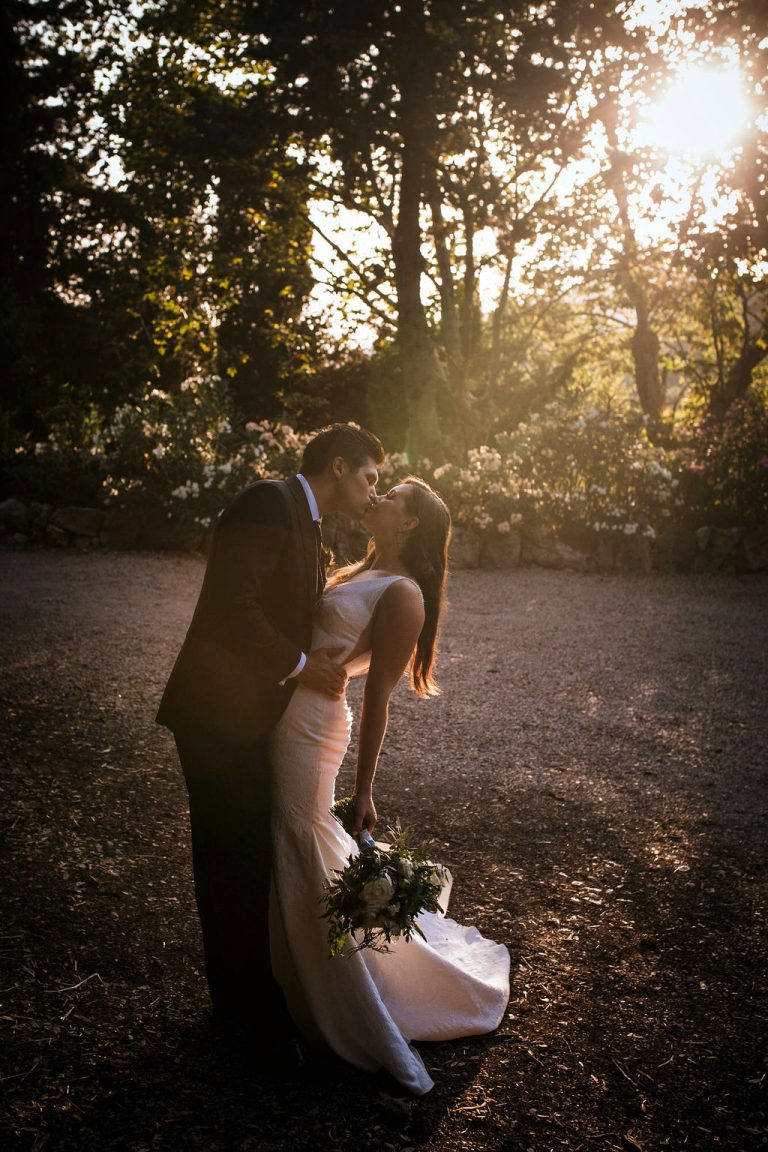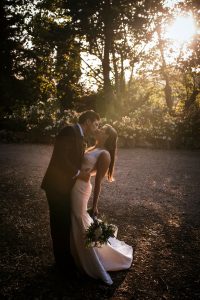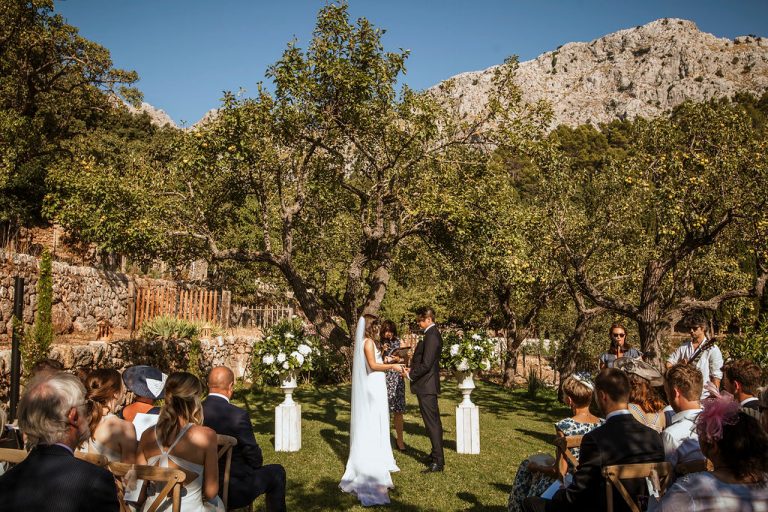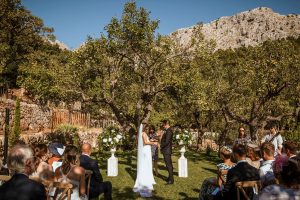 One moment you'll never forget:
We will never forget walking through the fields at sunset after our golden hour photographs, looking on at all of our favourite people having the time of their lives in our favourite place in the world – it was truly magical.
❤️
Dress: Atelier Pronovias available at The Wedding Club Birmingham & South Kensington
Photographer: HUMà06
Planner: Mille Papillons
Floral Design: Francis Garcia x Mille Papillons
Venue: Finca Monnaber, Fornalutx, Mallorca
Cake: Barbara Backenköhler THE BAKERY
Catering and Bar: The Cutting Edge Mallorca
Entertainment: Panela Productions
Earrings: Swarovski
Bracelet: Monica Vinader
Hair: Christie from New U Salon, Ibiza
Shoes: Jimmy Choo
Groom's Suit: Suit Supply
Bridesmaid's Dresses: Maids to Measure