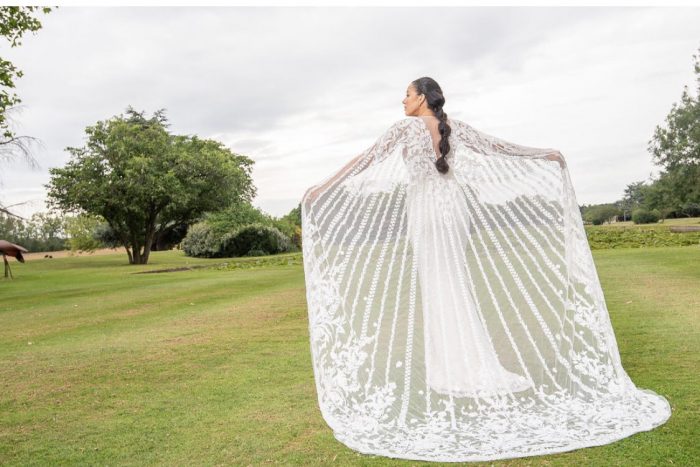 Elegant English Garden Wedding in Zuhair Murad Caped Gown
❤️ The TWC Effect – Our brides, their way ❤️
Today we are joining sports superstar couple Azania and Menelik at their gorgeous English manor house wedding. After their proposal going viral, the couple certainly delivered on a day you wont want to miss out on seeing!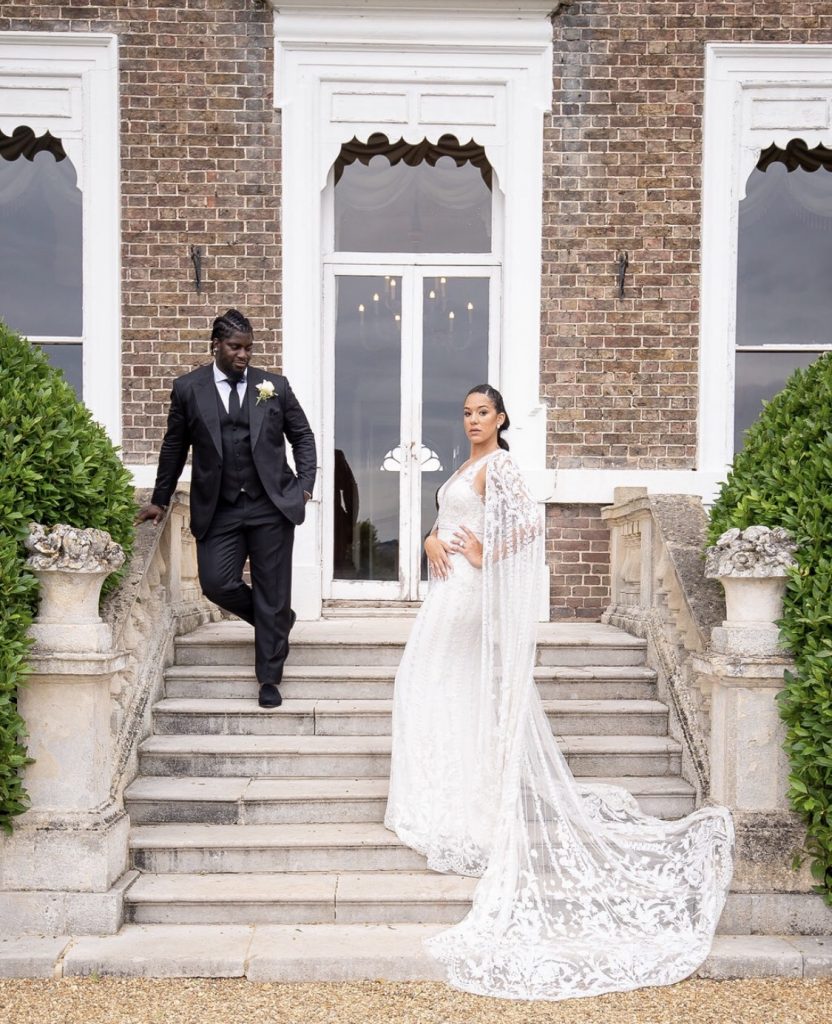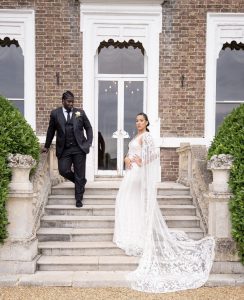 How did you meet?
We met a long time ago around 14/15years old. We both played basketball for our home cities of Manchester for him and London for myself. We had seen each other around at tournaments and camps but Menelik was too shy to say anything, plus he knew it would never work as we lived so far apart and at that age I wasn't into boys whatsoever. So I never looked twice at him.
We both ended up moving to America to pursue our dreams of playing basketball at a higher level. We never ended up meeting until 2016 which was over 10 years later and we had a very good mutual friend who rekindle us all these years later. We spoke for about 6 months before we even saw each other and that's when I asked him to be my boyfriend!!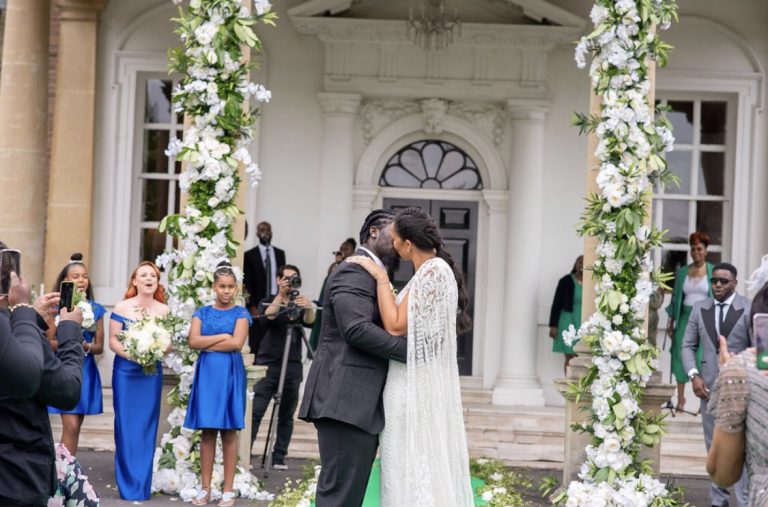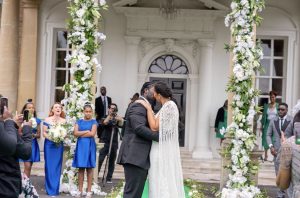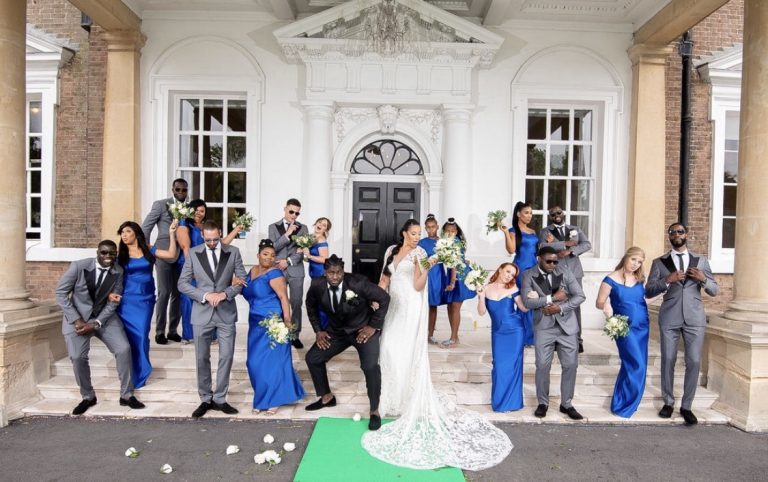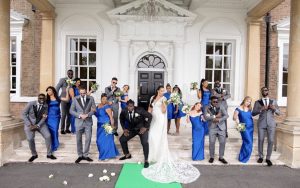 Was it love at first sight?
Menelik always says he fancied me and wanted to have a wife that looked like me. So I guess it was love for him at first sight. For me I thought he was handsome but I fell in love with his caring and loving personality.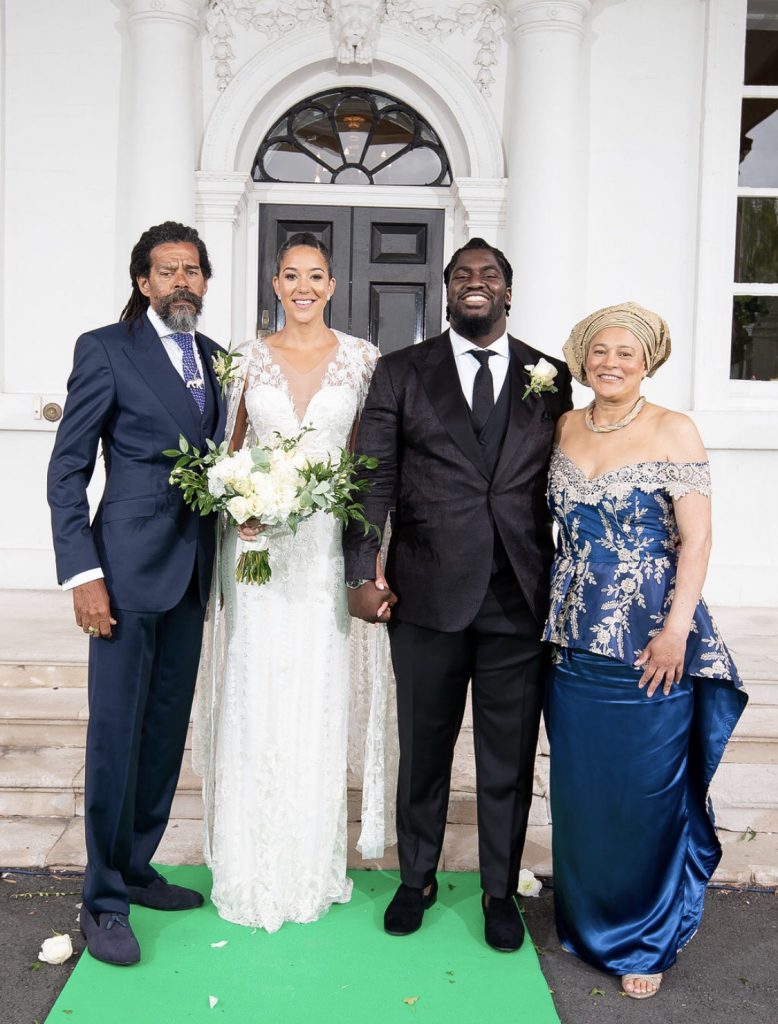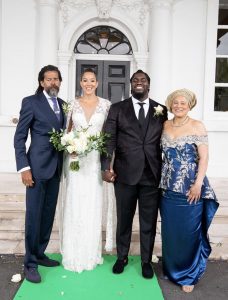 Who proposed and how? Lovely details, please!
Menelik proposed to me at his preseason NFL game in the 3rd quarter. I was in fact leaving his game as the starter don't play the second half. I managed to get his attention to let him know I was going home and I would see him later. As I waved goodbye from afar he mouthed the words "WILL YOU MARRY ME". I said "no you idiot!! stop playing dumb games, I'm going home!"
He then proceeded to walk over to my section I was sitting with my friends. Once he was in front of me he got down on one knee and asked me again. I burst out crying and wished I could hug him but he was on the field and I was higher up in the stands. The feeling was unreal!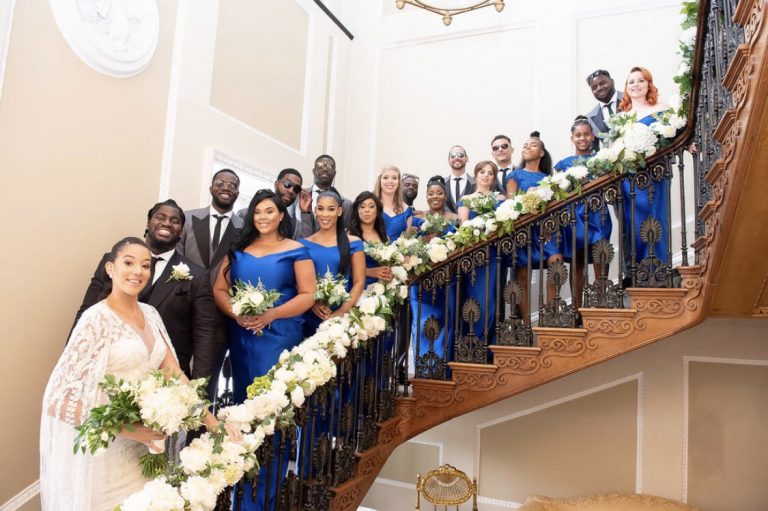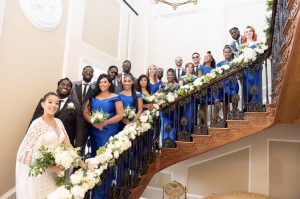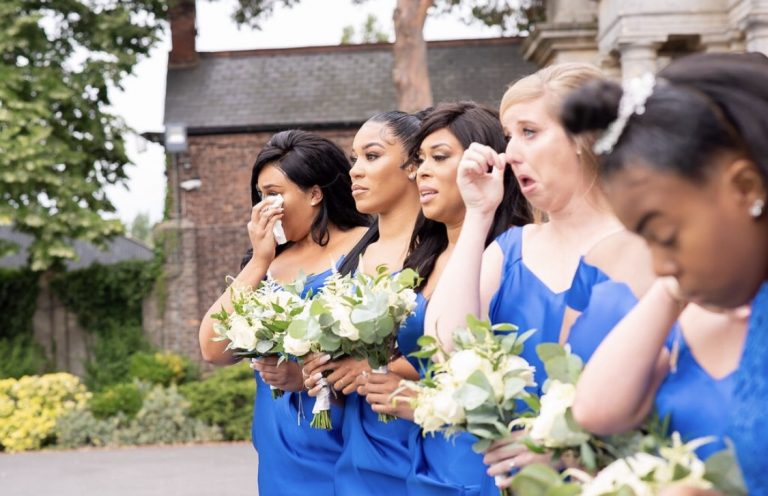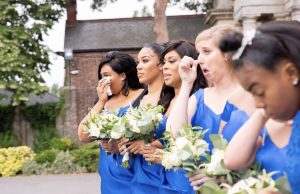 Did you have a theme for your wedding? How did it come about?
Pretty much as soon as we decided on a date I started a instagram saved page and started following wedding pages. I loved the green foliage and white flowers with glass and candles the most out of everything I had seen online.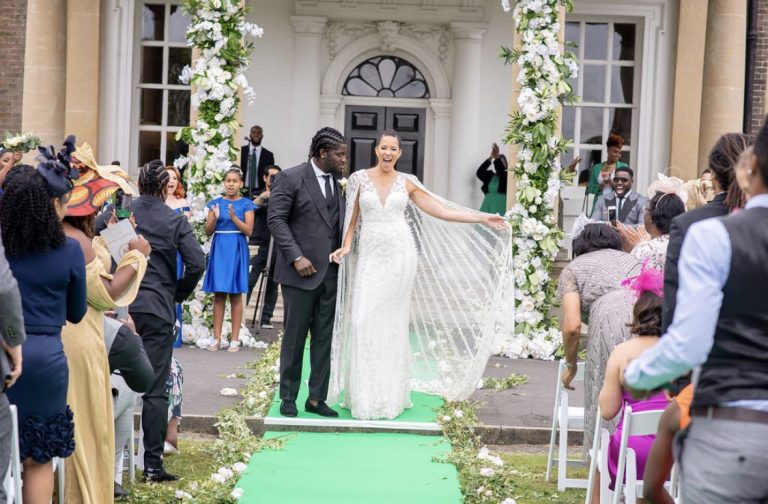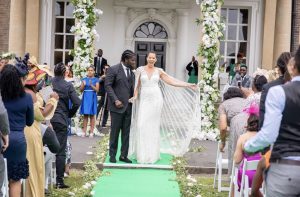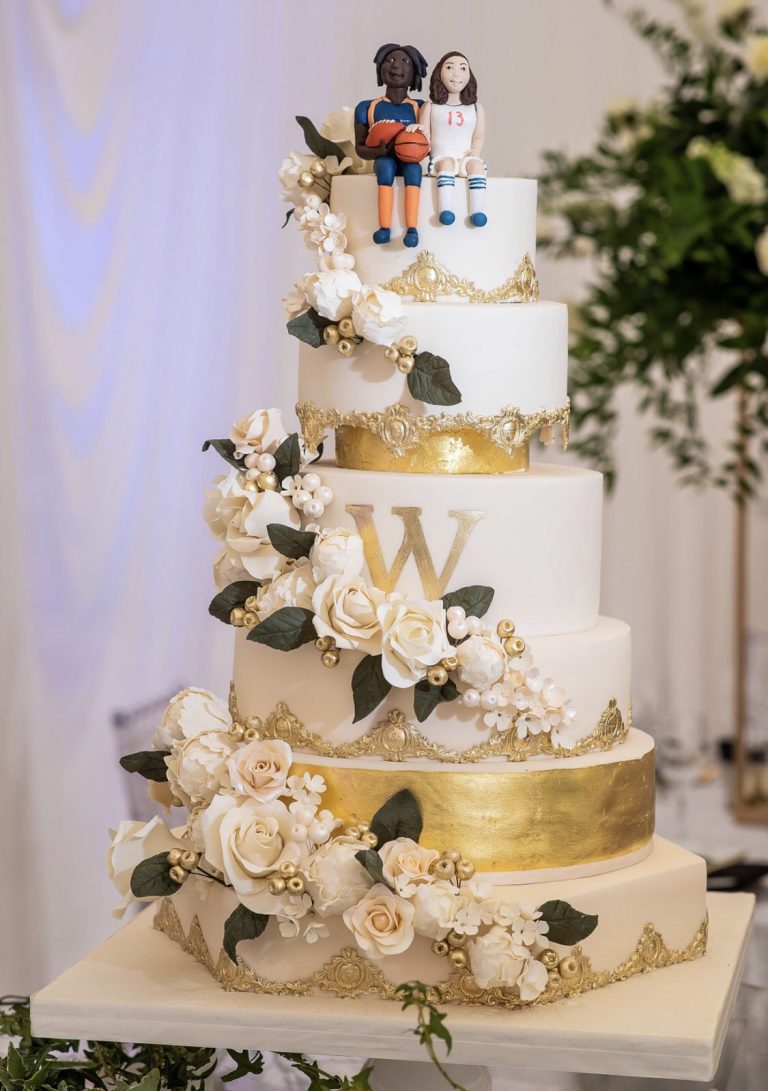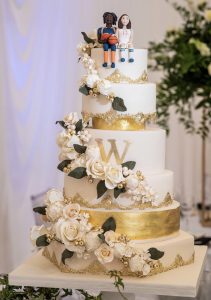 Location and how you found it?
I knew it would be a large wedding, with lots of people traveling from overseas so I wanted to make sure that guests felt comfortable to mingle with each other. Boreham House in Chelmsford is a grand manor house which was perfect for our day. I knew I wanted to get married outside – risky I know, living in England – with a garden party/ carnival feel and they had the space for me to achieve this.
Another thing which was perfect about this location was that the house itself had hotel rooms so my wedding party could stay the night before on site and get ready with no rush or panic to travel to wedding location as it was just out front. It also has a hotel located at the end of its grounds so my guest could walk to their rooms and not have to worry about getting home after the party!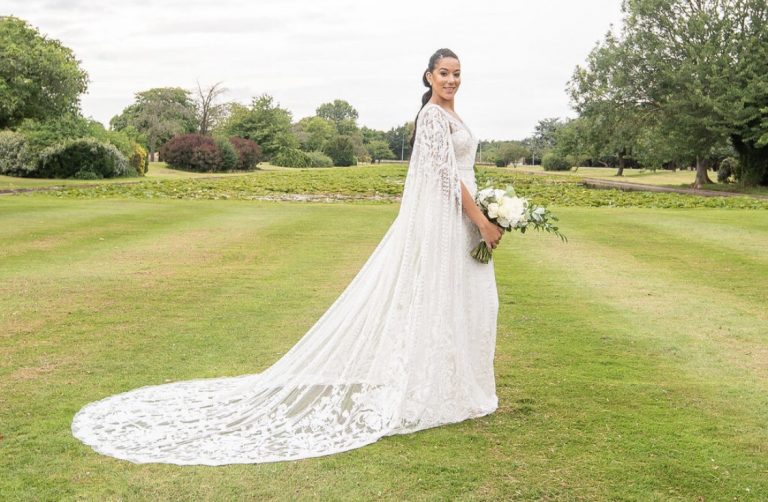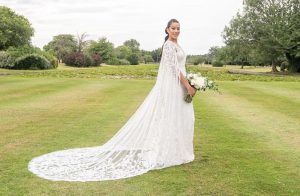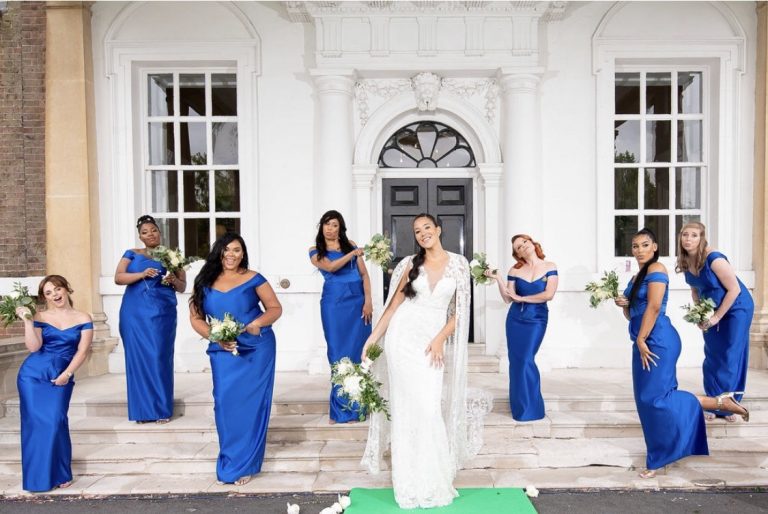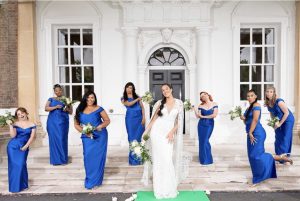 Tell us about that moment when you found and chose your dress – how did it make you feel when you put it on for the first time?
My wedding dress was in fact the last dress I tried on. The wonderful thing that wowed me about my dress was this goddess like cape which went on top of my dress. It was one of the only things long enough that I had ever tried on. At first I was trying it on for fun as I also asked to try a wild card dress on in each shop I went to. But as soon as I put it on it made my friends and families mouths drop. This was the moment I knew I had found the dress. Plus the owner of The Wedding Club, Clare would not let me try on any more dresses and insisted I wore this dress!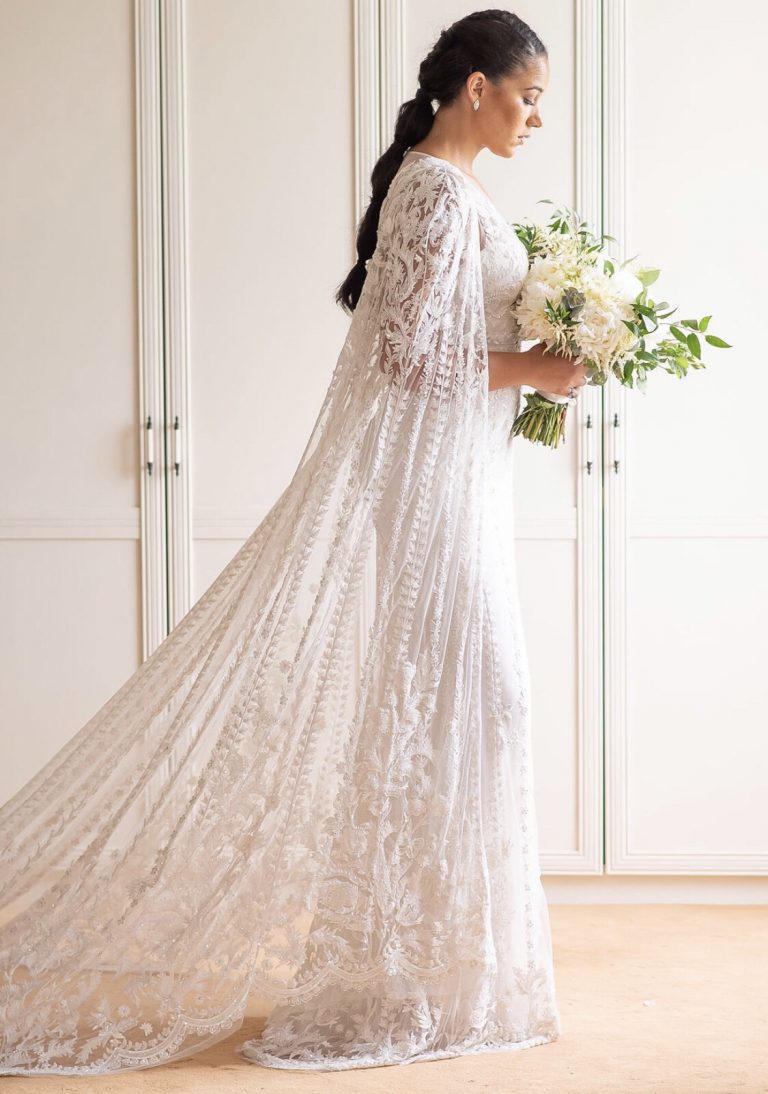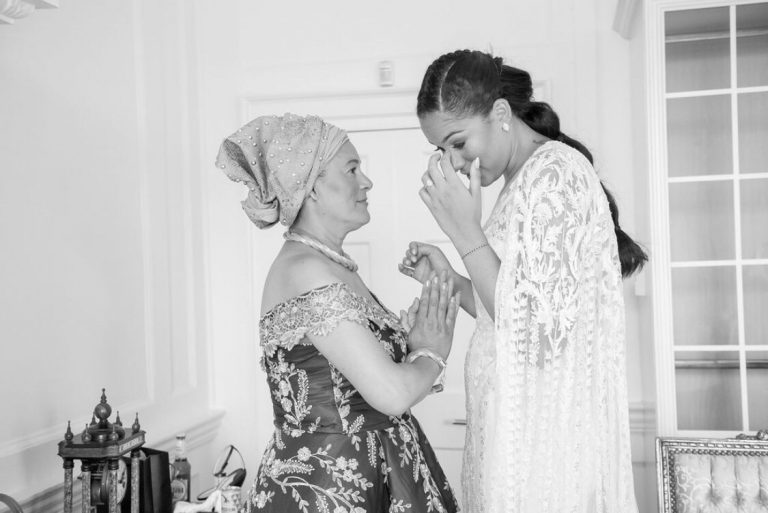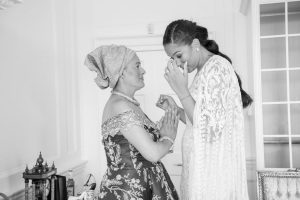 Which designer did you wear?
The funny thing about the designer of my dress is that I had seen his work on many celebrities. My lady crush is J-Lo and it wasn't until I clicked on her dress on IG that I figured out that Zuhair Murad was also the designer of my wedding dress.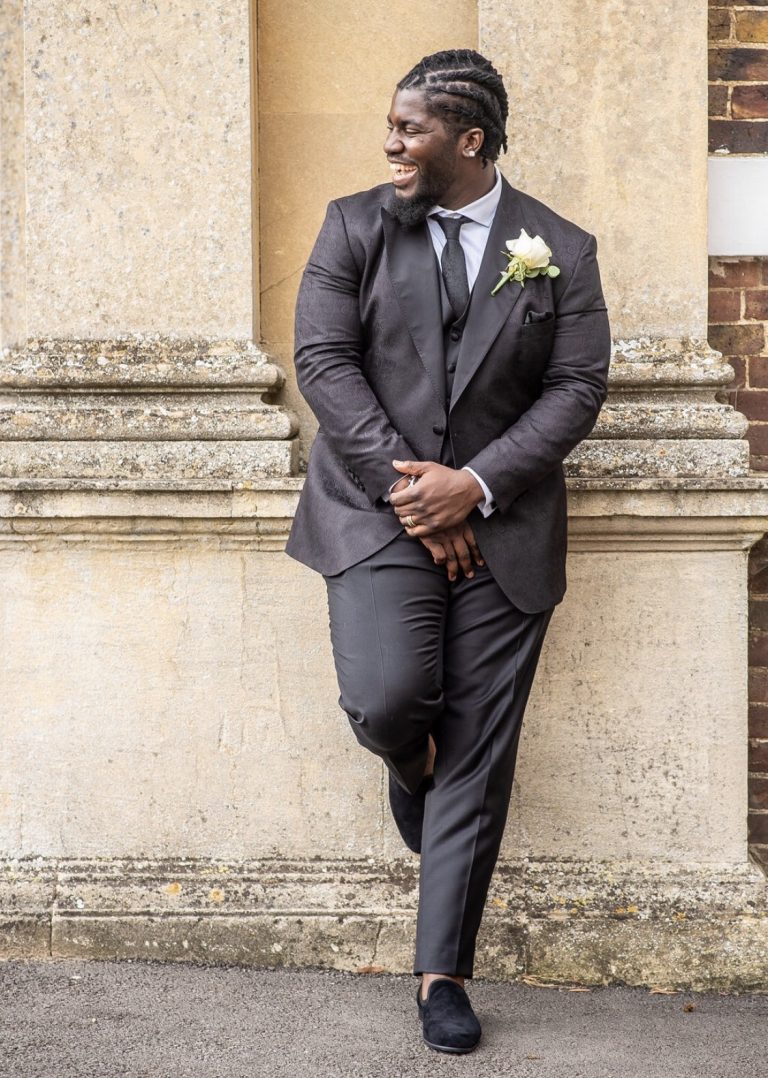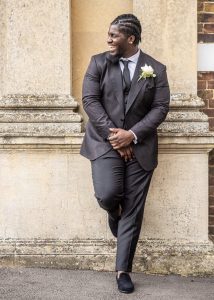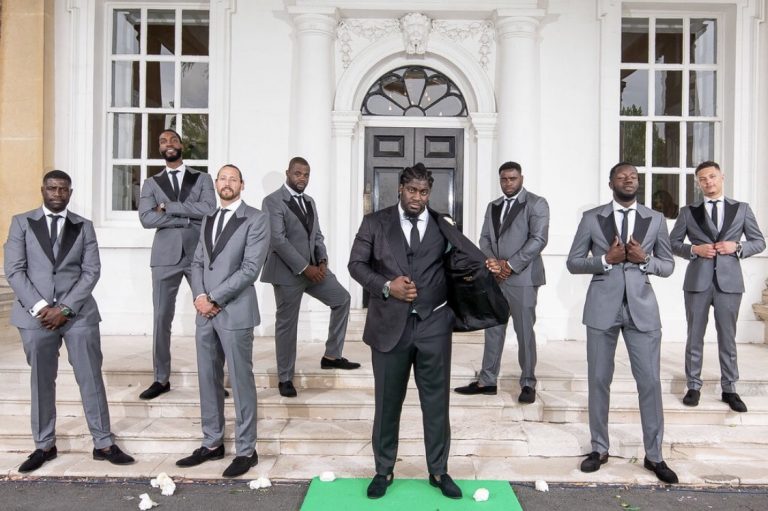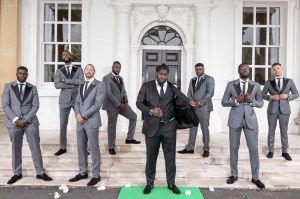 Where is the suit from? Why was it the perfect fit?
My husband is a very large and strong man and I knew it would be very difficult to just walk into a shop and get a suit for him (trust me, we tried!). Some of our friends had had some pieces made by Kabiru Abu. He makes bespoke luxury suits and we loved his work. Menelik also decided that he wanted his groomsmen to look as sharp and smooth as him so we had all seven groomsmen, my dad's suit and Menelik's all made for our big day AND WOW they all looked very sharp.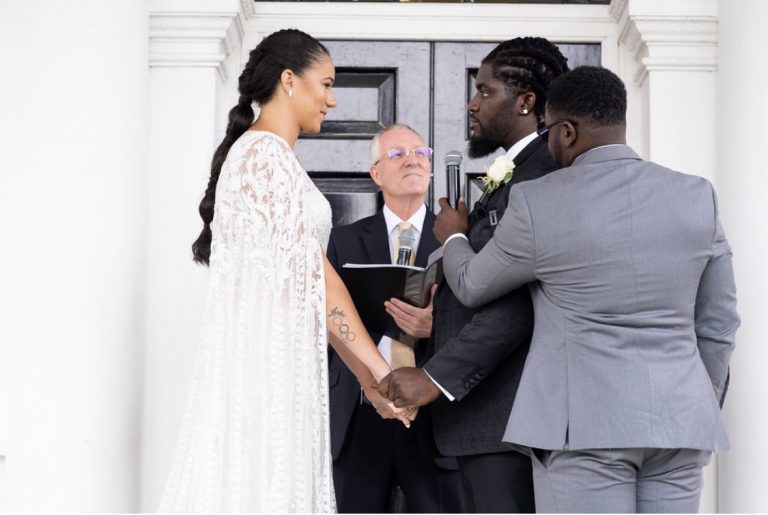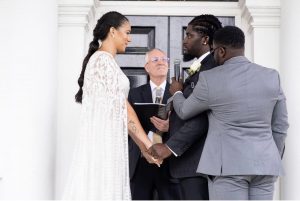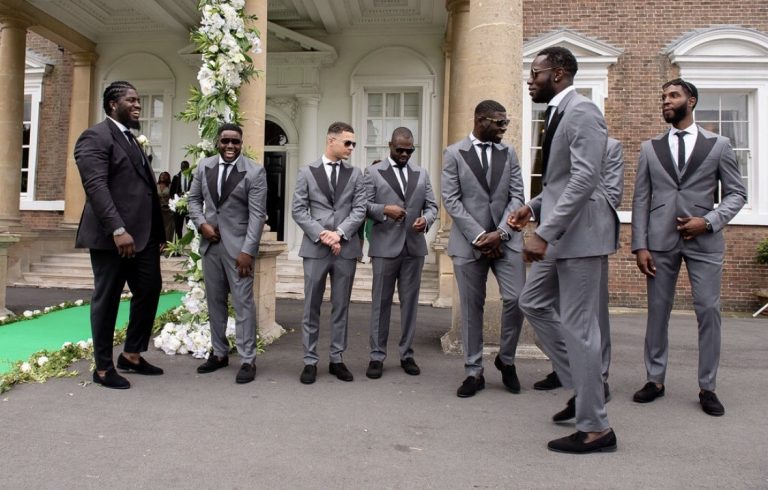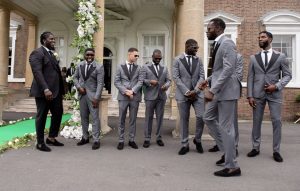 Did you have speeches? Who performed them?
The speeches were by far my favorite part of my wedding. Every speech captured the entire room. My dad's speech ended up being 20 minutes long (WAYYY over the 5 minute mark given) but his storytelling of my life was so captivating.
I would say there was more tear shedding than laughs as the mother of the bride, father of the bride, sister of the bride, maid of honor, best man, brother of the groom and the groom himself all took the stage to tell their heartfelt stories about us through our lifetimes. I also said a few words when we surprised our guests with fireworks out the front of Boreham House.
I just wanted to thank everyone for making the effort to fly in for us and also say a pray/wish for us and themselves as I told him to shut their eyes to do so AND BANG the fireworks started.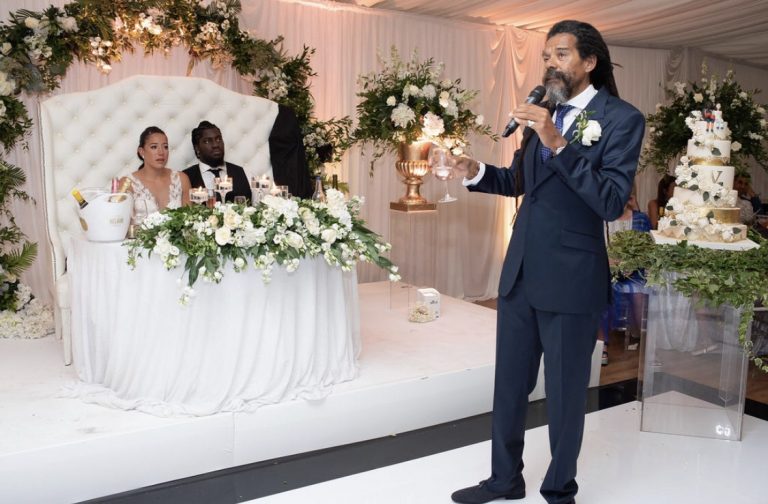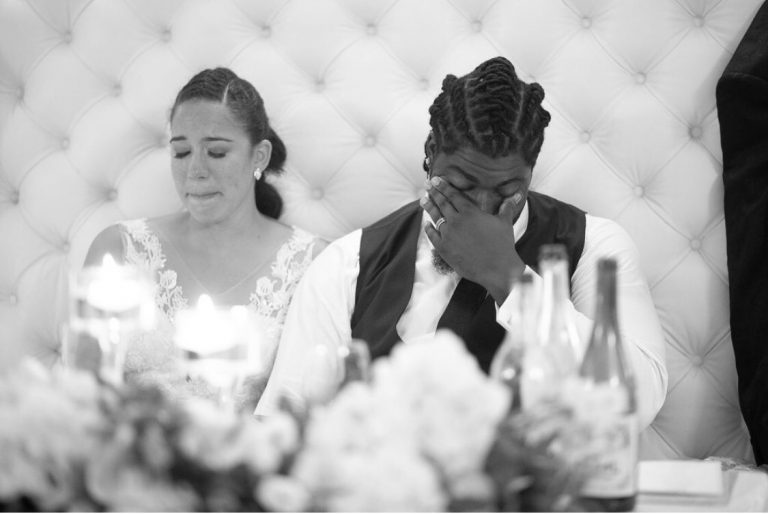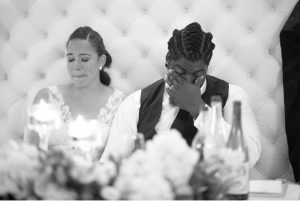 Did you have a first dance? What song did you choose and why? How was the performance?
After we enjoyed the firework show we had our guests come back in to their seats and we entered for our first dance. I also changed out of my cape and added a skirt to my dress for a 3rd look.
We danced to 'A House Is Not a Home' by Luther Vandross. This was my husband's choice as he loved this song and to tell you the truth I had never heard of it until he had told me the year before. I loved the words and the meaning of the song so I was pretty happy about it.
I also surprised him with putting a little remix and adding 'Double Up' by Nipsey Hussle which is one of our favorite songs and we cried to it in the car to a few months before.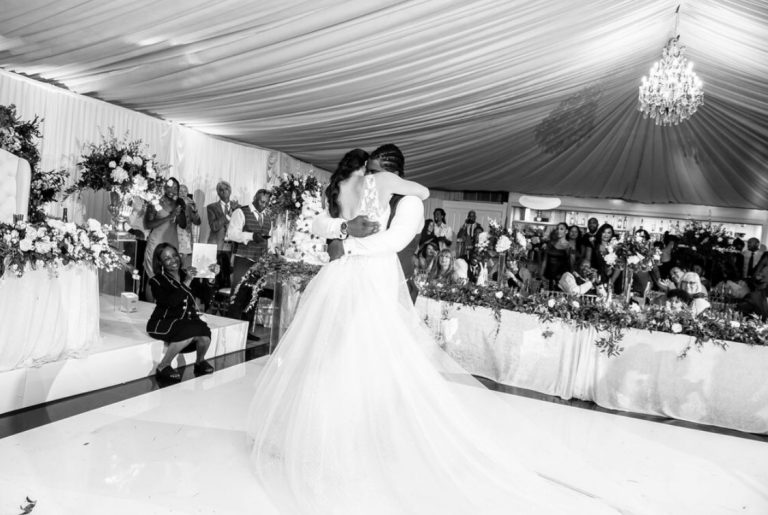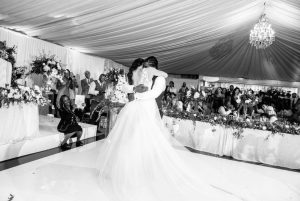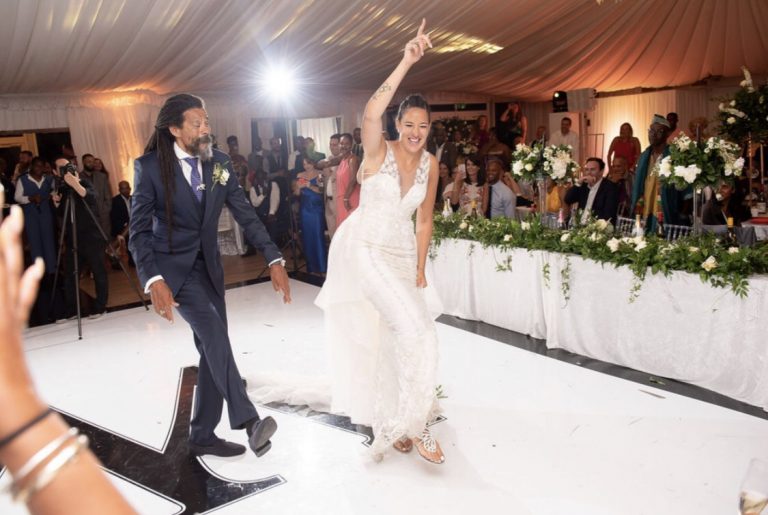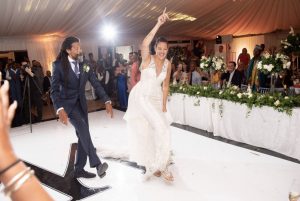 How was the party?
Our party was unreal. I decided to have two DJs, this way I knew my second one would get the party going and make it a rave which is what I wanted. I knew I wanted everyone out of their seats and on the dance floor until the wedding ended at 1am.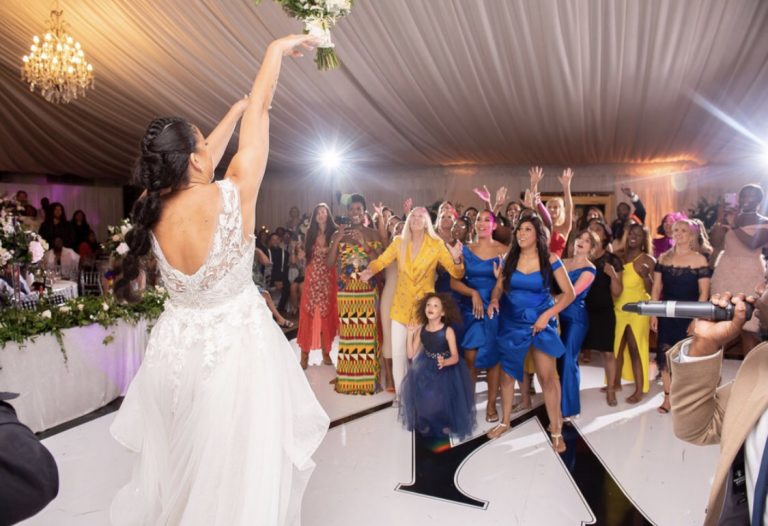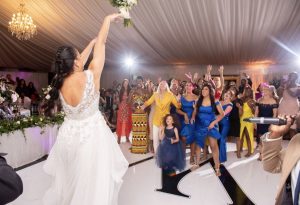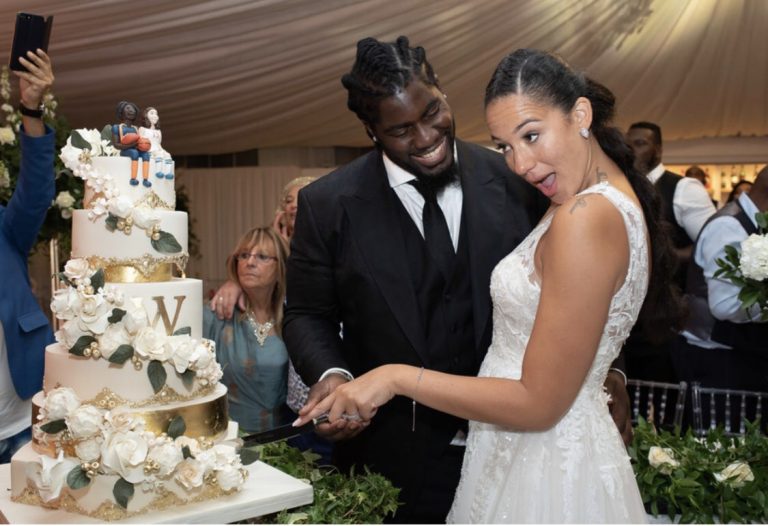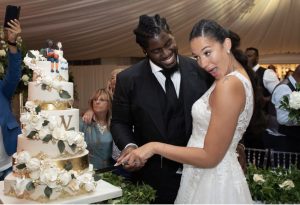 Wedding planning advice for brides to be?
My wedding planning advice I would give to brides is… don't send emails they are a waste of time. Create small easy messages and copy and paste it to everyone individually on WhatsApp.
I would also recommend that you pick a family style of eating on your wedding day. Which means big bowls are placed on the table and this way everyone can serve themselves. It also encourages people to talk at dinner. Make sure the food comes out pretty quickly when your guest sit down as most of your guest wouldn't have eaten all day.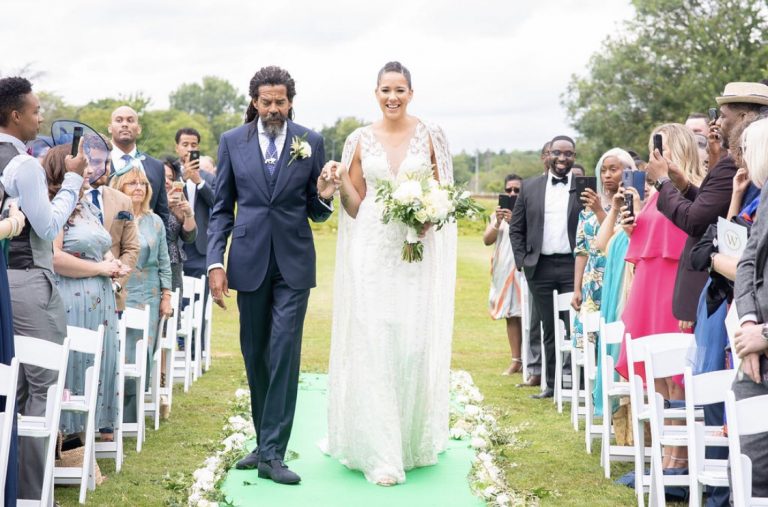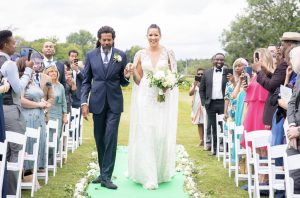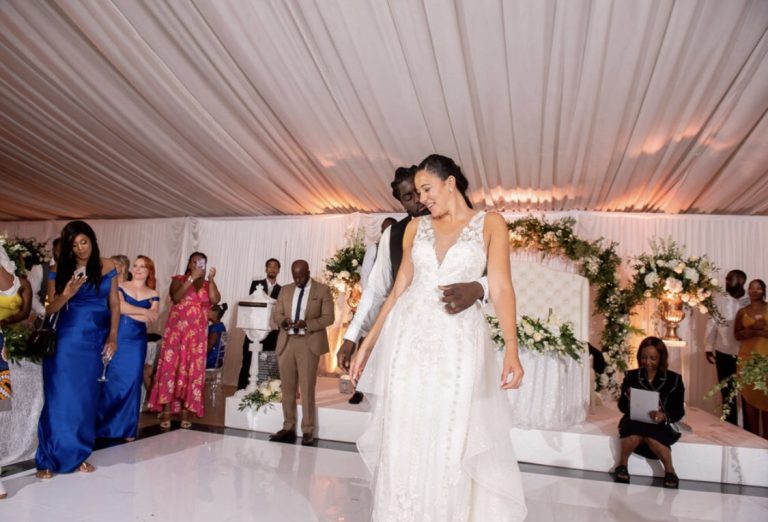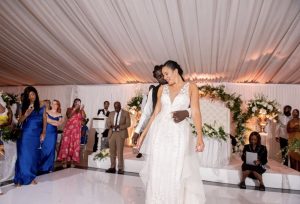 One moment you'll never forget:
One moment I will never forget is when I was ready to walk down the aisle. The choir started singing 'Un-Thinkable' by Alicia Keys and it was so beautifully sung. I was in shock at how good they sounded and the words were hitting my soul, so I burst out crying. I had done so well all day until then.
But by far the best moment was when the brand Sophia Webster shoes asked to collaborate with me to launch their Wifey for Lifey wedding shoe line in larger UK sizes of 9 &10. I would be the FIRST ever to wear their shoes for this size. We had a great day filming and shooting for SW social media and can't wait for the bigger sizes to be released this September.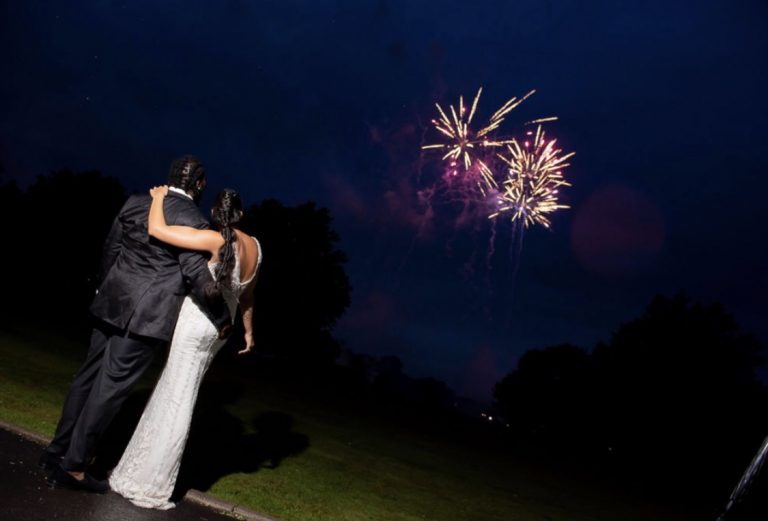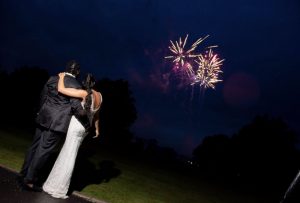 ❤️
Dress: Zuhair Murad available at The Wedding Club Knightsbridge
Photos: Enitan Photography
Videography: Samon Films
Venue: Boreham House
Flowers: Afmena Events
Catering: King Solomon Catering
Cake: GC Couture
Shoes: Sophia Webster
Hair: The Box Hairdressing & Eunice Ajemiri
Makeup: Ms RVB Makeup & Bianca Spencer
Bridesmaids Dresses: SolaFashion
Suit: Kabiru Abu