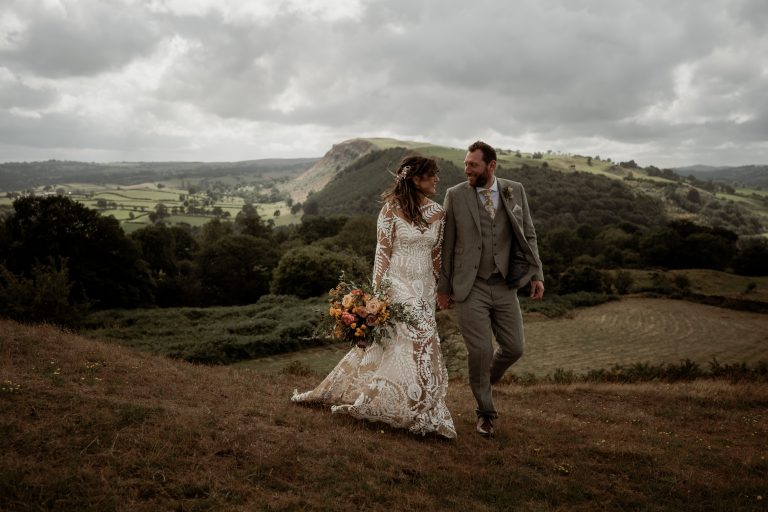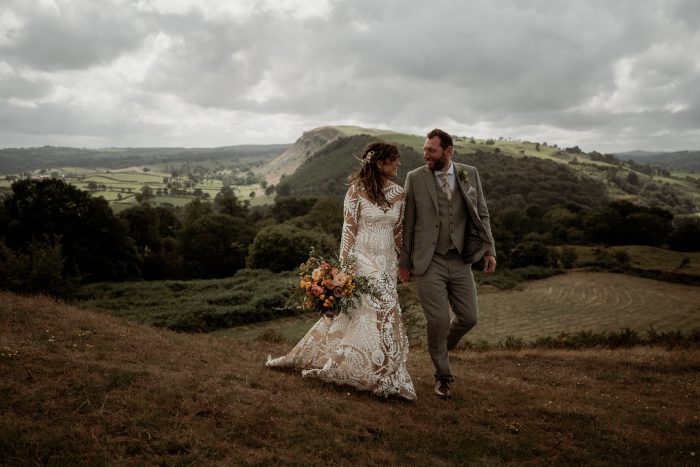 Fabulous Dolanog Festival Wedding In Rue De Seine Gown
❤️ The TWC Effect – Our brides, their way ❤️
Cari and Adam didn't just have a wedding – they threw the ultimate Wedding Fest! The duo's journey started online and has been a lovely adventure ever since, find out all about it here…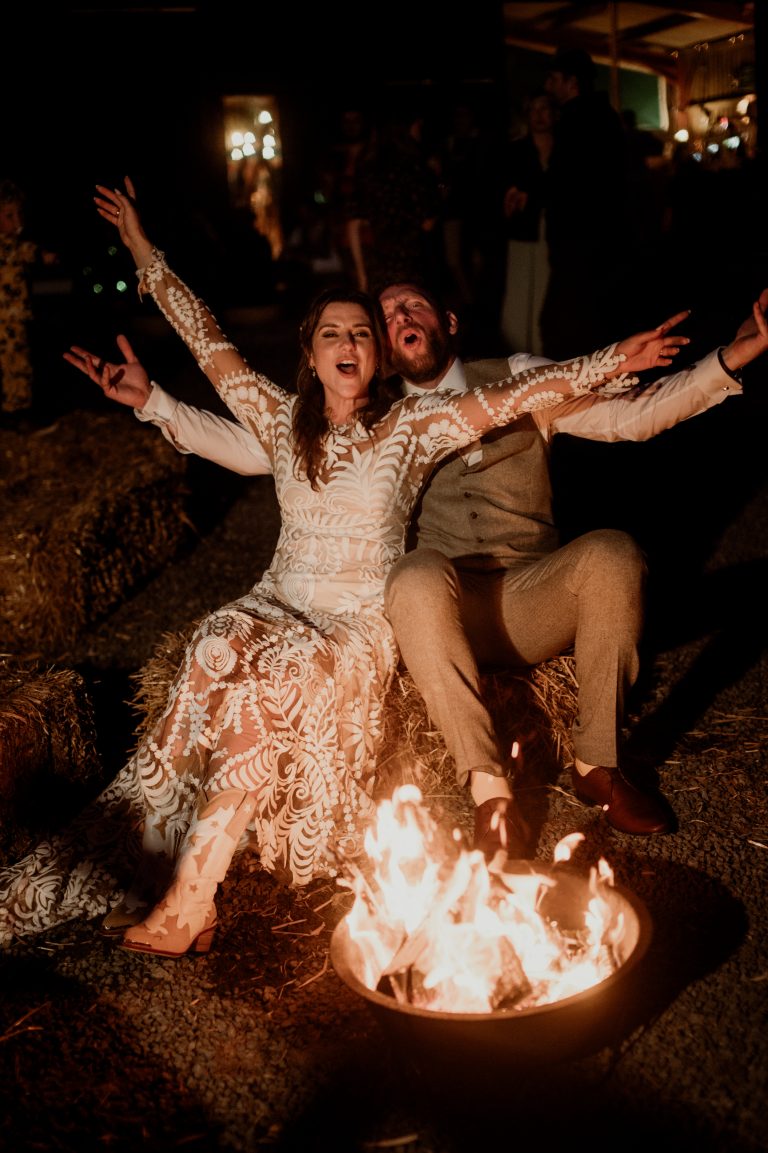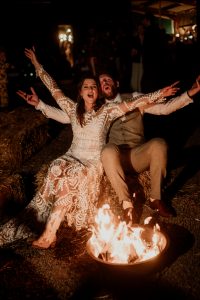 How did you meet?
Tinder!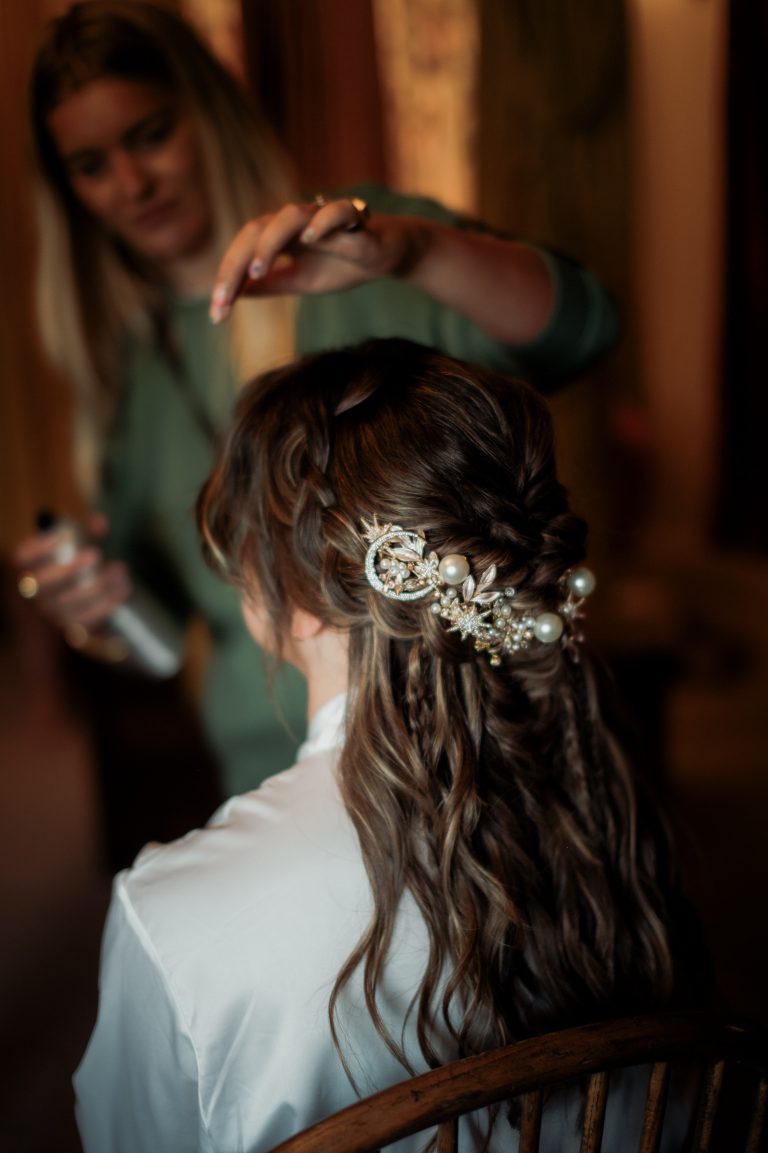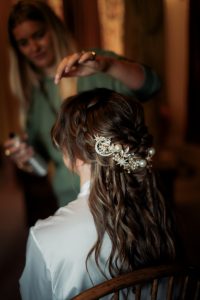 Was it love at first sight?
Haha, not quite, obviously we found each other physically attractive, sadly that's what the swiping reduces things to initially isn't it! But I actually was put off when Adam tried to mansplain how many continents there are to me whilst getting it wrong…
He did ask to meet fairly quickly though which is SO rare for dating apps so I thought I'd give him a chance. I then backed out and cancelled twice, I'd had too many bad experiences and just couldn't face it. Adam was so relaxed about it though that on the third rearrangement I went along and I'm so glad I did.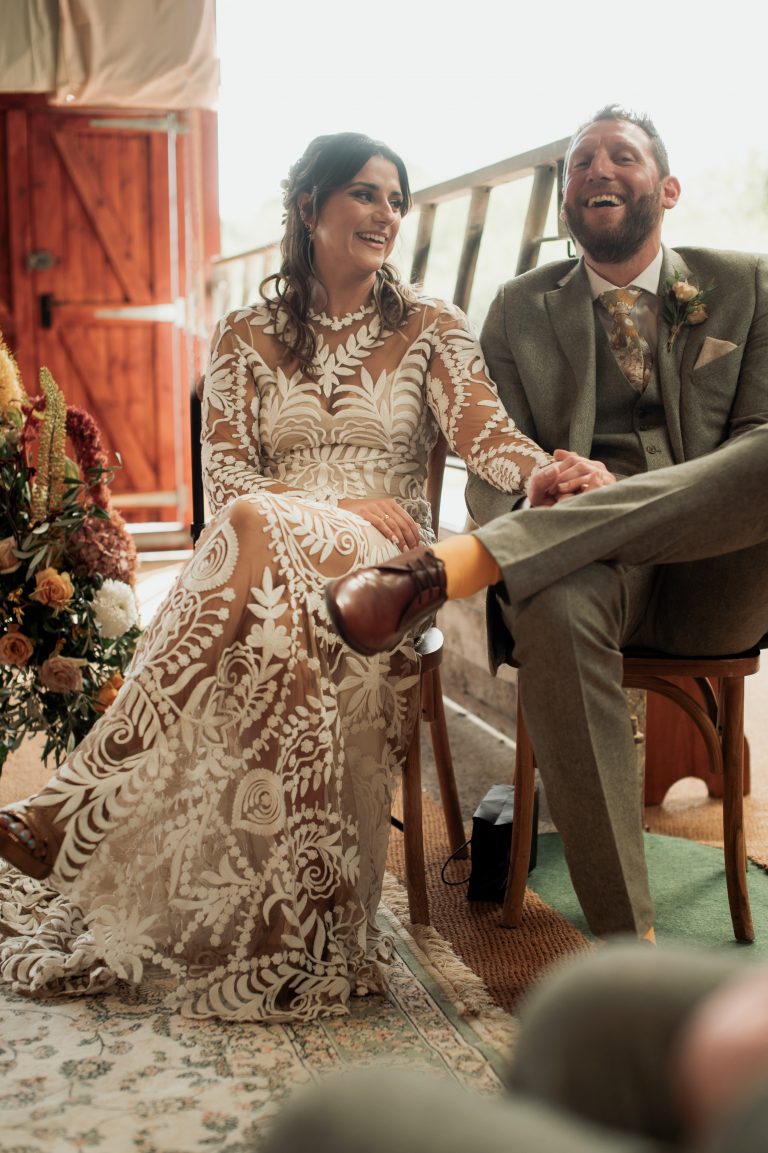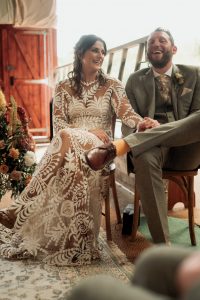 Who proposed and how? Lovely details, please!
Adam proposed, it was my birthday and I knew he was taking me away for a few days. I was expecting a little cottage in the countryside somewhere in the UK. Instead his Dad drove us to the airport and we boarded a plane for Rome!
When we got to the beautiful airBnB he had booked there was an Italian buffet laid out, flowers and champagne. I started to suspect something was up but when we popped the bottle on the terrace he didn't produce a ring.
We did all the picturesque sights, the Trevi fountain, the colosseum, the pantheon, still no ring. The next day we were booked to go to the Vatican (please not there – I thought!). The night of my birthday, after having drinks at a really cool bar we headed to a fancy restaurant. No sooner had we got through the door, Adam is ordering two glasses of fizz and suddenly says 'right then' before getting down on one knee, arm outstretched, holding a ring!

I had my hands over my face and after what felt like an age of silence, looked down and said 'are you going to say anything?!" I pulled him up before he had a chance and kissed him and the restaurant clapped. We then spent the meal joyfully calling our family and friends. I still take the piss out of Adam for not choosing any of the hundreds of beautiful spots around Rome for the big moment, but he says at least the restaurant was more of a surprise! Haha!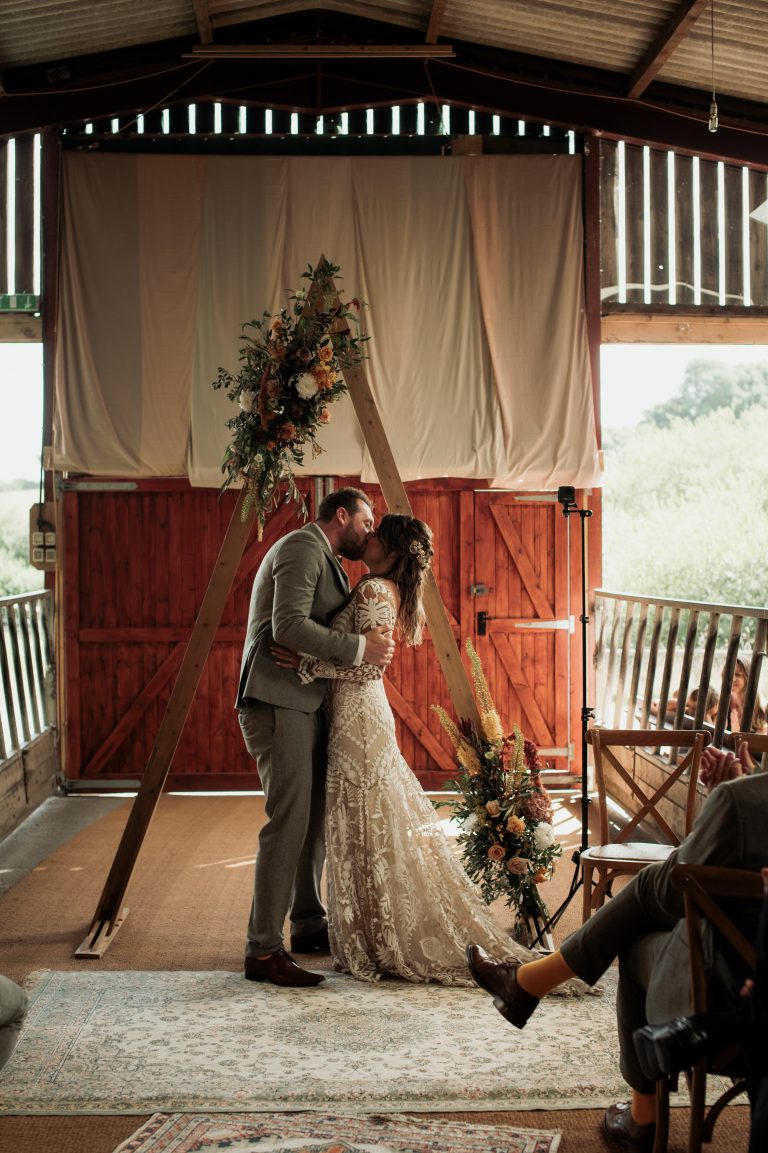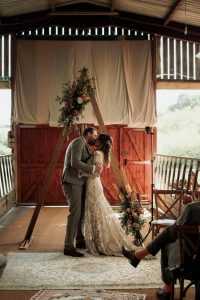 Did you have a theme for your wedding? How did it come about?
We are both big into festivals and LOVE a party but I didn't want a theme as such. Nothing too cliche or kitsch. I knew I wanted my bridesmaids to be in rust orange and in the end we also had some in mustard yellow and those sunset tones provided the base of the colour scheme.
We got Nikki Sheriff from Knots and Kisses on board as a stylist fairly early on and she was absolutely incredible. She really listened to what we wanted, what we are about as people and the vibe we wanted to create and she absolutely nailed it. I gave her 'luxe-boho with a festival vibe' as a starting point and what she delivered was beyond what I could've imagined. It was a big task too in such a big space!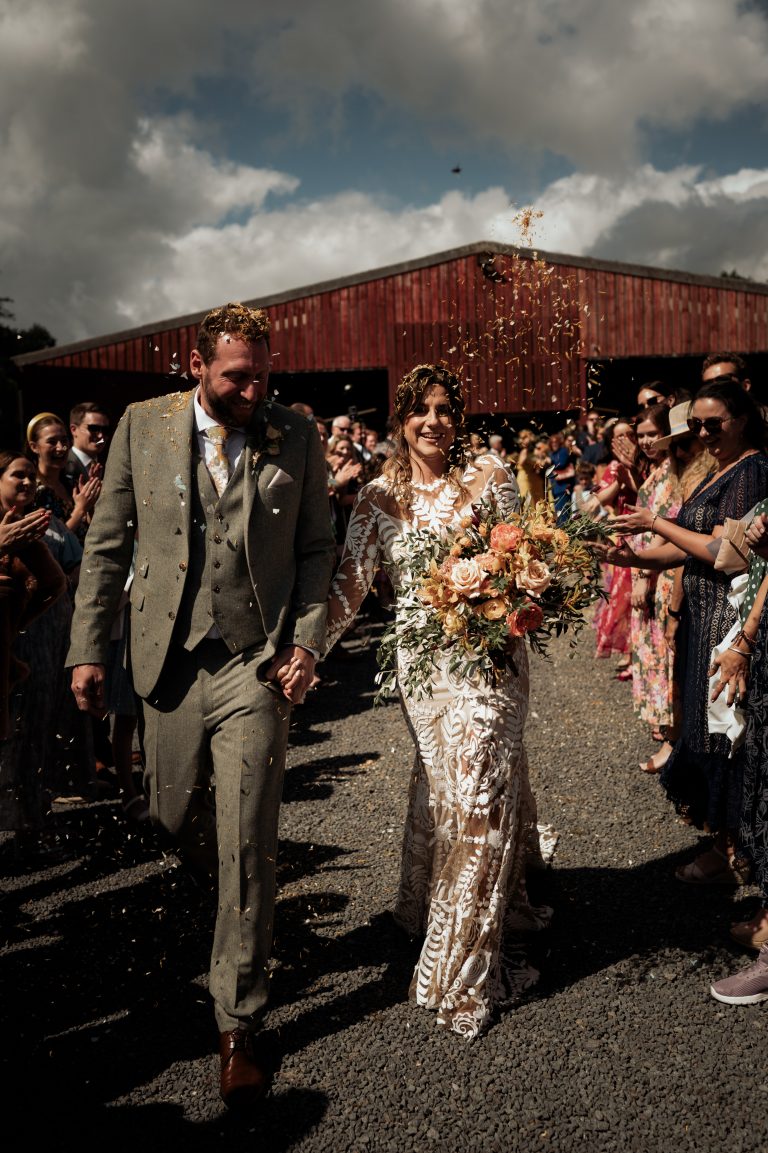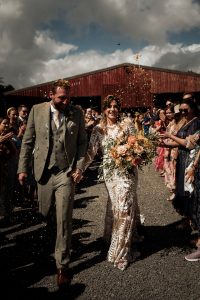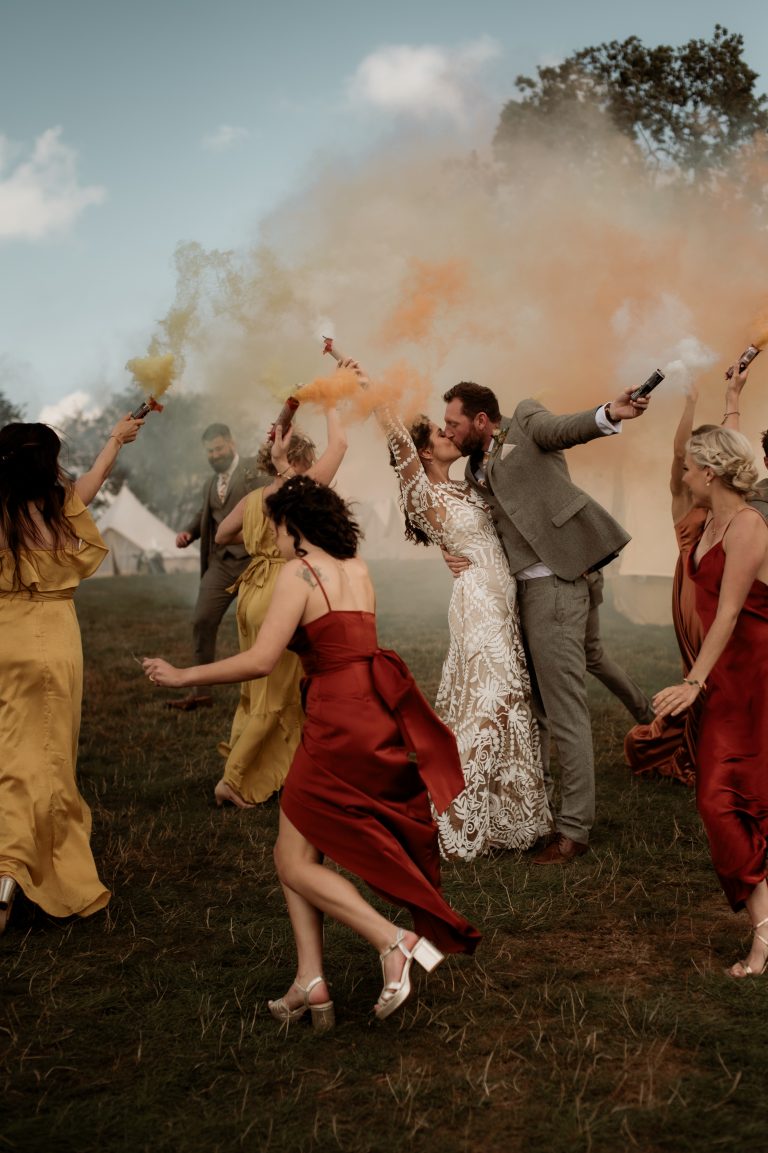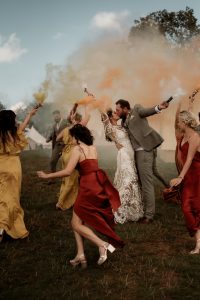 Location and how you found it?
Gwaenynog Farmhouse, Dolanog, Mid Wales – we knew we wanted as many of our guests to be able to stay for the whole weekend and so somewhere with camping/van space was a must. We wanted to be able to get married on site so the venue needed a licence and it needed to be able to host up to 200 people as we wanted all our friends and family to be there.

I also wanted to get married in Wales as I'm Welsh and so with those main three stipulations it really narrowed it down.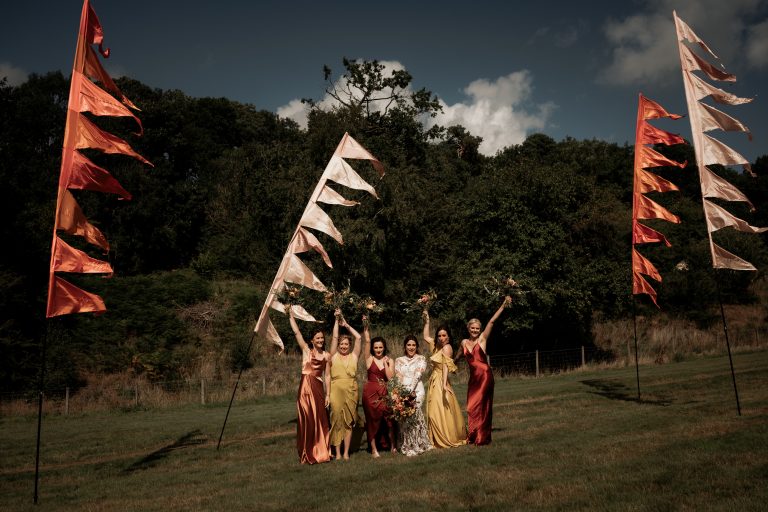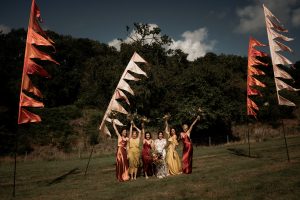 How did you find The Wedding Club? Tell us about that moment when you found and chose your dress – how did it make you feel when you put it on for the first time?

I had seen the Rue De Seine Avril dress on instagram a lot after my best friend showed it to me when we were discussing my wedding dress hunt. It was more than I wanted to spend and so I tried to put it to the back of my mind as I went to lots of other shops and tried lots of other dresses on. Although I found some I felt good in, nothing was really giving me the wow reaction I was hoping for.

I had this nagging feeling that I had to try Avril on, even just to rule her out. So I searched for stockists and at the time The Wedding Club was the only one in the UK, so I made an appointment.
It was during the pandemic and the rules meant I had to go alone, my Mum and sister watched on Facetime and when I put on the Avril I burst into tears. There was no going back, it was the perfect dress for me. From then on I didn't show anyone and nobody saw it in person until the day of my wedding, which in the end was extra special.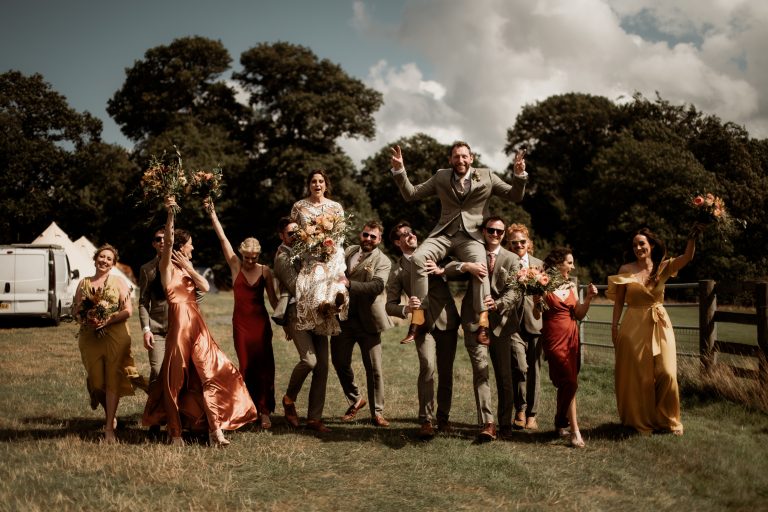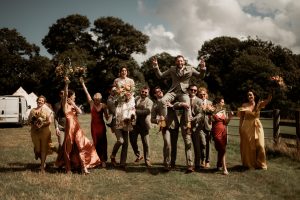 Which designer did you wear?

Rue De Seine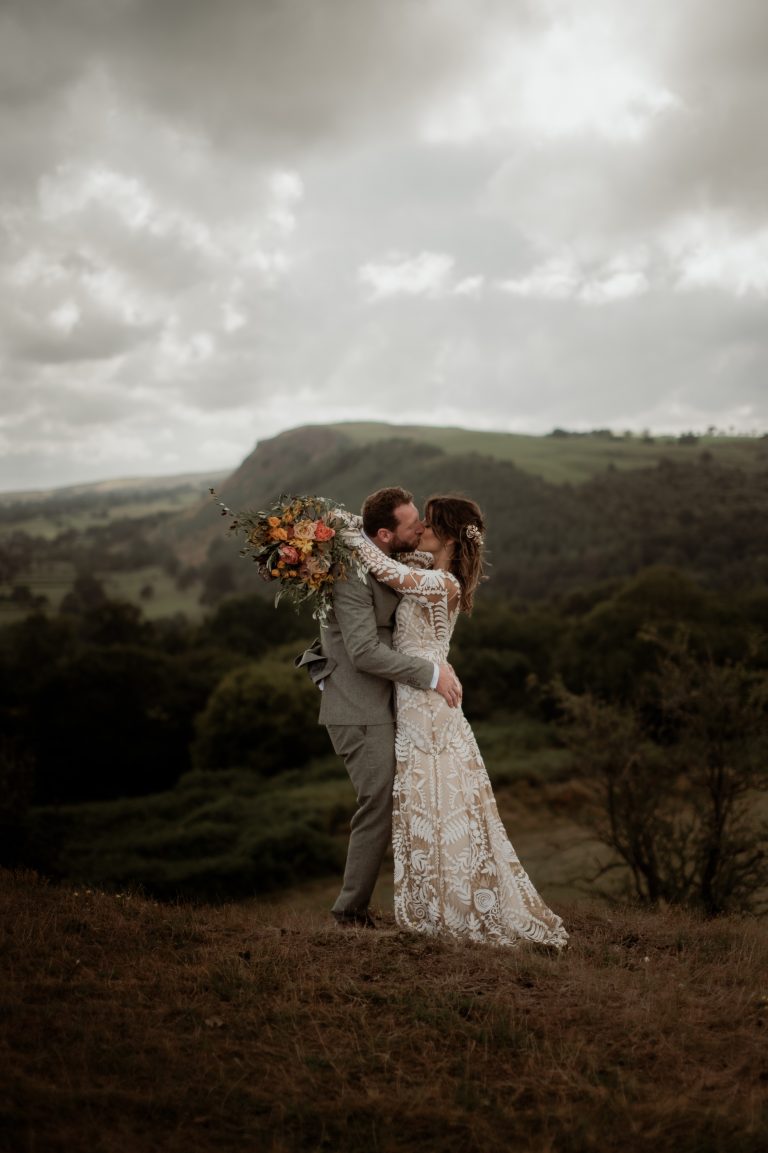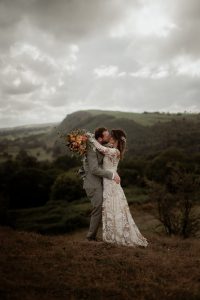 Where is the suit from? Why was it the perfect fit?

Moss Bros, we had Adam's custom made which meant it was perfect on him and he even had our names and the wedding date stitched into the lining. It then made it easy to just rent matching ones for the groomsmen.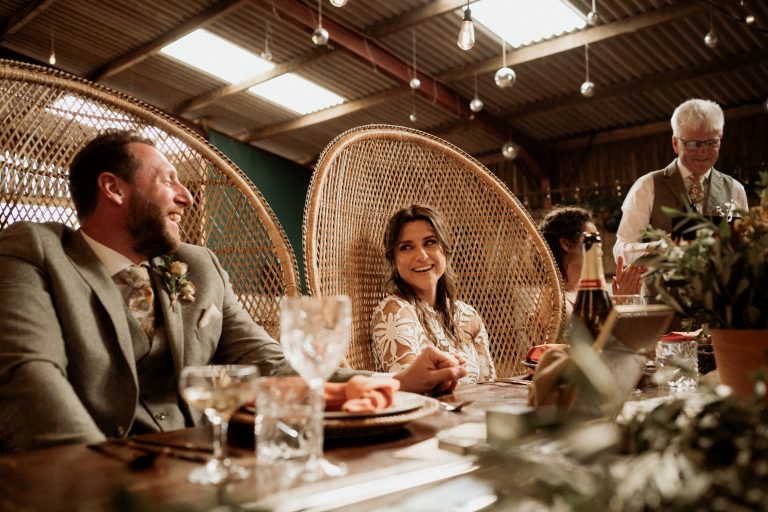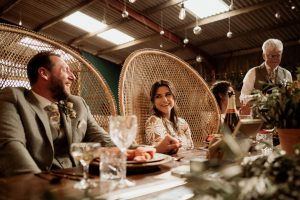 Did you have speeches? Who performed them?

My sister and Adam's aunt both gave a reading in the ceremony and then my Dad and Adam's brother gave speeches in the reception. Adam and I also did a joint speech after the meal.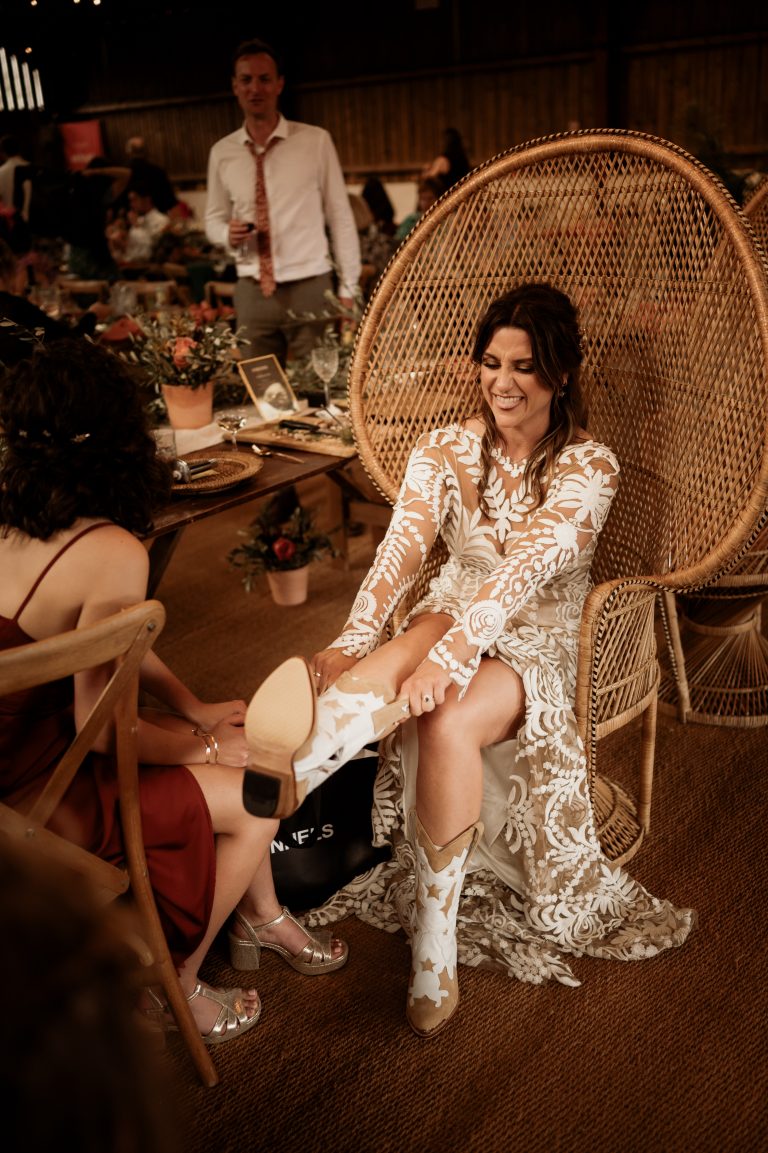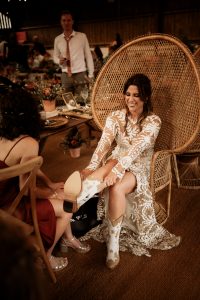 Did you have a first dance? What song did you choose and why? How was the performance?
The party part of our wedding was really important to the both of us, we both love live music and so we booked two bands. The first was a brass band called Brass Junkies. I arranged for them to make a surprise entrance without Adam's knowledge. His sister got up to sing 'All You Need Is Love' once the meal was finished, everyone joined in with the singing and halfway through the brass band walked in and joined in too! It surprised everyone, including Adam who burst into tears. It was such a joyful moment and everyone told us afterwards that it was a real highlight.

They played two sets before a covers band called Everlong started up. They learnt our first dance song especially as part of their fee – such a great perk – which was 'Everlong' by Fleetwood Mac (our stylist sourced a custom flag with some of the lyrics to hang above the dancefloor). We briefed our parents to join in after a couple of versus so that was a lovely moment too, having the three couples on the dancefloor.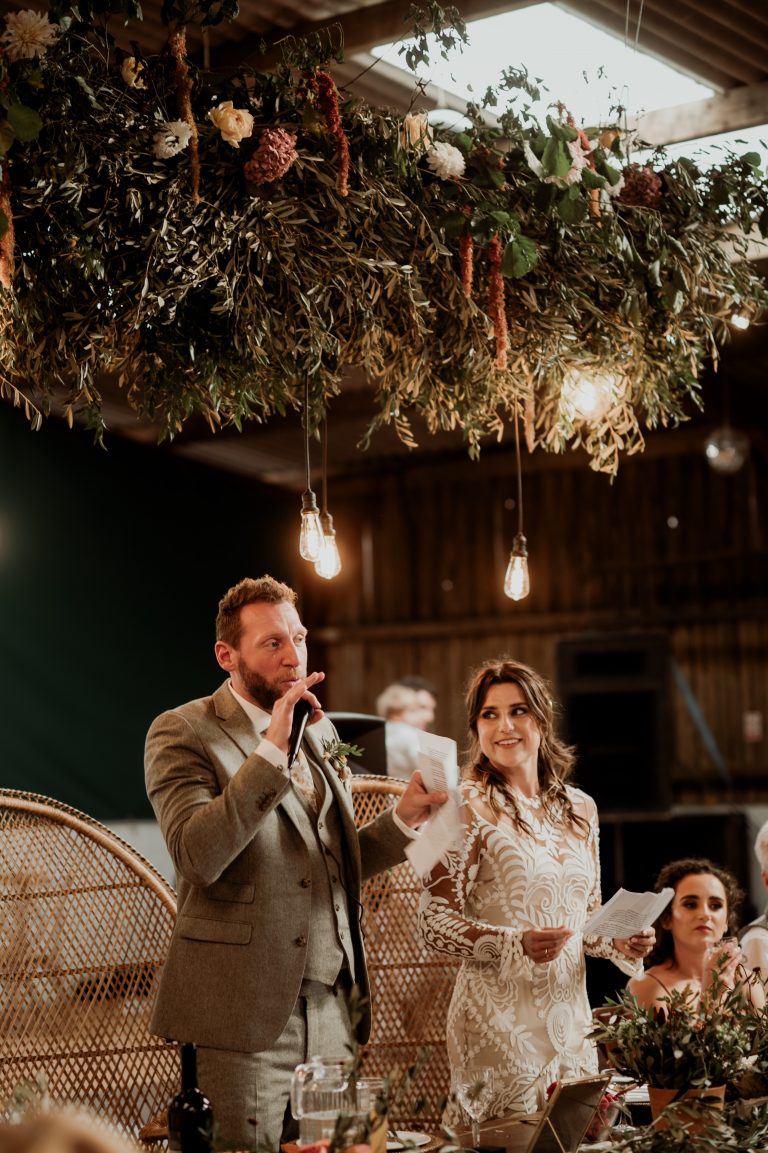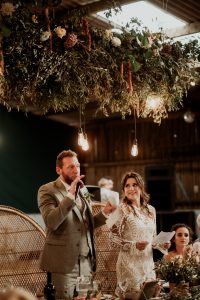 How was the party?

IMENSE.

The food was brilliant, it was a sharing Mediterranean feast with all our favourite flavours. To cook it well for almost 200 people was a huge task and Kemp and Kemp Catering did not disappoint. The portions were really generous and we had lots of compliments on the quality of the meal.
We told everyone to bring a festival outfit for the evening (if they wanted to) and some of the looks were incredible. It also meant people could get loose on the dancefloor! The brass band really set the tone for what was a brilliant night. Everlong were a fantastic band who played a great range of songs that had people dancing all night.

The complimentary cocktails probably helped, we had Adam's Margaritas and Cari's Negronis! Once the bands had finished we had sparklers outside and then one of our groomsmen DJ'd, he'd put together a set just for us, using music styles both Adam and I love and taking inspiration from the guests suggested tunes from their RSVPs. It was perfect!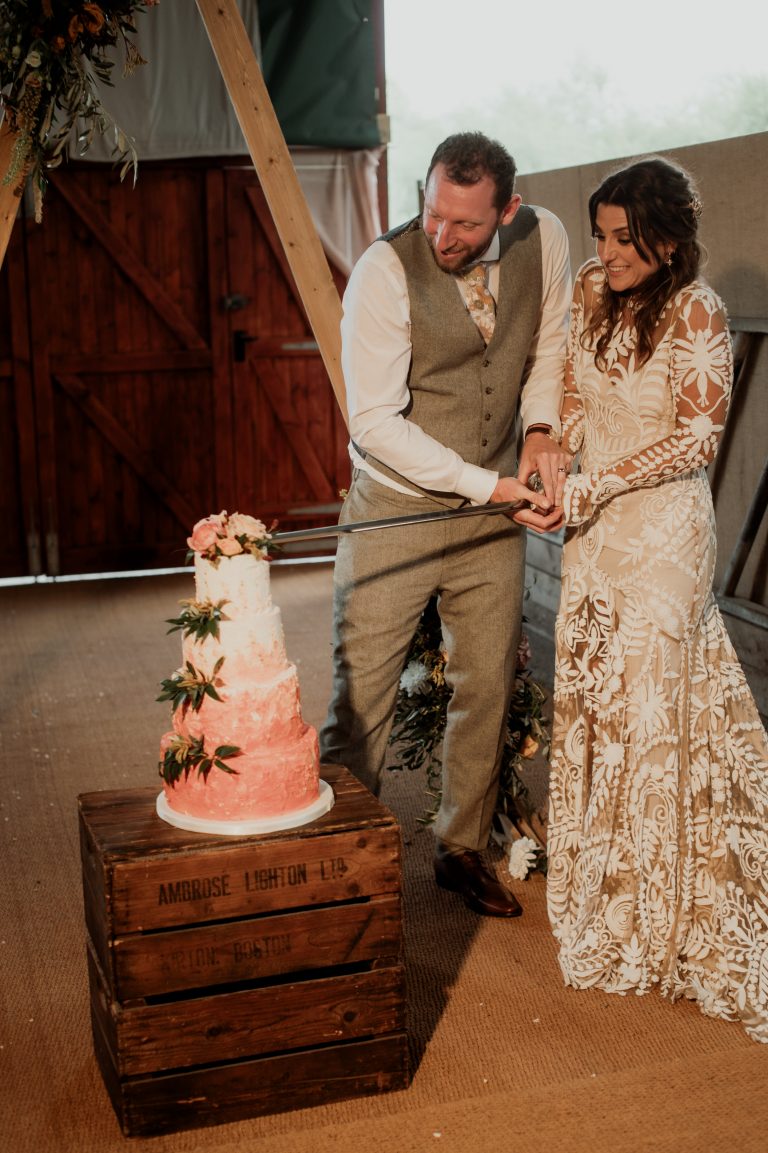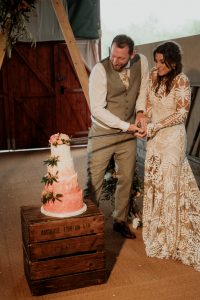 Wedding planning advice for brides to be?
I think deciding how you want people to FEEL at your wedding is really important. We wanted to create a relaxed but vibrant weekend full of love with plenty of time and reason for people to get to know each other. We wanted it to be a celebration of not just us but of all our favourite people and so that was at the heart of all our decision making.

Delegate, make sure you've given lots of people you trust different tasks and they're well briefed well before the day. Generally people love to feel as though they've got a role to play and if lots of your guests have one small task each to take care of, that you can then not worry about, it's a win-win.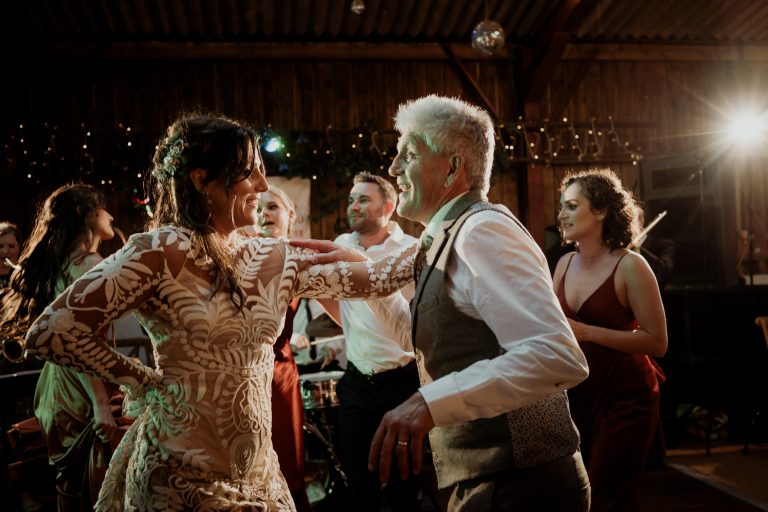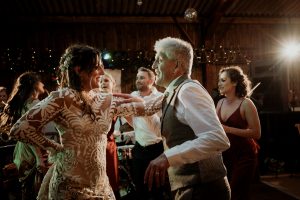 One moment you'll never forget:

Jumping up and down on the dancefloor with my Dad – who had changed into a tie-dye t-shirt and bucket hat – to drum and bass, as he shouted in my ear that he was having the best day ever!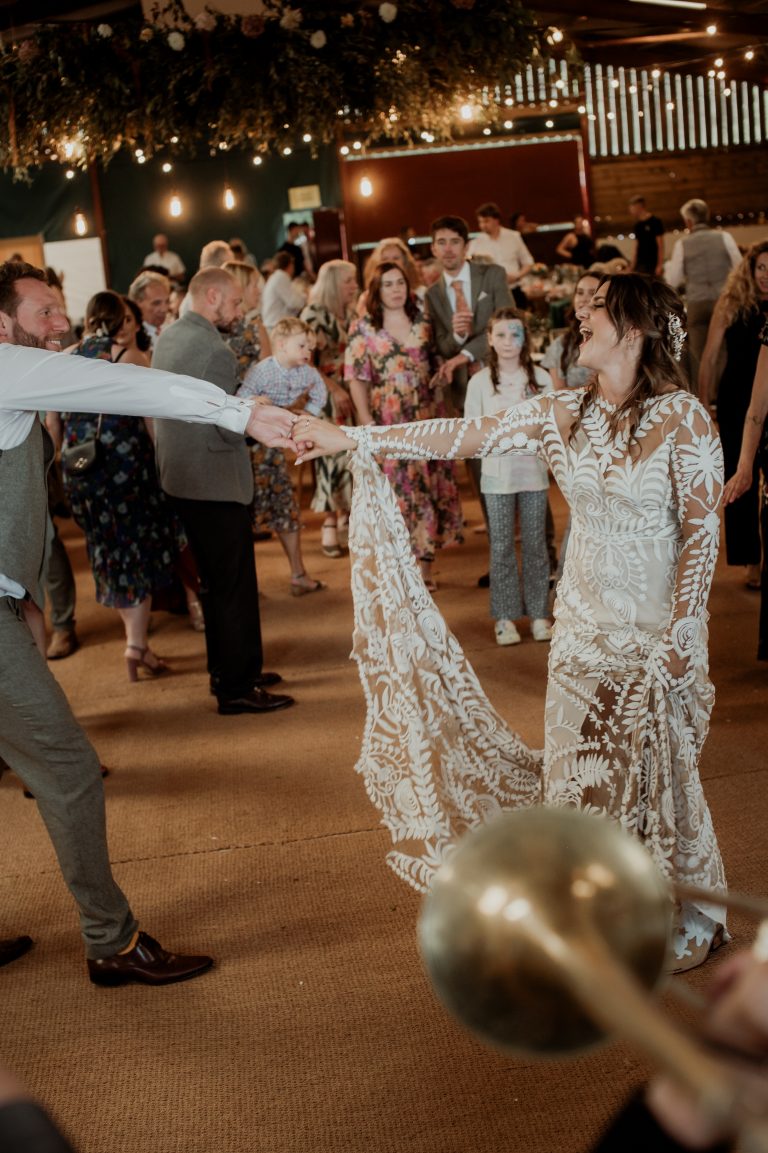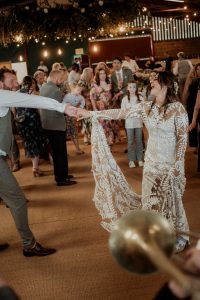 ❤️
Dress – Rue De Seine available at The Wedding Club Harvey Nichols
Alterations – Chalk White Bridal
Shoes / Boots – Esska Shoes / Wandering Coyote
Hair & Makeup – Abigail Constanza/Hannah Peel & Christina Ouloupi
Suits – Moss Bros
Venue – Gwaenynog Farmhouse
Wedding Stylist – Nikki Sherriff
Celebrant – Sian Jackson
Photography – Babs Boardwell
Flowers – Emma
Glamping – Superstars
Catering – Kemp & Kemp Catering, Karen Weaver
Entertainment – Everlong, Brass Junkies