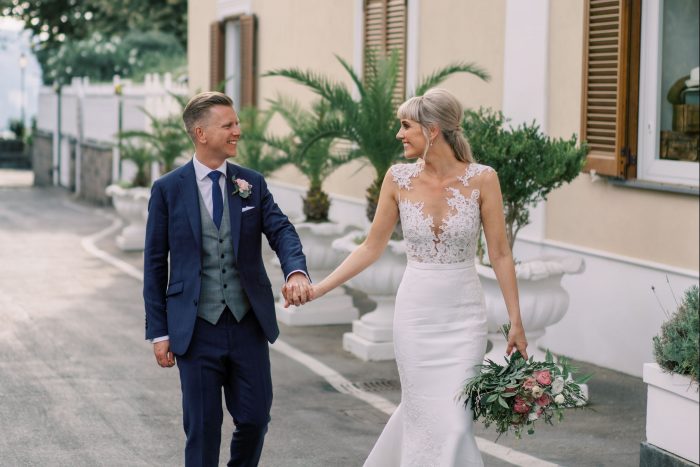 Picturesque & Romantic Sorrento Wedding In Atelier Pronovias Gown
❤️ The TWC Effect – Our brides, their way ❤️
Today we are joining Jen & Matt at their beautiful wedding, the pair met in Manchester but got engaged and married in romantic Italy where we will be transported to for their story… Andiamo, lets go!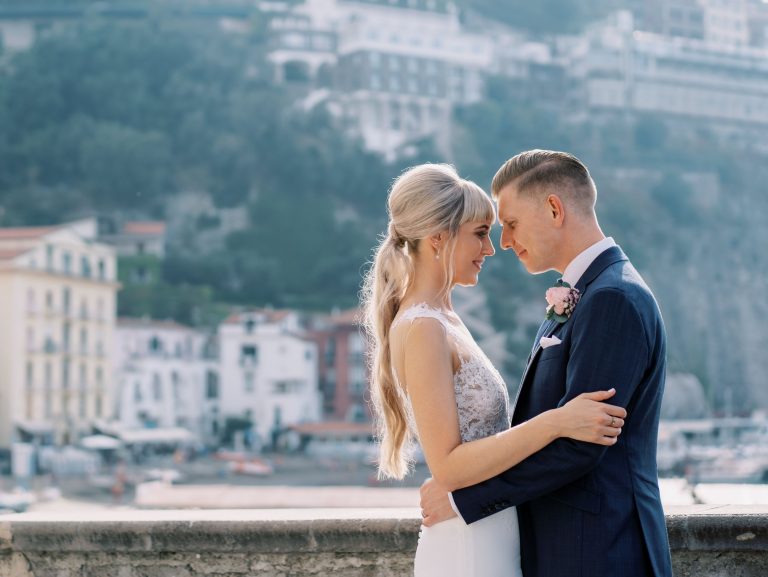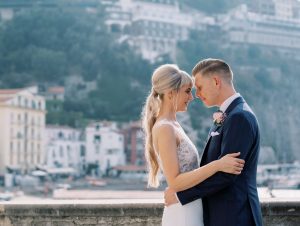 How did you meet?
We met at work about 7 years ago. We had both moved to Manchester and it was my first job after University. We hit it off straight away and soon realised we had lots in common.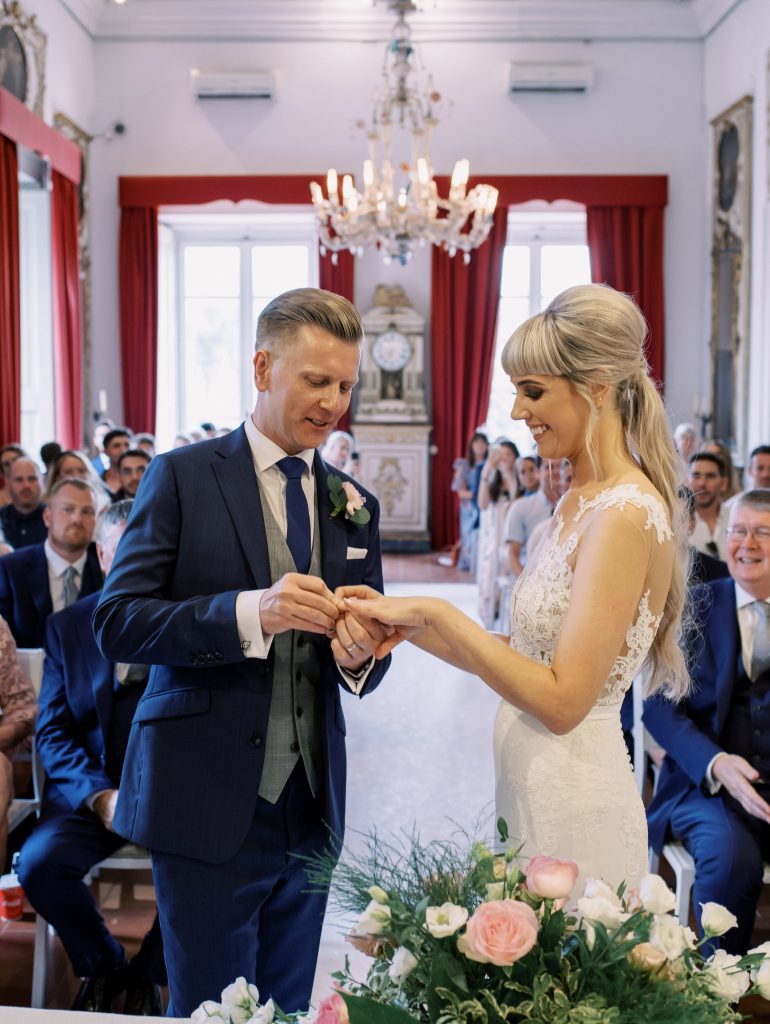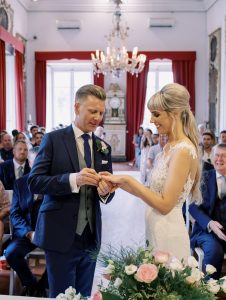 Was it love at first sight?
Because I had just started a new job and moved to a new city I had lots going on but we became good friends really quickly and fell in love over time.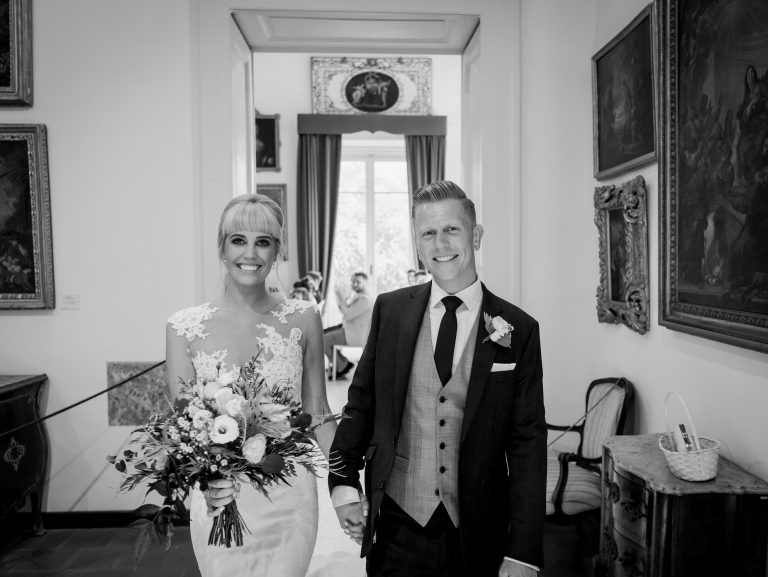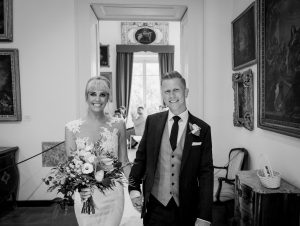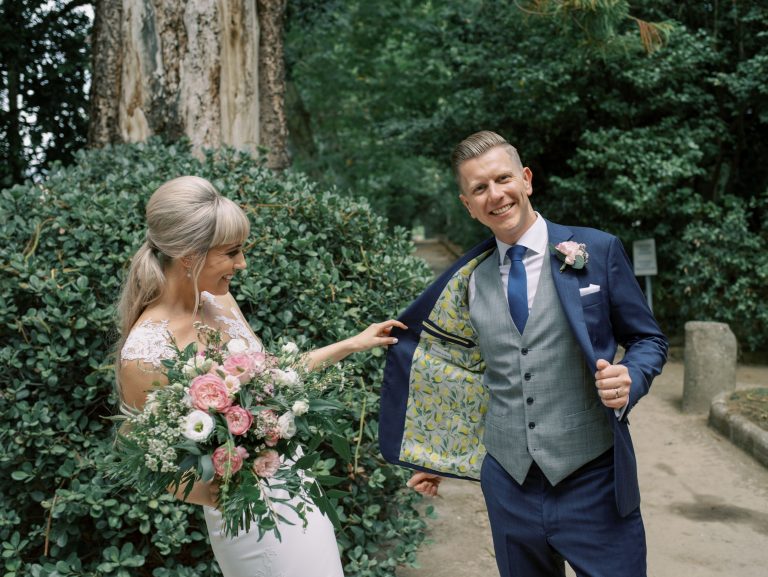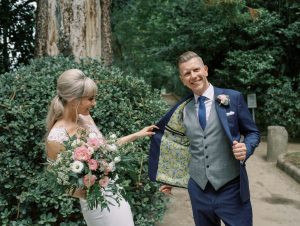 Who proposed and how? Lovely details, please!
We were on holiday in Taormina, Sicily and it was the first night of the trip. Matt knew that I wasn't one for big public proposals so he popped the question before we went out for our evening meal.
We were sat on our balcony overlooking the beautiful Isla Bella with a bottle of Champagne and listening to music (music being one of the many things we have in common). He proposed with the most beautiful Tiffany ring which I couldn't stop looking at for the rest of the trip.
We went out for a meal that evening which Matt had booked in advance. We FaceTimed our family and friends in the following days and they were just as happy as we were! It was a very special holiday filled with happy memories.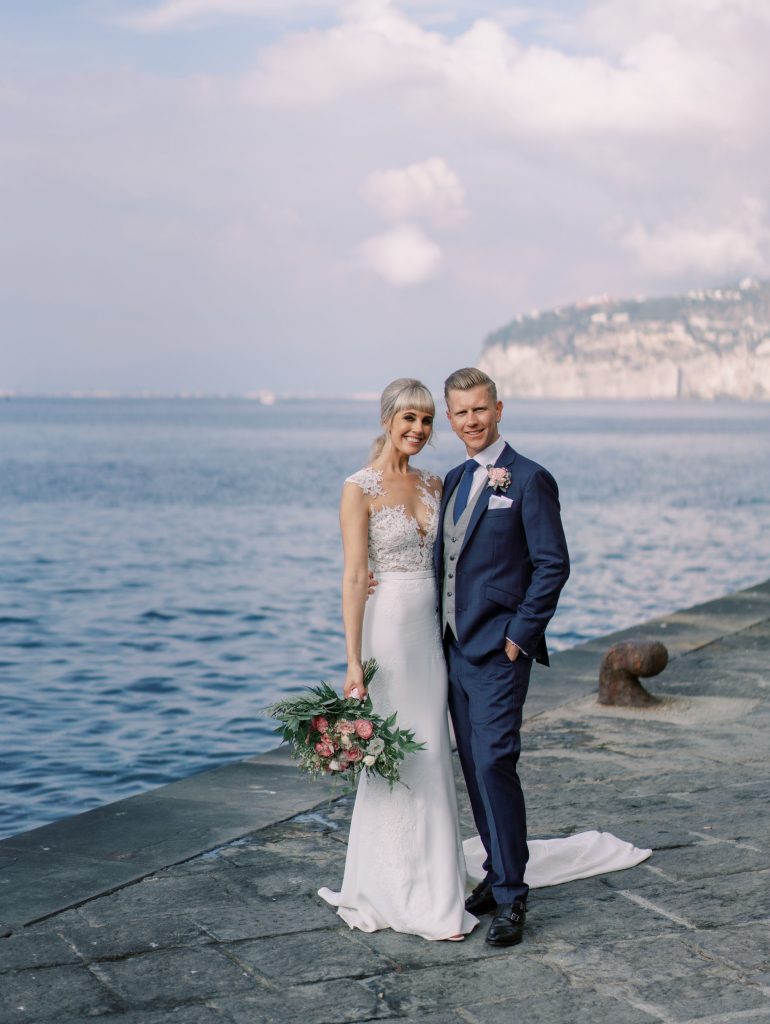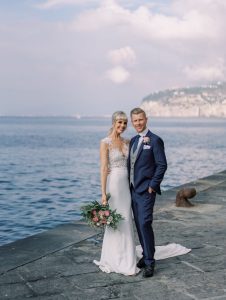 Location and how you found it?
We had initially planned to get married in Liverpool. We actually booked a venue on the Dock Road but about a week later found out that the Liverpool Marathon was taking place the day of the wedding meaning lots of the roads would be closed and hotels were already getting booked up (even a year in advance).
We sat down and thought about what we really wanted. We had always talked about getting married abroad but I thought it might be difficult organising a wedding from another country. It was a no brainer that if we were to go abroad it would be Italy, so we started looking into it. Italy has a very special place in our hearts as we have had many wonderful holidays there and we got engaged there. The first place we ever visited in Italy was Sorrento and that's were our love for the country began.. Prosecco, pizza, pasta, beautiful scenery.. what's not to love!?
I enquired at a couple of hotels and got a prompt reply from Alessia at the Hotel Mediterraneo in Sorrento, which turned out to be our venue. Alessia sent me lots of information and it no longer felt like it was going to be a challenge to organise a wedding abroad. She assured me that she'd be there to help every step of the way with the suppliers, flowers, cake and everything else, and she certainly stuck to her word.
We had the ceremony at Museum Correale; a museum situated in a patrician villa, surrounded by a citrus grove, with a terrace that overlooked the Gulf of Naples. It was stunning. The meal, speeches and party were at the hotel which had a roof top bar, which is where the disco took place.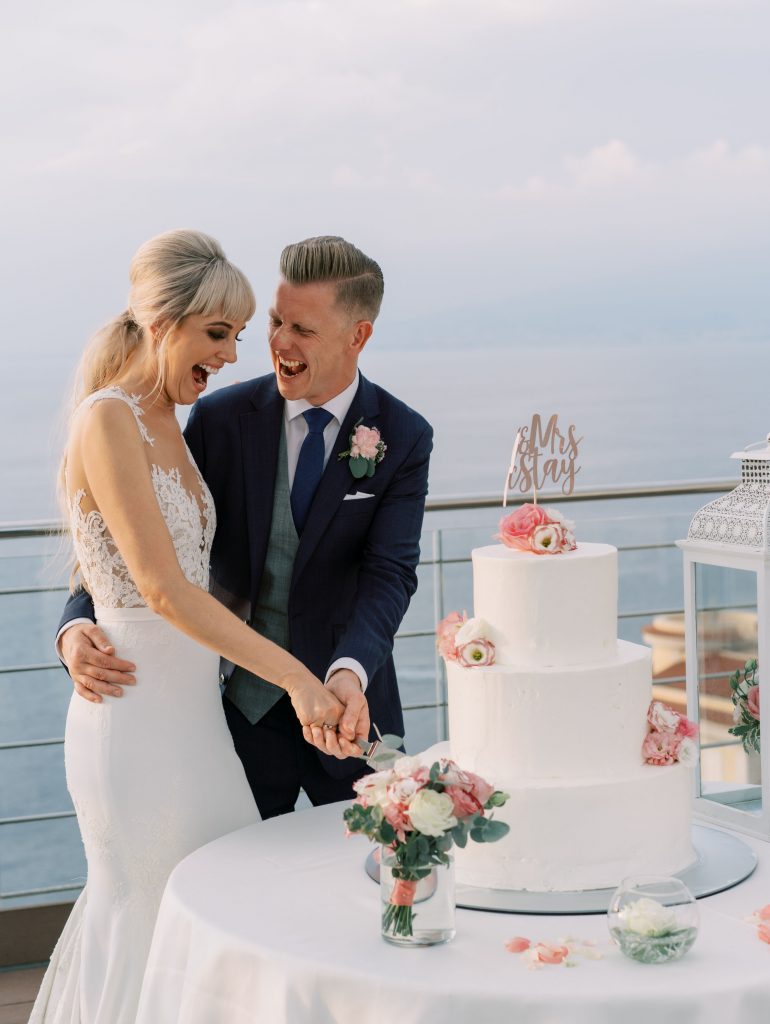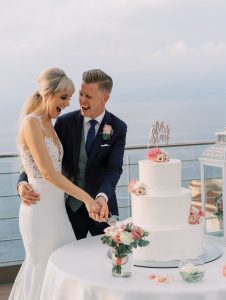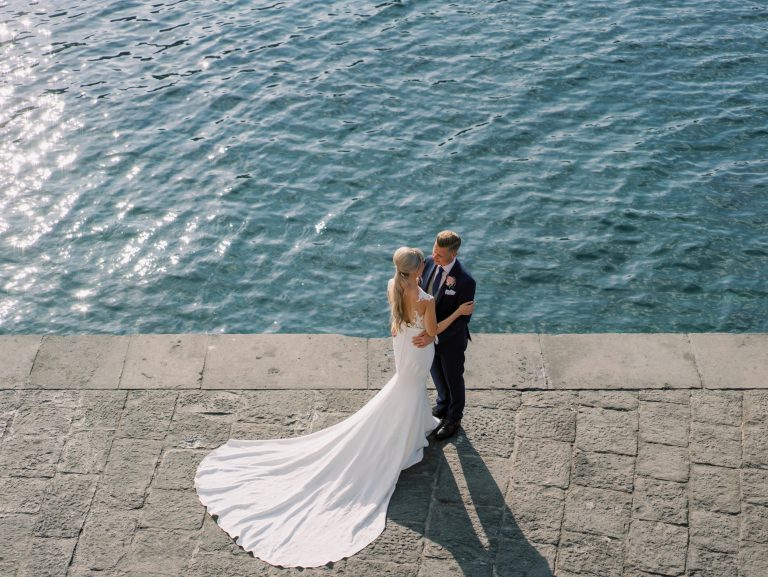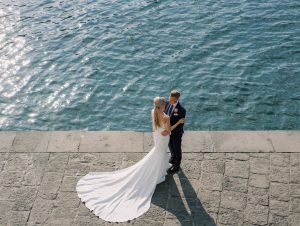 Did you have a theme for your wedding? How did it come about?
Once we had decided on getting married in Italy we didn't feel the need for a theme as such, as the setting spoke for itself, overlooking the sea.
I had two bridesmaids who wore Dessy dresses in Desert Rose, which was a dusty pink. My flower girl also had a pink band around her dress and subtle pink petals at the bottom.
Our table names were song names; mine and Matts favourite songs or songs that meant a lot to us. We also had a Gelato Cart after the meal which went down a storm with everyone and gave a real Italian feel.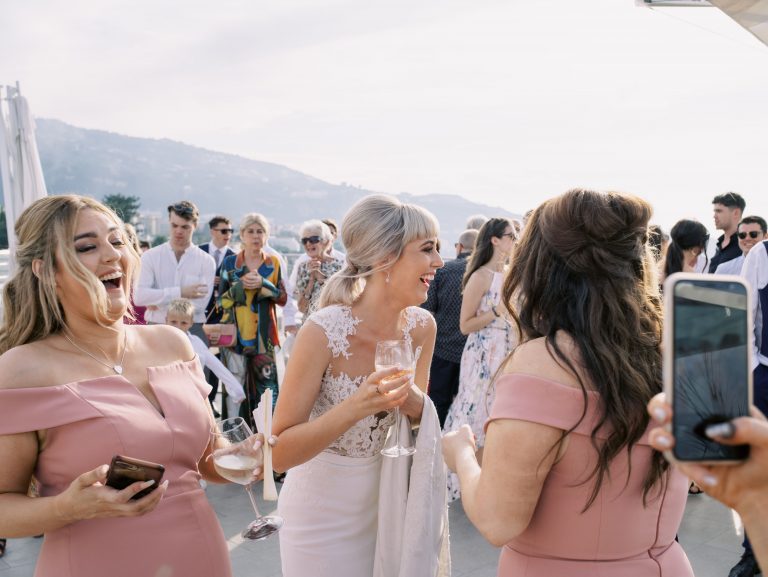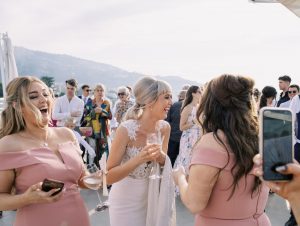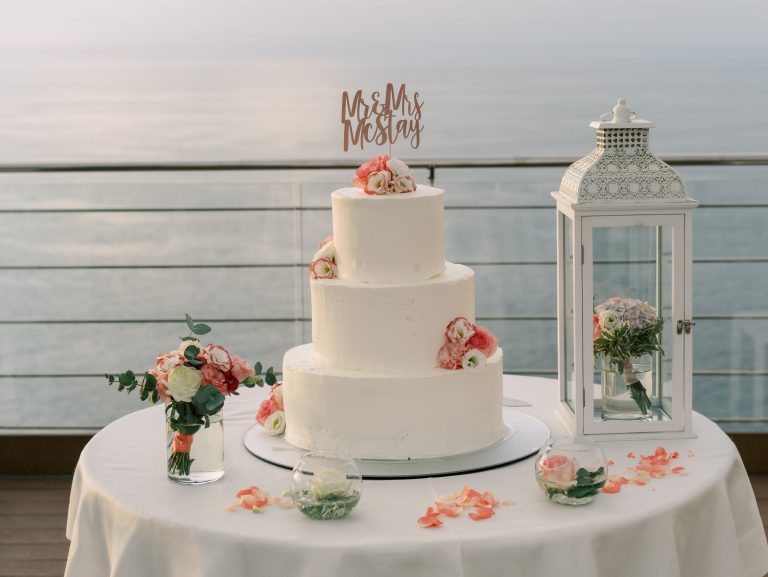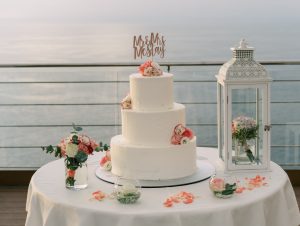 How did you find The Wedding Club? Tell us about that moment when you found and chose your dress – how did it make you feel when you put it on for the first time?
I didn't know where to start when I first began looking at dresses. I scrolled through Instagram and Pinterest but knew that you really have to start trying dresses on in person. I went to a couple of shops local to my parents' house with my Mum and my two bridesmaids; there was nothing I fell in love with but it did give me an idea of the style I would like.
I started looking online again and saw a couple of designers I really liked and that was how I found The Wedding Club. I booked my appointment and booked my train to London. It was just me and my Mum who went to the appointment at the Wedding Club. I couldn't believe how many gorgeous dresses there were and thought I was going to find it so difficult to choose just one! I tried on around 8 dresses but knew it was the one when I tried on the Atelier Pronovias Vicenta dress. I felt confident and comfortable. My Mums face also said it all!
The girls in the shop were so helpful from the moment we walked in and throughout all the of the appointments. They made me feel really important and understood just how essential it was that I found the perfect dress. I felt at ease and the girls made a big effort to get to know me and my vision for the wedding and the dress.
All of my guests told me how much they loved my dress and how much it suited me! I didn't want to take it off at the end of the night.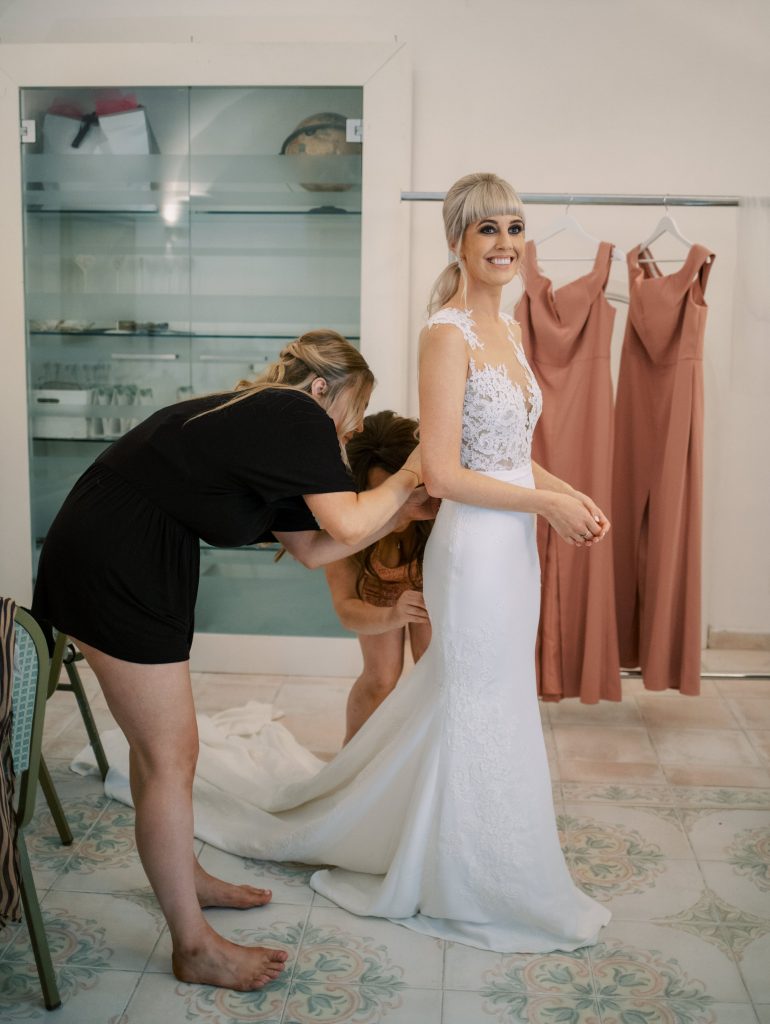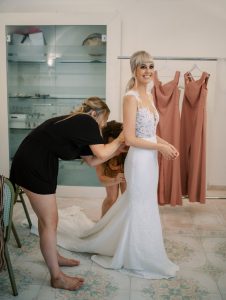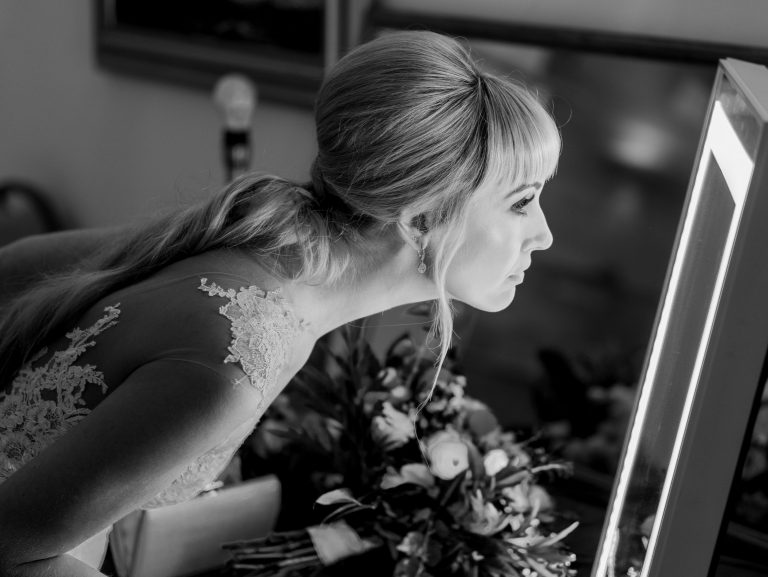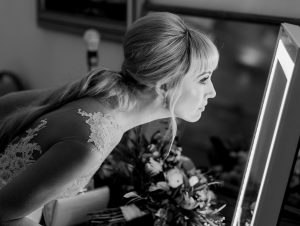 Which designer did you wear?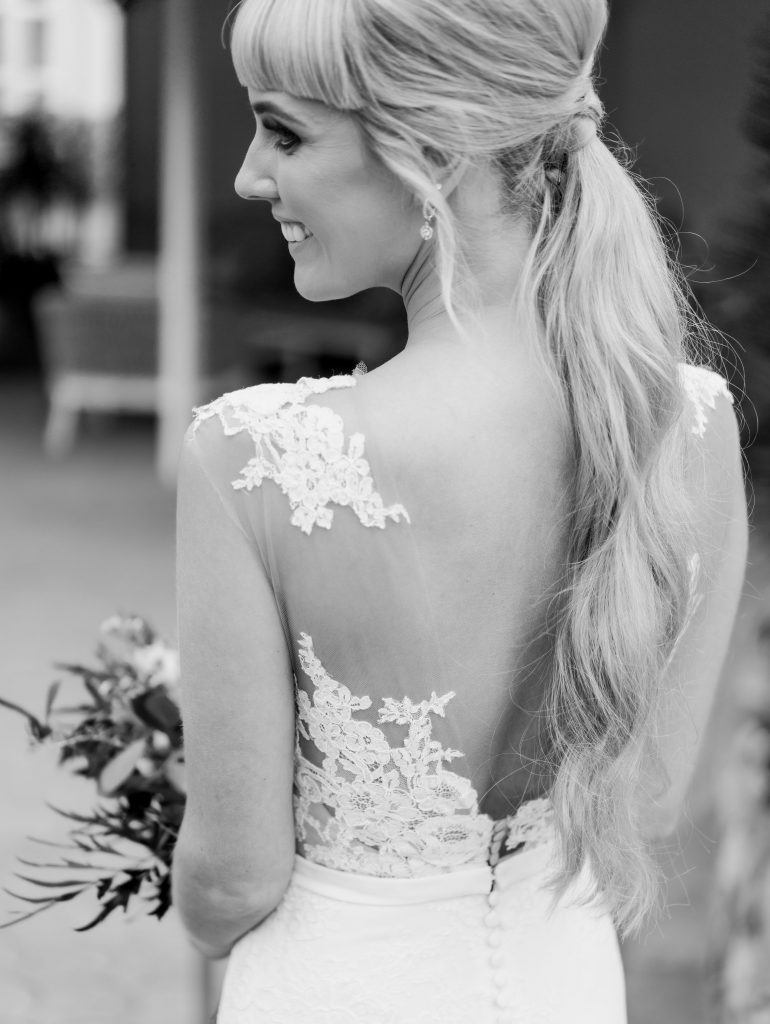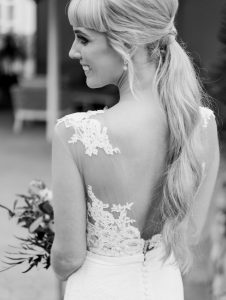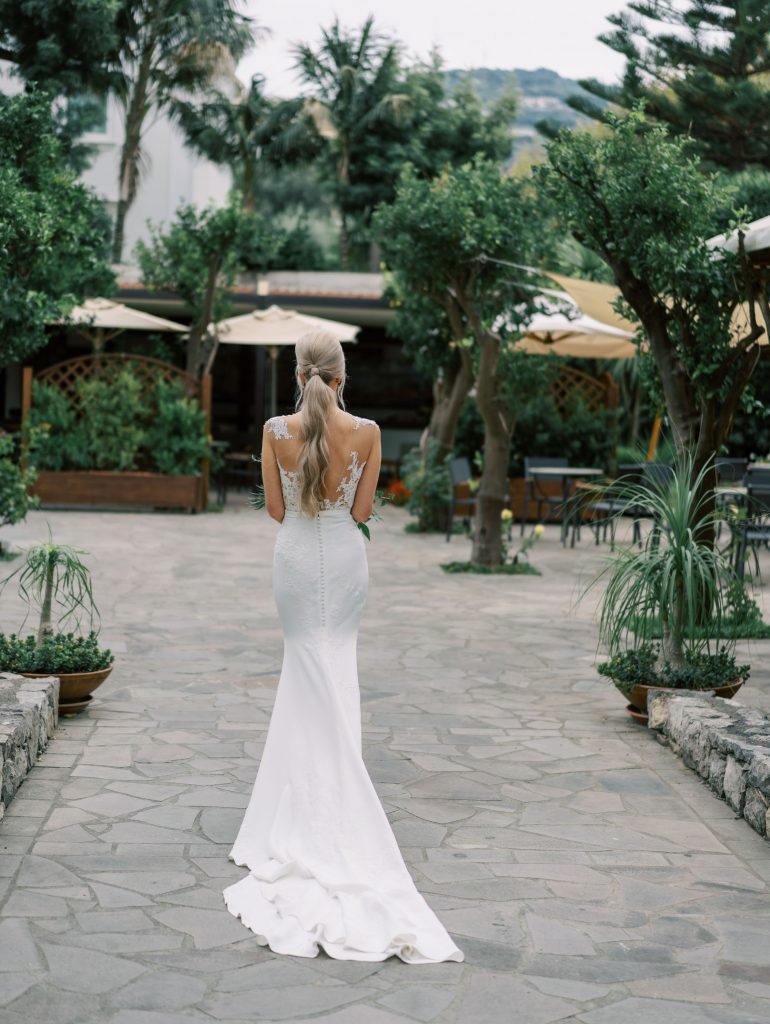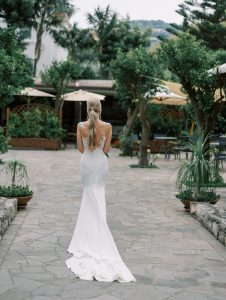 Where is the suit from? Why was it the perfect fit?
Matt wore a three-piece suit from Whitfield and Ward in Wilmslow, Cheshire.
He knew exactly what he wanted and had the suit custom made so he choose every detail from the pockets and stitching to the lining inside, which were Lemons (very Sorrento!) He looked so handsome and also felt amazing on the day! His suit really complimented my dress.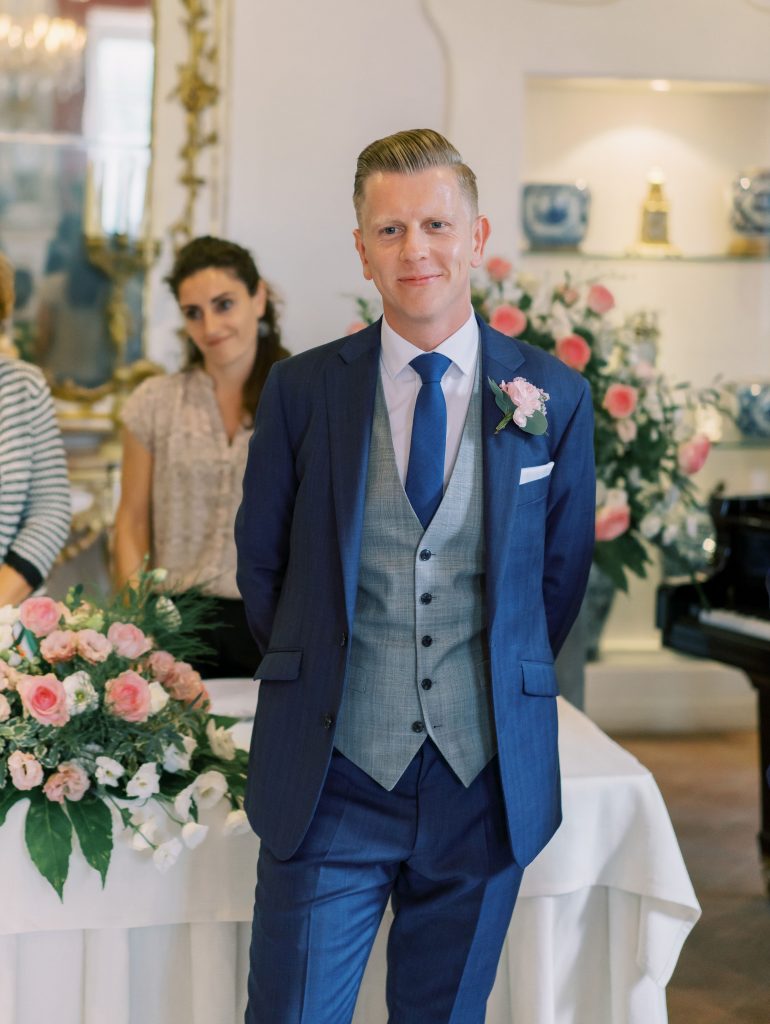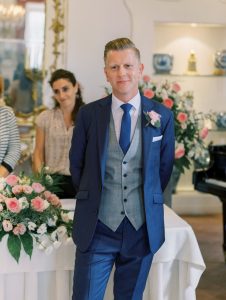 Did you have speeches? Who performed them?
We had our speeches before the meal, performed by My Dad, Matt and Matts best man, Mark. They all did a brilliant job with the perfect amount of humour, emotion and storytelling.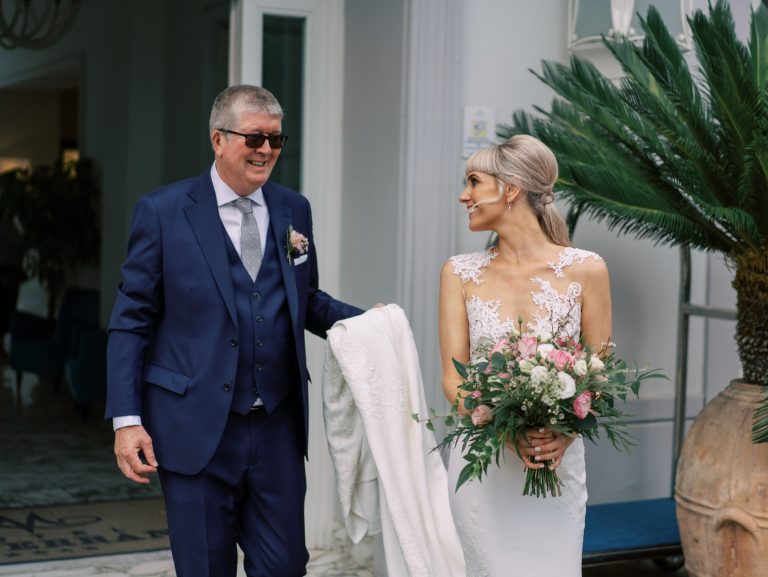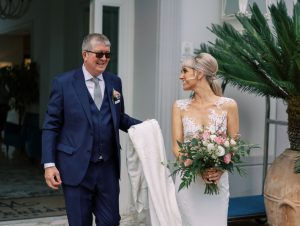 Did you have a first dance? What song did you choose and why? How was the performance?
Sleep on The Floor by The Lumineers. We have seen The Lumineers live together 3 times and its one of our favourite songs. Our close friends had the lyrics of the song printed and framed as a wedding gift, which was really special.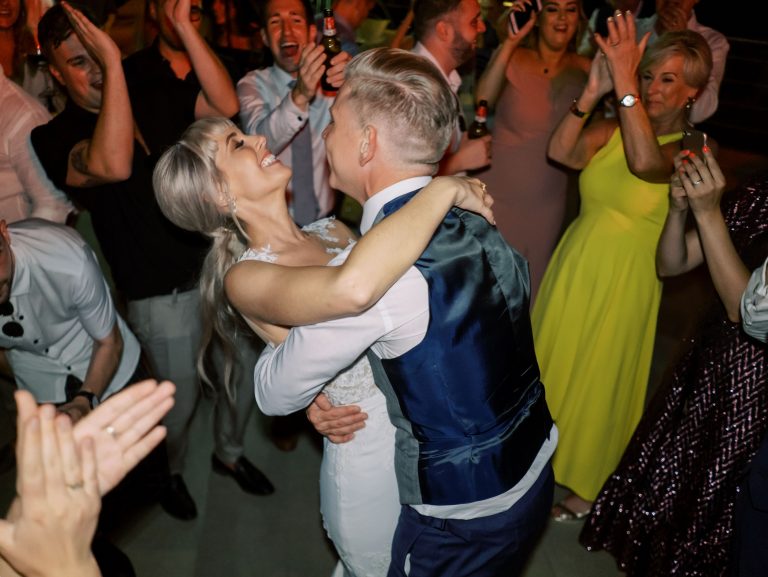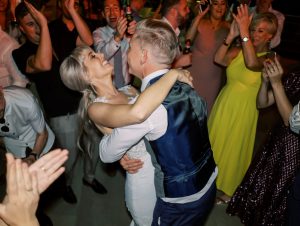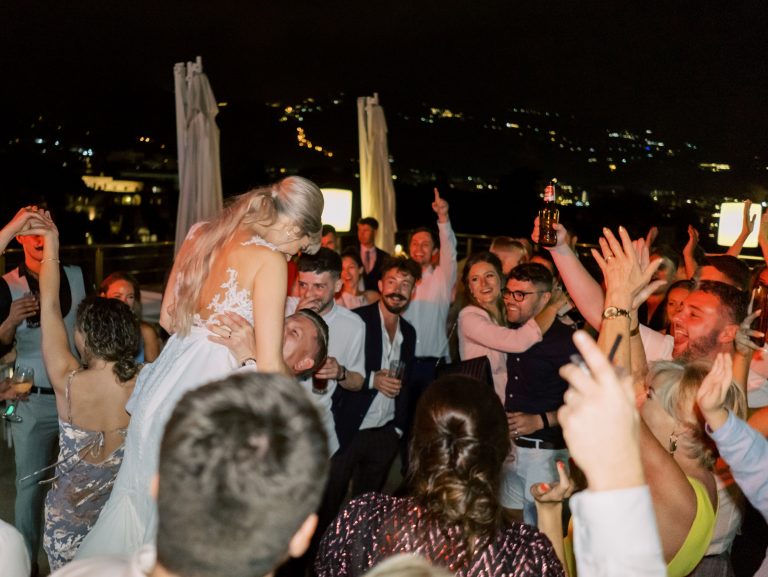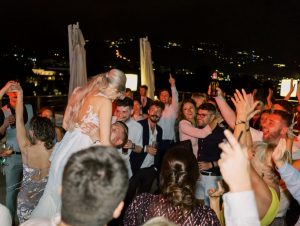 How was the party?
The party was amazing! We had a DJ and gave him some songs as a flavour of the type of music we liked, he did a brilliant job! Everyone was up dancing from the first song and didn't sit back down all night. Thankfully I had a basket of flip flops for guests to wear when their heels got too much…
(although the men ended up wearing them as well!)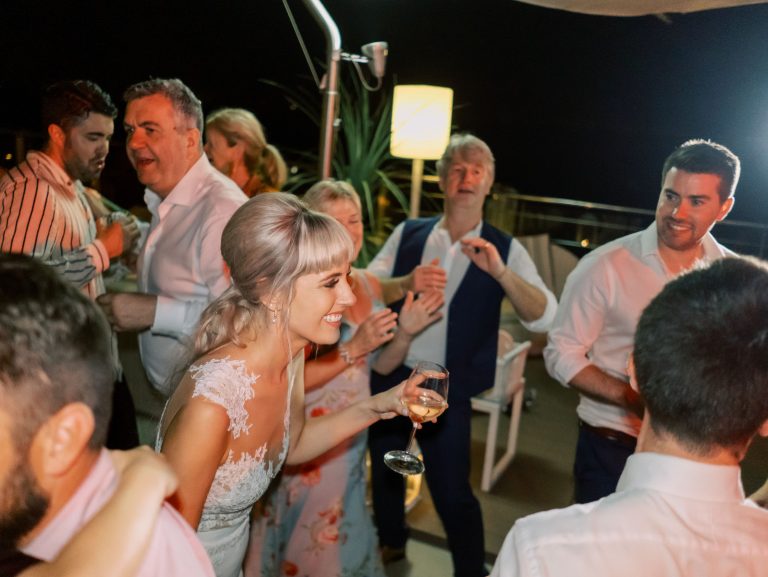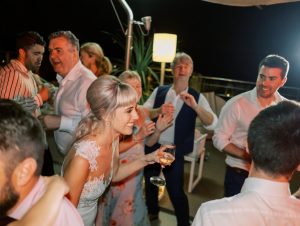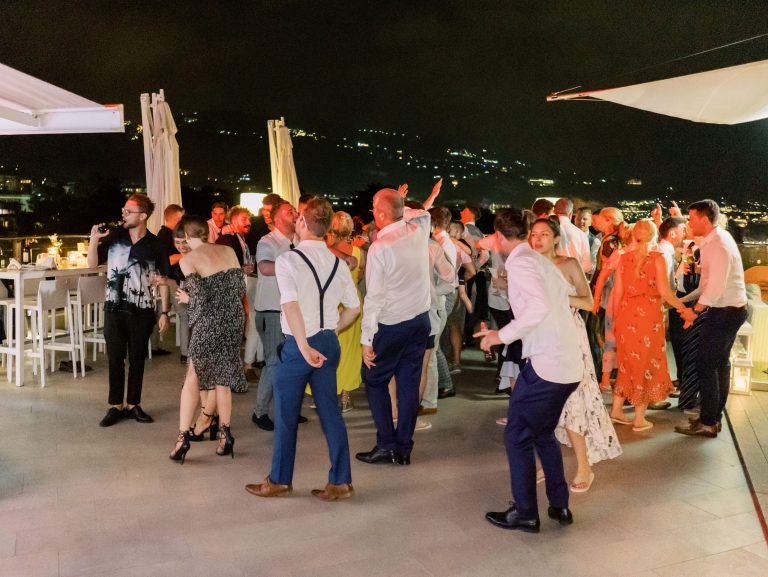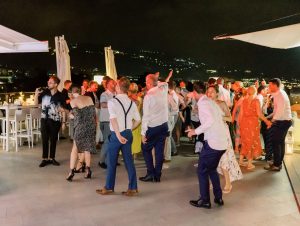 Wedding planning advice for brides to be?
Enjoy it (the planning and the day itself)! Try not to get stressed about tiny details because on the day all that will matter is that you're there with your loved ones and you have a fantastic time.
The planning should be fun! Whenever I had an appointment at the Wedding Club in London, I would travel from Leeds and my Mum travelled from Liverpool; we always made a day it of by going for lunch and Prosecco or shopping after the appointment, which was really lovely.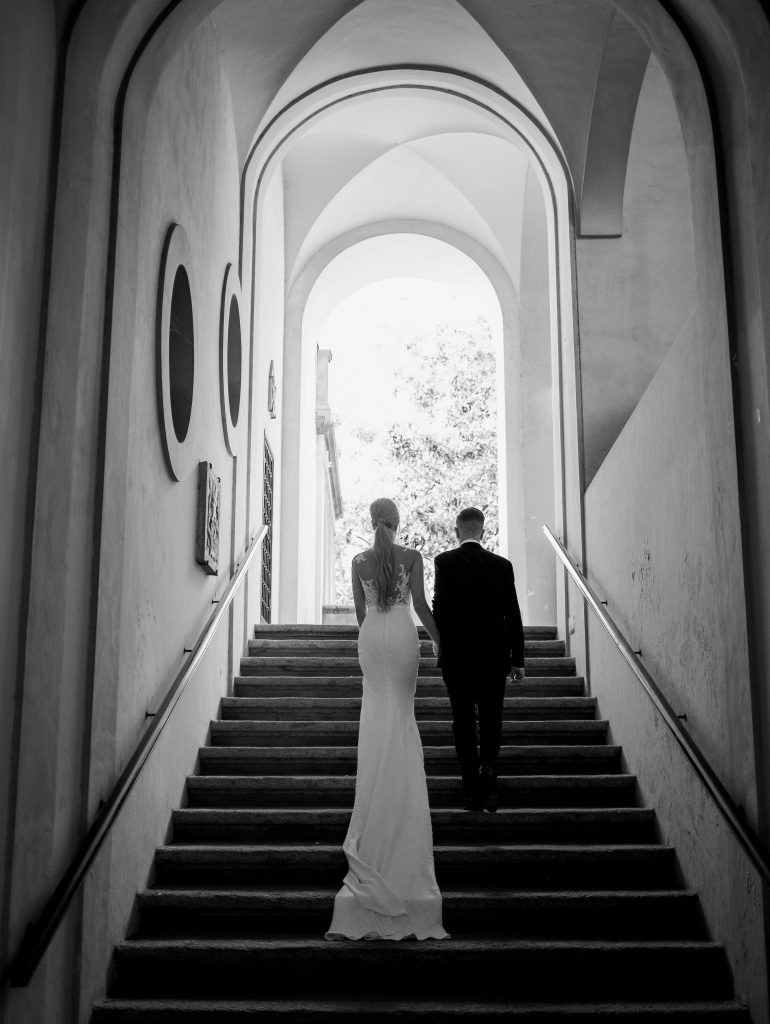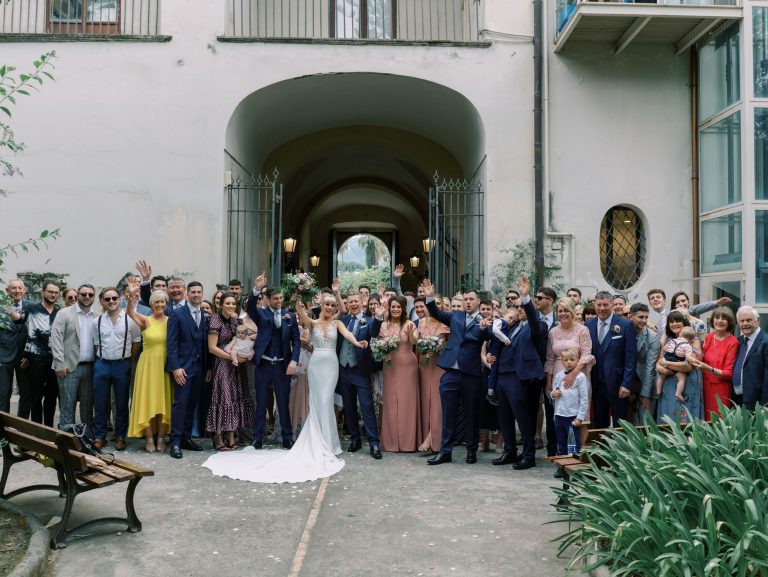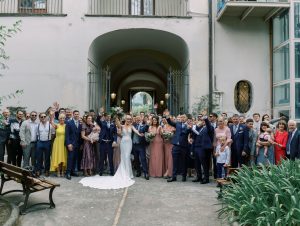 One moment you'll never forget:
The last song was Oasis – Don't look back in Anger. I spontaneously got up on my brothers' shoulders (being very careful of my dress!) and Matt also got up on our friends' shoulders. It was really incredible looking around at all our guests enjoying themselves at the party. We were just gutted it was the last song and the day had to come to an end.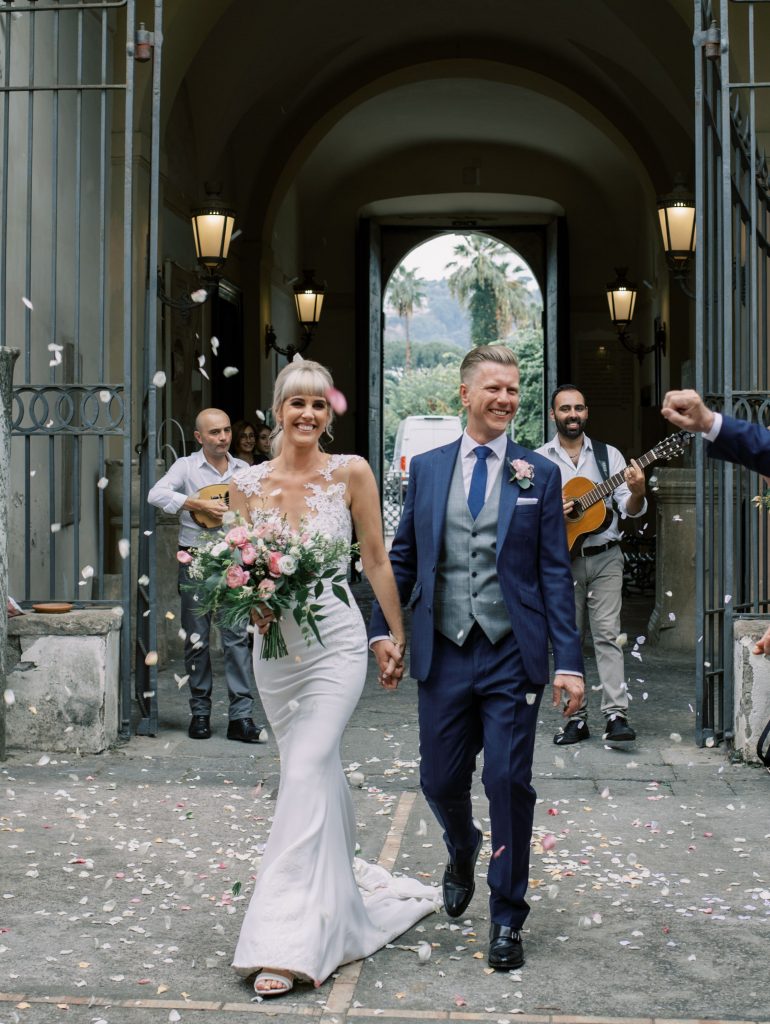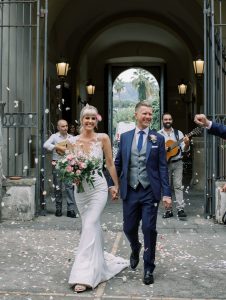 ❤️
Dress – Atelier Pronovias available at The Wedding Club South Kensington & Birmingham
Photographer – Francesco Detito
Venue / wedding planner – Hotel Mediterraneo
Suit – Whitfield and Ward
Hair – Joanna Falanga
Make-up – Elle Standish
Bridesmaids dresses – Dessy