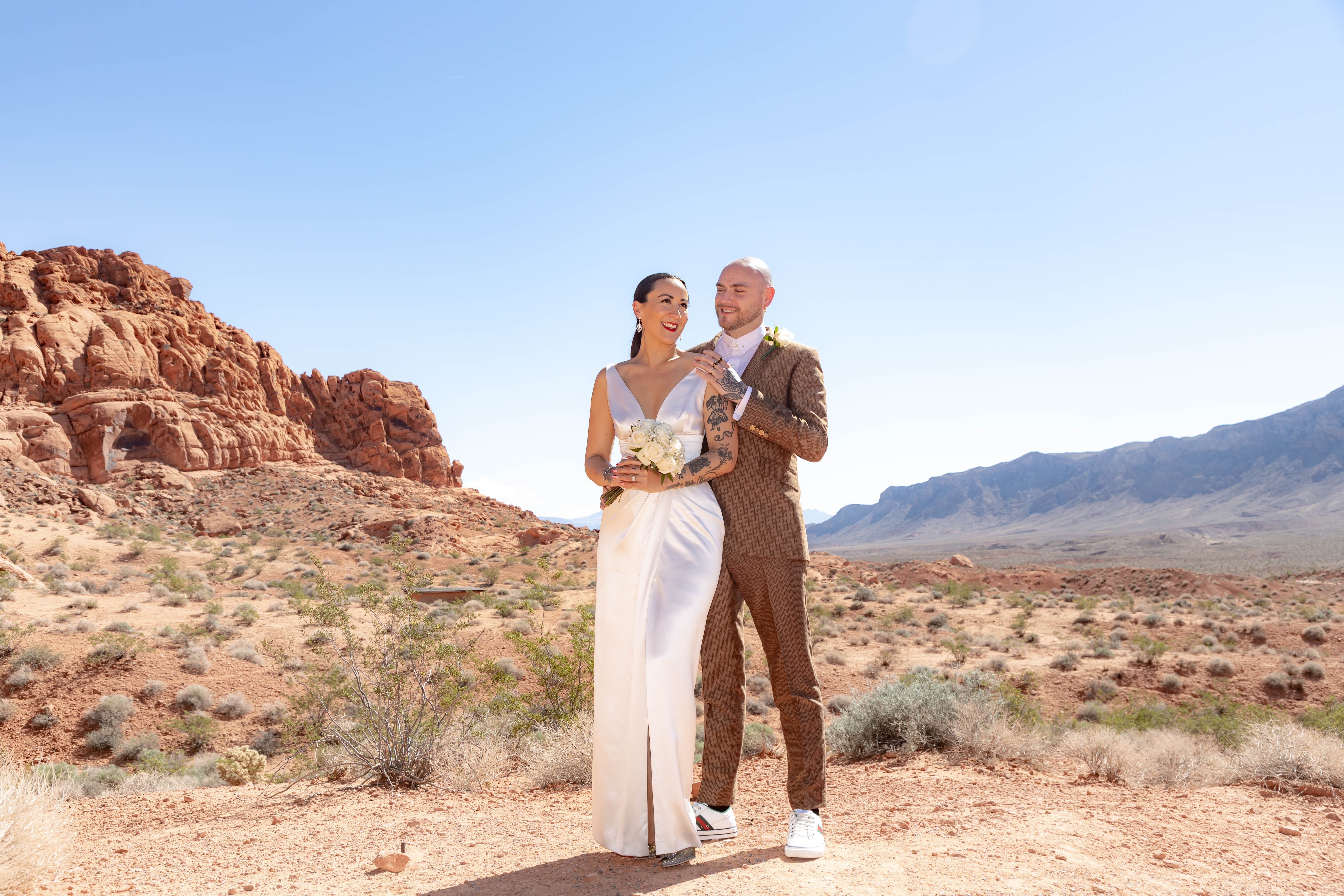 Cool & Chic Las Vegas Wedding In Naeem Khan Gown
❤️ The TWC Effect – Our brides, their way ❤️
Popsie and Aaron jetted off to Vegas for a super special and stylish (almost) elopement! The pair took close family with them to celebrate their love and tie the knot in a personal small ceremony that has us all swooning.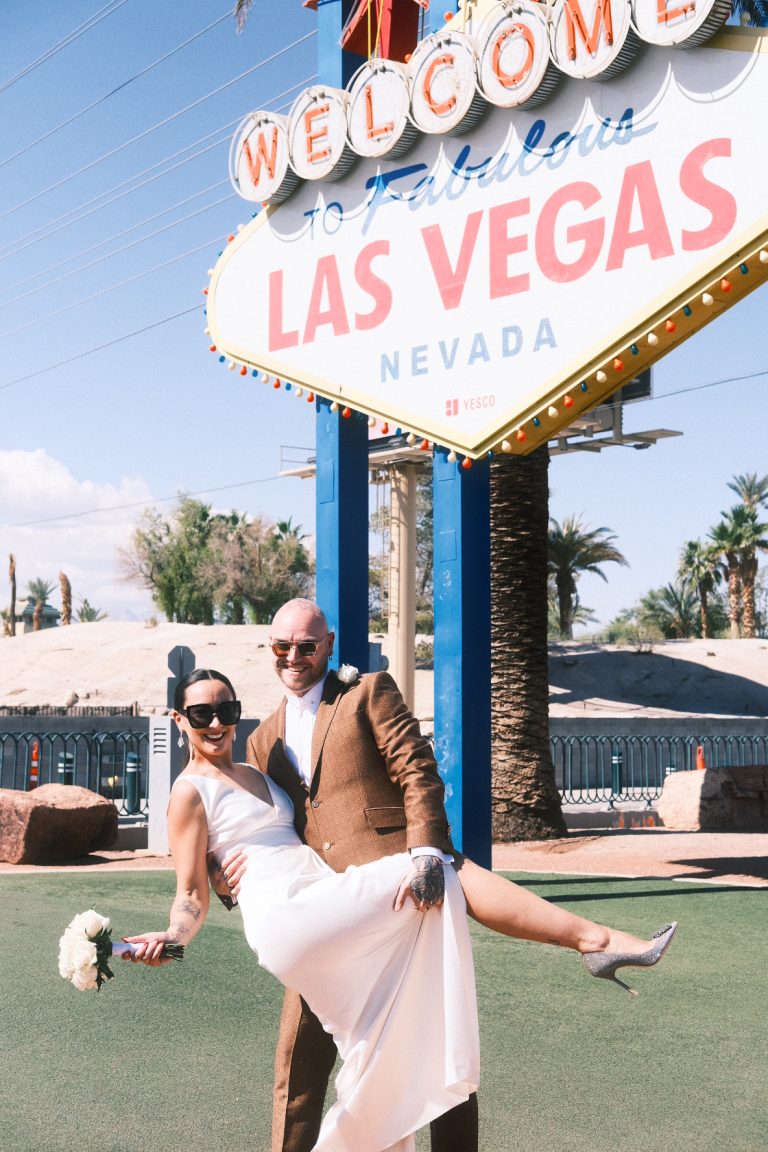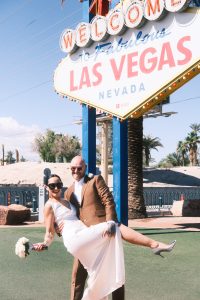 How did you meet?
Tinder, don't knock it till you marry your swipe right kids!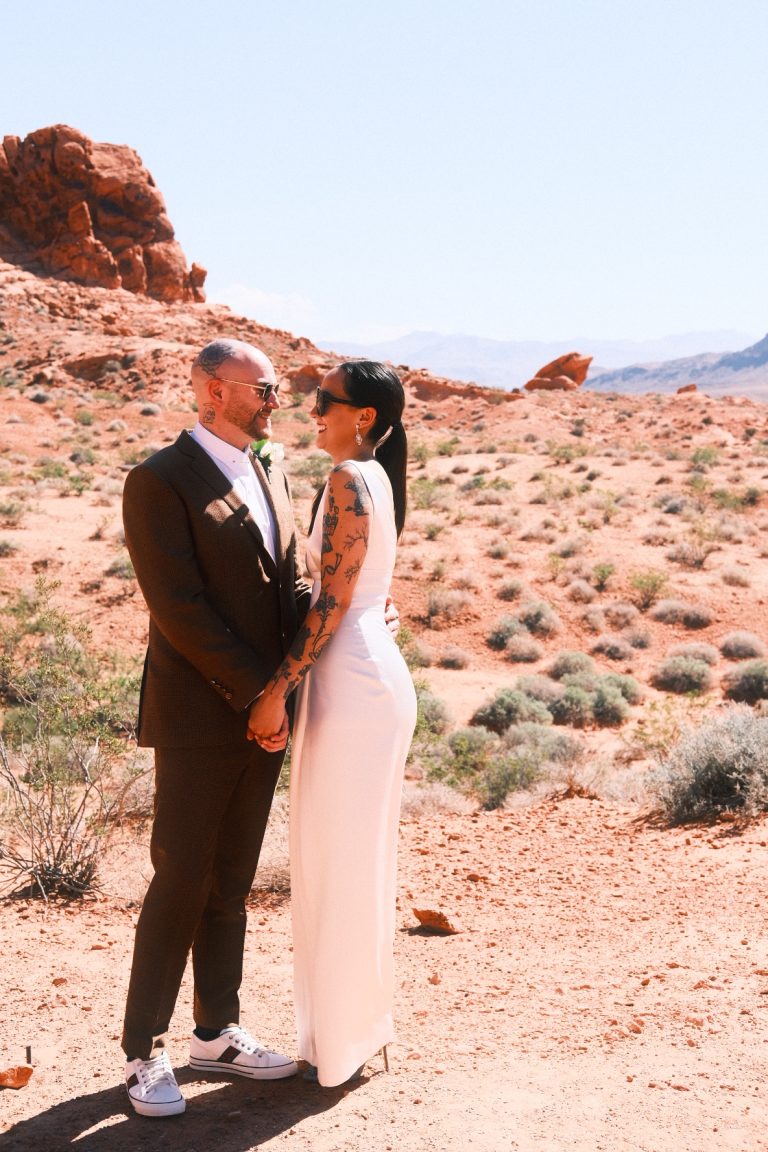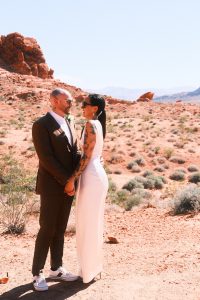 Was it love at first sight?
Nope, I thought he was "too nice" I know I know, but from the 2nd date i had broken the pattern of terrible "bad boys" and found someone amazing, plus i don't think i believe in love at 1st sight.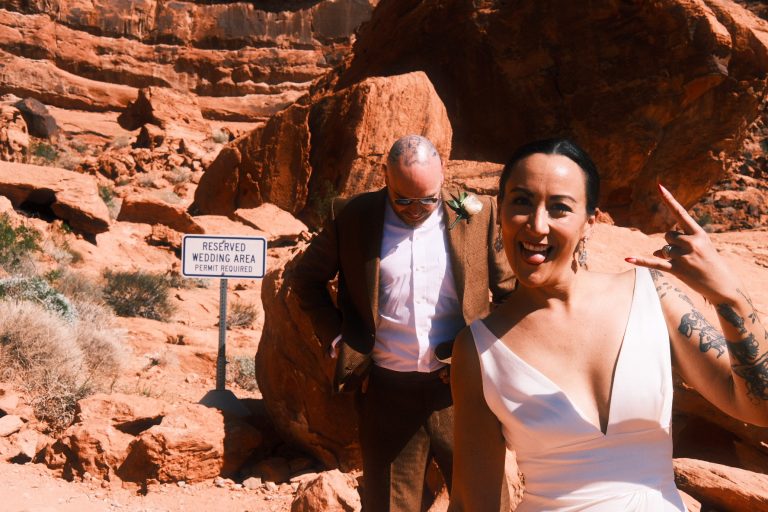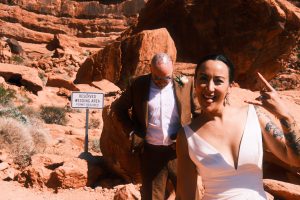 Who proposed and how? Lovely details, please!
He proposed, we had already shopped the ring, I'd tried it and knew it was just sitting there in the bedroom drawer. We had friends round 1 night and after about 4 bottles of wine I started hinting that maybe tonight could be the night. Before I could make the next round of cocktails, Elvis was playing and he was down on 1 knee.

So basically I got him hammered and set it up.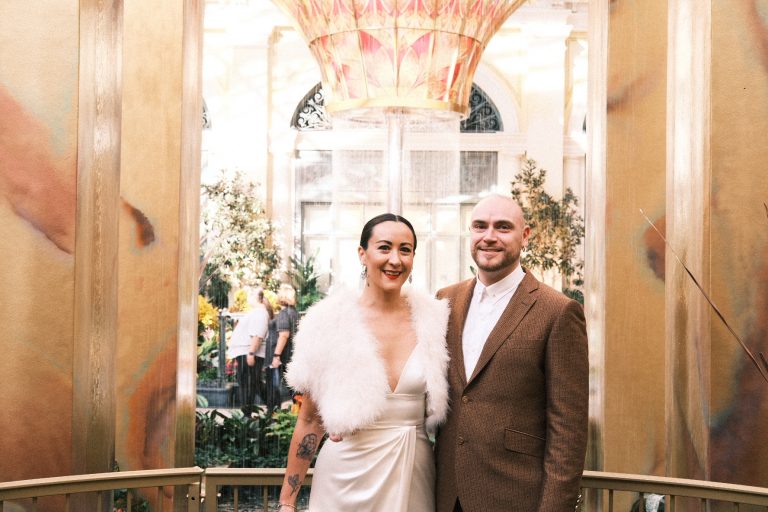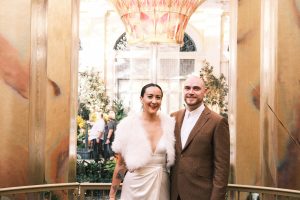 Did you have a theme for your wedding? How did it come about?
Not really a theme as such but I knew I wanted an Old Hollywood style look for the day!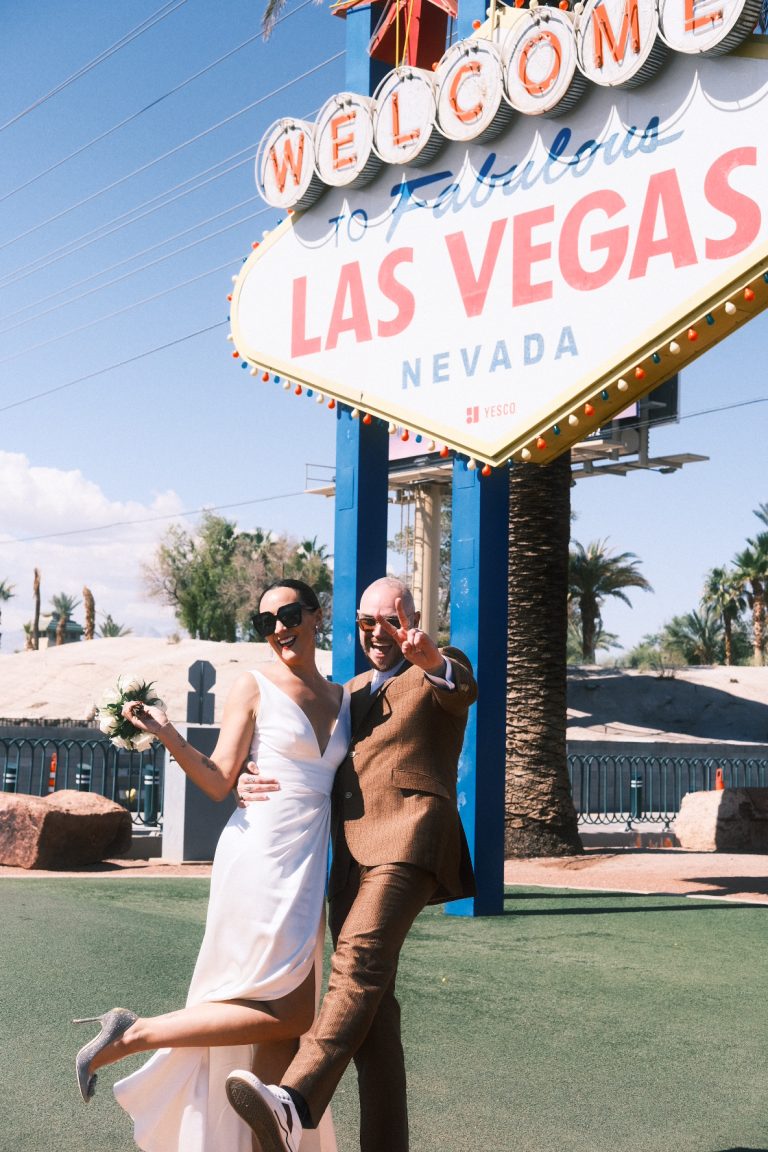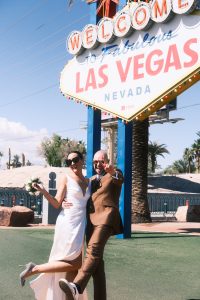 Location and how you found it?
We actually won via an instagram competition a trip to Las Vegas in Feb and thought what better place to get married, initially we were going to elope but i don't think either of our mothers would have forgiven us so we invited family only. The actual ceremony was about an hour out of Vegas in the Red Rock National Park, the Valley of Fire. It's beautiful!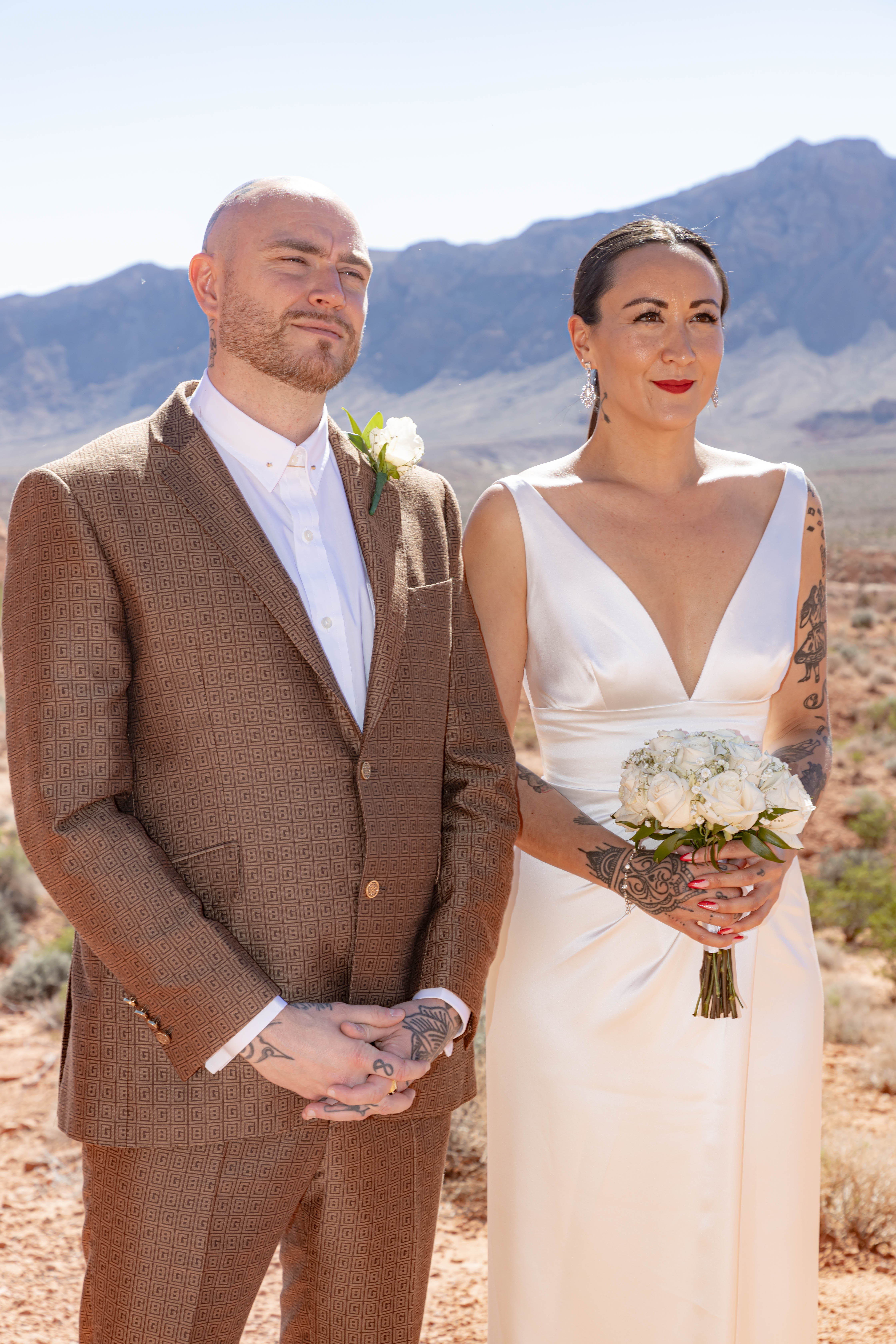 How did you find The Wedding Club? Tell us about that moment when you found and chose your dress – how did it make you feel when you put it on for the first time?
I am VERY lucky and know the TWC team who very kindly had me in for an appt as an engagement present. I have to say I had no idea what kind of dress that I wanted… Although I knew very much what I didn't want, I never really thought of the dress I did want.

The team were just sensational, I picked a number of styles to try and it was the first dress I tried!!! It was perfect! For me clothing is all about feeling, and when I got it on I felt like a queen! I tried it on about 20 times at home when Aaron was out just walking round my flat in it!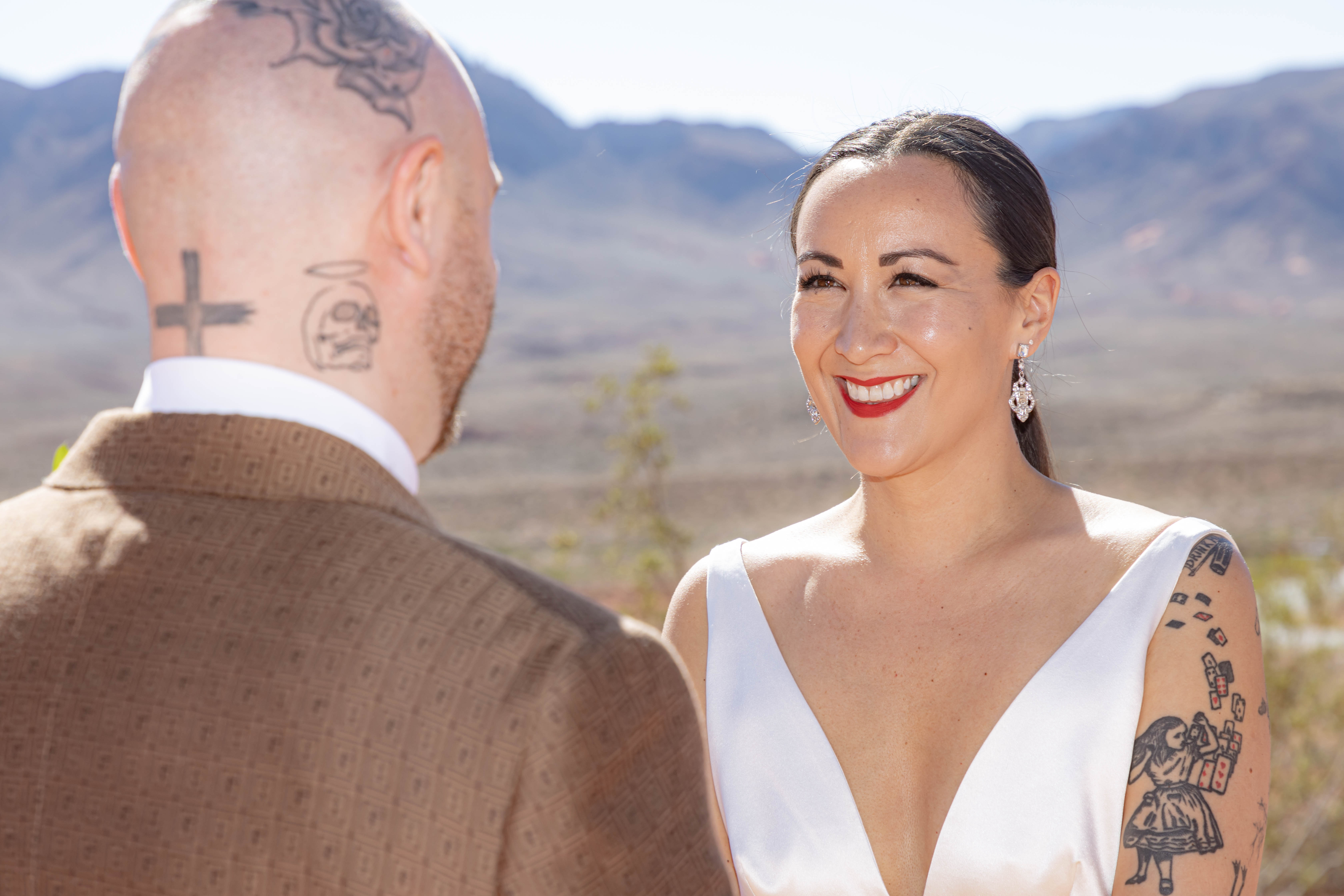 Which designer did you wear?
Naeem Khan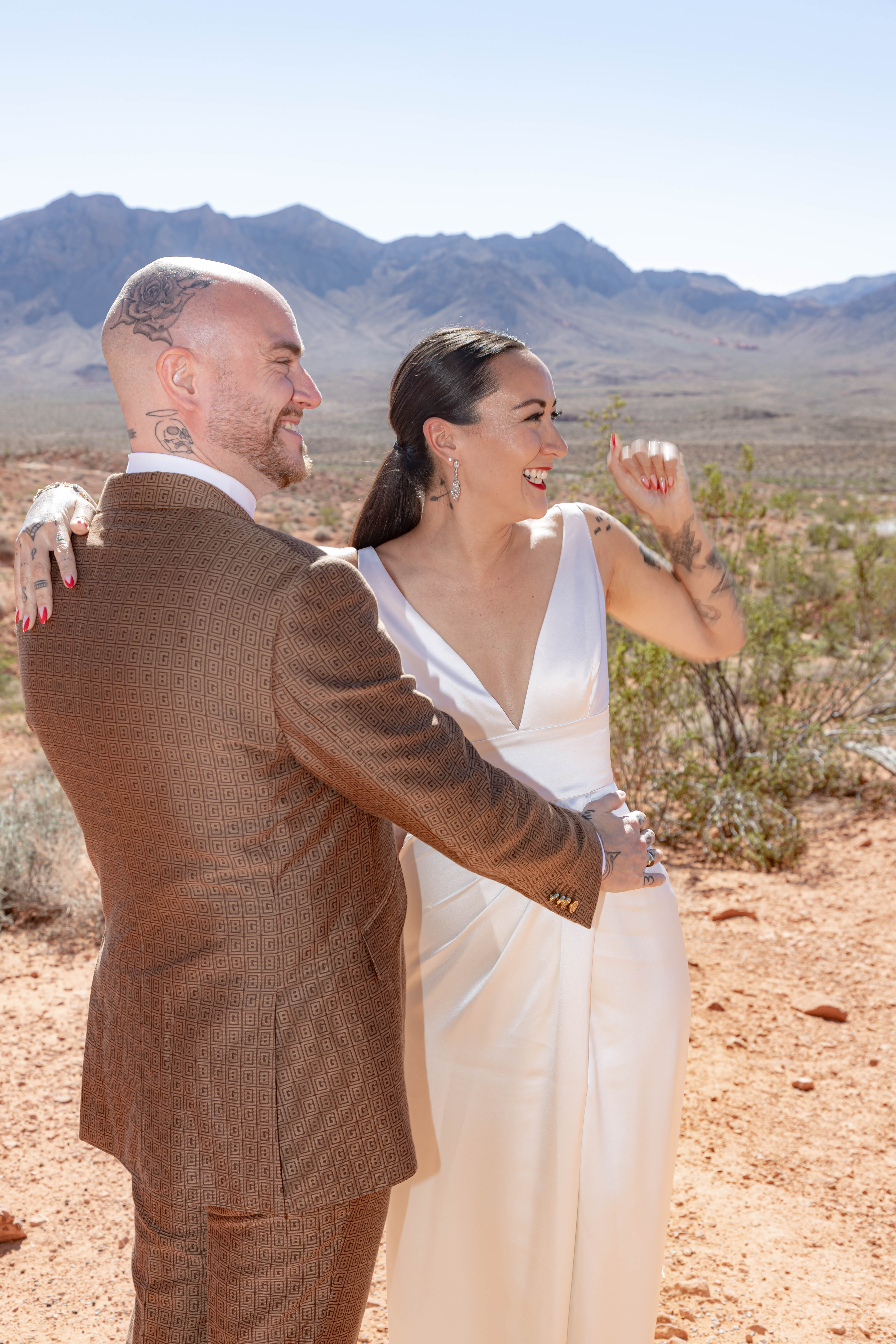 Where is the suit from? Why was it the perfect fit?
The suit was from Gresham Blake in Brighton, it was just divine, went really well with the dress and was tailored in store to fit perfectly. I even let Aaron wear Gucci sneakers as his footwear, the whole look was bang on the money.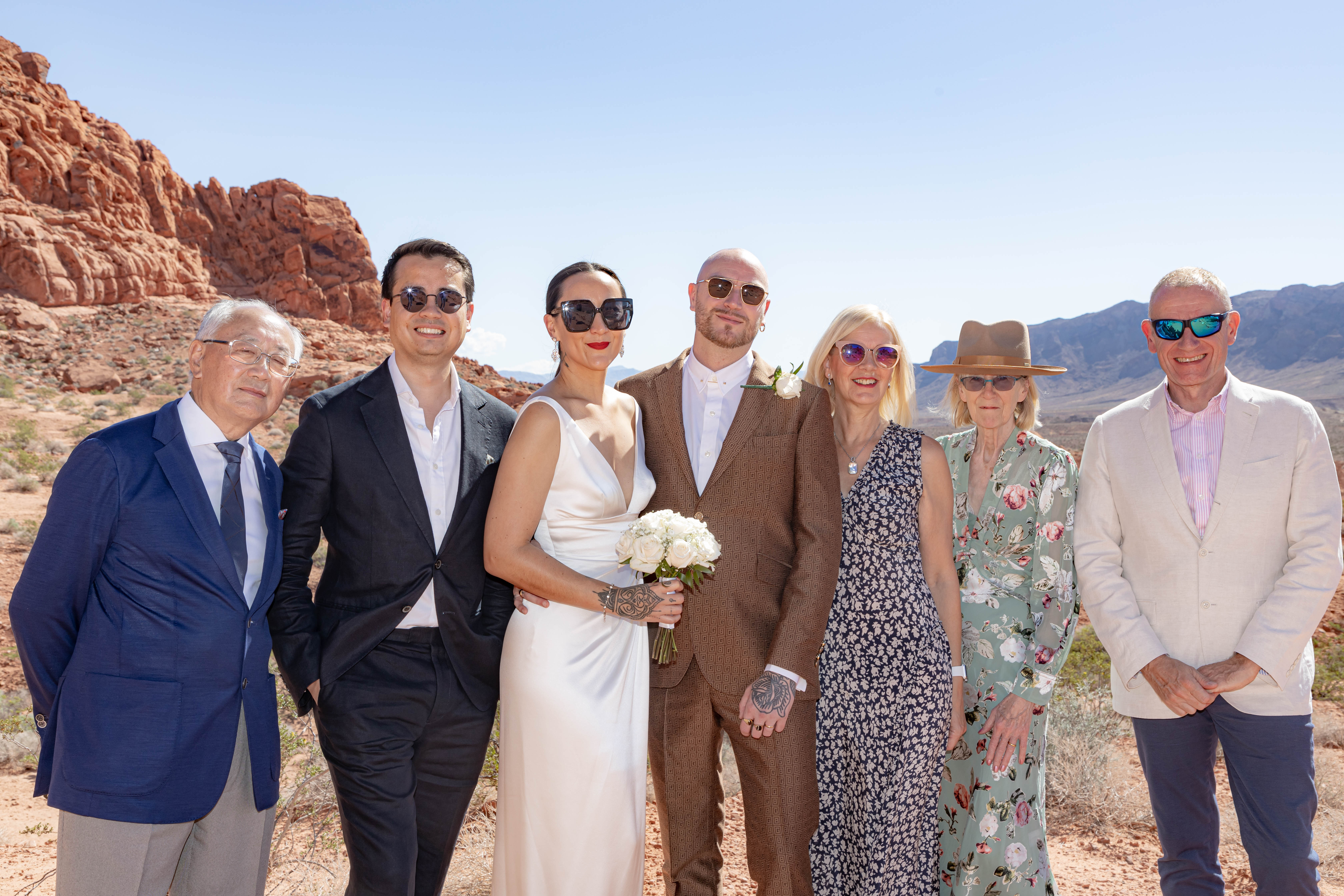 Did you have speeches? Who performed them?
No, we kept it really casual.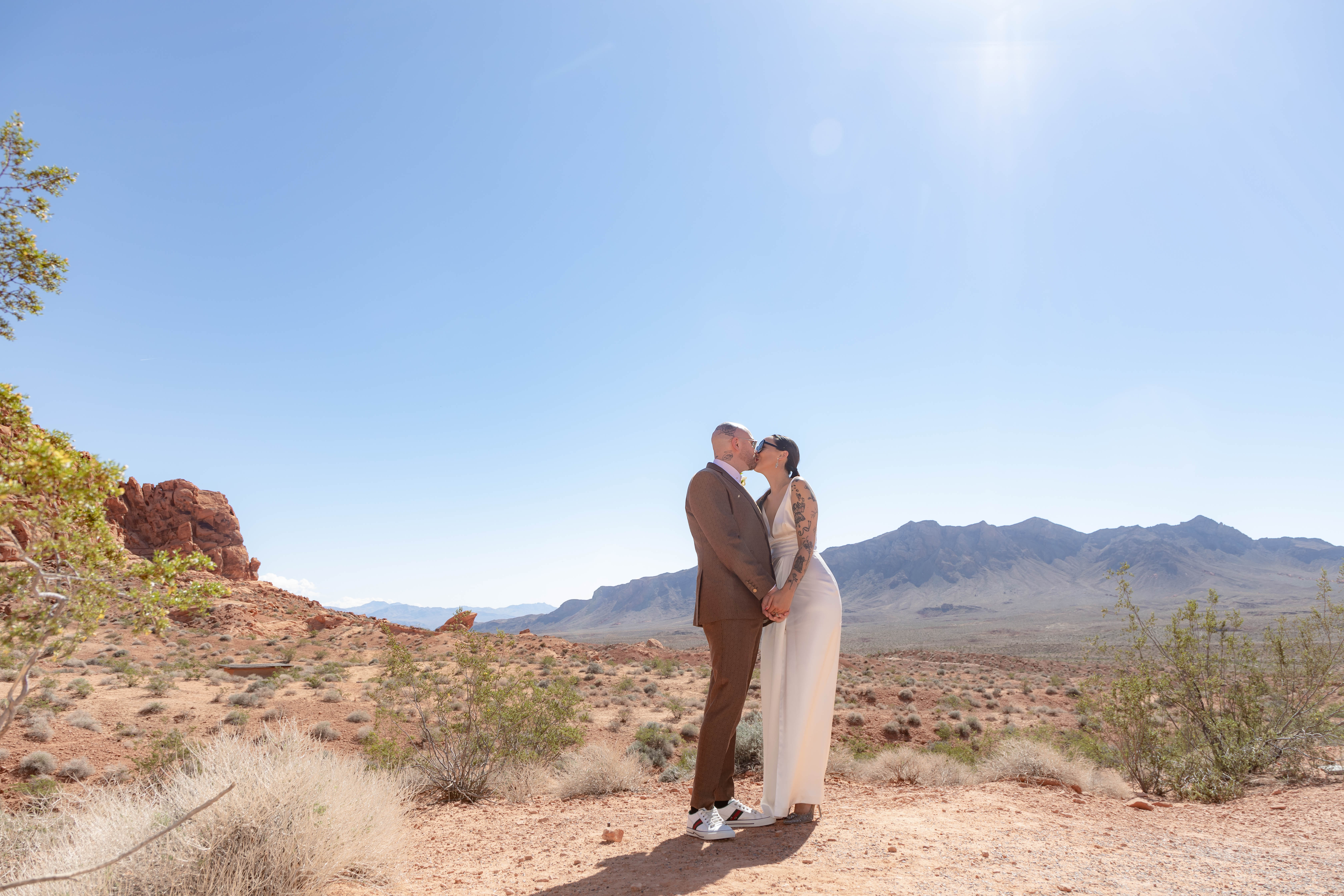 Did you have a first dance? What song did you choose and why? How was the performance?
Nope again, we just all went for a meal in one of the restaurants in the Bellagio however we didn't know that a cabaret night was on and so could hardly hear or speak to each other.

There was a lady with a HUGE hat and only underwear on singing though so that was a bit of all round family entertainment.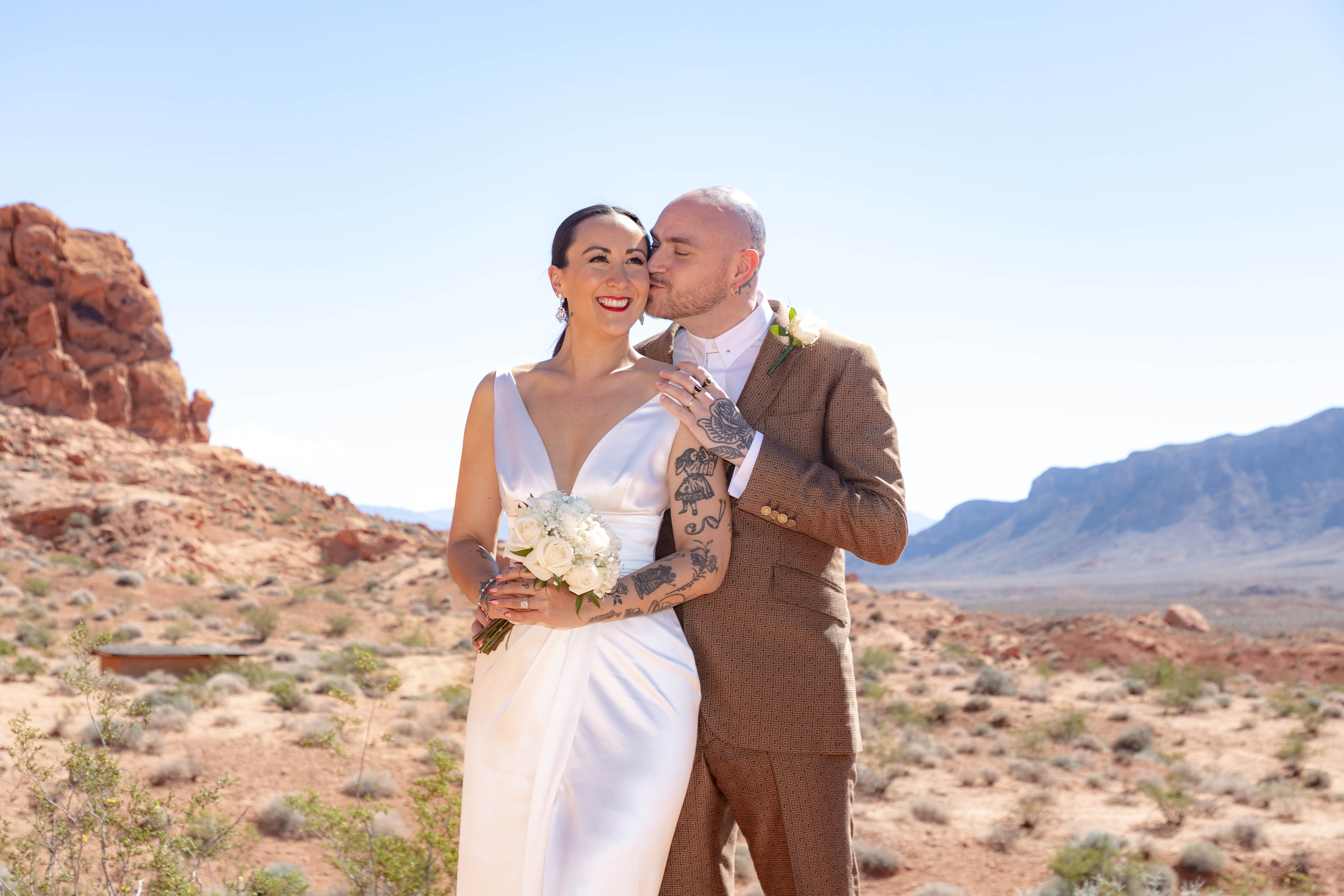 How was the party?
After the ceremony we went back to the Bellagio where we were staying and had drinks and cocktails in one of the bars, the parents then retired for a mid afternoon nap and me, Aaron and my brother hit the floors, slots, champagne, roulette, craps, cigars. It was really fun!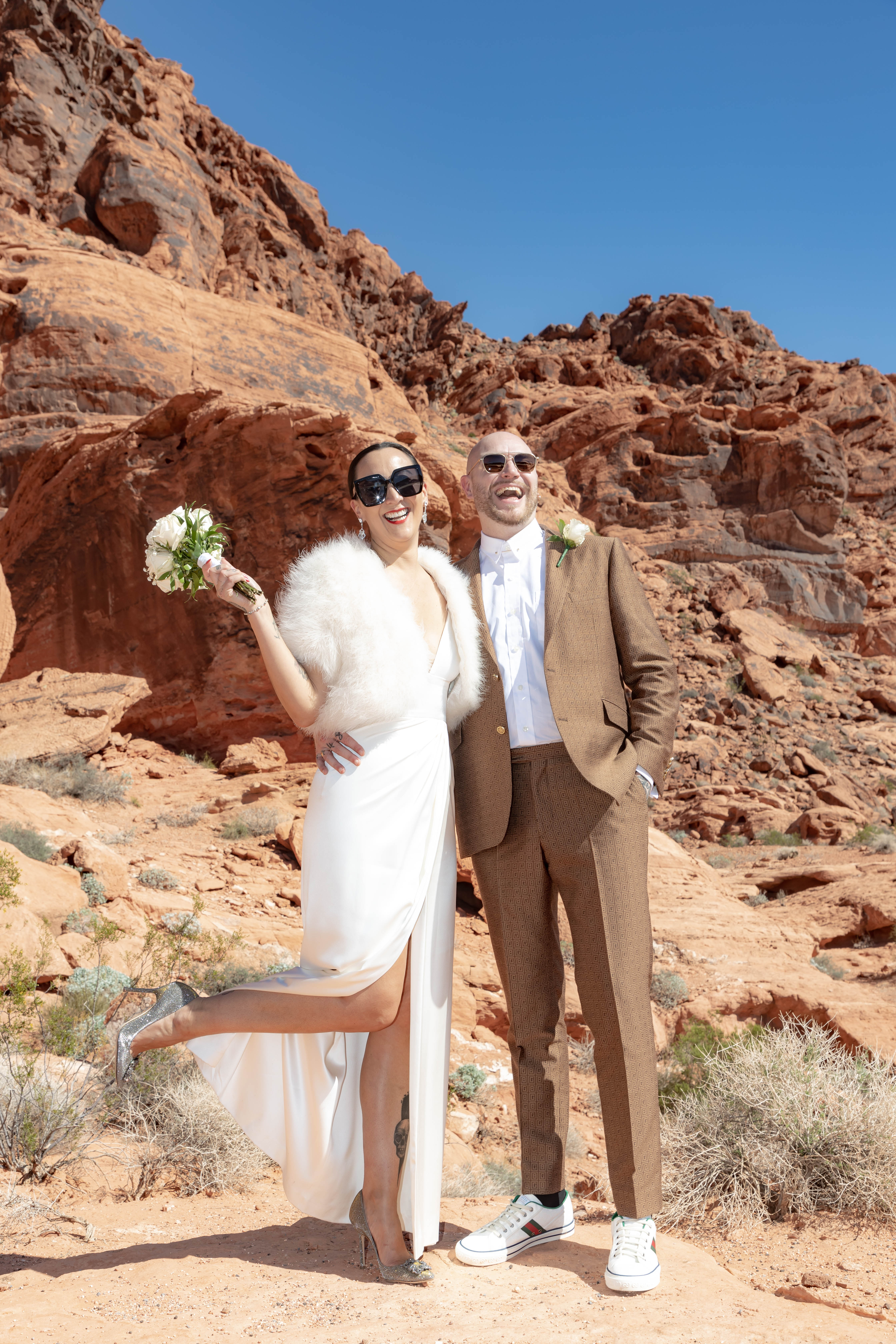 Wedding planning advice for brides to be?
Just do what makes you happy – I always thought I would want a huge white wedding and I did miss not celebrating with my friends but honestly for me it's just a day, a very special day that's for you and your fiance not anyone else.

Don't sweat the small stuff just enjoy it!!! (but maybe lay off the champagne for brekkie, that bloat will not help when you are getting in your dress)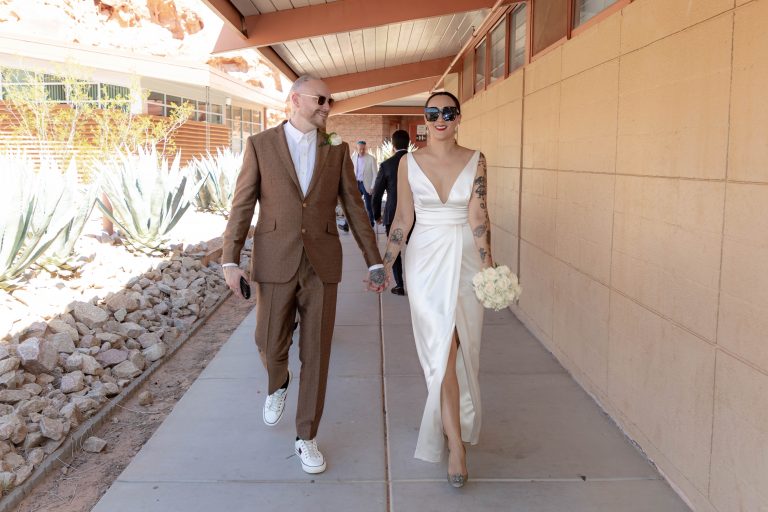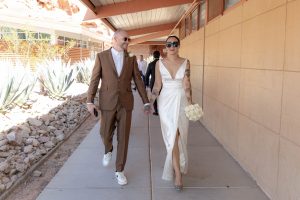 One moment you'll never forget:
Making up our vows with 30 mins to go, we weren't planning on saying anything then the minister asked us if we wanted to and we said yes, we both winged it, but that moment was very cute… and the JETLAG!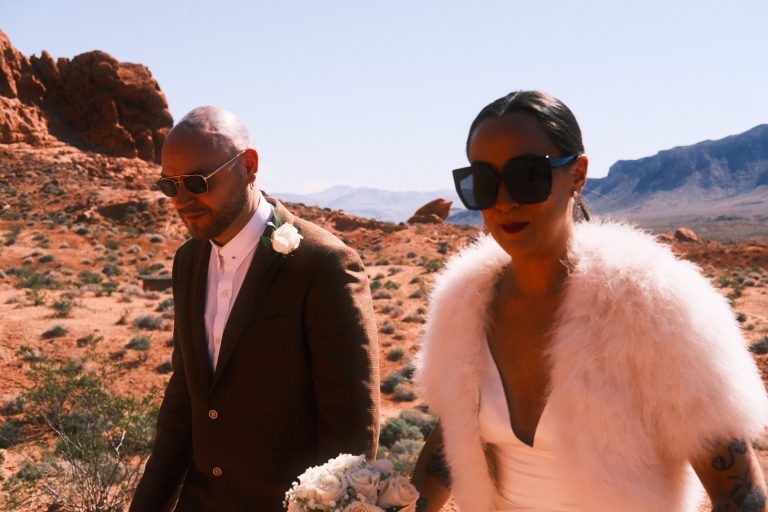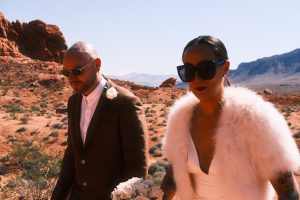 ❤️
Dress – Naeem Khan available at The Wedding Club Knightsbridge
Shoes – Manolo Blahnik
Suit – Gresham Blake