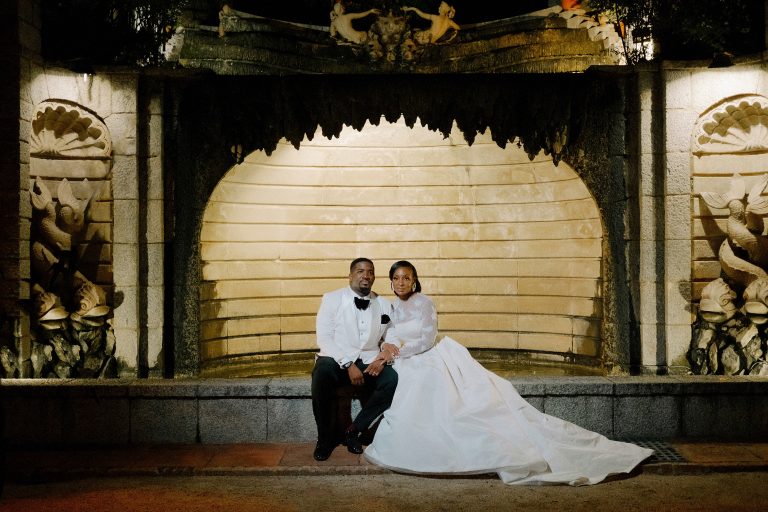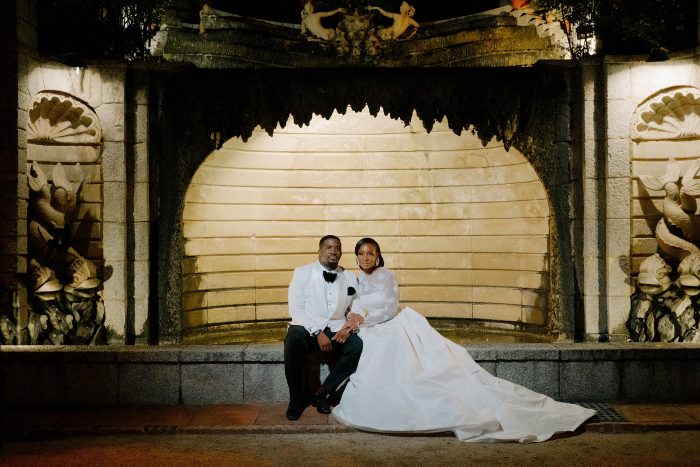 Bold & Beautiful Barcelona Wedding In Carolina Herrera Gown
❤️ The TWC Effect – Our brides, their way ❤️
Charis and Okeoma are partners in every sense of the word, a lockdown phone romance made it big time for this loved up duo who are sharing their fairytale union with us today!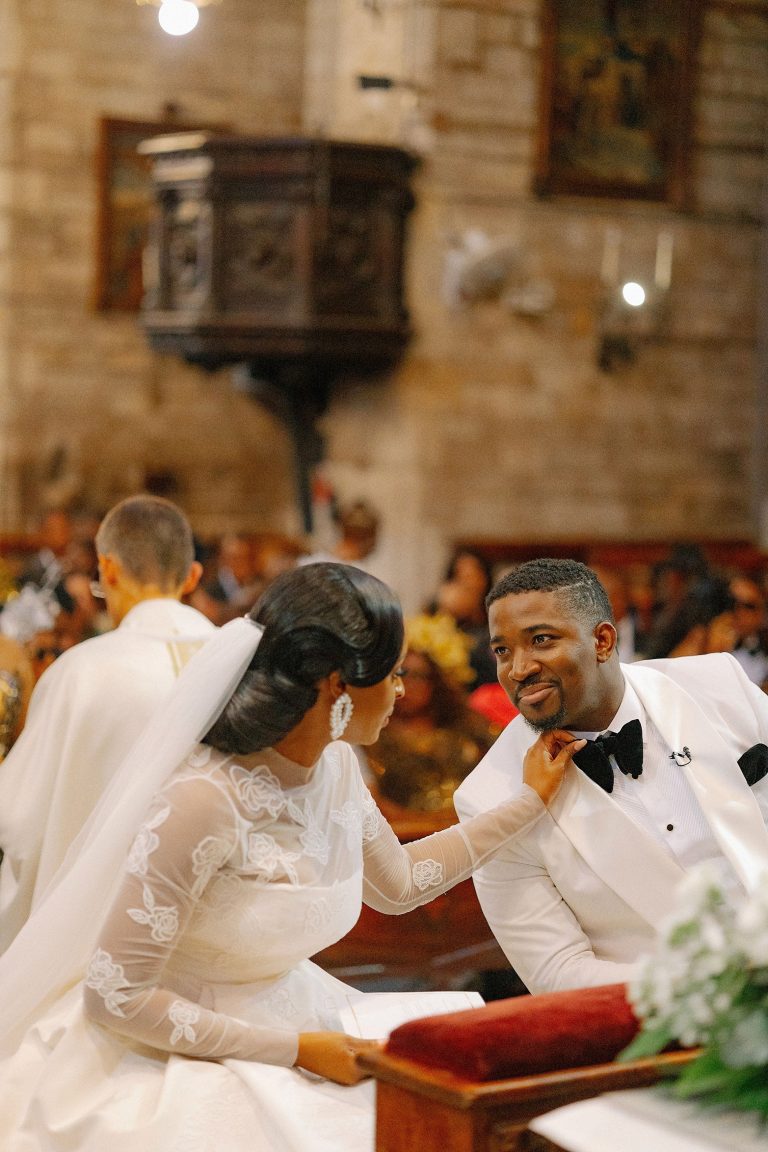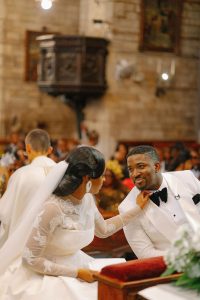 How did you meet?
I had worked in management consulting for many years, and decided I wanted a step change. I took a stab at entrepreneurship leaving my very prestigious career behind me in a leading consulting firm to start a skincare line called KYALLI. Friends and family from far and wide supported me and threw resources at me, to help achieve this dream.
An old friend whom I hadn't been in touch with for years reached out to me out of the blue and decided to introduce me to a friend of hers who worked in Private Equity.
What was so bizarre was she called me numerous times in the middle of the night – about 4 – 5am, hoping I would pick up (wonder why) because she thought we would make a wonderful team and his experience in fundraising would be instrumental to my business – I excitedly took his number and gave him a call. We scheduled a meeting for 3pm that afternoon. Our first call lasted exactly 1 hour (it was during the working day). We had another chat that evening at 8pm and stayed on the phone until about 4am.
The rest is history!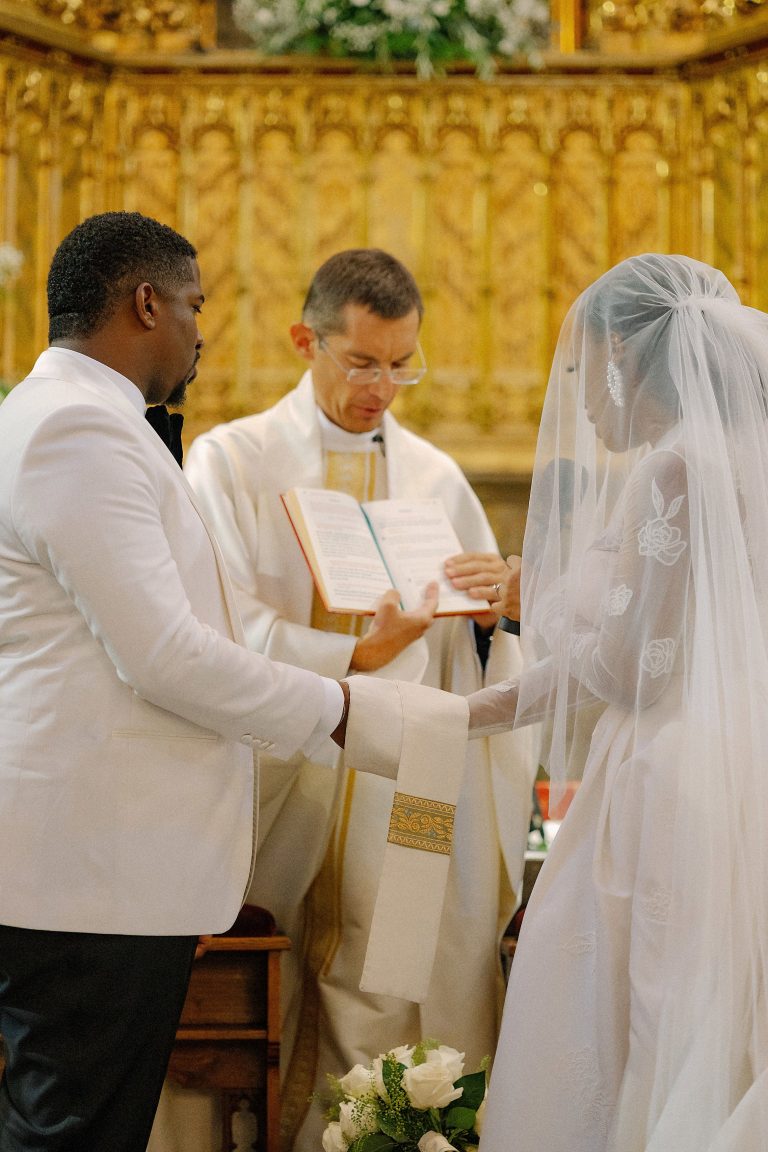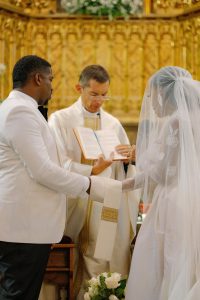 Was it love at first sight?
Haha! We were in the lockdown, so "I'll say it was love at first speak" we spent 5 – 6 hours on the phone each night which was really hard for us in the working day. But we were always so excited and eager to get back on the phone.
When the lockdown finally lifted we spent every passing moment with each other.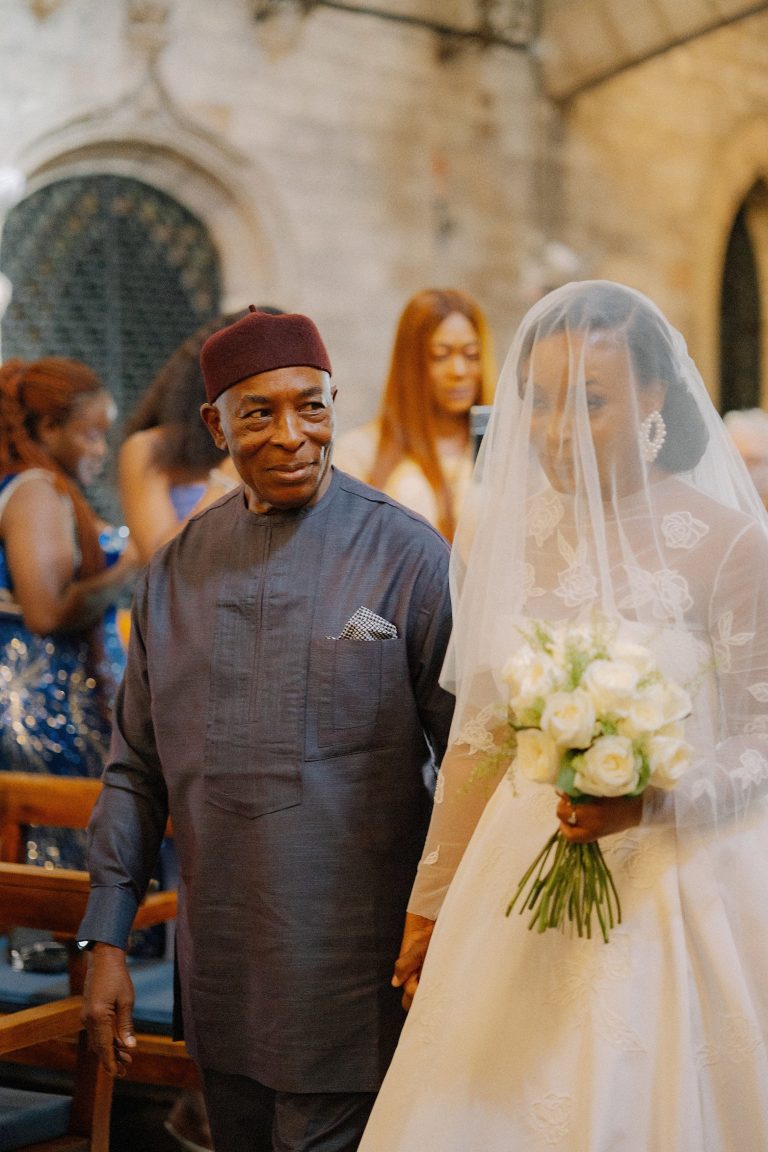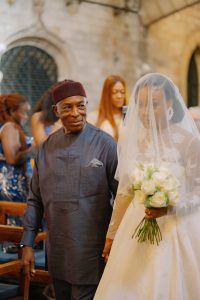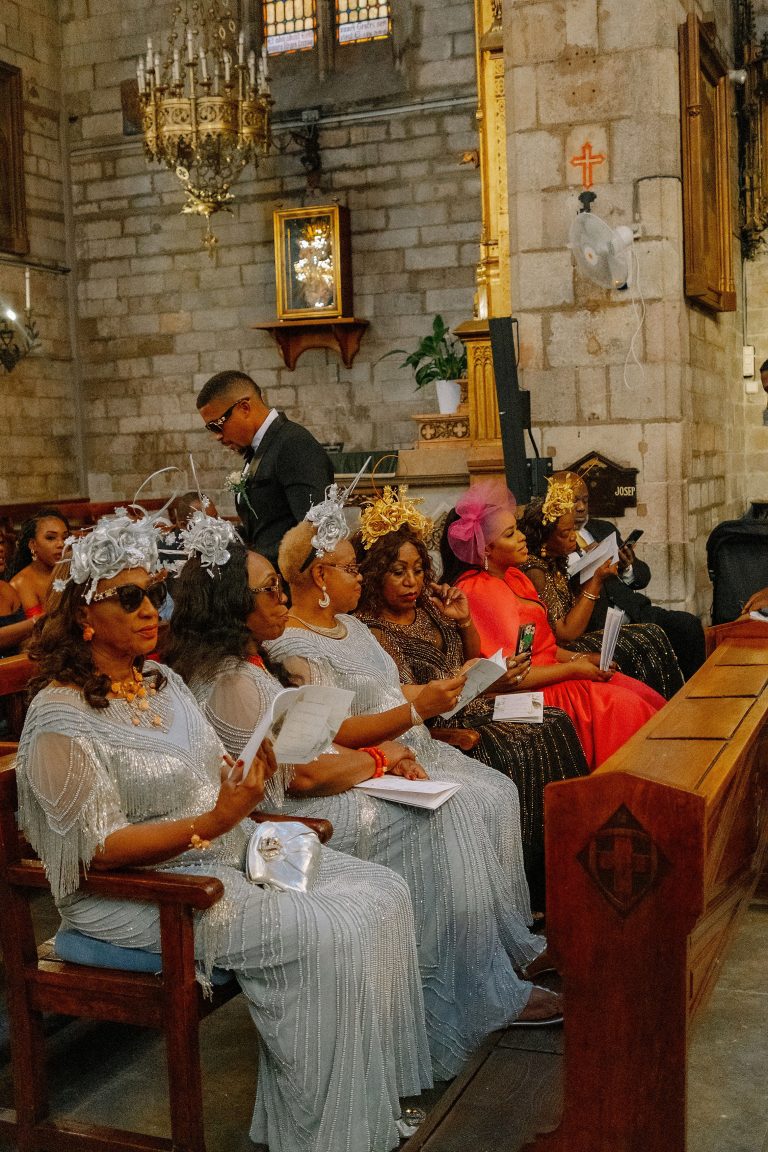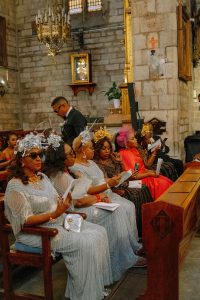 Who proposed and how? Lovely details, please!
Okeoma comes from quite a big family – who live all over the world – so I meet new cousins and aunties everyday. A week before he told me his "aunt" was visiting from the US and we needed to pay her a visit. He tended to walk me round the room to meet most of his family as his parents are late (may their souls rest in peace). So this wasn't anything surprising.
We got to the reception, told them who we were here to visit, the receptionist made a call, and viola we were sent upstairs. But it was all a very romantic ploy because the door was opened to a lavish display of roses and a massive "MARRY ME" sign. I turned around and he was on one knee.
I was being asked to marry me by the best man in the whole world!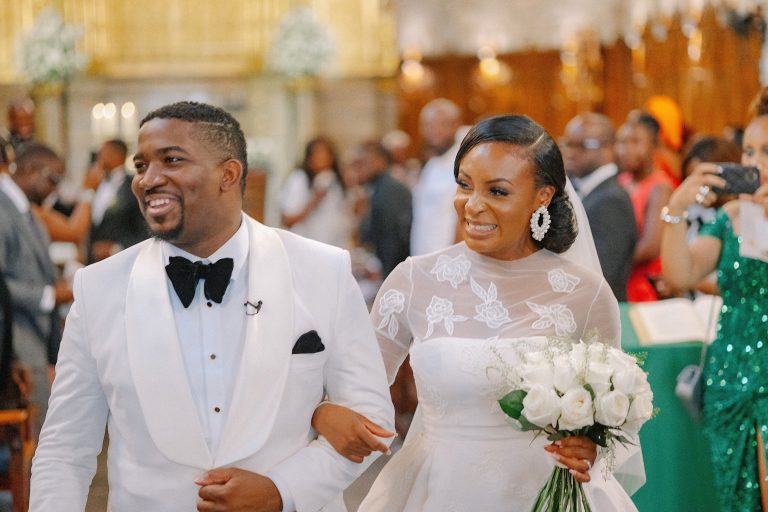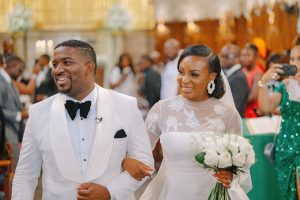 Did you have a theme for your wedding? How did it come about?
We did – we had two events, "A Welcome Party" and the "Wedding Ceremony".
For the Welcome Party: We wanted something colourful and grand, but also representative of our culture and who we are as people. So we went with the ROC Nation Brunch Theme. The ROC Nation Brunch is a pre-grammy party hosted by Jay-Z and Beyonce each year to celebrate the Hip Hop & RnB cultures. My husband is the greatest hip hop fan, whilst I adore both Jay Z and Beyonce, so it was a rather easy choice. We also found that it's not something that has been done by other couples.
We rented this extravagant garden on the hill in Santa Romana, Barcelona and hired the most picturesque rustic food trucks to keep up on theme. Our guests were given super instructions for the event. No Black, White, Pink or Trainers (for the ladies) haha!
Unfortunately we had a thunderstorm that day so we couldn't party in the garden, but we didn't let it ruin the fun! Instead we were able to huddle by the pool and have a late soiree by the pool under the moonlight!
The Wedding: We went with a classic theme – Black Tie, we wanted a timeless and classic wedding and we were thankful to get just that!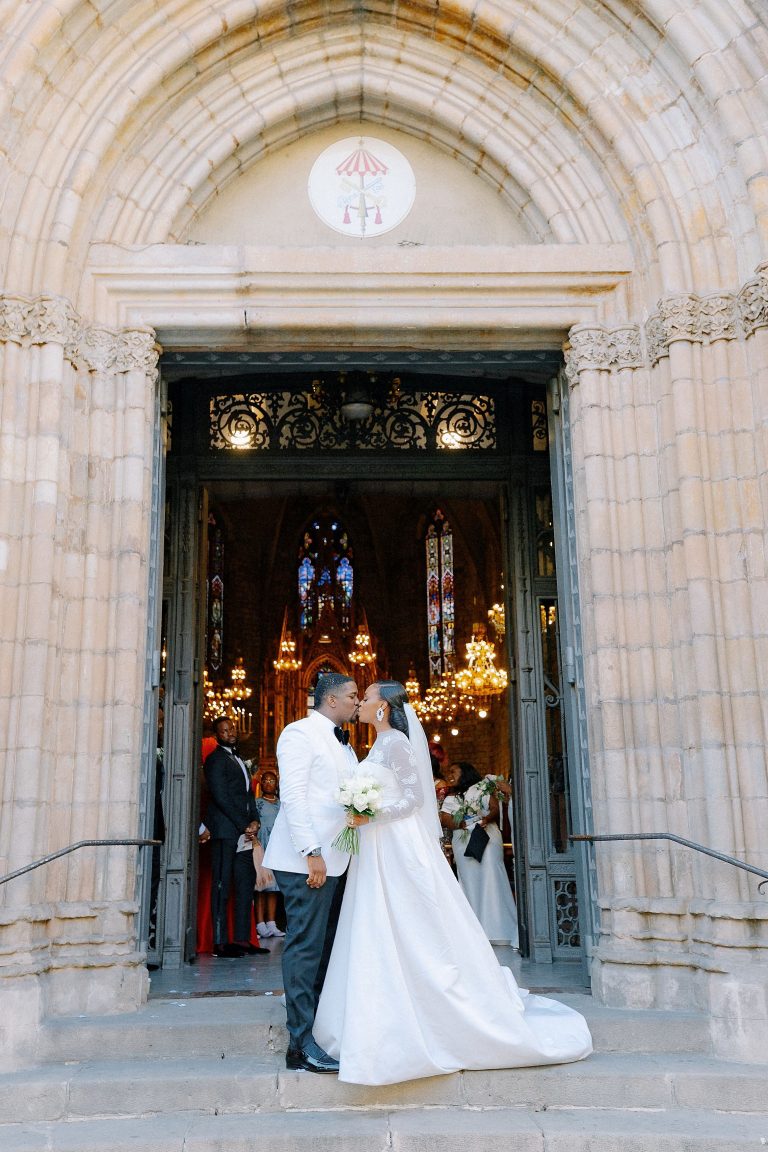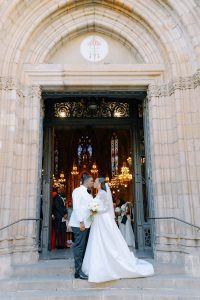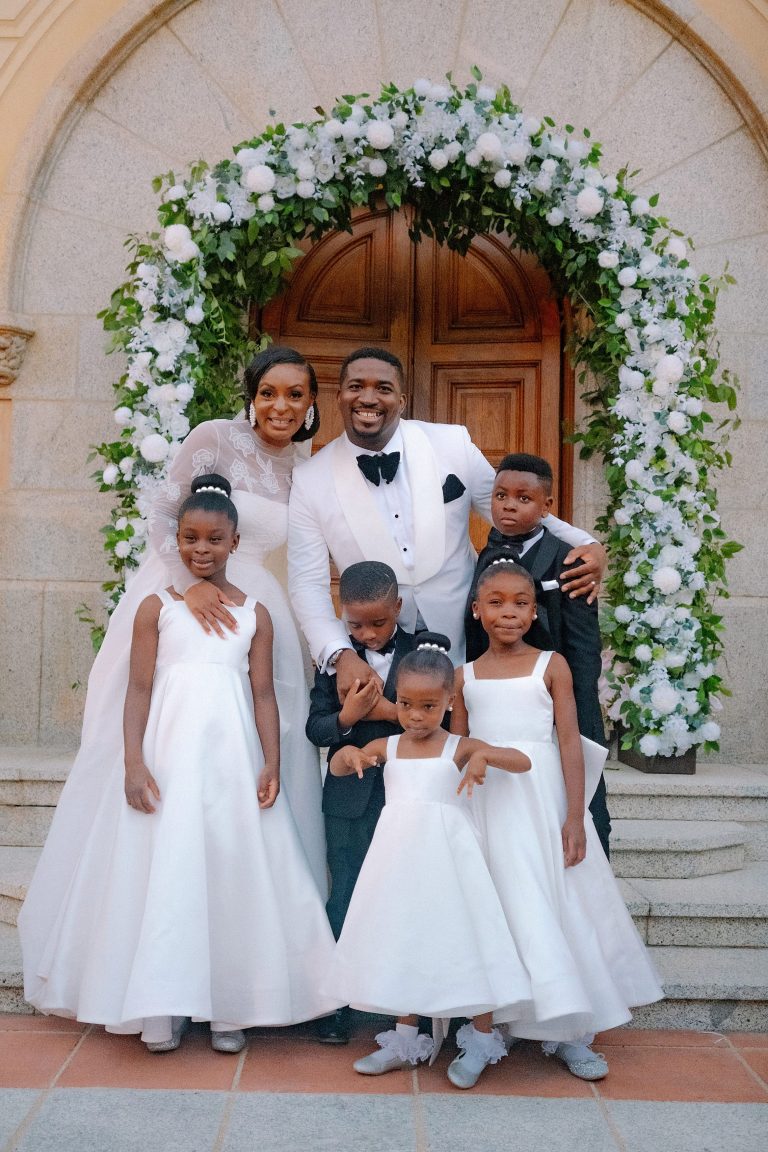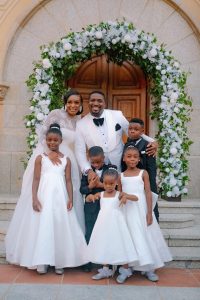 Location and how you found it?
We wanted something small and intimate for our nearest and dearest, with that in mind both London and Abuja (where our families and numerous well wishers live) were out of the question.
Okeoma wanted A Villa Ephrussi de Rothchild on the French Riviera, he had been to Cannes and Monaco on several occasions and really wanted to get married there, but I wasn't sold on the idea. I preferred something more exotic like Spain or Morocco. As I loved holidays there and Okeoma has some family in Barcelona.
I also really wanted an outdoor wedding, so we could dance under the moonlight amongst palm trees, like kids with no care in the world!As a perfect gentleman he suggested we visit all our preferred locations and then make a choice. The first trip was to Barcelona!
We got to see various venues and learn about their amazing history from the owners and caretakers – as soon as we stepped foot in Bell Reco we knew we had a winner! Our search was over.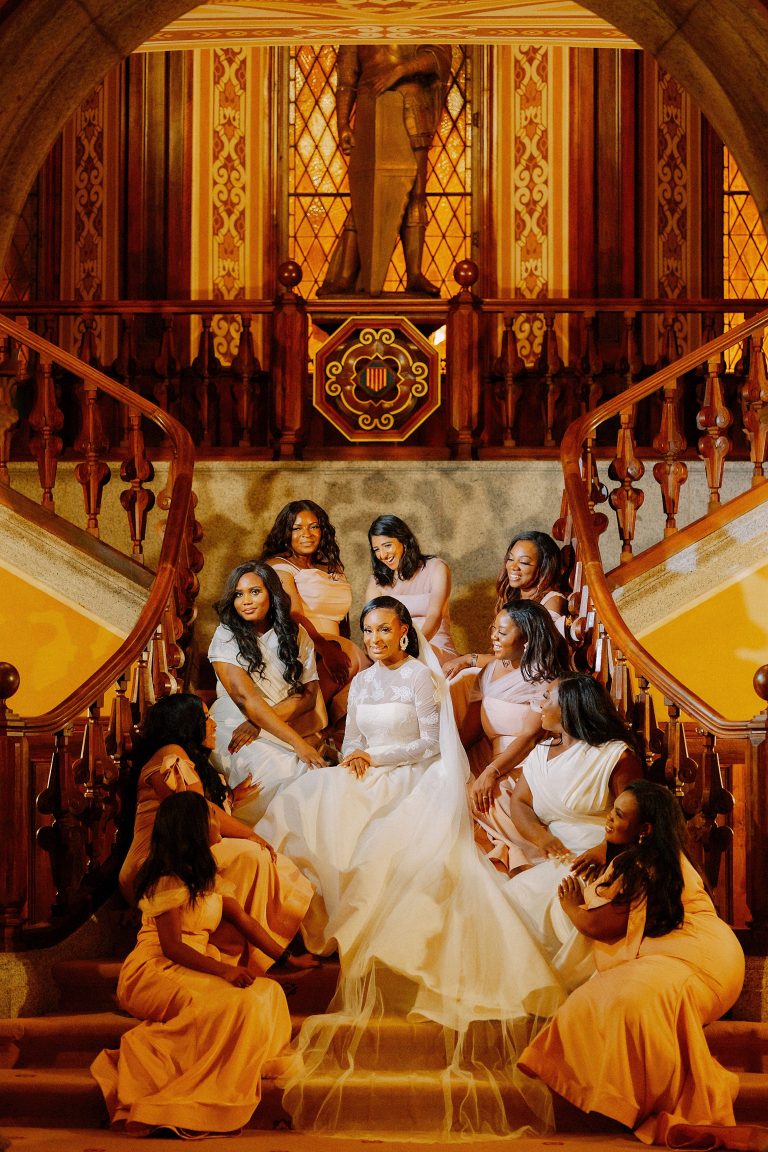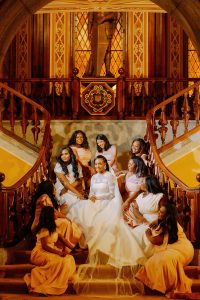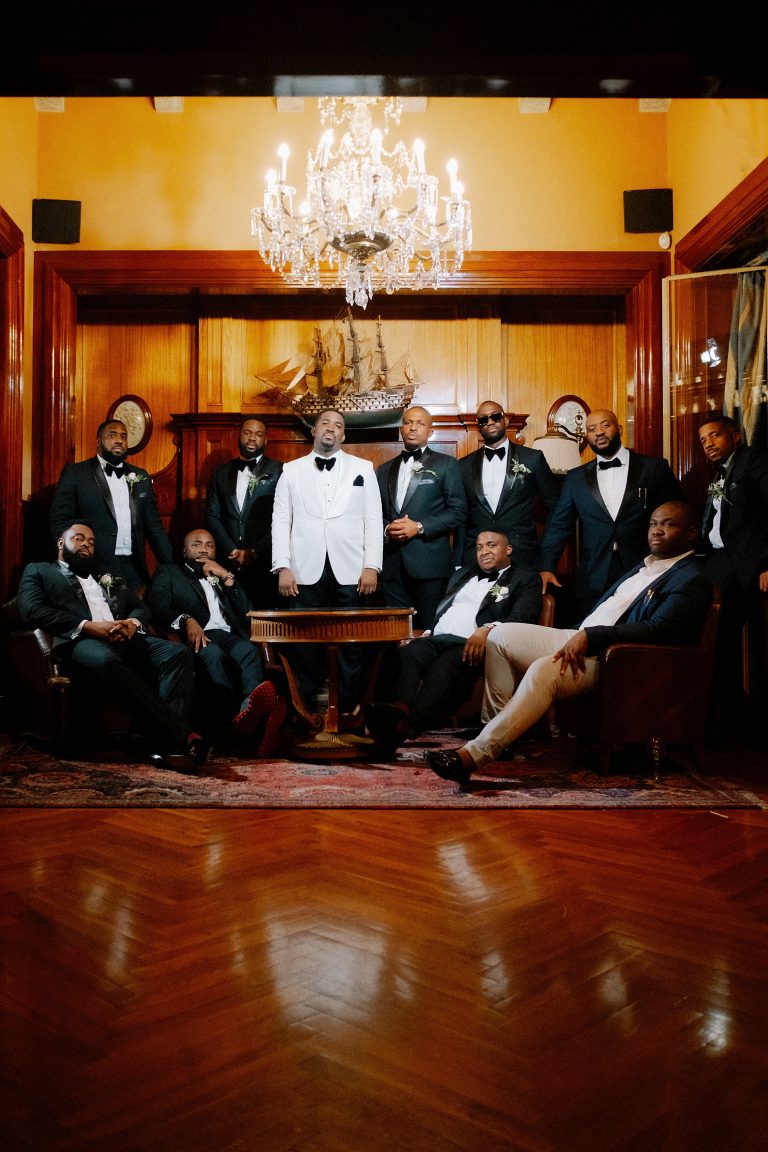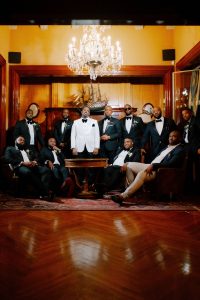 How did you find The Wedding Club? Tell us about that moment when you found and chose your dress – how did it make you feel when you put it on for the first time?
I'm a bit of an optimistic daredevil, unlike most brides I kept it to the last hour to find my dress. I had exactly 3 months to find the dress – and I had quite high and specific expectations! I asked close friends to recommend shops to me and they mentioned The Wedding Club.
I called TWC to book an appointment and I was turned down – 3 months they said! It's impossible. We wish you all the best. I was a bit sad, as I wanted to try different silhouettes including Berta and Vera Wang! Both were available only at TWC.
I decided to get a dress made in Istanbul which was an absolute disaster, but being the optimist I was I didn't let that weigh me down. I remained relentless and dressless, 2 weeks before the wedding I saw a dress by Naeem Khan which caught my fancy. I sent TWC a DM at about 2am, to my surprise I got a response the next morning at 10am, the stylist was willing to fit me in before the doors officially opened to their first client!
I rushed down there to try (and god help me) pick up the Naeem Khan dress. I was warned there, Browns and every other boutique I called that I could only buy what fits – as there was no time for alterations (customization). My requirements were simple (and unnegotiable), princess dress with a bolero (can't be too much to ask haha)!
I made it in time and tried on the Naeem Khan. To my surprise, I wasn't excited and it didn't have a bolero! The wonderful stylist April beckoned on me to try the London Dress by Carolina Herrera and I said no way, I can't afford a Carolina, my heart is too gentle to be broken.
She insisted! At this point neither of us even knew how much it cost, all we knew was it was a dress made by a legend and it was one of her classics.I tried the dress on a tear rolled down my eyes. I had never been more in love with anything in my life!
It was the dress. I was convinced – what was more beautiful was we checked the price and it was £50 below my budget! How amazing.
The dress fit like a glove and needed no work done to it! It was a match made in heaven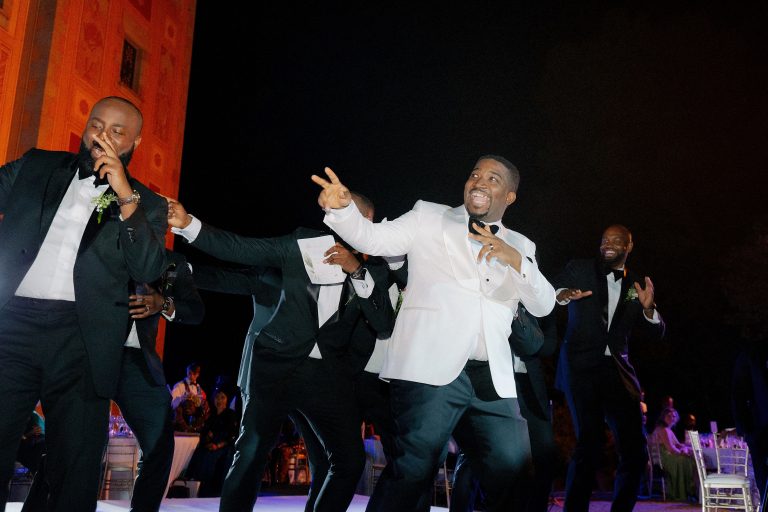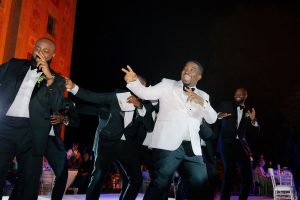 Which designer did you wear?
Carolina Herrera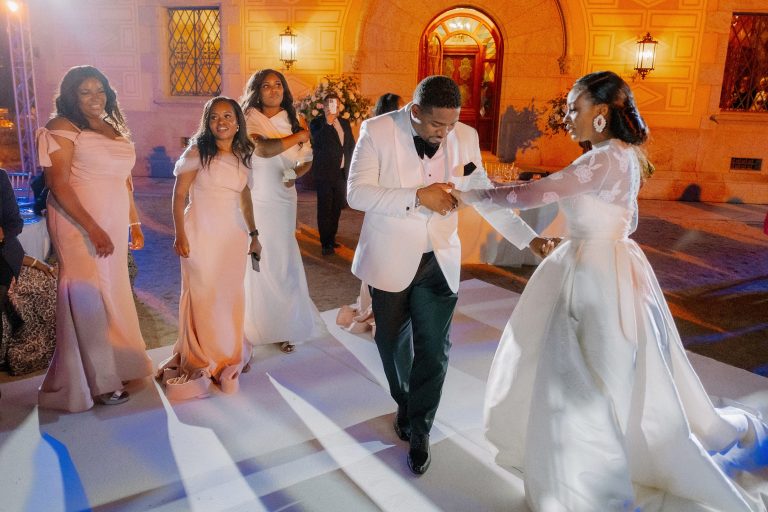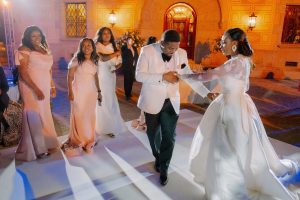 Where is the suit from? Why was it the perfect fit?
He got his suit custom made for him out in Istanbul whilst we were on holiday, he paid it with the perfect Tom Ford bow tie and Christian Louboutin Loafers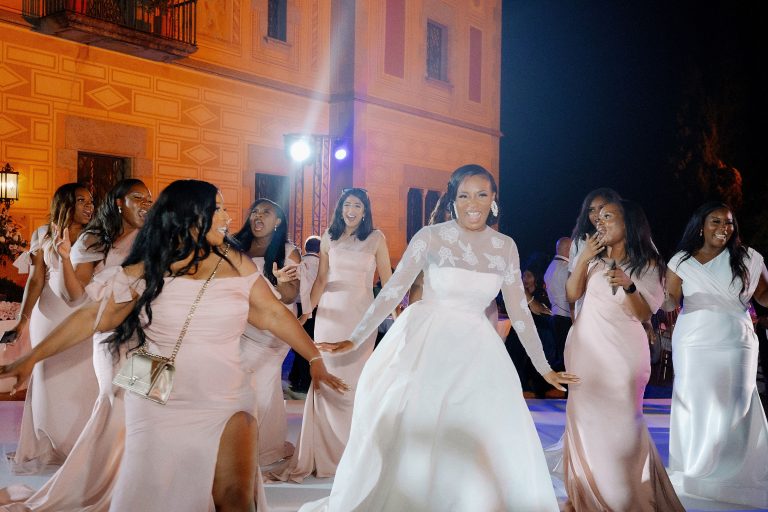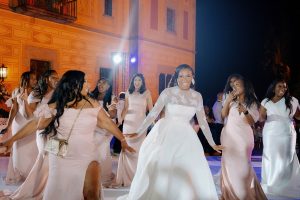 Did you have speeches? Who performed them?
We had the best speeches from his brothers, my twin sister and my best friend.
Who were happy to mentioned the Groom is the only "Handsome man I have ever been with" and "his parents in heaven will be super happy with our union"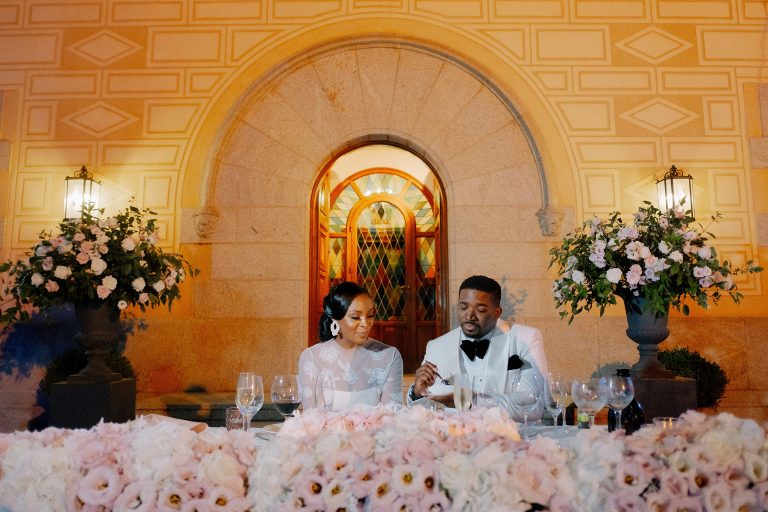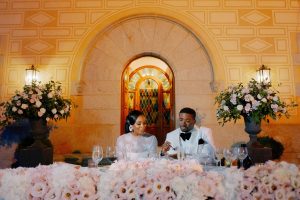 Did you have a first dance? How was the performance?
Our first dance is one of our favourite songs. It's called You and I Always by Jake Issac. The lyrics are the most romantic!
We had the spotlight on us, in the middle of the garden whilst the recorded song played in the background. We dazed into each other's eyes and danced slowly like we didn't want the moment to end.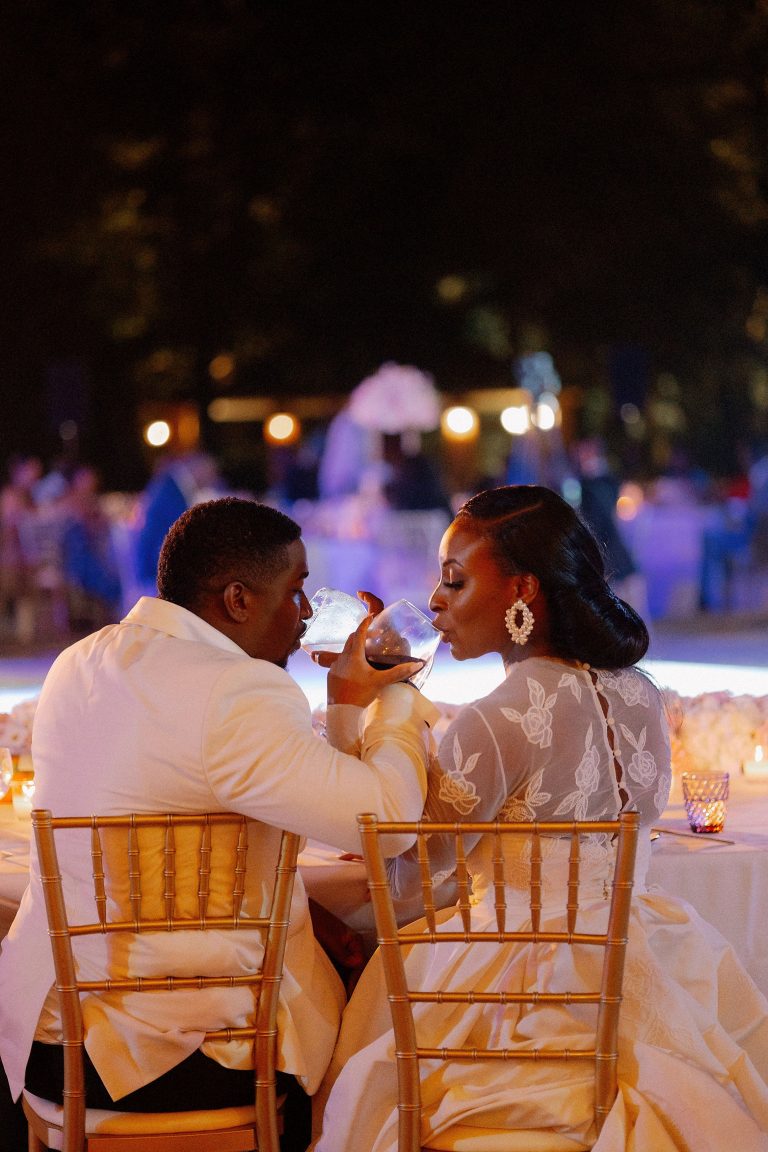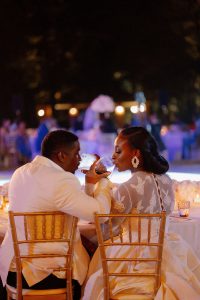 How was the party?
The party was full of laughs. We had the bridesmaids dance against the groomsmen. Our cousins dance against each other!
It was just a heartfelt event! The night ended with live performances by the Groom's brother – Amdi McErnest & Cousin – Naeto C.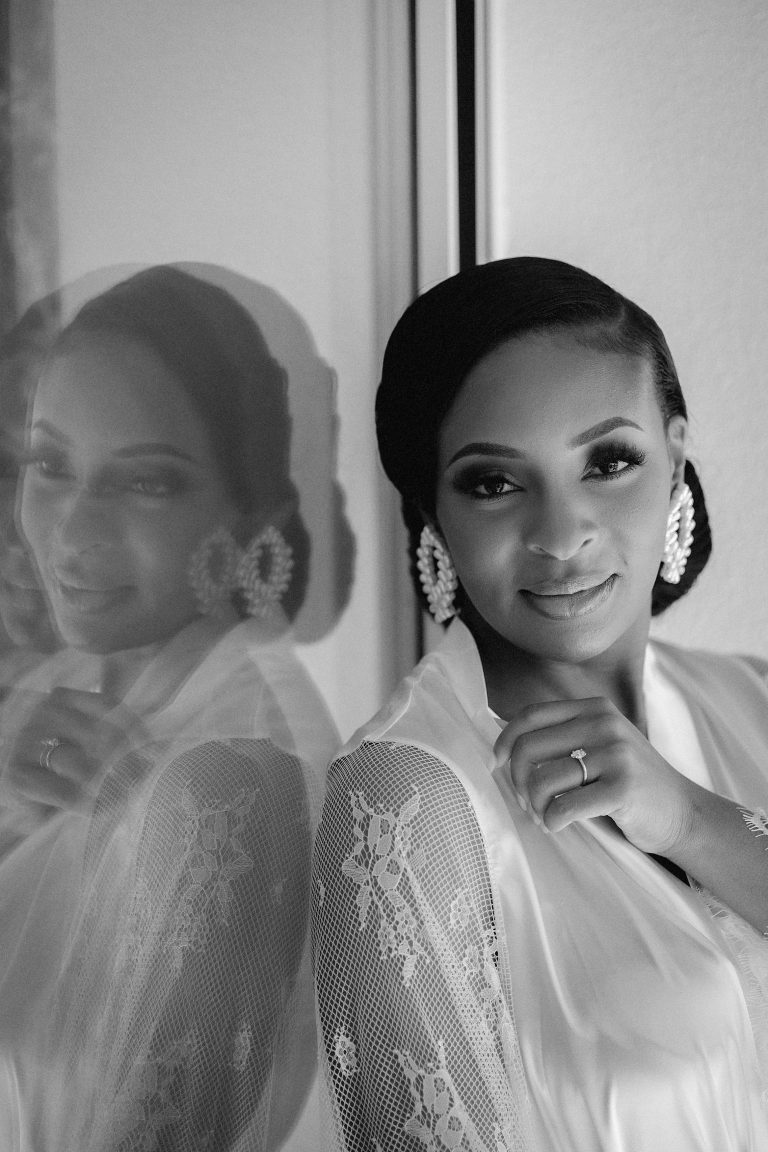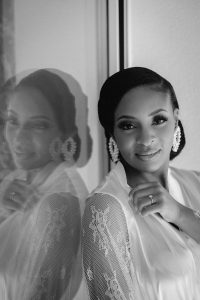 Wedding planning advice for brides to be?
Follow your heart. It's an event of a lifetime. Trust the process and be strict with your budget. Try not to compromise on what you love as the memories last forever.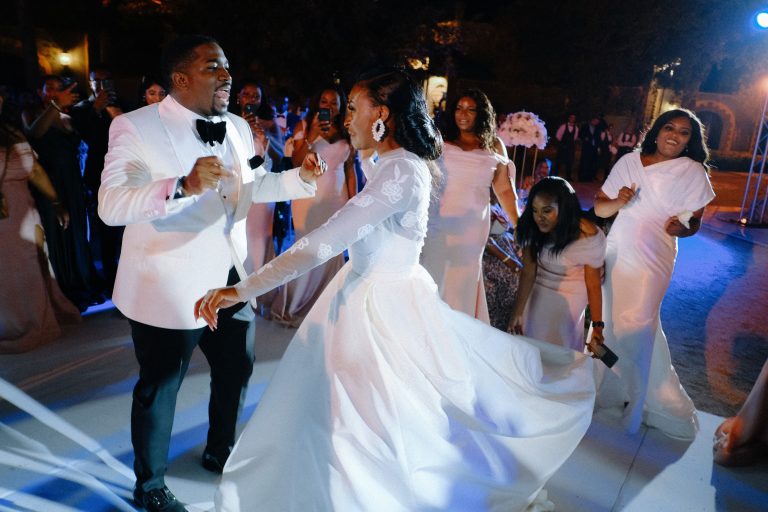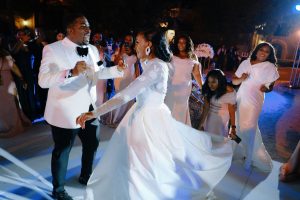 One moment you'll never forget:
Walking down the aisle in the perfect dress with my father.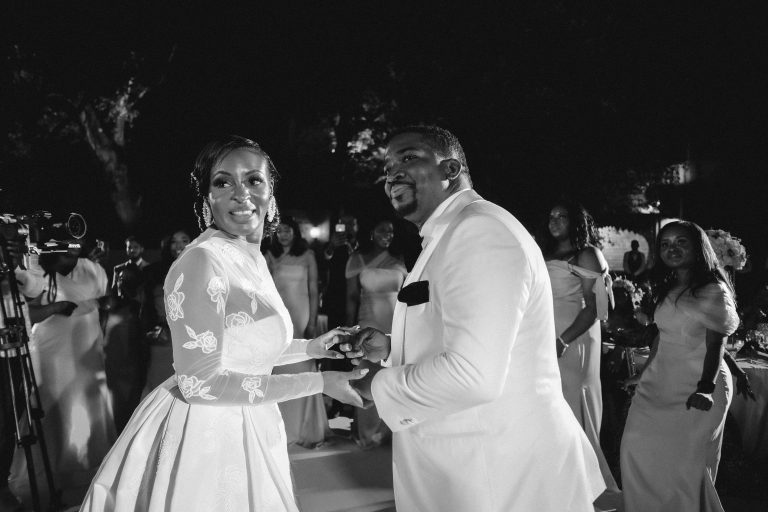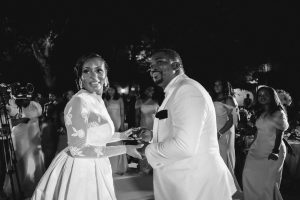 ❤️
Dress – Caroline Herrera available at The Wedding Club
Styling – Mosh Bridal
Shoes – Mach & Mach
Accessories – Botias
Suit – Custom Made
Groom's Shoes – Christian Louboutin
Groom's Accessories – Tom Ford
Wedding Planning – La Jet Fete
Venue – Bell Reco
Photography – Tim Oshin Studios
Catering & Cake – Catering Sensacions
Flowers – Singular Envit