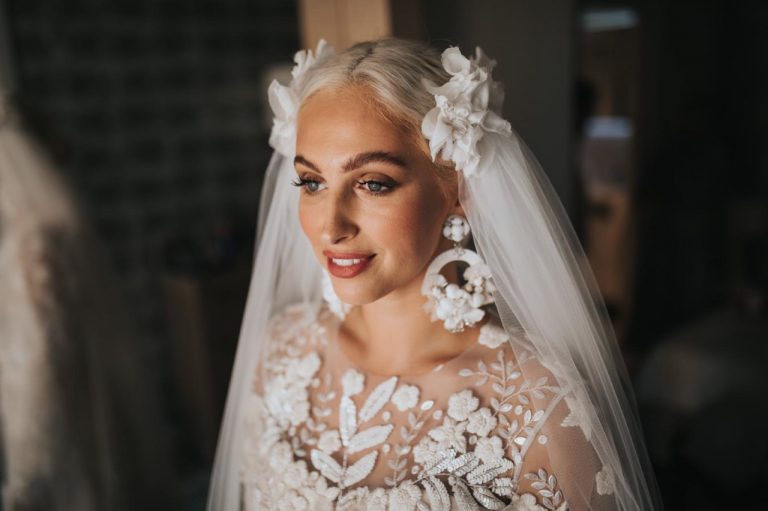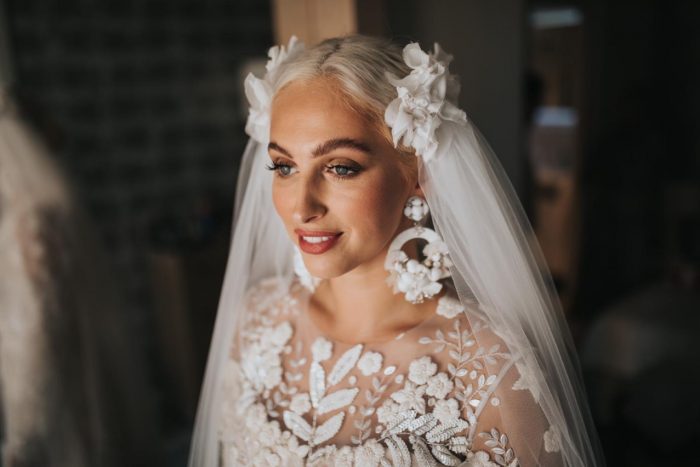 Bright & Beachy Marbella Wedding in Naeem Khan
❤️ The TWC Effect – Our brides, their way ❤️
Megan and Steve met in a nightclub and carried on the party all the way to Marbella for their fun-filled wedding! When you're starting with a wall of shots we wouldn't expect any less…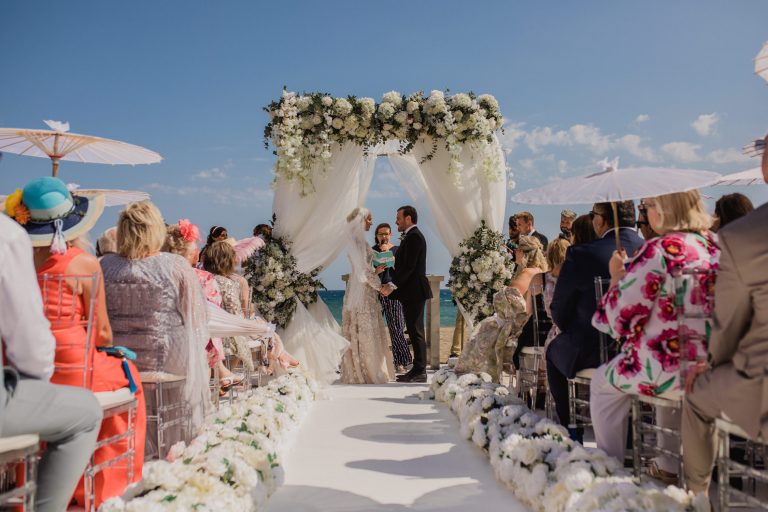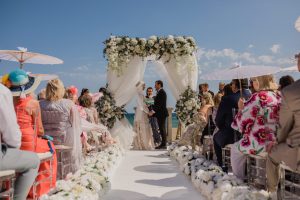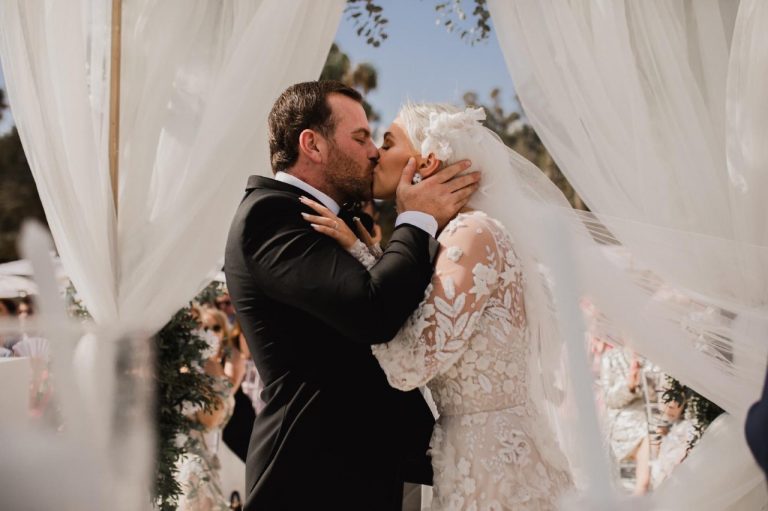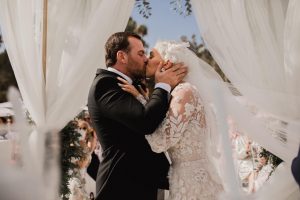 How did you meet?
Steven and I met in a Glasgow nightclub and his opening line was "I am going to marry you!" For real! And look where we are now nearly 8 years later!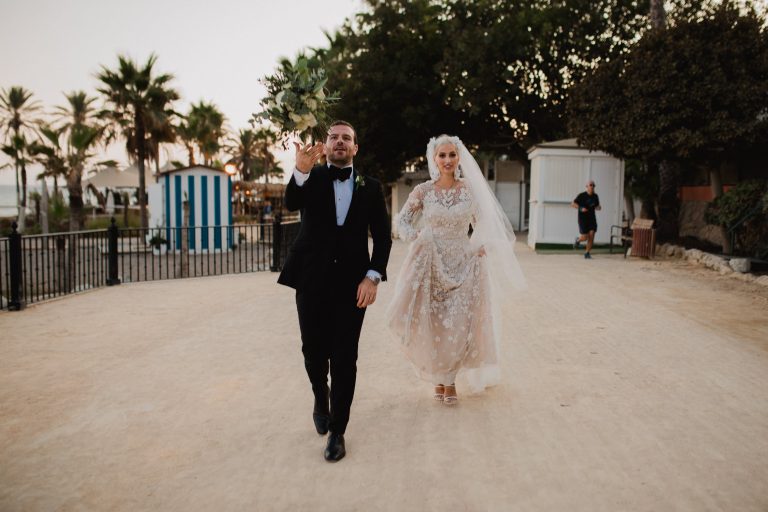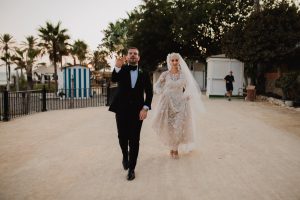 Was it love at first sight?
It must've been as we haven't been apart since. We have both moved away and come back several times and always stayed together so I think that is a great test of love and commitment and we certainly made it through!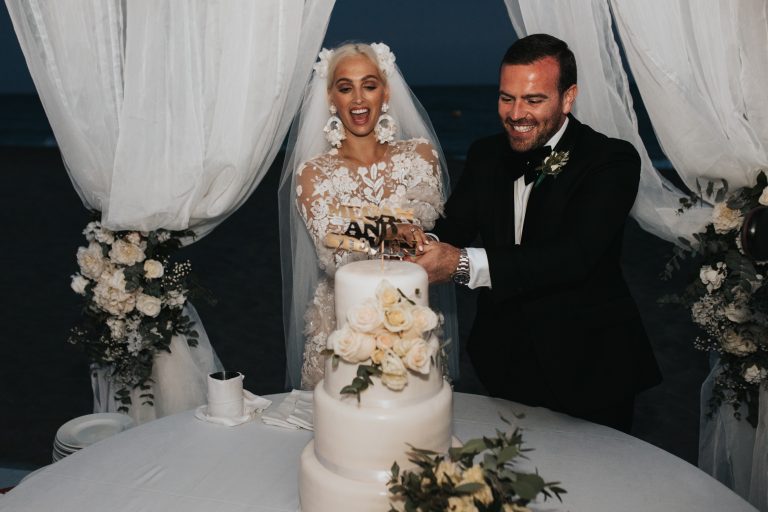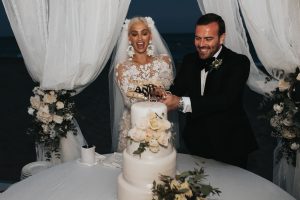 Who proposed and how? Lovely details, please!
So, we were going to Ibiza for Stevens 30th birthday in July 2018 – we ended up with about 30 friends and Family coming along for the party weekend – even my mum and dad, Stevens dad and wife and Stevens Mum! Little did I know they were all there for another reason too.. Turns out Steven had planned to propose to me on his birthday all along!
On the 14th July, Stevens 30th birthday, we chartered two boats to take us all to the little island of Formentera for the day – I had organised the full trip so was very distracted by organising to even notice everyone was acting strange! We got to the island after a few seasick moments and headed for lunch at Beso beach, we knew having been before it was a dancing-on-the-table sort of lunch so we were ready to go.
After the most wonderful lunch it was time for birthday cake so everyone was singing and dancing around the table. After some shots of tequila Steven announced he would like to say something so we all stood up and as that happened he got down on one knee in front of the whole restaurant and asked me to be his wife! I was SO surprised and thrilled I had said yes before laying eyes on the ring! It was just the best, most surprising moment of my life and to share it with all our family and friends was something I will never forget! My ring is stunning and Steven had got it made. My Glasgow Jeweller "Love for Diamonds" – it is perfect!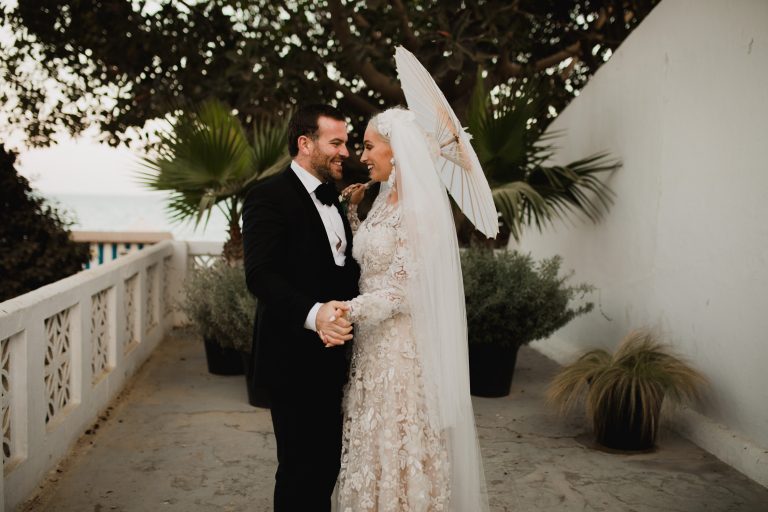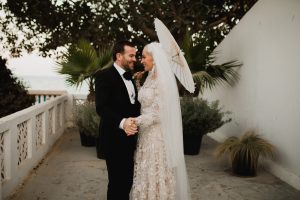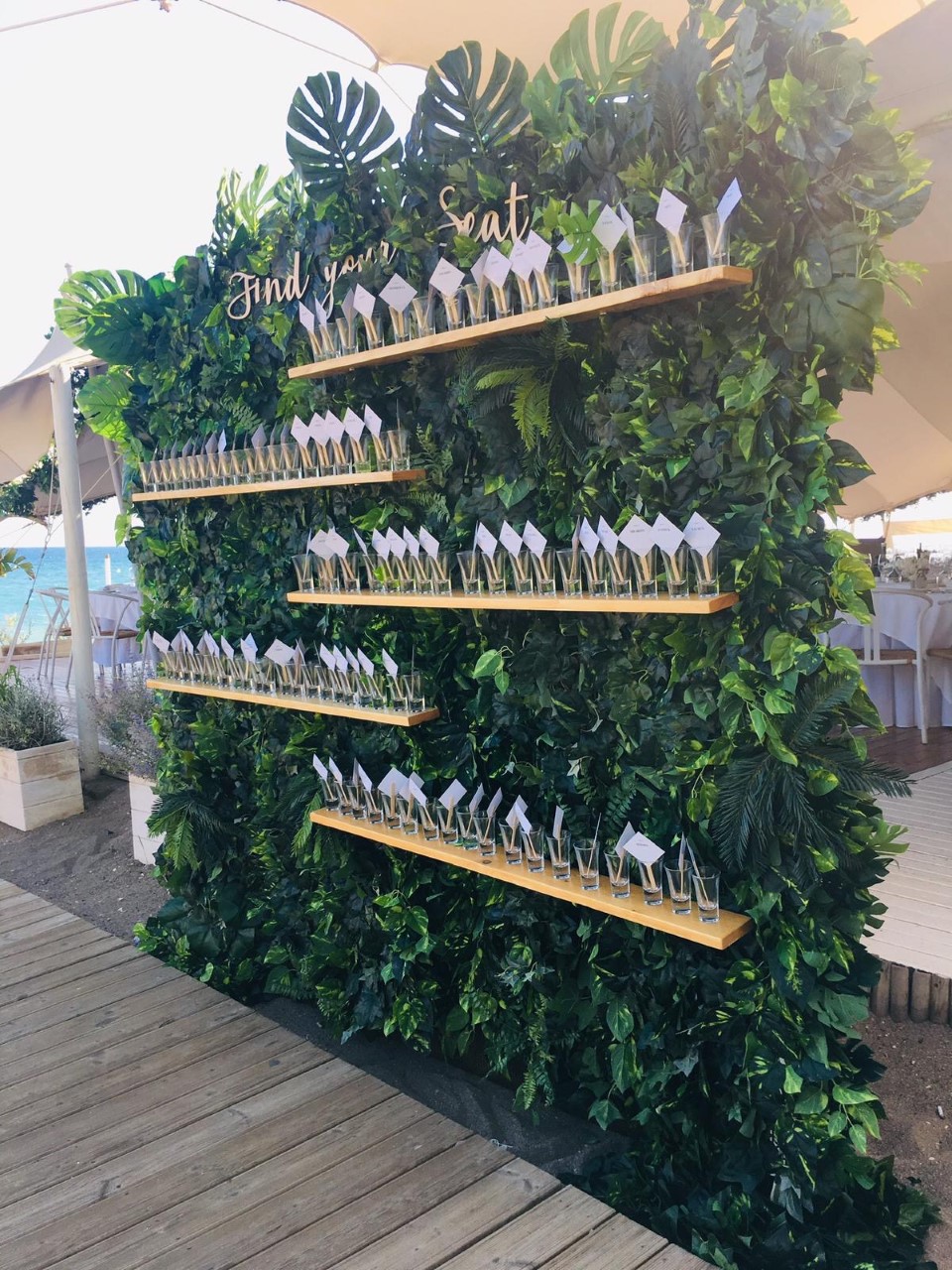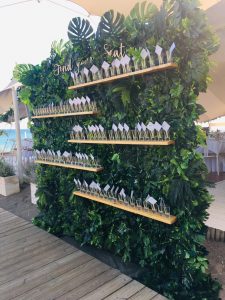 Did you have a theme for your wedding? How did it come about?
We didn't really have a theme but we know we wanted to be on the beach and wanted it to be very us! Everything was white with lots of flowers, parasols for the ladies, fans to keep cool with a touch of colour with the neon "The Cusicks" sign and a "take a shot, take a seat" wall seating plan filled with Tequila Rose!
Special touches which kept the day formal but also very us! Our dress code was "Dress Fabulously" which worked really well as it set the tone of the day – the guests were all wow and we can't thank them enough!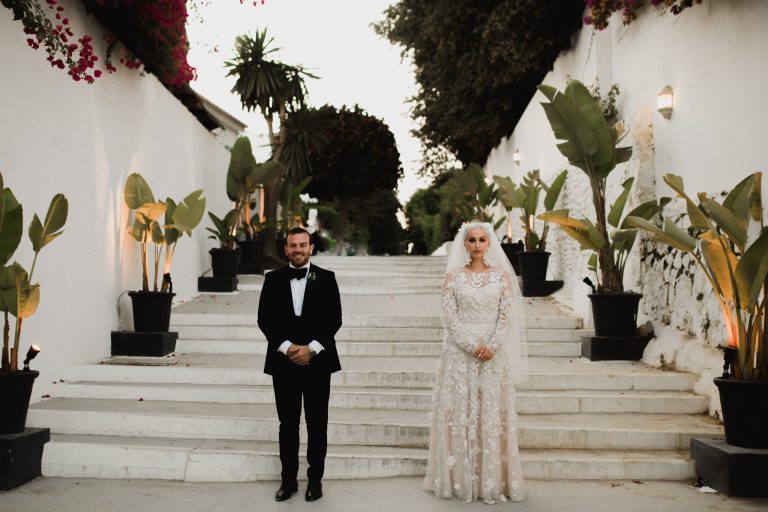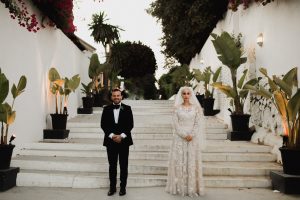 Location and how you found it?
So this was a drama.. Our original venue in Marbella burned down to the ground in January 2019 after booking in September 2018! Luckily no one was hurt but was it was just a total nightmare as we had to find a new venue that would suit the date of the wedding seeing as flights, accommodation were all booked. Our wedding planners Lali and Lili at Marbella Weddings were AMAZING and helped us so much at this stressful time!
We narrowed down the options and flew back out to pick our new venue – our new venue La Milla was available and straight away we knew it was the place. Everyone kept saying that it must've happened for a reason and I do believe this as the day couldn't have been more perfect!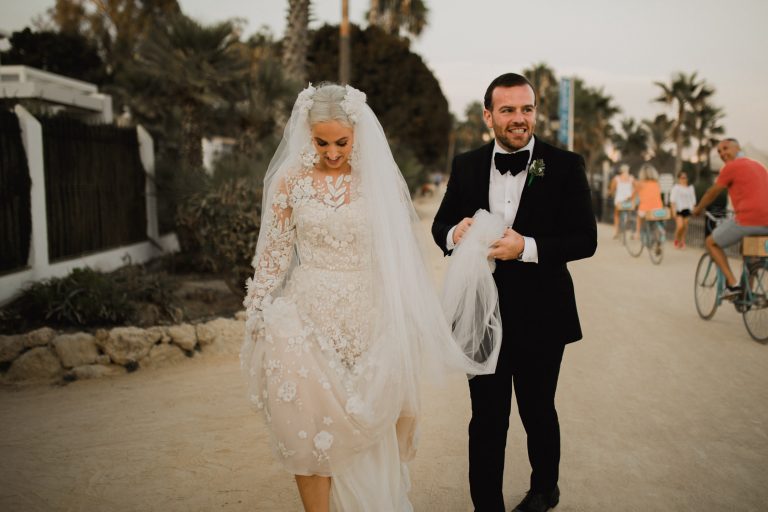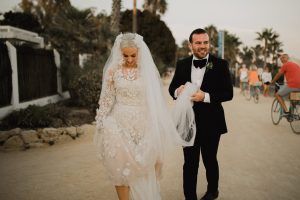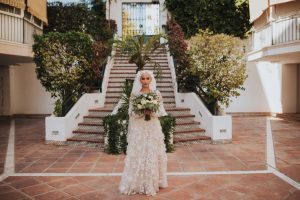 How did you find The Wedding Club? Tell us about that moment when you found and chose your dress – how did it make you feel when you put it on for the first time?
So my mum – who was so stunning in Temperley London as MOTB – and I were straight on the case! The first dress my mum sent me was the Alexandria gown by Naeem Khan – funnily enough I also sent her the same dress back that day so we knew it was a favourite!
After research we found out that the only place we could get it was The Wedding Club in Knightsbridge so I called and explained that I wasn't planning on coming to London from Glasgow until nearer Christmas time and asked if they had the dress. The answer was yes they had the dress and it was in store but the lovely girls explained if someone else wanted it it would go! Ahh! So my mum and I booked a flight for that Friday (this was Wednesday) and Clare had said she would keep the store open later for us to accommodate our flight times!
I would have regretted not trying this dress so it was a must that we went. We got there to the beautiful store and there was no stress, it was so calm and they had the dress waiting! I tried it on and we knew that was the one – after a few tears I knew I wouldn't find anything I liked as much as so we took it. My mum and I can't thank the girls enough the experience was so lovely – no pressure and not over the top which I really appreciated! It was so special for us too as my mum and I made four London trips for fittings in total just us before the wedding and we had the most wonderful time together which we will never forget! The alterations by Alexandria were perfect and she was so kind and understanding.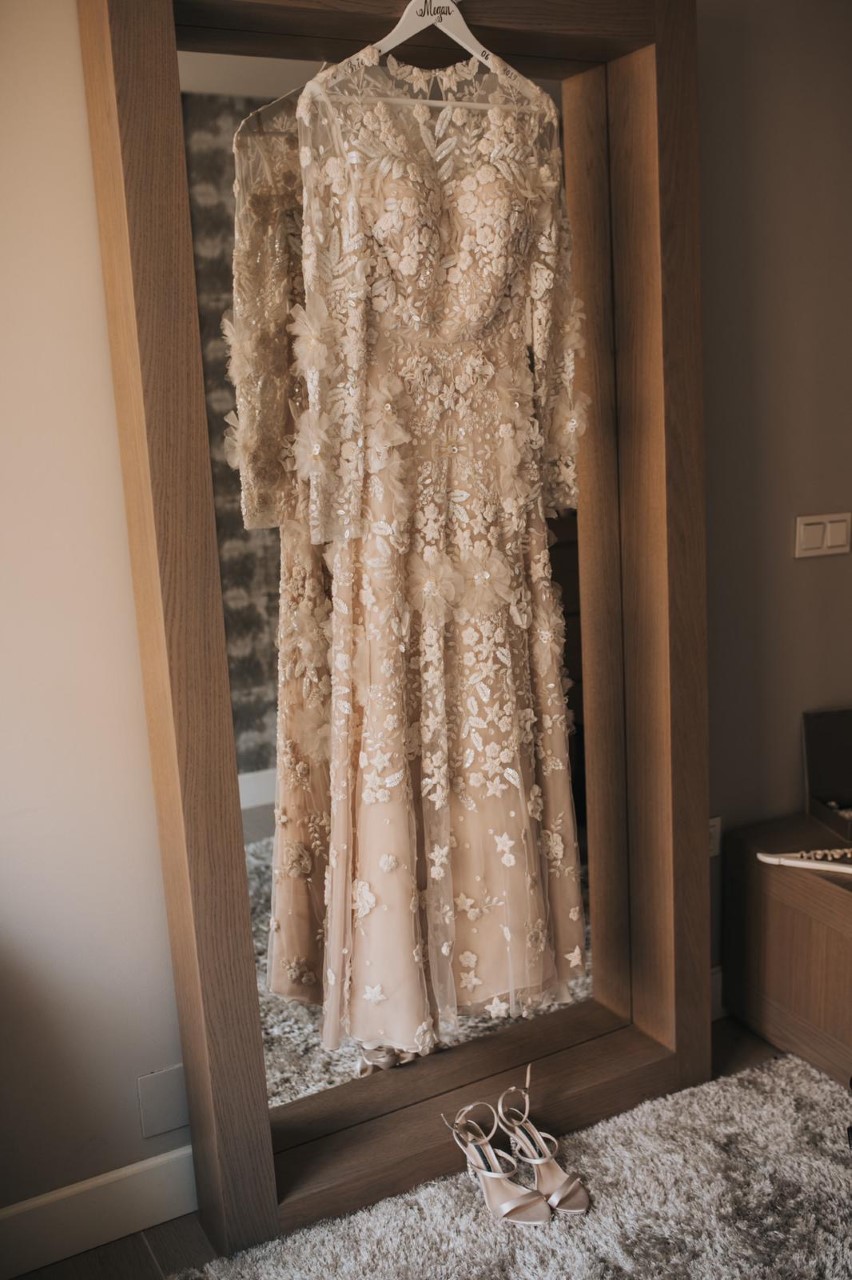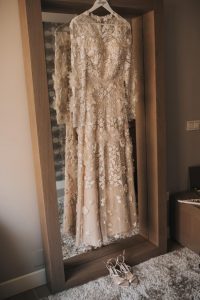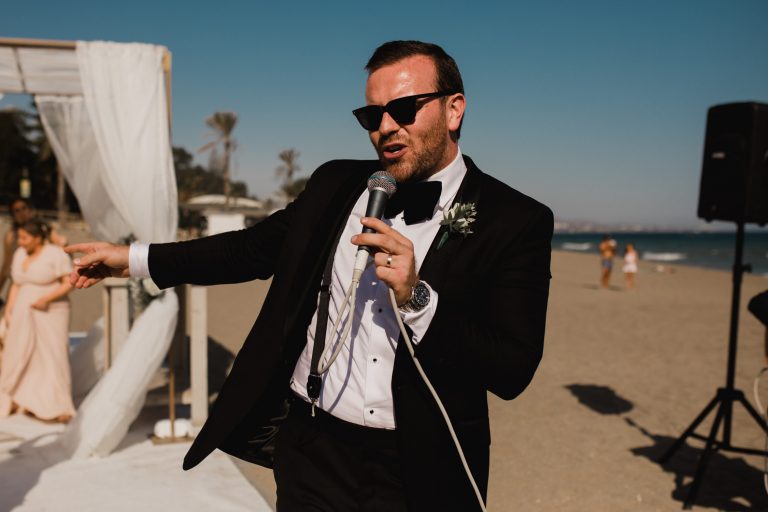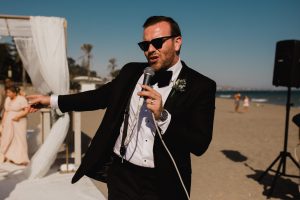 Which designer did you wear?
The Alexandria by Naeem Khan – the dream!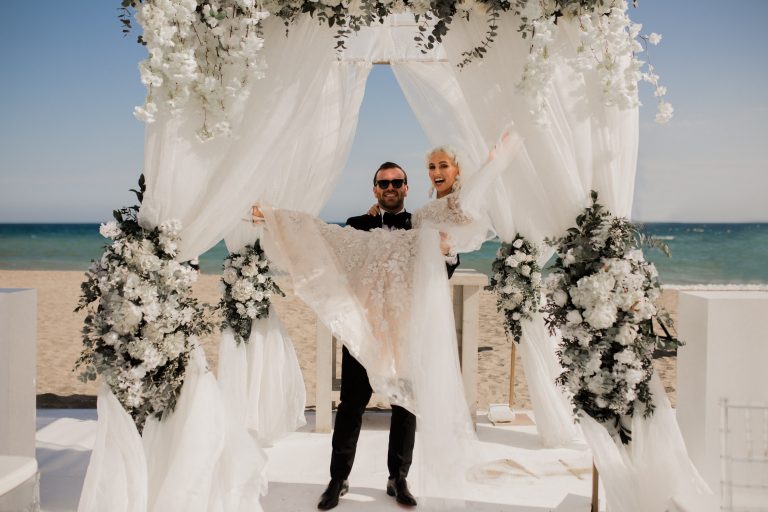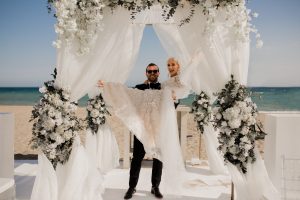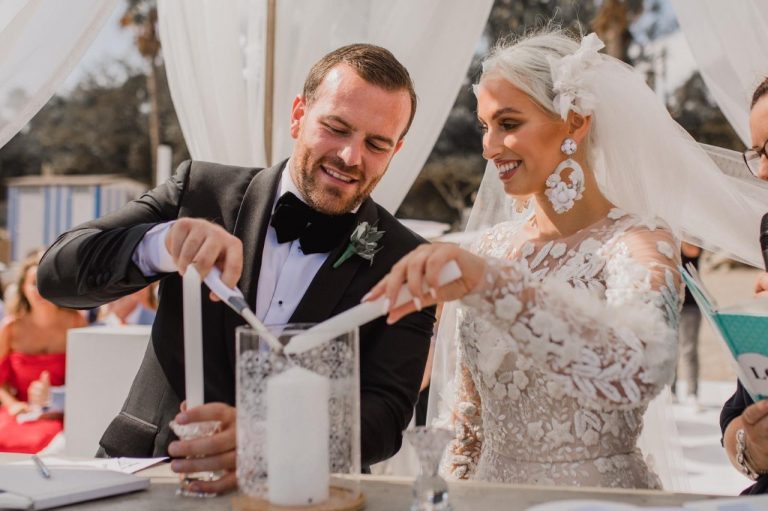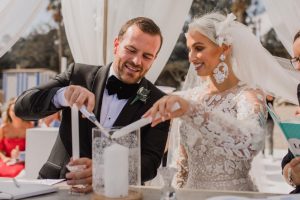 Where is the suit from? Why was it the perfect fit?
Stevens suit was bespoke by Glasgow Tailors "Forbes Tailoring" Jim was amazing, and has known Steven and his family, and made countless suits over the years so Steven had no doubt that this would be his tailor! He went for a shawl collar tuxedo and it was stunning, he looked so handsome and the suit fitted him perfectly. The details inside of our names and date just finished it off! The service was outstanding and we couldn't recommend Forbes more. They also dressed Stevens father with his suit which was perfect.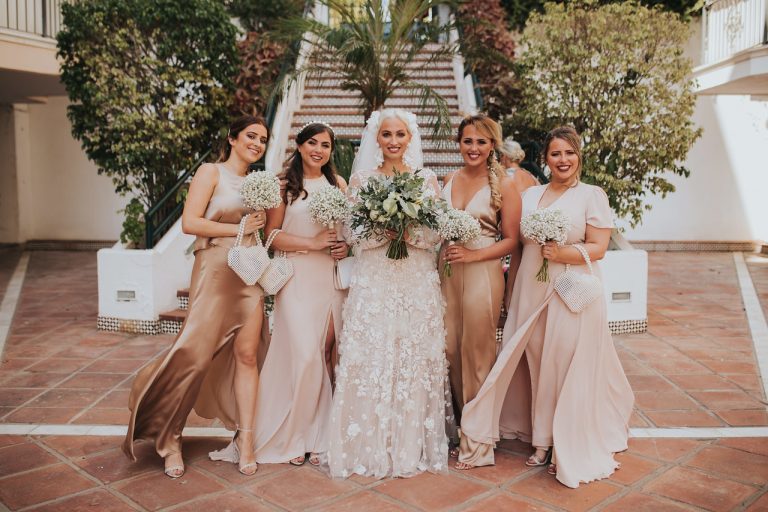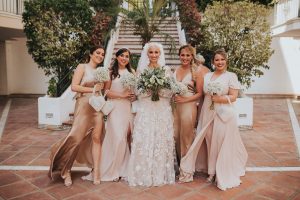 Did you have speeches? Who performed them?
The speeches were all so great! First up was my dad who was so brilliant, he was funny, emotional and it was just a great speech – thanks dad! Steven's speech was also so emotional and truthful and everyone was really touched! We had 2 best men, Ryan and Niall, who both did their own speeches that again got lots of tears from everyone! They were so kind in their words about Steven and I – we love you all! I rounded up the speeches, with a short and sweet message from the bride and I loved getting to say how I felt too. I would encourage all brides, if they want, to make a speech as I feel it is very important for us to be heard – after all, realistically we've done all the work and should be heard!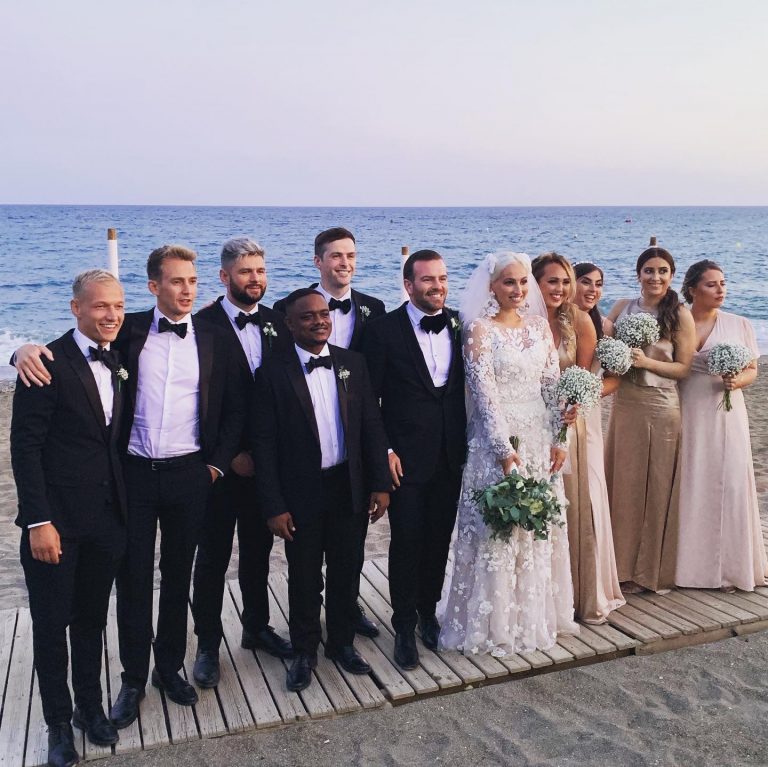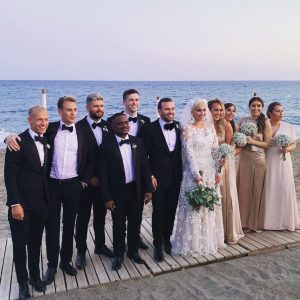 Did you have a first dance? What song did you choose and why? How was the performance?
Our first dance was to Leon Bridges – Beyond. Steven sent me this song knowing he was going to propose to me and we just loved it – we went to a Leon Bridges gig and saw the song live which was really special. We both love dancing so we just went with it and danced in the moment!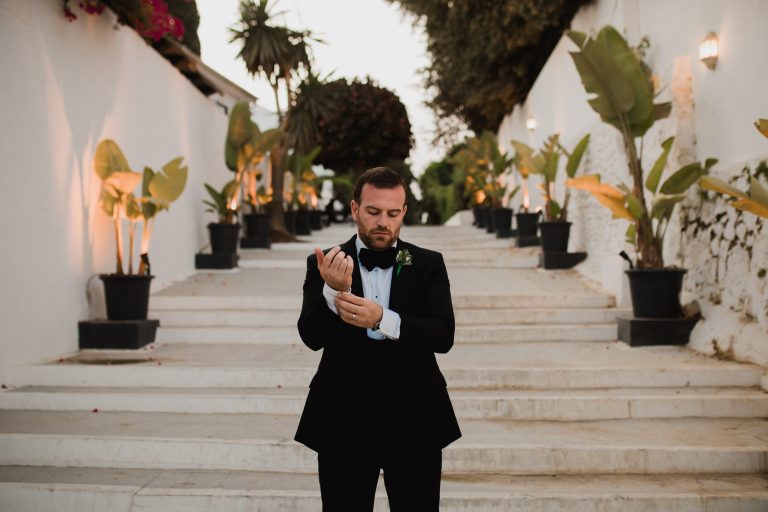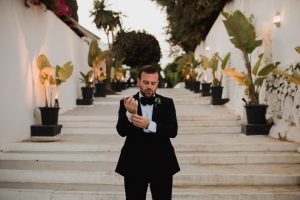 How was the party?
The party was so good! We had live saxophonist and violin player who played with the DJ Jordi Ruiz who we first saw at Beso on the day we were engaged and then again randomly at Stevens 31st in Marbella too! We felt this was all good vibes so we had to have him again. Everyone danced the full night long. Steven and I danced so much together which I just loved, we even had a Beyonce moment to drunk in love and at the end had a Scottish song called Loch Lommand where it got a bit crazy!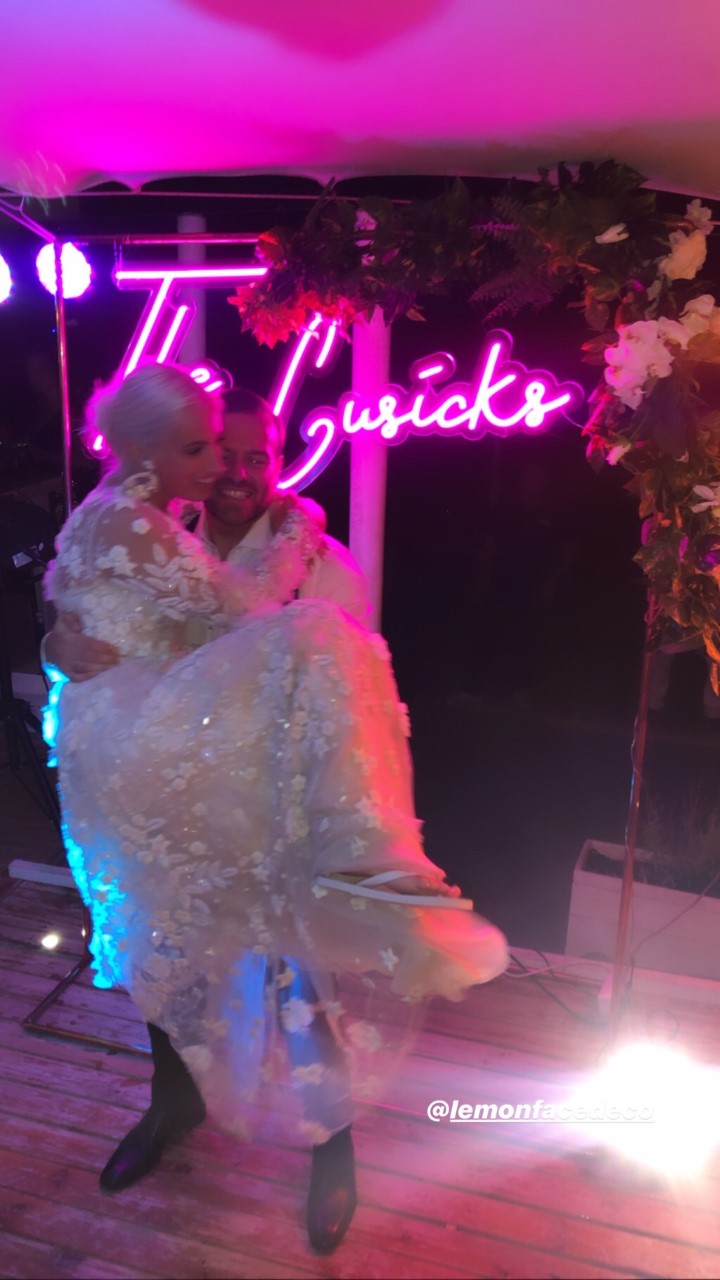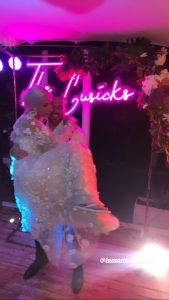 Wedding planning advice for brides to be?
Get a planner it is worth the money! Do everything you want just go for it and make it your day – guests feed from the energy you give off and if you are happy and comfortable so is everyone else. Don't sweat the small stuff, everyone is on your side and wants it to be the best day it can be, just as you do! Trust people to do their jobs and they won't let you down.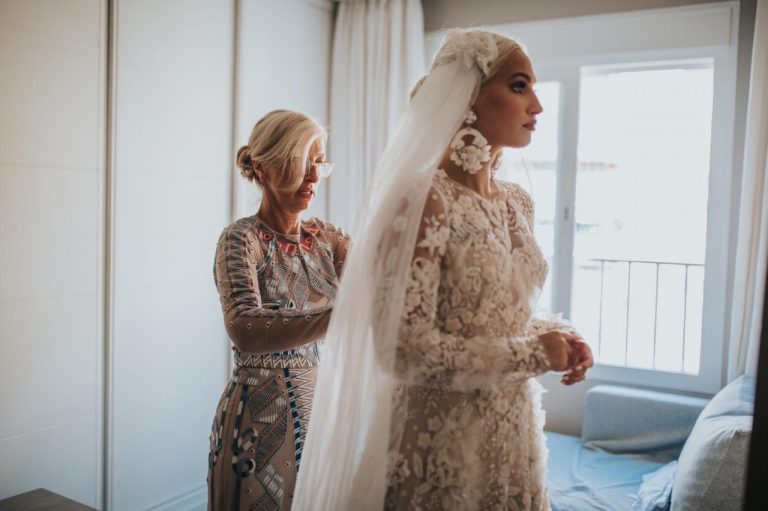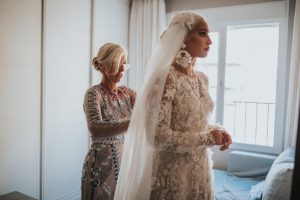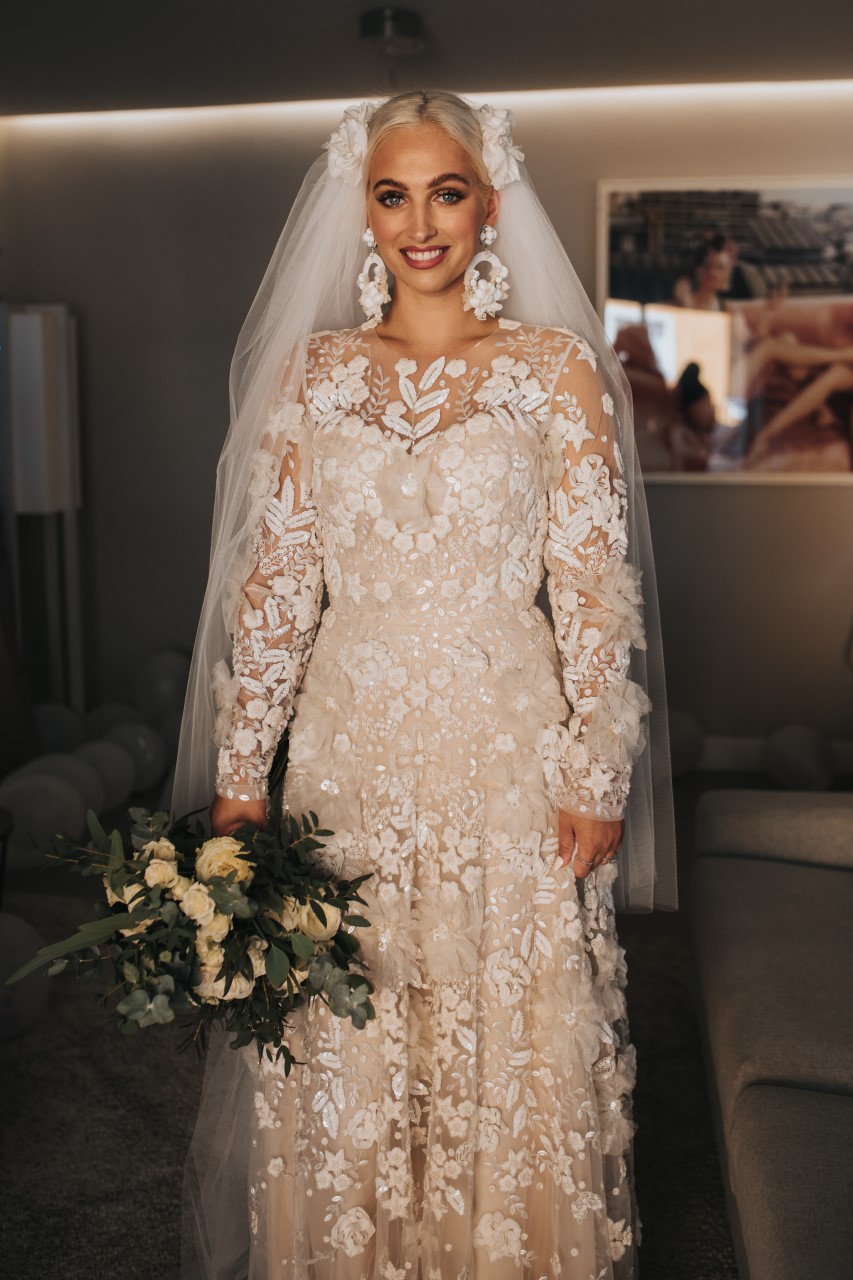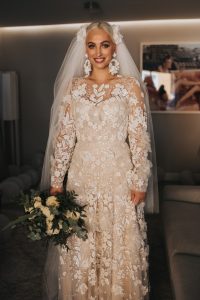 One moment you'll never forget:
Walking down the aisle on the beach, standing at the top and seeing Steven and all our guests, who were crying! It was just breath-taking moment with the sea in the background, the sunshine and just total happiness.
❤️
Dress: Naeem Khan available at The Wedding Club Knightsbridge
Photographer: Barbara Serrano Moments
Make up: Alice Martin
Hair: Debbie Brown
Planner: Marbella Wedding
Veil: Maggie Mowbray Millinery
Earrings: Ranjana Khan
Venue: La MillaMarbella
Suit: Forbes Tailoring
Rings: Love for Diamonds
Shoes: Sophia Webster
Decor: Lemon Face Deco
Flowers: Deseos Florist
Celebrant: Gayle Armitage
Video: Tribe Art
Chairs etc: Decoracion Chillout