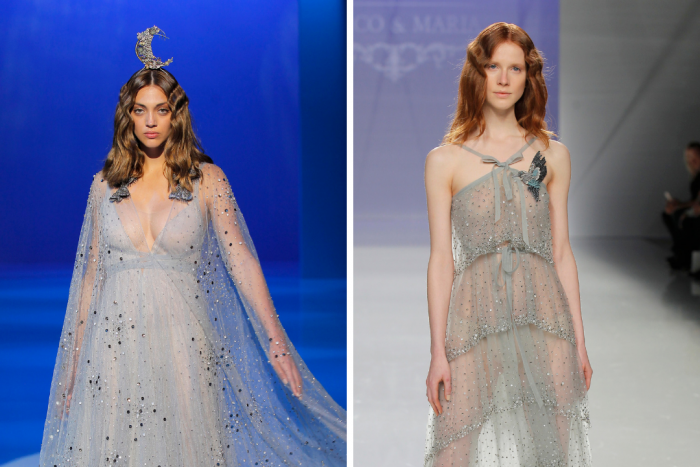 Be Inspired: Night Time Romance
There's something magical about saying your vows at night – shimmering in the moonlight and celebrating under the stars. We imagine it to be film-like, passionate and somewhat rebellious.
Feeling curious? Check out our ideas on creating the ideal starry night wedding!
❤️
The Look
Marco & Maria stole our hearts with their sliver glitter styled collection. We adore! Perfect for late-night nuptials. Their slightly grey-toned gowns anchor the beauty of the night and will definitely hold the gaze of guests. Flow-y with no train, these dresses are perfect for twirling the night away with your boo, when the silver glitter catches the light it will give you a glow like no other.
Angelic designs comprised of originality and distinctiveness, Marco & Maria's dusky hues simply lure the night in. We've chosen our two favourite styles below… we're in love.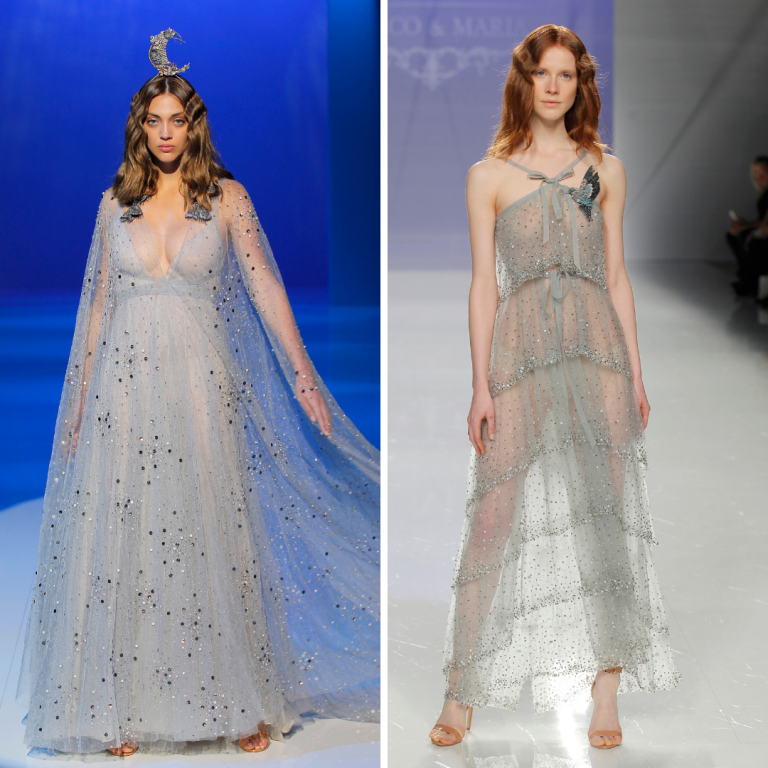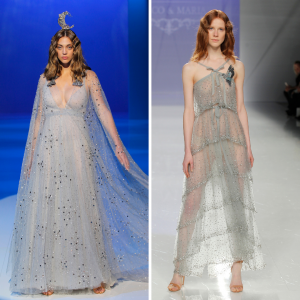 Yolan Cris creates midnight beauty with poised undertones. With haute couture designs that know how to compliment the figure, we can't help but fall in love with their work over and over again. The individuality in the dresses is targeted toward brides that crave being different and straying from tradition – you do you! The sparkly intricate detailing used boasts elegance and sophistication.
Be a queen of the stars with Yolan Cris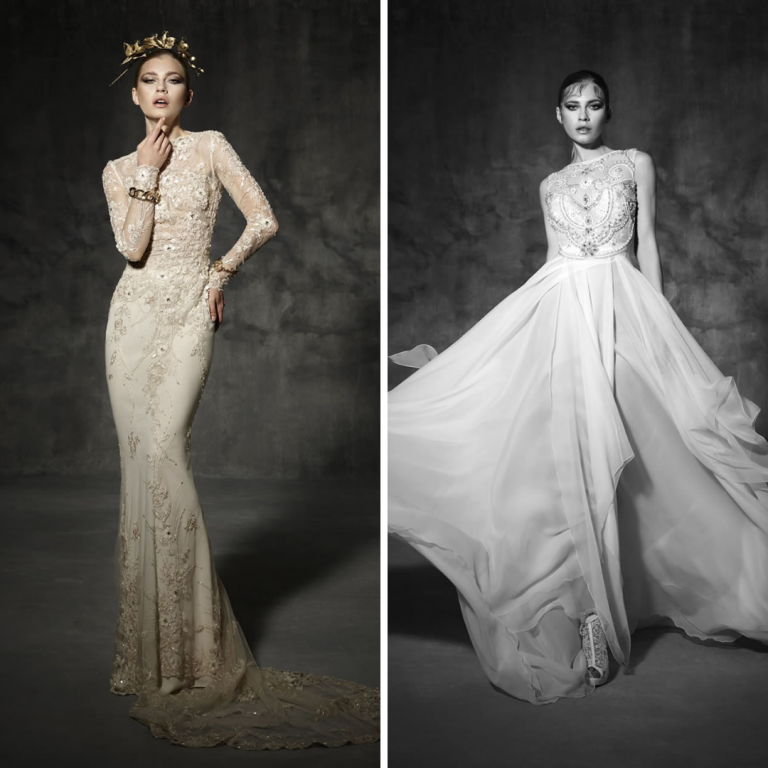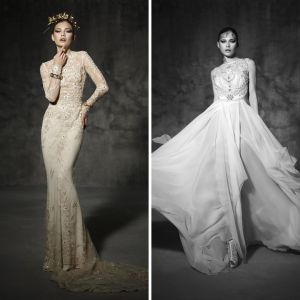 Savannah Miller pushes the playful 20's vibe in her work and we just can't get enough. Her dresses are a personality of their own, the way they effortlessly fall is charismatic – a starry night must have.
We admire her halter-neck glittery number with a descending hem from the front to the back. Quirky but stylish and sure to glisten under the darkened evening and midnight tones.
Wanting something slightly more traditional? Why not try her floor-length dress, embellished with detailed small stars, enhancing the texture of the gown and anchoring the starry night theme.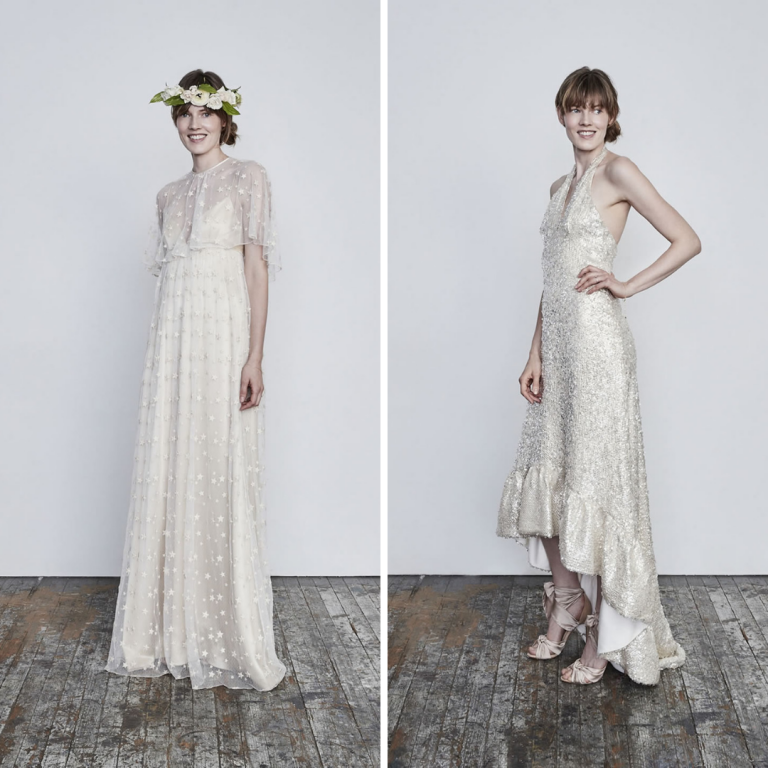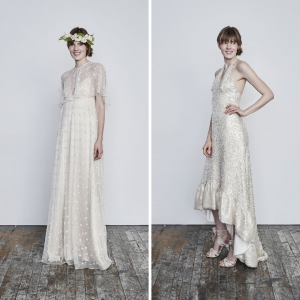 The Location
This style of wedding can be held indoors or outdoors. If you want to keep the location inside, why not opt for a barn? It will really add so much character to the evening, creating a warming atmosphere teamed with history. We reckon fairy lights are an intrinsic detail to any starry night wedding – they are made to be strung along the wooden beams to imitate evening sky – perfect for the gram, too!
Tall white candles decorated with flowers at the base on long grand tables create a sense of calmness as you dine away with your friends and family, and why not keep the barn doors open for guests to catch a glimpse of the darkened sky.
Taking the wedding outdoors? Like a big garden? An aisle created by candles or lanterns makes for a beautiful aesthetic! Trees can be wrapped around with, you guessed it, fairy lights or lantern balls and tabes can be decorated with a cute arrangement of tea lights. Can't decide if you want to be in or out?
One answer – Gazebo! Always a winner, and a great way to feel the midnight breeze as you say your I Do's.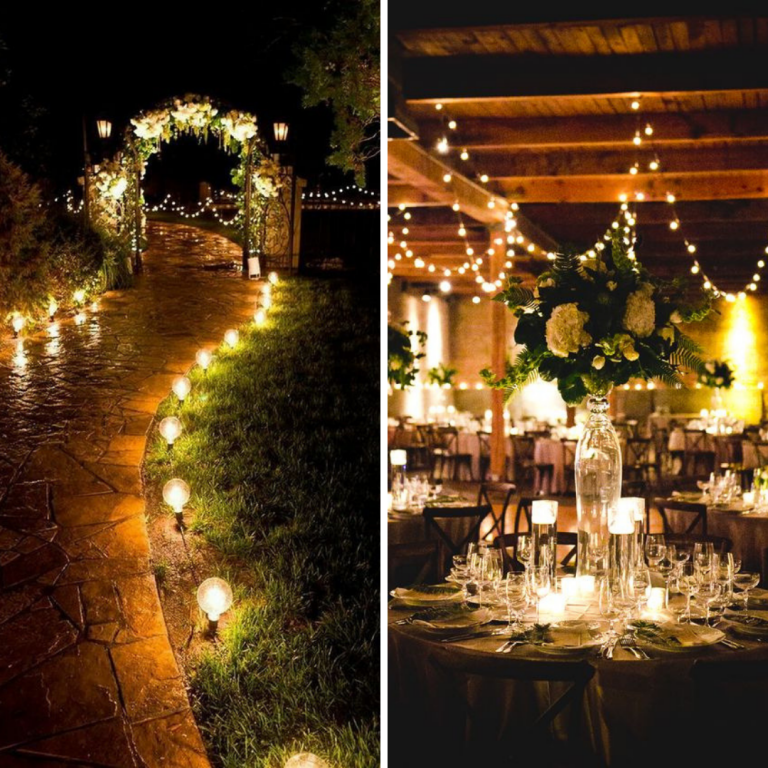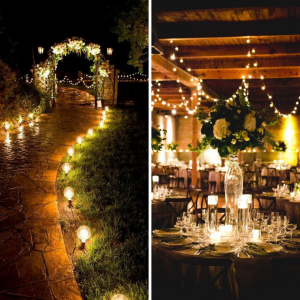 The Nibbles
The evening can sometimes be a bit chilly as we all know, so a warmer food pallet might be appreciated by guests! Miniature burgers are always classic, loved by all ages. Another TWC fave has to be hot pretzels, they are just so cool and will be totally unexpected – with the added perk of being able to be served sweet with chocolate, fruit, sugar and cinnamon. Or savoury, with garlic styled dips or even pizza toppings – we feel a trend coming on!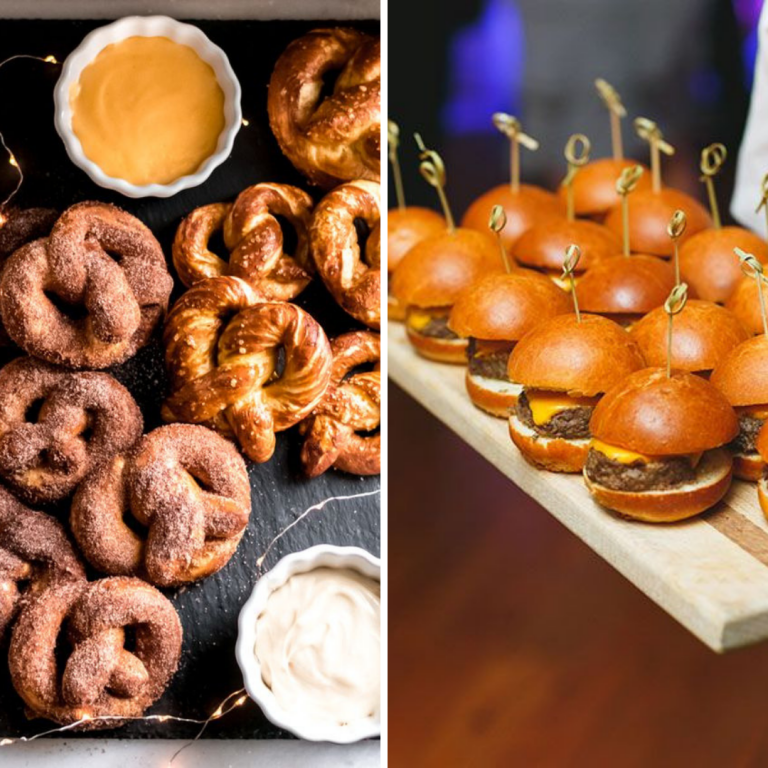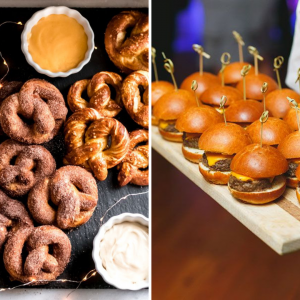 The Flowers
The flower arrangement can be kept rather traditional with classic wedding flowers, enhanced with bursts of colour here and there. However, if you really want to push the midnight wedding theme, an arrangement of midnight blue and white roses create nothing other than beauty.
If you'd rather keep your bouquet of flowers of a lighter arrangement then you can incorporate the darker flower colours in the table decoration – circular bouquets with tea lights in the middle.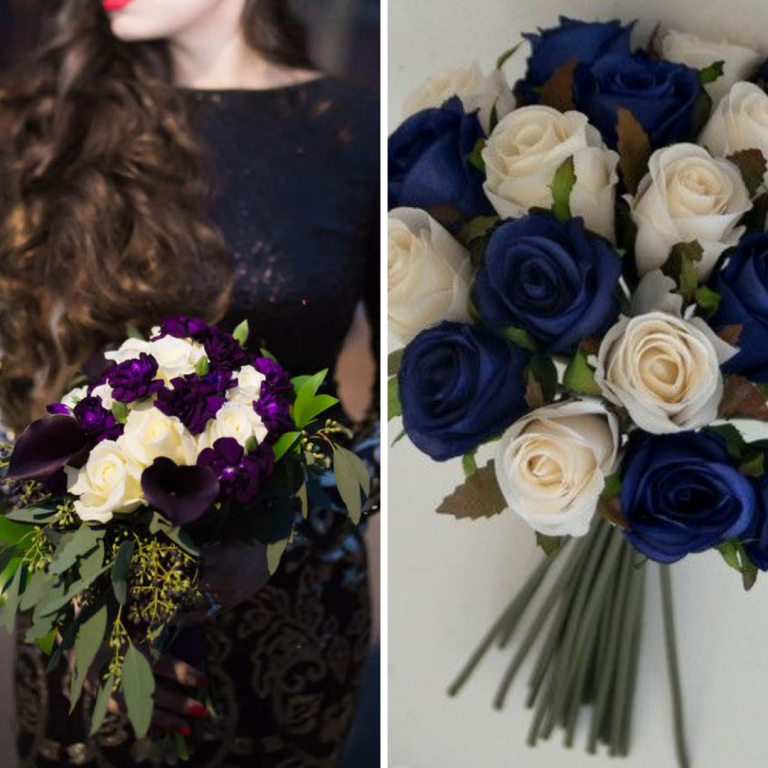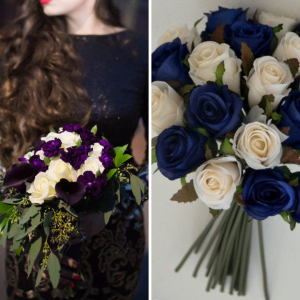 The Music
If you're hoping for a peaceful and tranquil night of celebration then why not try a Jazz band? Super chilled out vibes with perfect background instrumentals whilst guests are dining. As the night goes on, ask the band to create renditions of some of your favourite classics to dance the night away and sing your heart out with loved ones! After all, that's what weddings are for ay?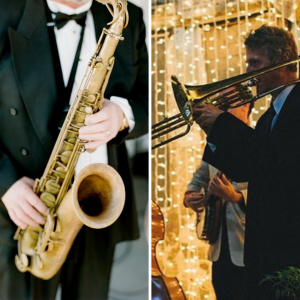 The Favours
Midnight wedding…. hmm…Midnight snack! Arm your guests with tasty midnight treats they can take home with them. Treats can include cutely wrapped cookies, sugar ring doughnuts, popcorn bags and toffee apples.
For sentimental gift ideas, how about a map of the stars – so fun, keeping to your wedding aesthetic and original. Maybe a small bag of flower seeds such as forget me nots (known to symbolise love) would work too, when they grow, your guests will think of what a fabulous day they shared with you.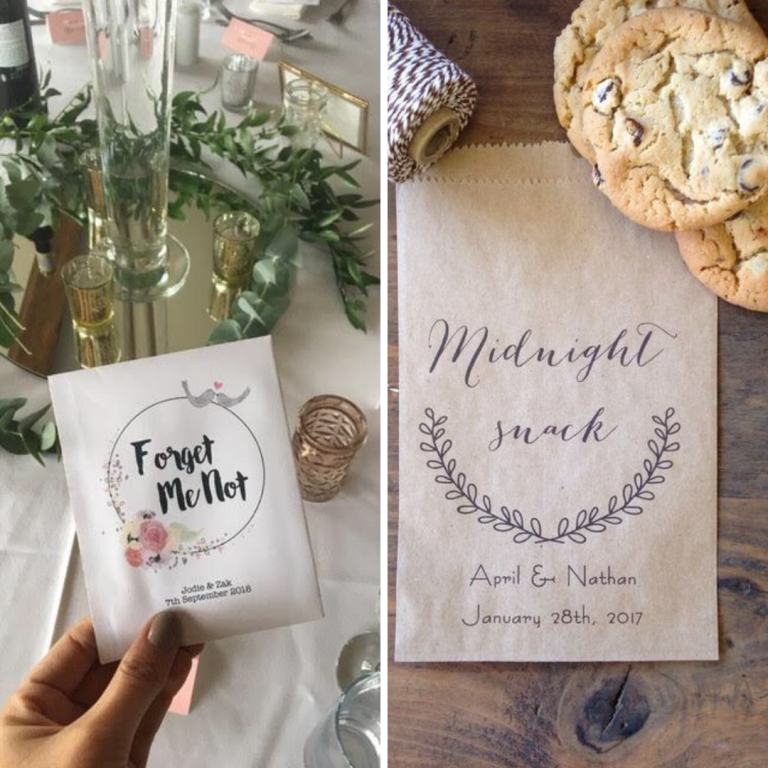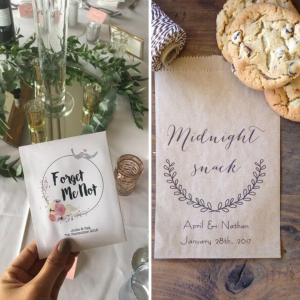 You can view all of these creative decorative looks and more on our Starry Night Pinterest board for more inspo!
❤️
Images:
All other imagery can be found on our 'Starry Night Wedding' board – Rights belong to said owners that have uploaded images to Pinterest.