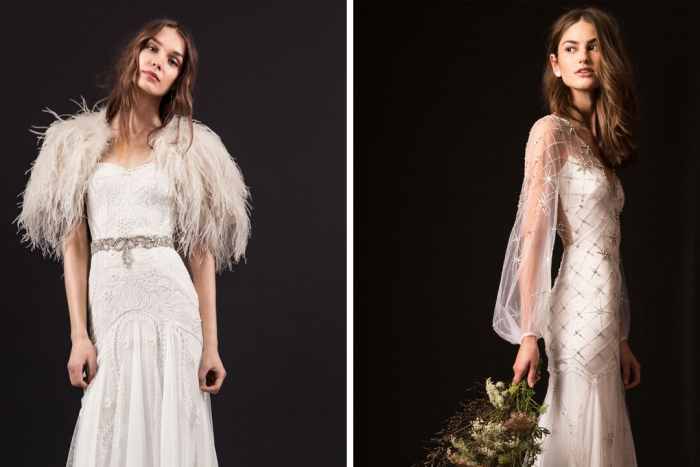 Be Inspired: Winter Wedding
It's that time of year again where we slowly start getting out the fluffy socks, jumpers that are three sizes too big and huge woolly scarves to mummify ourselves in.
But remember folks, romance doesn't disappear in the winter, in fact, there's something rather magical about this time of year.
TWC are here to give you the classic winter wedding lowdown
… so get yourself cosy
❤️
The Look
Temperley London: The fabulous fashion mogul's really pull off a chic winter look with their bridal coats – they're practical, cosy and unforgivably stylish. This feathery number works really well if you plan on wearing a sleeveless gown on your big day but don't want to freeze in the winter breeze.
However, Temperley's magic doesn't stop there. Their puffed sleeve gown featuring a subtle sparkling silver star pattern makes for a remarkable aesthetic. Loose waves and very natural makeup work exceptionally well with this look. Wanting to define that winter glow? Team with Victoria Percival's star earrings for a look that is quite literally out of this world.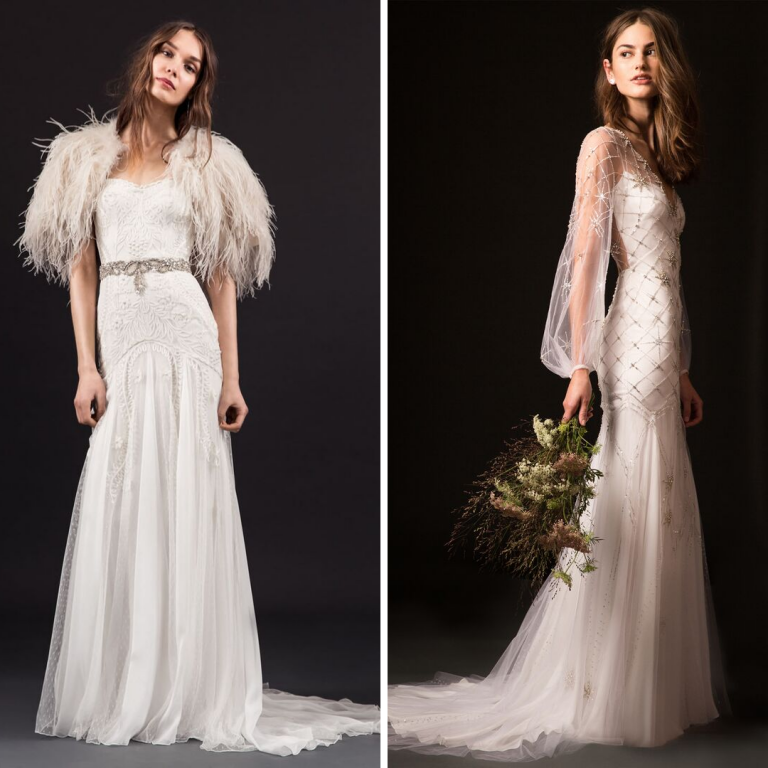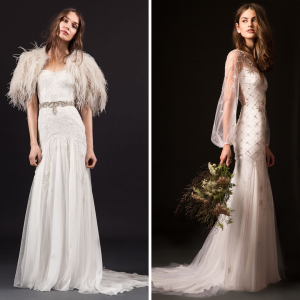 Zuhair Murad: If A-list glamour is what your searching for, then you really don't need to look any further.
Murad will make you feel like a princess at a winter ball.
One of TWC's favourites is the bardot neckline long-sleeved gown – it's elegant, it's sophisticated and it's utterly dreamy. You'll feel like Elsa from Disney's Frozen. To really pull off this poised look, team with a sleek low bun and darker toned neutrals.
Secondly, Murad blows us away with another ball gown styled design. It may be sleeveless, but it's a winter wedding must-have. The way the gown outwardly cascades and trails, combined with the snow-white floral pattern makes for a picture-perfect ensemble. Feeling tempted?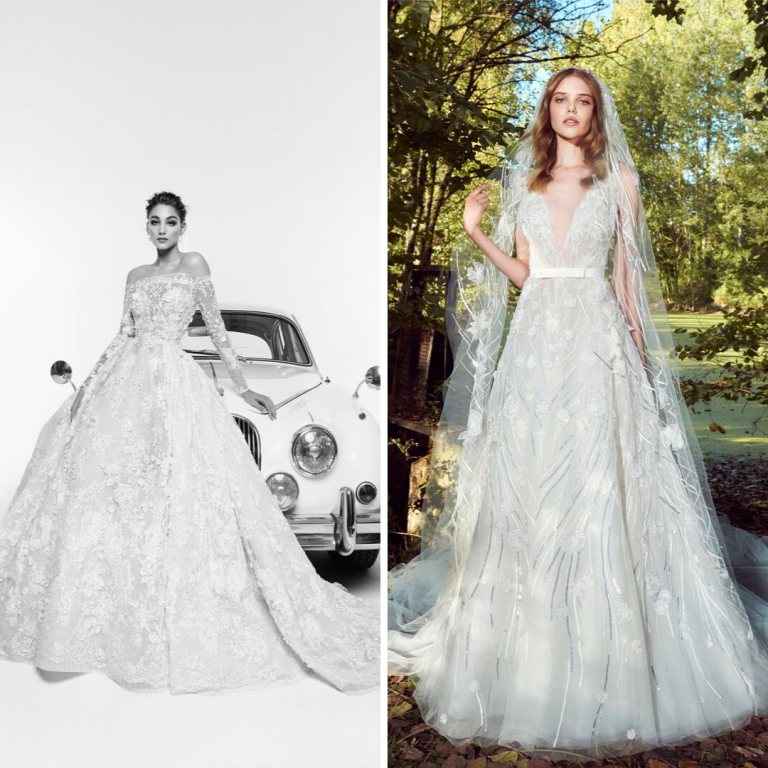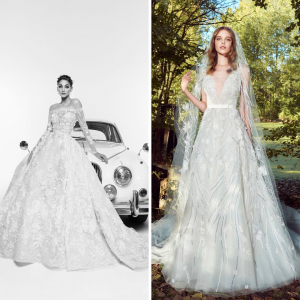 Suzanne Neville: A Classic. The epitome of less is more. You'll blow the room away let alone the lucky one waiting for you at the end of the aisle.
First up is Neville's sleeved floral laced top and silky looking ever-flowing skirt. The gown features a high neckline and a thigh-high split, a look to be desired. Imagine twirling around the dance floor in this.
For a more reserved look, we cannot get over Neville's long-sleeved gown which falls beautifully down the female physique and ever so slightly cascades outwards halfway down the thigh. This can only be described as a graceful and angelic look. We are 100% sold.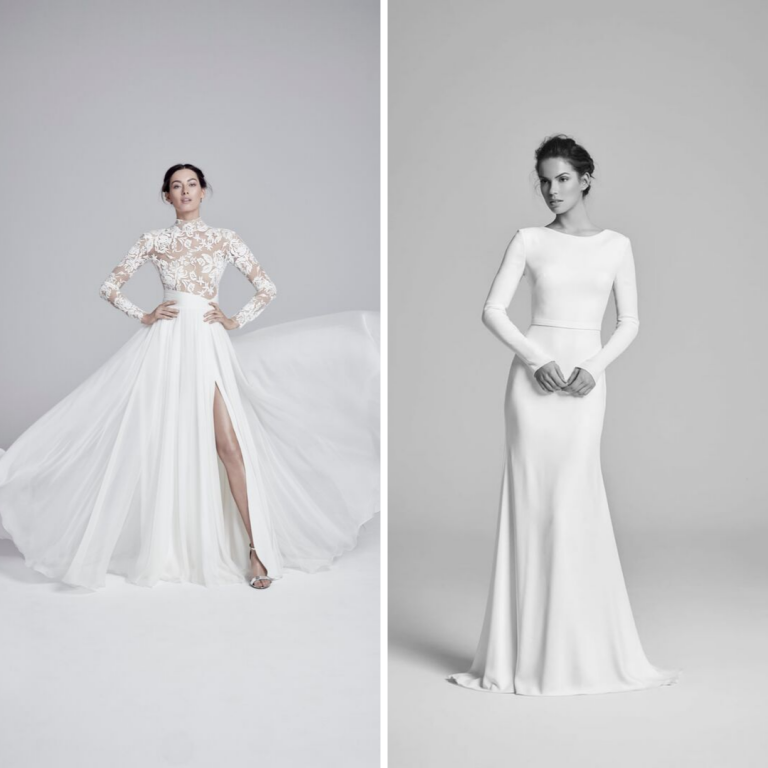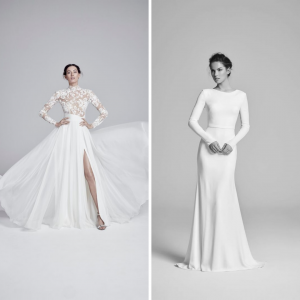 The Location
Although nature makes for a beautiful winter setting, indoors seems a more practical option. It avoids the shivering, the runny noses and what feels like frostbitten ears. But don't see this as a damper!
You can really have fun with this. Picture a hall made of glass (ceilings and all) so you can dine, dance and sing the night away whilst looking out onto beautiful wintery scenery. Candles are your friends for this theme as well, as is dark and thick green foliage aka evergreen leafy goodness! This can be used on the ceiling combined with fairy lights to create a snowy atmosphere.
Furniture wise, a wooden rustic vibe fits very well as it enhances that warmth you long for during cold winter days.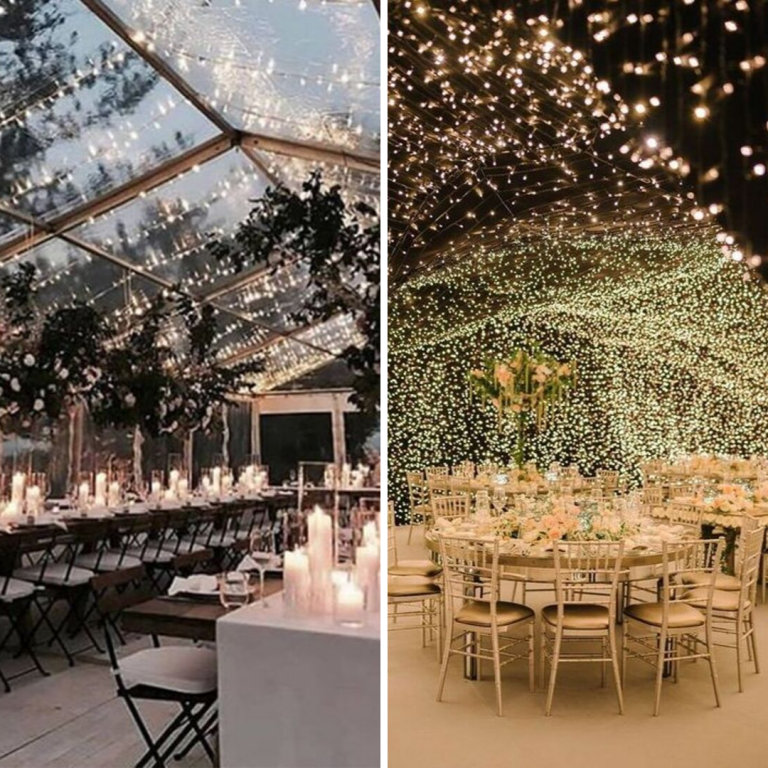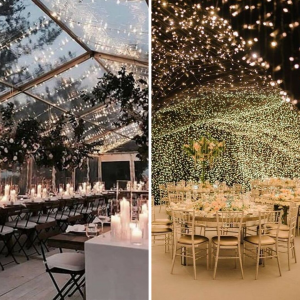 The Nibbles
Winter makes you crave hearty foods that make you feel all warm and cosy just when you think about them! That being said, we LOVE the idea of a pie stand. This is the perfect sweet treat for guests and can include the likes of apple, blackberry and even mince pies if you're feeling Christmassy!
For a savoury option, a winter buffet would go down a treat and can literally include anything you like. Little burgers, dauphinoise or see below for cute ways of serving a simple dish like soup and bread!
Drinks-wise, have you considered mulled wine? A great socialising drink that is a something a little different to classics like Prosecco or Champagne.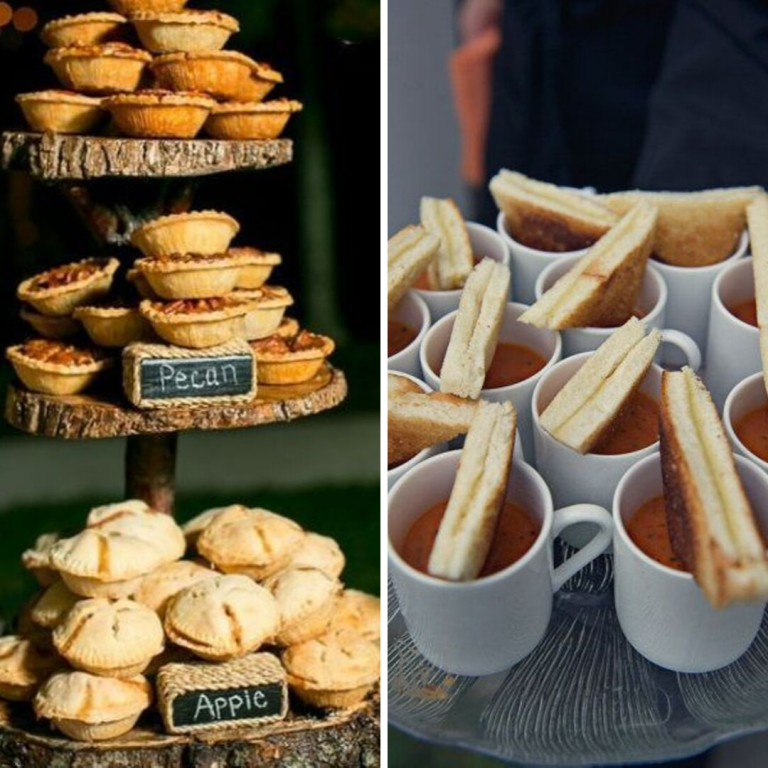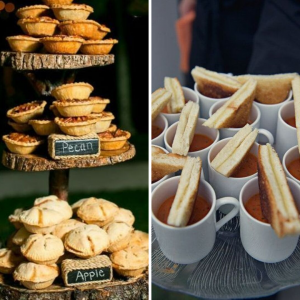 The Flowers
Although it may sound rather basic, white flowers are a go-to for this theme. On a winters day, white roses are absolutely breathtaking. The key to this is to have them E V E R Y W H E R E. Include it in your decor, have a row of white roses trailing along the table mixed in with dark foliage. You can even have them draped across the ceiling. But if this sounds like a little too much then that's okay too. Simple is also effective. Opt for tall vases with a single white rose in each along the table and decorate chairs with a white ribbon tied at the back to balance out the look.
Time to get white rose shopping, Hunny!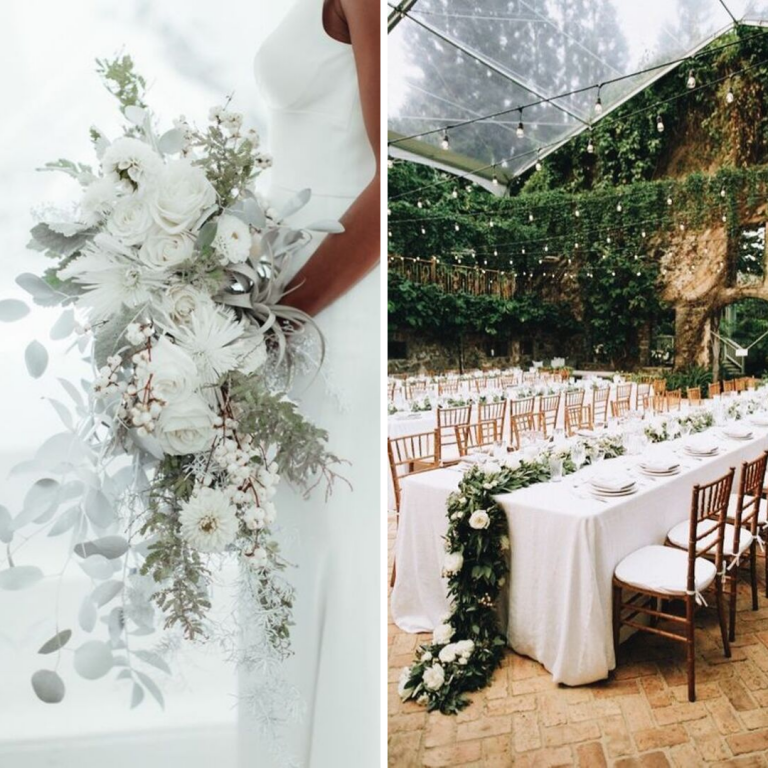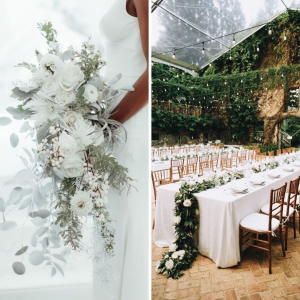 The Music
Many ideas work for this theme. One of our favourites is simply a signer and a pianist, as it is romantic and something you can listen to all night long – perfect if you plan to have music throughout the day, too as guests can chat and socialise with one another whilst there's a soft tranquil tone in the background.
The type of music is completely subjective so make sure you get your favourites in there! We personally love the idea of the old romantic classics making an appearance, guests can sing along and simply lose themselves in the awe of the moment.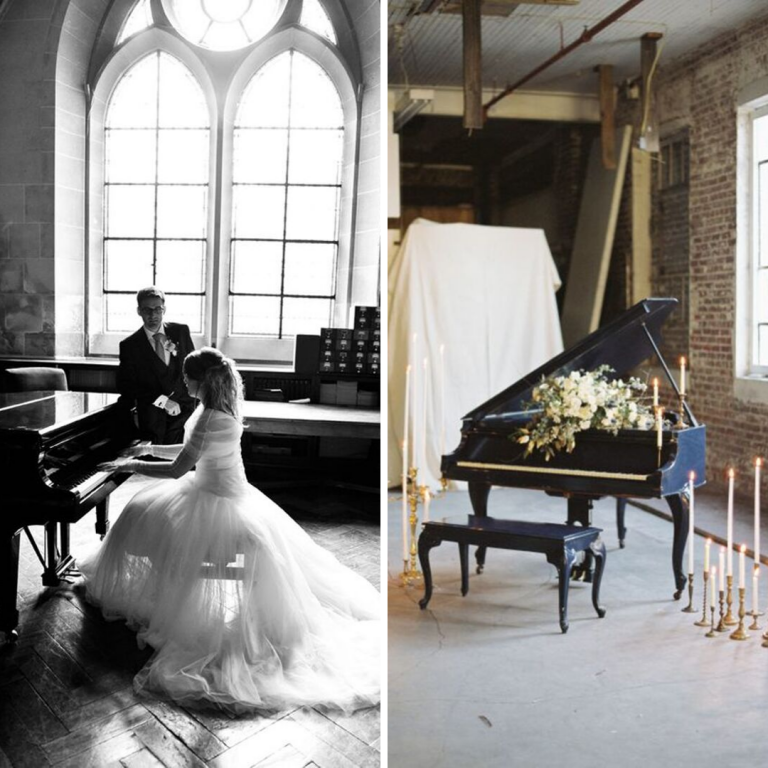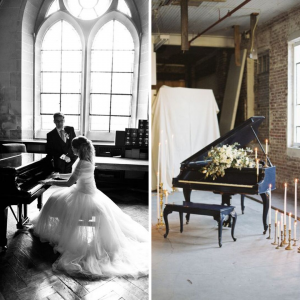 The Favours
There are many cute and playful ideas out there for this, so it was hard to narrow them down to just a few!
Some of TWC's great picks include the following:
Personalised gingerbread people! A tasty treat that you can have fun decorating with your loved one, pre wedding! For more trinket styled ideas, scented winter candles are a nice touch, you can even get candles that look like acorns which are a super cute find. If your wedding day is nearing Christmas, a personalised tree decoration makes for a sweet sentimental gift!
However, this last idea is arguably the best one for these winter days.
A mug or teacup – it sounds so simple but who doesn't love a good cuppa!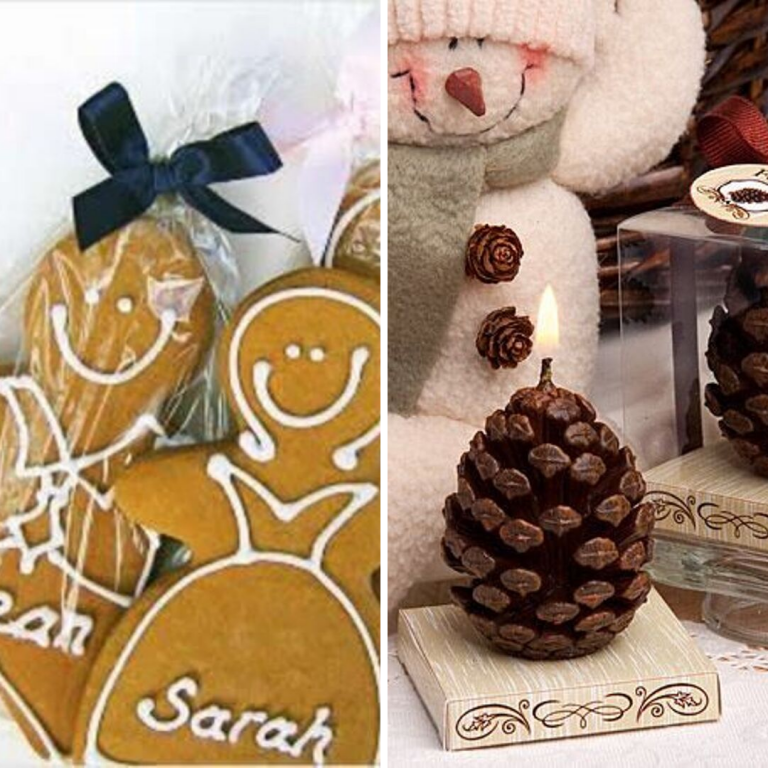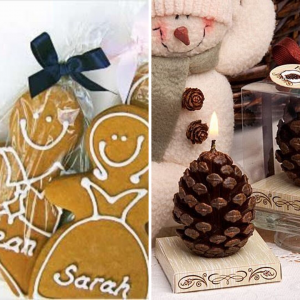 ❤️
Images:
ALL OTHER IMAGERY CAN BE FOUND ON OUR 'WINTER WEDDING' BOARD – RIGHTS BELONG TO SAID OWNERS THAT HAVE UPLOADED IMAGES TO PINTEREST.