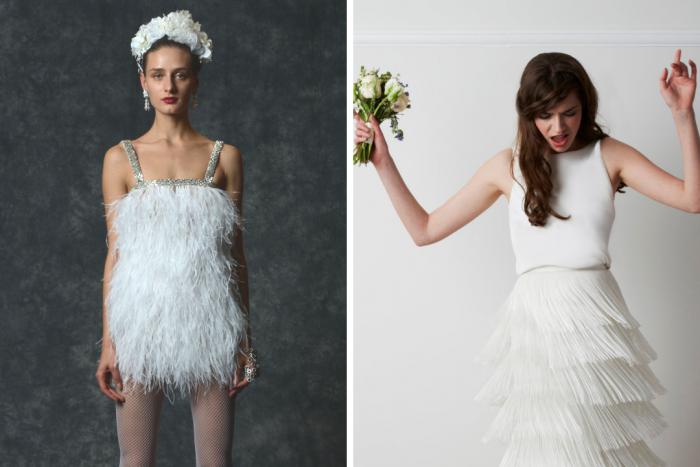 Be Inspired: Gatsby Bride
'I love her and that's the beginning an end of everything' – F. Scott Fitzgerald'
Enjoy dressing to the nines? Then maybe a bit of Gatsby glamour is the perfect way to add a dash of poise and elegance on your big day – with that extra bit of sparkle!
We're head over heels for this style and we're definitely not sorry about it…
❤️
The Look
Want film Star Carey Mulligan vibes ? Two words … Temperley London.
With a timeless collaboration of beautiful silks and carefully placed beads, Temperley London create a decadent yet soft look for their brides. They are a mix of wistful and glam that would be sure to catch Mr Gatsby's eye. It's obvious that these gowns would look gorgeous on the red carpet, but even better down the wedding aisle!
To enhance that 20's film star glow, try accessorising with Victoria Percival's crystal headpieces or celestial drop-down earrings, jewels are a big YES for this look!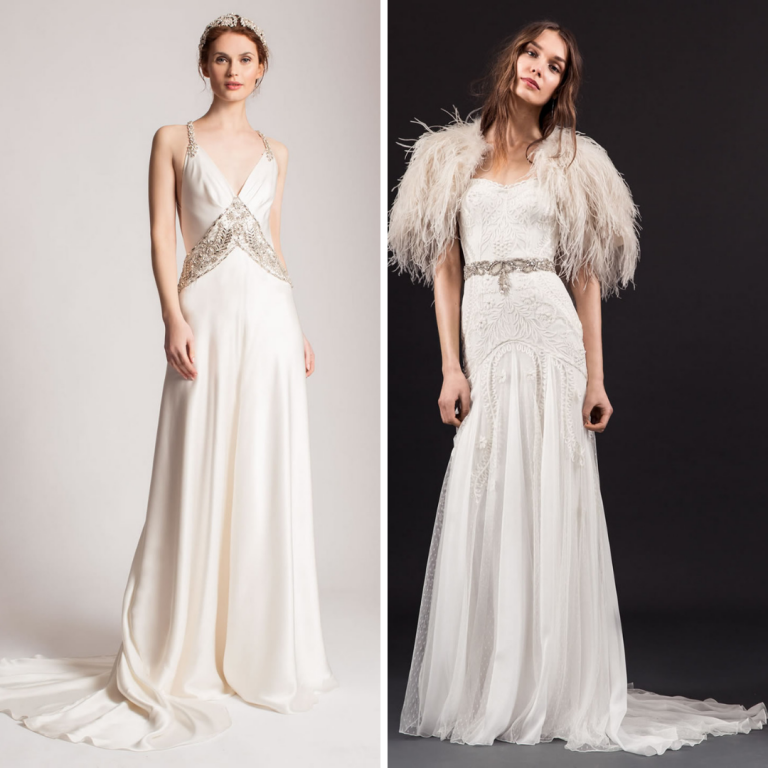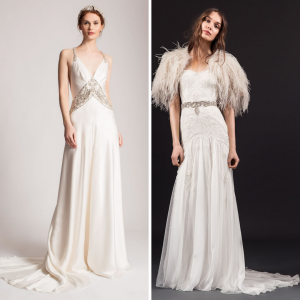 Want more Glitz and Glamour? Then Marco & Maria are here to help you make an even bigger statement. Their dresses not only have the flow-factor but the sparkle, we have to talk about the sparkle, oh, the sparkle! The strategically placed crystals have us smitten! It's the perfect way to make that big entrance.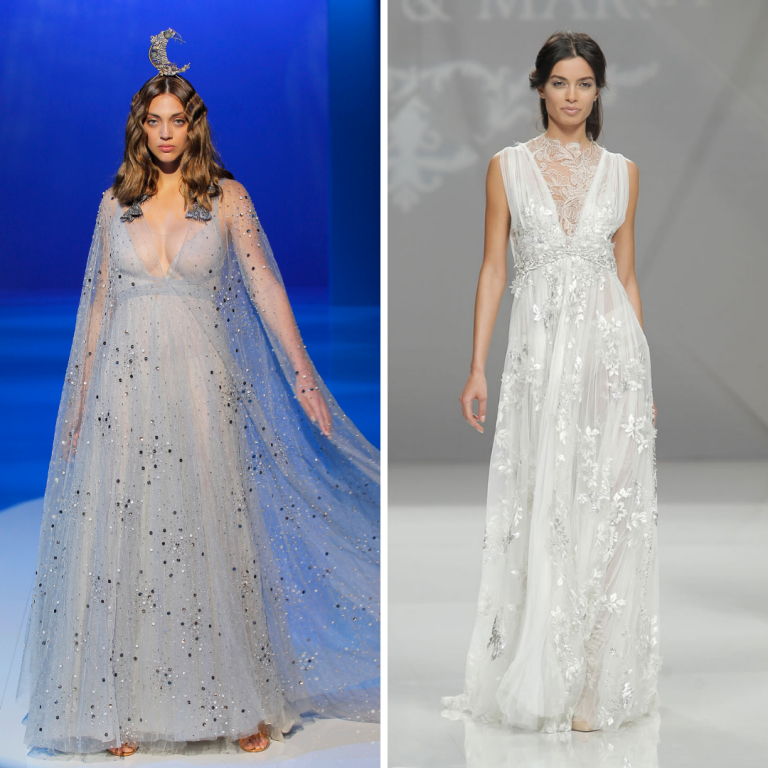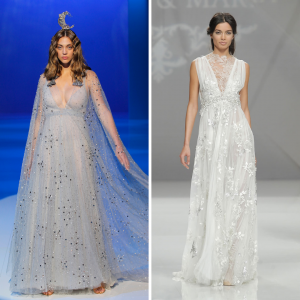 Now, when we think of Gatsby, it's pretty much impossible to ignore the 1920's dance craze with the tassels, sequins and feathers that went with it – the real drama of the dresses. We're also guessing that those of you that are considering a Gatsby-themed wedding will want to pull out the charleston or the jitterbug on the dance floor – with ease, may we add.
Our two fave looks for this are Naeem Khan's cute, cut-off bridal dress, drenched in feathers and mischief, and Charlie Brear's fun fringed skirt, because, seriously, look at that movement!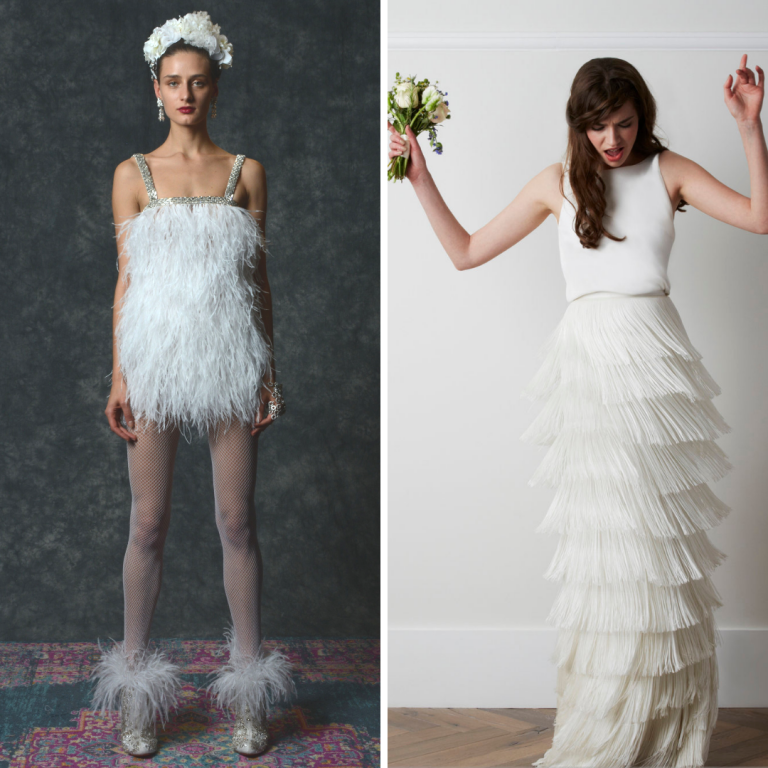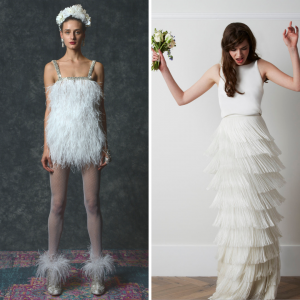 The Location
Now's the time to bring some grand glamour to the wedding!
Gatsby was known for his pure and incredible opulence, so with that in mind, we're thinking open staircases for eyes to meet across the room, giant chandeliers and rich colours throughout the room – emerald greens, ruby reds, and navy blues would be perfection.
Crystal accessories and shimmery, sparkly table cloths would be a glorious match for this. Tip: Scatter crystal beads around the backs of chairs and across the tables to really push the old Hollywood aesthetic.
Outside wedding? No problem. Exchange the bold chandeliers for white fairy lights, and voila, you still have that magical glow of luxury.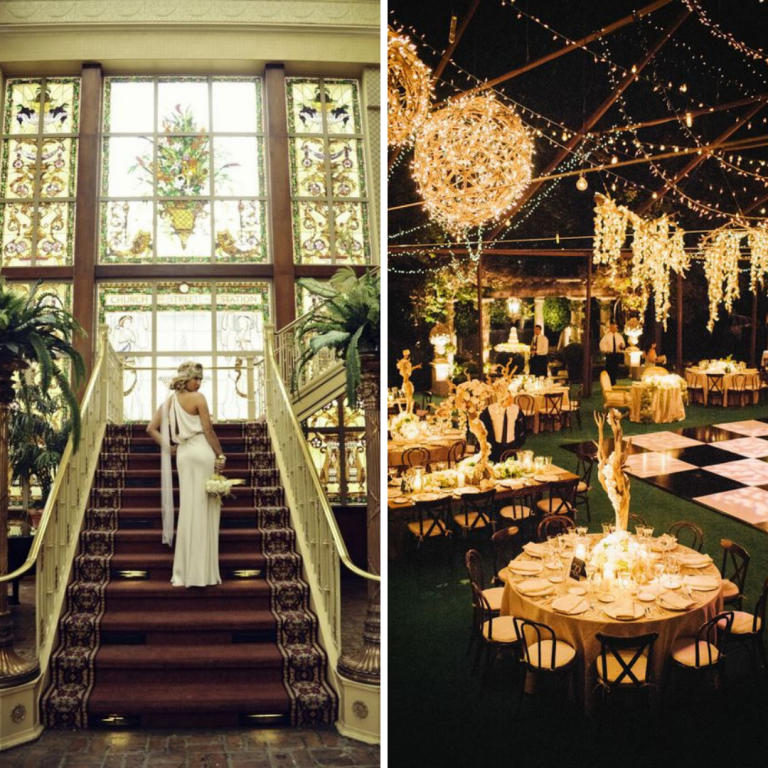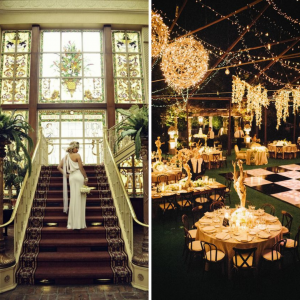 The Nibbles
The Classier, The Fancier, The Better
(But this can be done on a budget too!)
From experience, towered food and drink will always get a gasp from guests, they have the power to create some serious wow-factor, so the higher the better!
Go for a fancy champagne or prosecco tower with glittery glasses for some decadent fun, or (if this is too risky with your guests – whether that's a clumsy uncle or boisterous children) opt for a tower of Ferrero Rocher's instead! Fun to make, a very cute wedding prep moment with your boo – think edible Jenga, and totally scrumptious!
Other classy snacks include an assortment of macaroons or stylish white and gold decorated cupcakes. Fruit boards are always a go-to as well, strawberries, grapes, and raspberries with melted chocolate are always a guaranteed winner.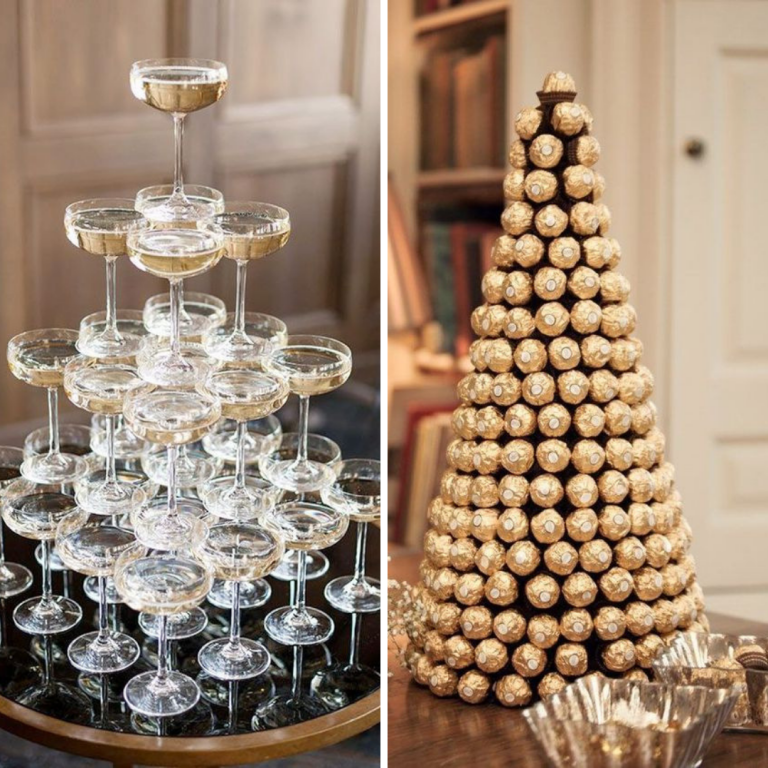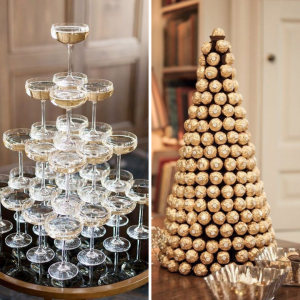 The Flowers
We suggest keeping it easy with white flowers, a style of your choosing – to add a little more drama, decorate with green foliage and white feathers, too. For that extra 20's vibe, try adding some pearl chains into your bouquets, too – the decadence, darling!
Not feeling flowers at all? Simply put big tall feathers in a vase and call it a day!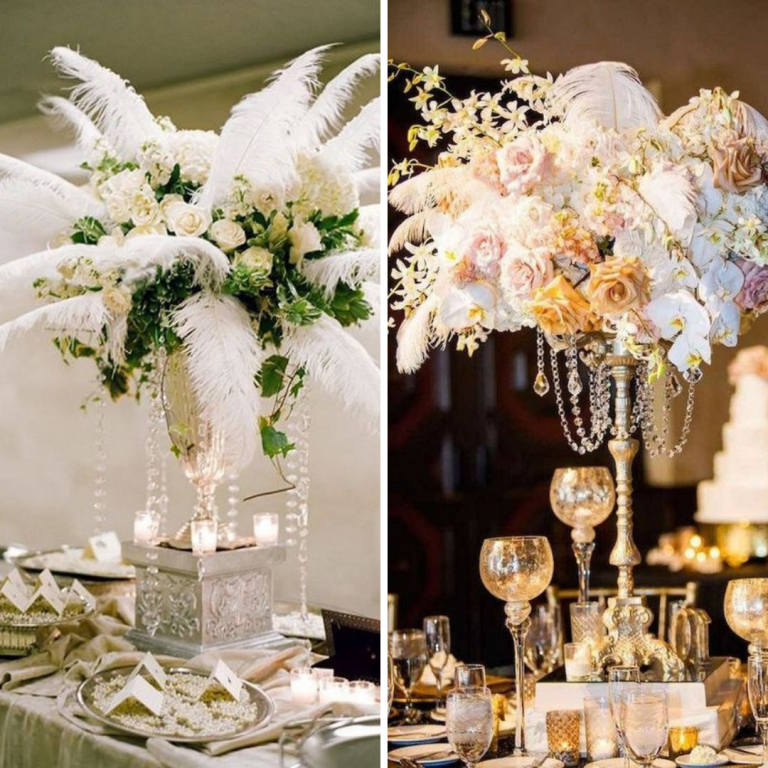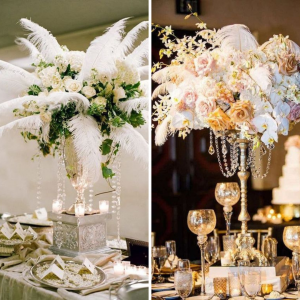 The Music
A live band will work wonders to take you and your guests way back in time.
To fit the theme we highly recommend getting a 20's styled band to perform renditions of your absolute favourite songs. You can keep it old school with classics from the roaring 20's or make it a little more contemporary with sing-along songs that everybody knows.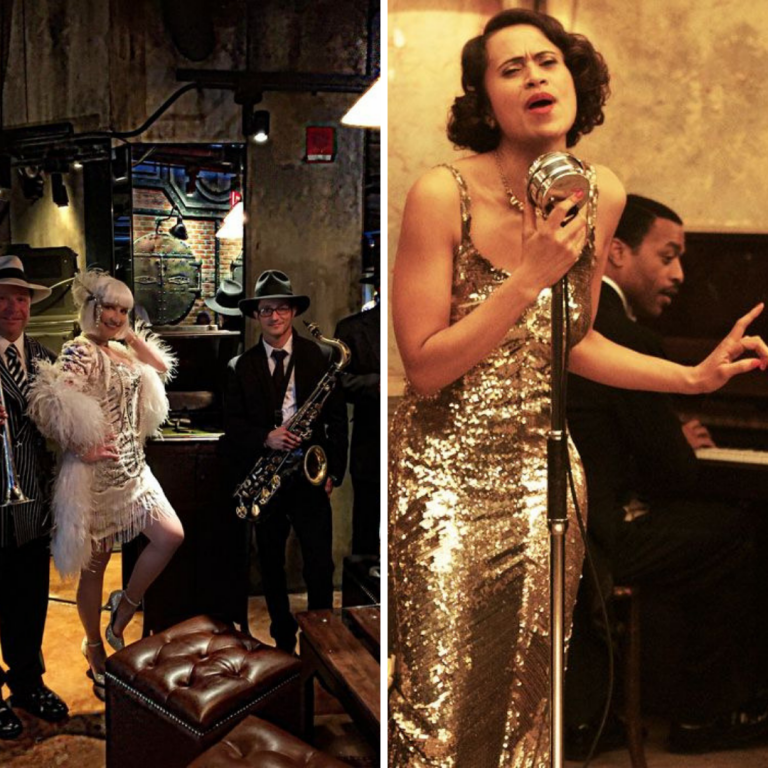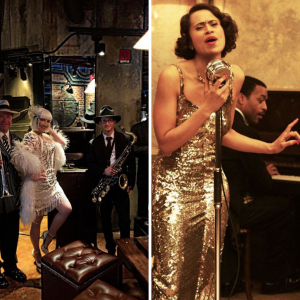 The Favours
Nobody knows your guests better than you, but if you're stuck for ideas then we love the idea of little personalized bottles of fizz and 1920's style matchboxes. Food always goes down a treat too, so perhaps a selection of biscuits or chocolates in stylish vintage wrapping could be for you.
Place the favours in black paper bags with guests' names written on with gold calligraphy for the Hollywood Glam effect!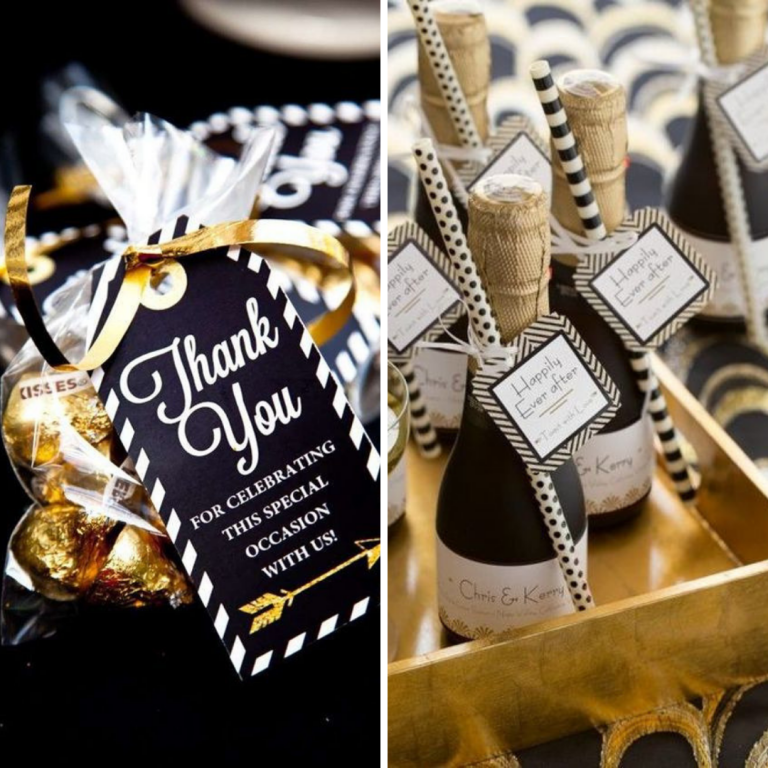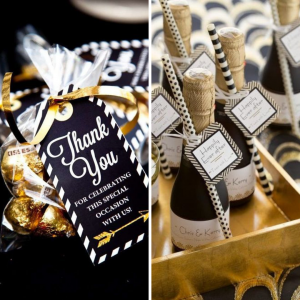 Now, let the Gatsby Groovin begin, old sport…
You can view all of these creative decorative looks and more on our Gatsby Bride Pinterest board for more inspo!
❤️
Images:
All other imagery can be found on our 'Boho Bride' board – Rights belong to said owners that have uploaded images to Pinterest.