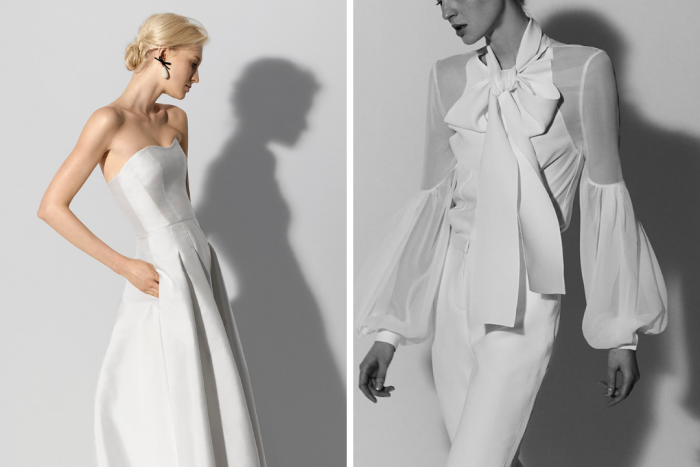 Be Inspired: City Escape
Whether we admit it or not, we all have an inner-city girl that would love to see what the Carrie Bradshaw life is like – So why not embrace it on your big day?! With styles ranging from bright lights night time city glamour to daytime sheer beauty, you're bound to fall in love!
Feeling spontaneous? Read on for our top tips and tricks for creating the city wedding vibe!
❤️
The Look
Carolina Herrera: For a sleek and chic twist, look no further. Herrera makes you feel like you live on the upper east side with the likes of Blair Waldorf and Serena Van Der Woodsen. The quality fabrics used simply dictate admirable taste whilst remaining contemporary and fashion-forward.
A dreamy fave is the trendsetting sweetheart neckline satin gown, featuring pockets on each side. Practical and unique. The way the dress effortlessly cascades is mesmerising and will definitely make you the main gaze of the day!
Another of our fave looks, that is simply to die for, is the puff-flared shirt featuring Herrera's classic trademark bow, both elegant and fierce. Giving you that power femme aesthetic perfect for a true city girl at heart! Get suited and booted and own that aisle!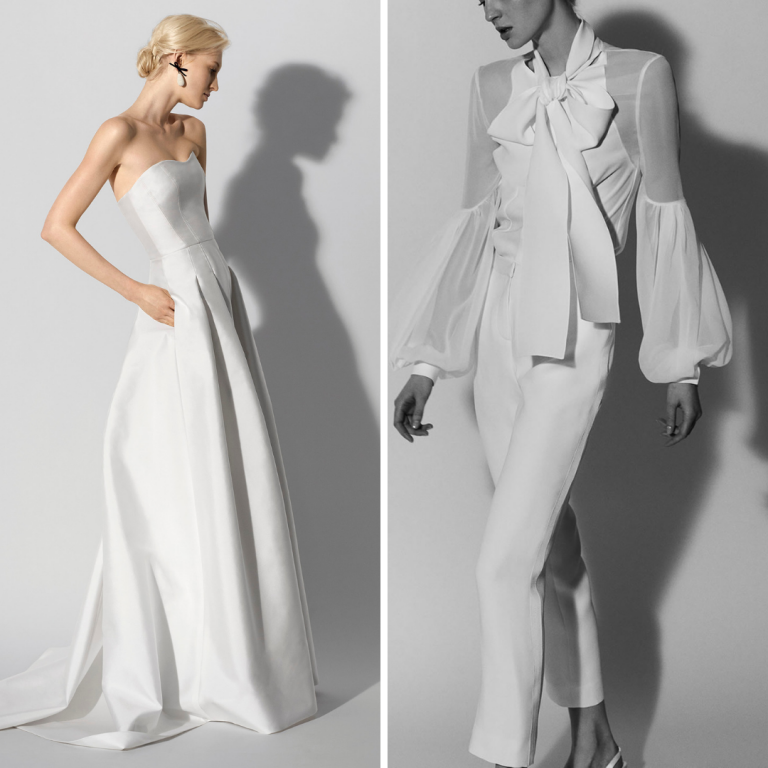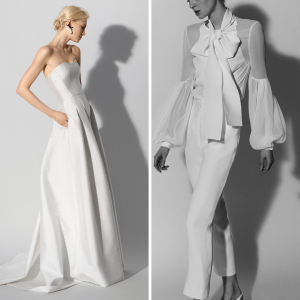 Rita Colson: If you're looking for something that's simple and free-flowing to contrast the busy mayhem of city hustle and bustle, then trust us, Rita Colson hears ya! Her lightweight designs are perfect for running through the streets with your boo. We can't get enough of the spaghetti strap styled dress which gracefully falls to the feet.
We can totally imagine twirling the night away in front of the Eiffel Tower in this stunning, flowy dress!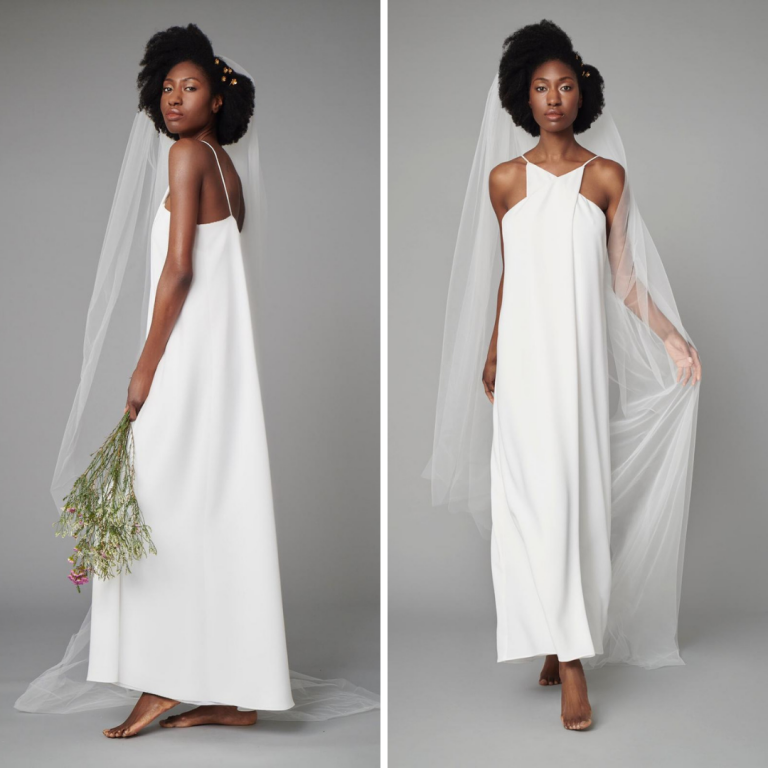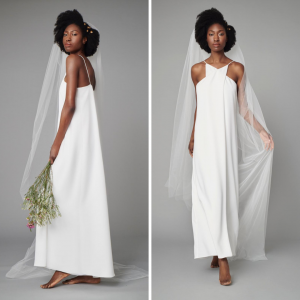 Valentini Spouse: It's Dramatic, It's Intense and It's B E A U T I F U L. Much like city views, Spouse takes our breath away, again and again, and again. It's hard to top such a look, so if you're looking to make a big statement in front of a city crowd… well you've found it!
Each gown has a character of its own, eliciting emotion and awe. TWC have fallen head over heels for their long sleeve bardot neckline gown which flares out from the knee into an exquisite circular train.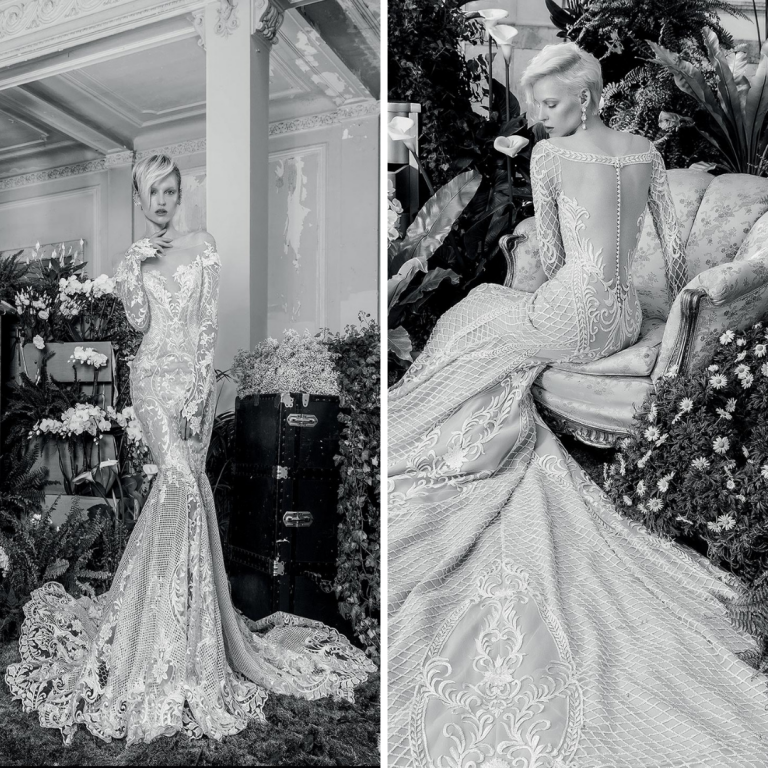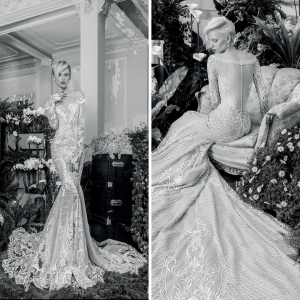 The Location
This theme is actually very versatile – it can be celebrated indoors or outdoors! This is totally up to the vibe that you want to create. For an indoors theme with a real city feel, why not consider a grand hall or a building rich in architecture and surrounded by the history and culture of your desired city location? For example, the Corinthia hotel (or any hotels of that beautiful architectural nature ) would be a perfect fit. Or if you're looking for something slightly more adventurous then maybe try The National Gallery located in the midst of Trafalgar Square.
The great thing about celebrating your wedding indoors with a city theme is, surprisingly, many wonderful places actually host weddings! So our advice- always ask even if you don't think they allow weddings, some places are occasionally willing to make space for love!
Wanting to embrace the beauty of outside? We can't think of anything more romantic than a rooftop ceremony! Confess your love to each other whilst overlooking the alluring aesthetic of the city. This would be perfect for saying your vows during the sunset or during golden hour! Glisten down the aisle and fall head over heels for the view (and your partner!). But remember, you're the most stunning view of all!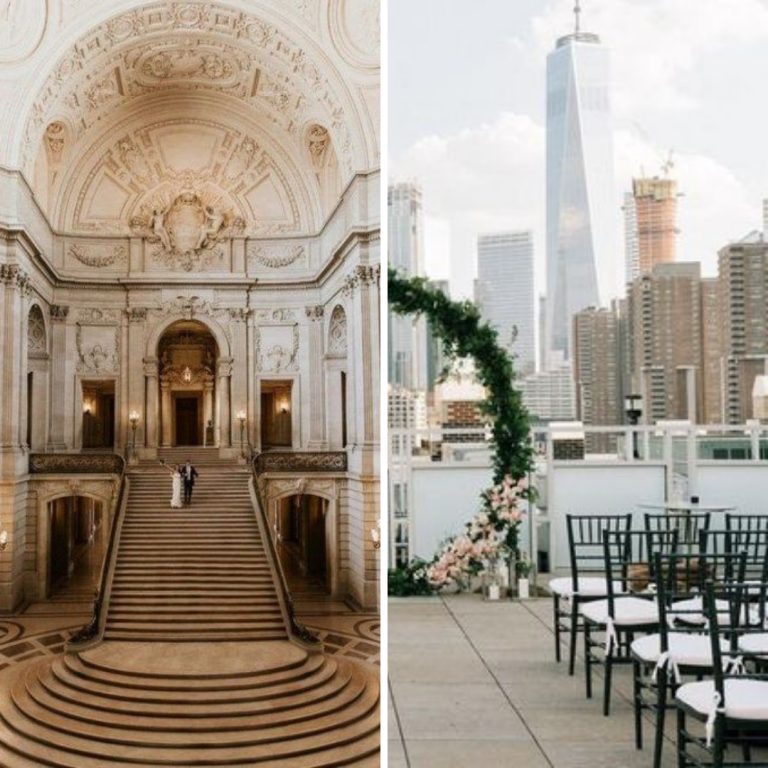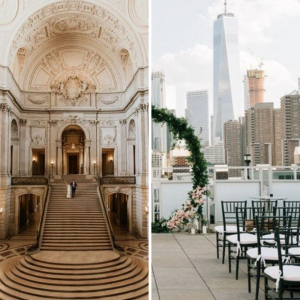 The Nibbles
A great idea to really anchor your city location would be street food from that area! Street food is tasty, quick and easy to eat! Serve this up in small plates and allow guests to go 'to and fro', filling their tummies with the culturally infused taste of the metropolis. Wanting food as grand as the view? Food towers, whether sweet or savoury, are always a mesmerising must-have.
Sweet towers can include colourful macarons, cupcakes, and doughnuts! Alternatively, seafood makes for a popular savoury tower, stacks of chip filled cones or even finger sandwiches! Don't forget beverage towers too… talk about wedding photo goals!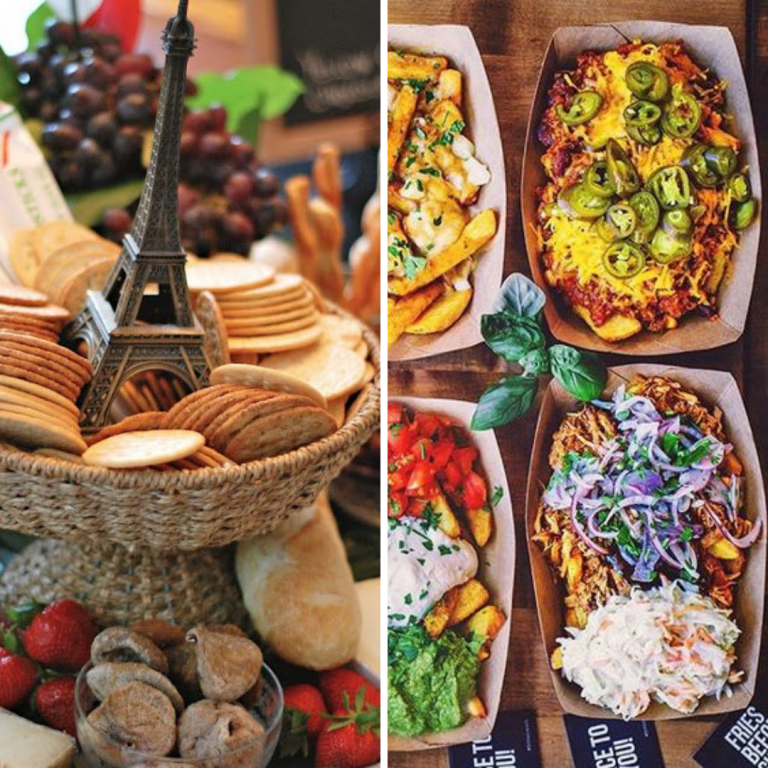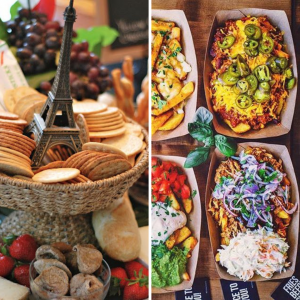 The Flowers
They can be big and bold, or cute and small. It's completely up to you!
For big floral gestures, we love the idea of floral everywhere with bursts of colour. Cities are usually lively and unique to their own, so, it would be fun to display this through your floral choices! To really anchor your location, why not chose flowers from that particular area? We love love love the idea of hanging baskets, parallel to each other, on opposite sides of the walls. Mixed colours of pinks, reds and whites… the perfect romance combination! You can place similar floral arrangements along the table, in small circles with candles in the middle!
Wanting to keep it cute and simple? Ever considered a bouquet of foliage? Very underrated yet so jaw-dropping! You could also add in some colourful roses to create a fun aesthetic with a pop of colour. Very different, just like the cities!
To keep venue decoration simple, why not attach a rose to the back of each chair with a cute ribbon, and place tall white candles along the tables? Simple is always effective and we love it!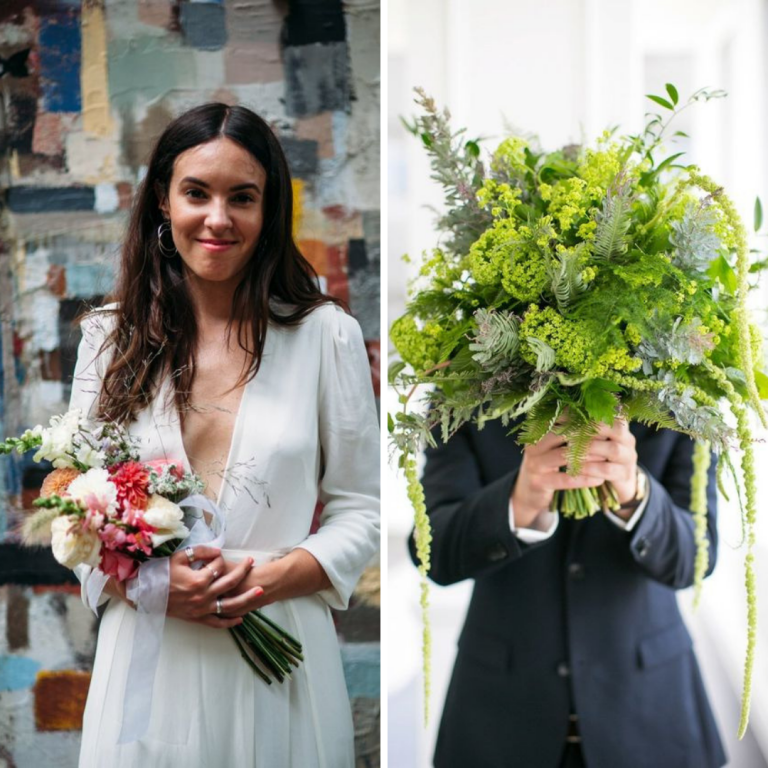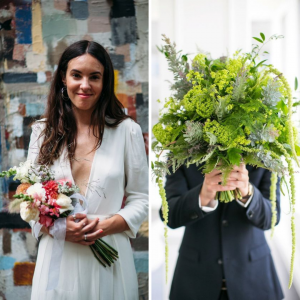 The Music
Research the local music and twirl the night away to something a little different to the usual chart hits! To keep to the fun and playful atmosphere, why not have a pianist create renditions of classic love songs that you can sing and dance your heart out too. It's entertaining and classy, the perfect way to spend your celebration with your loved ones!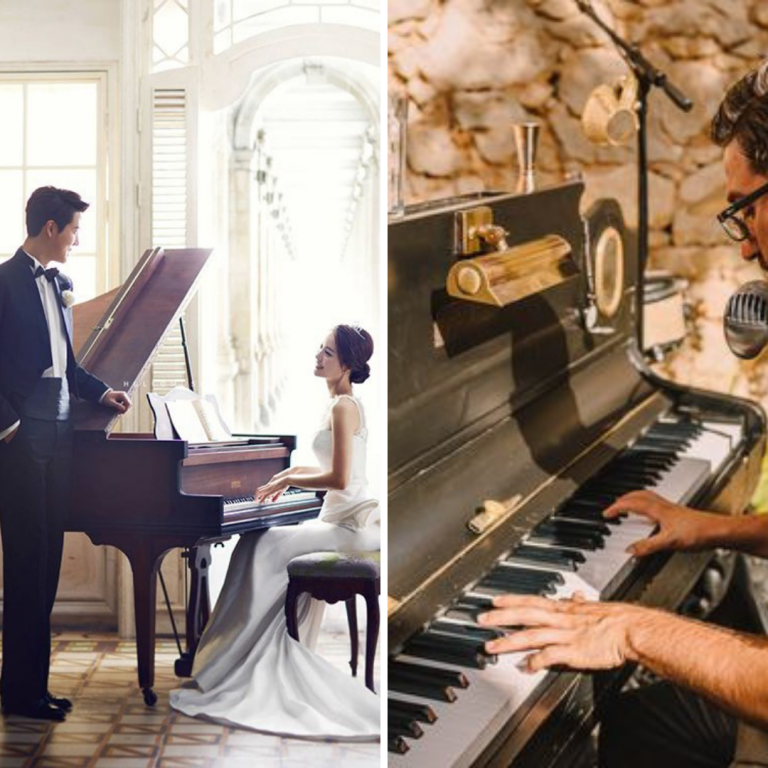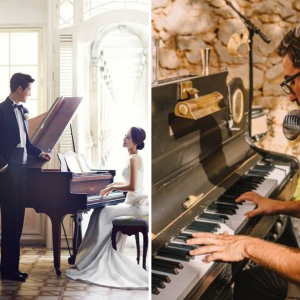 The Favours
This may sound surprising, but a fragrance to remind them of the city you said your I Do's in would be a personal, custom made touch, to the celebration. Or, perhaps, a souvenir styled gift from the local area. In keeping with the city-travel vibes, a postcard with a handwritten 'thank you for attending' note from the bride and groom would be especially cute!
Remember your gifts to your guests are your personal touch, so have fun with it and don't get too stressed!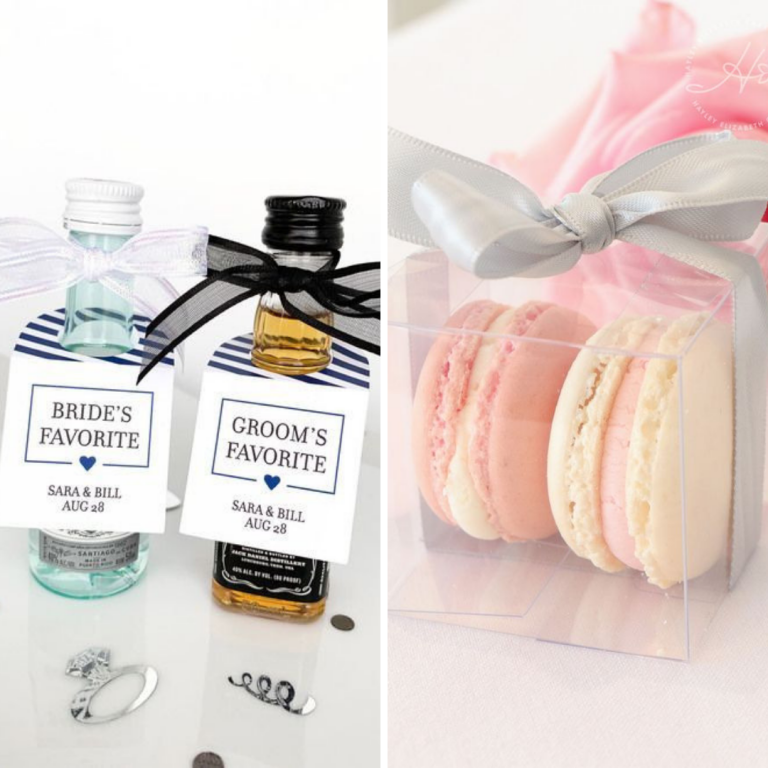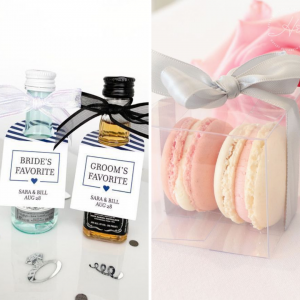 ❤️
Images:
All other imagery can be found on our 'City Wedding' board – Rights belong to said owners that have uploaded images to Pinterest.