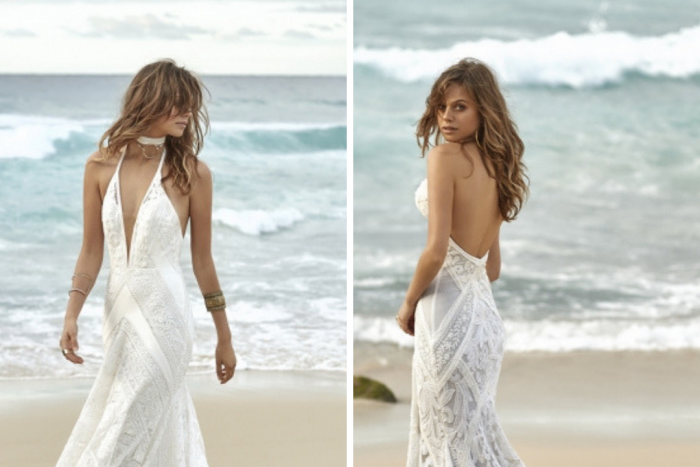 Be Inspired: Beach Bride
Has the summer heat got you feeling romantic?
Always wanted a sun, sea and sand wedding? From floaty beach dresses to the sweet treats that are a must-have on your big day – we're here to help turn that daydream into a reality
❤️
The Look
Alexandra Grecco: If simplicity is your style, then TWC have found the perfect designer for you. Release your inner beach goddess with a lightweight spaghetti strap style. Not only will cascade gorgeously as you walk down the sandy aisle, but it will feel like a dream against your skin too. We adore the backless styles with their smaller trains, they are both practical and beautiful.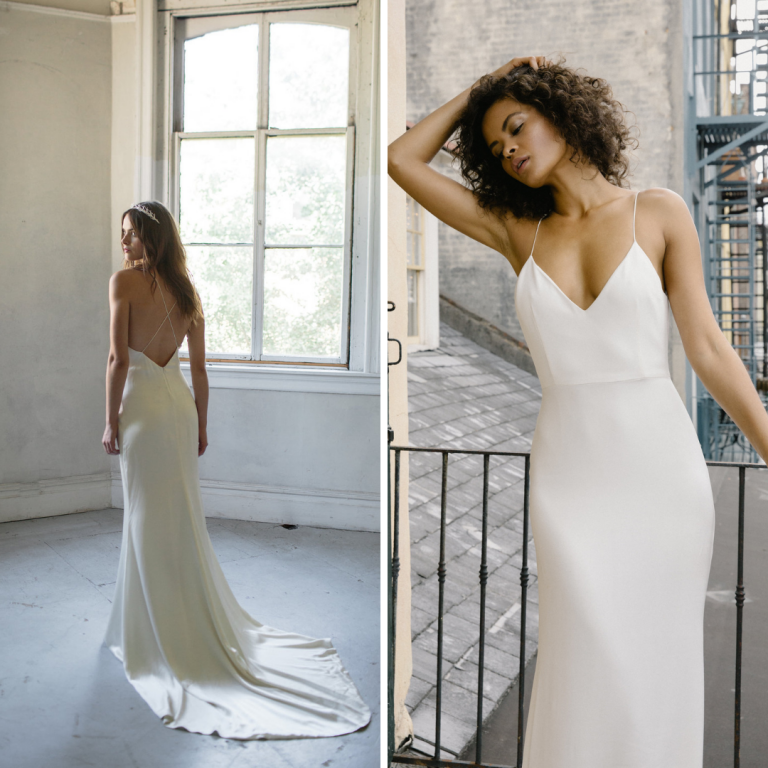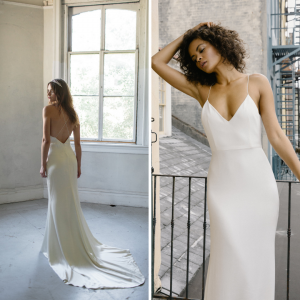 Berta: If you're looking for a little more sparkle, then Berta it is! Comprised of lace, sweetheart necklines and red carpet trails, this designer is sure to make your tropical wedding front cover-worthy. Their sultry designs will have all eyes on you, including the most important pair waiting for you at the alter!
Our favourite styles are the bardot sweetheart styles and the lace spaghetti strap plunge neckline dresses. Now, queue the (natural) light and own that aisle!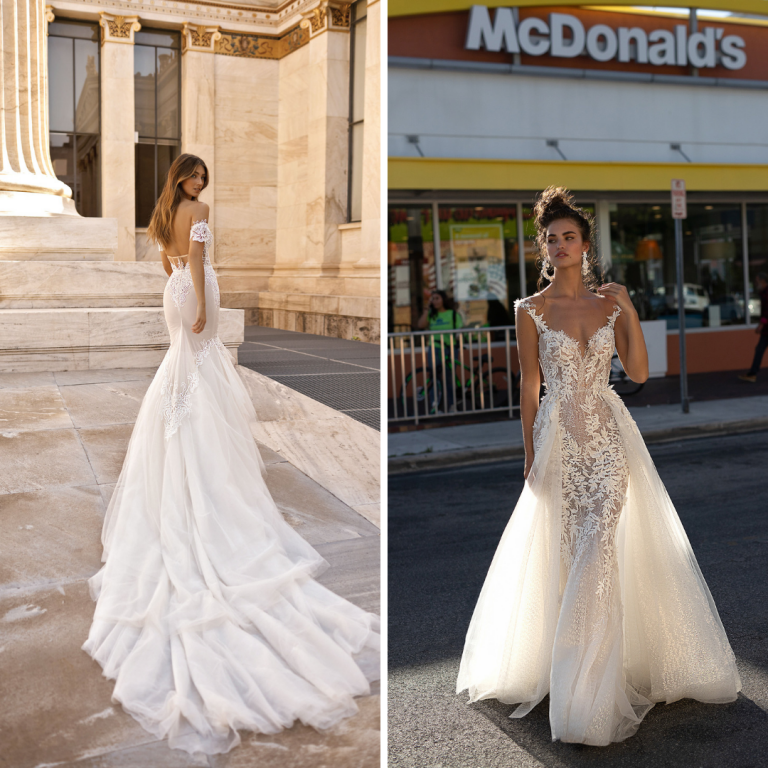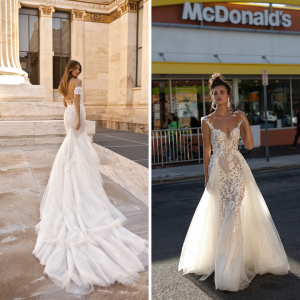 Rue De Seine: This brand was made for the beach bride! Cool collars, low backs, and luxurious lace. Their gowns are effortlessly cool and have that modern, hippie je ne sais quoi about them. What's not to love?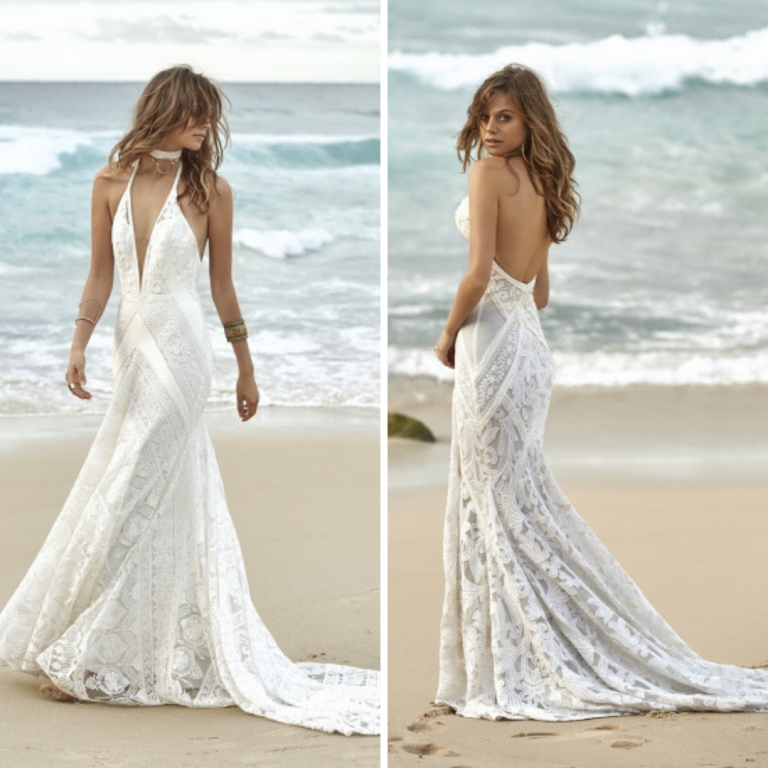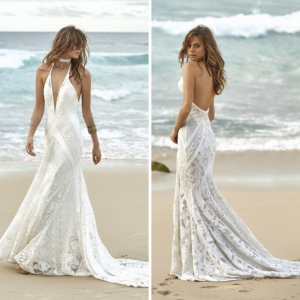 The Location
Although it may seem pretty straightforward, there are SO many different ways to spice up your beach wedding, and it mainly comes down to the decor. If you plan to say your I Do's on the beach itself then consider a beautiful big flower arch or a leafy green arch made from palm tree leaves with the sea as your backdrop.
Want to avoid sandy toes? Why not have your wedding overlook the beach instead? With a bright white open gazebo, you and your guests will feel the beach breeze and sun beating down while remaining sand-free!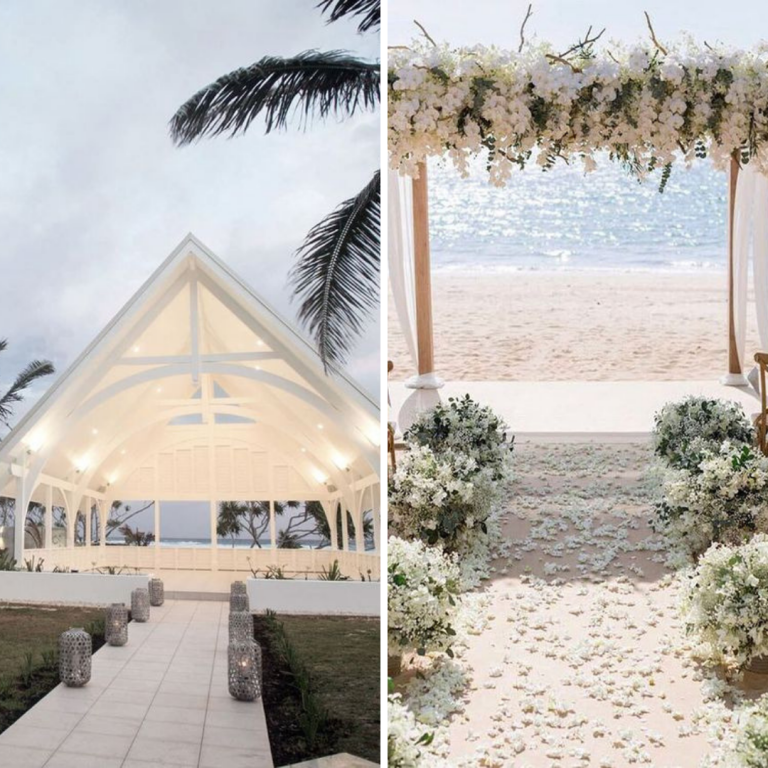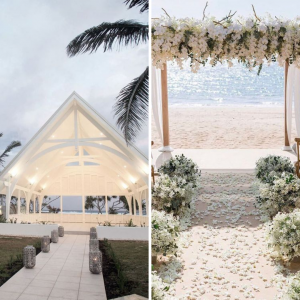 The Nibbles
It's gonna be hot, hot, hot! So be sure to serve up some cool snacks for your guests. We recommend arranged fancy fruit, such as watermelon triangles and Kiwi slices. Hydration is key!
Ramp up the beach theme by ditching glasses and using coconuts instead. Simply decorate with on brand umbrellas and native flowers for a real holiday feel. No doubt your guests will be loving the fancy party photo opportunity for their Instagram feed, too…
Fresh, light food is where it is at for beach weddings, so offering guests a variety of small platters to choose from is key.
Our fave ideas: Tacos with salsa and guacamole, mozzarella with tomatoes and pesto, fresh seafood with seasoning and/or a selection of barbecued meats and vegetables.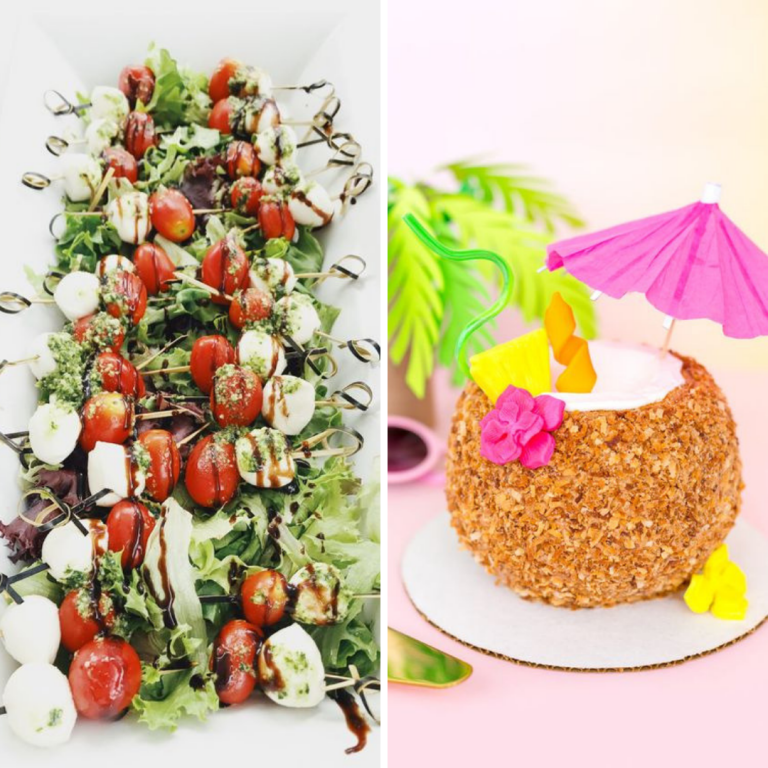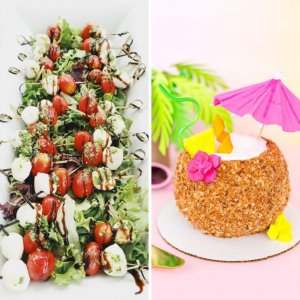 The Flowers
You can never go wrong with pastels – especially light peaches and pretty pinks. We love the idea of white roses with splashes of pastels throughout the bouquet. Maybe a baby blue flower would work with the sea and the sky as well, while also being your 'something blue'.
Want to be a little bolder with the colour palette? Dare to stand out and opt for hints of bright fuchsia, magenta or even cobalt blue within your flower arrangement. Mix them in with some emerald green foliage and voila, you have one seriously beautiful bouquet.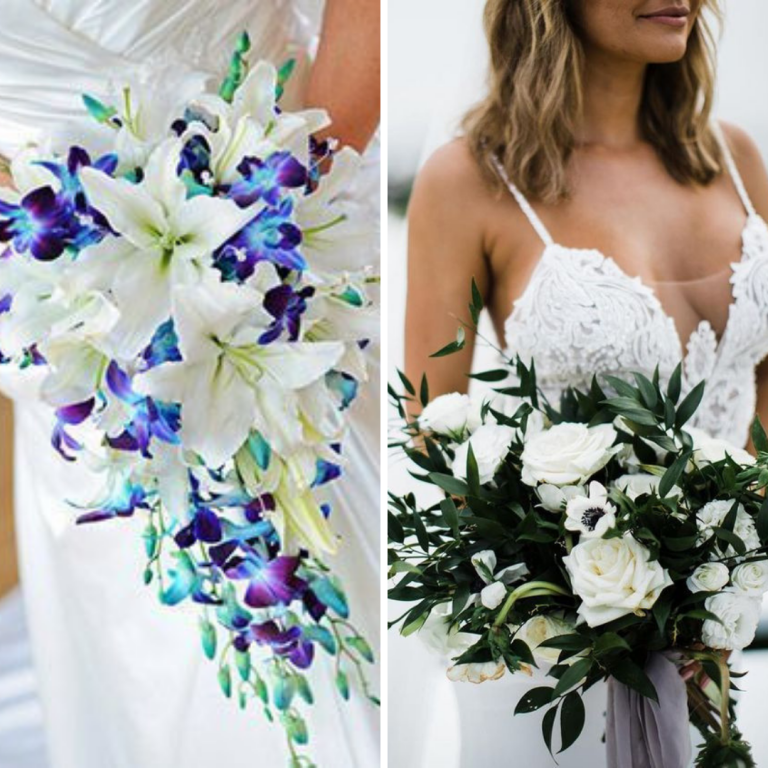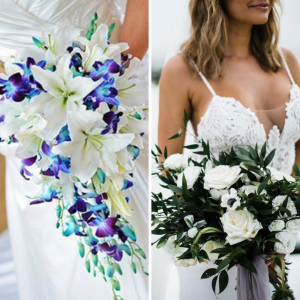 The Music
Beach weddings make the TWC team dream of slow romance and serene settings.
Voices of tranquility such as Ed Sheeran, John Legend, Ellie Goulding and James Bay will add a soft touch to the sound of waves in the background and have everybody humming along. Want a classic yet popular playlist? Then all-time favourites from Frank Sinatra, Whitney Houston, Adele, Elvis Presley and Elton John are a great fit.
The simple effect of a musician and a guitar, or a small band can work wonders on a crowd – everybody will be up on the dance floor in no time.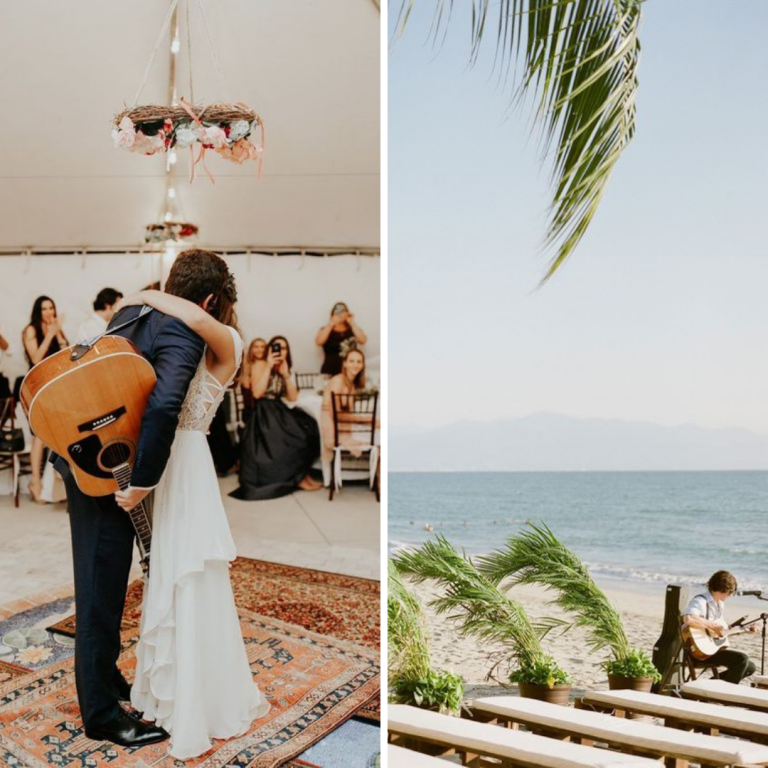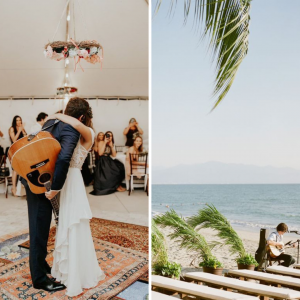 The Favours
One of the coolest favours yet – the polaroid camera. A nice blast from the past that will keep things magical and catch everybody in the moment. Plus, who doesn't love waiting to see how the pictures turn out!
Allow your guests to pull out their inner Rankin or catch the kids playing on the beach, from cutting the cake to aunty's questionable dancing – your big day is captured by all! This is also an ace way to make everybody feel included and part of your journey. Now, it's up to you whether they keep the cameras or not, but if you let your guests gold onto them, make sure they send over the best shots!
For more gifts, bottle openers in the shape of flip flops or palm trees are a sweet touch and something they can keep forever. Mini, grow-your-own plants are a super cute idea too – cactuses are most def our first choice!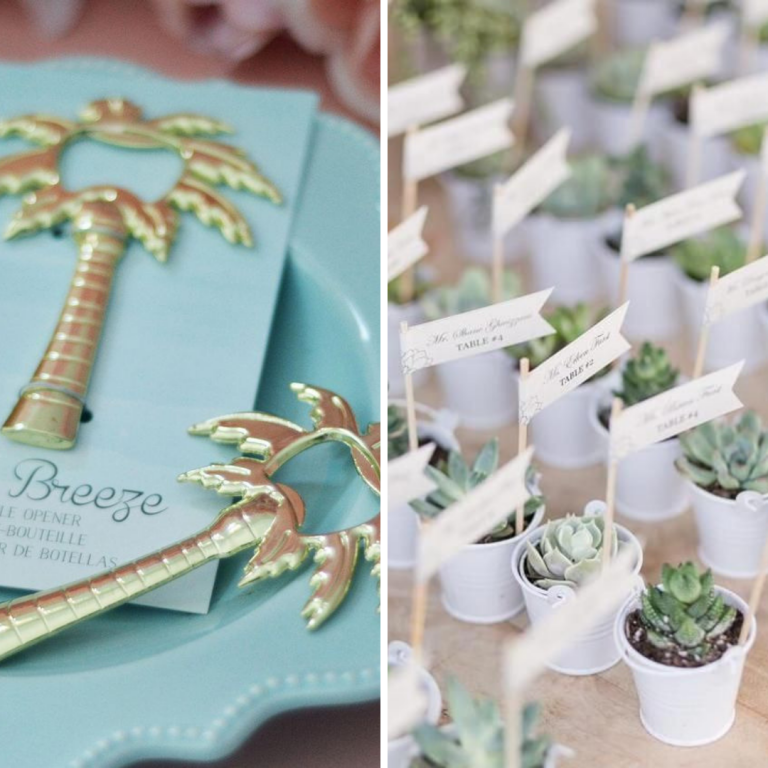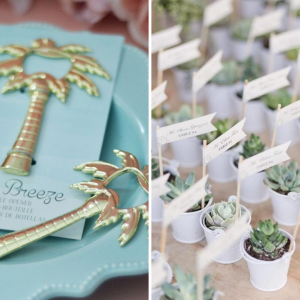 You can view all of these creative decorative looks and more on our Beach Bride Pinterest board for more inspo!
❤️
Images:
All other imagery can be found on our 'Beach Wedding' board – Rights belong to said owners that have uploaded images to Pinterest.