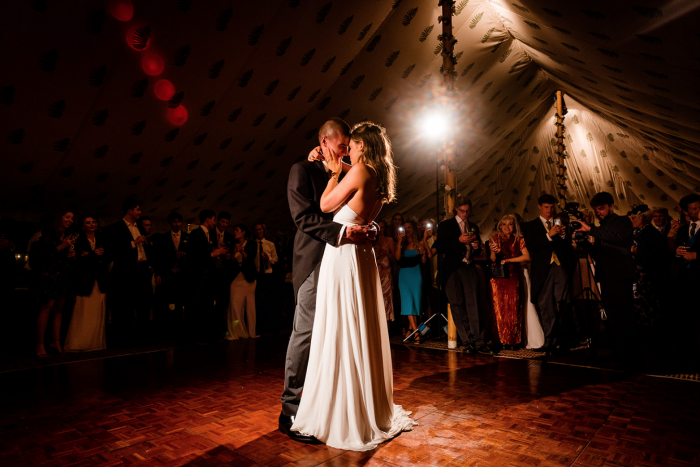 Rustic & Romantic Battersea Wedding In Savannah Miller Gown
❤️ The TWC Effect – Our brides, their way ❤️
It was love at – second sight – for this pair of teen sweethearts… Saffie and Zac have invited us along for a peak at their beautiful big day, with a simple, vintage vibe, lots of family fun and what looks like a fabulous party you'll wish you were there too!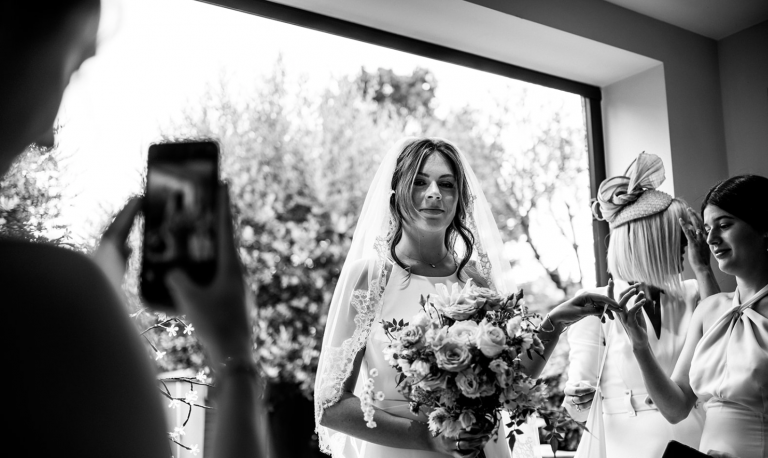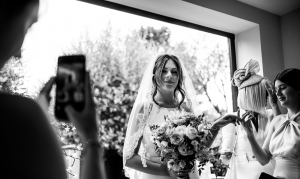 How did you meet?
At a Camden club night – we were both celebrating respective friends 18th's…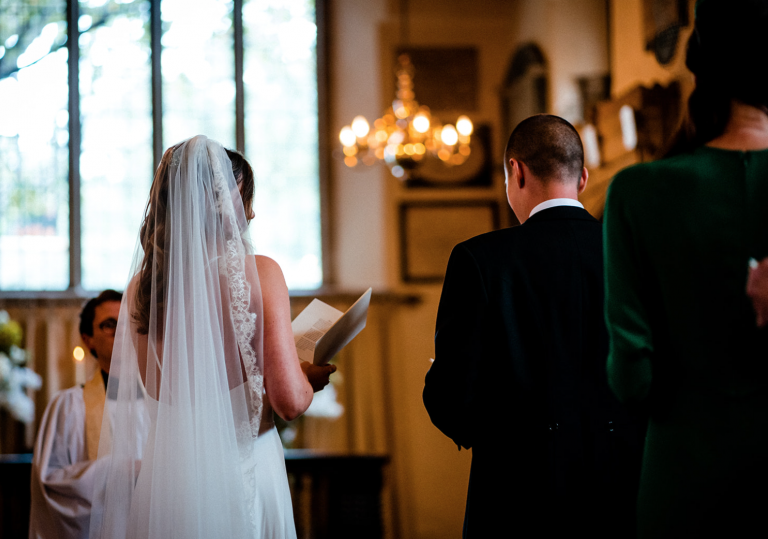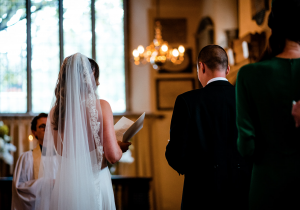 Was it love at first sight?
Certainly not! I had my eyes on someone else and he actually came back to my house with my best friend! The second time around (another 18th), I didn't even recognise him but started talking to him and slowly realised he (despite intoxication) was one of the smartest and wittiest people I'd ever met.. he didn't look too shabby either!

He came back to my parent's place (second time around) where we spent the whole night aggressively debating the ethics of Nabokov's Lolita. We were pretty much inseparable from then on.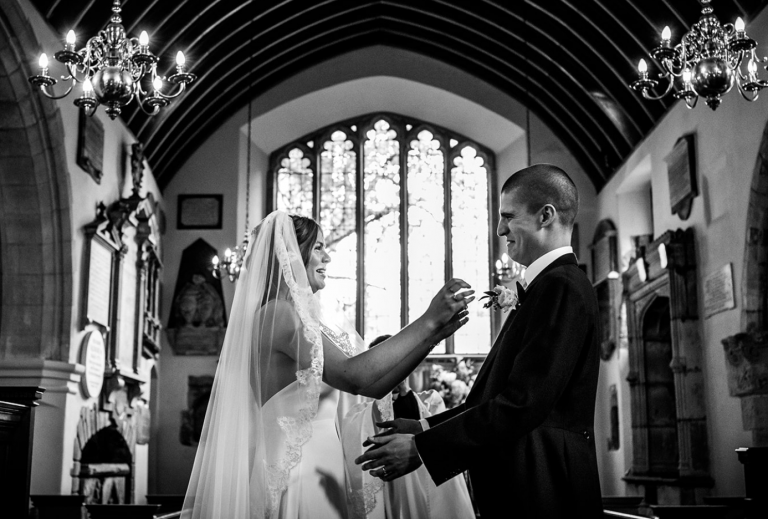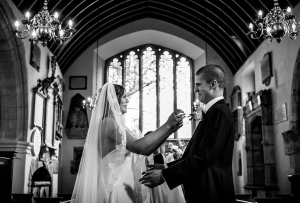 Who proposed and how? Lovely details, please!
He proposed. We had only been dating for three months (we were still 18 at the time). We had uni looming after a summer celebrating A-levels and had discussed how we were going to cope with the distance. After discussing that you either tended to break up before uni or last all of uni before eventually getting married, I had joked that we should get married – (I had moved into his house when we started 'officially dating').
Following on from that, one December day he had been particularly insistent that we went out for lunch at a restaurant I'd been meaning to try in Notting Hill. Unfortunately, as these things go, I woke up feeling completely awful, unable to get out of bed. So… he massaged me back to sleep and when I woke up, he'd been to all my favourite bakeries across London and got something from each of them. We sat eating and watching my favourite films… but still nothing.
That evening, when we were wrapping Christmas presents together listening to The Holly and The Ivy (carol) I got a bit teary and (not so gracefully) sobbed that I thought he might have been about to propose today. He got up on one knee, and started crying too.
He explained that he had had the ring in his pocket since 6am that morning but hadn't proposed because the day had gone so pear-shaped and it wasn't what I deserved. He then popped the question and I (of course) said yes. It turned out our parents had been in on it too (after Zac had asked for my father's permission), and so that evening they all joined in the festivities with a Hummingbird red velvet cake, lots of champagne and a huge takeaway of Indian street food.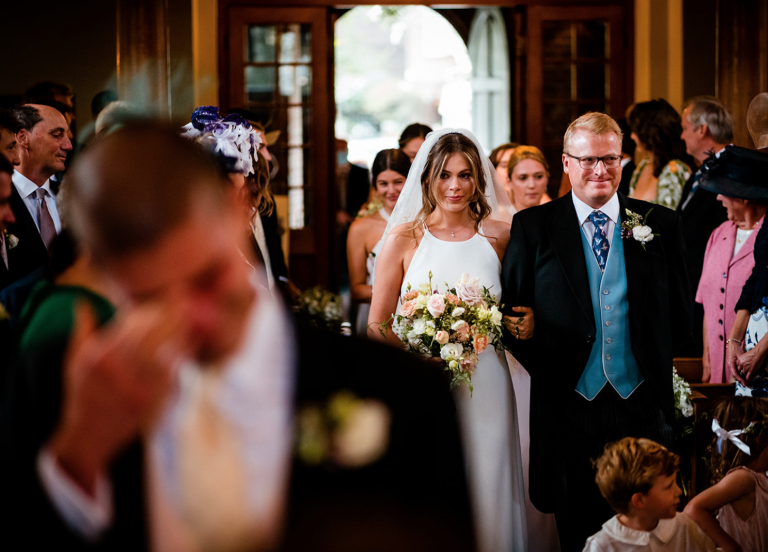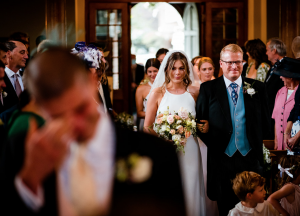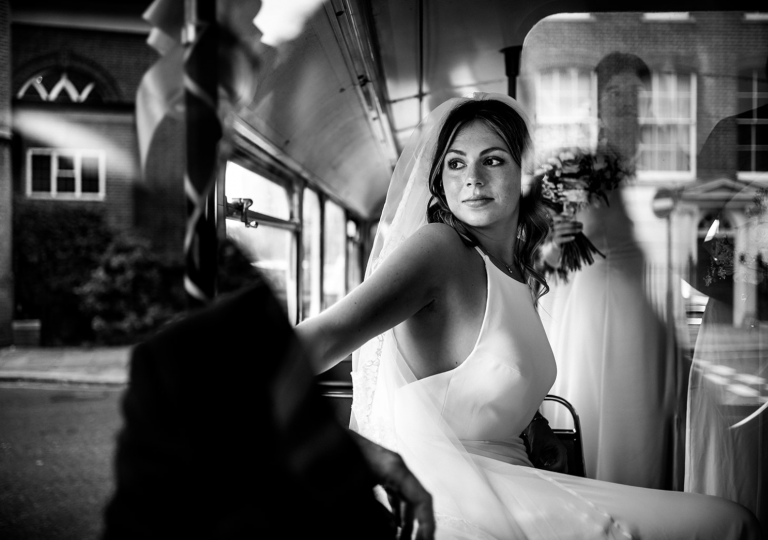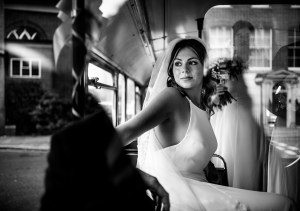 Did you have a theme for your wedding? How did it come about?
We were theme-less but had the colour scheme of sage green and dusty rose with the aesthetic 'rustic-clean' which I set much to my wedding planner's horror (it's the most arbitrary theme ever!)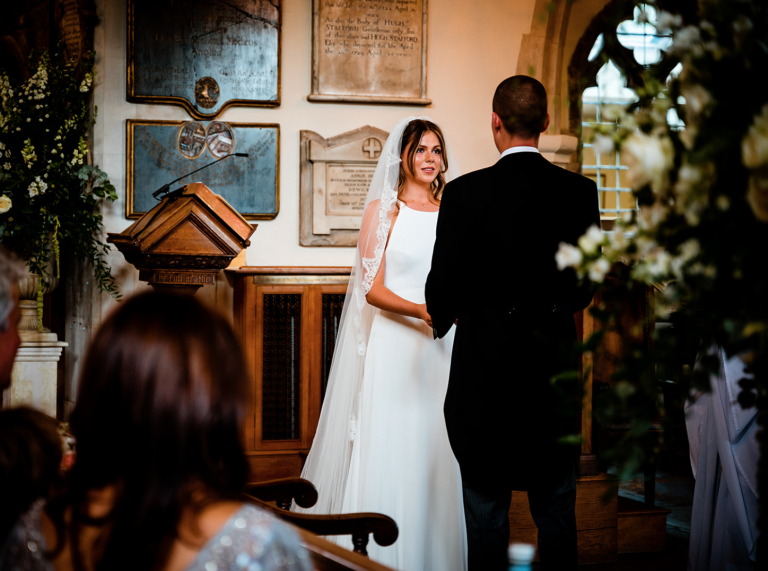 Location and how you found it?
Battersea Park Bowling Green. We wanted to be in the countryside, but with all of our friends freshly graduated with new jobs, demanding their time on a Monday afternoon in the middle of nowhere felt unfair.

Instead, Zac found the Battersea venue. It was perfect. Despite at first sight looking a little worse for wear, with a bit of scrubbing up and hard work from both Lucinda (wedding planner) and the Battersea events team, it turned out completely perfect. Our Country-away-from-the-country.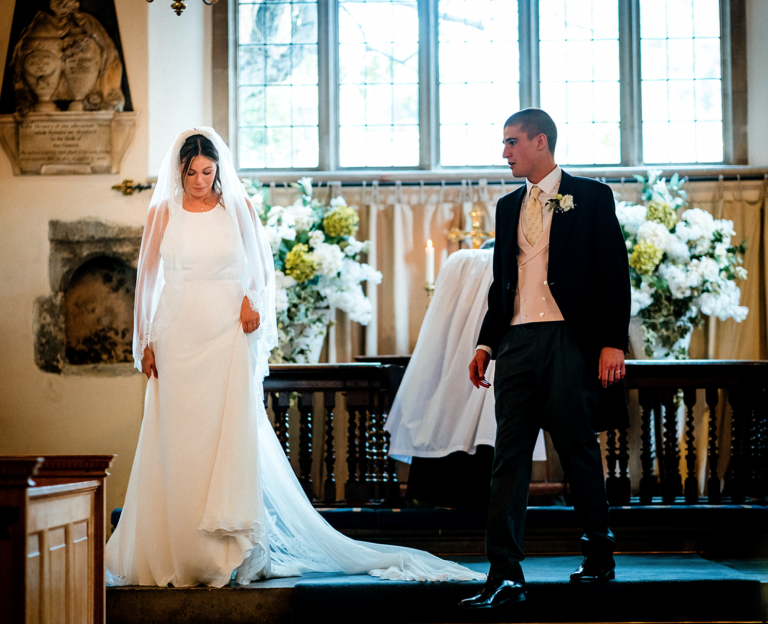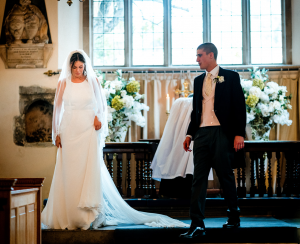 How did you find The Wedding Club? Tell us about that moment when you found and chose your dress – how did it make you feel when you put it on for the first time?
I actually bought my first Wedding Club Dress from the outlet during the first lockdown. I saw it on your Instagram and thought it was completely perfect. However, there was no way to try it on (it was in your Birmingham store and I was in London under national lockdown!). So, I went 'screw it' and bought it! The whole team were completely lovely and super helpful, and when it arrived I tried it on… and it was perfect! It felt too good to be true…
But… a bit like the whole of the last year… nothing went to plan! After having struggled with overly exercising throughout uni and lockdown, when normalcy returned, as did healthier eating habits. With that, returned a few cup sizes! When I went to try on my 'perfect' dress again … we quickly realised there was no way I could wear it inside a church with that level of cleavage on show! It's a stunning dress, and I still love it… but it just wasn't appropriate, so we resumed the search!
Having had such an amazing experience with the TWC outlet, I knew I had to use you guys again!
In our second lockdown, you bought me five dresses in a less than perfect setting – my parent's spare room, three of us in there (father, mother, me – and grandmother on zoom!) with a whole lot of tulle and terrible lighting.
It was the best of a bad situation and I ended up with two dresses. One was a huge satin number – everything I had expected – pockets, low cut, leg slit… completely fabulous (with a price to match). The second was far simpler (and cheaper!) – a high neck chiffon-y number I'd added in as a completely random option. It was so different to what I thought I wanted (backless was never my forte) that when I put it on and my mother promptly burst into tears, I couldn't quite believe it was the one. I was paralysed with indecision between the two styles.
The TWC girls went above and beyond here, running the dresses back to me at 10pm that night so I could have a final try on (after a full meal to check I could eat on the day!). They left the dresses with me overnight, and as I went to sleep that evening, all I could think was that whilst on social media and when I go out, I might be the 'big showy Saffie' who needs duchess satin, a huge train and everything out on display – my relationship with Zac was rather different.
I didn't want to be stood at that aisle swamping Zac in a display dress. I wanted to be seen how he sees me (in his own words) – classic, understated and timeless. More than that, the second simpler dress would mean I could do the things I loved on the wedding day – dancing with Zac, rushing up to family and moving about comfortably.
That's when I knew. Listening to our first dance song, I made the decision for the second dress. And I am so so pleased I did, Zac's look at the end of the aisle was worth 1000 words.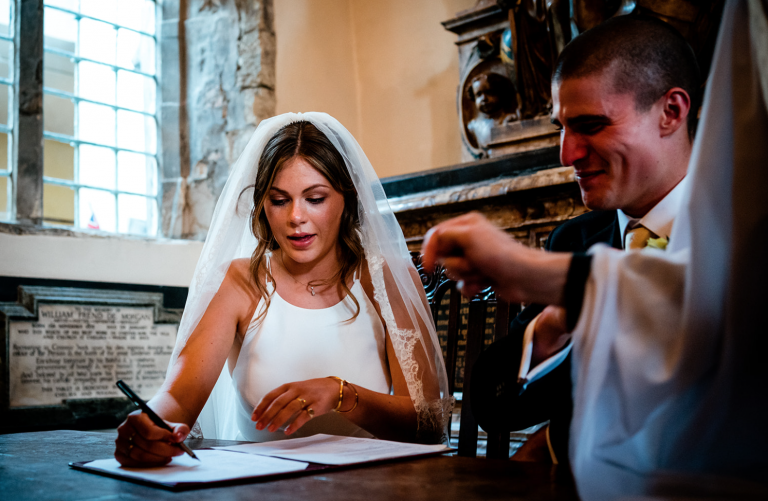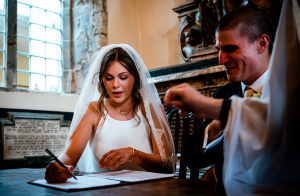 Which designer did you wear?
Savannah Miller with vintage Jimmy Choo's. My father had Steven Stone Marylebone custom make a diamond necklace to fit the neckline of the dress. For the reception, I changed into a Sister Jane dress that I found in their Oxford Street Sample Sale, I paired it with Dolce and Gabanna pearl-encrusted block heels.
Wild Fawn jewellery also custom made me a 'S & Z' ear chain from recycled gold. This matched the bridesmaids and usher's presents I'd commissioned (earrings or cufflinks in their initials made of recycled metals). The rest of my jewellery was Monica Vinader.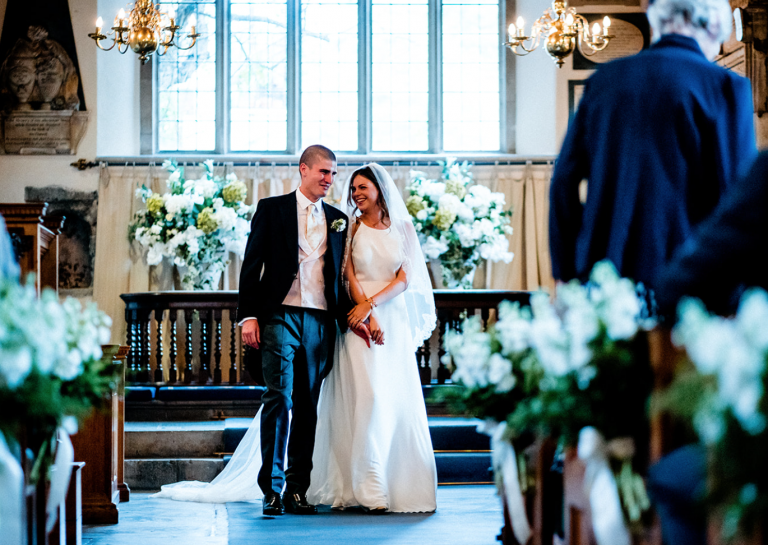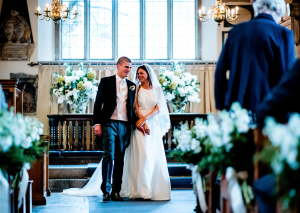 Where is the suit from? Why was it the perfect fit?
We actually tried to buy pre-loved or vintage for most of the big wedding outfits both to try and save money and the environmental impact of the day. We bought Zac's suit from Tweedmans Vintage and had it altered by Zac's tailor (Josh Byrne).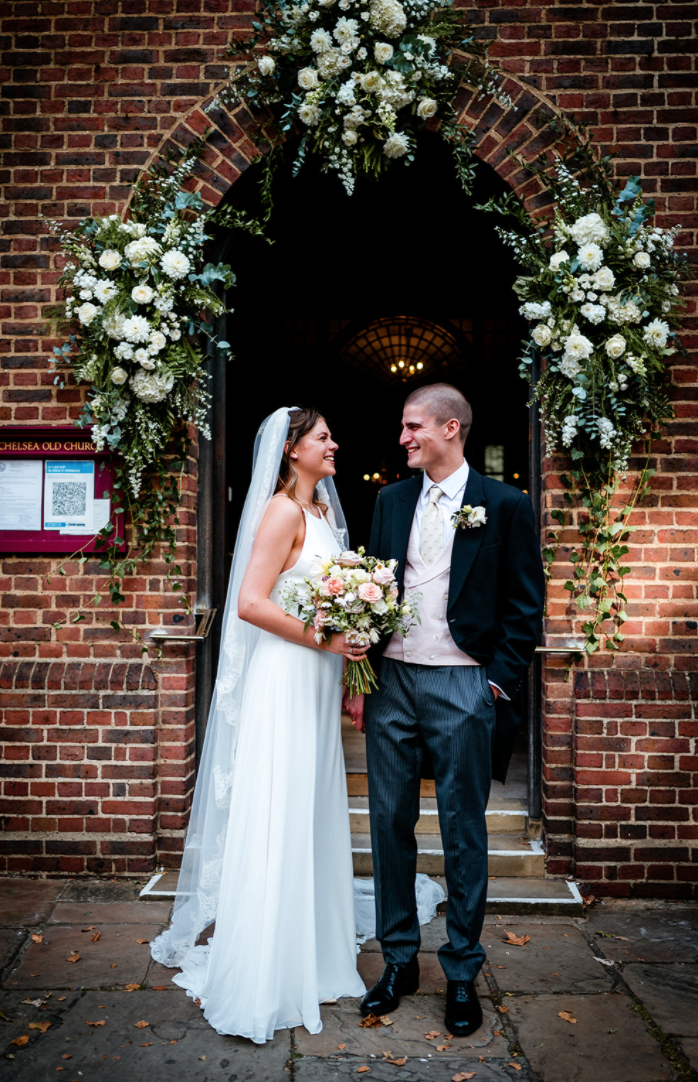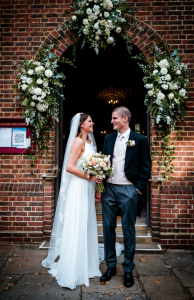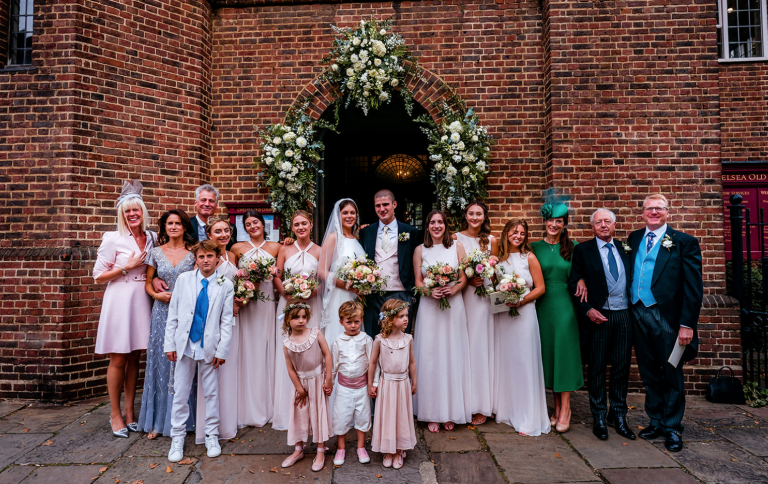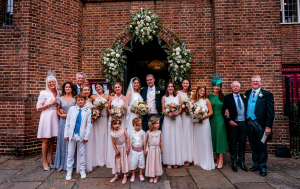 Did you have speeches? Who performed them?
We had the most amazing speeches. Zac's was so sentimental (his conclusion: What I'm trying to say is that Saffie is the most impressively complete and diverse human being I know. She is both West London and the West Country; Chanel number 5 and Ludo's number 2; hot-girl summers and homely winters. She is everything I could want from a partner and more, and from the first knot we tied to tying the knot, the last four years have been the best of my life. You have made me a happier and better person than I thought possible, and it is a joy and a privilege to call you my wife. So [raise glass]; to Saffie, my wife.)
Zac's best man also wrote an amazing speech. Finally, my father (who is deputy editor of the Daily Mail) predictably wrote a completely amazing speech, fifteen minutes all in verse. I'll attach part of the intro here as a snapshot:
(The father of the bride, you say?
That's quite an honour here today.
So please indulge a little ditty,
I'll try to keep it brief and witty.
Now fill your empty glass with booze,
As I declare the headline news.
[….]
Which takes us, in this little tale,
To your majestic Daily Mail.
And while you'dmake a great front page
With 'Wedding guests go on rampage',
There's only two stars of this story:
This couple here, in all their glory.
So let's rewind, a few years past,
To find out how the die was cast
That two sweethearts, while still just teens,
Should show what true love really means,
And put that wisdom to the test:
'Book early, to reserve the best'.)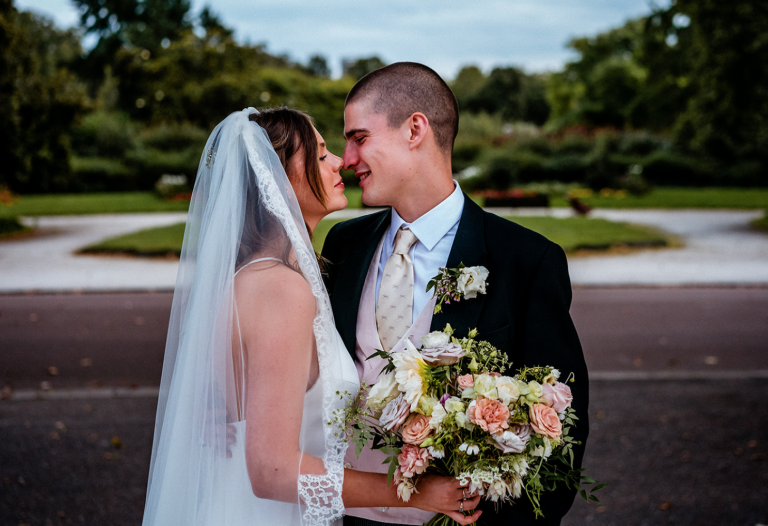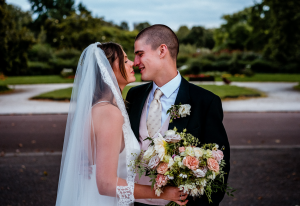 Did you have a first dance? What song did you choose and why? How was the performance?
We did a stand and sway to Piledriver Waltz by the Arctic Monkeys. When Zac saw it on my playlist after he'd played it to me when we first met, I think he finally realised that I liked him.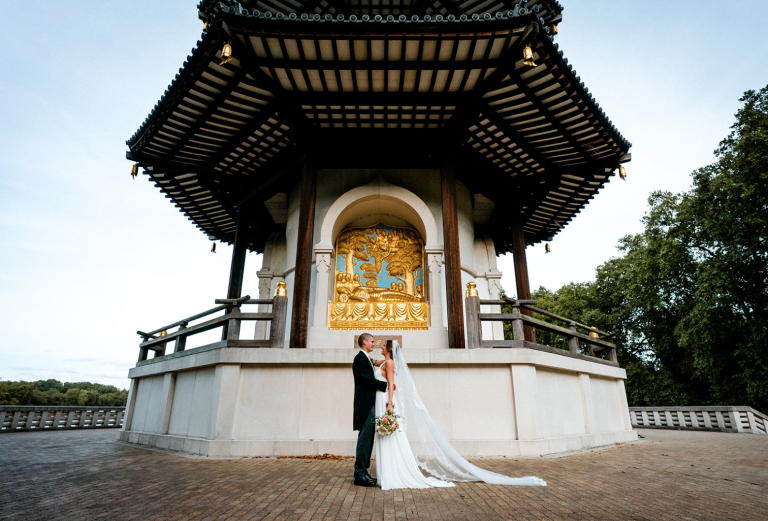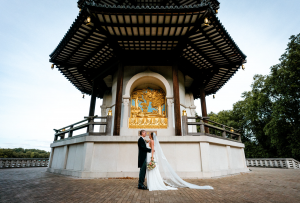 How was the party?
Completely amazing. There was a horrific amount of booze (the wine was brought over as a gift from Zac's family vineyard in France) and most of it got drunk, so you can imagine the atmosphere! People loved the Mezcal Bar too (with worm-powder chasers) as well as the live band.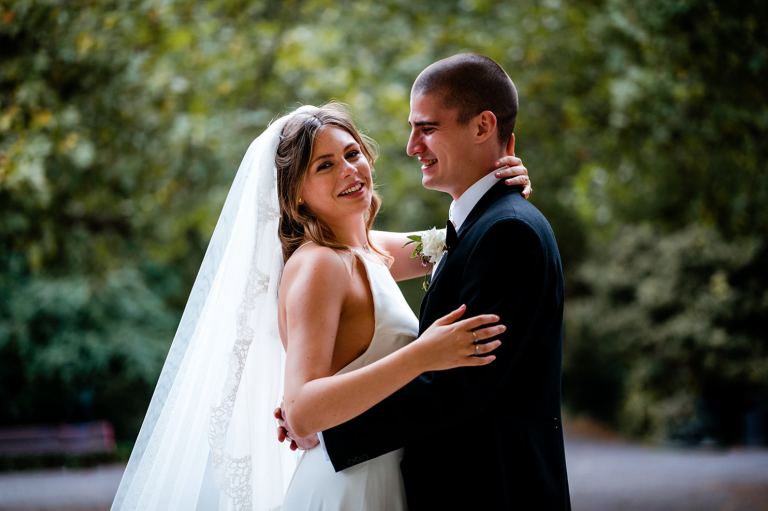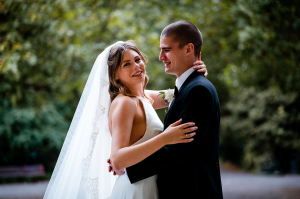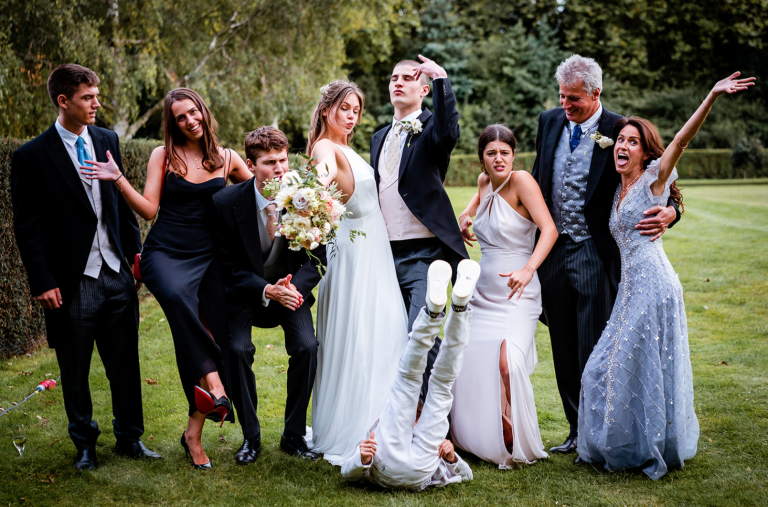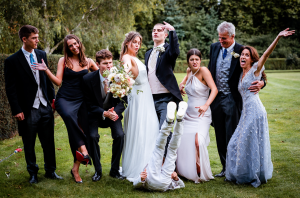 Advice:
Go with your gut. Zac and I didn't want a sit down meal and fought hard (mainly with our parents!) to keep it that way. In the end we had a seafood / sushi bar, hundreds of canapes, a cheese grazing table, a Ben's Cookie wall and a pizza van later on. It was perfect – and so much better than a piece of tepid salmon in a 3 hour sit down meal that only half gets eaten!
Our Caterer and general star, Sarah Symington came into her own here – creating lobster roll canapes, truffle fries and so many more fun and random inventions to suit my adamant denial of sit down food.
Also – all the advice we'd get on repeat was to take some time just the two of you at some point in the day. Sage advice I'm sure, but honestly – we have the rest of our lives together and we were having too much fun with all our family and friends to oblige!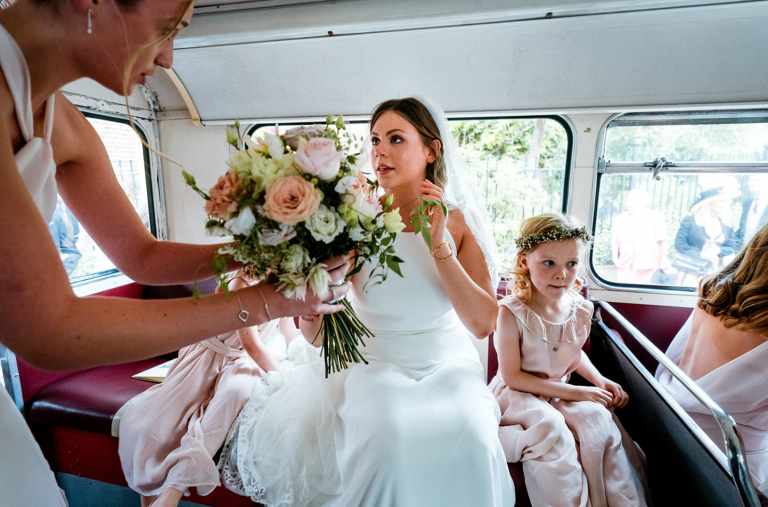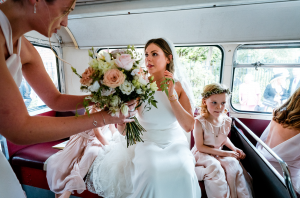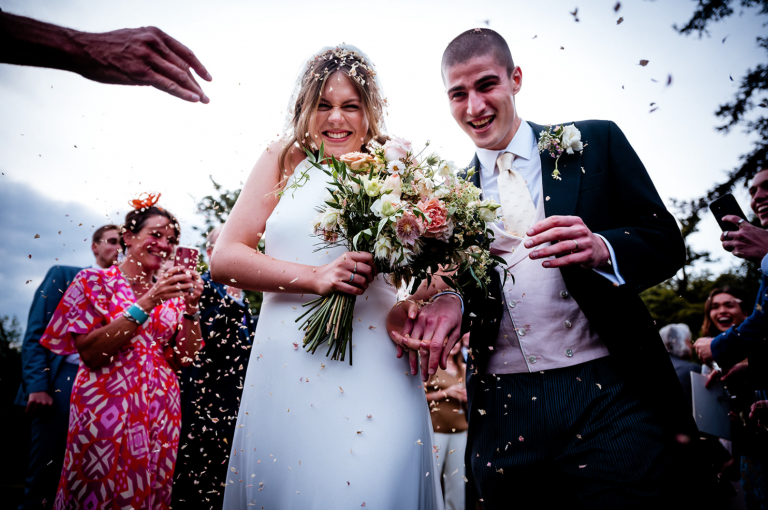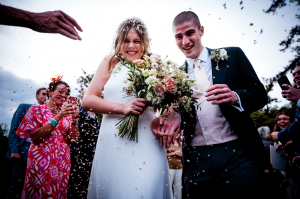 Moment you'll never forget:
My Father had custom made 'front page' billboards about Zac and I that were revealed when we left. They were amazing. Also, my bridesmaid Ellie sang a solo in the church in front of 160 people… I could never! Oh – and our friends had decorated the golf buggy for our departure and it looked completely amazing!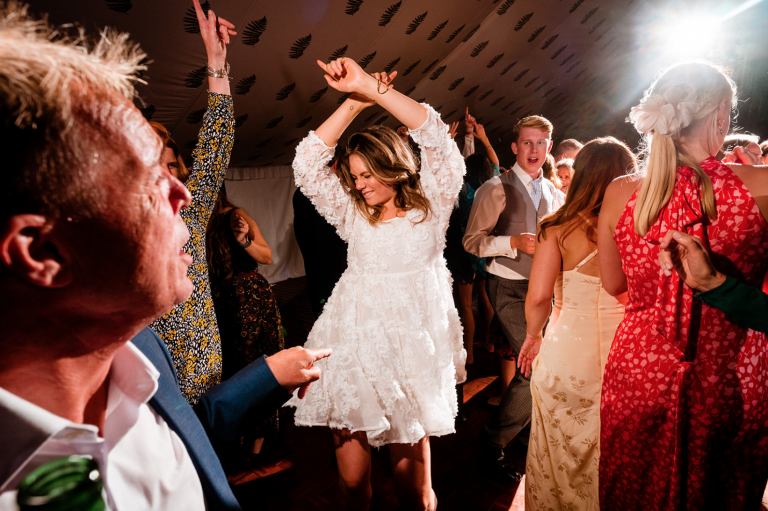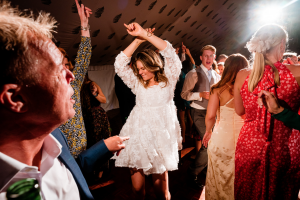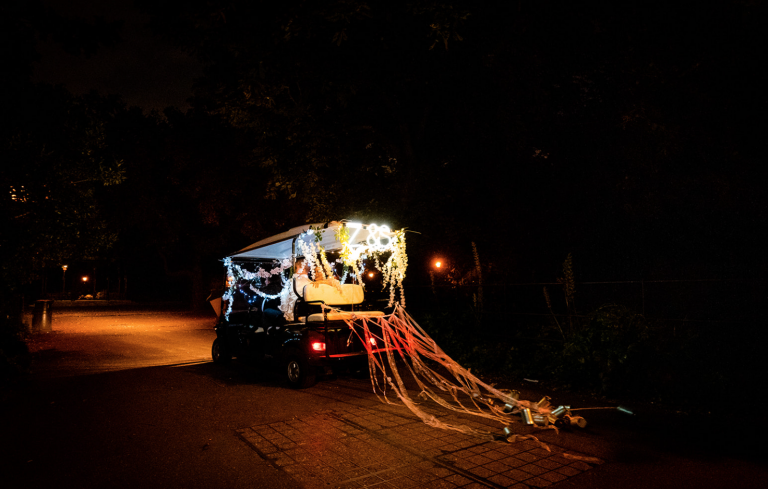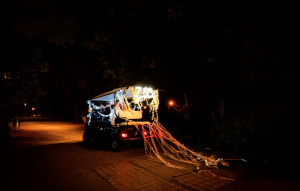 ❤️
Dress – Savannah Miller available at The Wedding Club South Kensington
Jewellery – Wild Fawn, Steven Stone, Monica Vinader, A Metal Story
Suit – Tweedmans Vintage
Planner – Lucinda Baldwin at Orange Events
Venue – Battersea (Enable Leisure and Culture)
Photography & Videography – Paul Rogers & Tom Bennett
Flowers – Sarah Phillips & Blaise Drummond
Catering & Cake – >Sarah Symington & The Fine Cheese Co.
Soft Drinks – Dash Water (Gifted)
Band – Funky City