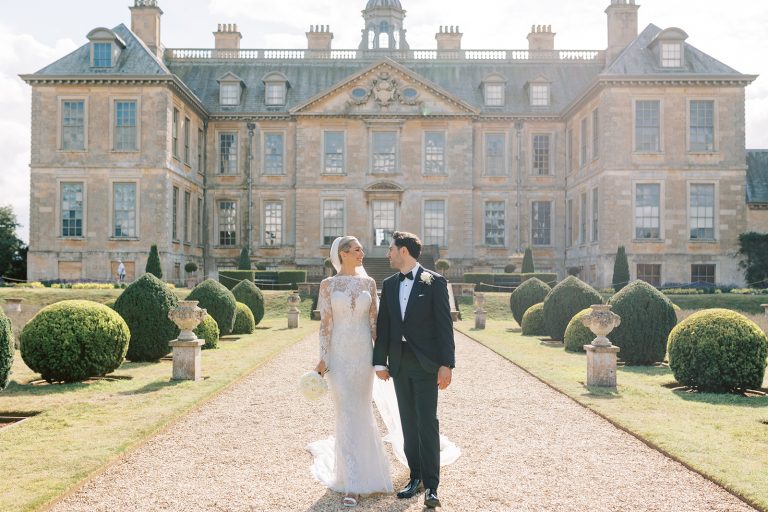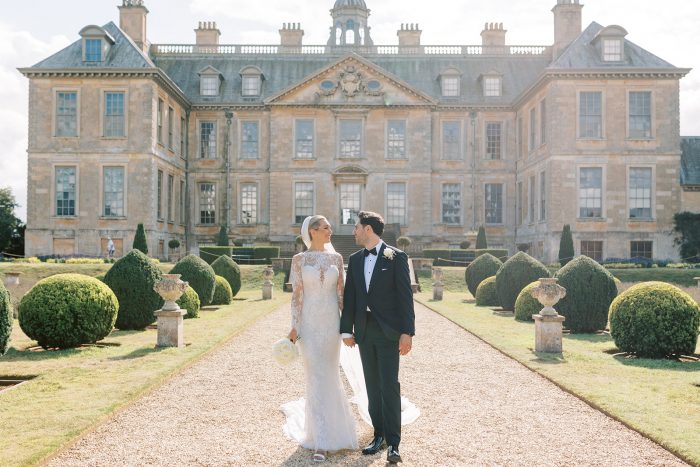 Intimate, Luxurious Lincolnshire Wedding In Atelier Pronovias Gown
❤️ The TWC Effect – Our brides, their way ❤️
Today we are joining Sophie and Josh to hear all about their intimate wedding day… This duo enjoyed a beautiful, love filled day together with their very nearest and dearest around them – it sounds absolutely dreamy!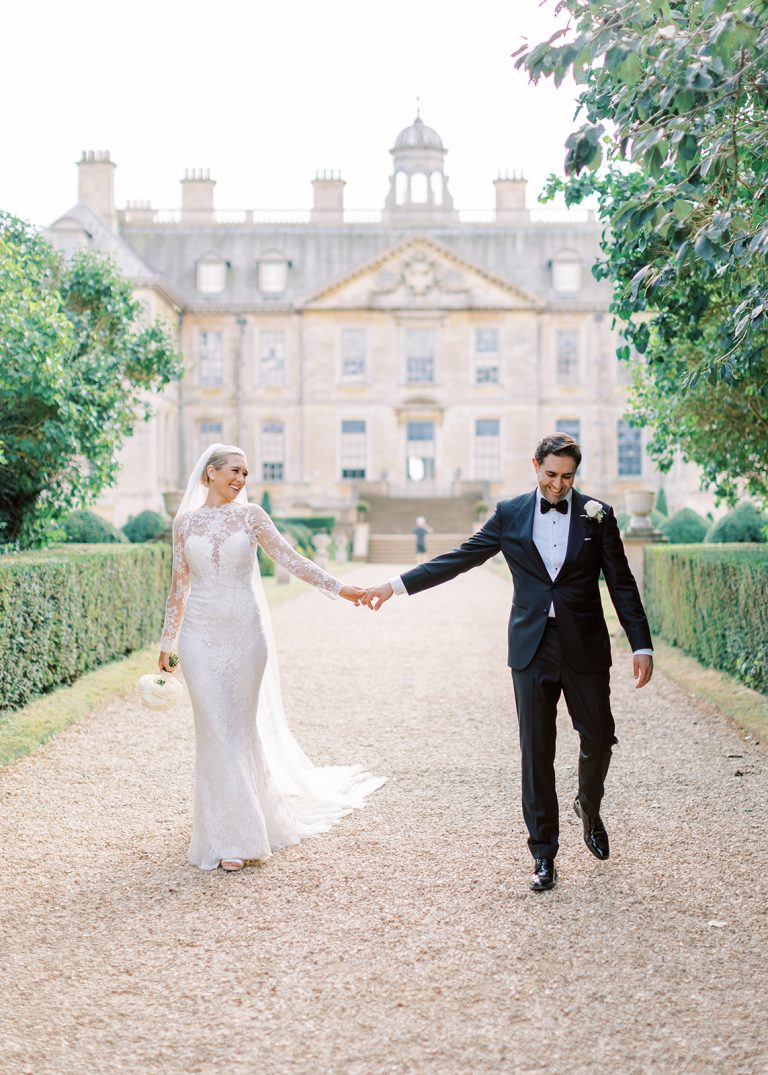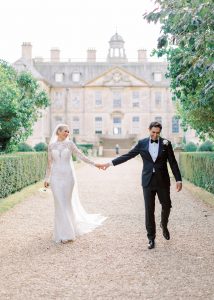 How did you meet?
On the lead up to returning home following university, my best friend Annie had told me about a handsome new resident that also happened to be the new manager of our favourite restaurant! Shortly following my return home, I went out for dinner and there he was!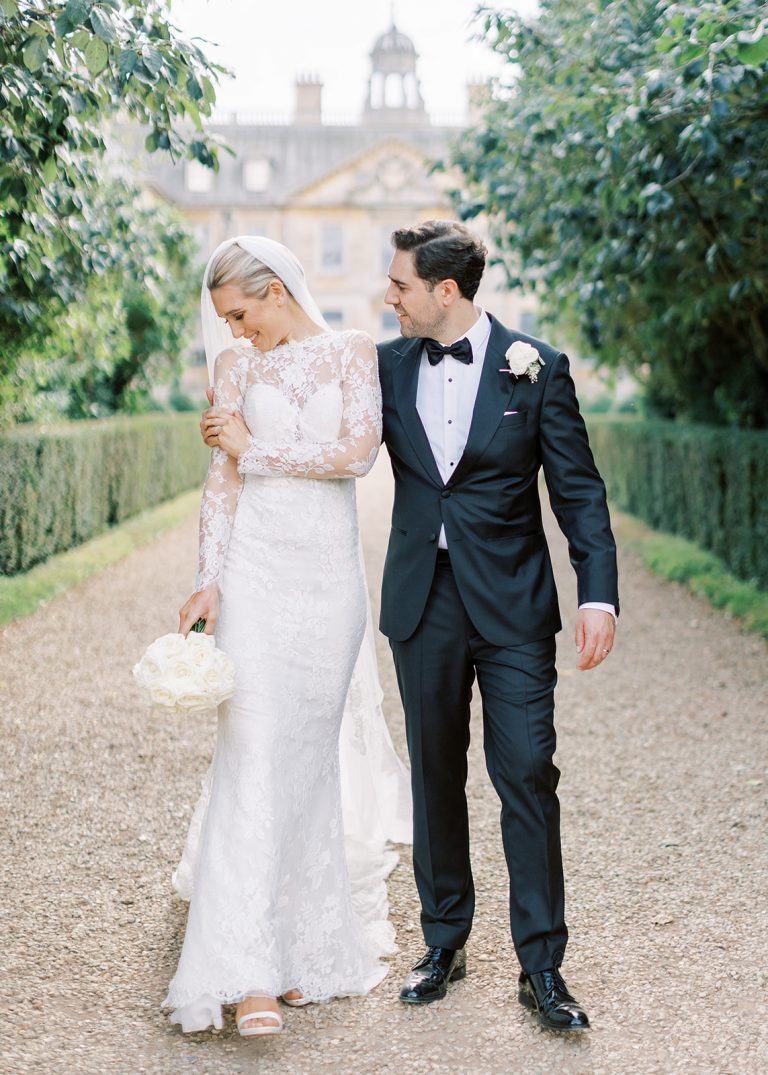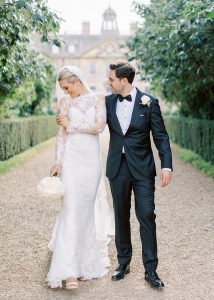 Was it love at first sight?
There was definitely an instant connection that I had never experienced previously, however I'm not quite sure that I believe in love at first sight. Sorry to disappoint! I think it's a lovely thought, but love is such a deep emotion and feeling. Personally, I feel you need to learn about a person – their hopes, dreams, passions and obsessions (good and bad!), before you can truly fall in love with them.
After 14 years together, I can honestly say that I am still learning new things about my husband, and still falling deeply in love.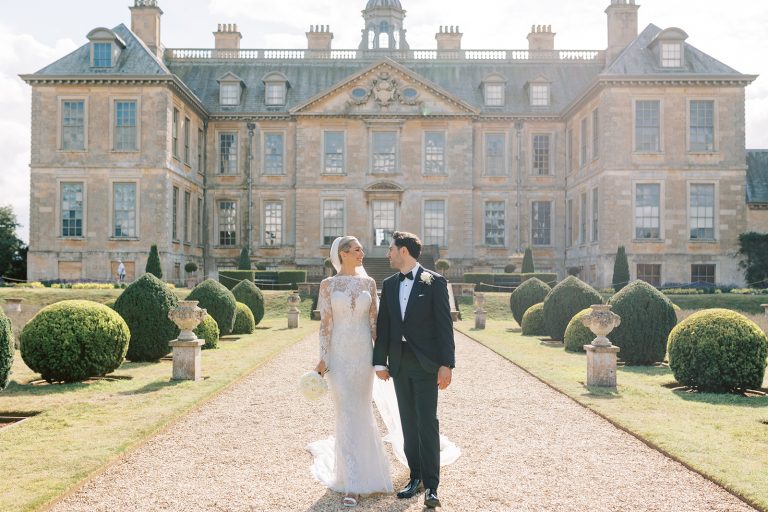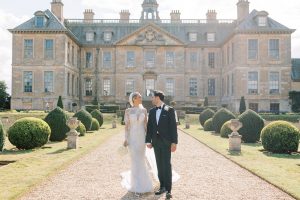 Who proposed and how? Lovely details, please!
Josh proposed on my 21st birthday in Florida. We were in our hotel and received a call at 4am, Josh answered and after a minute or two he hung up and seemed a little stressed.
What I didn't know was that he had organised a hot air balloon ride at sunrise followed by a champagne breakfast and the call was to say that they had to cancel due to a tornado in the area! I wondered why he was so preoccupied on the morning of my birthday, little did I know that he was trying to organise a whole new surprise.
After a day of celebrating my birthday, we went back to the hotel and fell asleep. We woke up late and it was a mad dash to dinner! We took our seats at the table and were told that the fireworks would be starting outside shortly – I had told Josh when we first met that the fireworks display here was my absolute favourite.
Josh led me to a private area under a palm tree and we sat there and gazed at the fireworks. Suddenly, Josh was on one knee and the next few minutes were a blur – a blur of happiness!
Florida is a very special place to us and we are actually here while I write this, not too far from where Josh proposed all those years ago!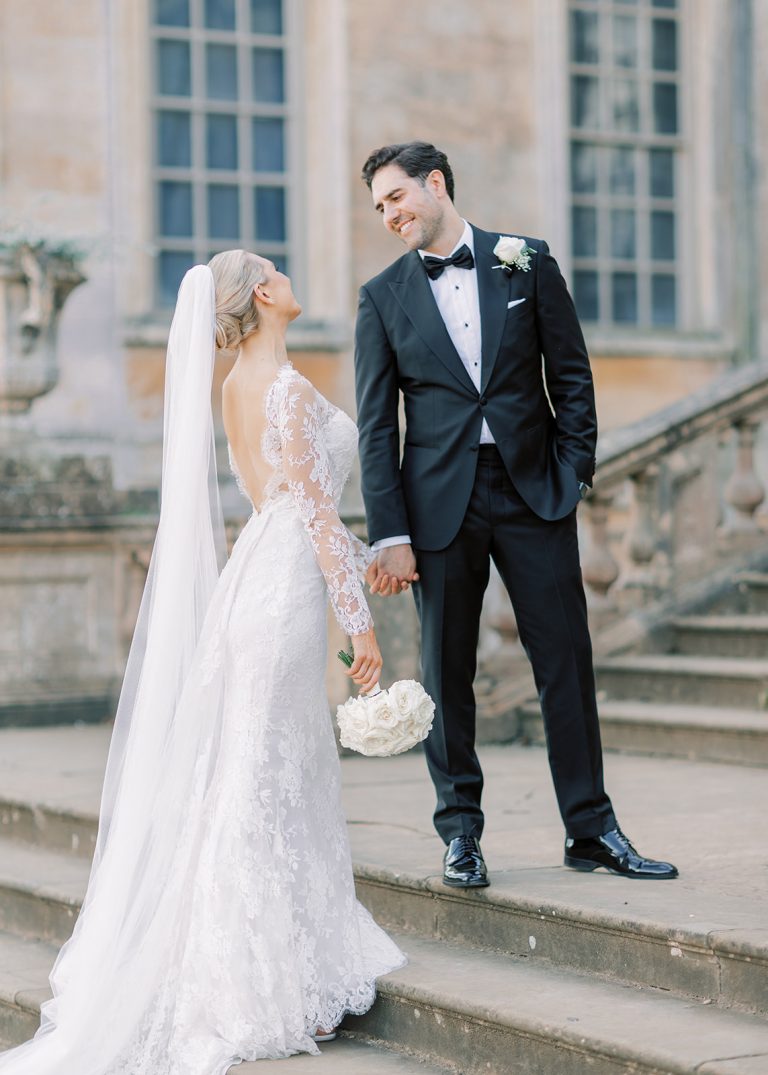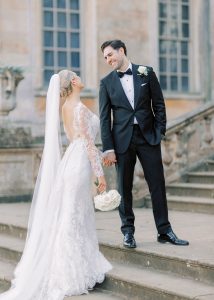 Did you have a theme for your wedding? How did it come about?
Intimate, yet luxurious! Even before the pandemic, we had always wanted a wedding with all people that mean the world to us. For some that may mean 200, 400 or 500 but for us that meant family and very close friends.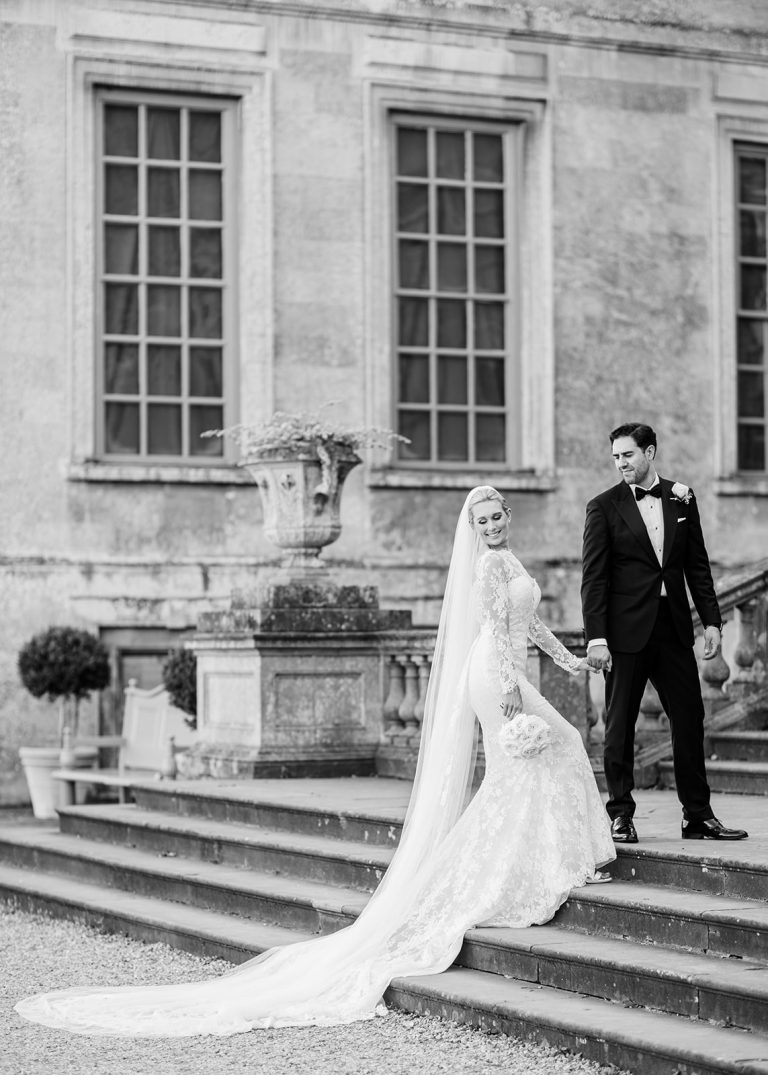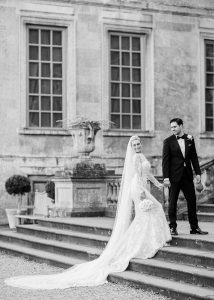 Location and how you found it?
We are both very indecisive, which is not a useful trait when organising, or trying to organise a wedding. What we came to realise is that we just wanted to be married and all the aspects of a wedding were just a 'nice to have' and a bonus of finding the person you are meant to spend your life with.
We had booked our local church just before the pandemic for a wedding over the August bank holiday in 2020, and then, like so many other couples, had to reschedule twice. By early 2021, we got to the point where we just really wanted to ensure that it would be third time lucky.
Following our wedding ceremony, we had photos at Belton House, which is a beautiful National Trust house in the town where we live. This was followed by dinner and champagne at a wonderful home in the countryside that we rented for the weekend.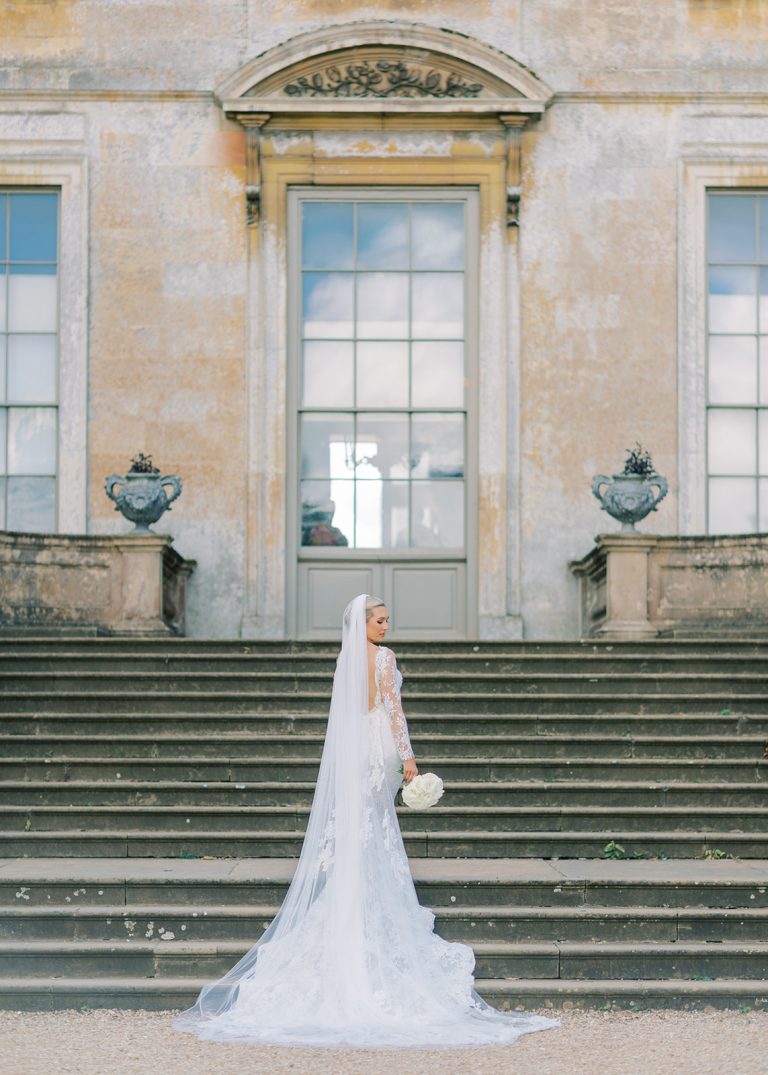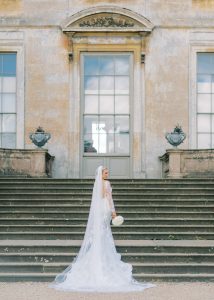 How did you find The Wedding Club? Tell us about that moment when you found and chose your dress – how did it make you feel when you put it on for the first time?
In the beginning, I was actually quite overwhelmed with where to even start! The Wedding Club was highly recommended by quite a few people, and I am so, so pleased that I made the decision to organise an appointment! It was just prior to the pandemic, before everything closed down, so it was lovely to have the opportunity to go into the store and try on an array of exquisite dresses!
I'm sure every bride feels the same about their dress, but it is honestly such a special dress that I will treasure forever. Even though it was not at all what I had envisioned, with the delicate lace, high neckline and beautiful cathedral length train, I knew it was 'The One'.
I mentioned earlier that I'm irritatingly indecisive, so obviously had to go home and think about it overnight!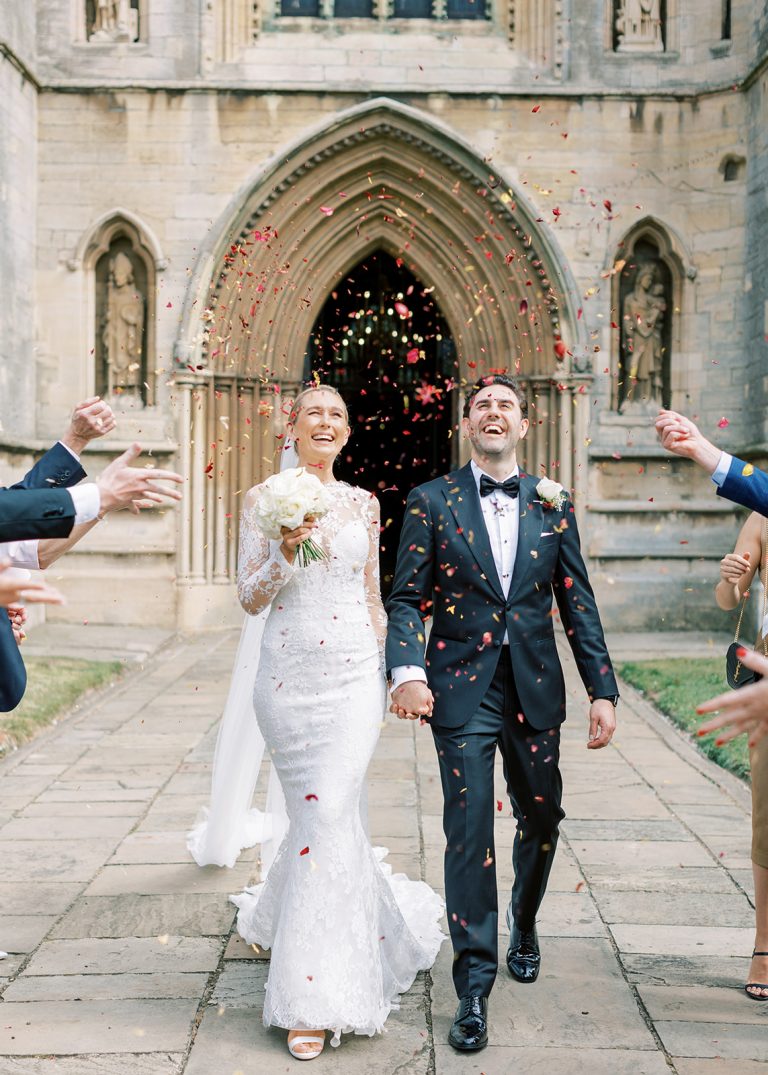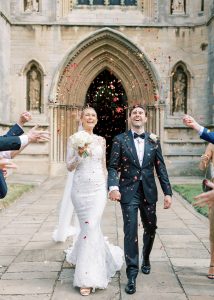 Which designer did you wear?
Atelier Pronovias.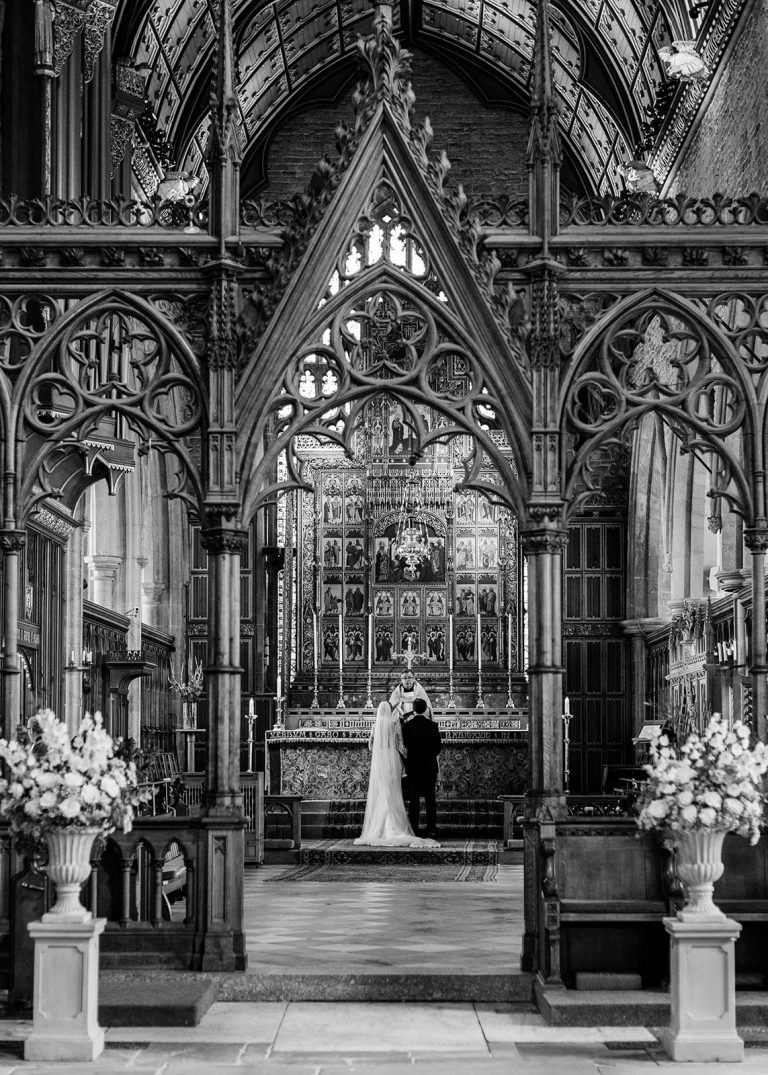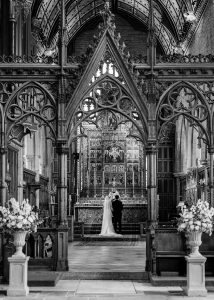 Where is the suit from? Why was it the perfect fit?
We went with Hugo Boss, it had to be a classic tuxedo to go with my dress.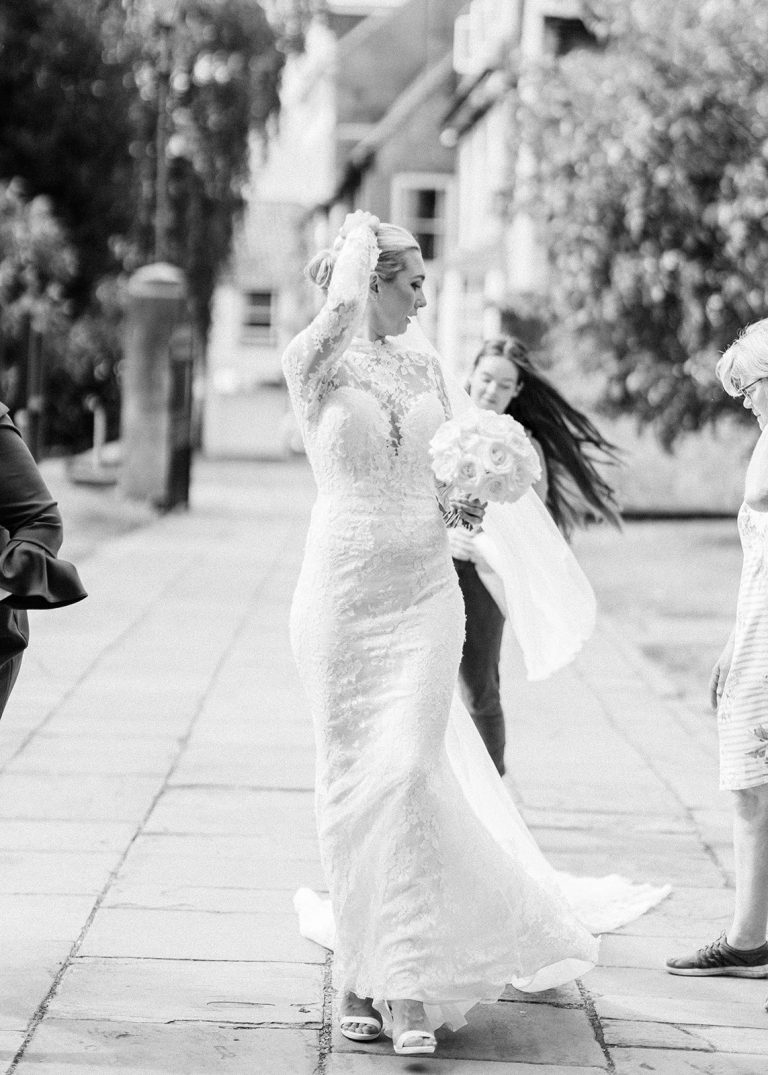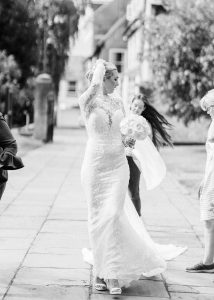 Did you have speeches? Who performed them?
With all of the uncertainty due to the pandemic, we just hoped that everyone we had invited could attend! I knew that Josh would make a speech, but as it was such an intimate guest list, we told my Grandpa (who walked me down the aisle) and Josh's best man, that speeches weren't necessary.
As we sat down for dinner, Josh made his speech which was followed by impromptu speeches from guests around the table. They were the most heartfelt speeches that I will treasure forever.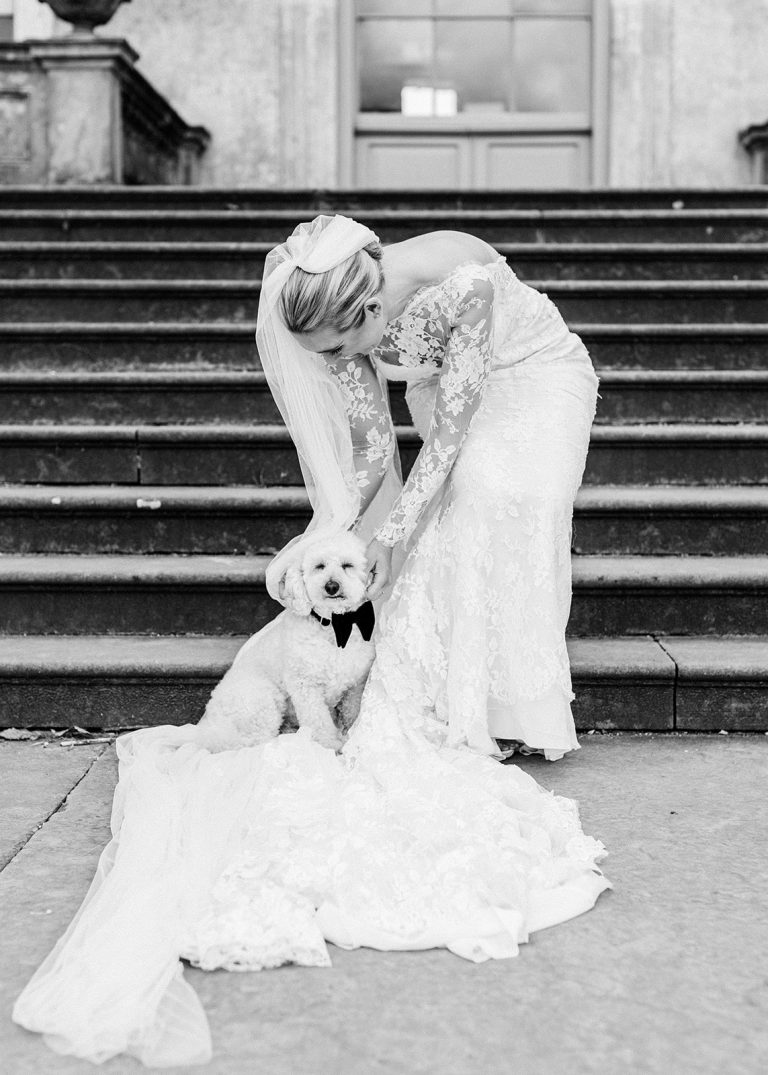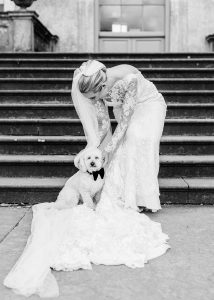 Did you have a first dance? What song did you choose and why? How was the performance?
We didn't have an official first dance, however we had a garden party the following day and after the sun had set and all of the hundreds of lights in the trees came on, we had an impromptu first dance surrounded by all of our loved ones, dancing with sparklers!
In the early days of our relationship (please bear in mind that we were 20 & 21), we said that this would be our first dance song if we were to get married. It was K-Ci & JoJo, All My Life!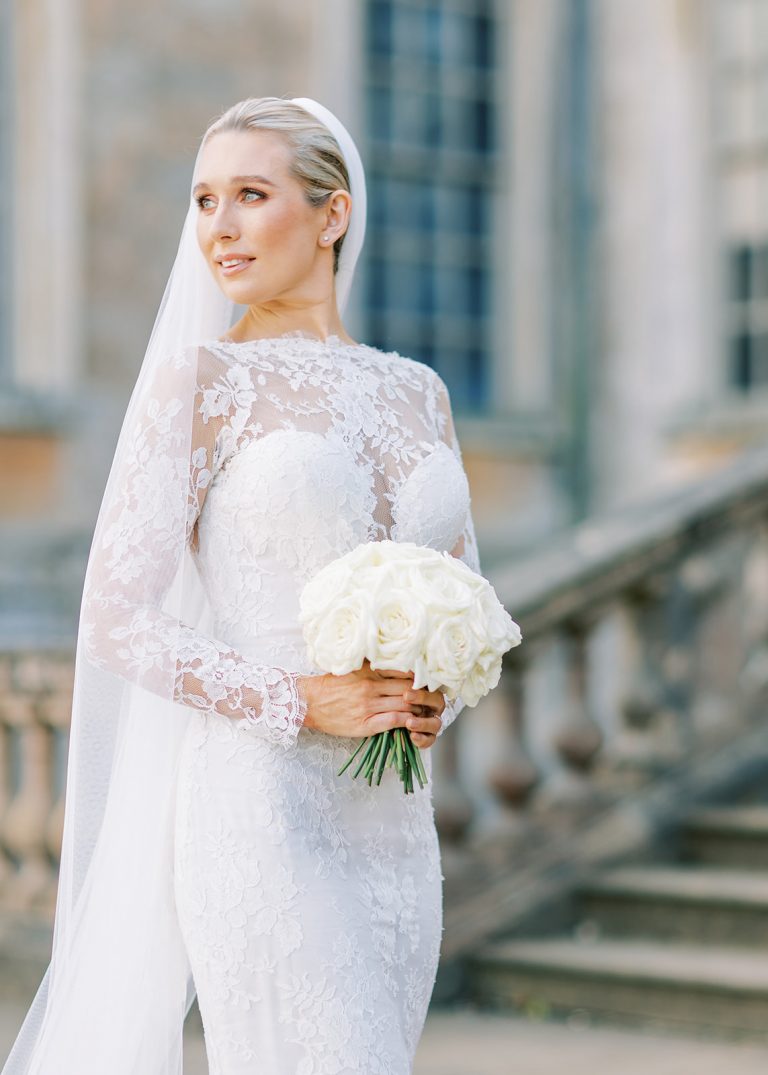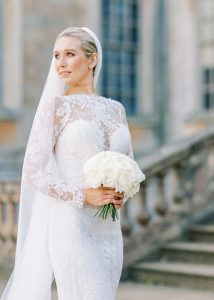 How was the party?
We organised a party for the day after we got married and after spending so much time organising every last detail, it was such a joy to have the day with everyone and see our vision come to life!
I think having a wedding during a pandemic makes you cherish the simple things like being with family and loved ones that you haven't seen for so long. Finally having the chance to make more special memories together after what has felt to everyone, the whole world, like an eternity, couldn't have been more special.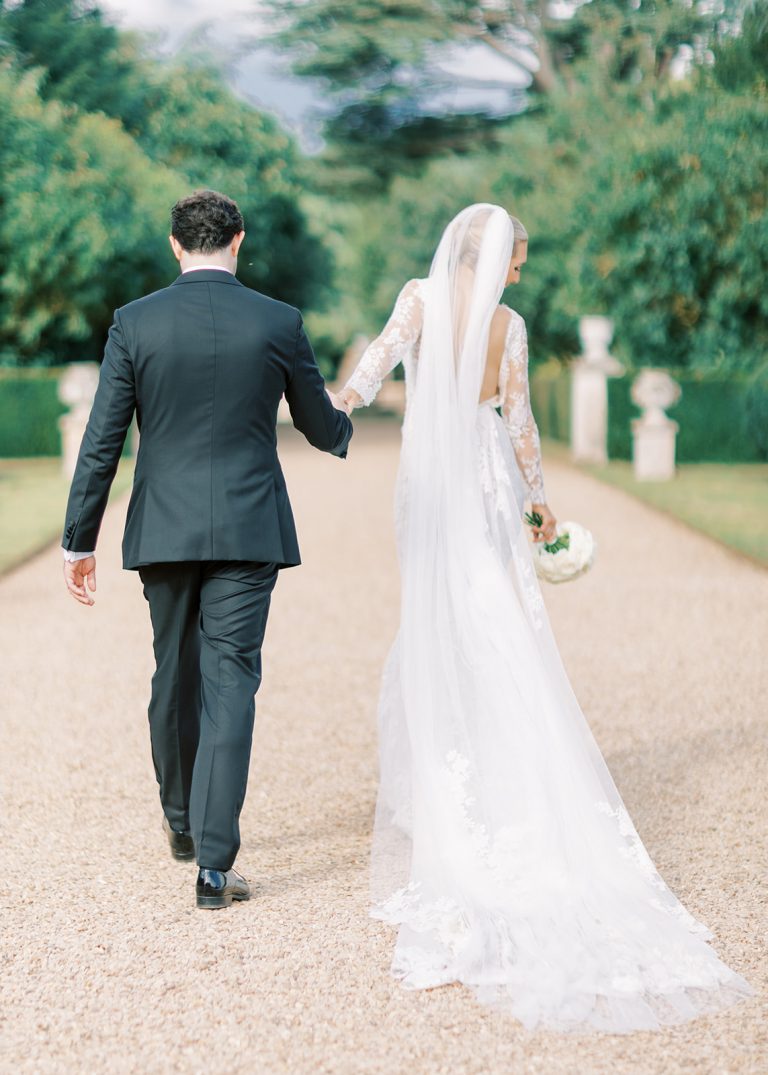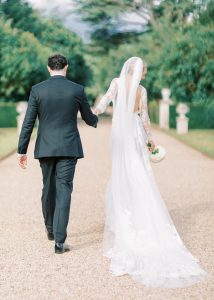 Wedding planning advice for brides to be?
Brides of 2020 and 2021 have proven that you can successfully plan a wedding during a pandemic and whilst plans may have to have been altered many times, I can personally say that I wouldn't change how our wedding finally came together.
What I hope other brides to be can take from this, is that even if you aren't able to have your first choice of venue or the flowers you dreamt of won't be in season, it may feel like a set back and, yes, you may be disappointed, but your day will arrive and all of those stresses will be forgotten. You will be surrounded by your family, your friends and your love, making memories that you will frequently recall and wish you could relive!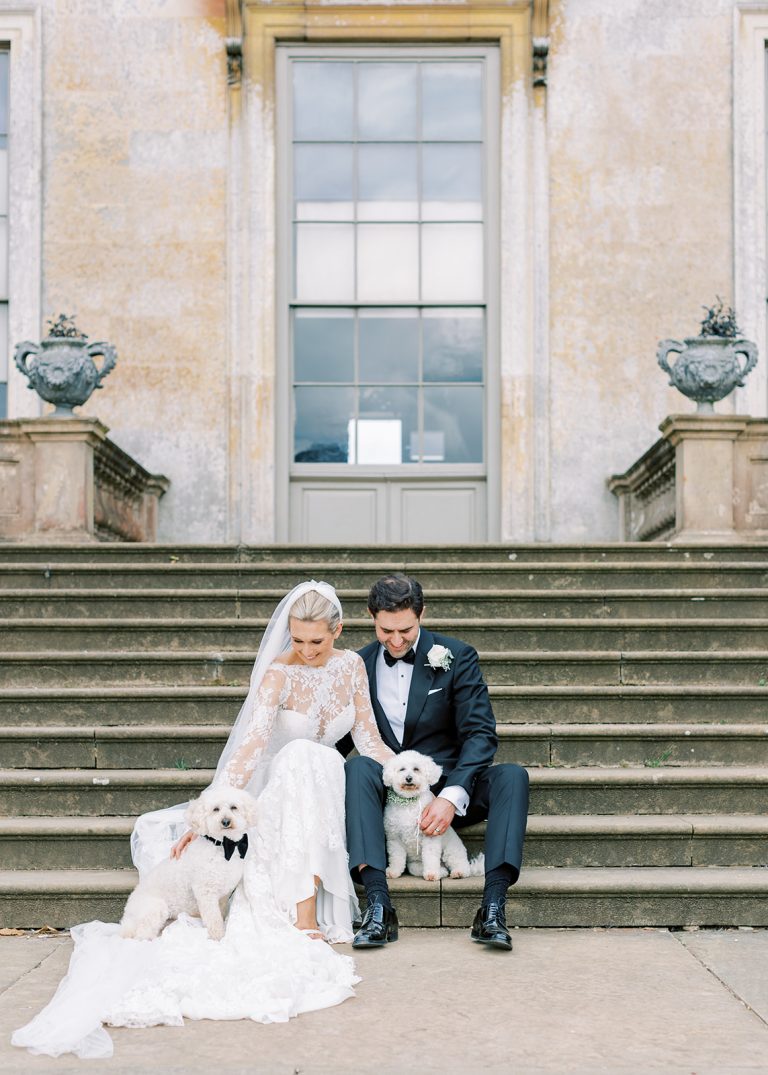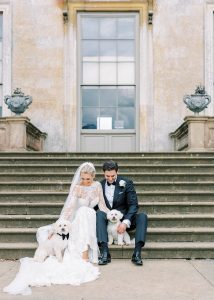 One moment you'll never forget:
There is a photo from the party of me surrounded by our guests whilst I ate a slice of wedding cake and danced with a sparkler. It was one of my favourite moments of the whole weekend, I'm so glad someone was able to photograph it!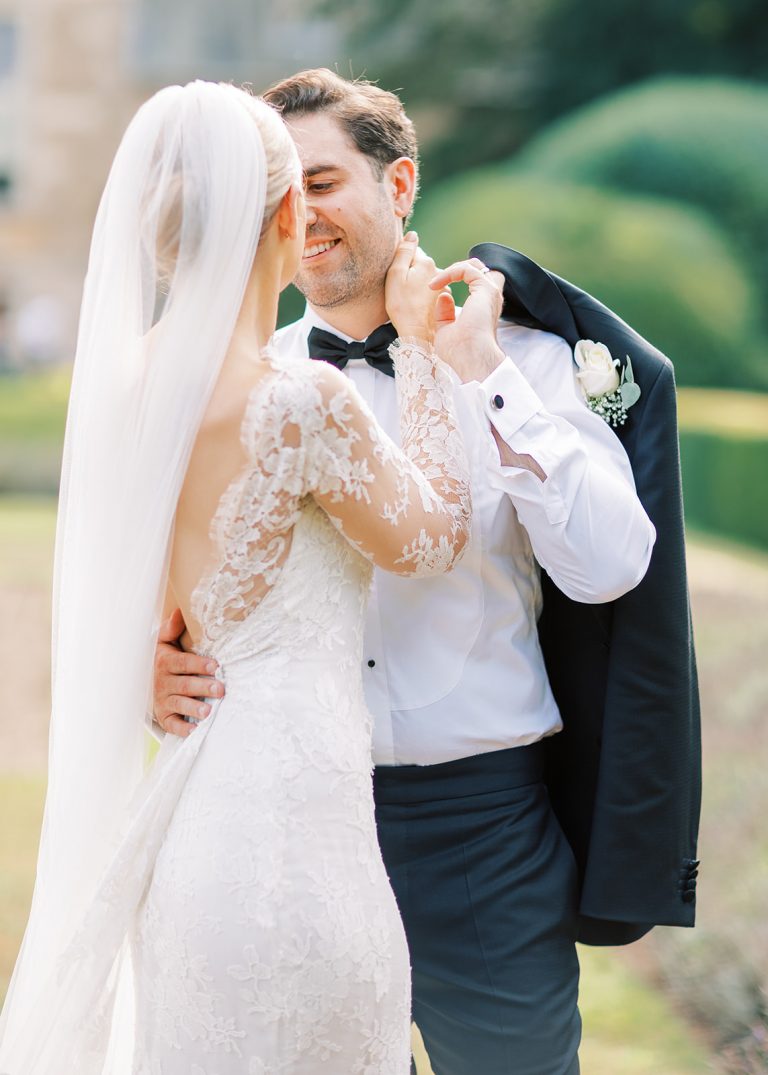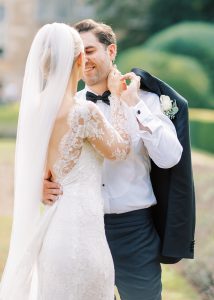 ❤️
Dress – Atelier Pronovias available at The Wedding Club South Kensington & Birmingham
Shoes – Christian Louboutin
Suit – Hugo Boss
Venues – St Wulfram's Church, Belton House & Hilltop Barn
Photography – Sophie May Photo
Cake – Holly's Garden Kitchen