Elegant & Intimate Olivella Wedding In Atelier Pronovias Gown
❤️ The TWC Effect – Our brides, their way ❤️
Today we are off to Spain to join Julia and Anthony at their intimate, jazzy wedding! Julia's dad takes credit for matching the perfect pair who themed their big day around their Scottish and French roots…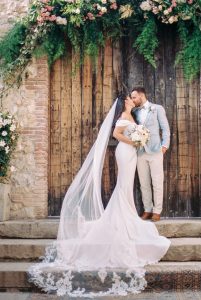 How did you meet?
Anthony and I met in my hometown of Edinburgh in 2012, where he had just moved from Switzerland to play football for a Scottish team (where my dad was essentially his boss)! Our first meeting was at a lovely dinner with a group of mutual family friends, where we clicked immediately. Though my dad loves to joke that he match-made us, he was initially most unhappy that I was "distracting his player" from focusing on football!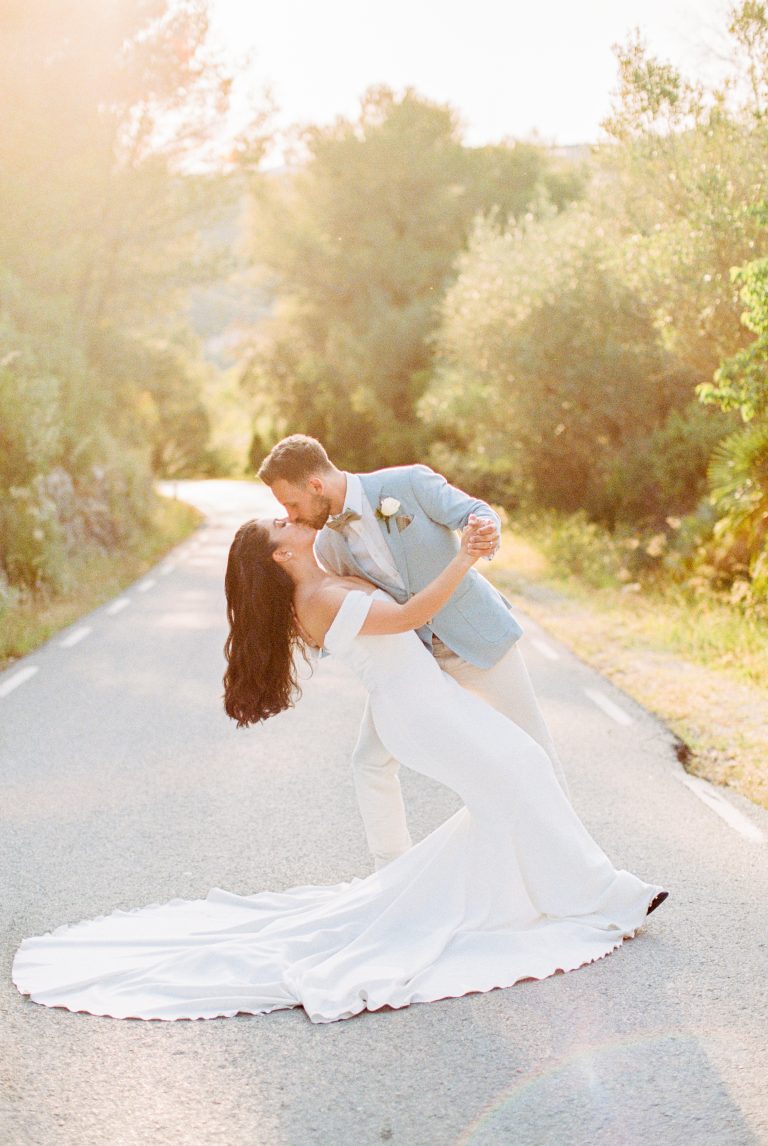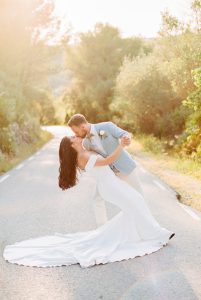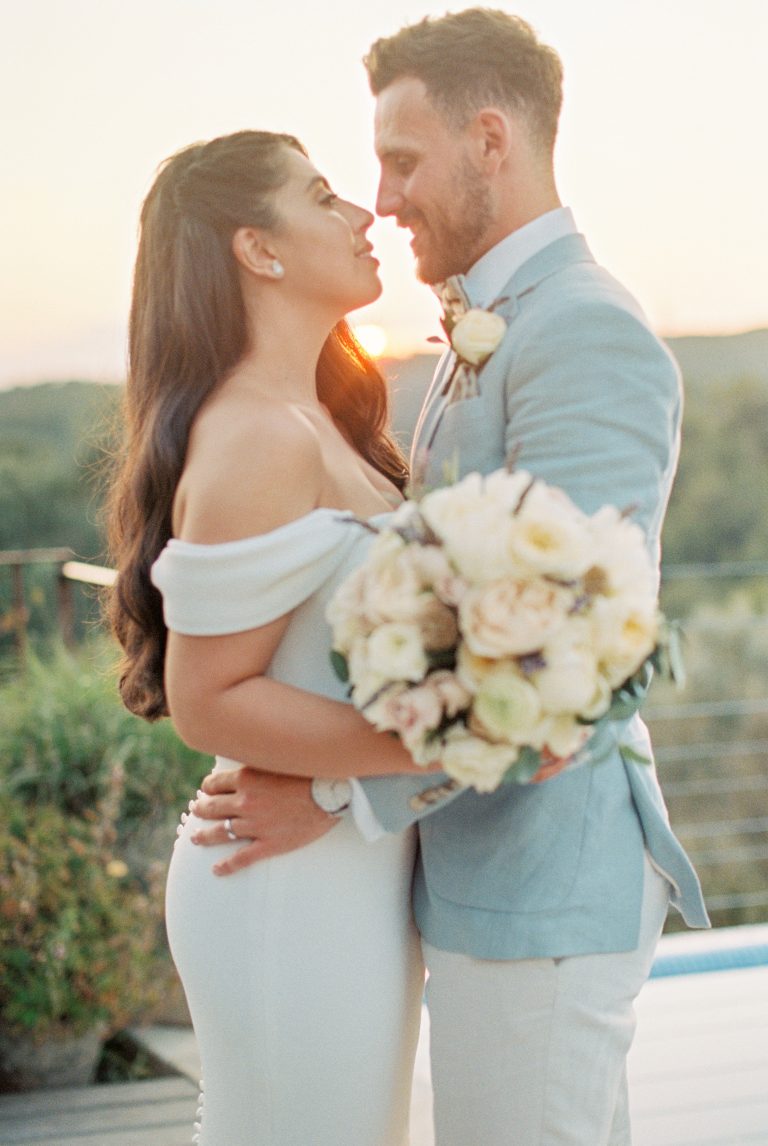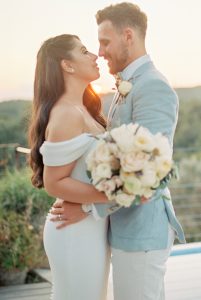 Was it love at first sight?
I think it really was! Our connection was immediate, we just got on so well (and still do)!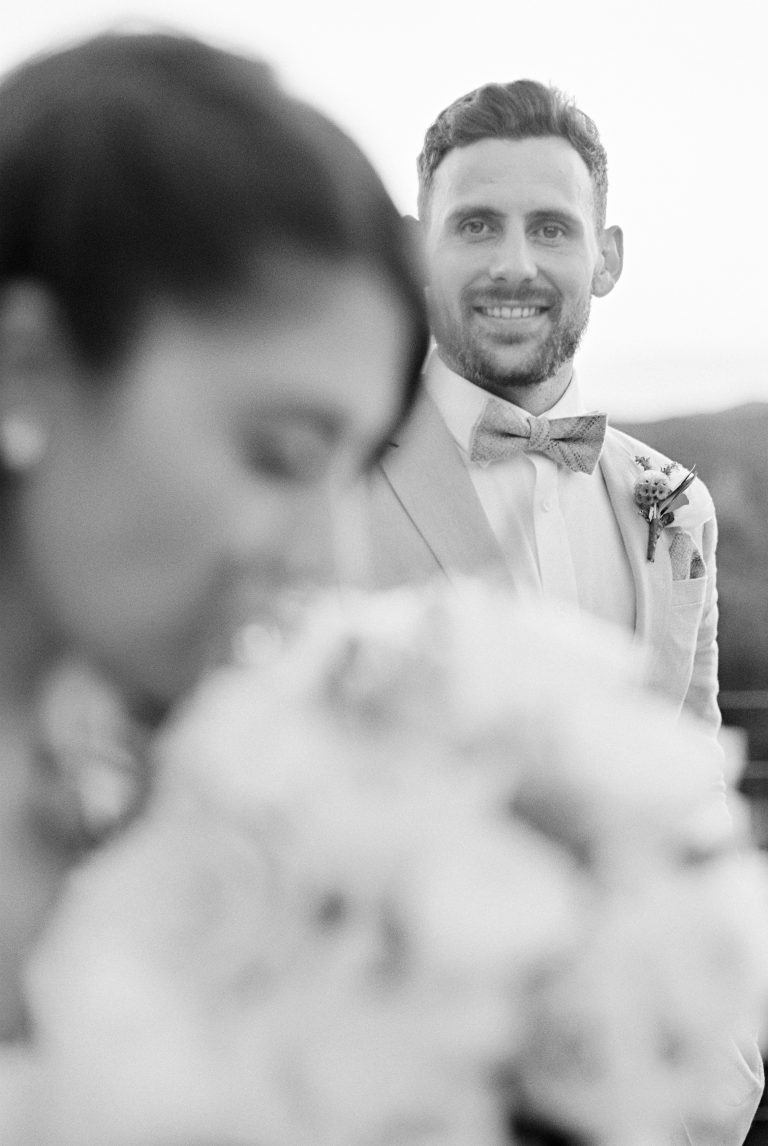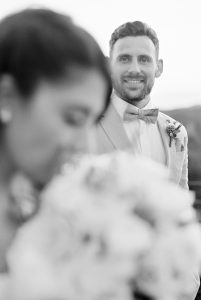 Who proposed and how? Lovely details, please!
Anthony asked me to marry him the night before my birthday, after a very special weekend of surprises in London, staying at The Ned – my favourite hotel, which feels like stepping back in time to the roaring 20s.
First he took me to see an amazing play (he didn't tell me what was happening until we arrived in front of the theatre in the West End), then for an incredible dinner with panoramic views over London at night. When we got back to our hotel, he had arranged for there to be rose petals scattered everywhere and champagne, and had left a small sign that read "will you marry me" on the table.
I walked into the room in front of him, saw it, turned around and there he was on one knee behind me, with meaningful words to ask me the question and a beautiful ring. Of course I said yes (amid many tears)!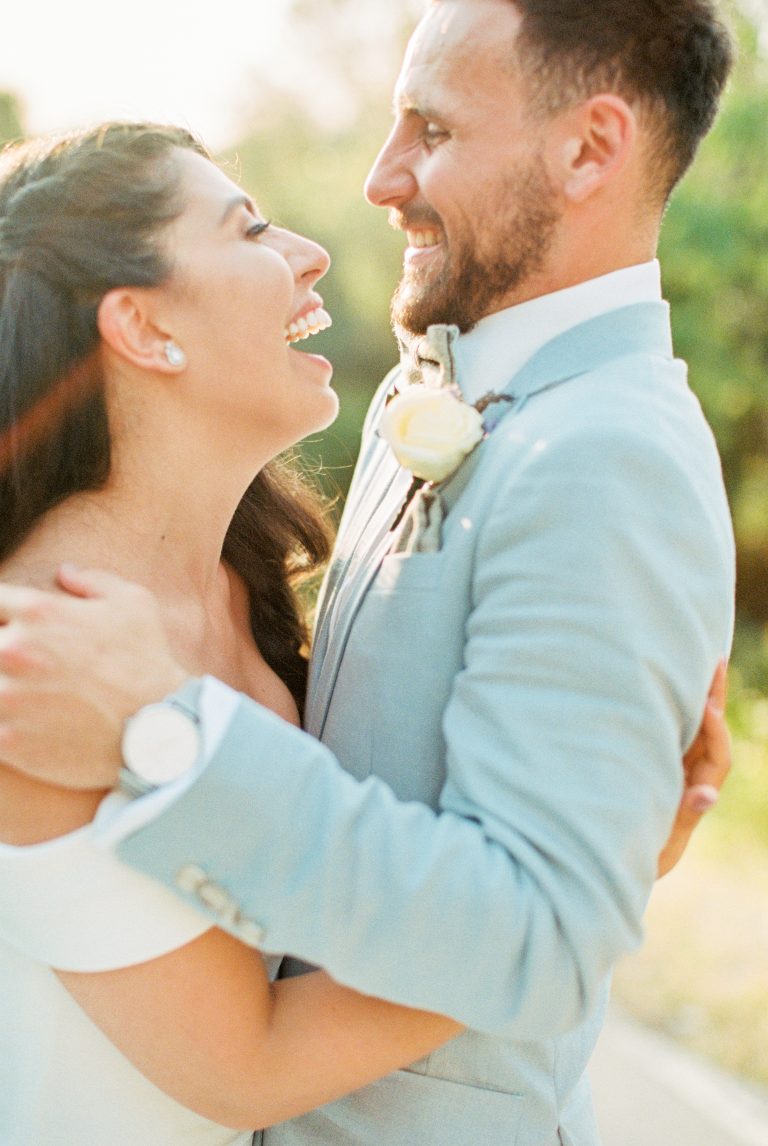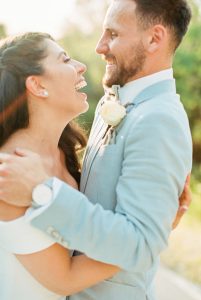 Location and how you found it?
We had a super intimate wedding at beautiful Casa Felix in Olivella, a tiny village in the countryside behind Sitges (around 45 mins from Barcelona). The stunning historic Masia (Catalan Farmhouse) is surrounded by rolling hills and vineyards, and has been lovingly renovated into the most perfect wedding venue!
I spent a year living and working in Barcelona in 2014 and for me, the city has everything we love about the Mediterranean lifestyle we both grew up with on the French Riviera, but has such a unique international mix of residents and such a cosmopolitan feel year round.
It was at this time that I became friends with lovely Gabby Sütorí (who unbeknownst to me at that time would go on to photograph our wedding)! I fell in love with her work, and it was actually through her beautiful portfolio that I first set eyes on Casa Felix.
We felt a little bit daunted at the idea of planning a wedding from afar, but from the minute I reached out to Valerie at Weddings Via Val, we felt so completely at ease and knew that the process was going to be a lot of fun!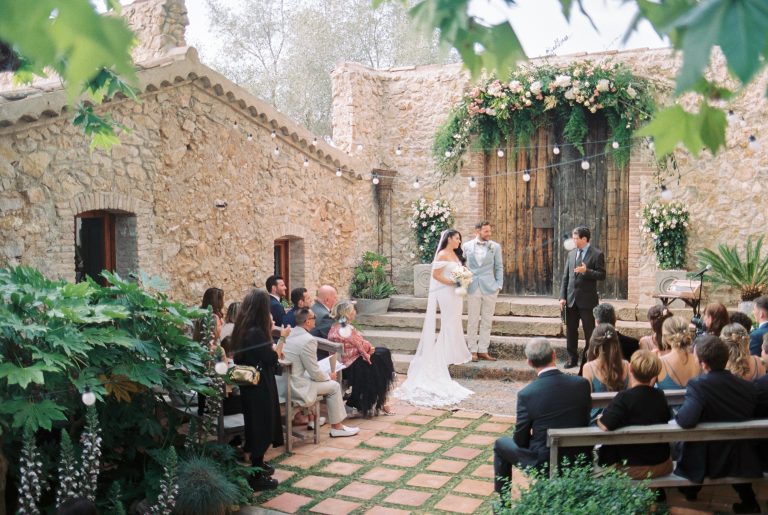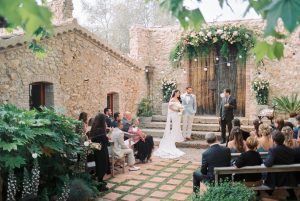 Did you have a theme for your wedding? How did it come about?
My parents had a tiny wedding in Barbados and I grew up hearing stories of the time they spent on the island with just their closest family and all of the (absolutely hilarious) antics everyone got up to on that trip and always pictured having a really intimate destination wedding myself.
My husband is from the South of France and I am Scottish, though coincidentally I also spent much of my childhood living in the South of France! We knew that having two languages and cultures to balance out meant we wanted to get married in a "neutral" location, where both of our families could come together and enjoy being in a different setting .
We wanted the wedding day itself to just feel really Mediterranean and for the flowers and mood to accentuate what a beautiful place Casa Felix already is, all while incorporating meaningful Scottish, French and local touches (with really, really delicious food!). We had a brilliant bagpiper to welcome guests before the ceremony, and a dreamy flamenco guitarist during the aperitif before dinner.
The day after the wedding we had a 1920s themed Jazz Picnic BBQ! Everyone got really into the theme and we surprised everyone with a brilliant jazz band who had converted their piano into a cocktail bar, so they could theatrically mix up drinks while performing gorgeous classic songs.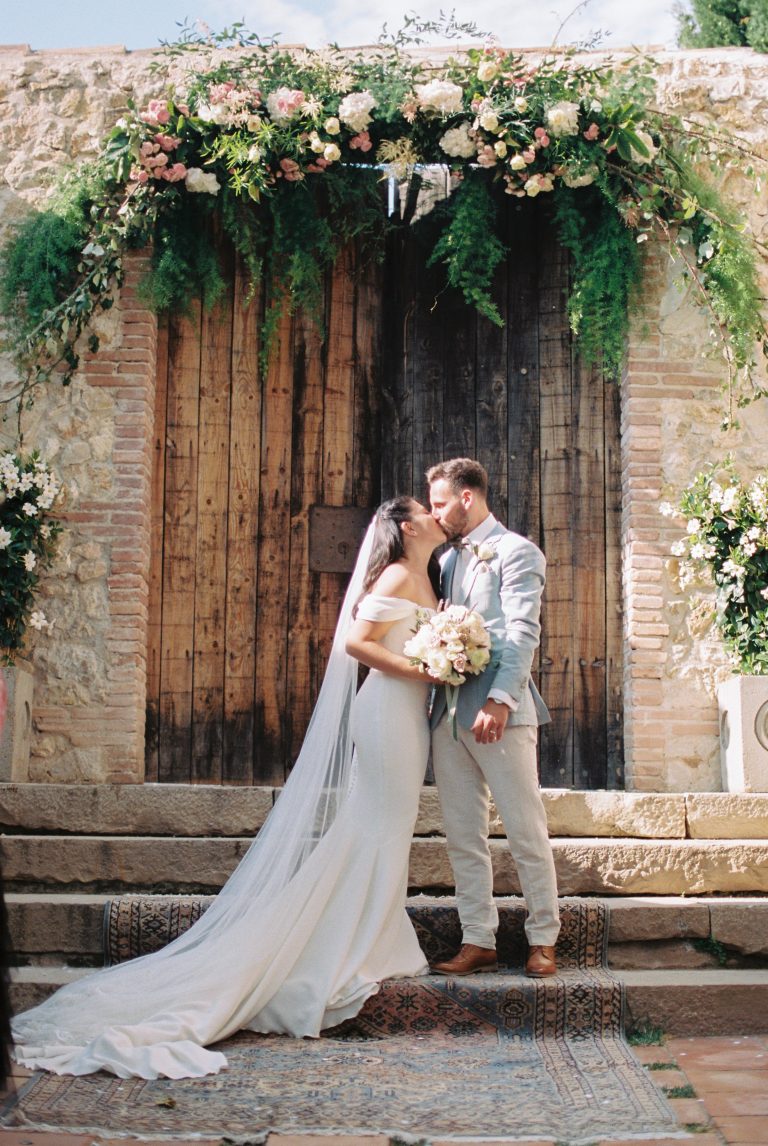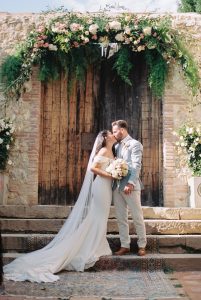 How did you find The Wedding Club? Tell us about that moment when you found and chose your dress – how did it make you feel when you put it on for the first time?
I planned a gorgeous few days with my mum and sister with appointments booked at several different bridal boutiques in London and around the West Midlands (at the time of our engagement, Anthony and I were living in Birmingham). My appointment at TWC was the last one of our itinerary, the morning of the day they were due to head home.
I had come close to saying yes to a couple of dresses, however I hadn't really felt an emotional connection with any and I had become resigned to the fact that maybe some brides don't get that lightbulb, "pass the tissues" moment with a dress they feel is really perfect. How wrong I was!
The stunning white marble interior and gorgeous (flattering!) lighting was instantly welcoming and Katie immediately encouraged me to pick out dresses I felt drawn to. Amazingly, my dream dress was the first one I gravitated towards myself in the shop, despite being a completely different shape and fabric to anything I had tried on before.
I expected to find a dress with lots of embellishment, lace or appliqué and definitely didn't think I would choose something with such simple, clean lines (and that was so fitted)!
Honestly, the first time I tried it on, my mum and sister both burst into tears and everyone in the room knew with absolute certainty that this was "the one". It was quite incredible actually how the atmosphere just changed and we all knew the dress fit like a glove and the train was so dramatic and special.
In the dress, I felt like the elegant, classic Hollywood bride that I didn't know I wanted to be!
I think the dress set the whole tone for the wedding and not the other way around as I had previously thought, giving us such an aesthetic anchor to work with and plan subsequent details around.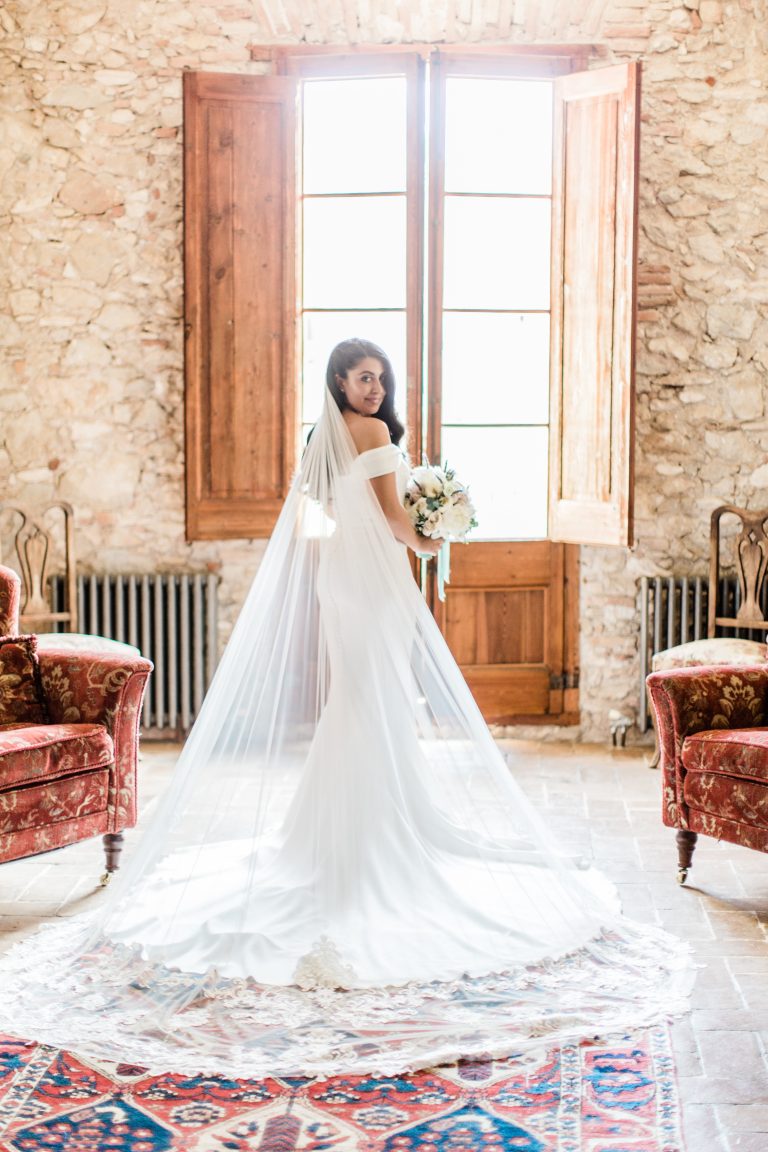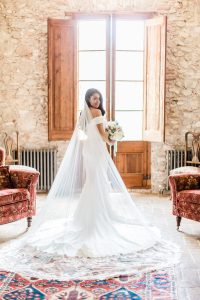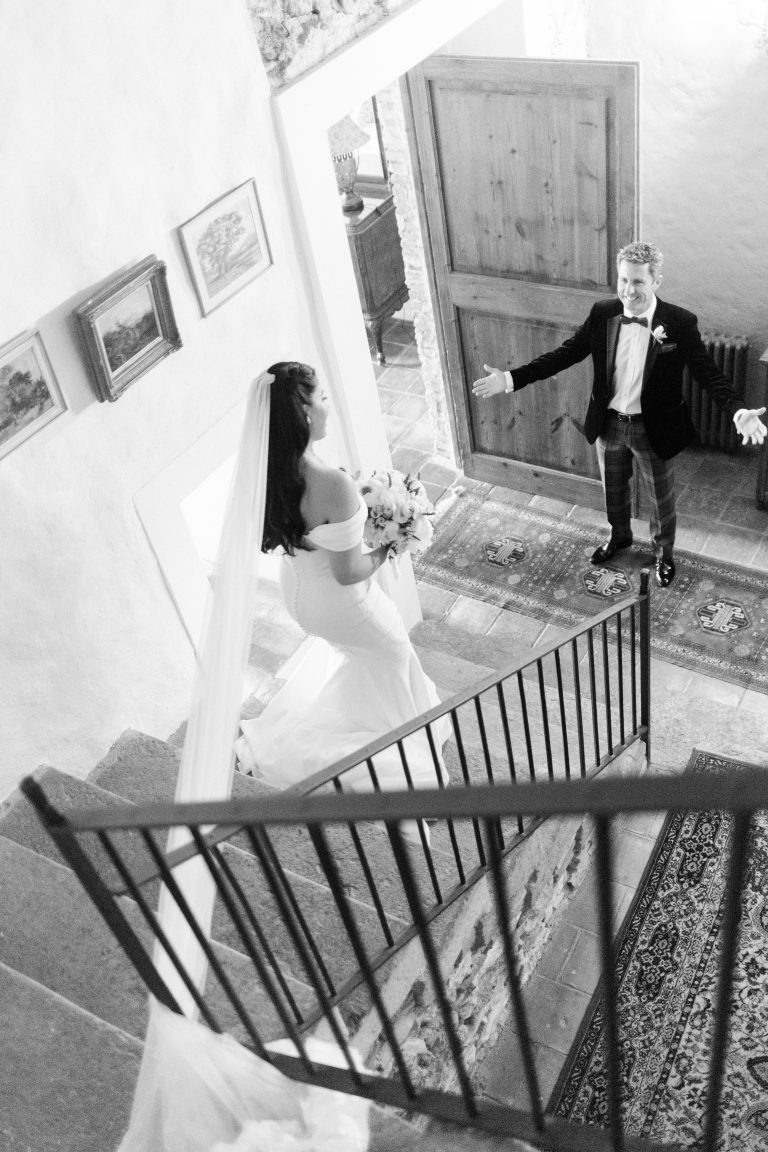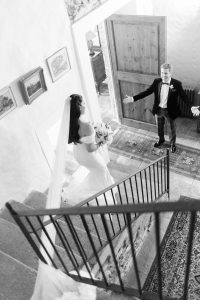 Which designer did you wear?
Atelier Pronovias. I also wore an incredibly dramatic Cathedral length veil by Joyce Jackson.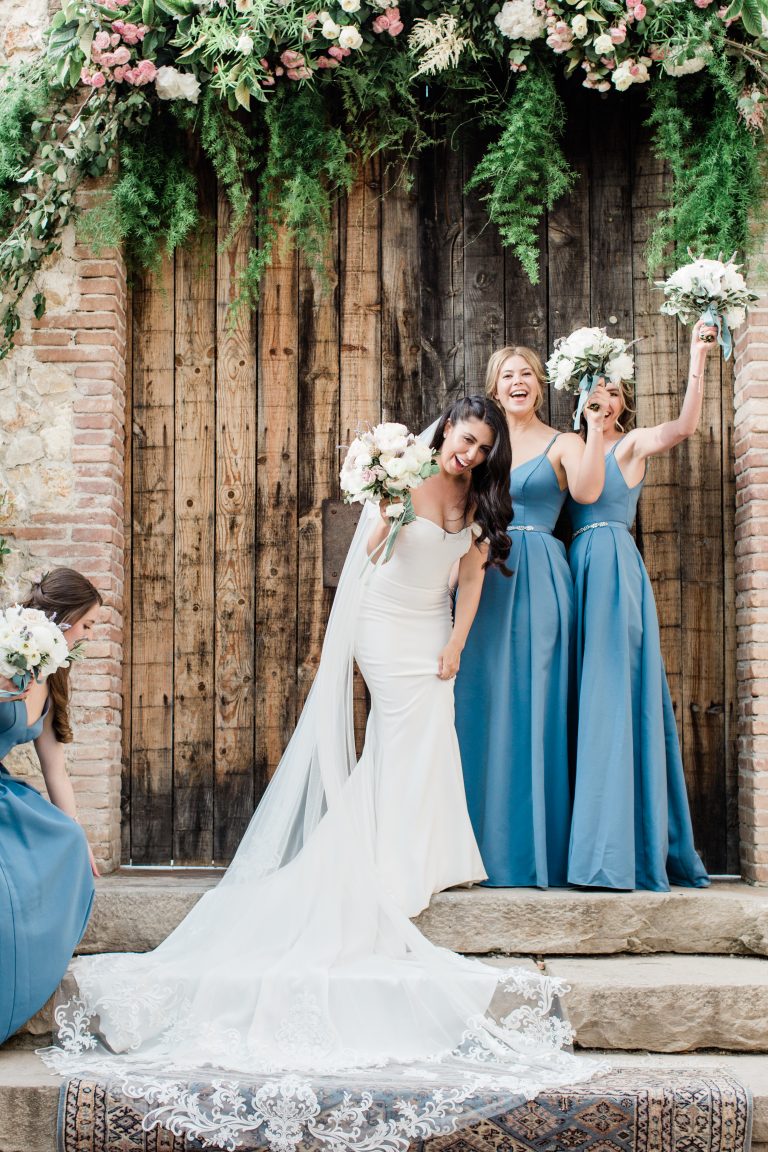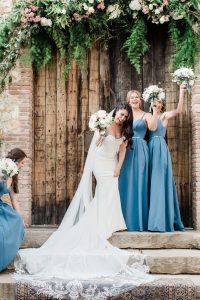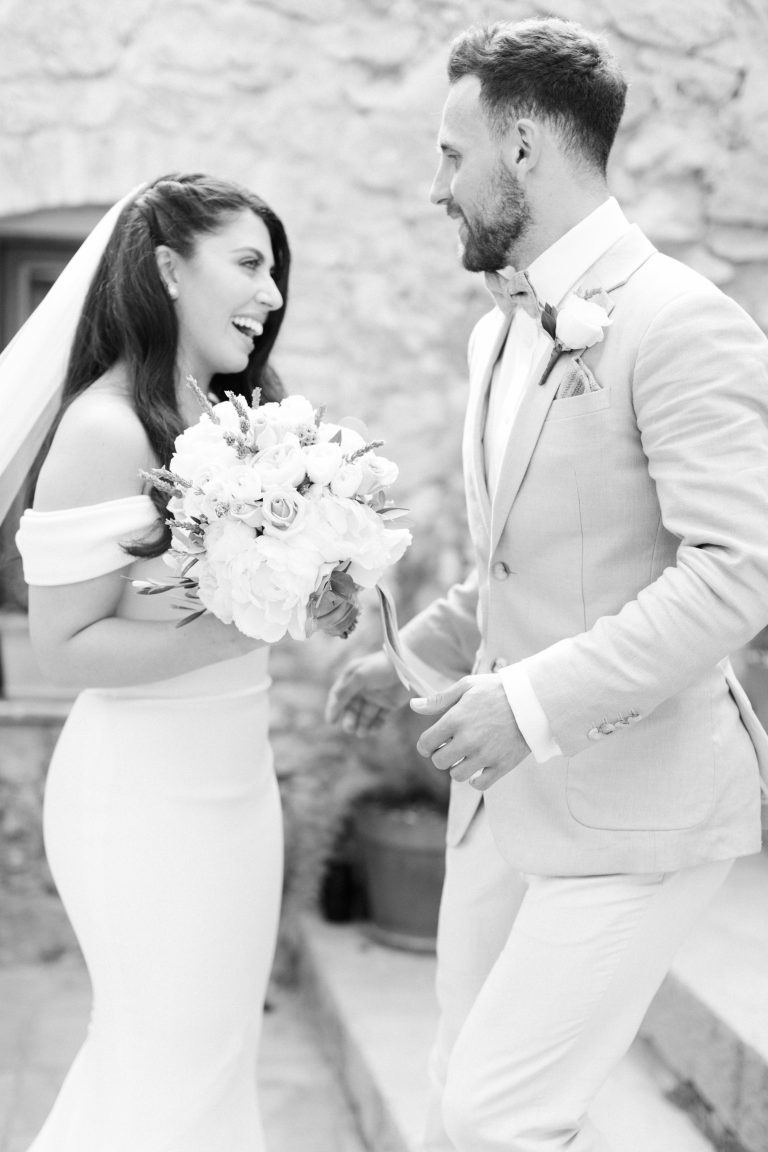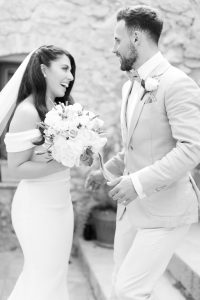 Where is the suit from? Why was it the perfect fit?
My husband's jacket was from Reiss, bow tie and pocket scarf from The Edinburgh Bow Tie Co. He wanted something that would feel super light and summery, inspired by vintage weddings. In his words:
"I always wanted to wear a bright suit for my wedding, particularly in this amazing and colourful location, with a lot of greenery everywhere and blue sky. I had an image in my head of a two-tone suit with a sky blue jacket (which I found in Reiss a year prior our wedding), which was the centrepiece of the outfit I imagined.
The trousers were harder to find as I specifically wanted them in a light stone colour, which I eventually found by a great Italian brand! With light brown shoes and a tartan bow tie which I found in Edinburgh, my outfit was complete for the most important day of my life!"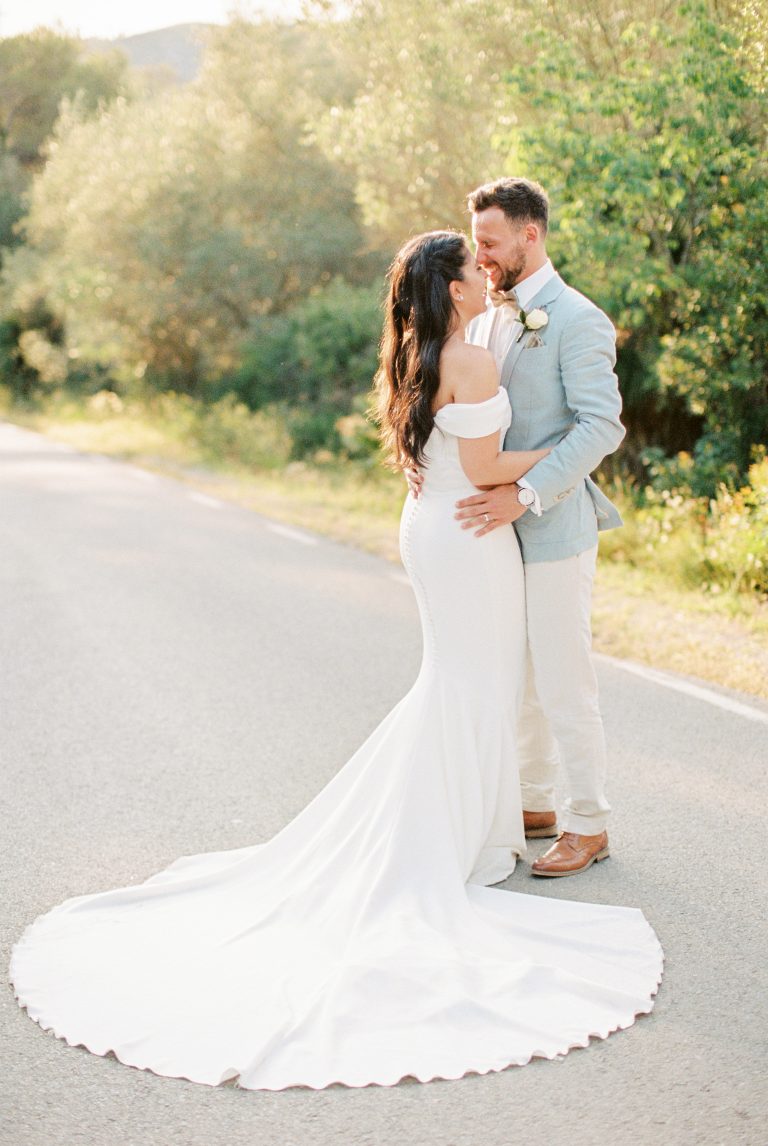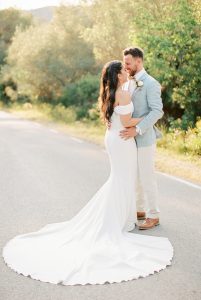 Did you have speeches? Who performed them?
During our bilingual ceremony, my sister gave a beautiful reading of "What Love Is" and Anthony's brother read "L'Amour" by Martin Grey in French. We loved having these personal touches throughout our ceremony (my Granny Mae also did a traditional Scottish tartan hand-fasting).
When everyone was sat for dinner, my dad gave an amazing speech (he had the whole thing translated into French and had organised printed handouts for our Francophone guests to be able to follow along), followed by Anthony's two groomsmen; his little brother Greg and best friend Nico.
My two best friends (and bridesmaids) Daniella and Tara each gave such funny, moving speeches and Anthony finished with a magnificent speech in "Frenglish". Every single one moved me to tears and each of them had put so much heart and thought into their words.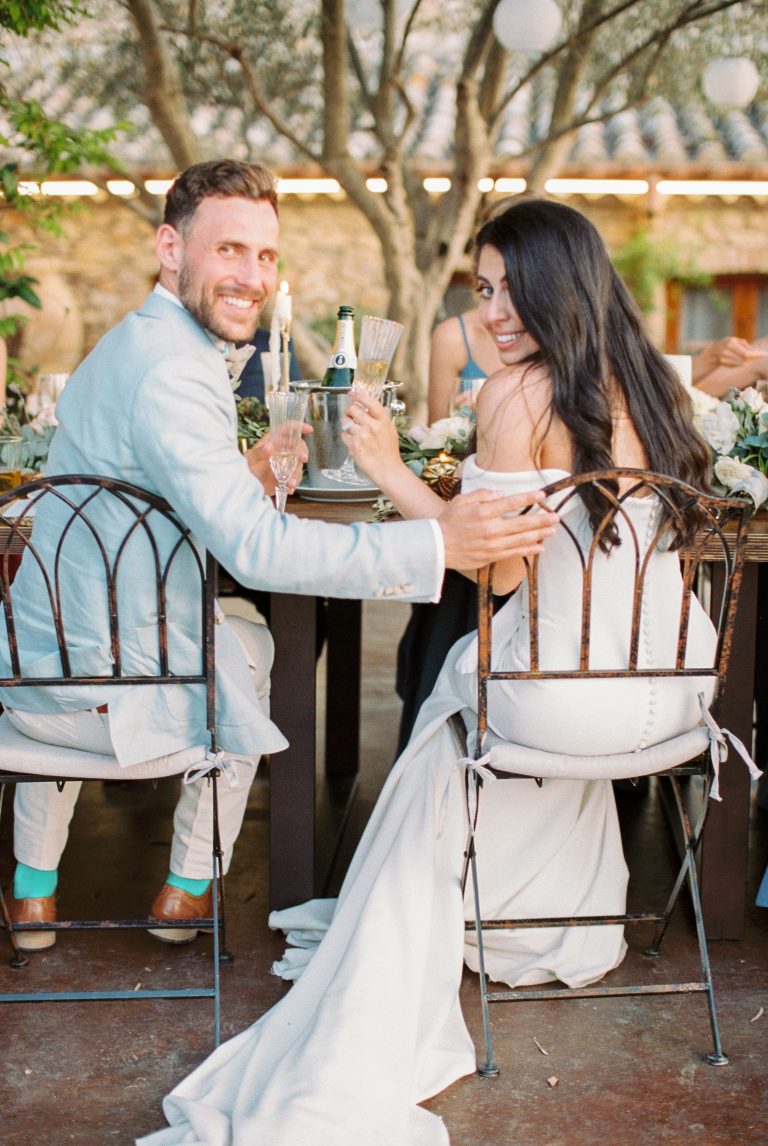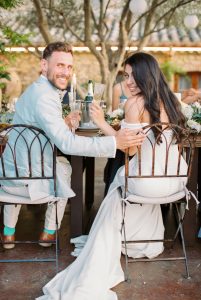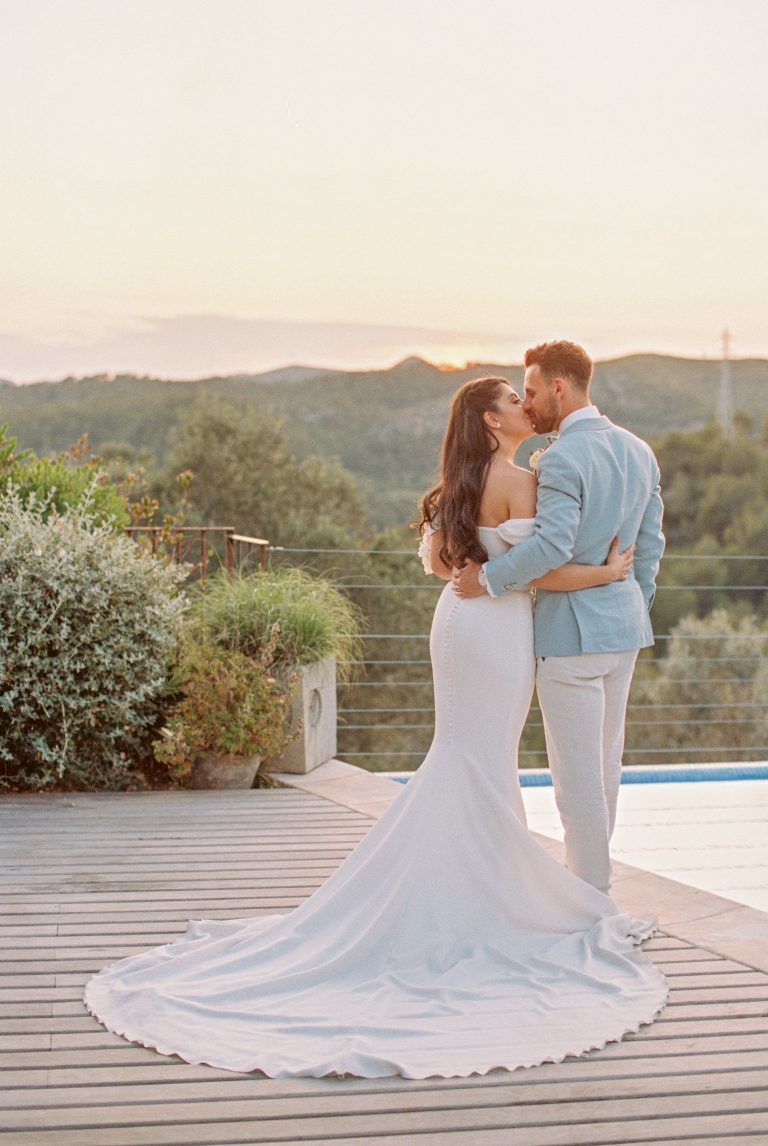 Did you have a first dance? What song did you choose and why? How was the performance?
We did! Wanting to avoid the "endless slow dance shuffle of doom" we wanted to learn a few simple steps (equally wanting to avoid anything cheesy or too much of a "dance routine"), so we booked 3 1 x hour lessons at Dance HQ in Glasgow (where we had subsequently moved to) and mastered a really elegant, classic Hollywood American Smooth to Louis Armstrong's La Vie en Rose.
It was exactly what we had pictured and was a complete hit on the night (although we did manage to knock Anthony's brother flat onto his back like a beetle mid dance as we swooped across the dance floor..!)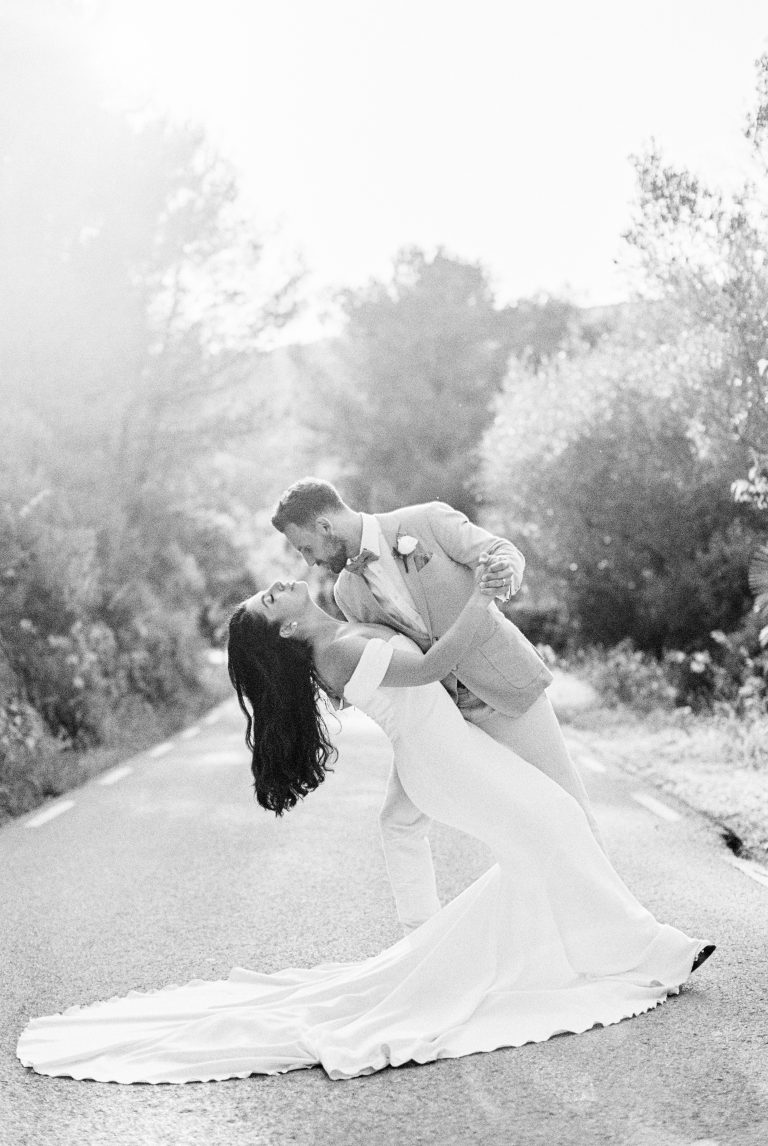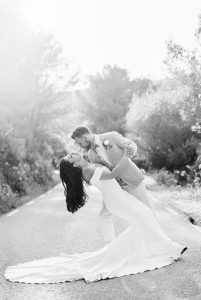 How was the party?
The party was absolutely incredible! Casa Felix has a soundproofed party room with a dance floor, in a beautifully converted old stone barn space which was the perfect size for our relatively tiny wedding!
We had candles in the little alcoves in the walls where the rock has worn away over time, fairy lights, ubiquitous disco ball and the whole mood felt really magical – I loved having an extra surprise up our sleeves for our guests after dinner, as you enter the space via a balcony overlooking the room, which is super dramatic and fun!
We had the MOST fantastic band, made up of two singers – super talented singer Sinead Savage and the absolutely amazing Mel Seme (check his own music out on Spotify!) with really brilliant musicians. They played a gorgeous mix of our favourite songs and I don't think I've ever had so much fun on a dance floor in my life. Our families are still talking about how good the party was nearly a year later!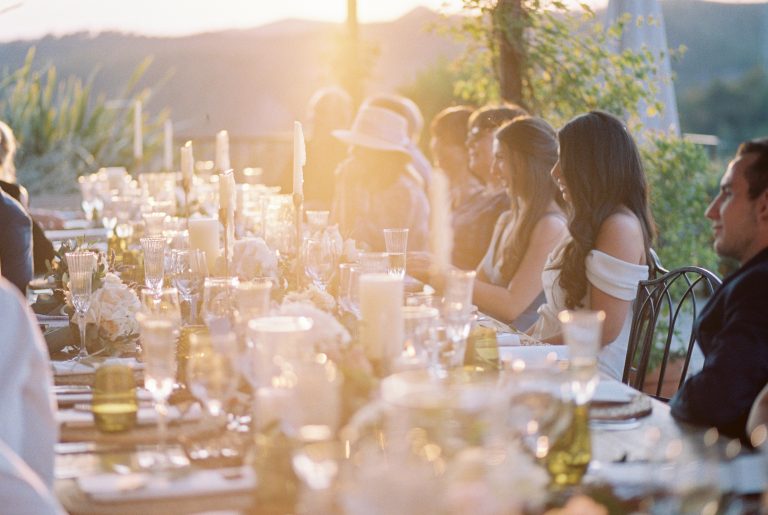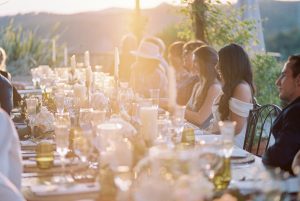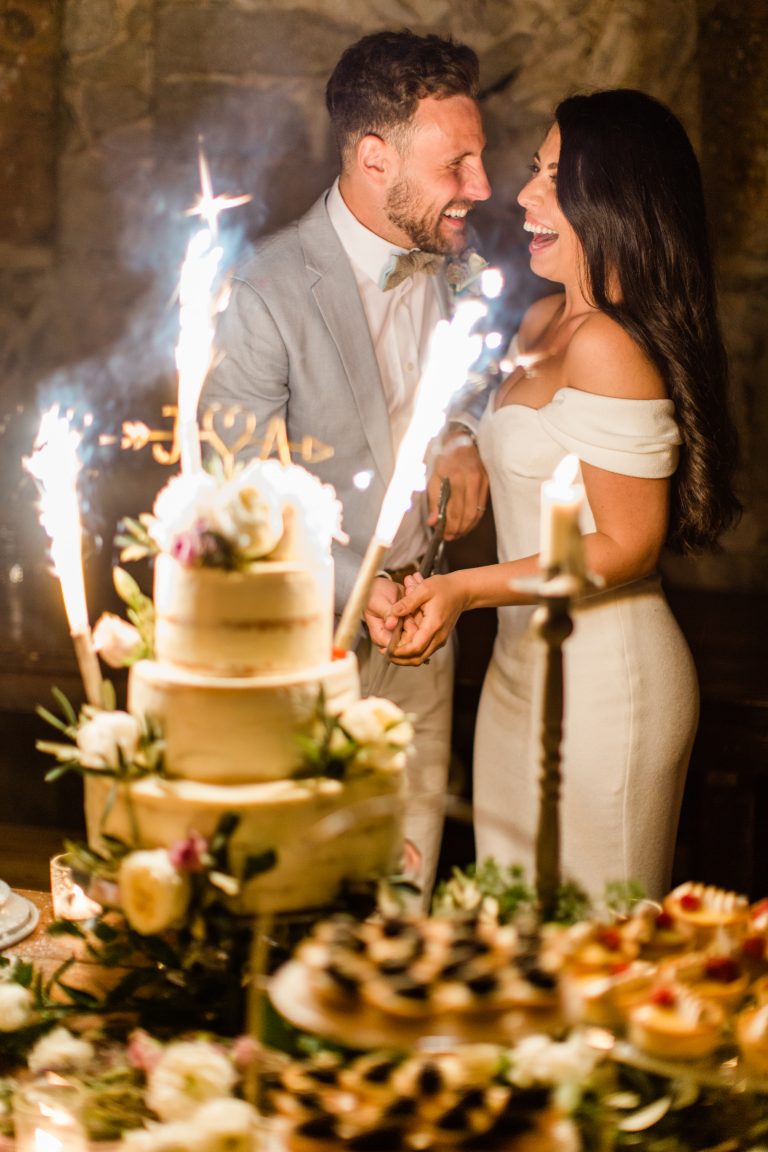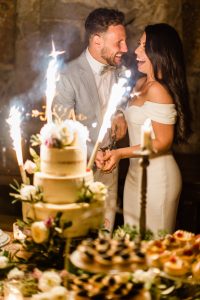 Wedding planning advice for brides to be?
Our photographer Gabby shared some wise words with us quite early on in the planning phase that really resonated with me:
"Dare to question traditions if they do not make sense for you..The more "traditions" you question, the more your wedding will be truly yours – it will become more personal and this will also be reflected in the atmosphere of your whole day."
Try to completely throw out the rule book and build your wedding from the ground up around the things you think are important. It really amazed me how much pressure I suddenly felt to follow conventions that have nothing to do with our everyday lives or taste.
I also can't recommend having an engagement shoot enough – this really helped us also learn how to "pose" together and I think really helped us feel more relaxed on camera on our wedding day (usually I am super stiff and awkward).
Have fun! This seems quite obvious but the day really does fly by so so quickly that it can feel like a blur. Try to sneak away for a few moments just the two of you to take it all in.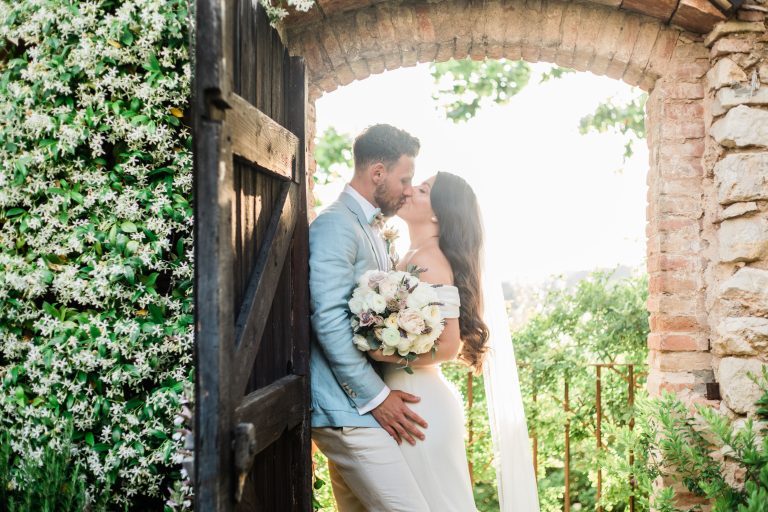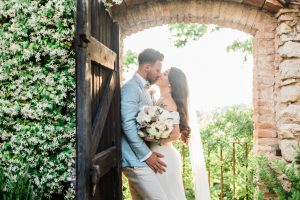 One moment you'll never forget:
My first look with Anthony. It was so, so special to have a few moments with him before the ceremony, and was so calming for us to have some time together before the main event!
Seeing my dad for the first time was also really unforgettable – I got to have a "grand reveal" with him standing at the bottom of the main staircase in the house. He was wearing surprise tartan trousers that he had gotten made for the day, which set me off all over again!
Another really stand-out moment was actually seeing our dessert table for the first time! Val and Africa had set this up so spectacularly, it was like something from Romeo and Juliet and was so beyond what I had even imagined. An enormous sword appeared for us to cut the cake with which was hilarious and I just loved that moment so much, everyone around the table cheering and clapping in the twinkly candle light.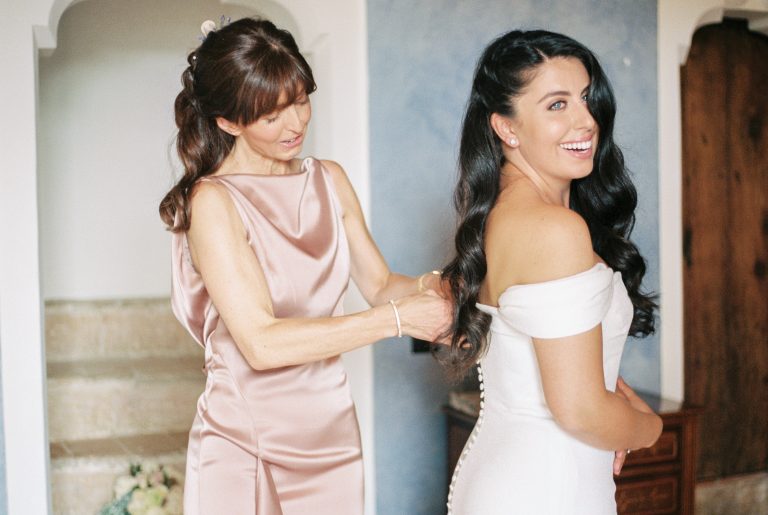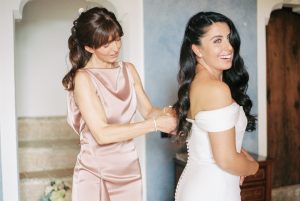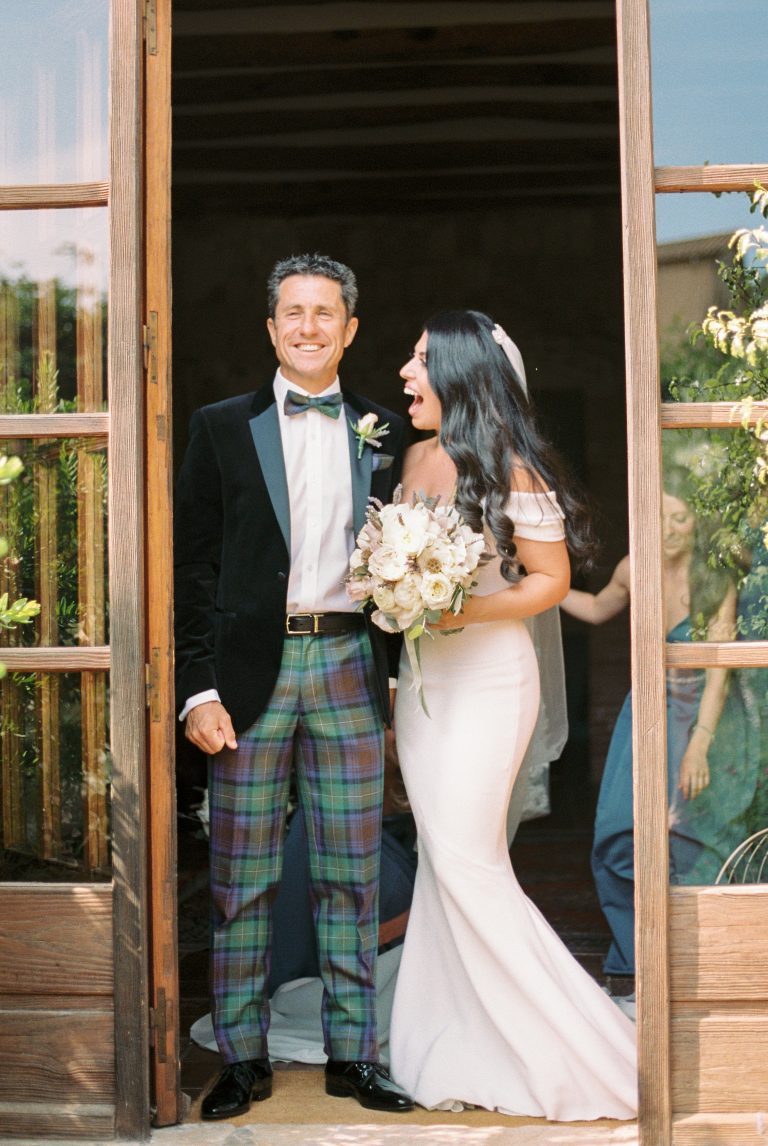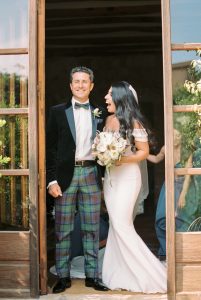 ❤️
Dress – Atelier Pronovias available at The Wedding Club Birmingham & South Kensington
Veil – Joyce Jackson
Shoes – LK Bennett & Steve Madden & Mango
Bridesmaid's Dresses – Oleg Cassini
Groom's Jacket – Reiss
Hair & Makeup – Teresa Snowball & Co
Photography – Gabby Sütorí
Videography/Trailer – Ankerprod
Flowers – Marie Lynch at Paradiso Barcelona
Celebrant – Xavier Ortiz at Bodas Civiles
Catering – Sensacions
Cake & Desserts – Orsi Sutori
Jazz Music & Cocktails – Piano Bar
Wedding Planner – Valerie O'Donoghue
Bride's Website