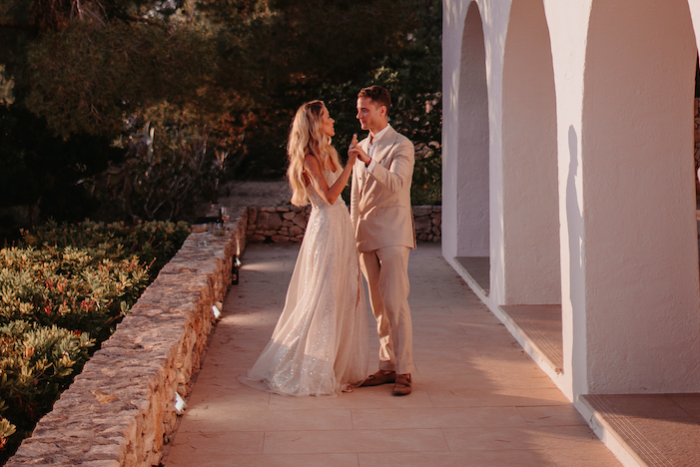 Beautifully Boho Ibiza Wedding In MUSE By Berta Gown
❤️ The TWC Effect – Our brides, their way ❤️
Maria & Juan fell in love at first dance, and boogied their way through their beautiful big day! A wedding story celebrating love, fun, family and friends awaits…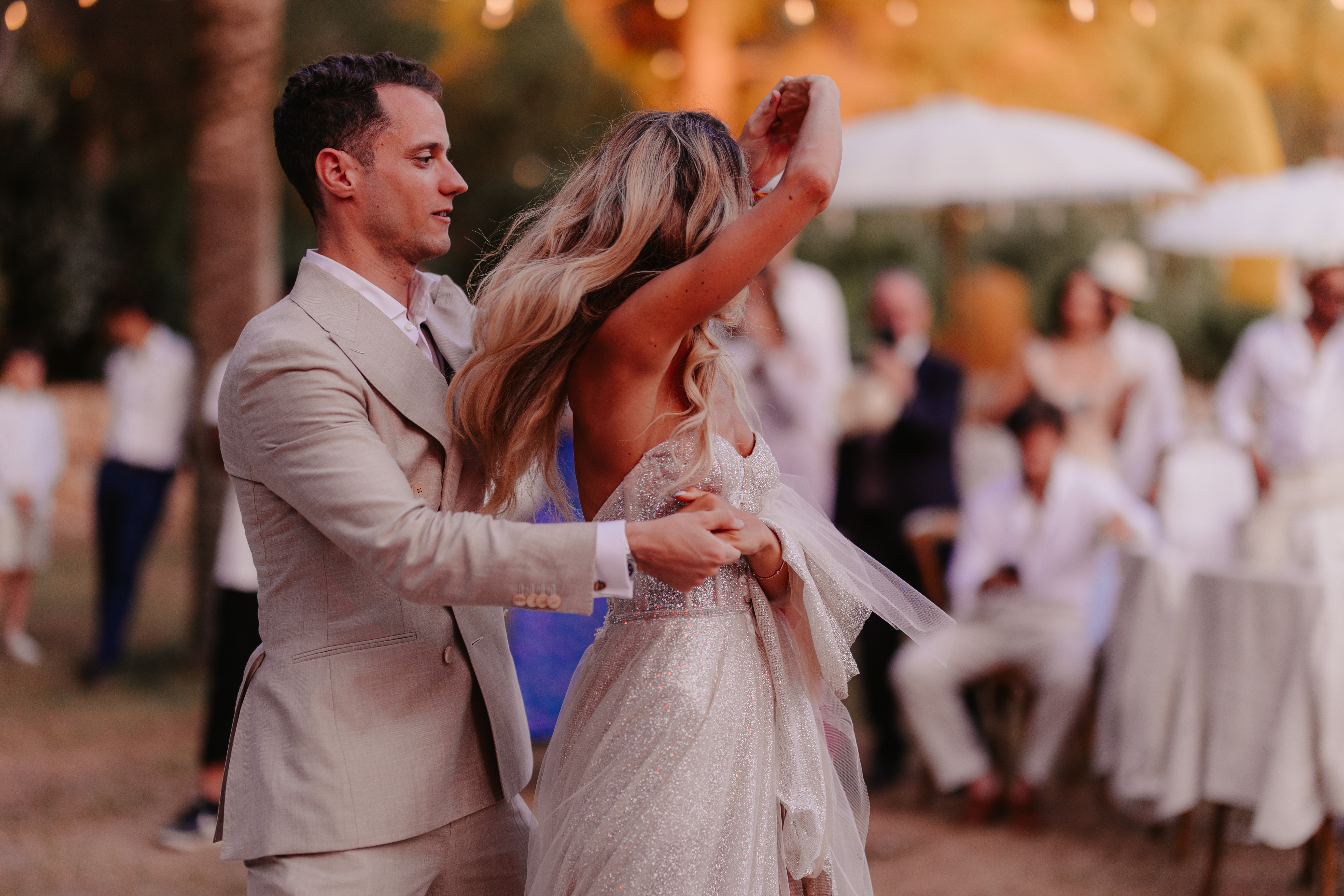 How did you meet?
We met a little over 10 years ago! We were both 19, studying in the same university, in Spain. A mutual friend introduced us and we shared a first dance (and kiss) together. I thought he was such a fun dancer (and kisser)!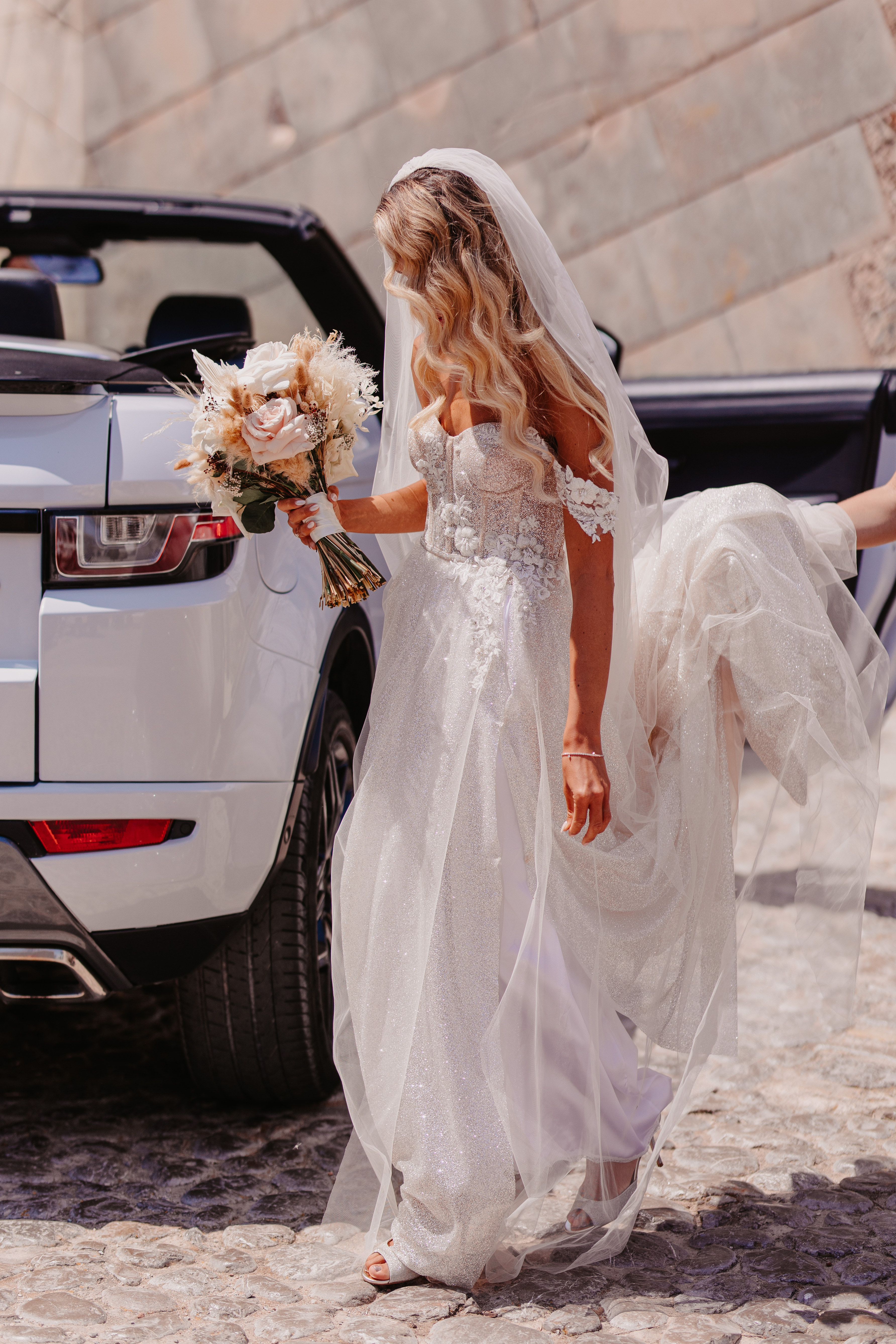 Was it love at first sight?
Absolutely. I knew from the moment I met him that one day he would become my husband and he always shared that same feeling. We went through pretty rocky moments during our long distance years but we always knew we'd find each other again. We often say it was a supernatural, "almost divine" feeling what kept our love strong.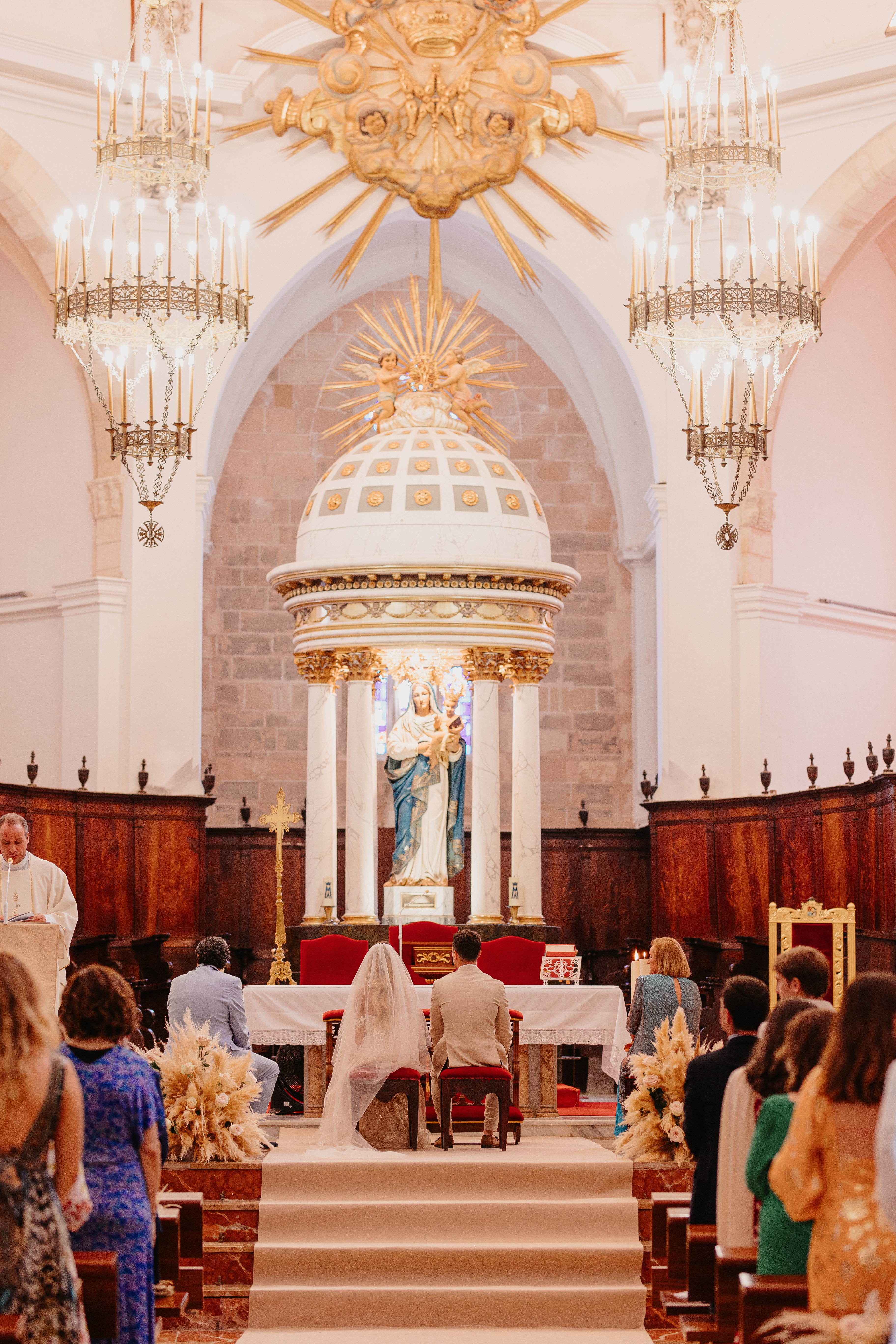 Who proposed and how?
Juan proposed in Dubai, the 8th of December of 2021.
I had a feeling this was going to be "the trip" because he had asked to borrow one of my rings a few weeks earlier. I didn't know how or when it would happen but I did my nails just in case. He worked with our hotel to arrange this romantic and intimate dinner in the middle of the desert, with magical torches, a glam red carpet and delicious vegan menu specially designed for me.

He read a few quotes from "The Alchemist" by Paulo Coelho, our favorite book before getting down on one knee. A dream come true!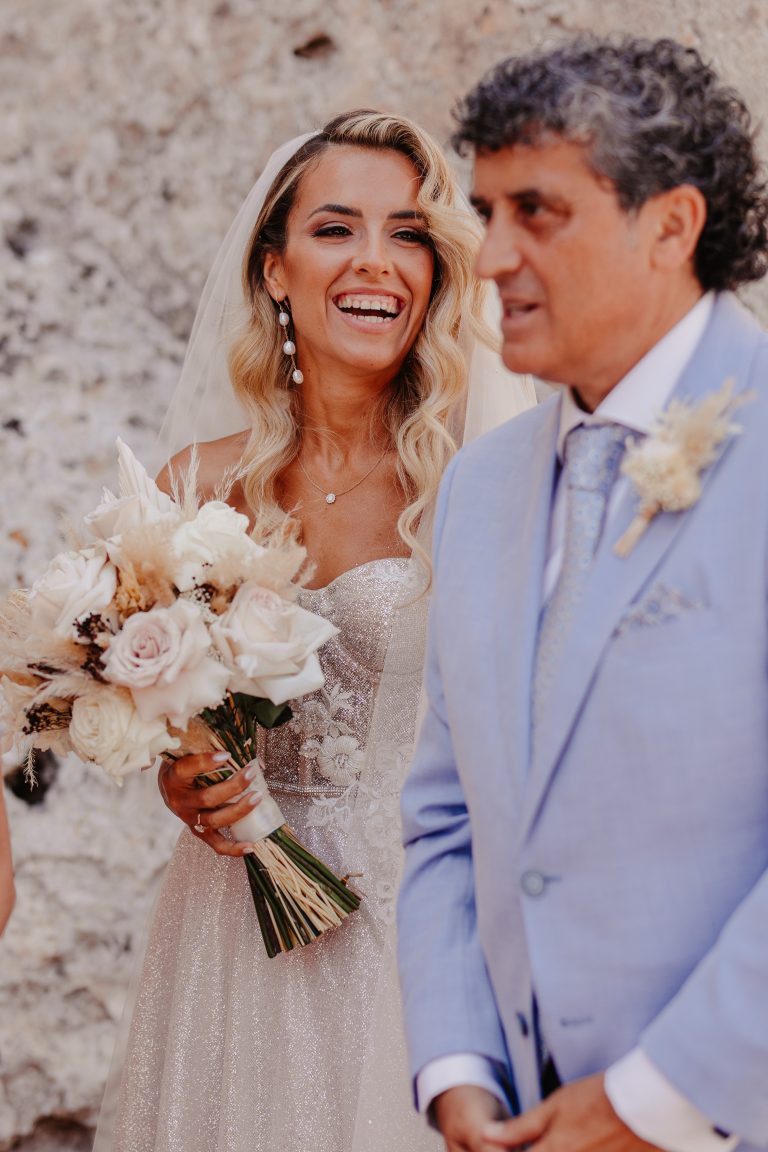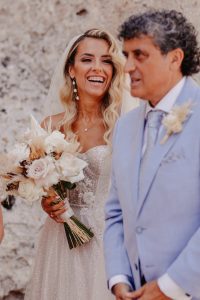 Did you have a theme for your wedding? How did it come about?
I like to call it "sophisticated" boho. We both like clean, minimal lines and neutral colours but we love nature doing the main talk, with a bit of romance and a lot of fun throughout it all.

Everything from the champagne bridesmaids dresses and sand coloured groomsmen suits, to the nude roses & pampas, the rattan table plan and the tan aisle carpet and floor vases at Church blended seamlessly with the natural blue & green scenery of Ibiza, surrounded by Palm trees and breathtaking sea views. The raw vegan cake was the icing on "the cake". True natural beauty doesn't need much to shine.
Even though we're both Spanish, we've lived and made friends all over the world so our wedding had to have that international trademark too. We named the tables with the most meaningful cities for us and since it was a wedding destination, our invitations resembled a passport and a boarding pass. So fun!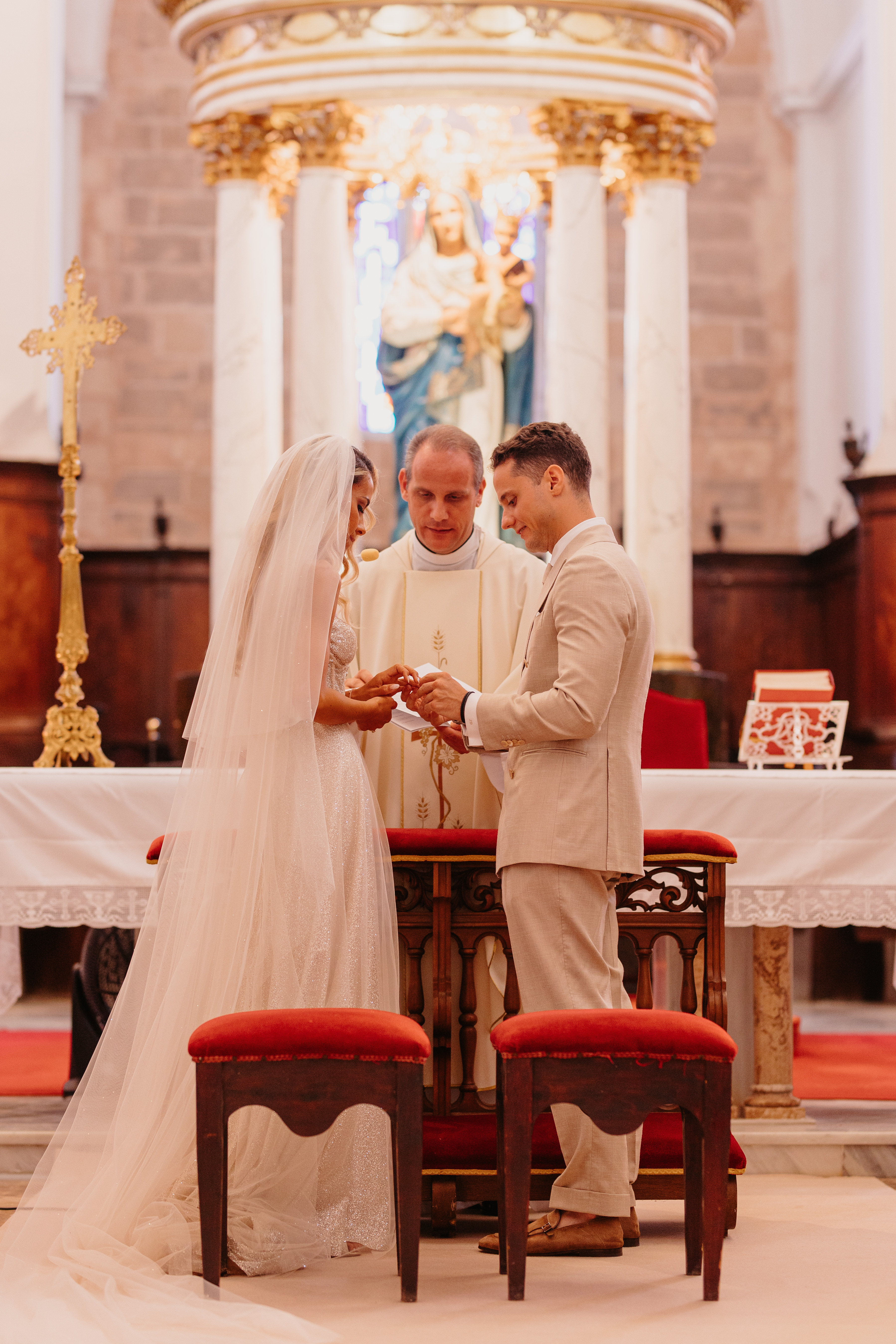 Location and how you found it?
Growing up by the ocean, I've always dreamed of getting married by the sea. Juan wanted to get married in Spain and Ibiza was simply the place that felt right for us. We actually fell in-love with its Cathedral first, which is Ibiza highest point and the first religious building of the island, dating from the 13th Century. Such a magical and meaningful place!

Our reception was later in Casa La Vista Villa, in Portinatx, north of the island. Everything in this villa spoke to us. The views, the way nature and luxury blend in – so special.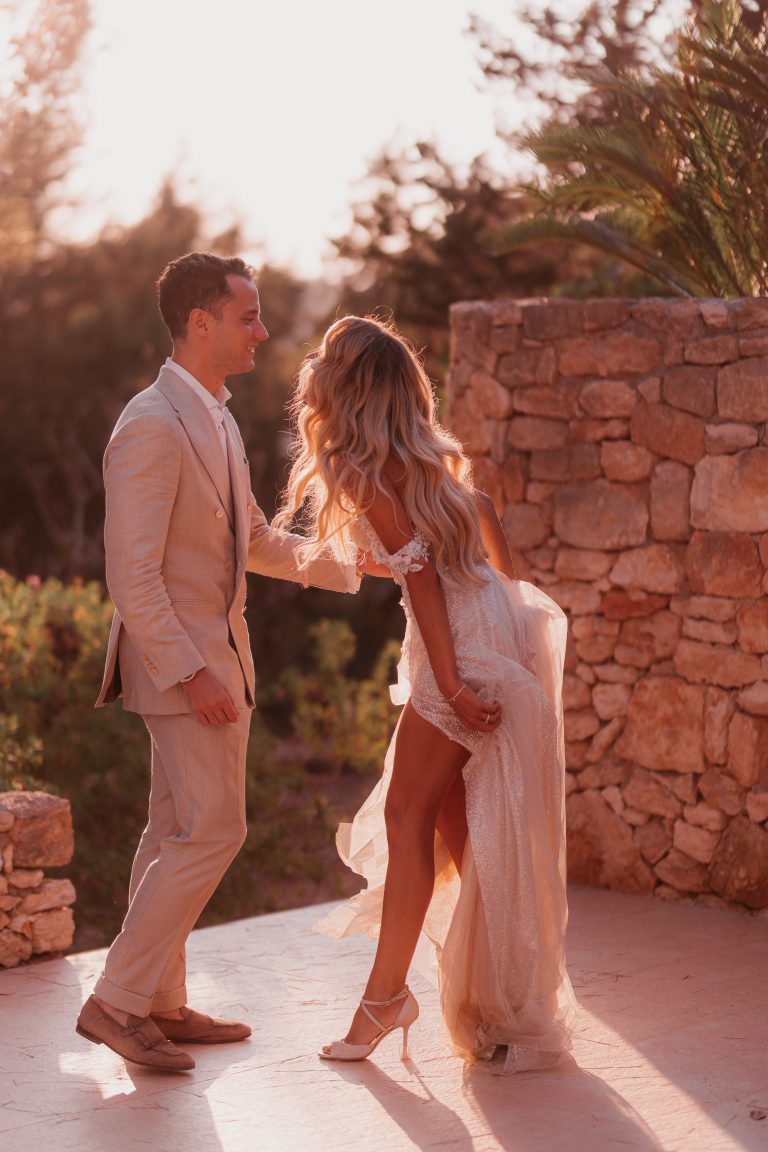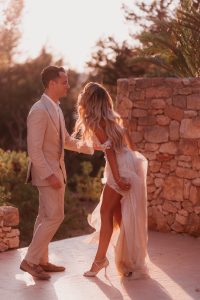 How did you find The Wedding Club? Tell us about that moment when you found and chose your dress – how did it make you feel when you put it on for the first time?

I had done my research and I knew I wanted to get married in a Berta dress. Israel seemed quite far, and The Wedding Club knightsbridge was the main showroom carrying her designs so it was a no brainer. It was the first bridal appointment I booked in and my second time trying on wedding dresses (13 months before our wedding!).
They were all beautiful but the minute I tried on my dress, I knew that was it. It was fun, romantic, aery, coastal, sexy and giving modern princess vibes. It was exactly the bride I wanted to be and it was SO ME! I went to a few other try-on appointments later on that day but nothing could compare to how I felt on that dress. I called Melisa from TWC back again the next day and we ordered it straight away. The dress is stunning but it was how I felt while wearing it that made it all clear to me.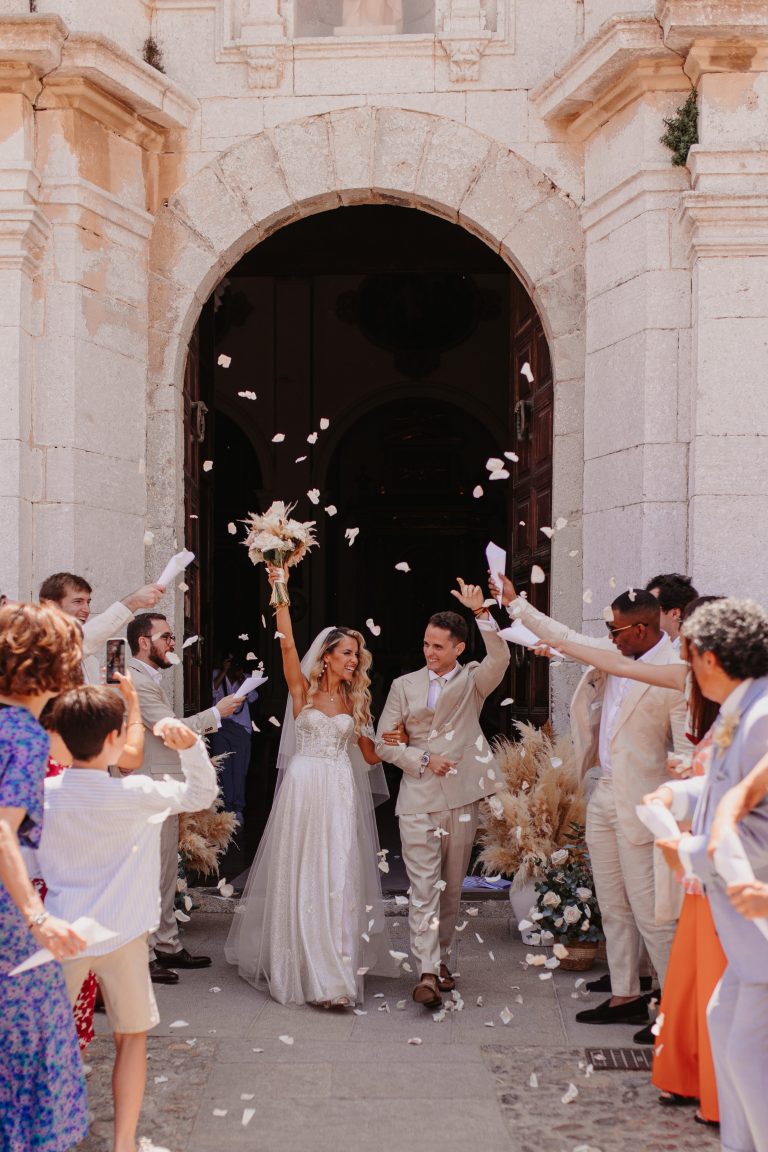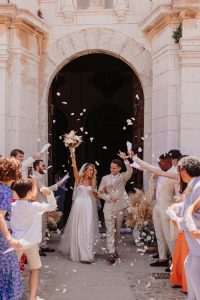 Which designer did you wear?
I wore Muse by Berta, the Israeli designer's sophisticated boho line.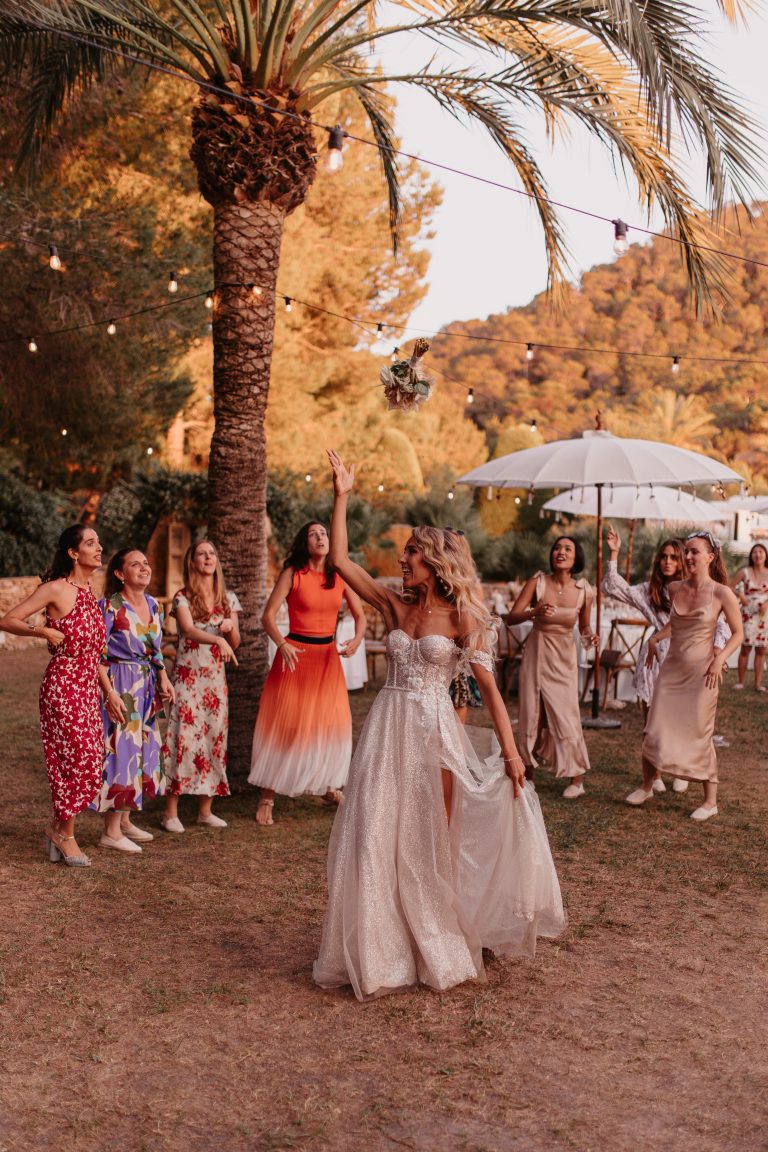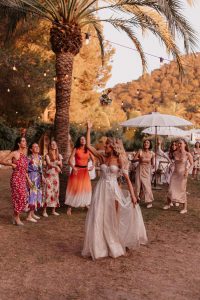 Where is the suit from? Why was it the perfect fit?
Juan wore a custom made double breasted suit in a sand color by Suit Supply. He was going for an elegant but modern summer vibe, an elevated Ibiza style. It was a cotton-linen blend, perfect for an outdoor summer day.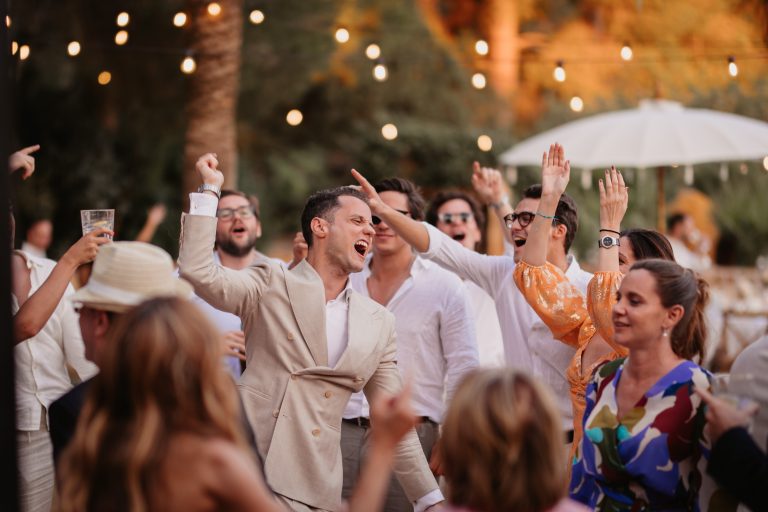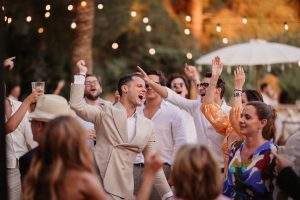 Did you have speeches? Who performed them?
This was one of our favorite parts of the day! We had 5 speeches in total. The welcome speech and closing speech were both held in Spanish, by the Father of the bride and a groomsman, and 3 English ones after the main course, held by the Maid of Honor, a bridesmaid and a groomsman. We felt extremely loved, grateful and they definitely touched everyone's hearts!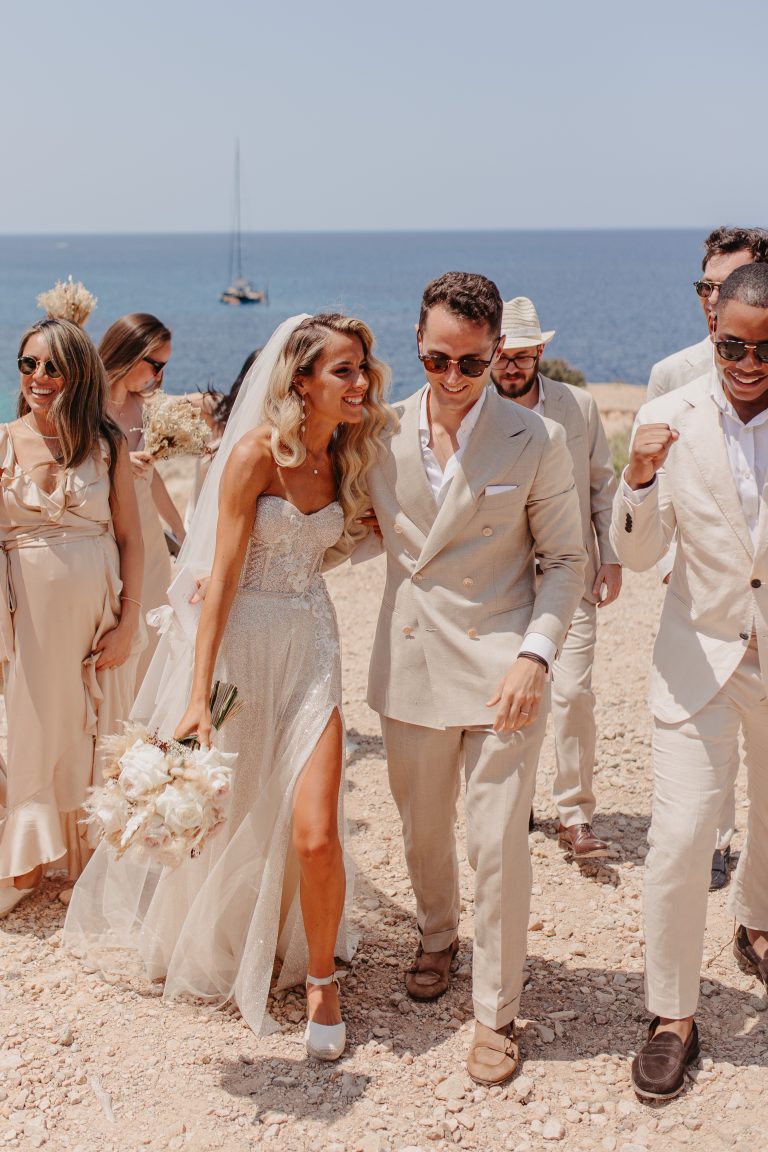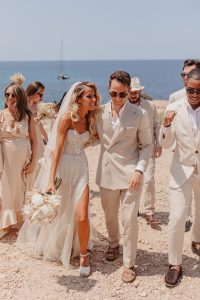 Did you have a first dance? What song did you choose and why? How was the performance?
We had a song specially made for us based on our story and with our first dance in mind. We used Songfich and it turned out very intimate and special. The song name was "Hand in Hand" by Veaux.

We took a couple of dancing lessons with Wedding Day Dance UK which was quite useful but the day of the wedding we had to improvise. My hair got all caught up in Juan's brand new cufflinks and spinning around in the wedding dress was much harder than we had imagined so it didn't go according to plan, but we still loved every moment.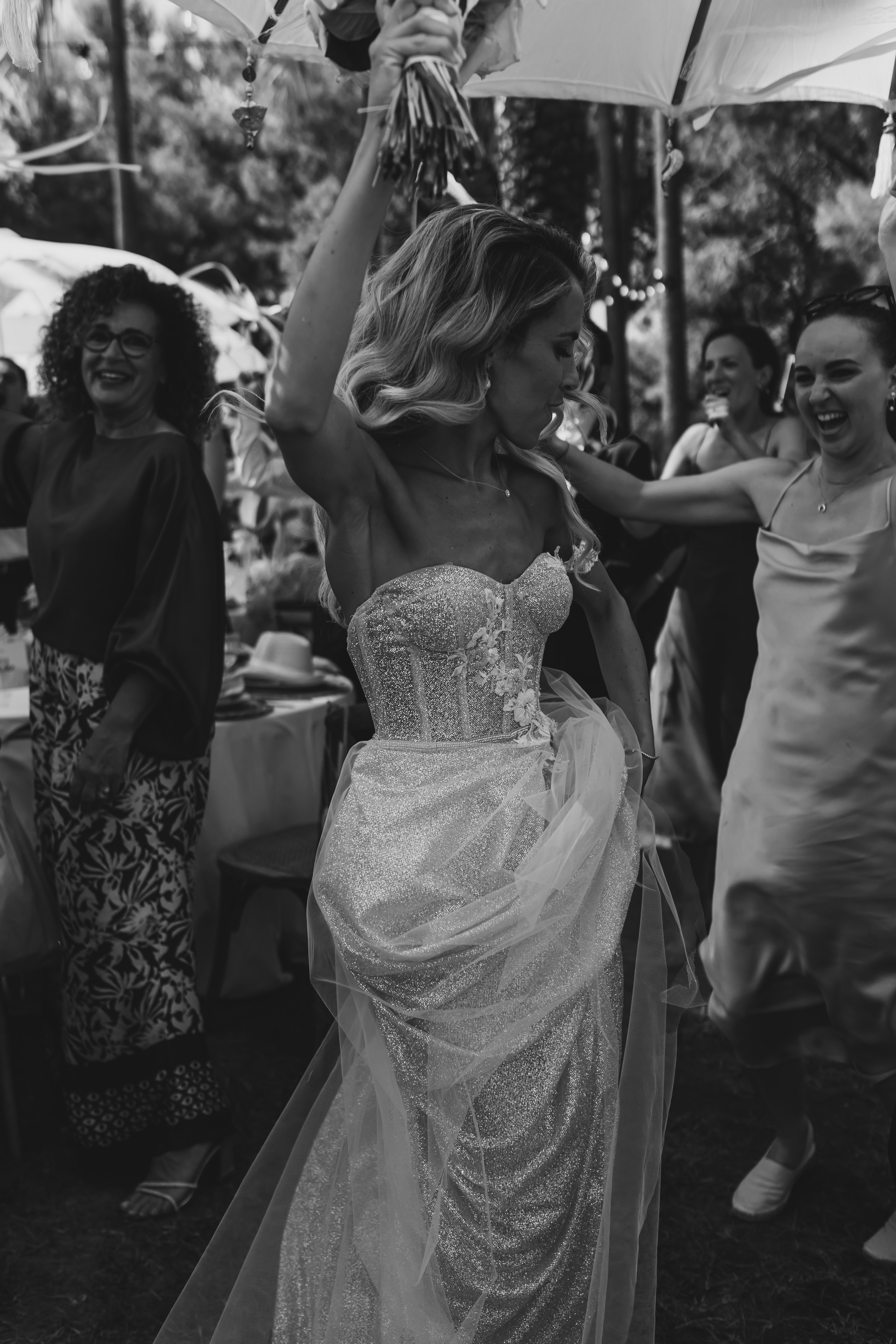 How was the party?
The party was so much fun! We started the party with a flash mob involving the father of the bride and mother of the groom as well as some of our best friends to the beat of "From Now On", from The Greatest Showman. DJ Chino was with us the entire day and did a brilliant job blending classic remakes with more international and Spanish modern hits. They say it's good luck if the groom ends up in the pool, so my bridesmaids ended up supporting him there too!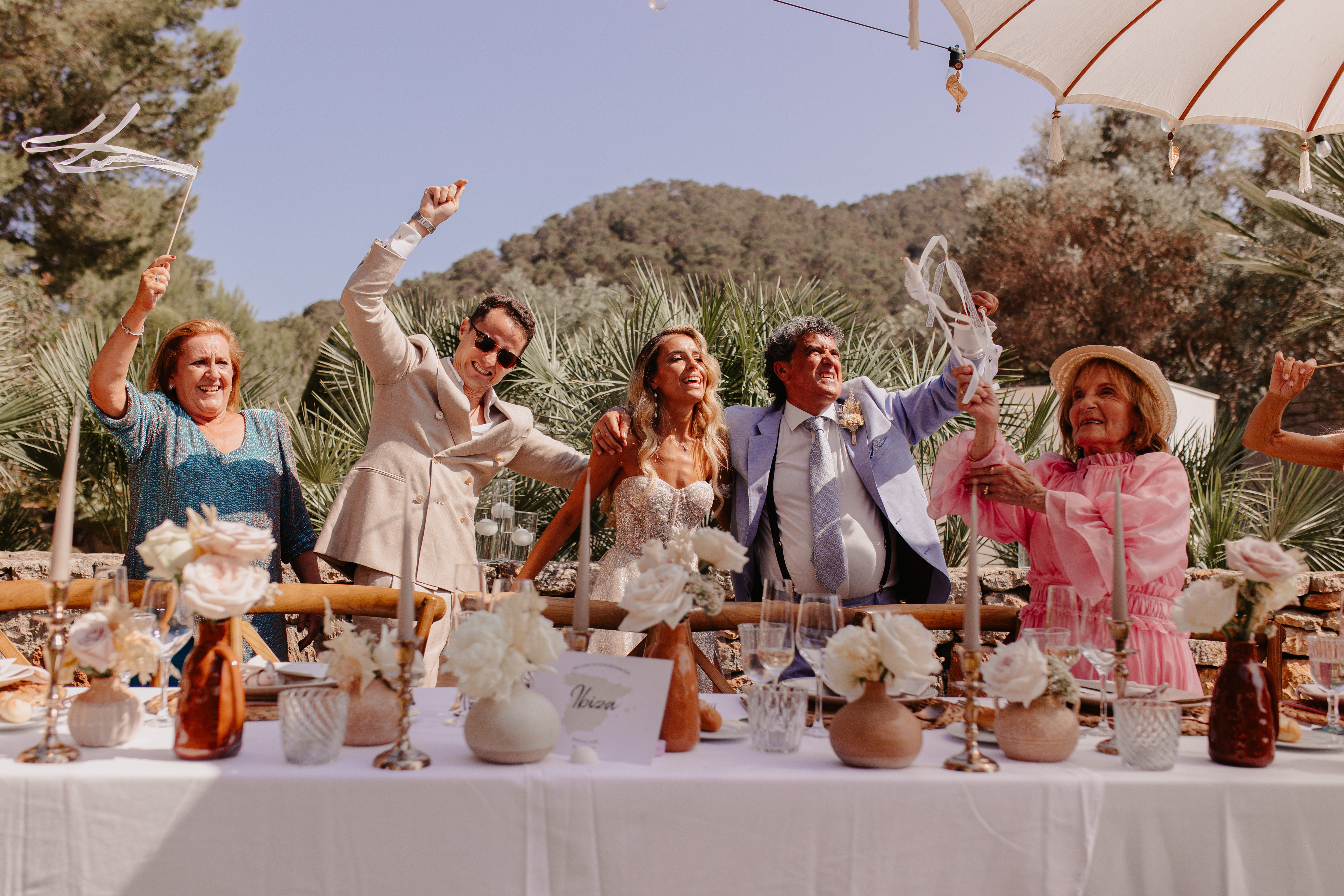 Wedding planning advice for brides to be?
Wedding planner/ coordinator for the day of the wedding is an absolute must. Especially if your wedding has multiple vendors like ours. The only thing you really want to worry about the day of your wedding is soaking in every single moment and being present with your husband and loved ones. You'll never have all your closest family and friends in one place again so make the most of it!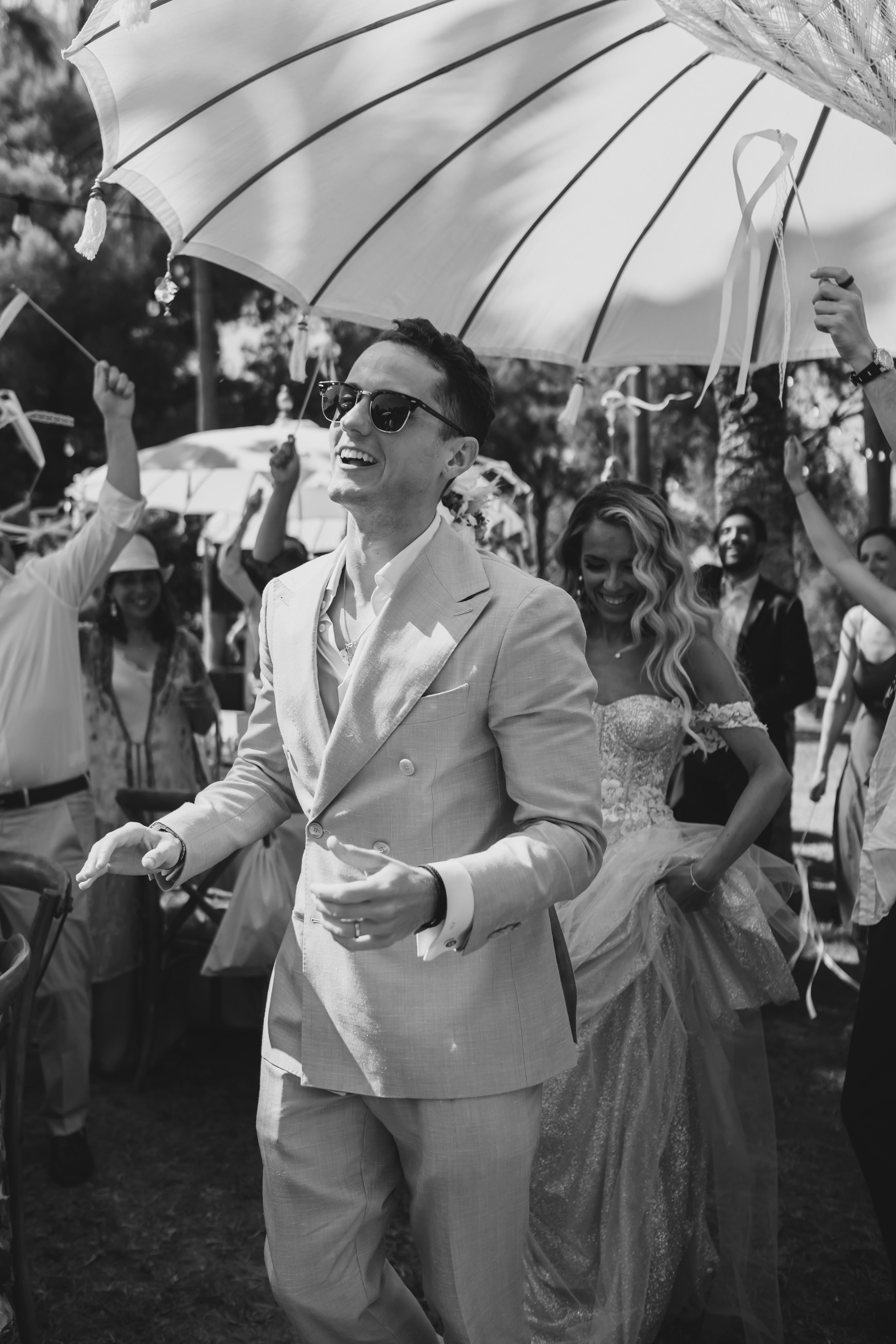 One moment you'll never forget:
Obviously meeting Juan at the end of the aisle and exchanging vows was extremely special to me but there was this unexpected, unplanned moment that we'll never forget because it was so fresh, fun and genuine. The cutting of the cake! Juan and I entered the garden to the rhythm of L-O-V-E by Nat King Cole. At golden hour and with the sun setting on our backs, this gorgeous raw vegan cake was waiting for us next to the pool, surrounded by palm trees. We danced, sang, teased and played with each other. The cake was delicious but so was that moment. It was truly magical.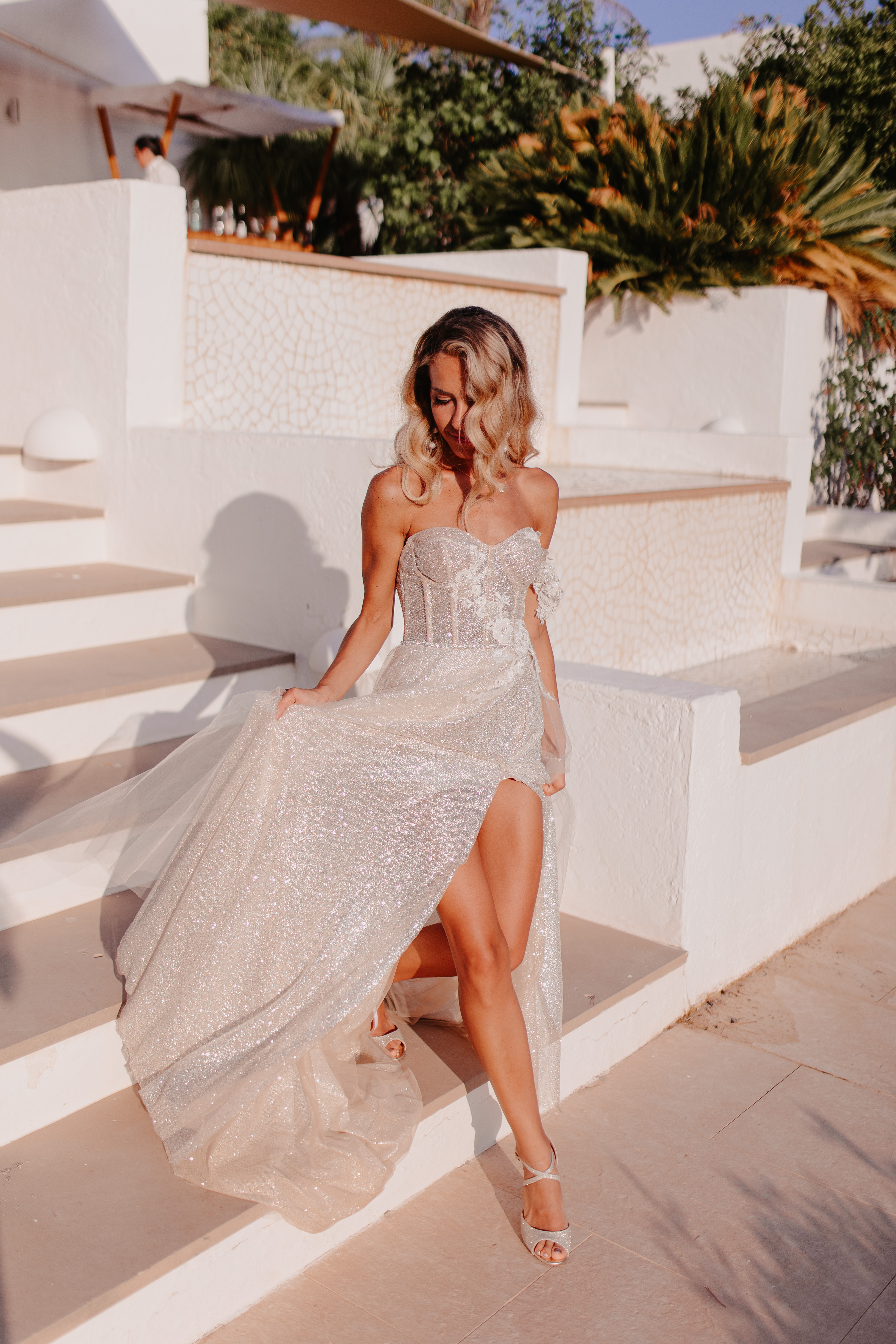 ❤️
Dress – MUSE by Berta available at The Wedding Club Knightsbridge
Bridal Accessories – Meeka, Kiri And Belle, Billy J Boutique
Hair & Makeup – Blow Out Ibiza & Marissa Cabrera
Groom's Suit – Suit Supply
Planner – Ruth Alexander
Photography & Videography – Natasha Marshall & Blanco Infinto
Venue – Casa la Vista
Food – La Sweet Catalina, Cup Cake Collection
Flowers – El Ramo de Flores
Entertainment – Ibiza Wedding DJ