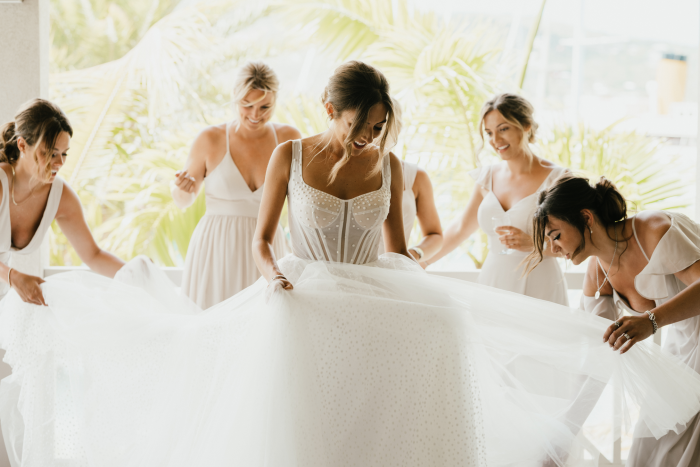 Chic, Rustic Antigua Wedding In Milla Nova Gown
❤️ The TWC Effect – Our brides, their way ❤️
We're joining Ellie and Ryan at their gorgeous and glam Caribbean wedding today, read on to discover the duo that made us all believe in love at first sight!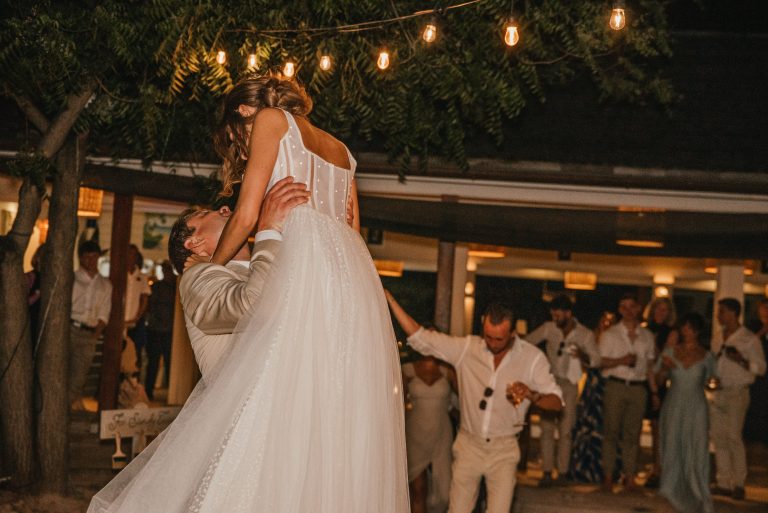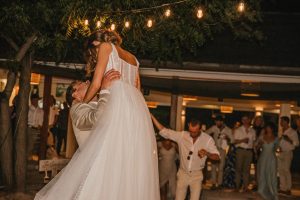 How did you meet?
When I was 22 I gave up my swanky London insurance job, and moved to Australia by myself to escape the rat race. I ended up working for a new branch of a holiday travel marketplace in Sydney.

They had just opened the office, and had brought Ryan over from Boston to manage it for 3 months. I walked into the office, and no word of a lie – I text my mum to say I met the man I was going to marry!

Ryan asked me on a date the first day we met in the office, and we have literally been inseparable ever since. We lived in Sydney, then I moved back to Boston with him, then Covid hit he moved to England, and now we are based in our gorgeous first home in Rhode Island.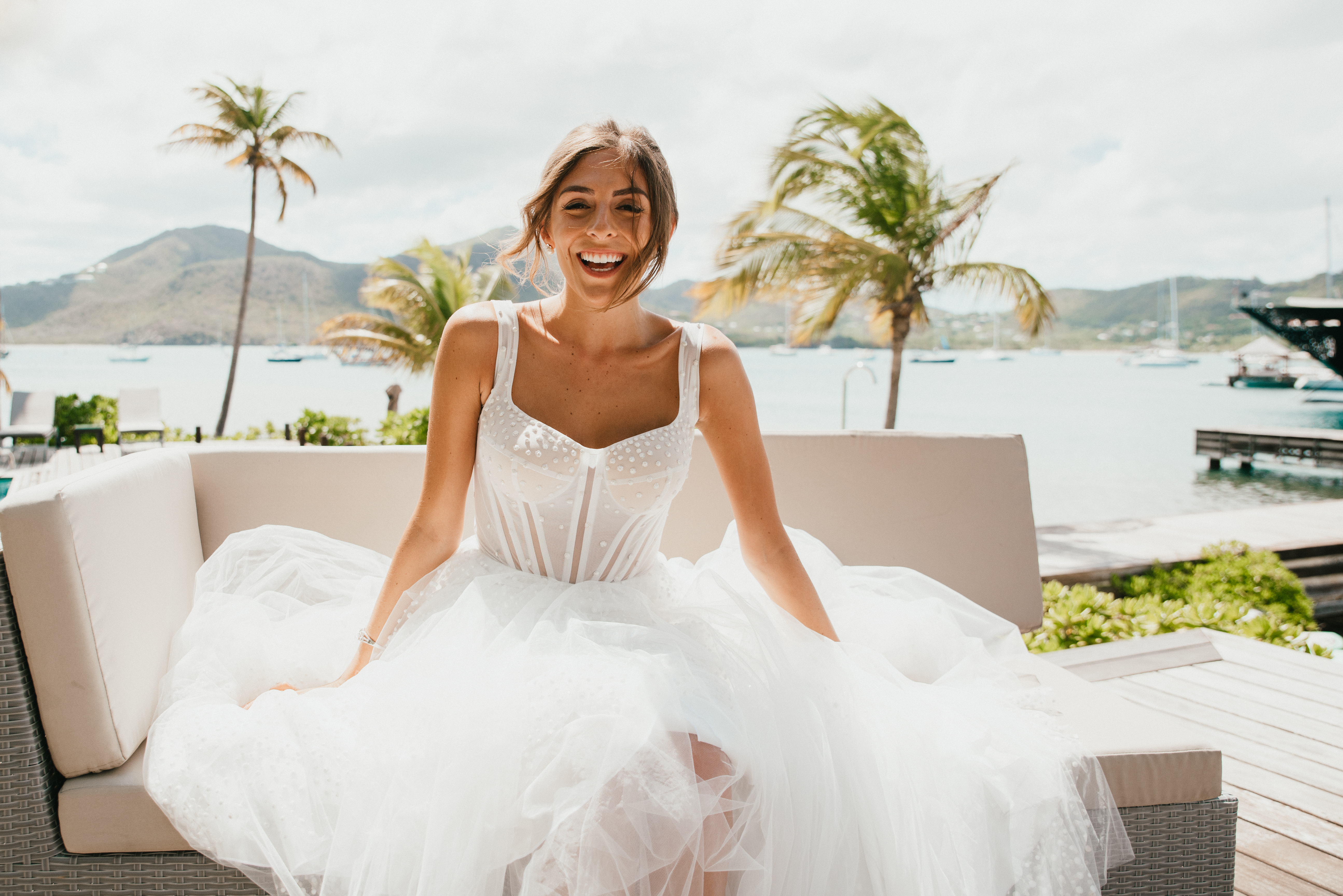 Was it love at first sight?
Undoubtedly! I had text my mum the minute I saw him, and I found out a little while ago that on our first date he'd taken a sneaky picture of me at dinner and sent it to his mum too saying the same thing!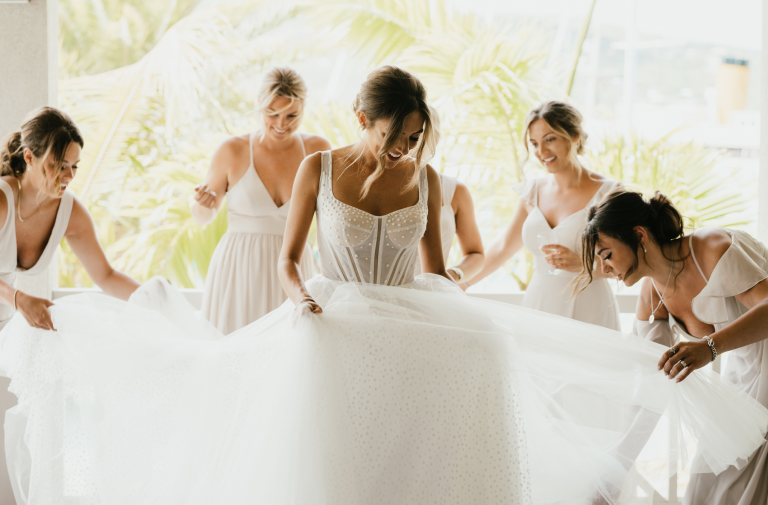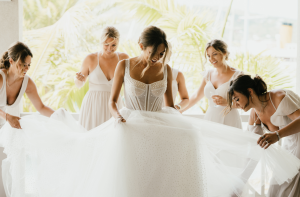 Who proposed and how?
Ryan proposed on the 20thFeb 2021. We had been living in England during lockdown and had basically been locked in a house together for 6 months – but we'd had the best time which is probably how you know it is right

. So, that week in Feb his two sisters who live in Boston flew in to surprise me. I was so so so excited to get to see them and spend time with them, they are literally the best sister in laws you could ever ask for – we all get on SO well. We had a really fun few days showing them around (even though everything was shut) and spending some quality time together.
On Saturday 20th we decided we'd walk down the old town on the water (my favourite place) for sunset. We strolled down with a bottle of wine and some plastic glasses. It was a gorgeous sunny day with bright blue skies but a little chilly.

His sisters told Ryan and I to pose for a picture out on a dock in front of the water– I was wearing big fluffy north face gloves at this point, and they were telling me I had to take them off. With a large dose of attitude I took them off, not understanding why it was such a big deal, and one flew off so I was trying to turn round to look to see where it went and totally missed Ryan getting down on one knee. I was SO surprised, I literally had no idea whatsoever, and the first thing that came out of my mouth was 'Have you asked my dad?!' which of course he had, and then I immediately said yes!

As he jumped up to cuddle me, I heard cheering and clapping and my whole family had been hiding behind a wall watching the entire time. I hadn't seen or hugged any of them in MONTHS because of covid, and even my 92 year old grandad was there watching. They had brought down bottles of champagne and balloons and we all sat outside and enjoyed being together for the first time in almost a year.

It was the most special day I've ever had, and being able to share that moment with all of the people who matter the most to me was amazing. I also, obviously, found out that Ryans sisters had flown the whole way here just so they could be part of it too!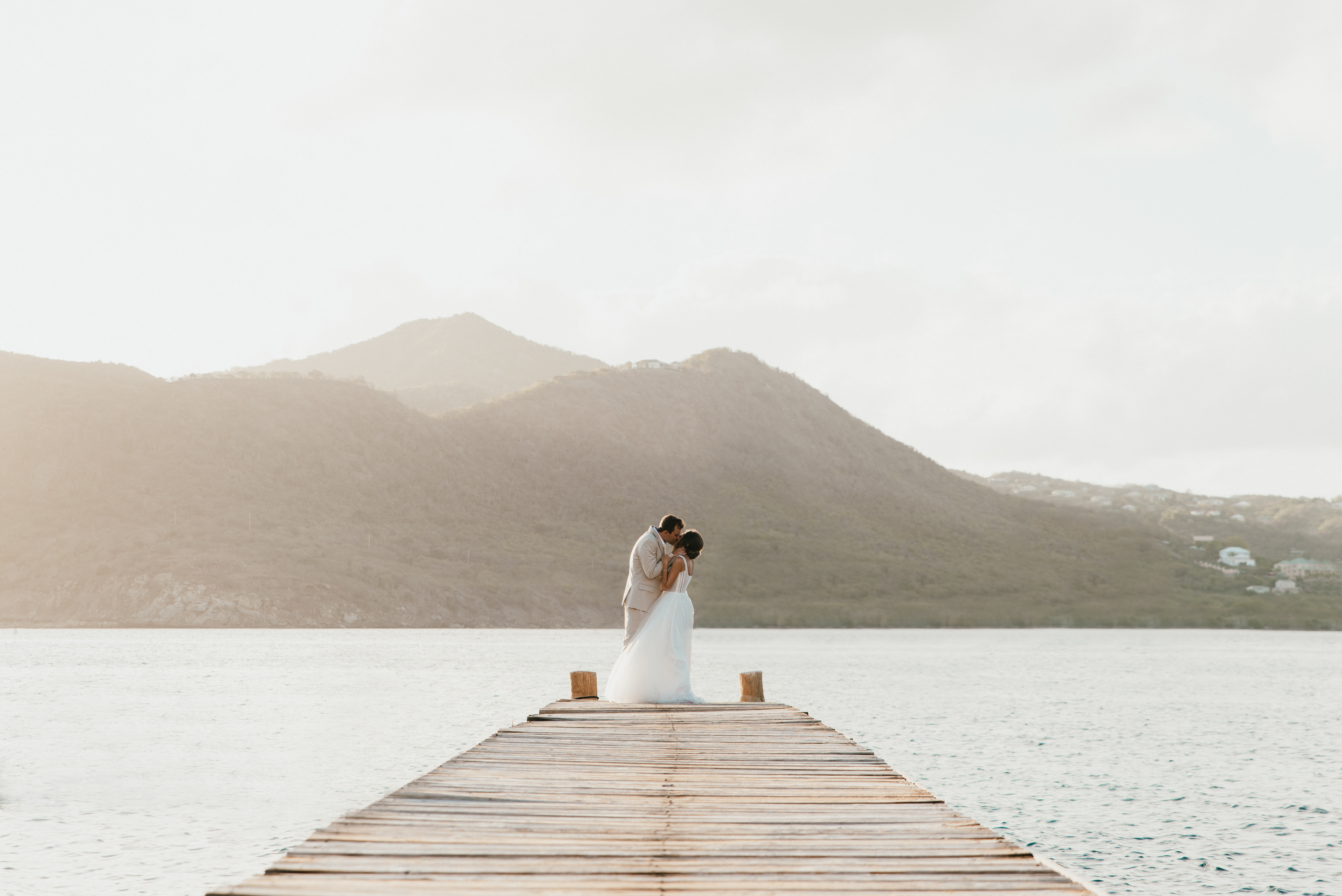 Wedding theme & location:
So as some background, I have spent my whole life visiting Antigua. My favourite childhood memories are on the island and it's an extremely special place to me. At the first opportunity I got, I took Ryan there and thankfully he loved the tiny island as much as I did. Funnily enough, on our first ever trip there I took him to one of my favourite restaurants (Sheer Rocks) and introduced him to Alex, the owner who I've known for years.

Upon introducing Ryan to Alex, I told Ry that Alex owned the other venue where I'd always wanted to get married, to Alex's delight he insisted that his wedding planner was just round the corner and we could chat to her. Poor Ryan, we weren't even engaged at this point hahah he looked like a deer in headlights! But, fast forward to the day after we got engaged – I called Alex straight away and told him, and within a few hours our perfect venue – Catherines Café – was booked and decided.

The restaurant sits on the beach – think chic French bistro vibes with the tropical greenery of the Caribbean and the turquoise water as a backdrop… It is beyond gorgeous. So the theme for the wedding had to compliment that, it was a lot of whites and greens with lots of neutrals.

We had a driftwood arch that was intertwined with palms, with rustic wooden seats for the guests and palm leaves lining the aisle. There were personalised wooden fans on everyone's seats, and beautiful white parasols for guests to use as shade. My mum and I had hand-made beautiful oyster shell name tags, and the tables were full of greenery and burlap.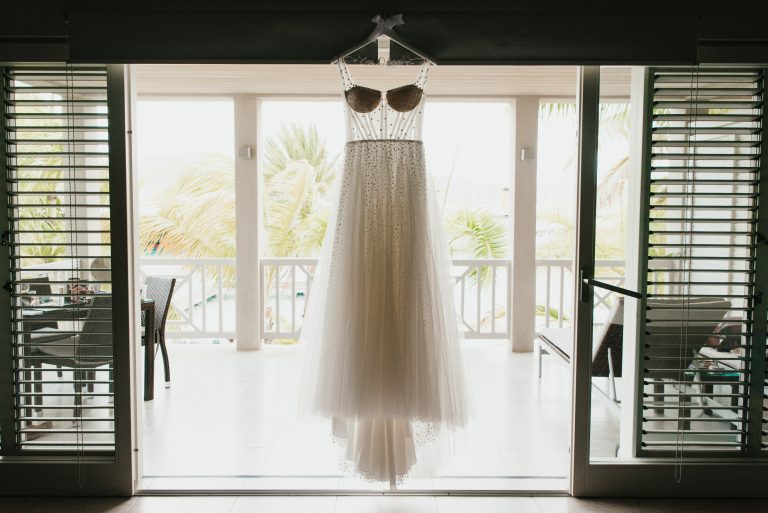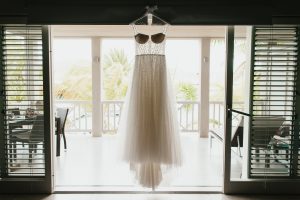 How did you find the wedding club and your dress?
So, I was VERY set on a Berta dress when I first started looking and The Wedding Club was one of the only stockists in England so I knew it was the place I needed to visit. I was dreaming of a romantic dress, with lots of texture – perfect for the beach.

I visited during the height of covid, so could only come with my mum but Chloe who helped us was amazing and made the entire experience unforgettable, despite the weird time we were living in. I immediately pulled a selection of Berta dresses to try and they were all beautiful but none felt like they were truly me.

I then caught a glimpse of a Milla Nova dress on the other side of the room that had a beautiful fitted bodice, sparkly embellishments and a tight mermaid style bottom. I tried it on straight away, but unfortunately the only colour sample that was in the store was a nudey pink colour, and I was set on a white dress.

My mum suggested that I try on the other Milla Nova dress that was there with the same bodice in white but with a much fuller skirt. I refused and was adamant that I wanted something tight and figure hugging, but after some persuasion I guessed she was right and I would be able to see what the other dress could look like in white. The second that I put it on, to my surprise, I knew it was the one. I have never felt more beautiful, and have never put on anything that was so me before!

I had appointments at 3 other stores that day, and cancelled them all! It was the 5th dress I had ever tried on, in the first shop I went to, and I absolutely did not want to take it off haha.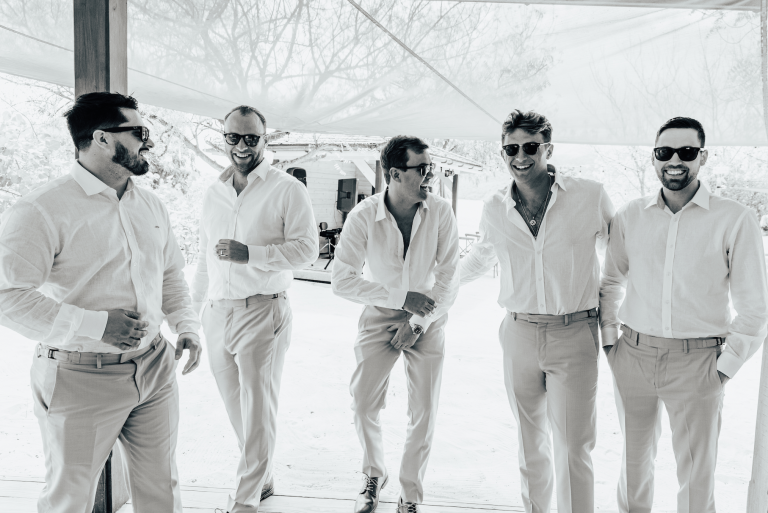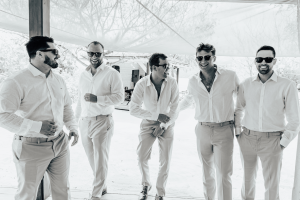 Where is the suit from?
The groom and the groomsmen all wore beautiful sand coloured linen suits from Black Tux (an American company). They were light weight and smart, and looked so handsome on all the boys with a tan. They were the perfect beach suit.

My dad wore a gorgeous light blue linen suit from Hawes and Curtis too, which was so so perfect I had to mention it! All of the men at the wedding wore the Reef Knots linen white shirt, it's the only linen shirt we have ever been able to find with a proper collar. They are gorgeous quality and everyone looked so perfect.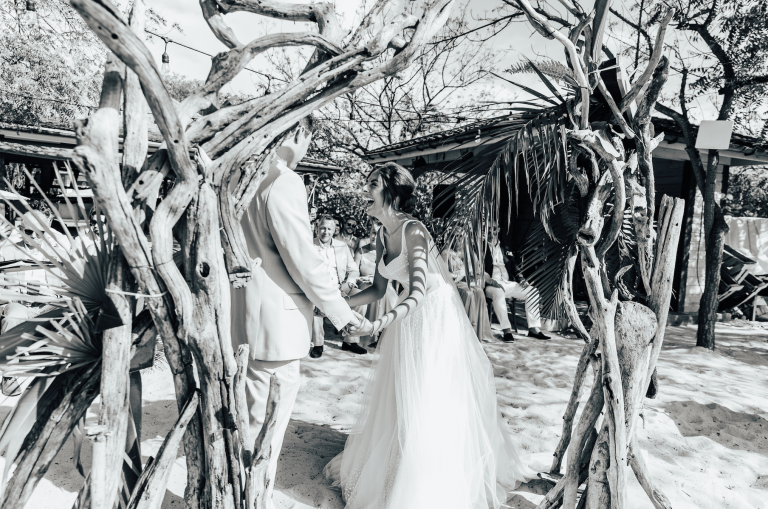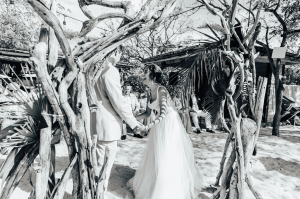 Did you have speeches?
Yes! Ryan kicked off the speeches before we had starters. His was full of beautiful anecdotes about how we met, and how everything happens for a reason – it was perfect. Next up was his best man Mike, who told some hilarious stories about Ryan when he was much younger and made everyone laugh whilst thanking me for straightening him out and shaping him into the man he is today (with particular note to his VERY white teeth, and very tight jeans – definitely an Essex thing)!)

Then, before main courses my dad and my brother were up. My dad's speech reduced everyone to both tears and fits of laughter, it was full of emotion but witty and cleverly written – it was so beautifully thought out.

Last was my younger brother, who is known for having a very dry sense of humour and a very sarcastic tone (which made me very worried considering English humour and American humour can be very different!) The speech was amazing, by far the funniest and well written speech I've ever heard – there were plenty of insults but enough love to balance it out. I will treasure all of the words that were said by everyone forever.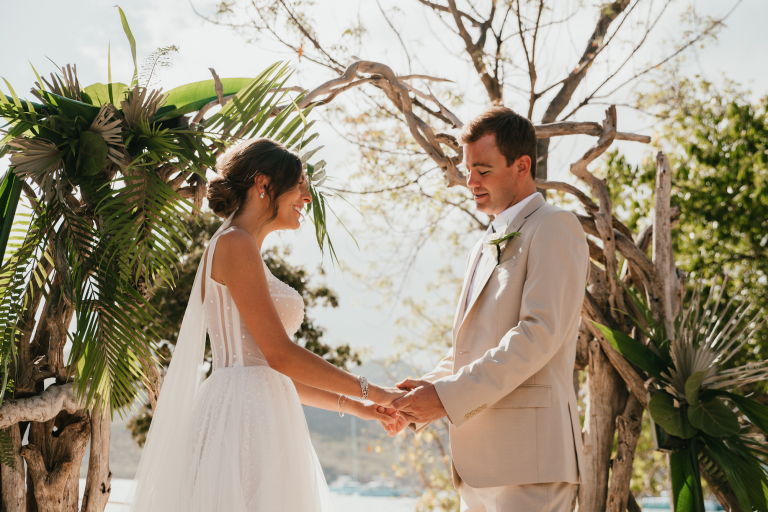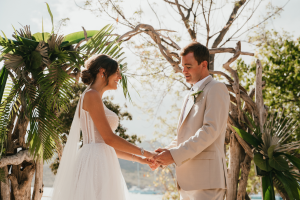 First dance?
Our first dance was Better Together by Jack Johnson. Our wonderful band 1761 Degrees learnt it and performed it live for us. Having been separated for long periods of time, and being based in different countries our saying has always been that everything is better when we're together – so it was a total no brainer that it would be our first dance song.

We had never practised dancing before haha but it was so perfect, we were so wrapped up in the moment and being together that it couldn't have been more romantic or perfect even if we'd practised it a million times – he even threw in a spin and a dip!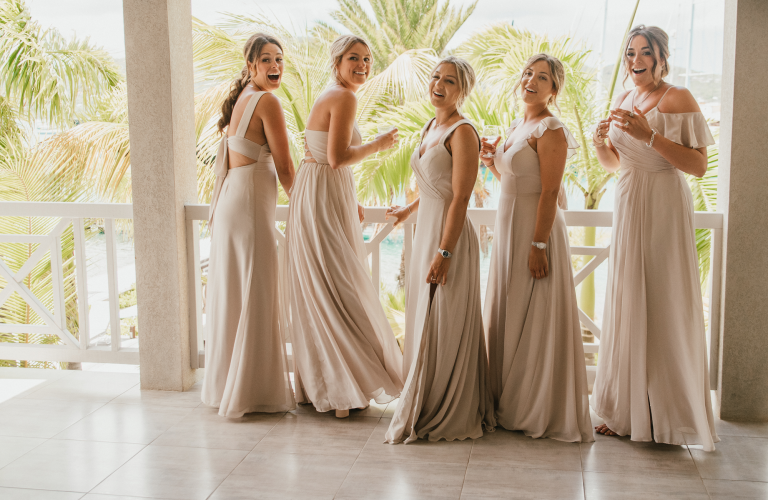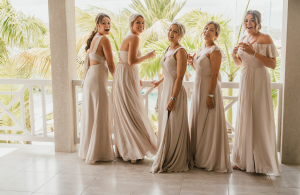 How was the party?
I don't think there are many words in the English language that could describe it ahha. As a small wedding of 35 you'd think it would have been a little calmer than most weddings, but all of our guests are HUGE personalities who love having fun.

'Get down on it' started playing during our main courses and within seconds there were napkins swinging around and guests bumping and grinding with the staff – it was absolutely amazing ahahaa and the party just carried on! I think the midnight snacks of grilled cheeses and burgers definitely helped the effects of a free bar though!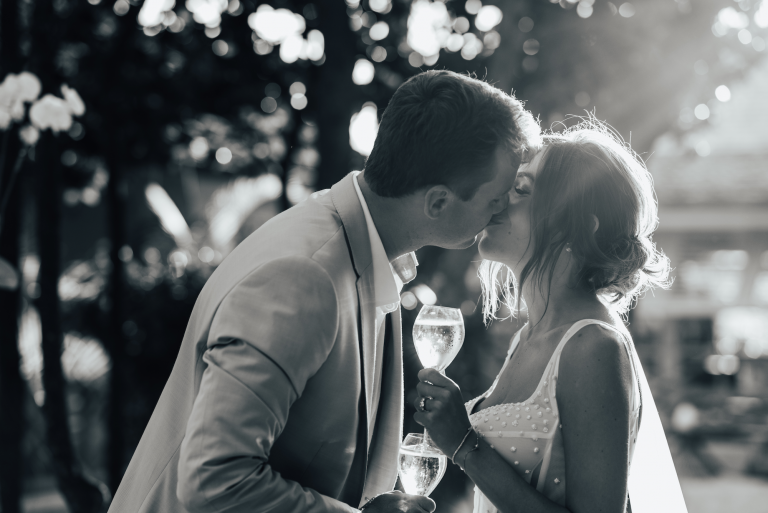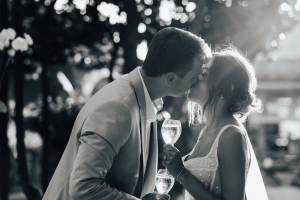 Wedding planning advice:
Hire a wedding planner! I cannot explain how much I would recommend having someone to take the stresses away from you. My wedding planner Jess was an absolute angel, I didn't worry about a single thing leading up to the wedding and the whole day ran SO smoothly without a single hiccup.

She covered absolutely everything, even down to organising taxis to pick the guests up and drop them home. My entire wedding planning experience and wedding day itself was SO stress free, and I was able to enjoy every single second of it.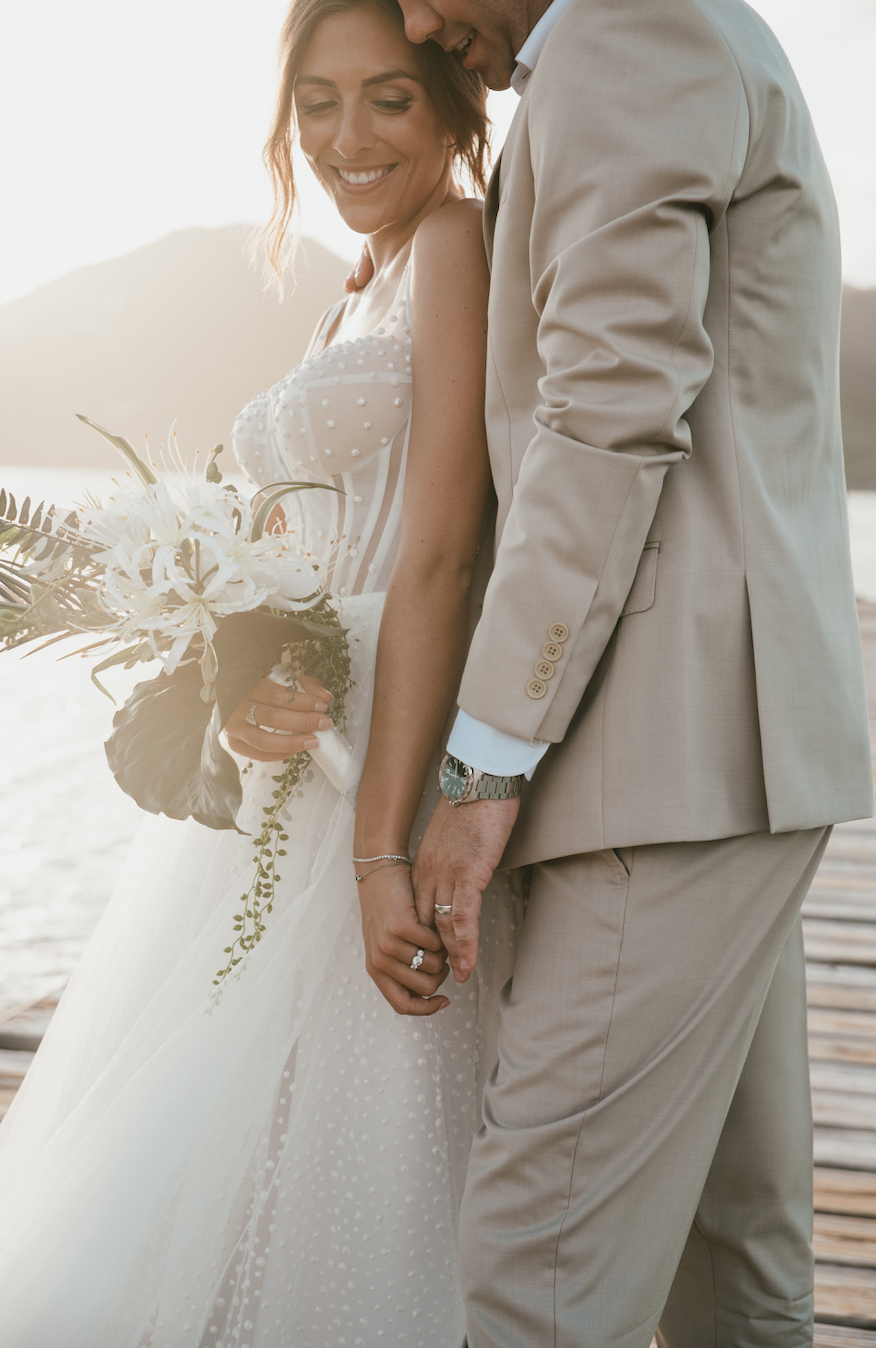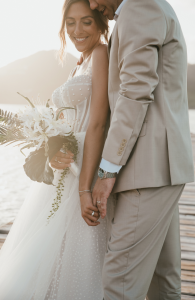 One moment you'll never forget:
It has to be walking down the aisle. Looking at Ryan standing under the driftwood arch with tears in his eyes was a moment I'll never forget – and then turning round and seeing all of my favourite people in my favourite place in the world was a dream come true.
❤️
Dress – Milla Nova available at The Wedding Club South Kensington & Birmingham
Hair – Ronda Kande
Wedding Planner – Rocks Group Events
Photography – Emma Mathieson
Bridesmaids Dresses – Azazie
Suits – Black Tux
Venue – Catherine's Cafe
Flowers (Silk) – Tracie Perkins