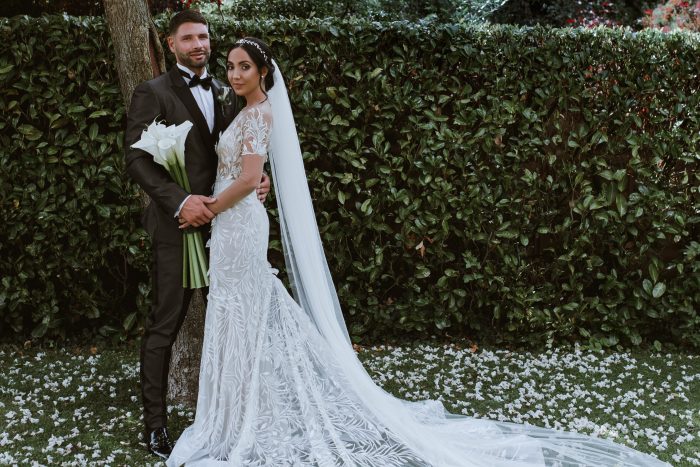 A Modern, Monochrome Wedding In Bedford With Berta Gown
❤️ The TWC Effect – Our brides, their way ❤️
Lauren and Jonny take us back to where it all began with a peek into their hometown wedding! The couple opted for a glamorous black and white theme for their fun-filled day.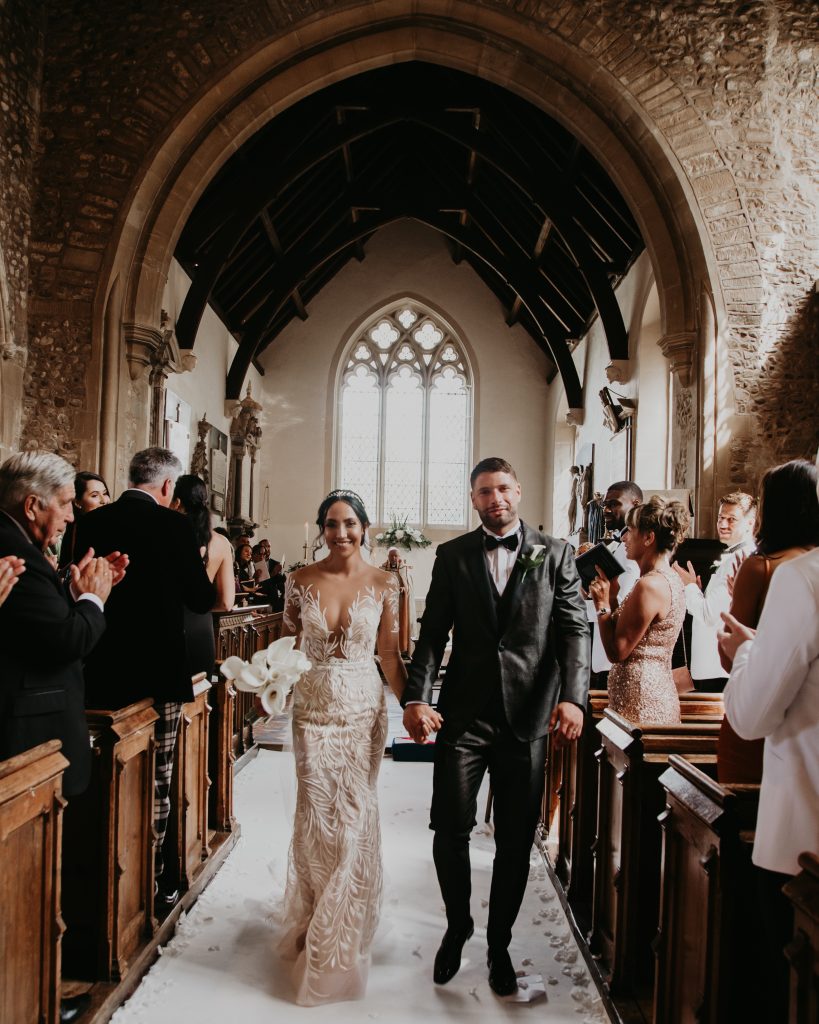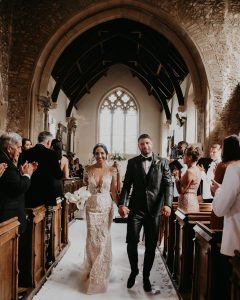 How did you meet?

Jonny saw me in a local nightclub in Bedford where we both grew up, he sent me a Facebook message the next day asking for my number!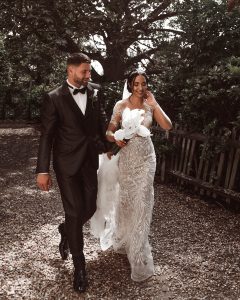 Was it love at first sight?
I don't think it was love at first sight as I was only 18 and Jonny was 21. So we were both very young! But after getting to know each other more and seeing each other for quite a few months we fell in love and knew we'd be together forever!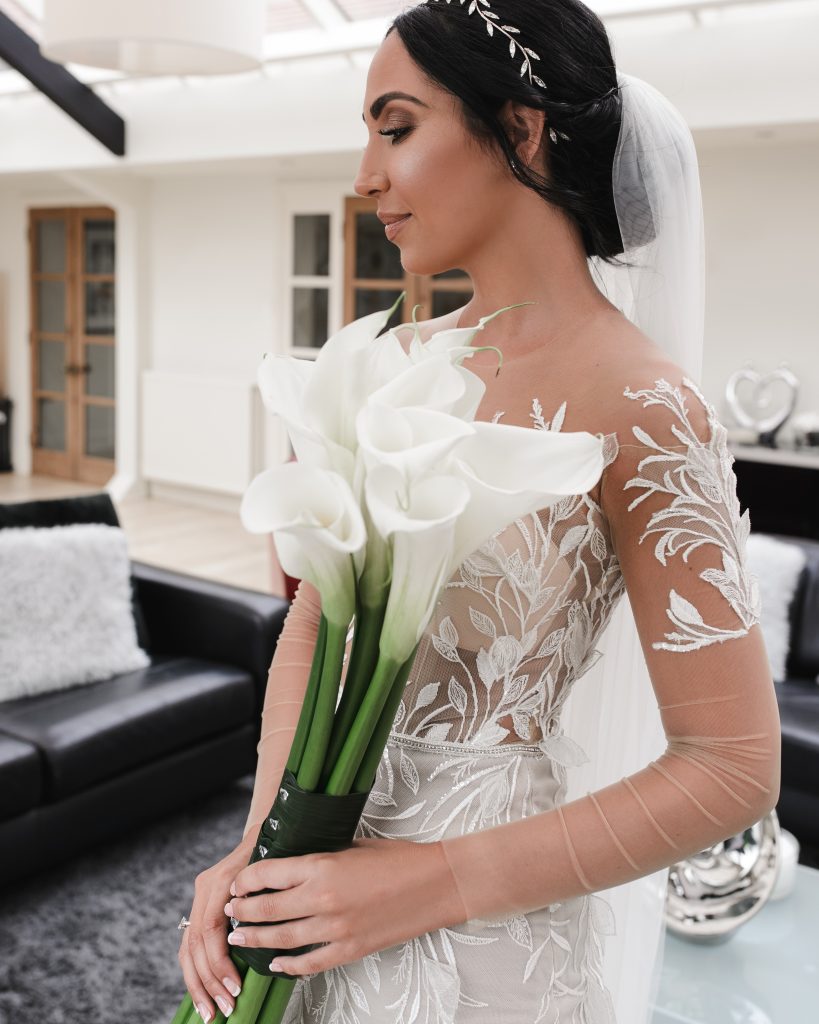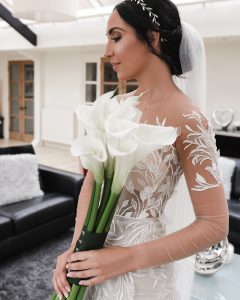 Who proposed and how? Lovely details, please!
Jonny proposed on a beach in Koh Samui, we were staying at the Nikki Beach hotel and he had arranged with the staff a very romantic proposal on the beach.
We had a private area for dinner right on the beach front with Roses and champagne.. it was actually on Valentine's Day so I had no idea he was going to propose. I thought he had just planned something really amazing for Valentine's Day. We watched the sunset and had a beautiful dinner with lots of champagne to celebrate after he had proposed. It was amazing!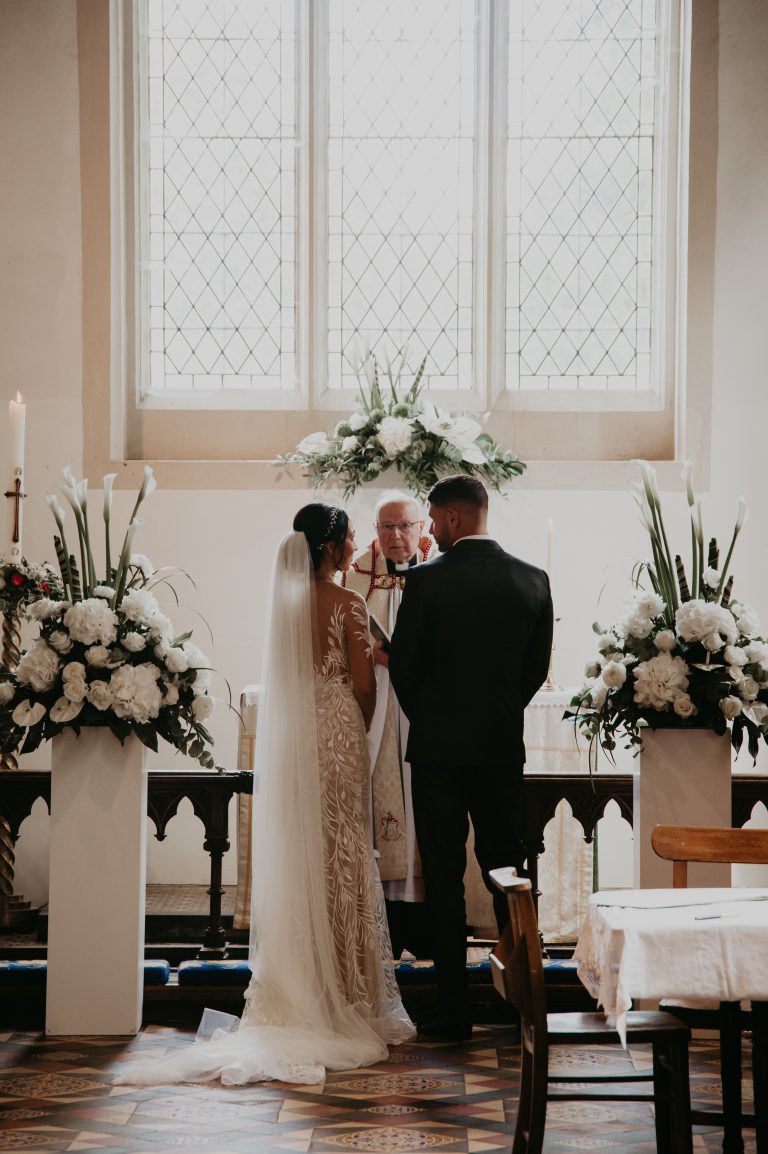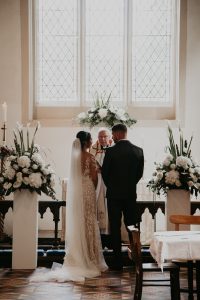 Did you have a theme for your wedding?
I love everything monochrome! So I decided to go for a black tie dress code. Everyone looked amazing! I also had the marquee where the wedding reception was held decorated all white, with beautiful white Calla Lilly's as the table centrepieces. Mirrored coasters as table names, a large white square bar, a white dance floor, and white carpet.
My bridesmaids wore black and they looked amazing, they all chose how they wanted their hair and makeup as I wanted them to feel happy and I think it looks nice to have the bridesmaids with different hairstyles. All the groomsmen wore white dinner jackets with a black lapel, they looked amazing!
If anyone has ever been to my house, they'd know I love everyone modern, light and contemporary. So I decided to try and incorporate that theme into our wedding.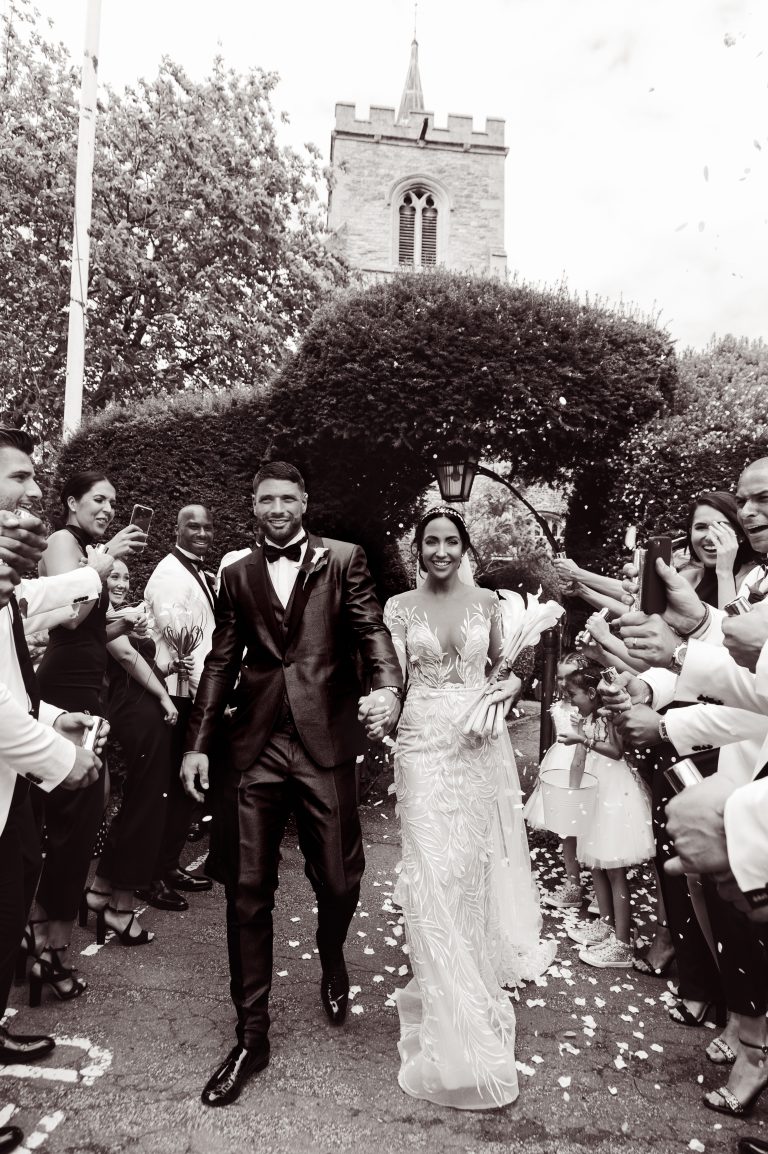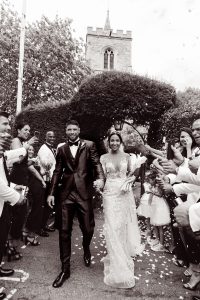 Location and how you found it?
My Mum and Dad live in a beautiful house with a lovely large garden so we decided to have a marquee holding over 300 guests for the reception and get married in the village church where both of our family homes are. It was so special to us both as we've grown up in the village. It's amazing to think that our wedding venue is one of a kind as it was held on my parents grounds. We are very lucky!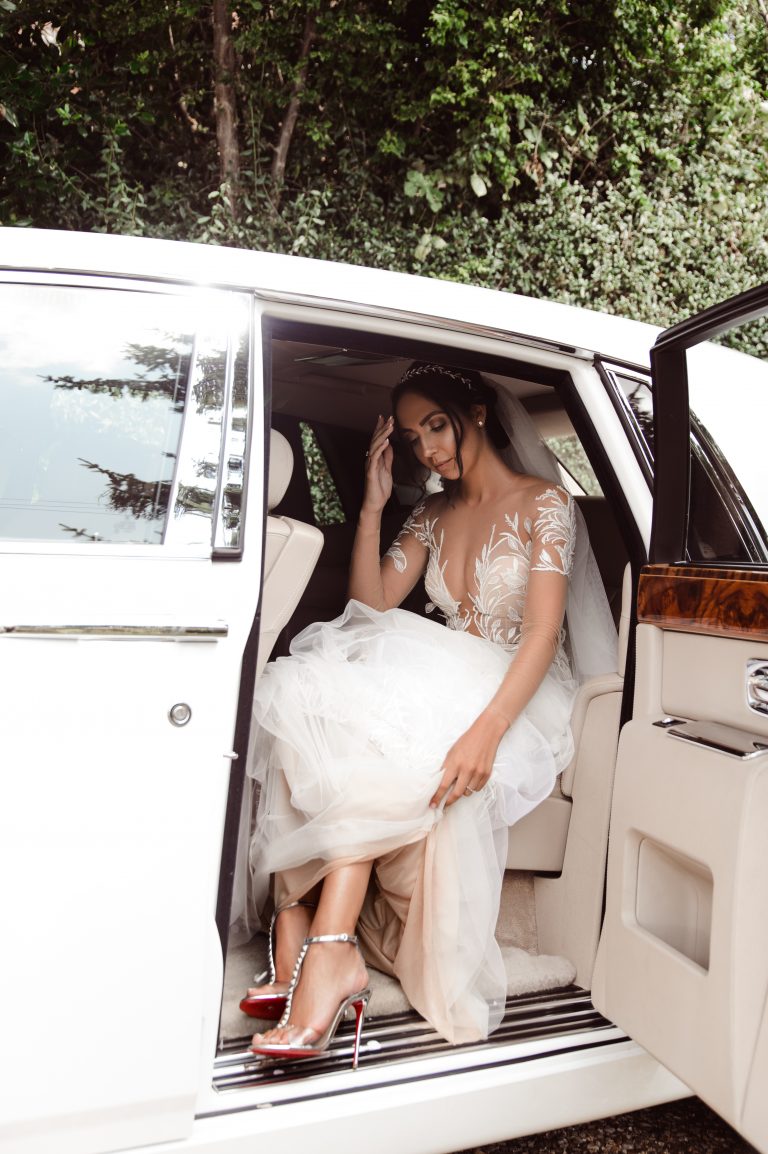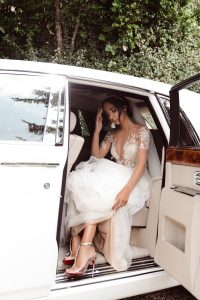 How did you find The Wedding Club? Tell us about that moment when you found and chose your dress – how did it make you feel when you put it on for the first time?
I had followed the wedding club for a few months before getting engaged and thought it always looked so lovely and stocked the most amazing dresses! I lived in west London for 5 years so decided to get my dress from London and knew The Wedding club would be the shop for me!
My dress was the first dress I tried on! I felt so incredible wearing it.. my mum and mother-in-law both cried when I came out wearing it… I thought I had maybe just got too excited and picked the first dress I tried on but after trying on another 5 dresses, I knew the first dress was the one for me.
It fit me like a glove and the details on it made it so unique, I knew I couldn't leave the shop without purchasing that dress! It didn't even cross my mind to go to another shop and try on different designers – that's how I knew!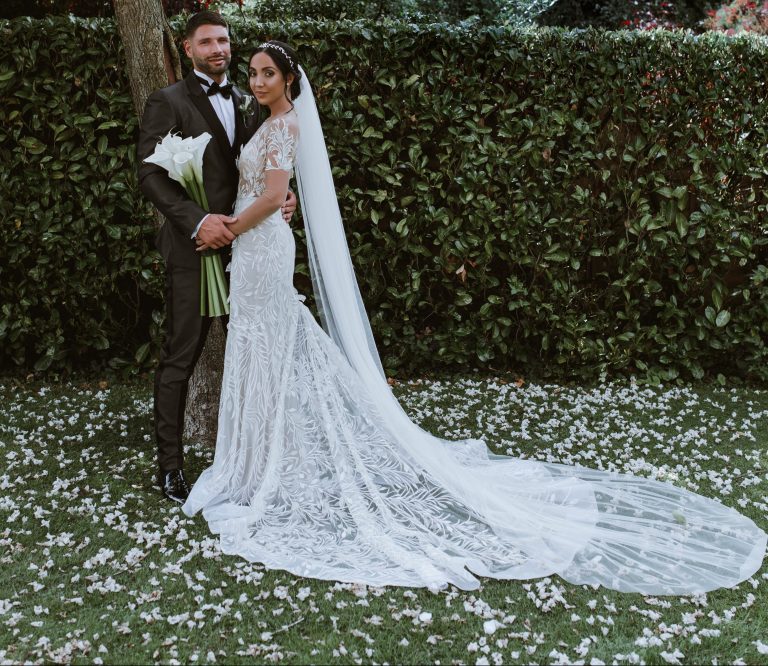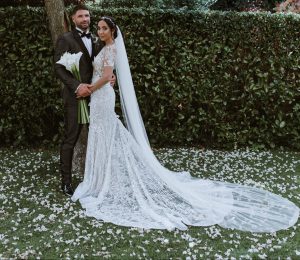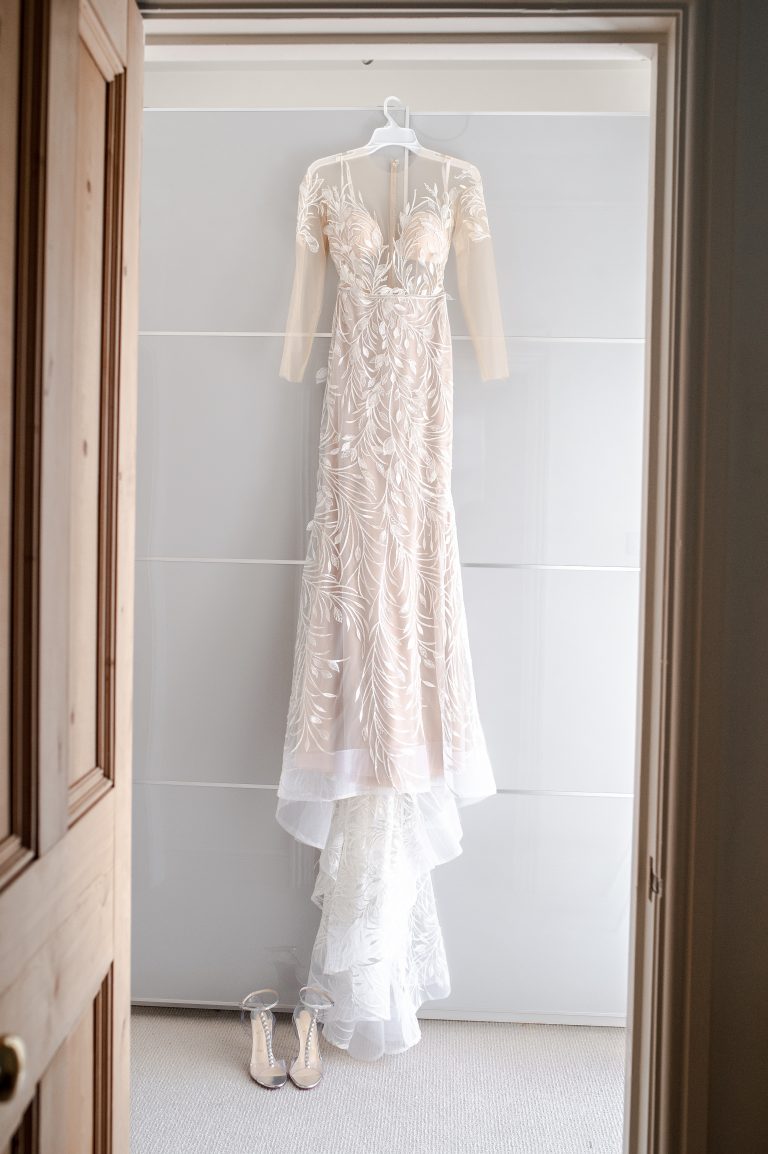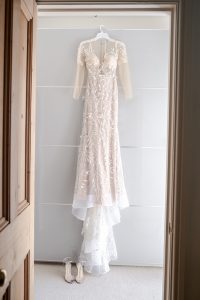 Which designer did you wear?
I wore Berta. I've followed Berta for a while and have always been obsessed with the dresses. It was a dream come true to be able to wear one of their designs on my wedding day!!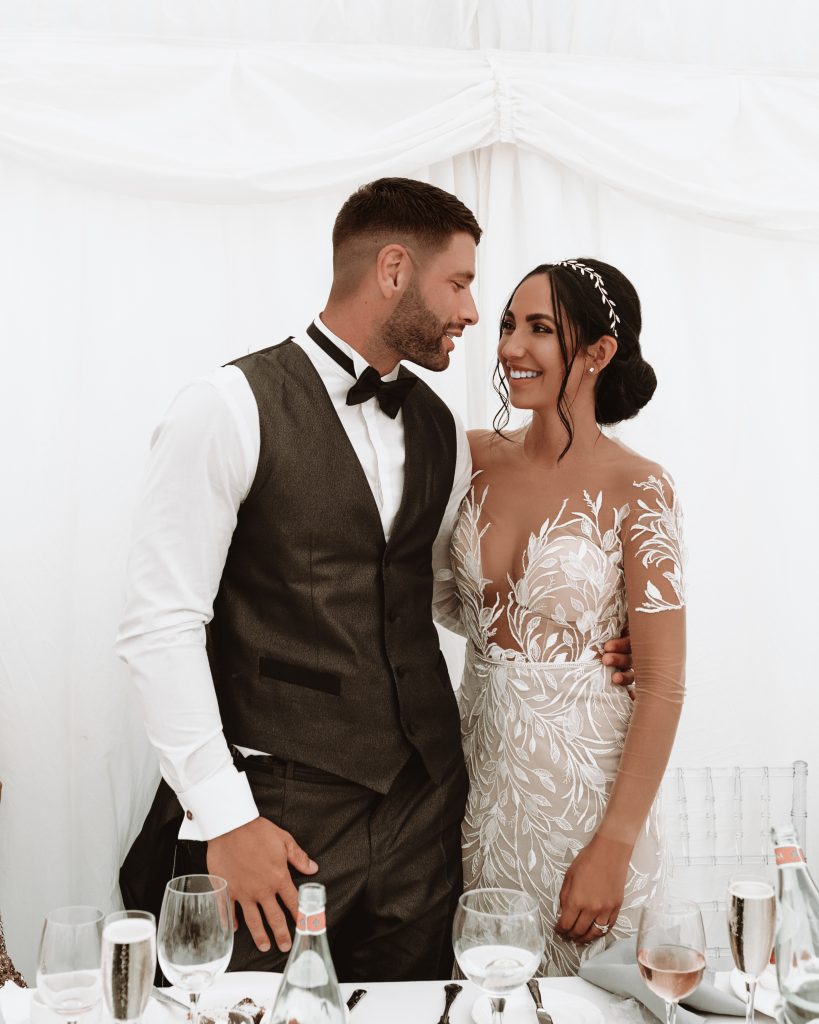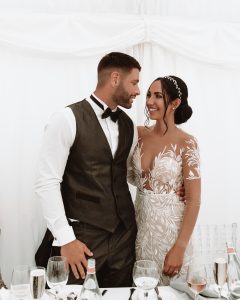 Where is the suit from? Why was it the perfect fit?
The suit was from Dolce & Gabbana. Jonny had it tailored after he purchased it so the fit was amazing on him. We saw it when we were out shopping together and it just suited Jonny so much, it's like the suit was made for him! Everyone commented on how handsome he looked in the suit on our wedding day.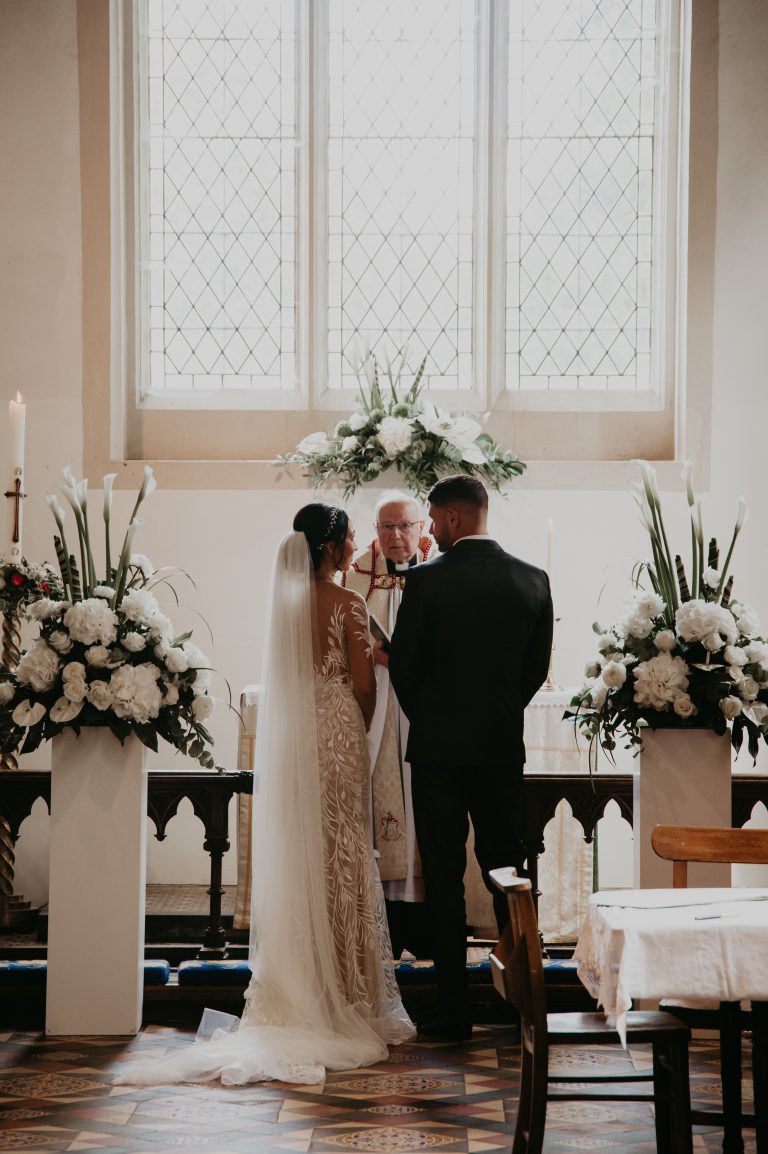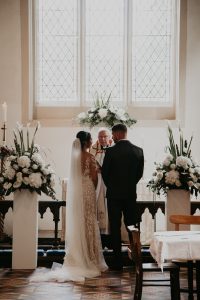 Did you have speeches? Who performed them?
We had four speeches at the wedding. My Dad was first up, he did a great job. It was such a beautiful speech. The Groom Jonny was next, he was so nervous but also did a fantastic job.
Then there were the speeches from the two best men, they were both so good! They had everyone laughing.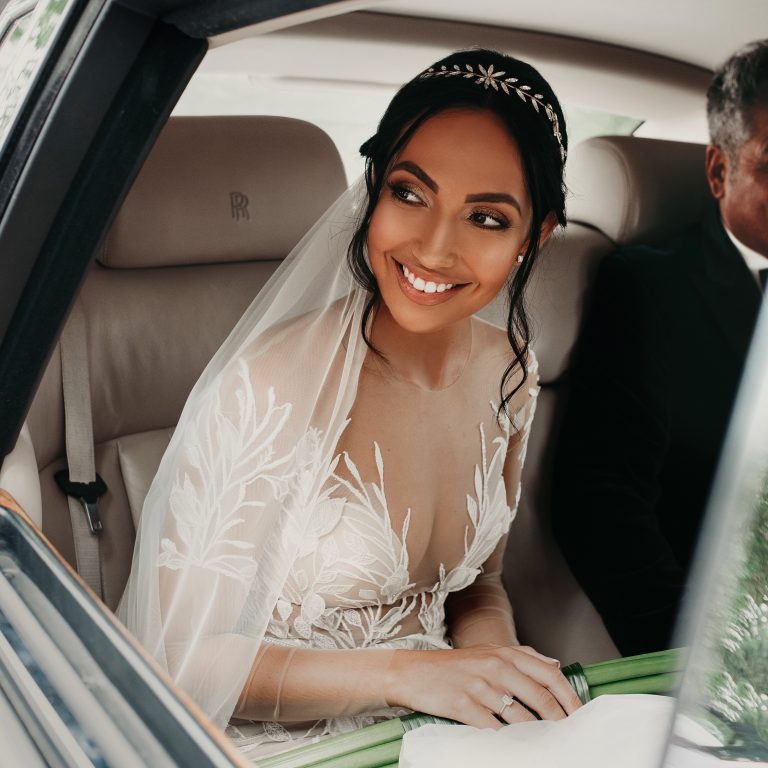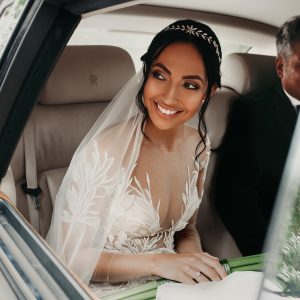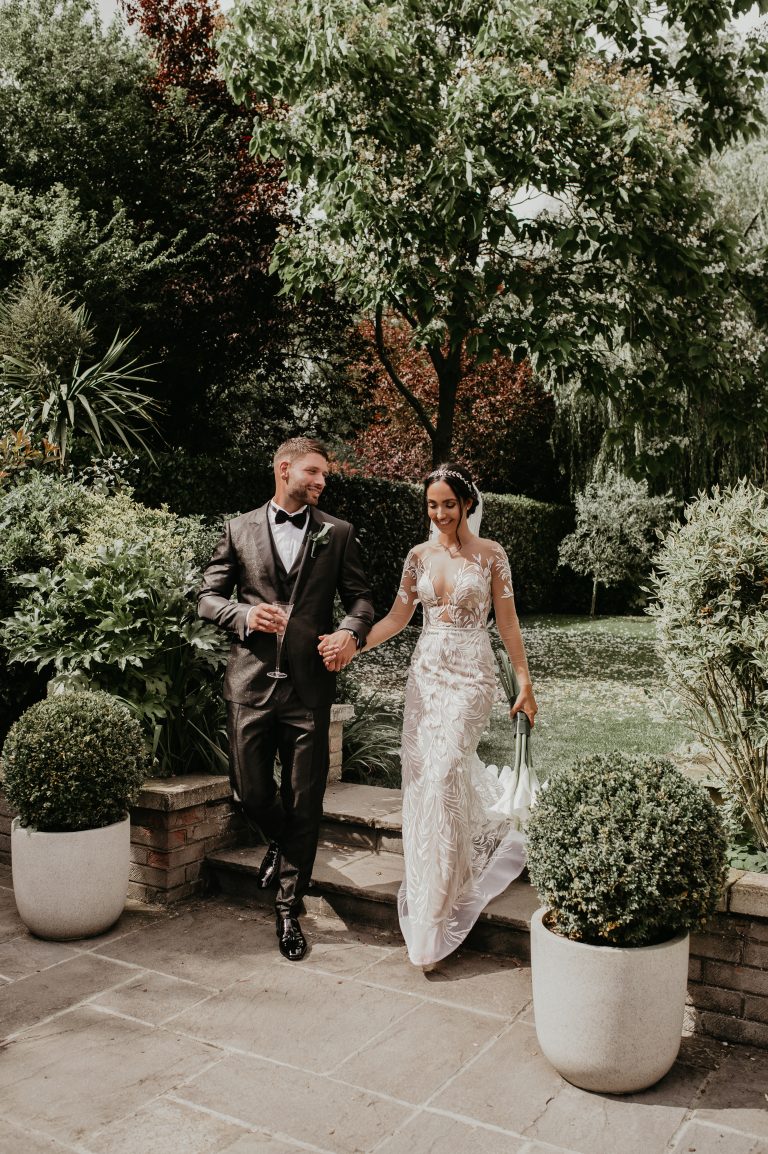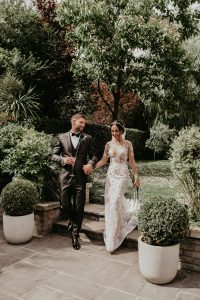 Did you have a first dance? What song did you choose and why? How was the performance?
We did our first dance to Neyo – Sexy Love. Neyo was the first concert we went to together about 10 years ago. We heard the song on the radio one day whilst we were in the middle of wedding planning and both said we should definitely have this song as our first dance!
The first dance was fun and we didn't take it too seriously, we just had a little dance together then wanted everyone to come onto the dance floor and join us. It was so lovely.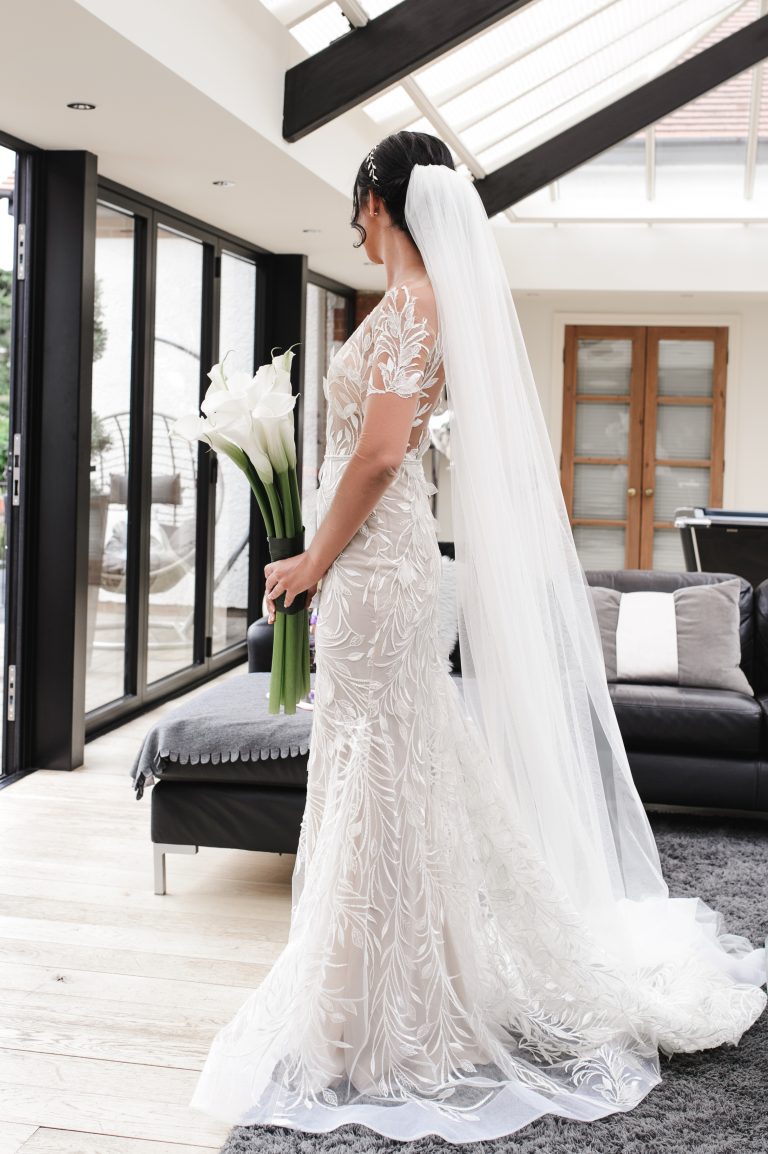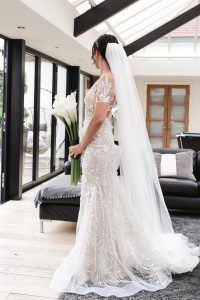 How was the party?
The party was amazing, Jonny and I both love to party! My mum and dad have also thrown lots of brilliant parties at our family home so we definitely know how to throw a fun party.
Lots of people were up dancing and drinking and I've had so many people contact us to say how they had such an amazing day/evening. I wish we could do it all again!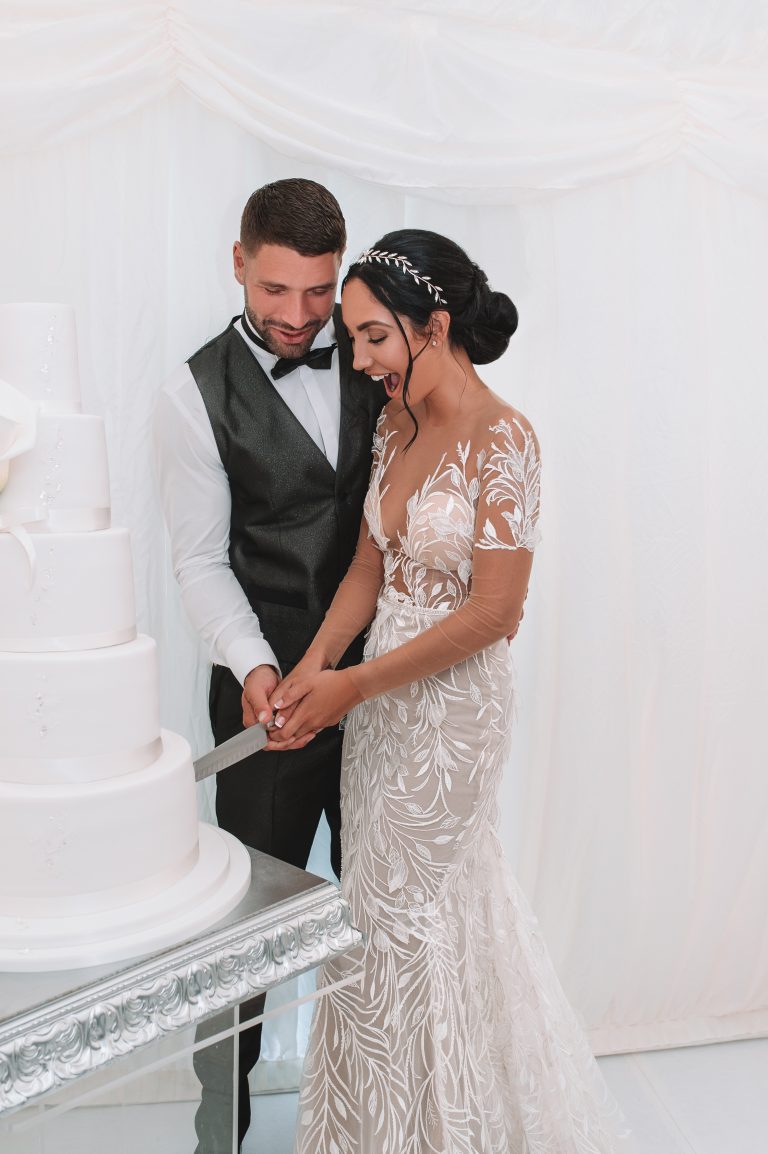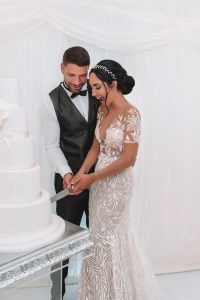 Wedding planning advice for brides to be?
Try not to get to stressed otherwise it takes the fun out of it. Wedding planning is supposed to be fun and exciting.
I loved wedding planning and luckily had my amazing mum who helped me loads. She was pretty much my wedding planner! Just make lots of checklists and tick stuff off as you go along.
❤️
Dress: Berta available at The Wedding Club Knightsbridge & Birmingham
Photos: Chelsea White & Chelsea Mannerings
Venue: All Saints Church, Bedfordshire
Marquee: UK Tents & Events
Flowers: Flower Gallery Bedford & Pinks Florist Barnet
Hair: Liz at El Styling
Makeup: Lauren Christy Makeup
Suit: Dolce & Gabbana
Cake: Seventh Heaven Cakes