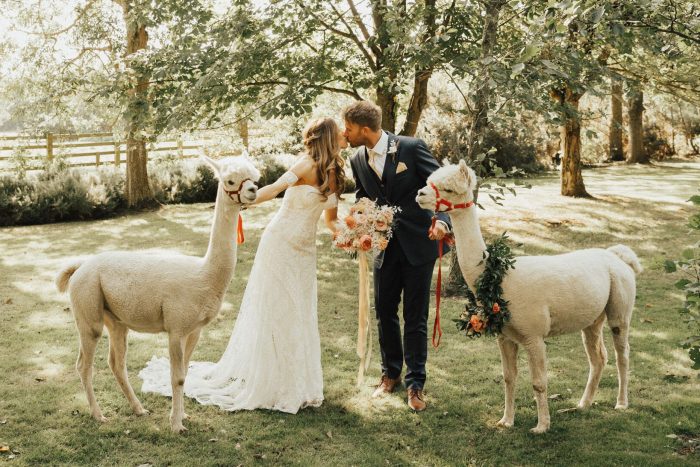 Boho Barn Wedding in Rue De Seine
❤️ The TWC Effect – Our brides, their way ❤️
A modern romance! Heather and Tom met after he liked her profile photo and the pair maintained their modern sensibilities by planning their marriage together. We're off to the charismatic, boho barn where they said "I do" in style.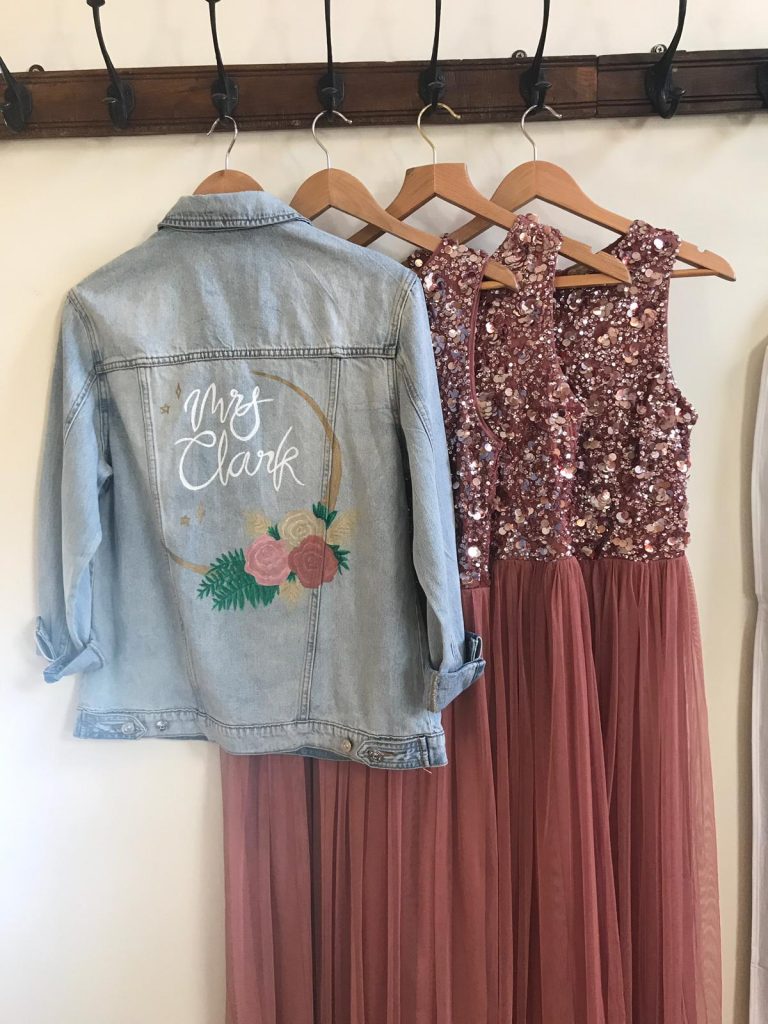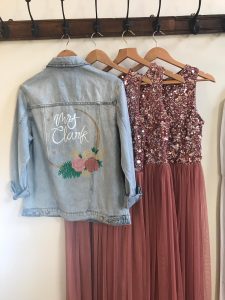 How did you meet?
At a friends birthday dinner, there was a Facebook event and Tom checked out the list of invitees, he would have to make the journey down to London from Milton Keynes and wanted to make sure it was worth his while… He liked my profile picture so did a little "light stalking" to make sure it wasn't just a good angle haha. He liked what he saw and the rest is history.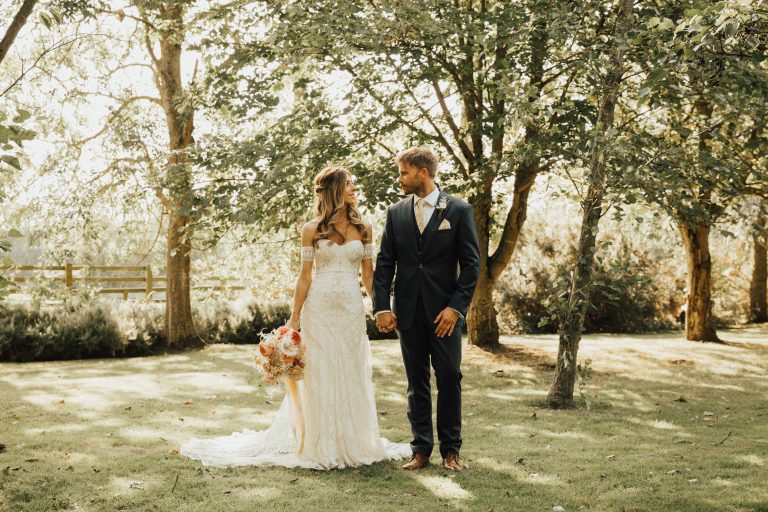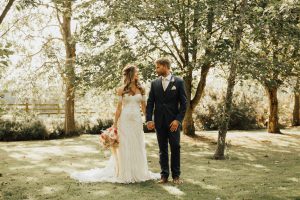 Was it love at first sight?
Yes but he made sure he spoke to everyone else before he spoke to me, the best things come to those who wait…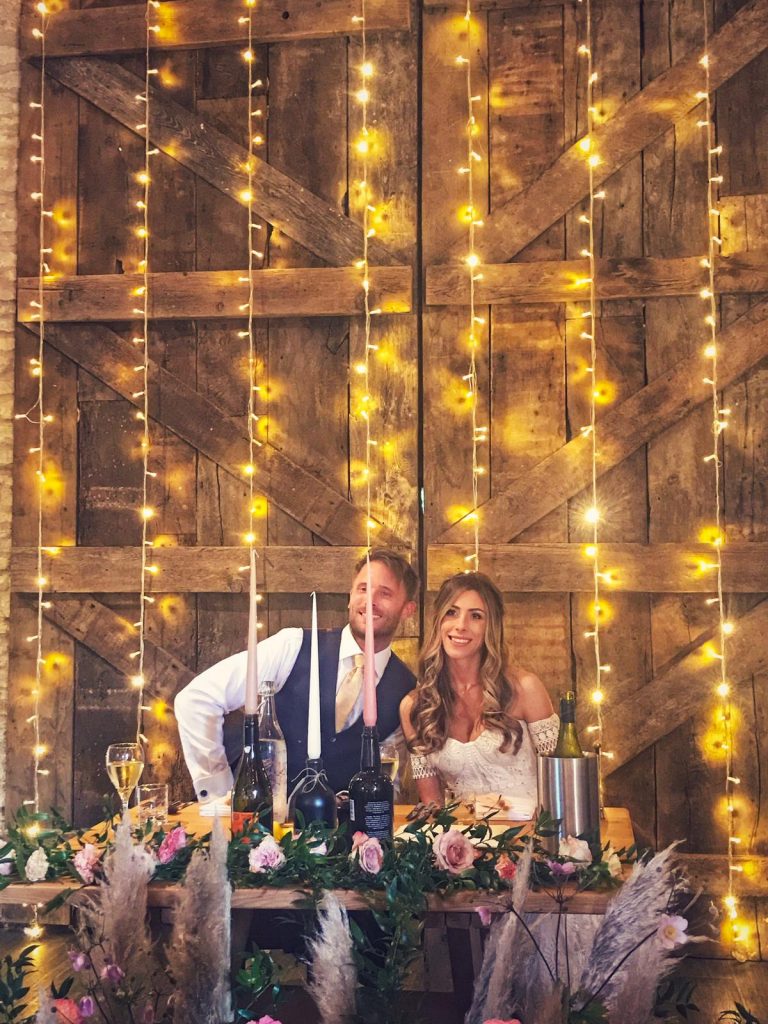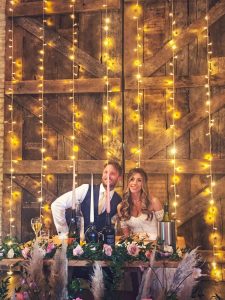 Who proposed and how? Lovely details, please!
We were very modern about it all, decided we wanted to get married and booked the venue in July '18. Tom did have a few surprises up his sleeve however… in December, I woke for work and he informed me I wasn't going to work that day… He had contacted a colleague and got her to arrange for me to get the day off so he could take me ring shopping in the jewellery quarter in Birmingham.
I'm so glad he did, we picked something totally unique and perfect together, I could have never in my wildest dreams imagined it! Then in January, when the ring was ready, a day after my birthday he took me on a walk in Aspley Guise woods and proposed at sunrise.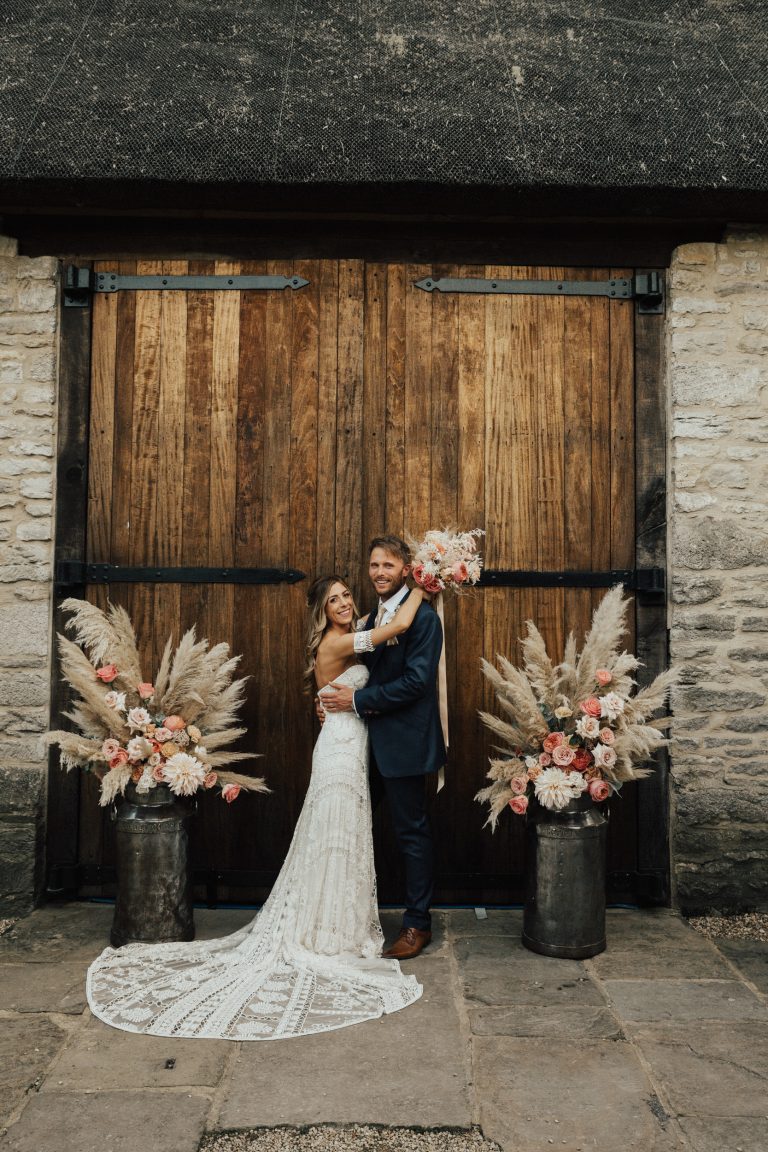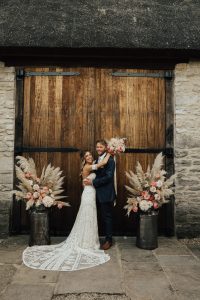 Did you have a theme for your wedding? How did it come about?
We didn't set out with a theme but when I described the aesthetic I had in mind to the florists they described it as "Boho Luxe" which I think is sort of perfect. We just wanted to have all the things we love together with all the people we love!
We are absolutely obsessed with animals and it was very important to incorporate this in our day. We had some Alpacas come down from a local farm to entertain the guests and take pictures with us which was a huge hit and the photographs are amazing!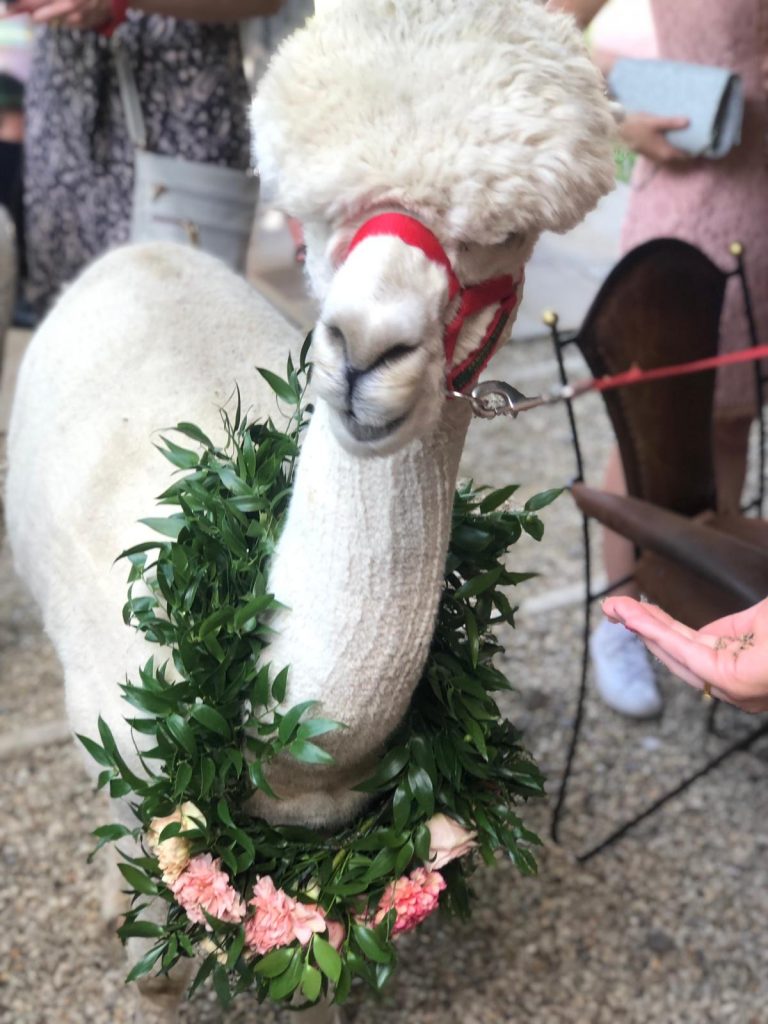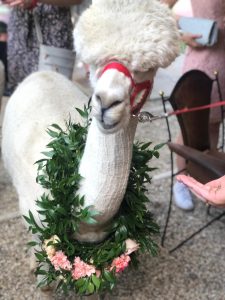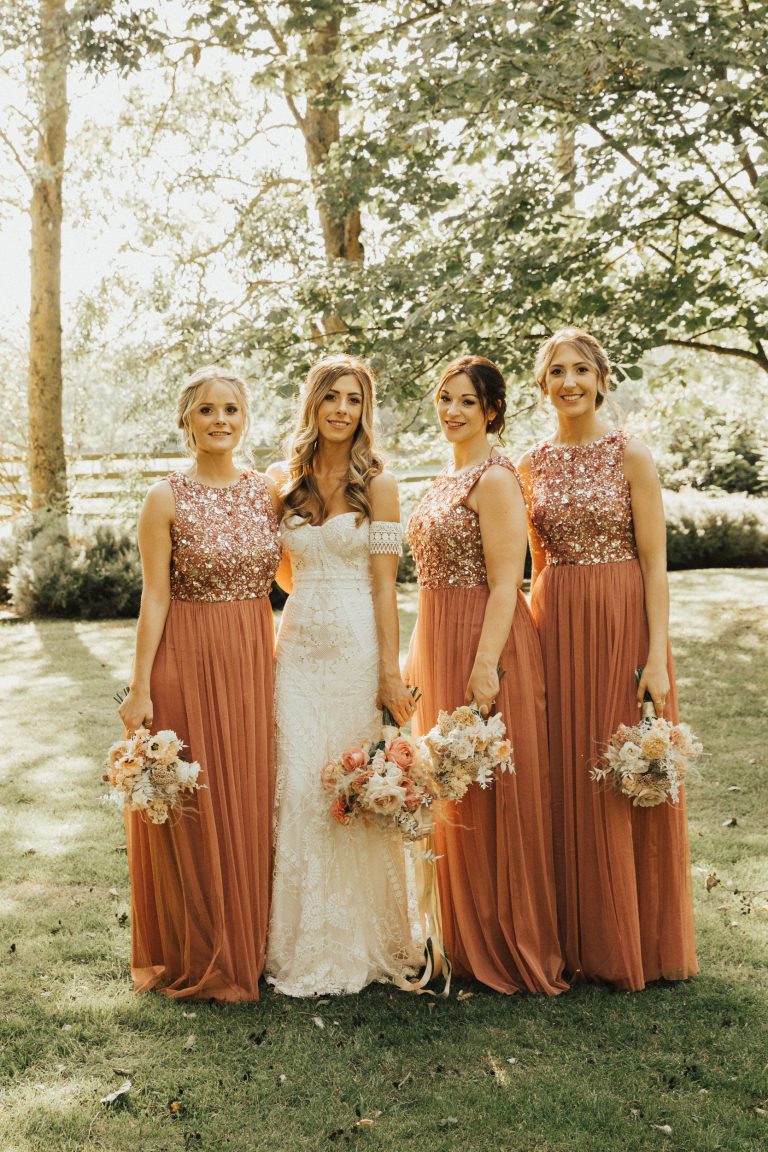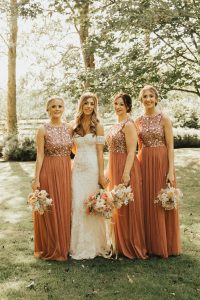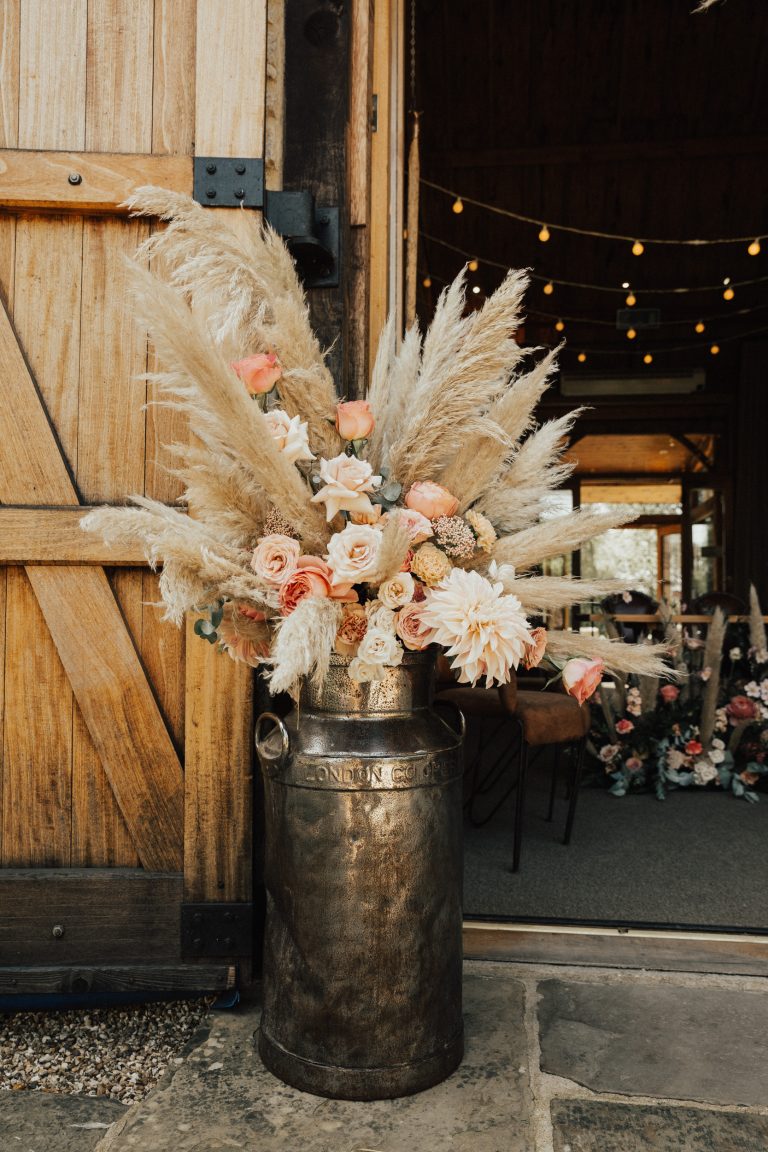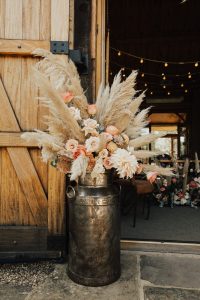 Choice of location?
The Tythe Barn, Launton, near Bicester. A friend had attended a wedding there and recommended it. Venue was very important to us, a barn fitted with the relaxed feel we wanted but most importantly we wanted somewhere with character which wasn't too big.
We have attended weddings in the past in faceless hotel venues where guests dissipate and there is little or no atmosphere. The Tythe has stunning gardens and we were lucky enough to have glorious sunshine on our day so the ceremony was outside, using the lush green arbor as the aisle. The team of coordinators at the venue are phenomenal and I cannot thank them enough for making it all so easy for us!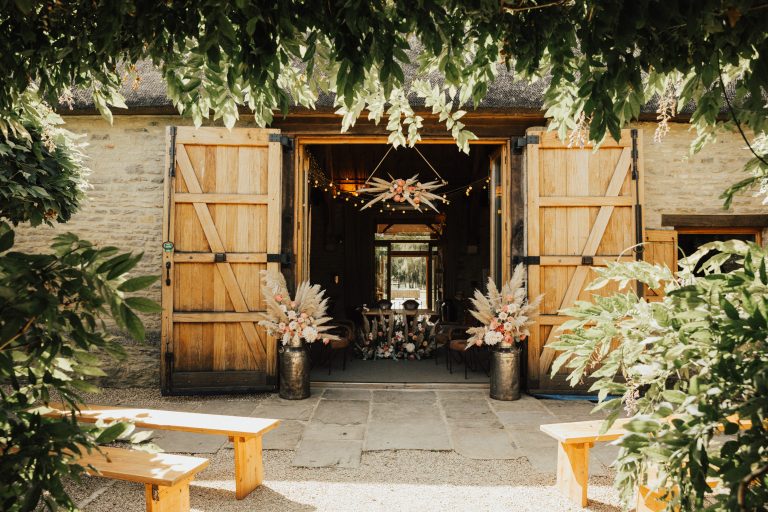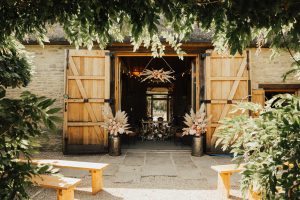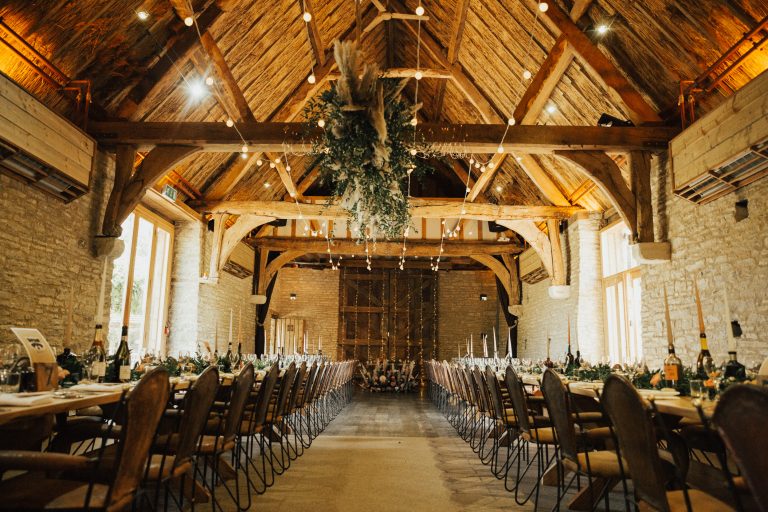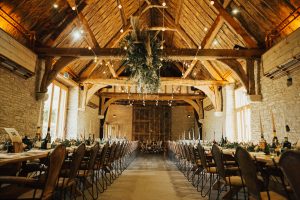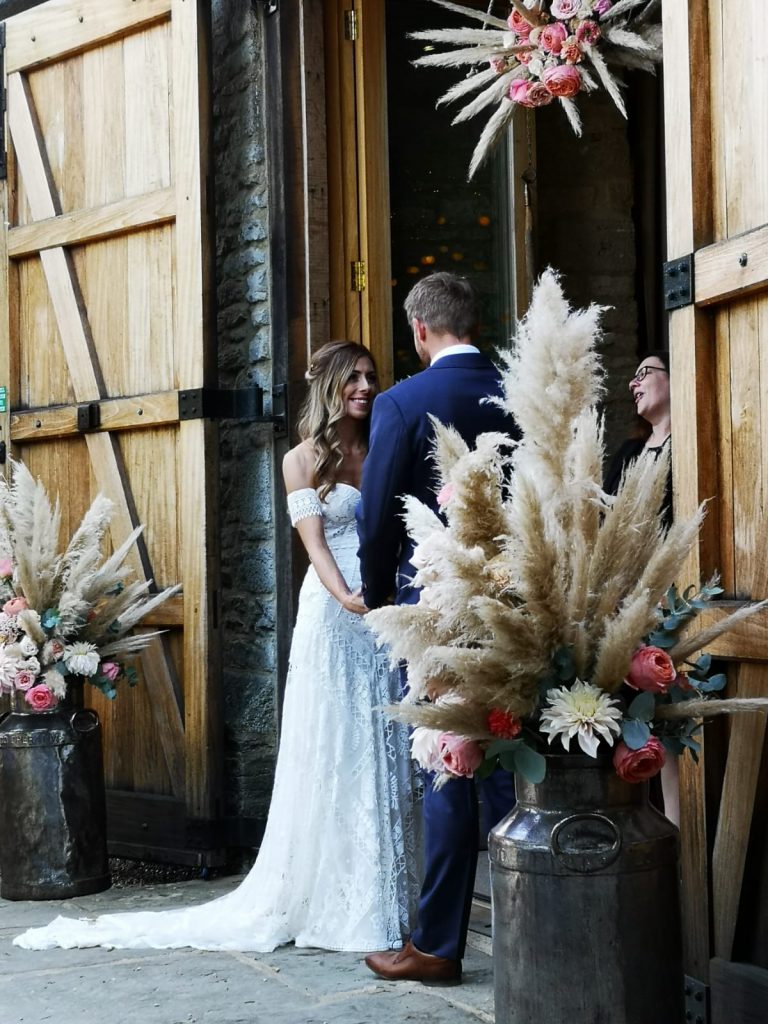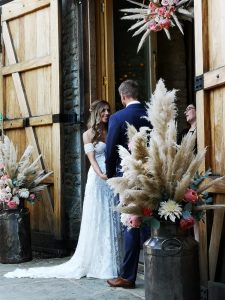 How did you find The Wedding Club? Tell us about that moment when you found and chose your dress – how did it make you feel when you put it on for the first time?
I had been aware of Rue De Seine, and swooned over their designs for years, long before I was engaged! I found the Wedding Club on their website's list of retailers. I had tried on Fox gown previously and attended my appointment at TWC Birmingham almost certain that was the dress I was going to go for.
The stylist said she had something new for me to try, which she thought I would love but kept this aside to the end and had me try on Fox and variations of this gown before presenting Clara, which had literally just arrived.
I had seen this gown online but hadn't really given it a second thought, the online image didn't do the phenomenal, unique, intricate lace any justice… I barely had it on 3 seconds and I knew this was the dress!
I will be eternally grateful that the stylist listened and observed me so well in the short time of an appointment to understand how to find THE dress for me, also that I came on that day, when Clara had arrived to blow me away! All of my guests, no matter what their personal style preference, was in love with my dress!!!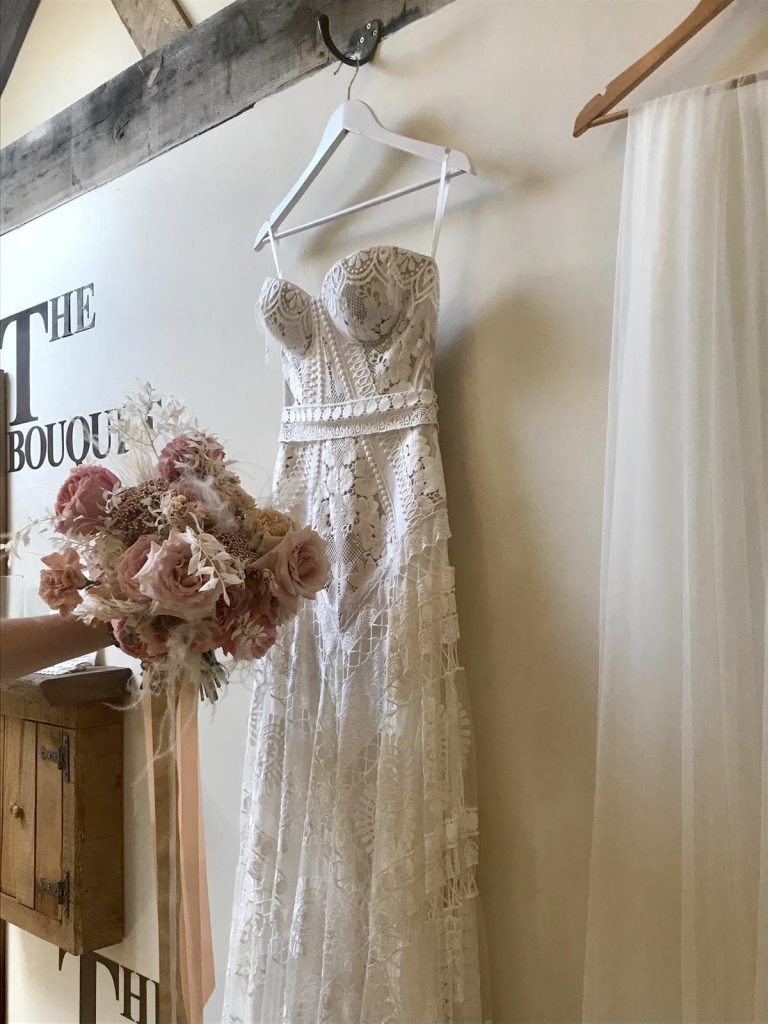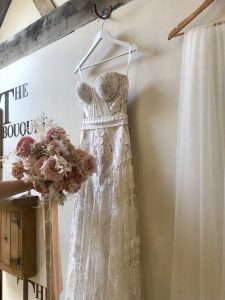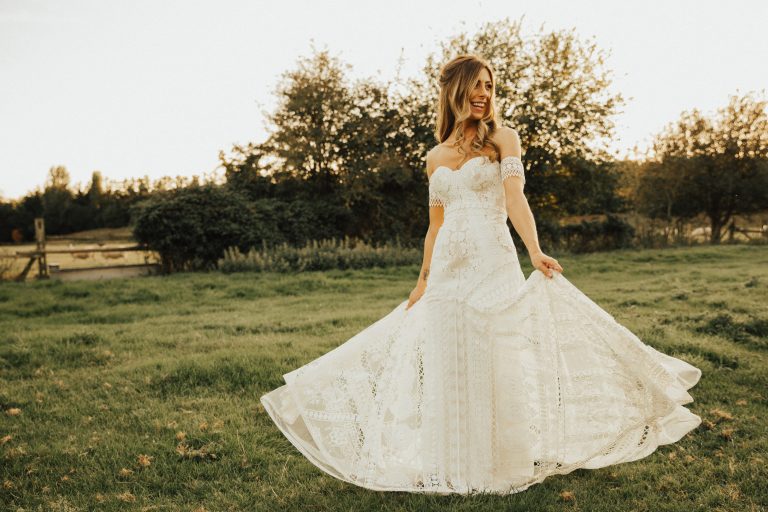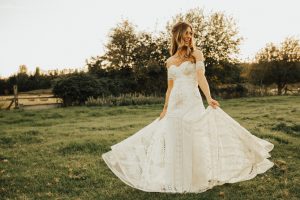 Where is the suit from? Why was it the perfect fit?
Souster & Hicks, they are a family-run, bespoke tailor with Saville Row experience. Tom is partial to having a suit made as the high street cannot compete with the fit of a bespoke suit. Having made suits for Tom previously we selected a navy with subtle brown check which suited the barn and complimented my dress perfectly, not that he knew that at the time.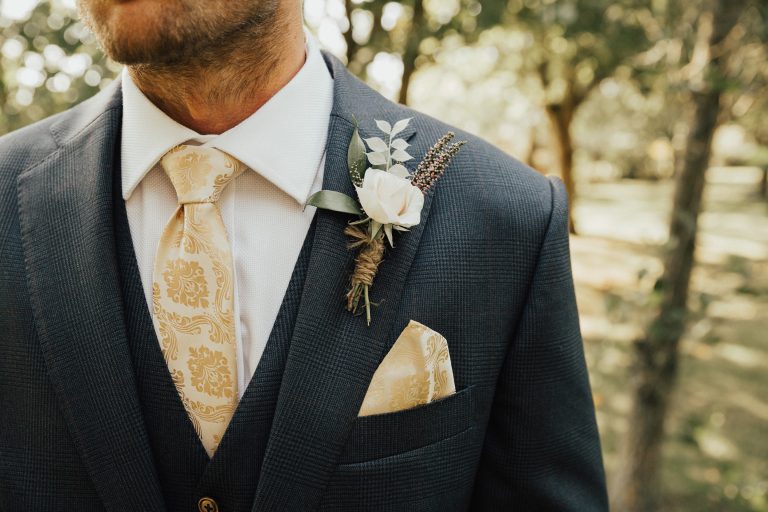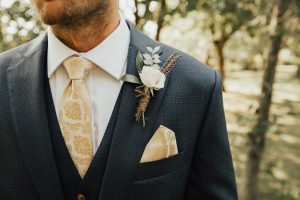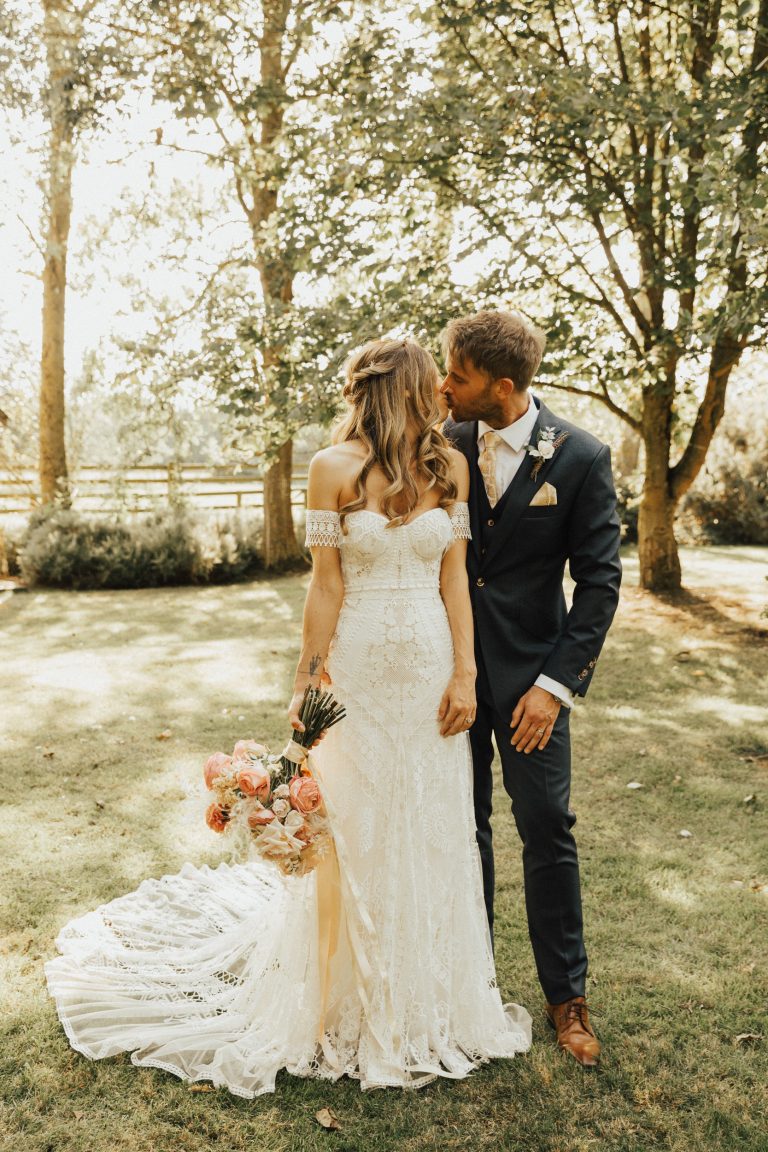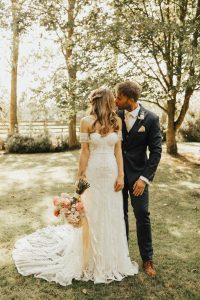 Did you have speeches? Who performed them?
Yes, my father Ian, Tom and his best man, also Tom. All did an amazing job, with guests in stitches and emotional in equal measure.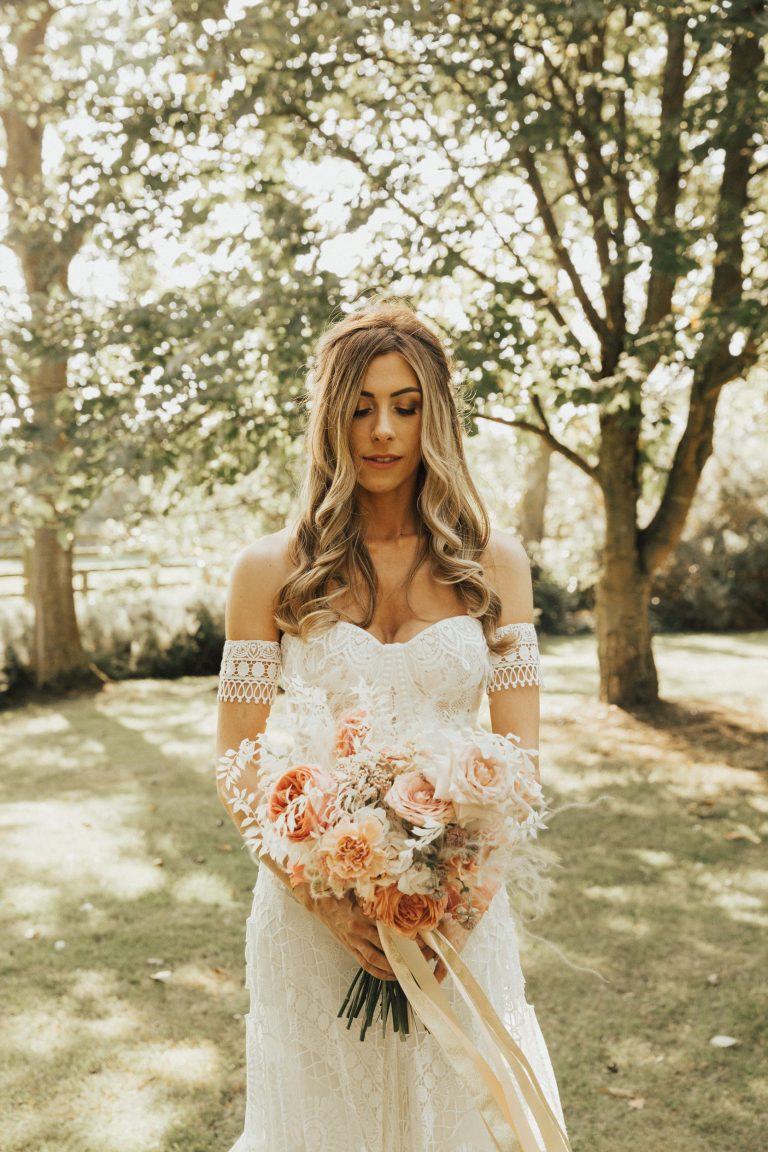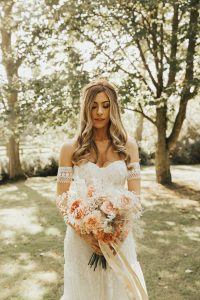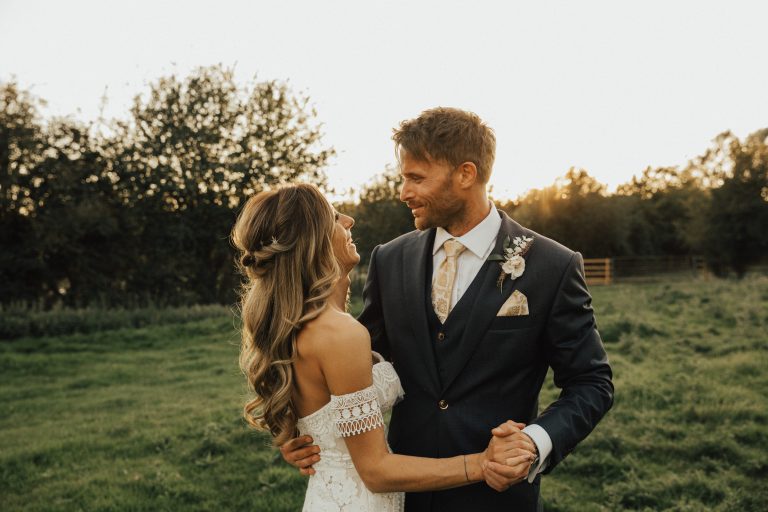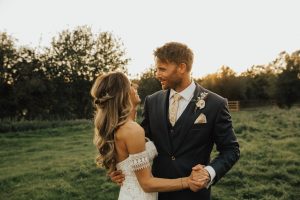 Did you have a first dance? What song did you choose and why? How was the performance?
Wild Horses by The Sunday's, I am a massive Buffy fan and this is from a very poignant scene. Tom and I both enjoy rewatching the show and this particularly romantic spin on a classic song.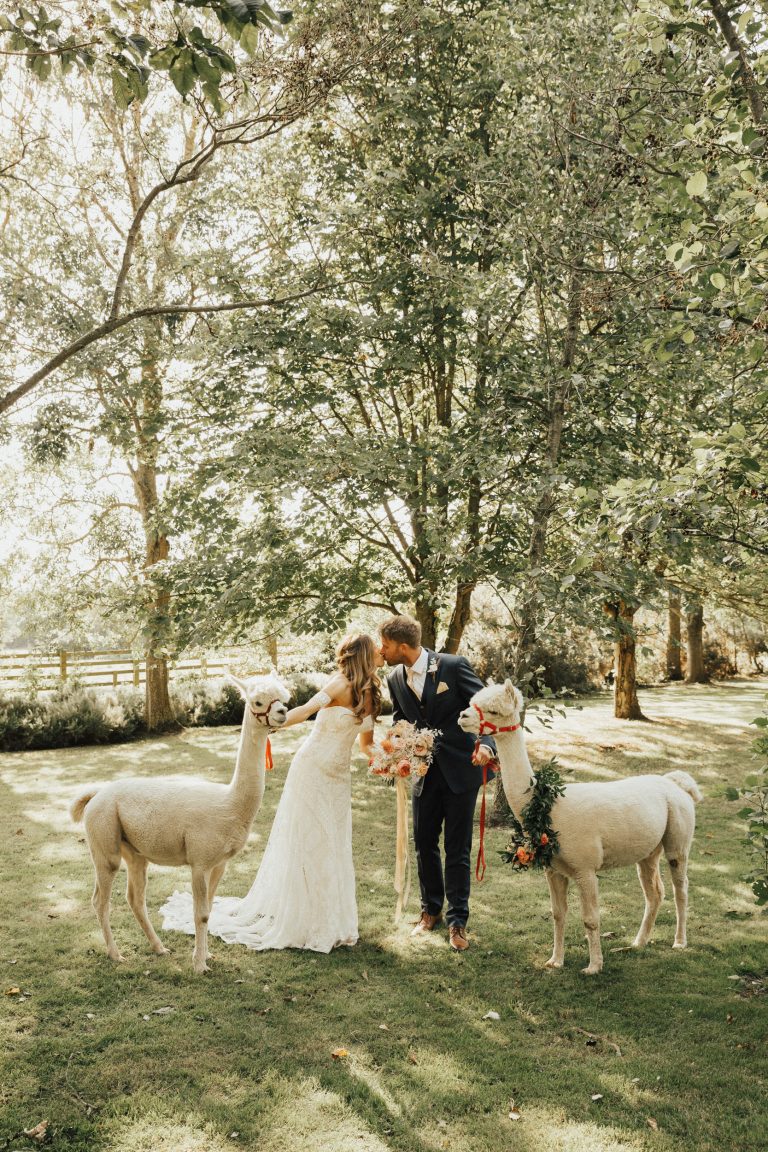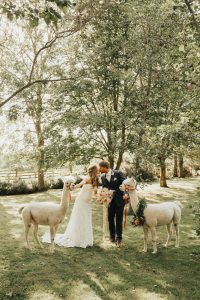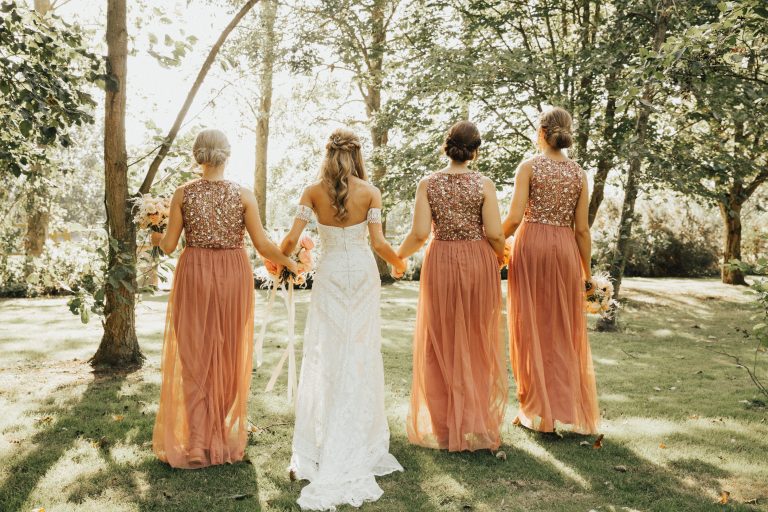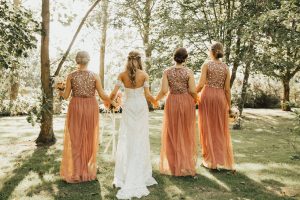 How was the party?
Amazing, we had a Ceilidh and a DJ. I'm Scottish so we wanted to incorporate a little Celtic twist to the day. Ceilidh's are brilliant for getting all ages up and involved. We finished the evening with Loch Lomond by Runrig, another Scottish tradition and the boys picked up Tom and I, bouncing us around in the air, it was an amazing way to finish our perfect day.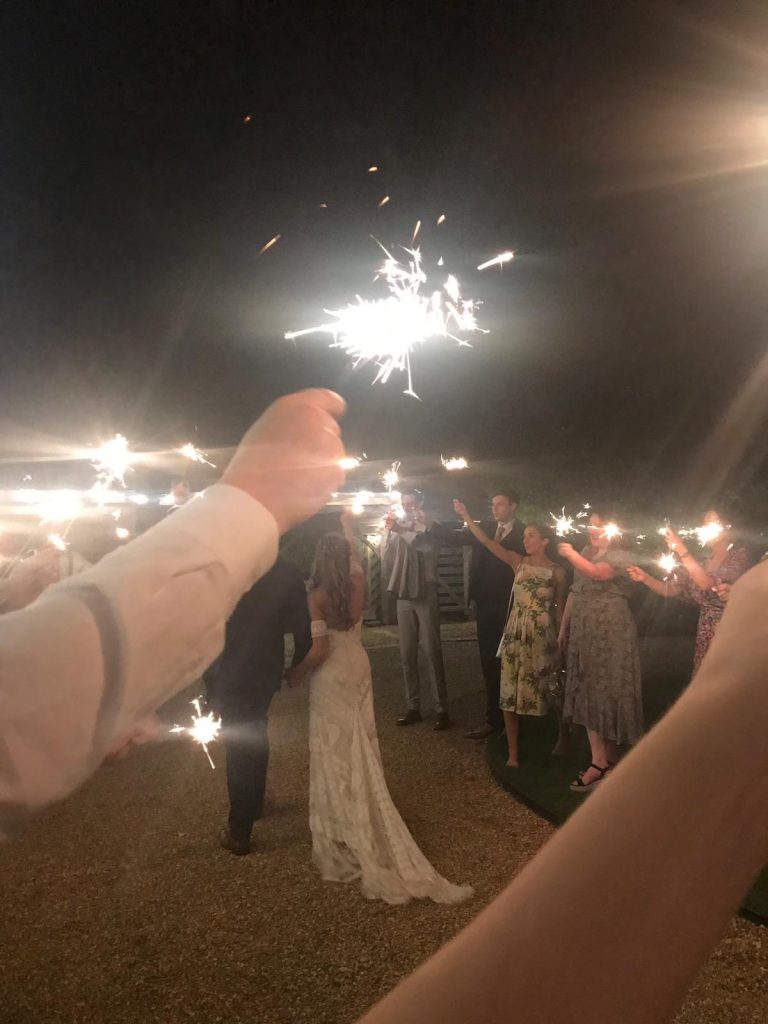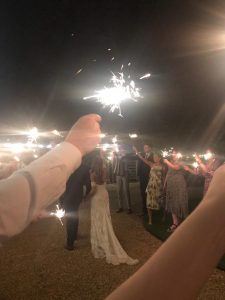 Wedding planning advice for brides to be?
Go with your gut. Believe in your vision. Choose your suppliers and trust them to make your dream a reality. Try not to spend too much time looking at what everyone else is doing and most importantly enjoy yourselves, I loved every minute of planning our day so much so I simply can't wait to help friends who are just starting out on their planning journey!
One moment you'll never forget:
Tom's face when he first caught sight of me, dad and I paused at the start of the aisle and Tom and I both welled up with happiness, I couldn't get to him quick enough. Also when he jumped the gun to say "I do" before the registrar had even completed the question. And when we had to stop mid photo for one of the alpacas to wee, then poo, then wee some more, it honestly went on for a good few minutes haha.
❤️
Dress: Rue de Seine available at The Wedding Club Birmingham
Photos: The Wild Bride
Flowers: The Great Little Flower Company
Venue: The Tythe Barn
Hair & Makeup: Oxford Wedding Hair & Makeup
Accessories: Crown & Glory
Jewellery: Carrie Elizabeth Jewellery
Suit: Souster & Hicks
Cake: All Cakes & Sizes