Wedding Shoes For Brides – Our Top Picks
You've got the dress, the jewels, your something old, something new, something borrowed and something blue but there's one more thing you're dragging your heels with… (never mind the pun!)
Two words: Wedding. Shoes.
We don't mean to sound dramatic but the shoes a bride chooses really can make or break an outfit, from texture, to colour and heel height – it all makes a difference. Most especially, there is comfort.
Painful shoes = miserable bride.
Also, the more decorated a shoe, the more likely it will catch on your dress, so perhaps a plainer shoe would work for you or a even shorter dress if you can't resist a bit of sparkle…
So with all of this in mind, it's no surprise that finding wedding shoes for brides can become fairly overwhelming. Not only is there so much choice out there, but you want to fall in love with your shoes like you do with your dress and jewels. They should fall into the look with ease and finesse.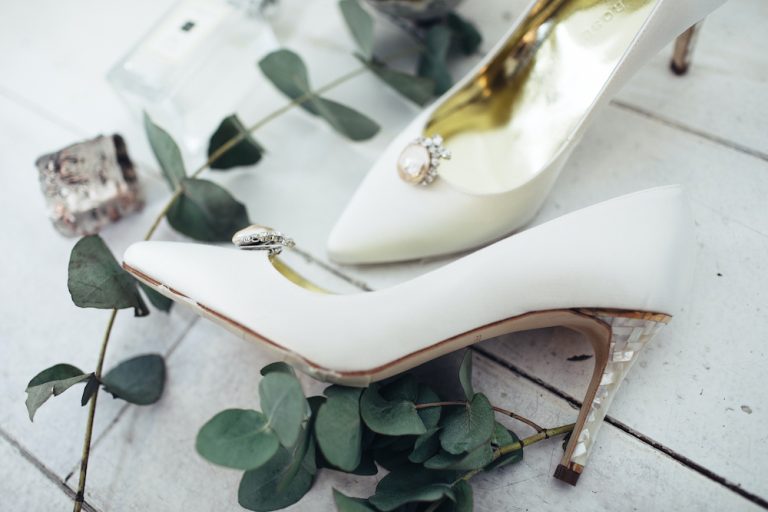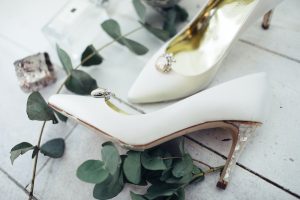 Styles Of Wedding Shoes For Brides
Heels or Flats?
We would recommend both if possible – one for the aisle and one for the party! Depending on your level of heel expertise or there lack of, of course. As an individual, you know your strengths and weaknesses when it comes to shoes. They say your wedding is over in a flash but not if your shoes hurt – trust us.
Heels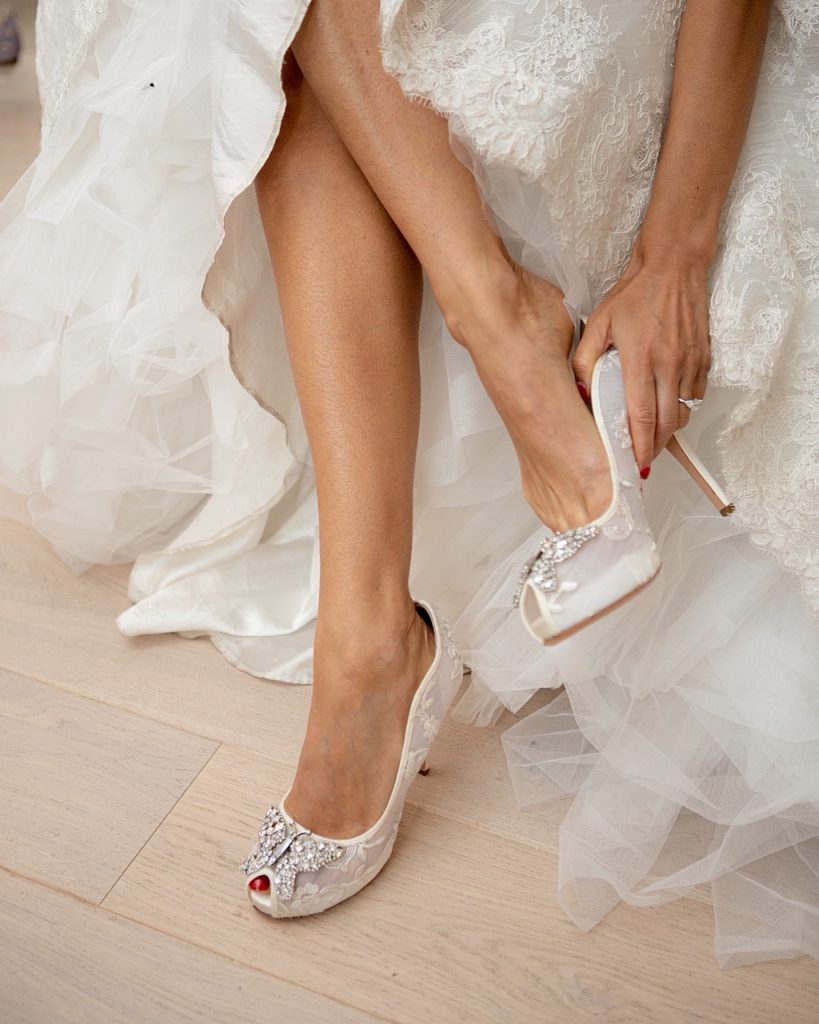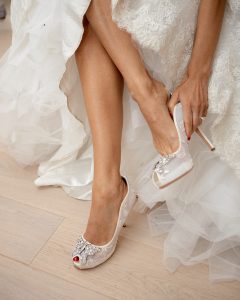 Pros:
Glamour – who doesn't love a heel click?
Height – important to avoid tripping over longer gowns.
Tradition – for the classic wedding aesthetic.
Cons:
Comfort – you will be in them all day & maybe night.
Wobble factor – how clumsy are you? Be honest!
Location – Farms and woodland take no prisoners.
Flats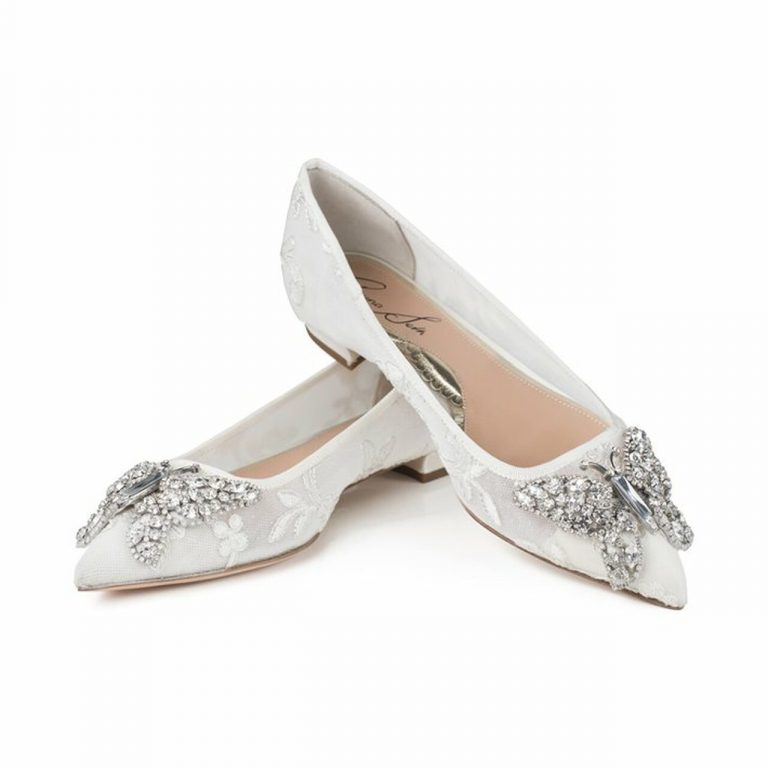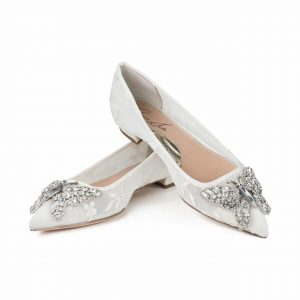 Pros:
Comfort – need we say more?
Location – Perfect for beaches, woodlands and farms.
Not a heel connoisseur – can't go wrong,
Cons:
Height – certain bridal styles may not work as well.
Less drama – nothing quite like a sharpened heel to turn heads.
No swaps – unless you change into another pair of flats, you may not have an excuse for a second wedding look….maybe? (we'd still go for it!)
Wedding Shoes For Brides 2022 – Our Top Picks
Freya Rose is a multi award winning British shoe designer. Established in 2010. Renowned internationally for her innovative approach to couture shoe design, Freya Rose is fast becoming regarded as one of the UK's leading shoe couturiers.
Well known for her iconic mother of pearl heels, she really does know how to make a bride stand out.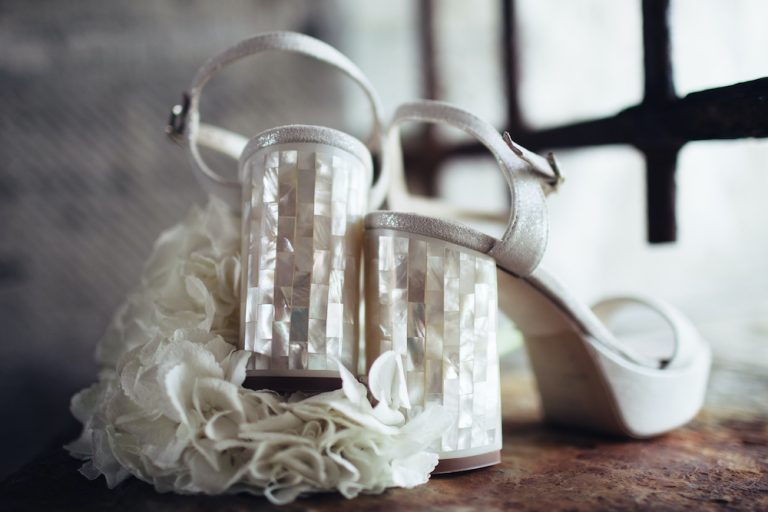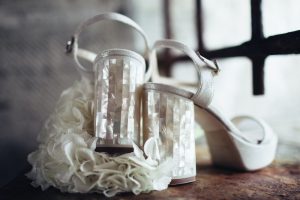 Not only that, her looks are so chic, they can continue to be worn way past the wedding day for glam dinner, nights out and even with a pair of jeans to brunch.
Freya also offers a range of heels, so if you are looking for something glam but also a little more sturdy – she is the designer for you.
Oh, and she also has bridal boots – what's not to be obsessed with ?!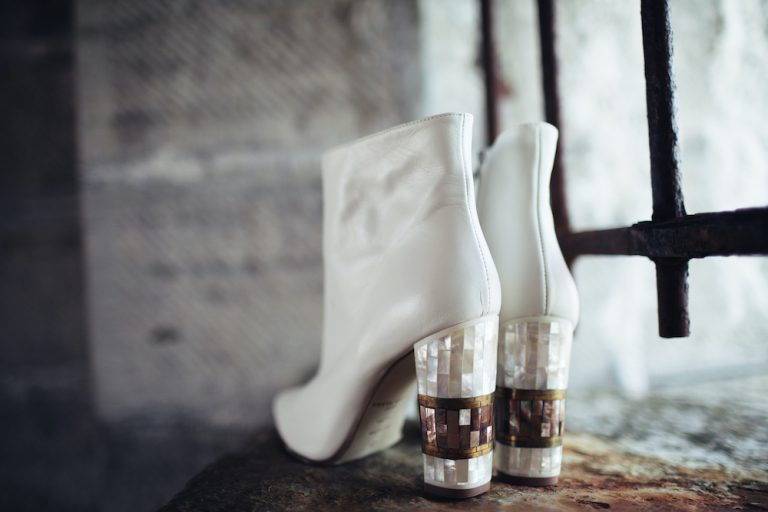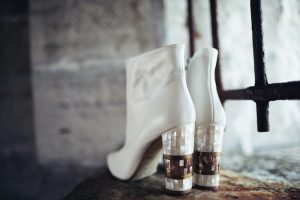 Originally founded in 2009, Aruna Seth empowers women of style with her collections of timelessly elegant shoes. Revolutionising the industry with her unique designs, Aruna's signature styles have become the go-to for feminine shapes that elongate the leg while maintaining comfort.
Worn by royalty and celebrities alike, Aruna Seth has established global acclaim as one of the finest luxury shoe brands in the world.
Her signature is a gorgeous butterfly, found visible atop the shoe but also features a mini one on the sole, like a cute secret between the bride and herself. We love it.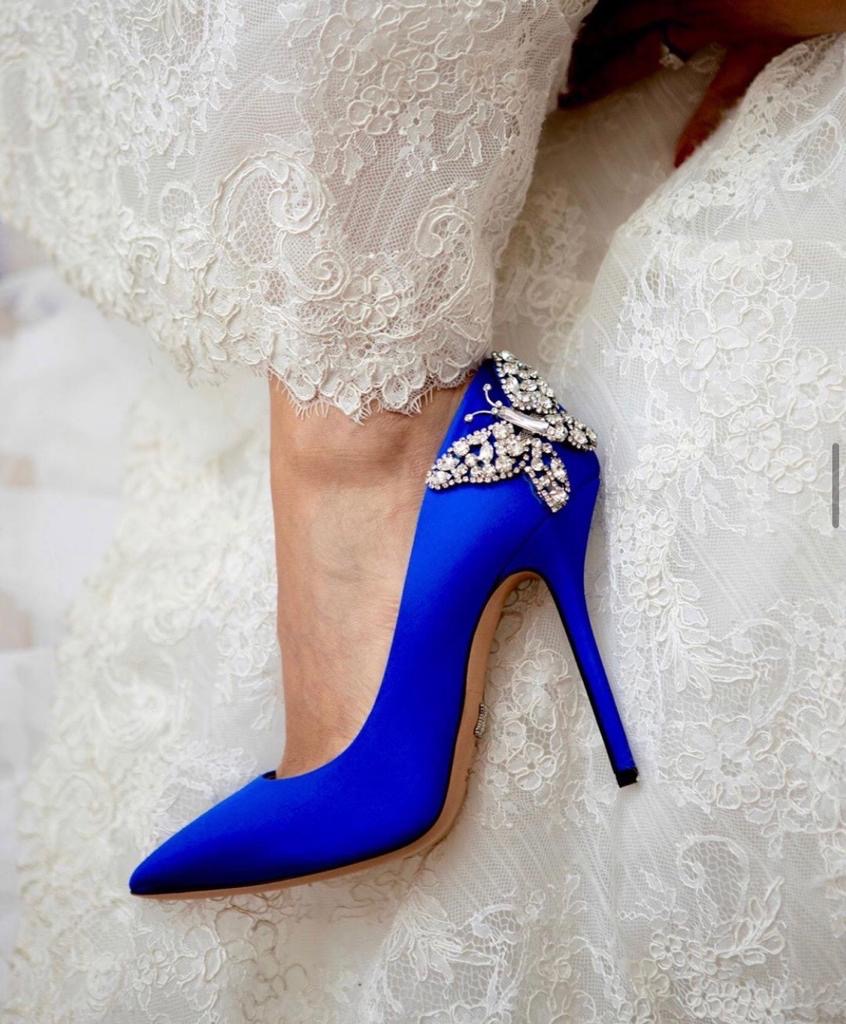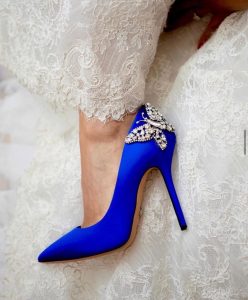 Not only does Aruna do the classic styles, but she plays with the whole rainbow colour wise (royal blue is our fave – they can be your something blue but are also very on trend right now) and not only that, she has, wait for it, TRAINERS. Glamorous, gorgeous, comfortable bridal trainers.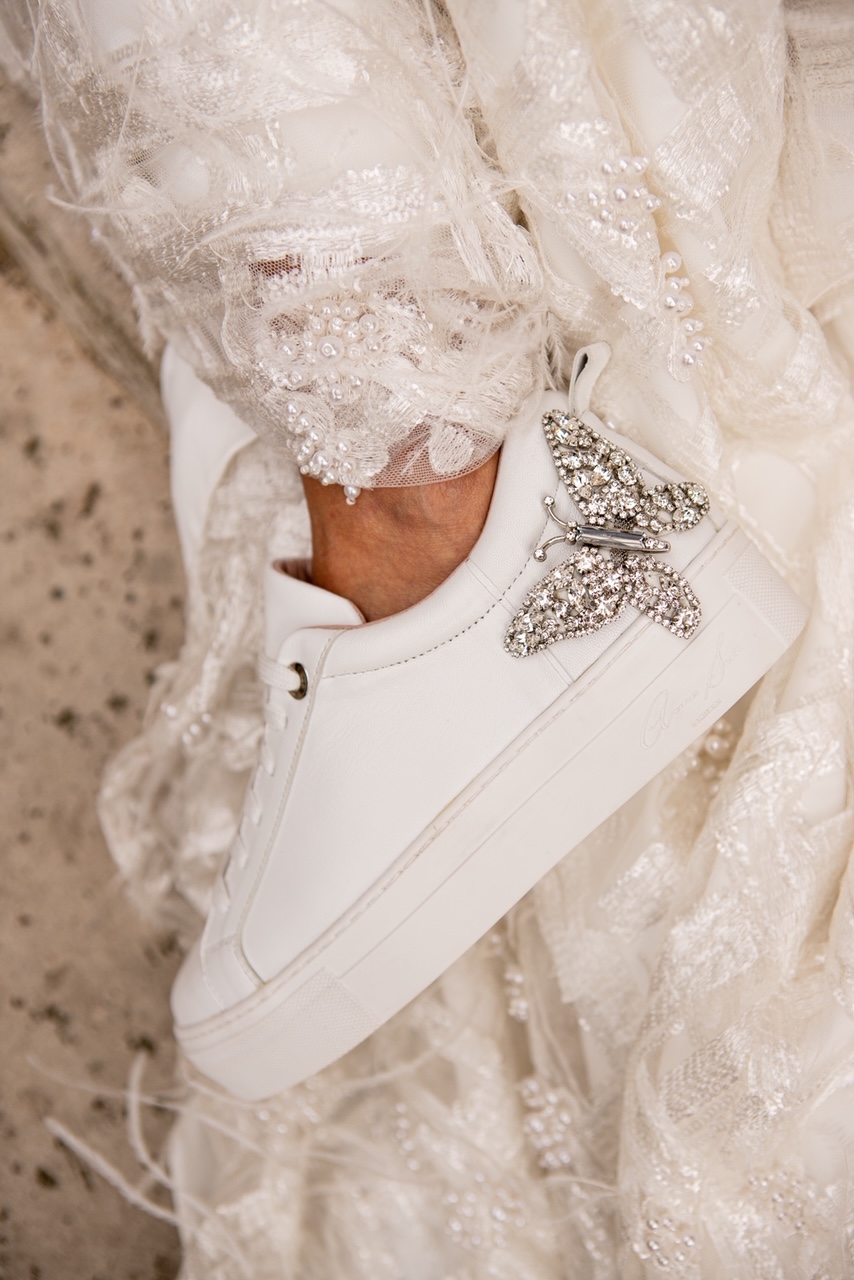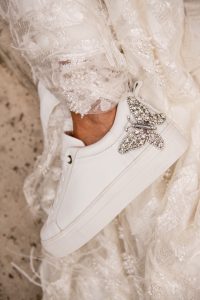 Side note – there are also adorable bridesmaid flats available, too if you wanna match with your fave little princesses.
How To Choose Your Wedding Shoes
Research.
Check out brands social media and reviews, something may look pretty in a picture but fall apart in real life, and nobody wants that on the big day.
Think about your overall wedding style and see what others with similar tastes have gone for. Pinterest is great for this.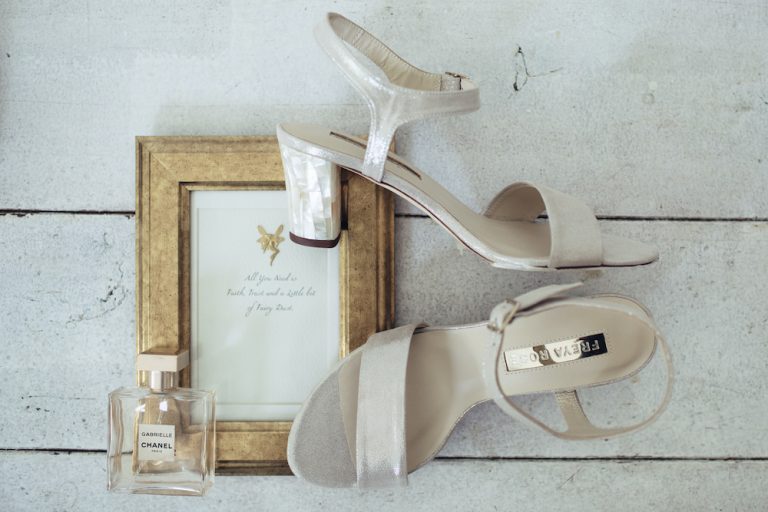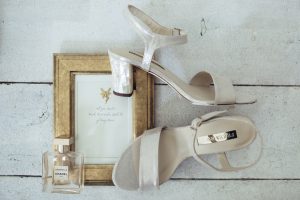 Where possible, go in-store to try on, you need to know if they fit and are comfortable, but also, you may spot another pair there that you may not have considered from shots online. It's your chance to try before you buy, without waiting weeks for postage and returns.
5 Bridal Shoe Mistakes To Avoid
Most important, know your boundaries, if you want a little glam but aren't great in heels, opt for a sturdier shoe or have flats ready to change into. Falling over on your wedding day isn't the dream.
Next, do they suit the style of bride you are? You may love them but the rest of your get up may not. If they don't compliment the whole ensemble, it may be worth a rethink.
Location – as previously mentioned, if you are going to a farm, forest or beach, you don't want to twist your ankle on uneven ground, so unless your partner is willing to carry you all day, have some options up your sleeves.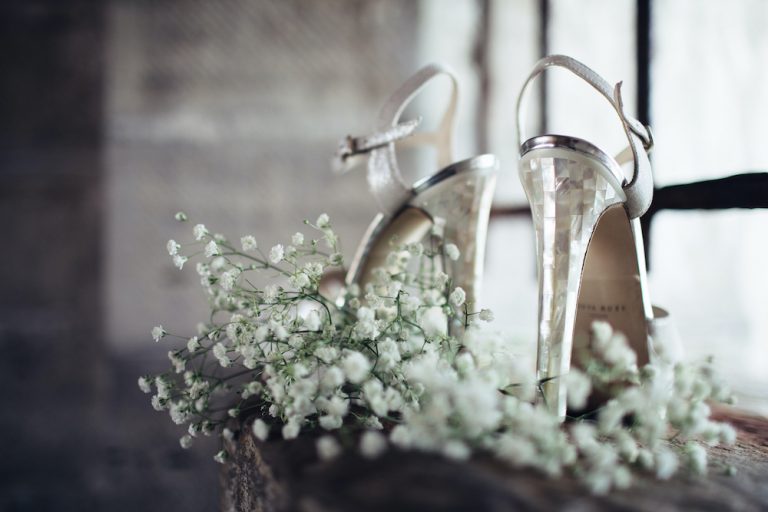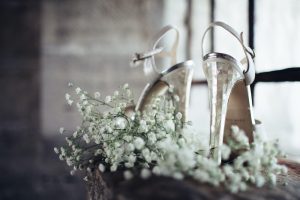 Can you walk, dance and run in them? Wedding days are full of excitement, don't do yourself a disservice by not being able to show all the physical joy you will no doubt have.
Trends. Don't get sucked in and regret it. Choose shoes that you think are beautiful, cool and suit the bride you are, not just the pair you saw on Amal Clooney.
Where To Buy Wedding Shoes For Brides
The Wedding Club, of course!
We welcome brides looking to try the abundance of Freya Rose and Aruna Seth styles we have available.
Who knows, if you haven't found your wedding dress/suit yet, you may tick not one, but two wedding musts off your list at the same time!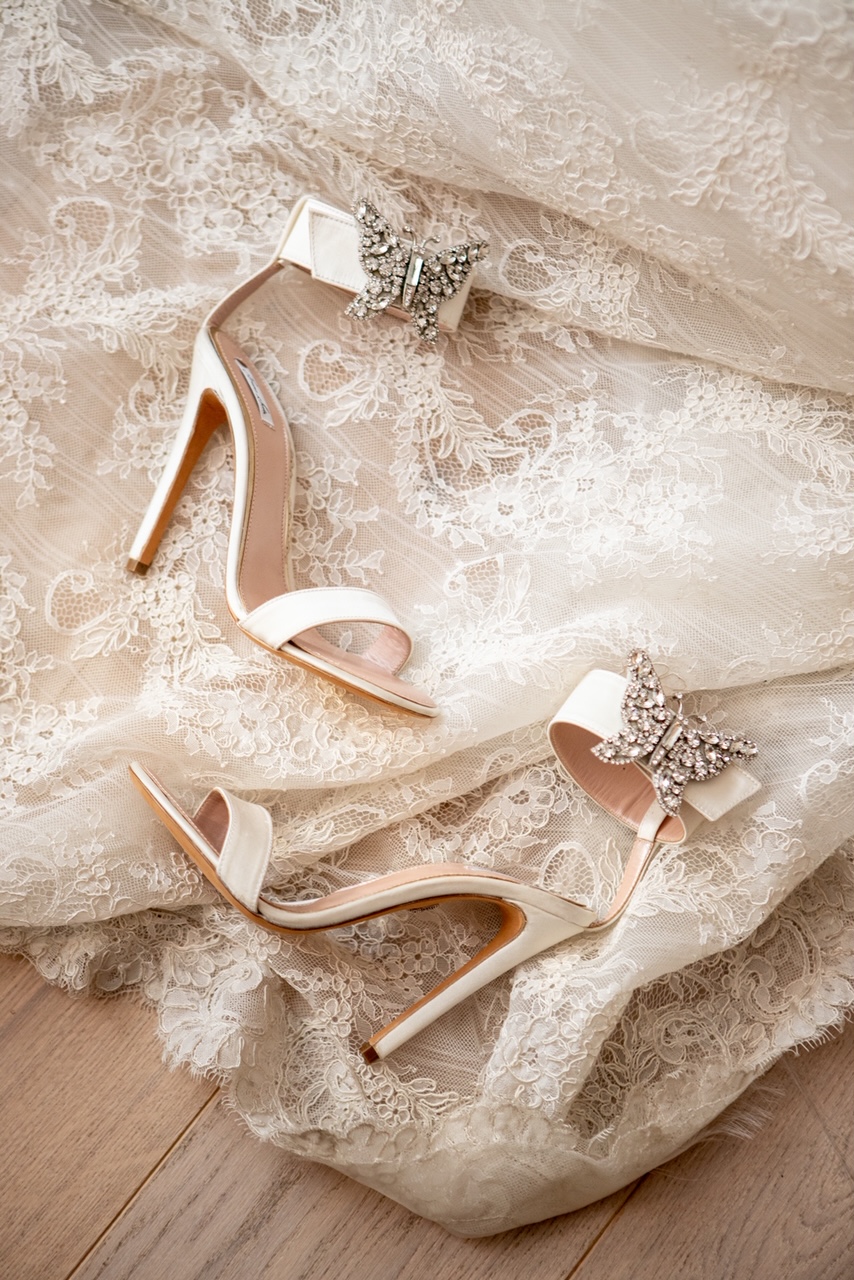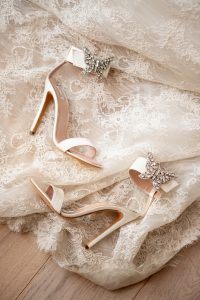 Last of all, don't be afraid to wear them in a little around the house before the big day. They will fit a little more naturally and if they have any sore points, you have time to use shoe stretching solutions.
❤️