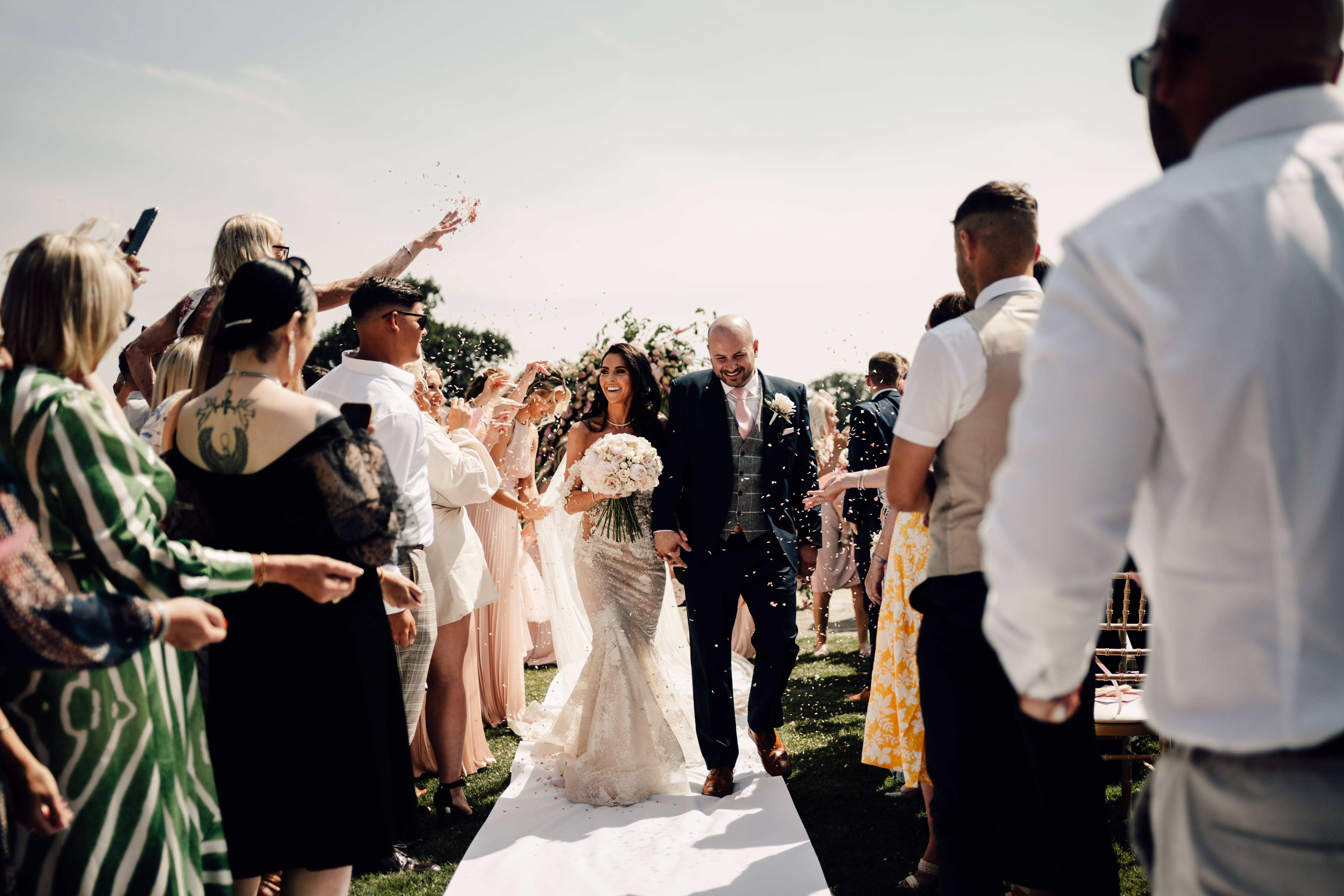 Elegant Cheshire Wedding In Berta Couture Gown
❤️ The TWC Effect – Our brides, their way ❤️
Eleanor & Luke tied the knot in a perfectly pink, Bridgerton inspired ceremony that has swept us off our feet! The gorgeous pair share all with us today…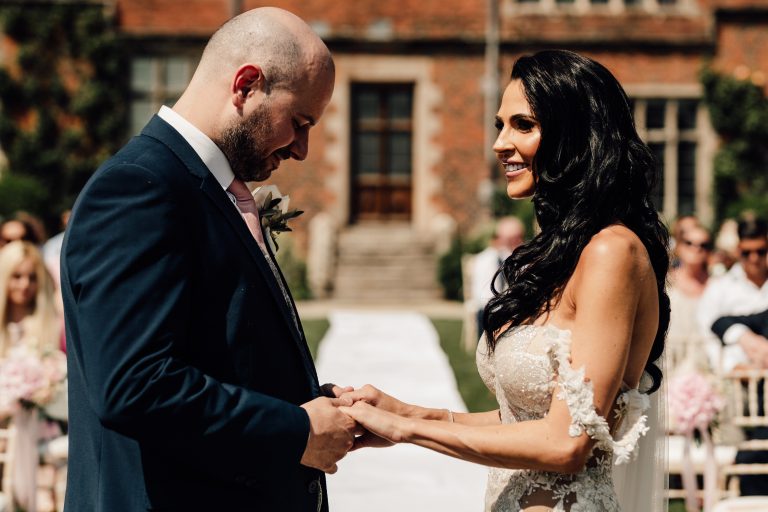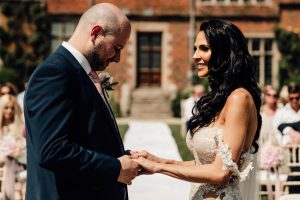 How did you meet?
Luke interviewed me for a job role, needless to say I got the job (and much more than I ever expected)..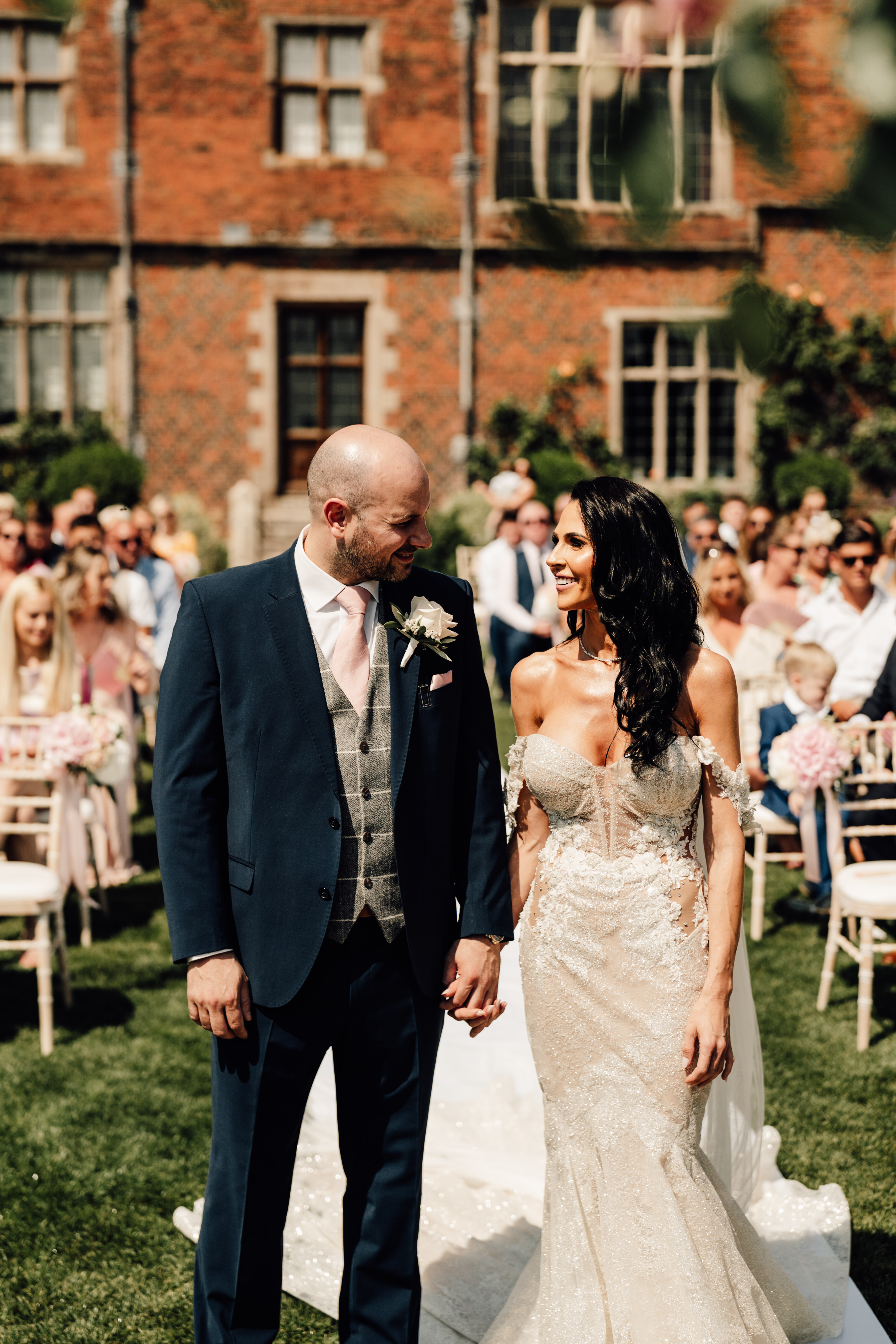 Was it love at first sight?
YES!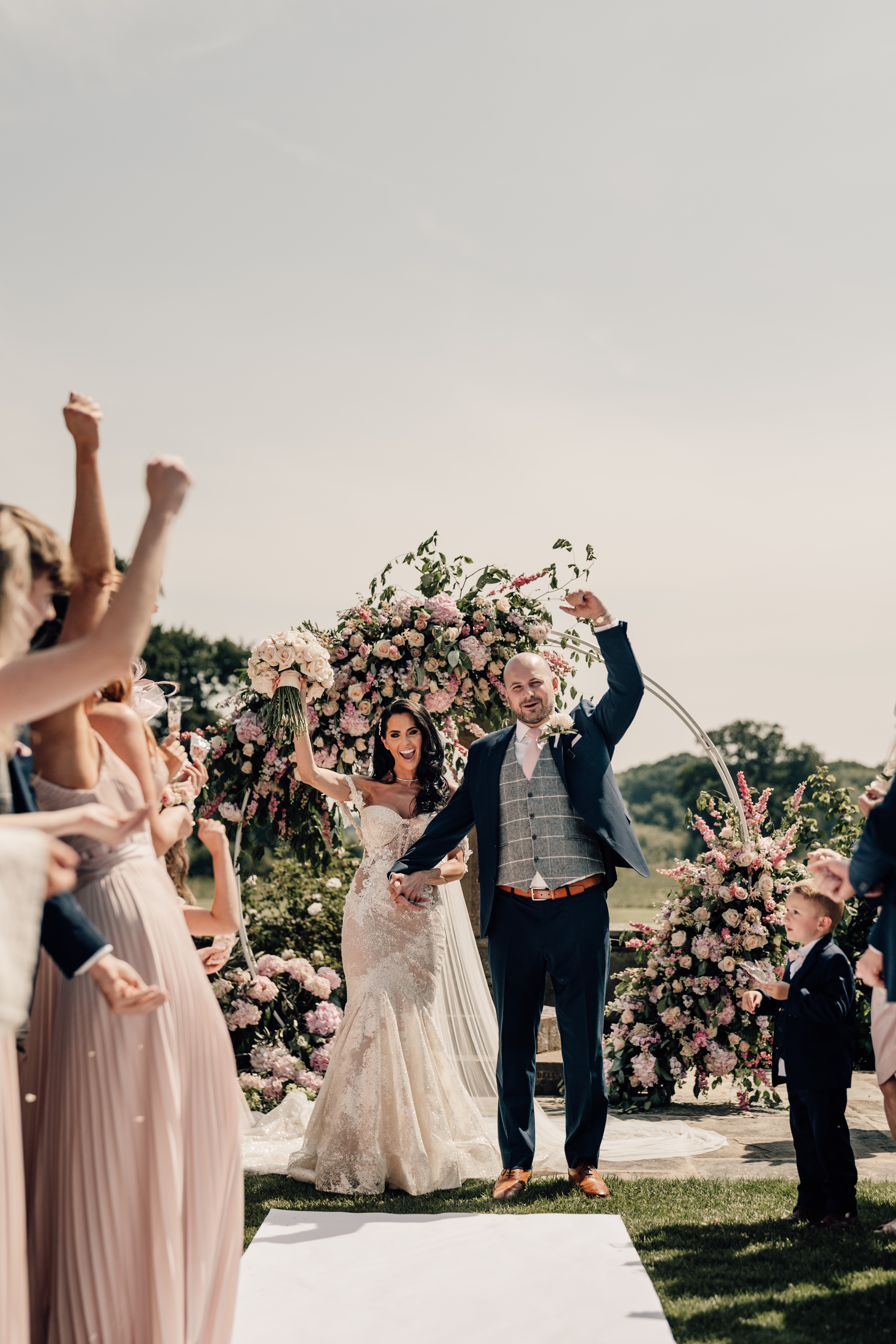 Who proposed and how? Lovely details, please!
Luke proposed to me on Christmas Day morning, after we (me, Luke and our two children Imogen and Freddie) had opened our presents he said he had one more for me which was the ring. I had absolutely no idea!

He knew Christmas Day had always been my favourite day and I was pregnant with our third child – I just burst into tears! It was the perfect ending to a rubbish year due to Covid and my favourite time of year will be just that bit more special for me now.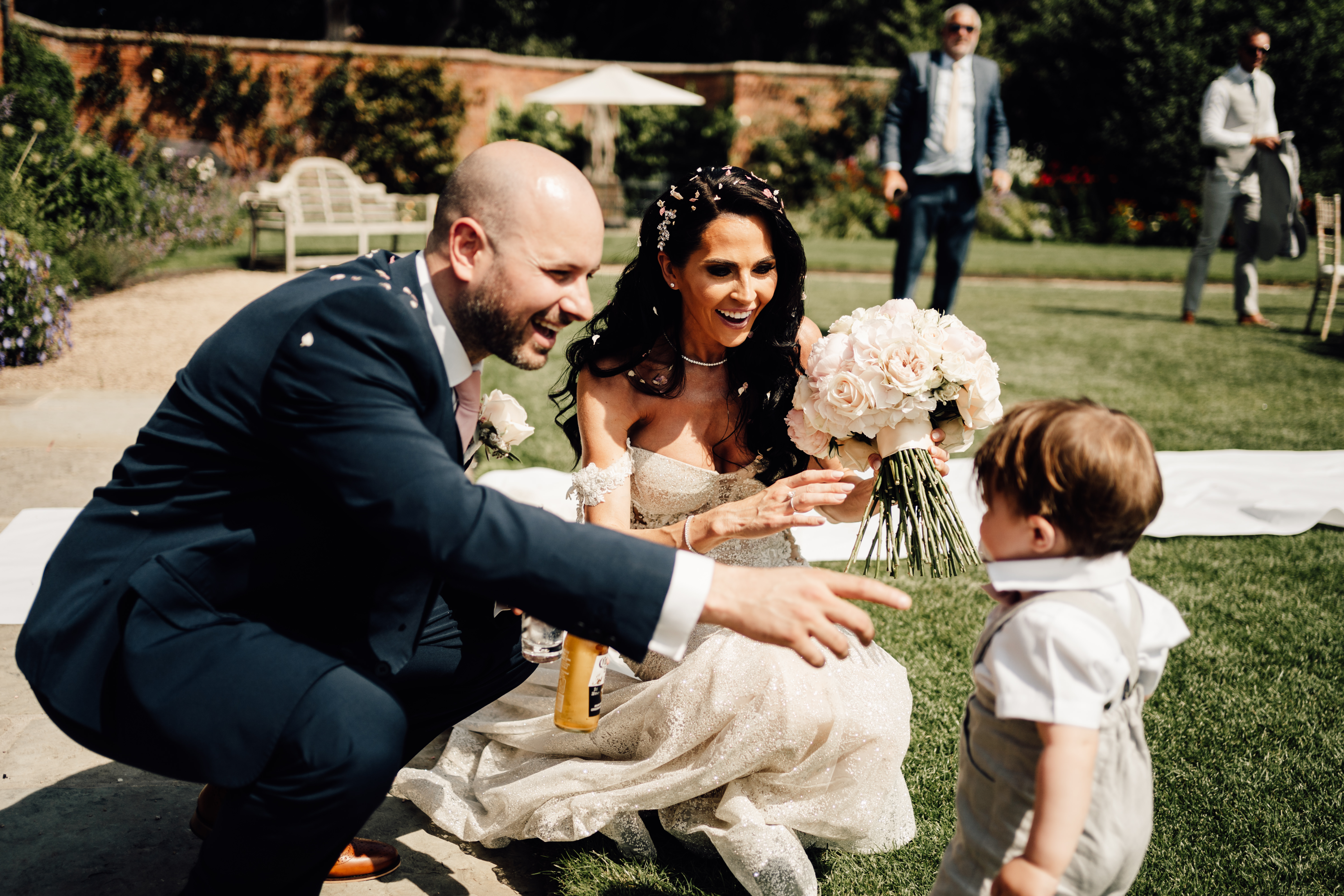 Did you have a theme for your wedding? How did it come about?
No particular theme, but I had been watching Bridgerton around the time I was planning the wedding and I think the wedding gave off unintentional Bridgerton vibes.

We had the string quartet playing outside on the lawns and the grounds of the wedding venue were just gorgeous. We used a variety of shades of pink throughout the day through flowers, decor and clothing.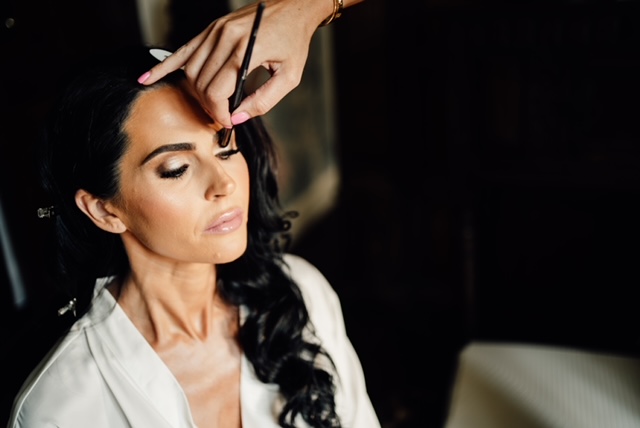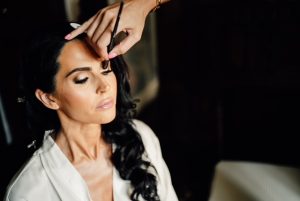 Location and how you found it?
Dorfold Hall, we found it online and as soon as we saw the building and the grounds, we both fell in love.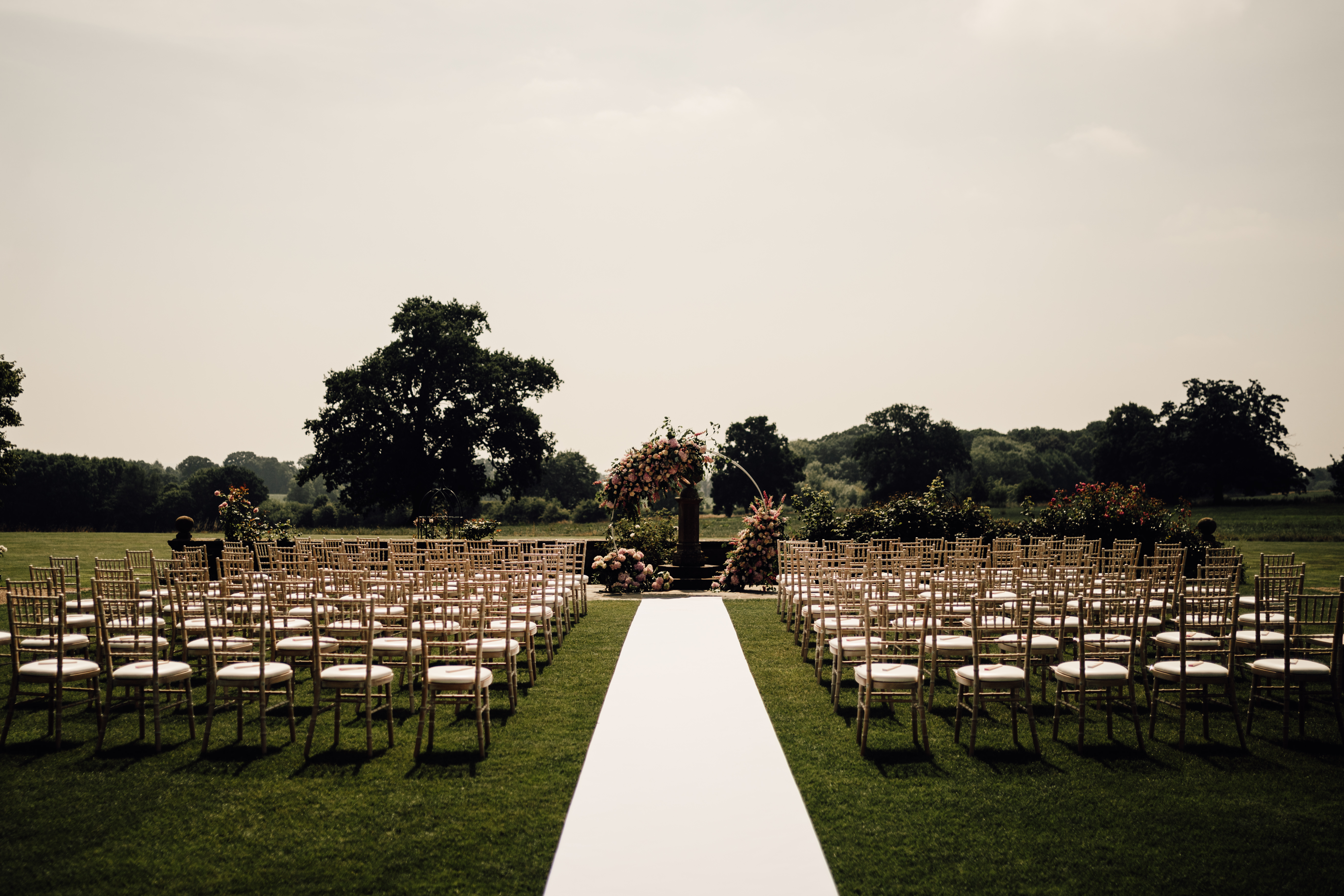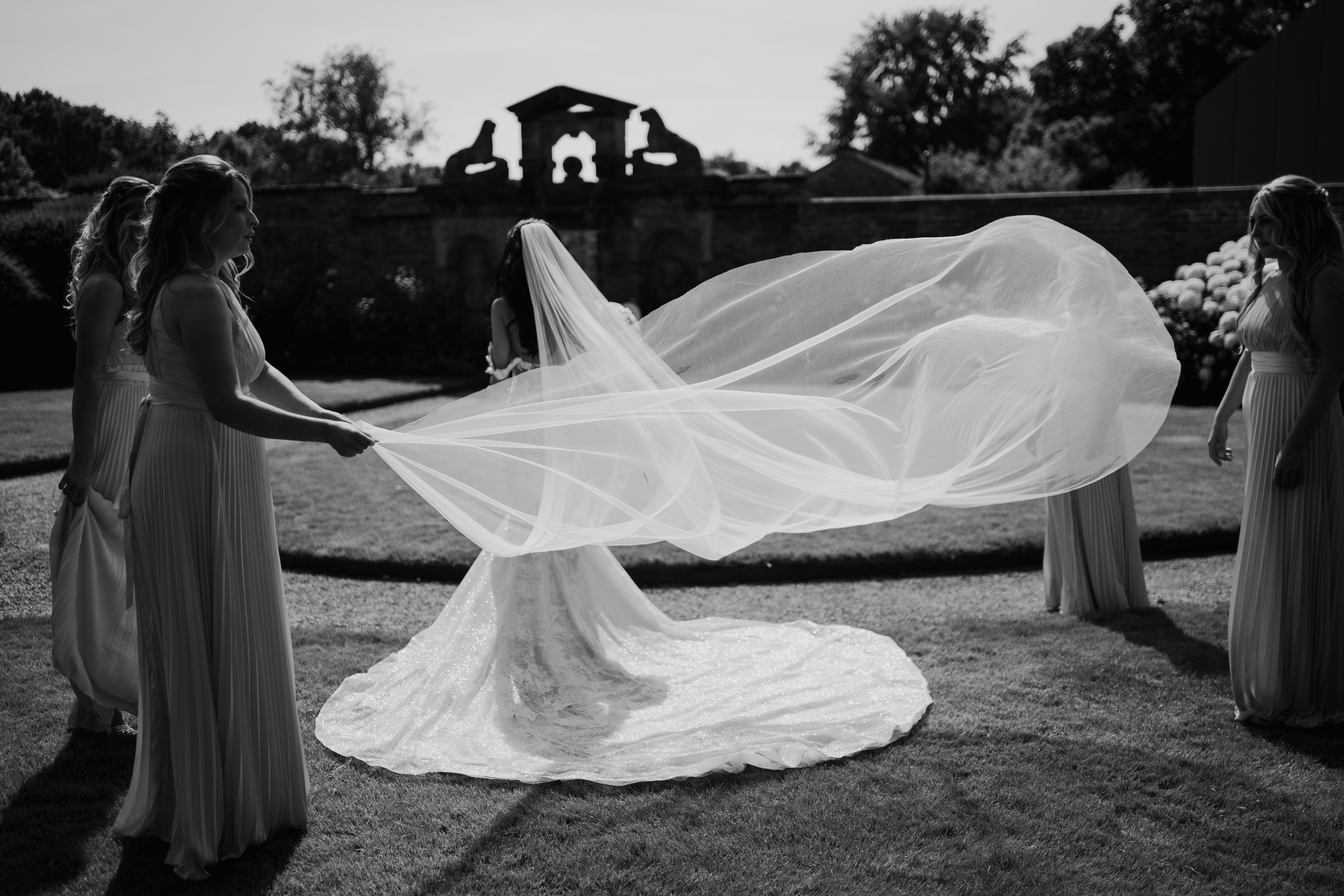 How did you find The Wedding Club? Tell us about that moment when you found and chose your dress – how did it make you feel when you put it on for the first time?
I came across The Wedding Club online. I knew I needed a Berta dress as they're incredible and I'd seen The Wedding Club were a stockist. I got all the bridesmaids together and we made a weekend trip of it travelling from Manchester to London.

I tried on a few dresses at the South Kensington store and I was beginning to worry as no dress gave me the WOW feeling I was desperate to feel. It was Melissa who was helping me try on dresses and after trying on a few dresses we moved to the Knightsbridge store. Same again, I picked a few dresses and nothing gave me the feeling that I was desperately hoping to feel.

Melissa then asked if she could suggest a few dresses for me to try on based on my figure and the styles of dresses I had been looking at. I was handed the first dress to try on and instantly knew, I stepped out from behind the curtain and the reactions of my bridesmaids confirmed exactly what I was feeling. I had found THE dress and I had never felt so beautiful in all my life. I was so so happy I had found the one and I was so grateful to Melissa for suggesting a dress that I'd not even acknowledged when looking on the rails. There was no doubt in my mind that I had found my dream dress and I couldn't wait to wear it down the aisle.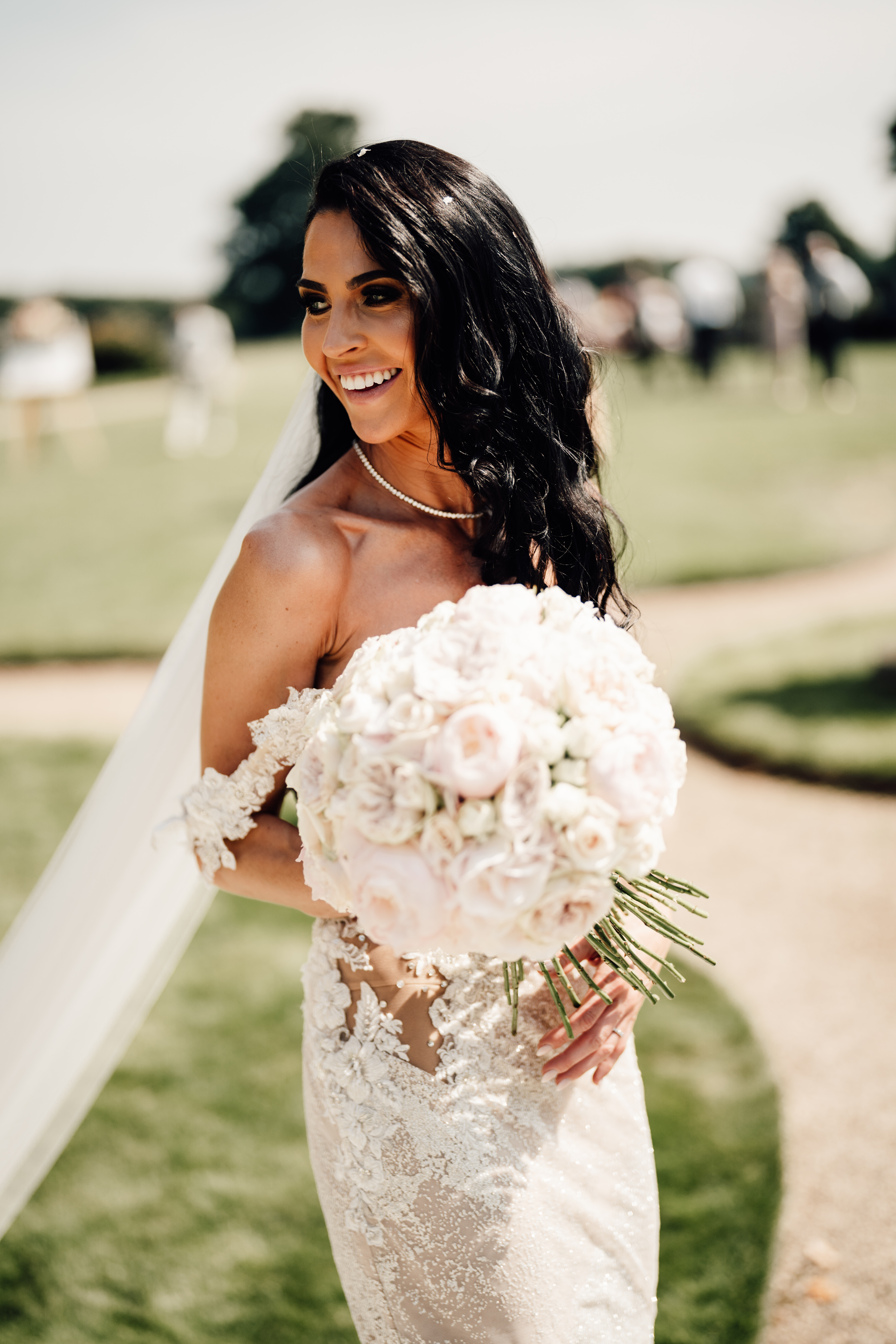 Which designer did you wear?
Berta Bridal Couture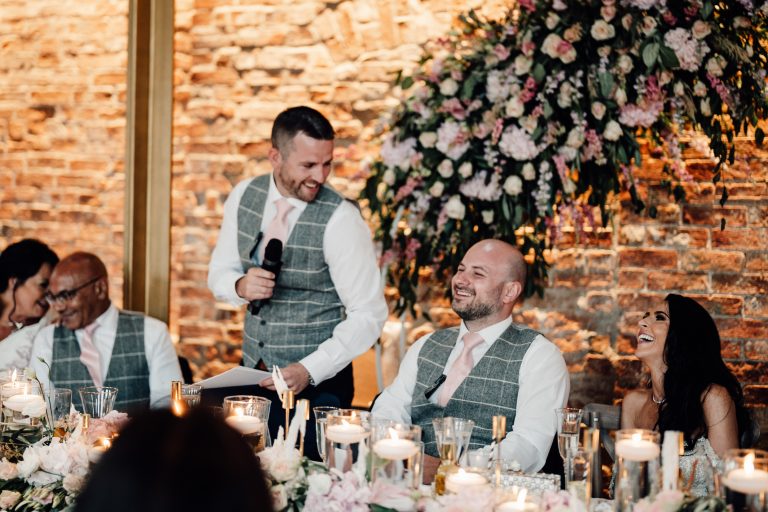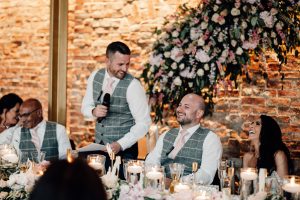 Where is the suit from? Why was it the perfect fit?
Suit was hired from a local store, Swarbricks.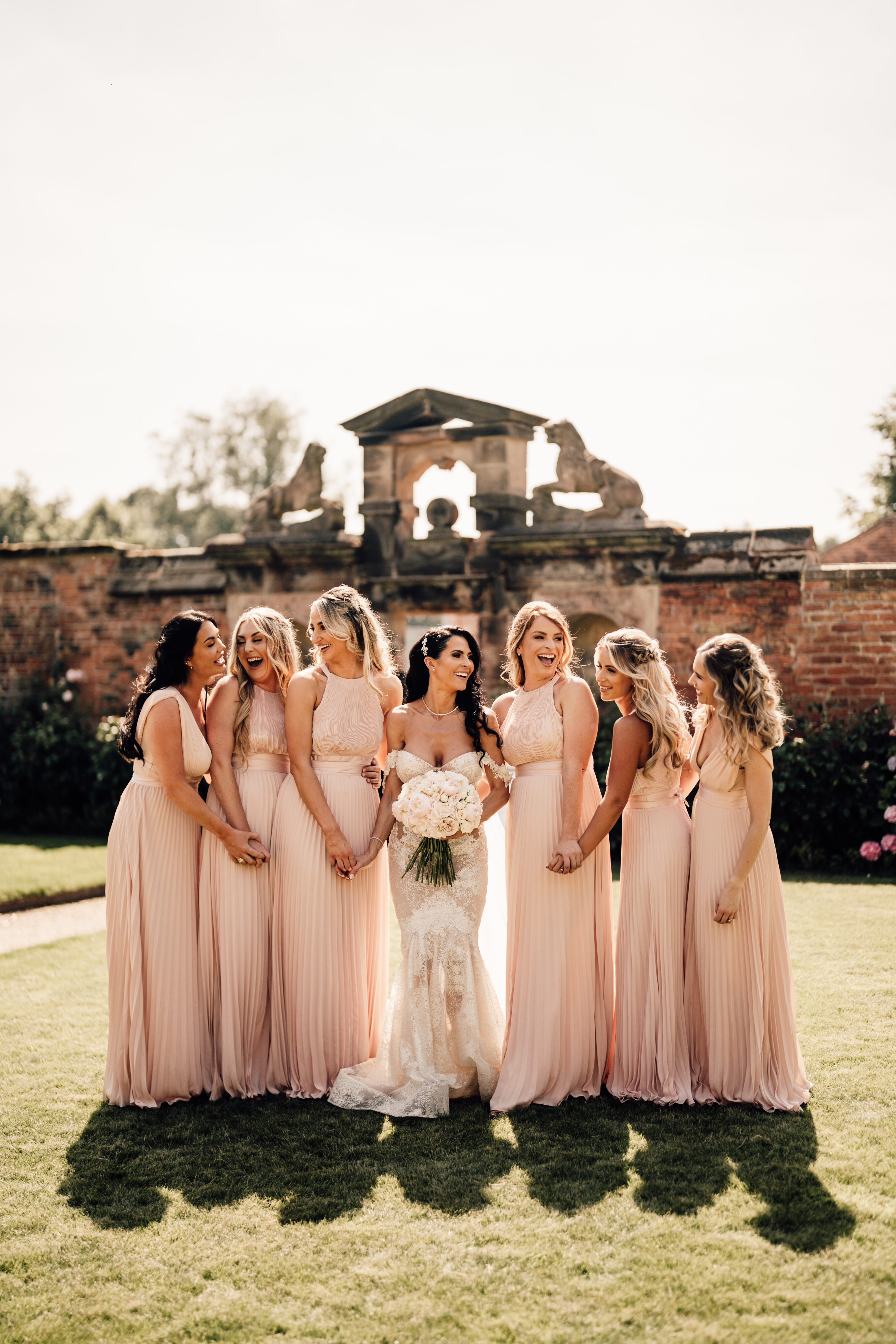 Did you have speeches? Who performed them?
We had traditional speeches, father of the bride, groom and best man. Unbeknown to us, the best man had made a song for everyone to sing along to. At the end of his speech, he went to the front of the room and pulled out a huge screen from behind some curtains and he'd put the lyrics on every table in an envelope.

The song was called "Viva La Buda" using Coldplay's "Viva La Vida" and the lyrics were inspired by the events of the stag do in Budapest. The screen displayed the lyrics, karaoke style, along with a slide show of some photos from the infamous stag do in Budapest. The entire room was on their feet singing along, it was such an amazing atmosphere.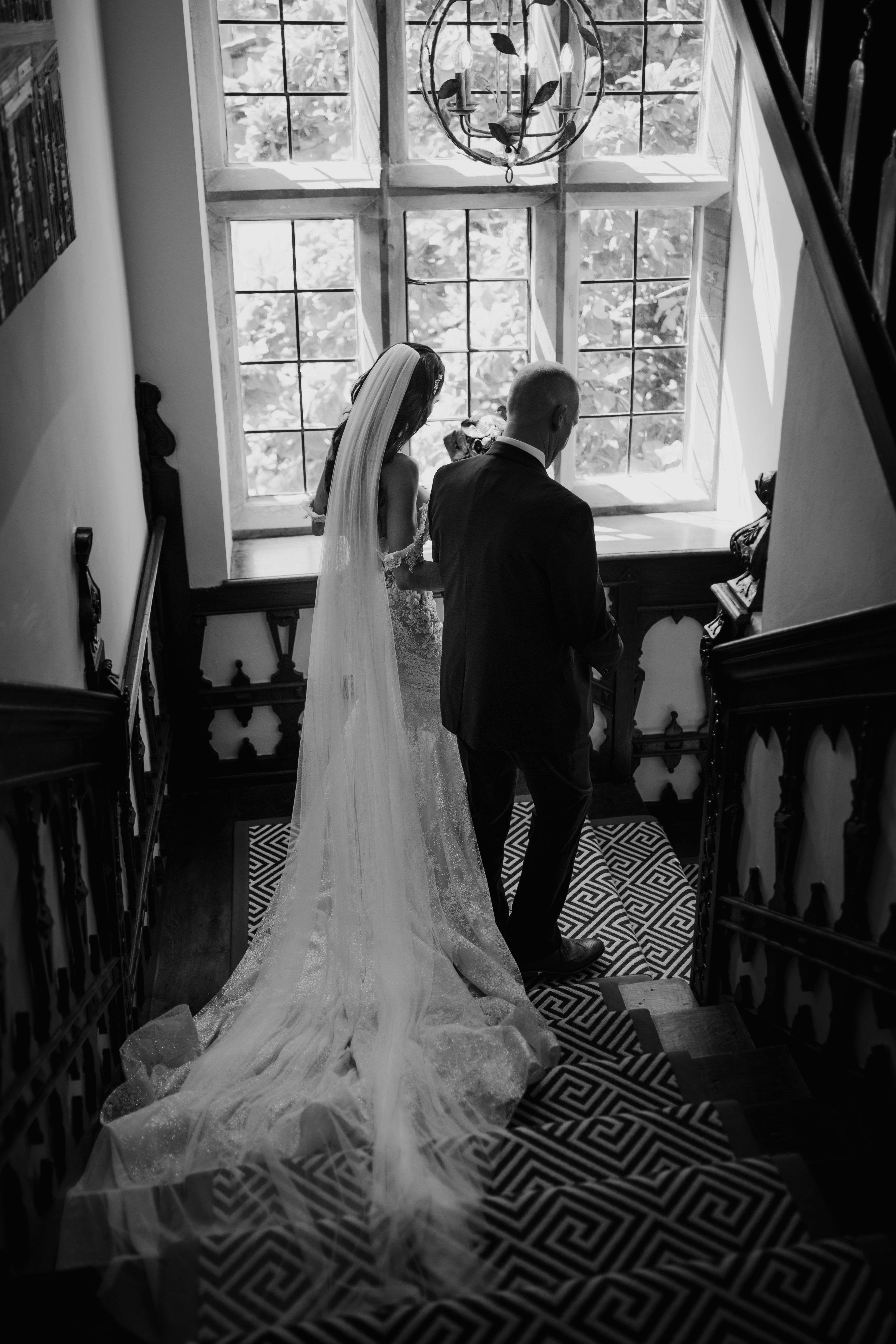 Did you have a first dance? What song did you choose and why? How was the performance?
Our first dance was to Florence and the Machine, You've Got The Love. We asked one of my best friends, Holly, who was a bridesmaid, to sing it for us as she has a wonderful voice, giving it a personal touch.

The bridal party had surprise confetti cannons which they let off during our dance, before everyone joined us on the dance floor. The entire thing was just magical and something we will remember forever. A particular highlight being our little boy Freddie who's 2 joining us on the dance floor wearing a large colourful sombrero.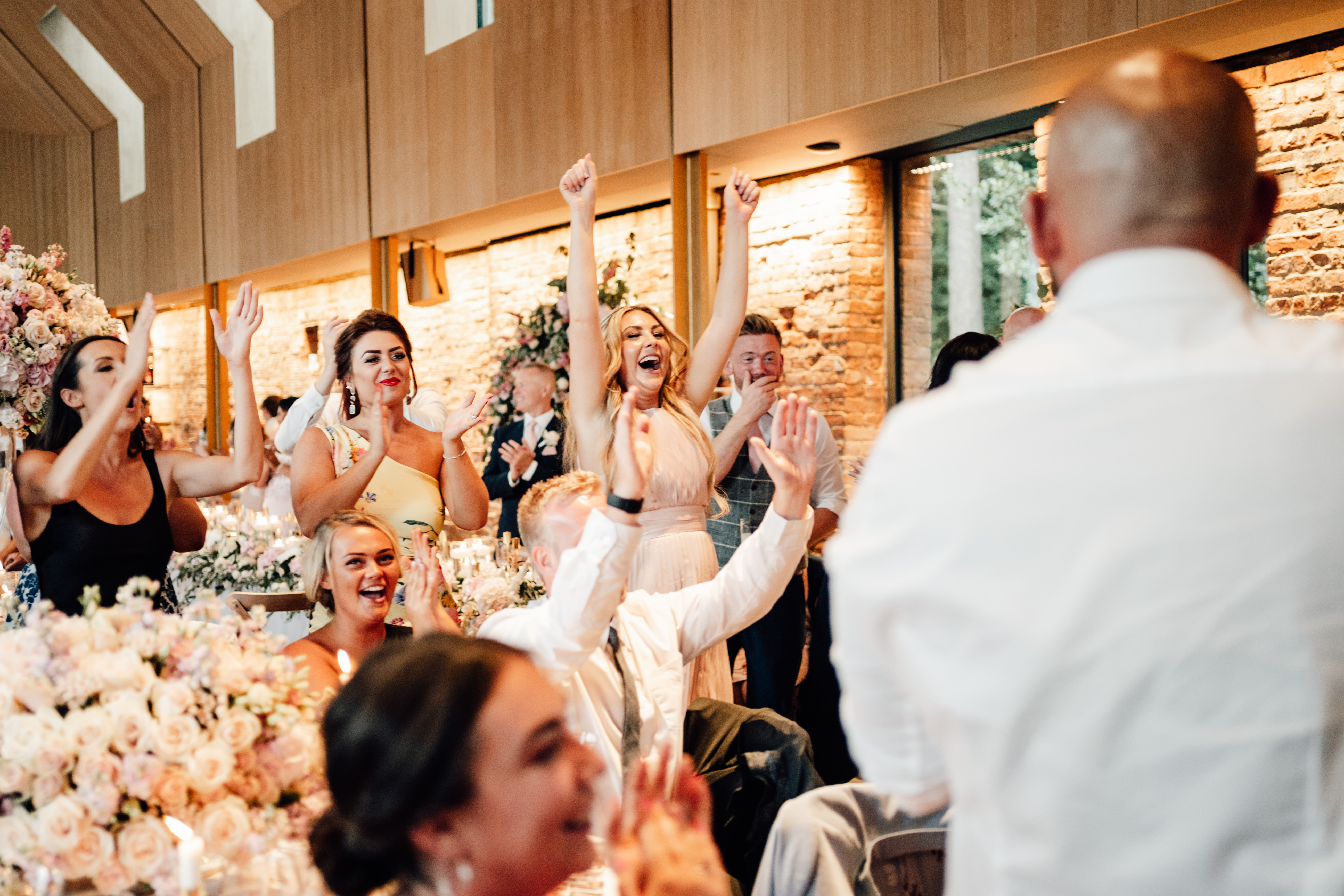 How was the party?
Wild! We had Six15 perform in the evening which included a saxophonist, percussionist and DJ. We also had 2 cocktail hours so all the guests could enjoy free unlimited cocktails for 2 hours. I was just one big party until the very end. It was incredible.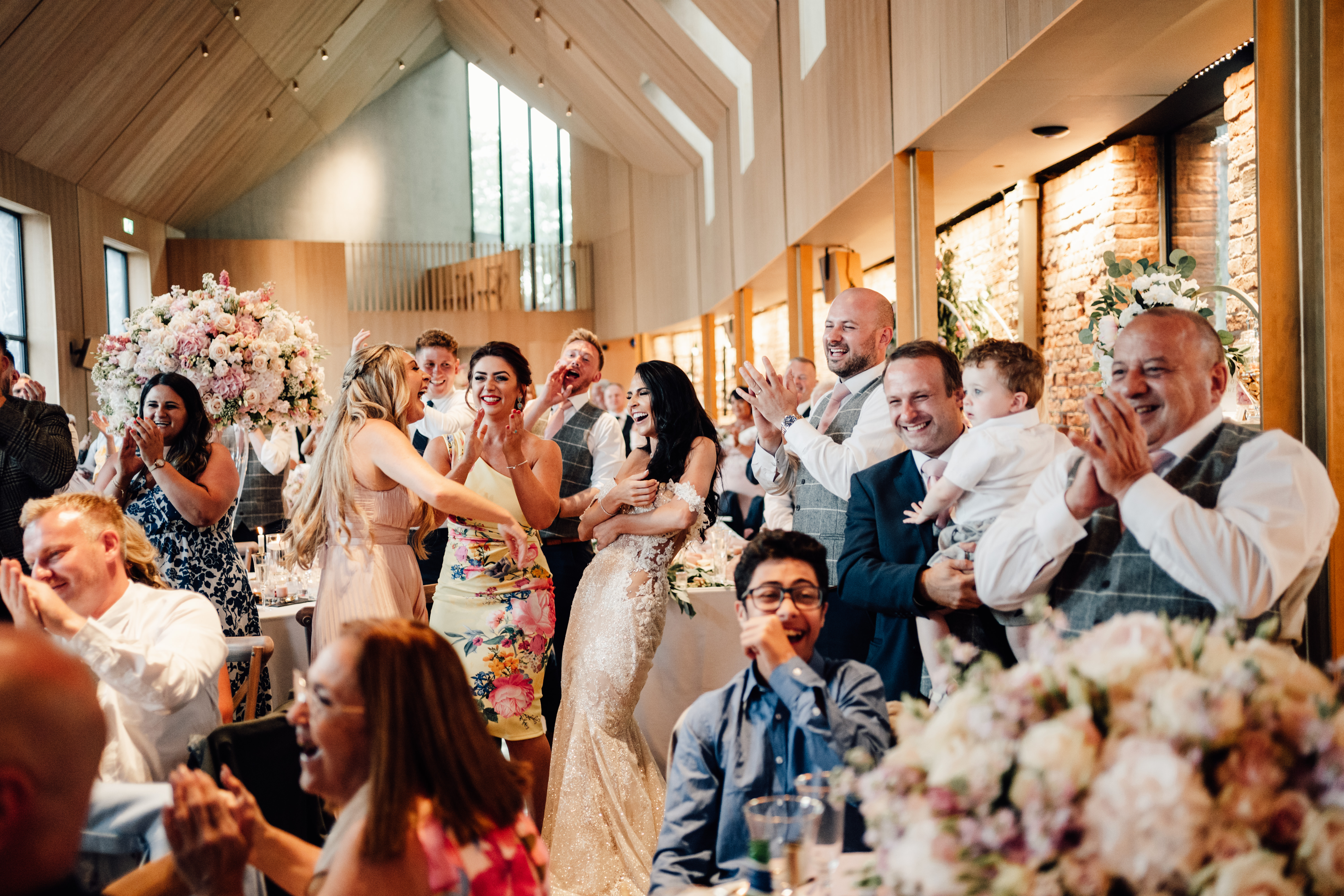 Wedding planning advice for brides to be?
Our advice would be to pick a good florist as the flowers made our wedding. We couldn't have been any happier with Redfloral who supplied our flowers and the way they decorated the venue was breathtaking.

I would also suggest investing in a good photographer/videographer so they capture the day exactly how you wish. The day goes so quickly, so it's important all the special moments are captured for you to relive over and over.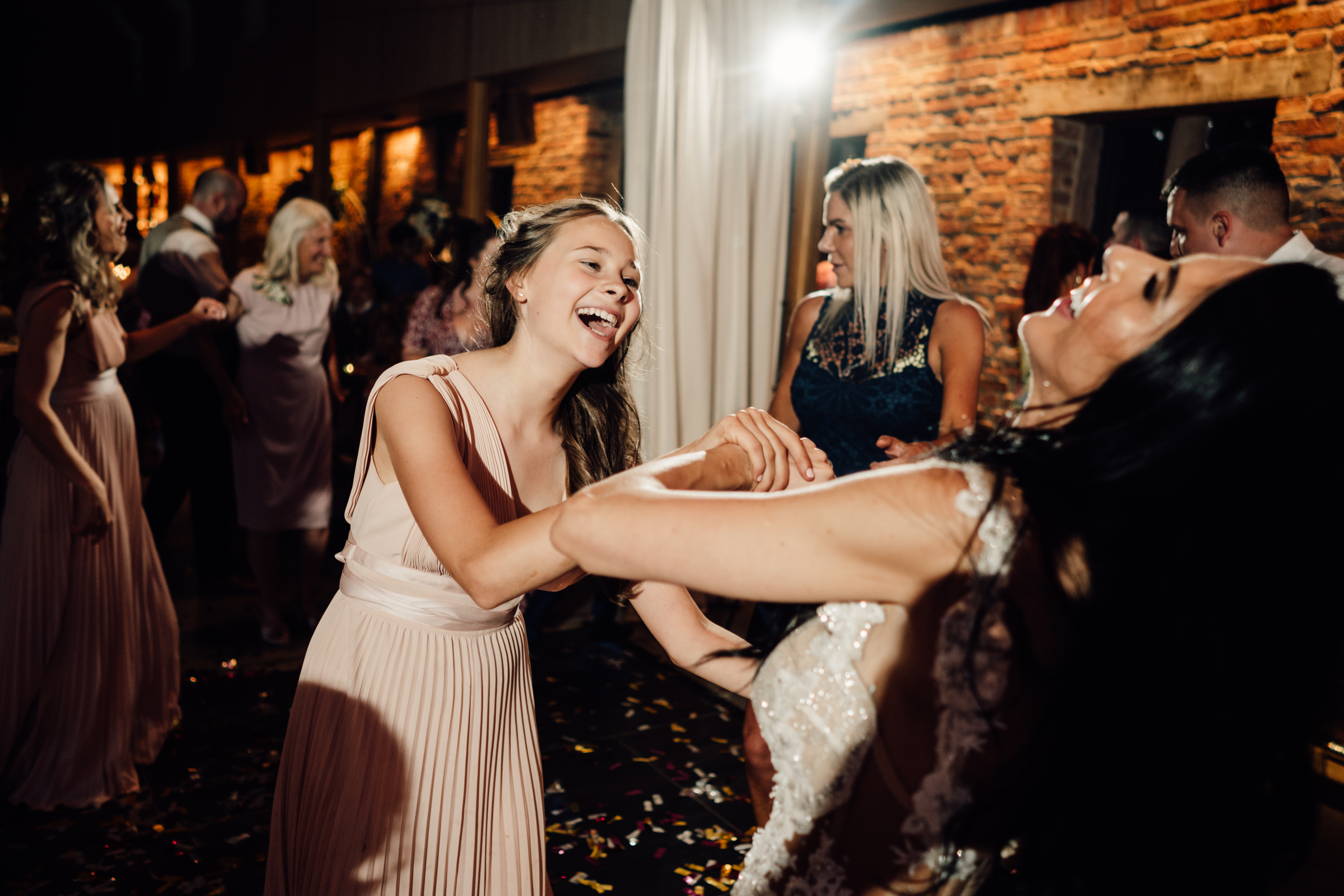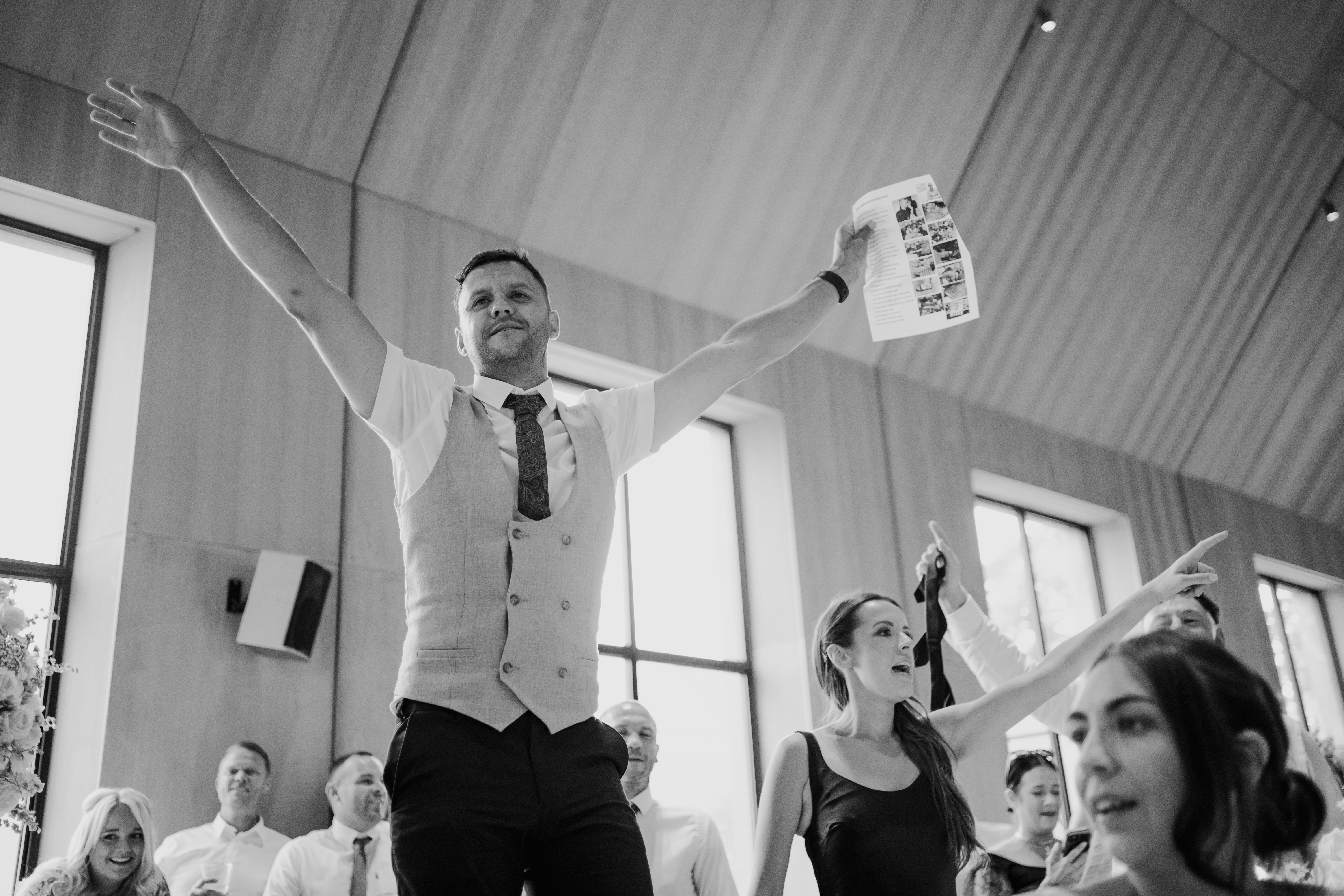 One moment you'll never forget:
Opening the door to the lawn right before I walked down the aisle. The sun was shining, the quartet were playing, the floral architecture was beautiful and all our friends and family sat there with my husband-to-be waiting at the bottom of the aisle with our children. I remember having the most overwhelmingly emotional feeling that all my dreams were about to come true and it was exactly how I had envisioned it (and more) I will never forget that feeling.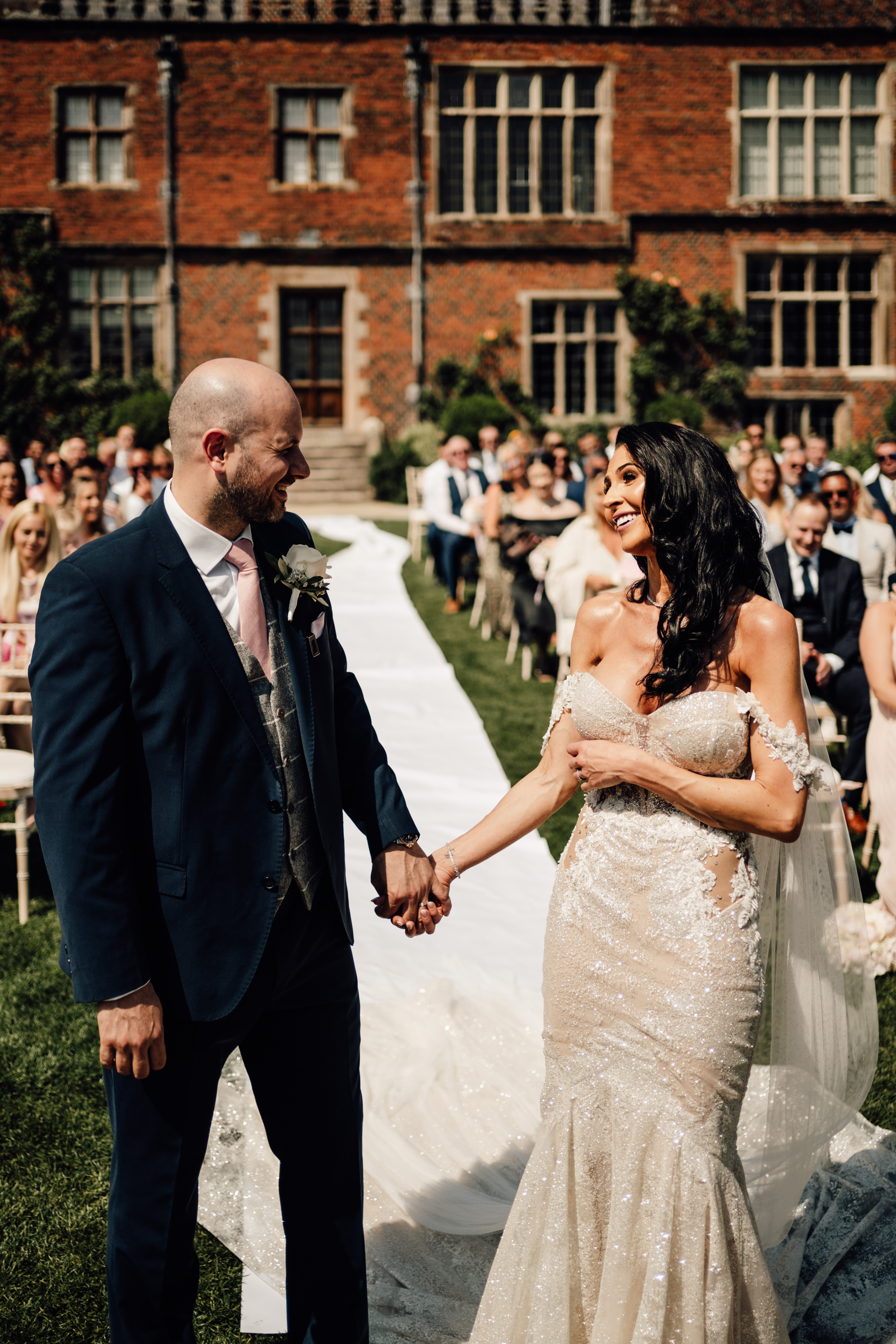 ❤️
Dress – Berta Couture available at The Wedding Club Knightsbridge & Harvey Nichols
Hair & Makeup – Gilian Roslan-Oates & Katie Daley
Suit – Swarbricks
Venue – Dorfold Hall
Photography – MIKI Studios
Decor & Flowers – Serendipity Events & Red Floral Architecture
Music – Six15