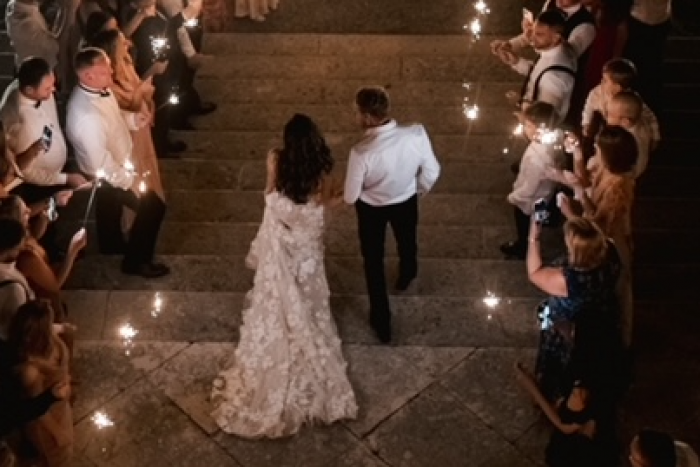 Chic Lake Como Wedding In Berta Gown
❤️ The TWC Effect – Our brides, their way ❤️
For Tatiana and Ben it was certainly 3rd time lucky after lockdowns delayed a romantic proposal, from then on the pair were on a roll and had a dreamy Italian wedding surrounded by their loved ones! Read on for the lovely details…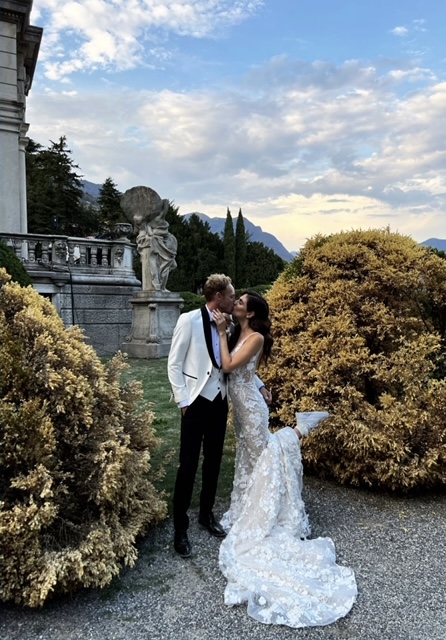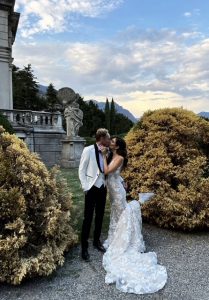 How did you meet?
Although Ben hates admitting it, via an app! I'll keep it hush as to which one…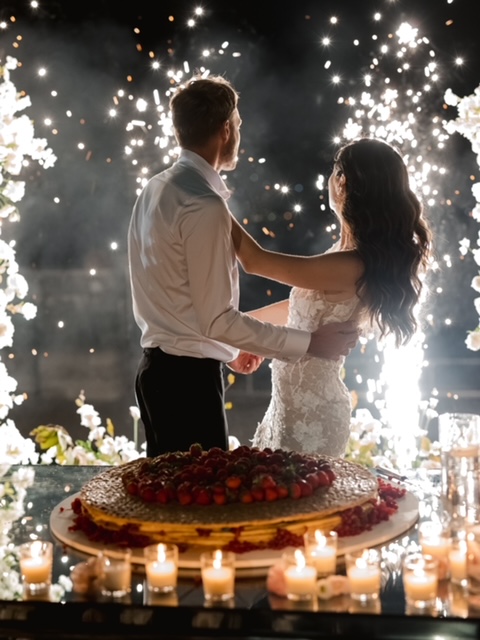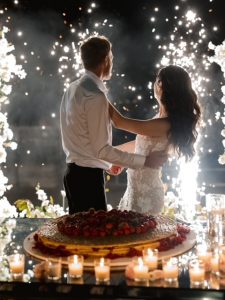 Was it love at first sight?
I knew pretty quickly that Ben was the one. In fact, the first time he visited Lake Como, I told him that's where I wanted to get married. What he doesn't know is that I told my friends on the same trip that it would be to him. Guess what? Three years later, we got married there.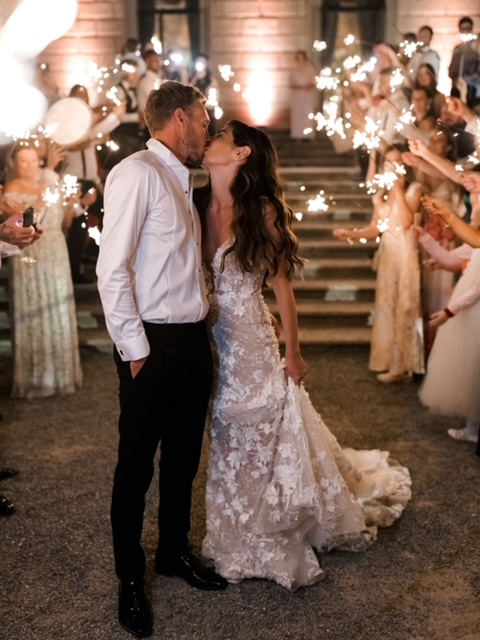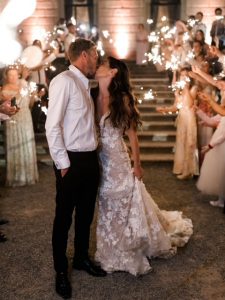 Who proposed and how? Lovely details, please!
Ben, after two failed attempts – third time's the charm!
One day, Ben suggested that we should book a trip somewhere (usually, I was the initiator). He then told me he would arrange everything – that was slightly suspicious. As the time for the trip approached, he mentioned that he booked a few activities already, which he never does – we usually just wing it. And then…. Lockdown.
We then tried to plan a trip somewhere within the UK but without any success either.
Finally, we escaped to Lisbon as the lockdown just started lifting (you must all remember the traffic light system). Ben asked me to marry near a castle on top of a hill overlooking the night city. This was also the city where he first told me he loved me.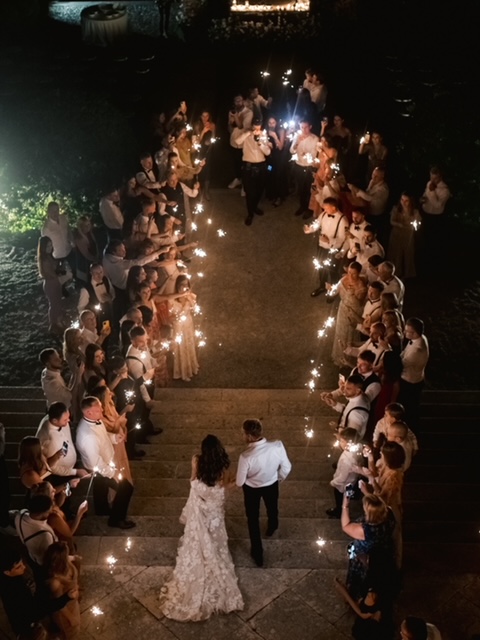 Did you have a theme for your wedding? How did it come about?
Not really. It just flowed from the location we chose.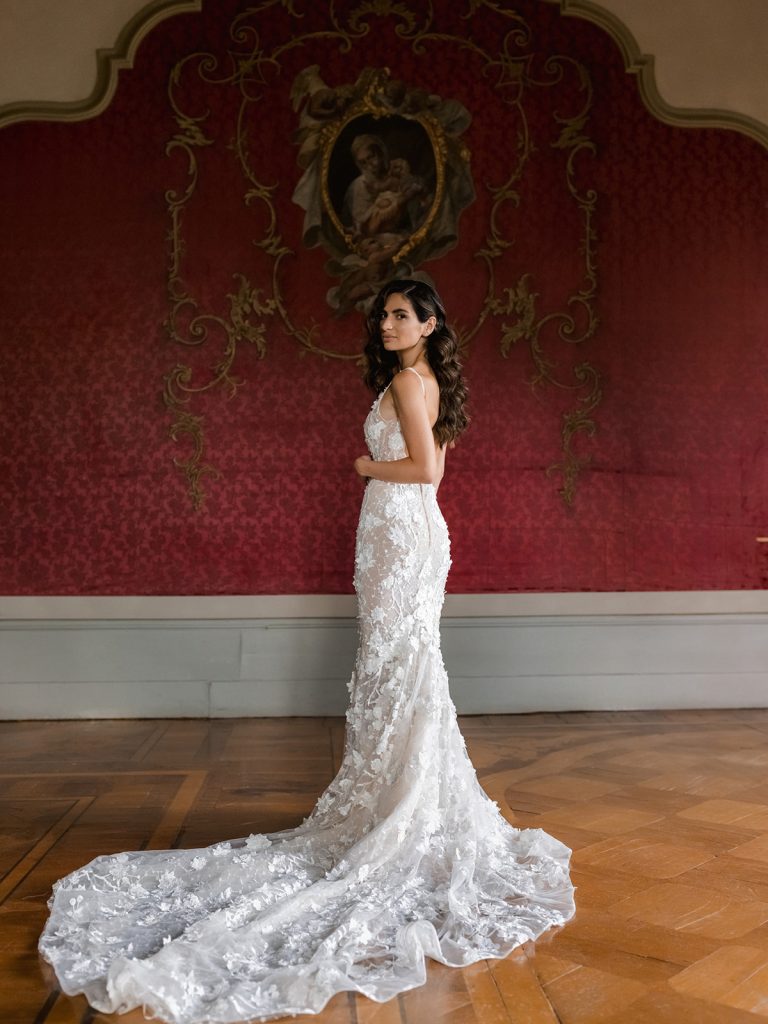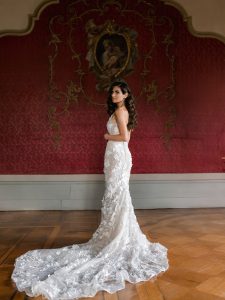 Location and how you found it?
We were picking between Lake Como and the Ely Cathedral. Both places are beautiful and magnificent. It really was a tough choice but in the end we settled on the warm and stunning banks of Lake Como.
The choice of the Villa Erba just came naturally. It's one of the most beautiful venues and could accommodate 80 guests.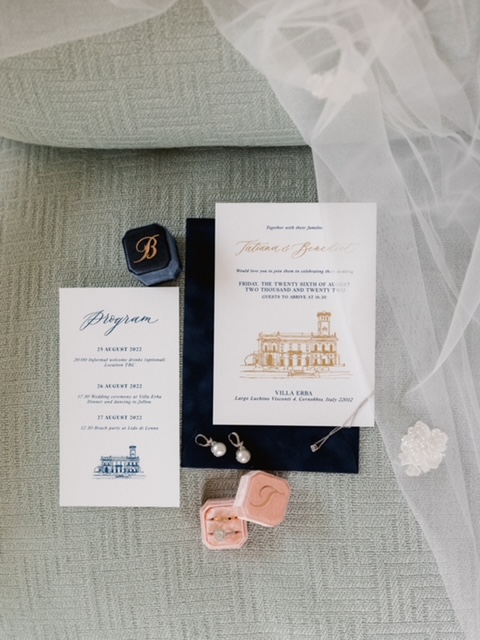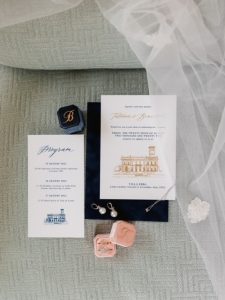 How did you find The Wedding Club? Tell us about that moment when you found and chose your dress – how did it make you feel when you put it on for the first time?
I was told by a friend who recently got married that there is only one place to visit and that was The Wedding Club.
I guess my experience of finding a dress was not the most usual! I tried so many dresses that I think April was getting tired of me 😂 (I'm only joking. She was very patient, offered invaluable opinion and was an absolute pleasure to be around!).
I was really struggling. I really wasn't getting that overpowering feeling of "this is the one!" although the dresses were all beautiful in their own way.
I went to Milan for the food tasting and popped into one of the wedding stores there. Tried on a dress I sort of liked but the service there was nothing on The Wedding Club, who were incredible, and I made the decision that any dress I buy has to be from TWC… When I got back to the UK, I went to the trunk show and by some miracle the dress from a previous collection was sent by mistake and in my size (this was the dress I sort of liked in Milan). I took this as a sign and over a period of a few months (whilst patiently – not- waiting for the dress to be made and staring at photos) fell in love with it. I guess it takes me a while to fall in love (but it didn't to Ben!).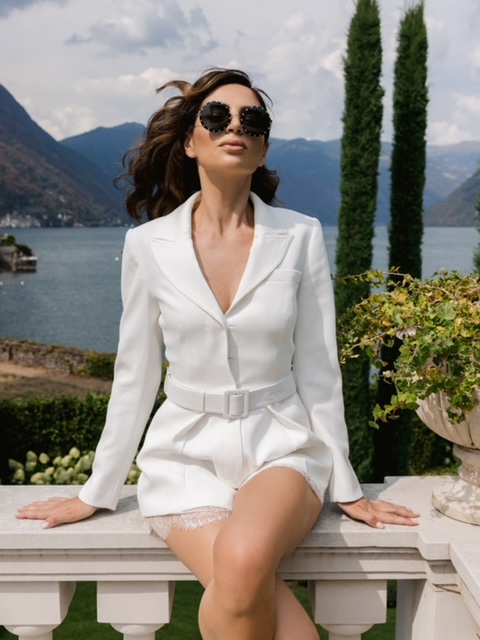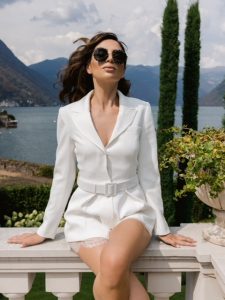 Which designer did you wear?
Berta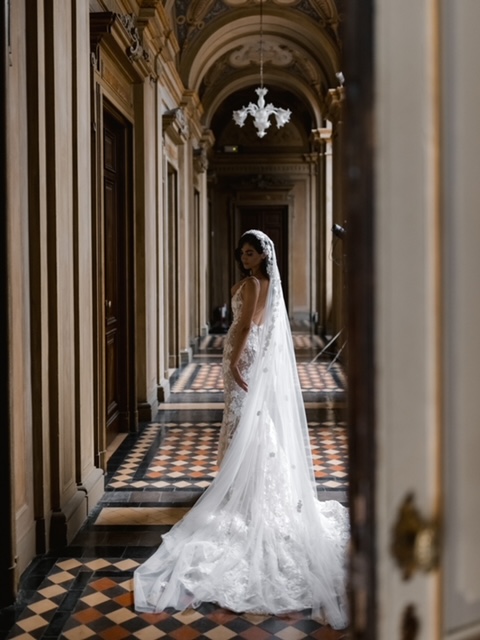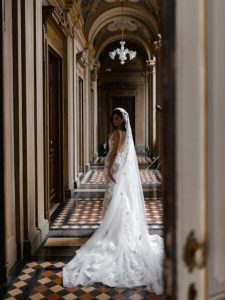 Where is the suit from? Why was it the perfect fit?
Aristocracy London. It was perfect for a summer wedding – off white blazer with black details. Ben just looked amazing in it and it fitted like a glove! The only adjustment that was made was to the length of the trousers!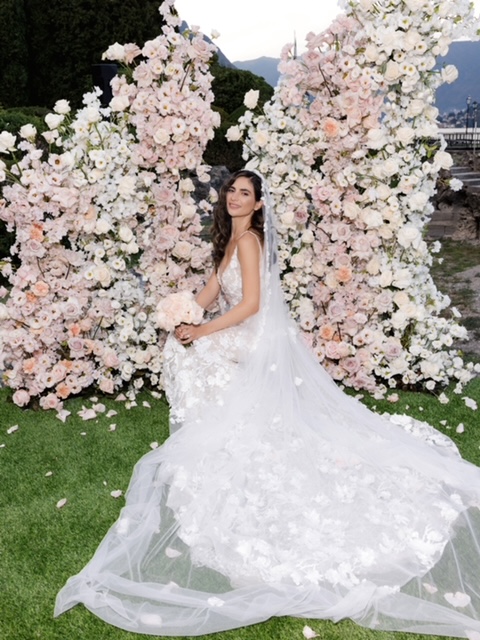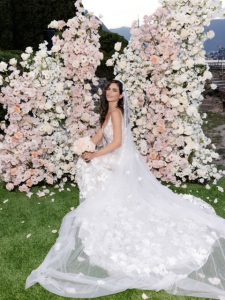 Did you have speeches? Who performed them?
Yes, the traditional father of the bride, groom and best man speeches.
Sorry Ben, but my dad's was definitely the best. A perfect combination of funny and emotional.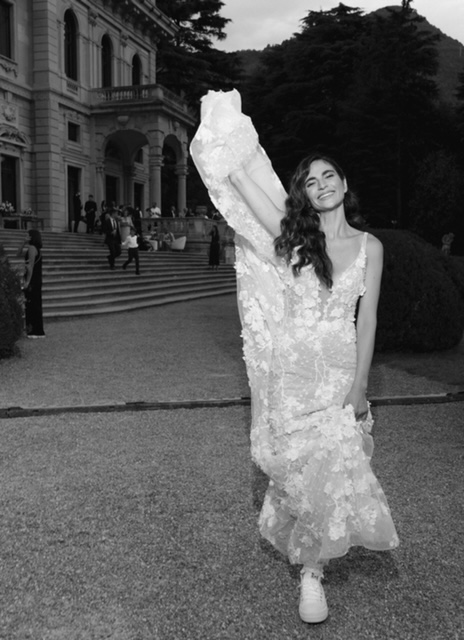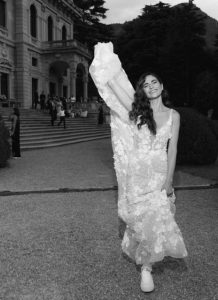 Did you have a first dance? What song did you choose and why? How was the performance?
We chose the Sweetest Thing by Aerosmith. After attending about 8 dance lessons, we had a routine in place. But! We didn't put in the practice and decided to "wing it" as we were walking down the stairs. Thank goodness! As the DJ messed up and didn't put the song on from the start but when the verse started (nightmare!).
We also had the traditional Hora dance to honour my heritage.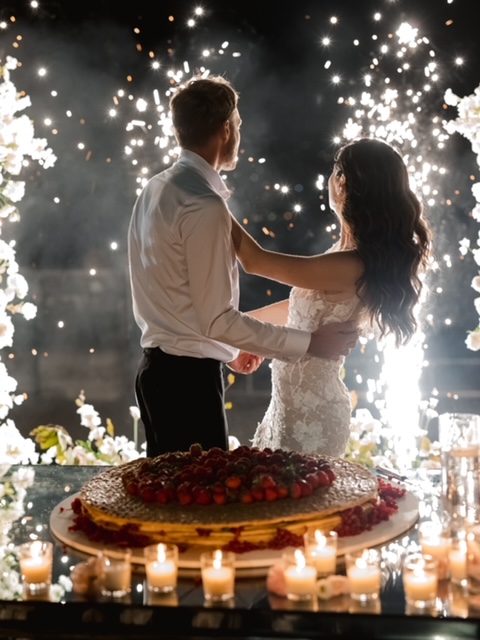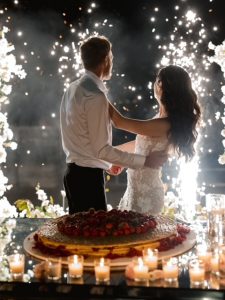 How was the party?
It flew by way too quickly and inevitably ended in a fight 😂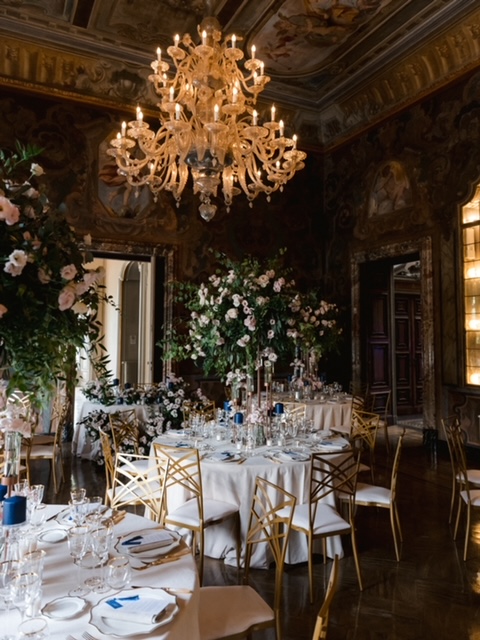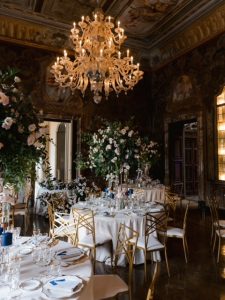 Wedding planning advice for brides to be?
If you can, hire a planner especially if you have the wedding abroad. They are a godsend as they will know the best suppliers and will be able to negotiate on your behalf. All you then have to go is pick which flower arrangement, chairs, songs, food etc you want to go with!
Start early (even if that seems crazy) as the time will fly! And get your groom to start writing a speech ahead of time, not on the night before 😂
On the day, be flexible and enjoy the moment. Things will go wrong, but don't let that spoil the day as the most important thing is that your loved ones are there to celebrate the love and a new family being created.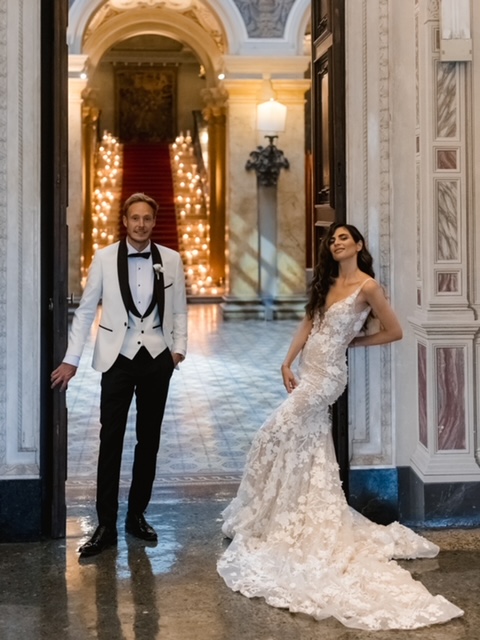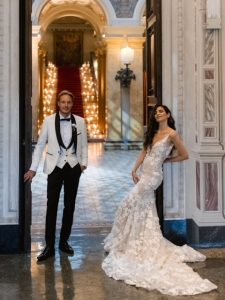 One moment you'll never forget:
Our son's reading (he was 7). He chose it himself and read it in front of 80 people. Ben even got close to shedding a tear!
❤️
Dress – Berta available at The Wedding Club Knightsbridge & Harvey Nichols
Hair & Makeup – Irina Pandey
Wedding Planning – Happy Moments Collector
Photography – Andrew Bayda and Nata Nagornykh
Venue – Villa Erba
Flowers – Rattiflora