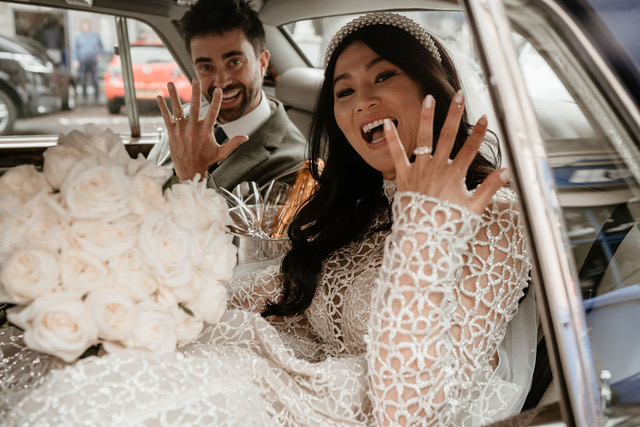 Luxe Scottish Weekend Wedding In Berta Gown
❤️ The TWC Effect – Our brides, their way ❤️

From Hinge to the Highlands! Jennifer and James tied the knot up in Bonny Scotland between lockdowns so they were free to celebrate with all of their loved ones in the loveliest of locations, today we are going to hear all about it…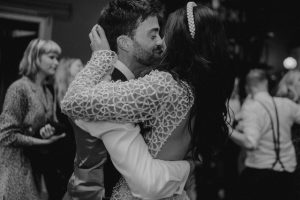 How did you meet?
We met on hinge after I had a long break from dating apps. James's first message to me was "I think you might be my perfect woman" so that was it.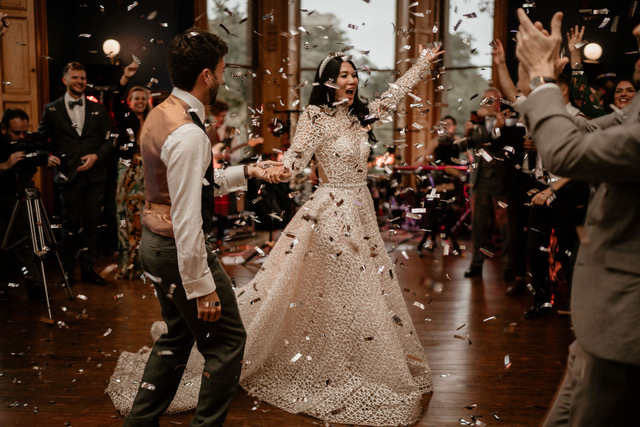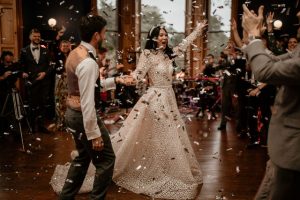 Was it love at first sight?
We spoke on the phone quite a lot as I had to keep cancelling our first date, when we eventually met at my local we had a great night. At the end of the evening I was standing there waiting for James kiss me but he didn't so I said "come on and kiss me then!"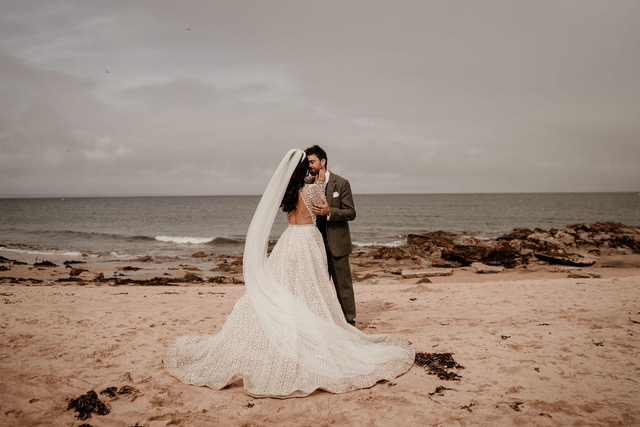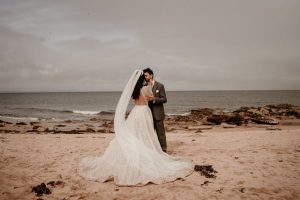 Who proposed and how? Lovely details, please!James and I both lived in London but we moved to Brighton during lockdown, we had talked about marriage a lot so I was expecting a proposal…
Christmas came and went with no proposal, then NYE no proposal then the day before valentines James suggested we go for a run along the beach front, I was hesitant with a hangover but eventually I agreed and on the run I turned around to see where he was and James was on his knee. It was a huge surprise and the best feeling ever! Afterwards James told me he had called my Dad in Hong Kong weeks before to ask his permission – this really got me crying happy tears.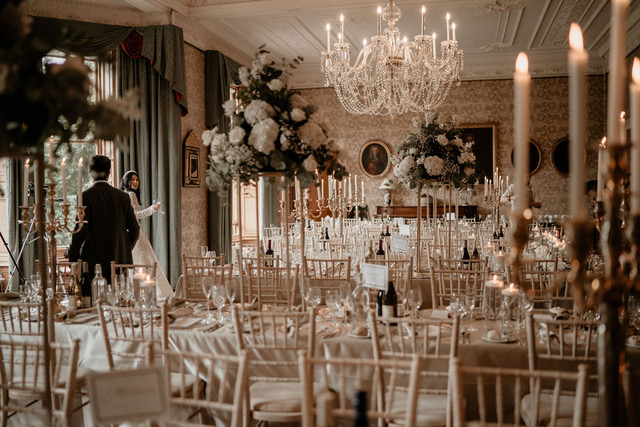 Did you have a theme for your wedding? How did it come about?
We were so lucky with the timing of our wedding, between both lockdowns so we had no restrictions. The main thing we both agreed on was that it should be one hell of a party and not just one day – all weekend.
We wanted spoil our guests as we had been in lockdown for so long. Our colours were Ivory and gold, seeing the dining room of Cambo dressed for the first time took my breath away. I had a little moment to myself walking around taking it all in. It looked more beautiful than I had imagined thanks to the flowers, dressing and dining sets we chose.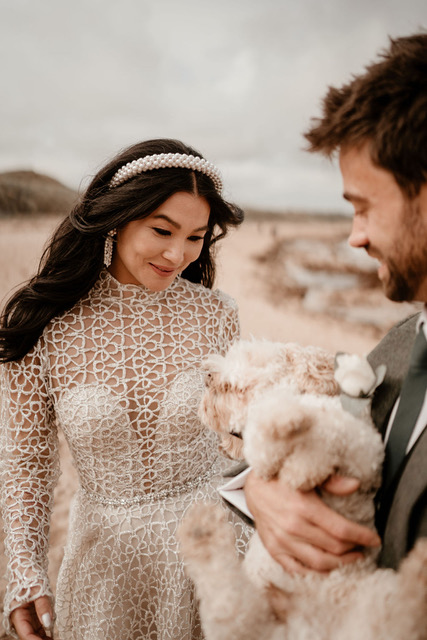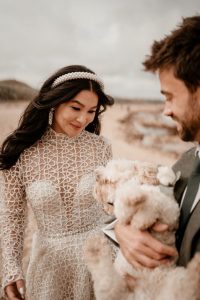 Location and how you found it?
I grew up in Scotland and James lived there for a few years so the choice to get married there was easy. James found Cambo Estate and we loved it because it was grand and luxe but mainly because it had its own private beach. It could also sleep our 95 guests so we would all be together all weekend.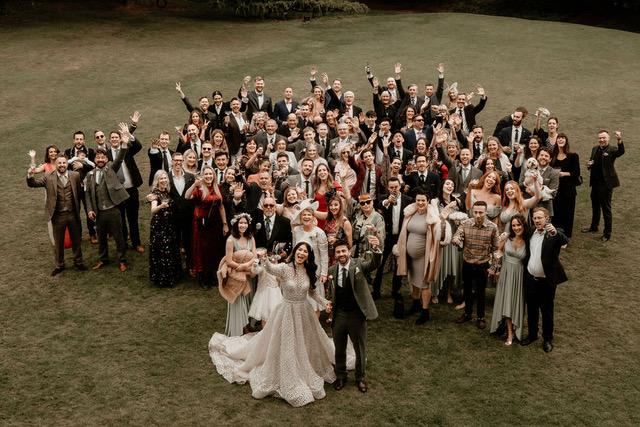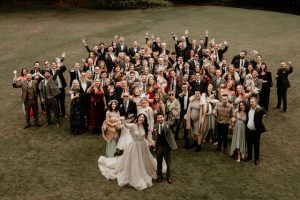 How did you find The Wedding Club? Tell us about that moment when you found and chose your dress – how did it make you feel when you put it on for the first time?
I knew exactly the kind of dress I wanted to wear- regal, high neck, long sleeve, low back, princess so I just had to find it. I searched for ages and eventually saw the Berta dress on TWC website I knew it was perfect.
The Wedding Club was the only place in the UK that stocked it. This point it was during lock down and I couldn't try it on. Amazing Clare, the lady at The Wedding Club, hadn't been to Brighton before so offered to deliver it and she would spend some time on the beach! Perfect!
Kindly she also brought me some other options and also a Naeem Khan dress that I loved for my mum. As soon as I unzipped The Wedding Club bag I knew it was the one. I didn't even try on the other dresses. I did try on my mum's dress and FaceTime her to see if she liked it though, she did thankfully!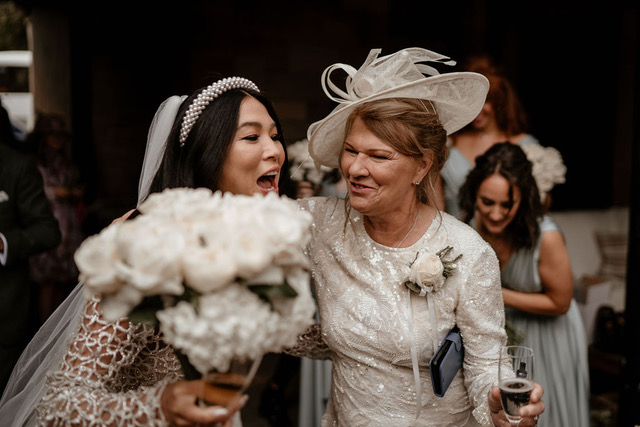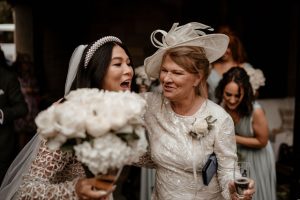 Which designer did you wear?
Berta.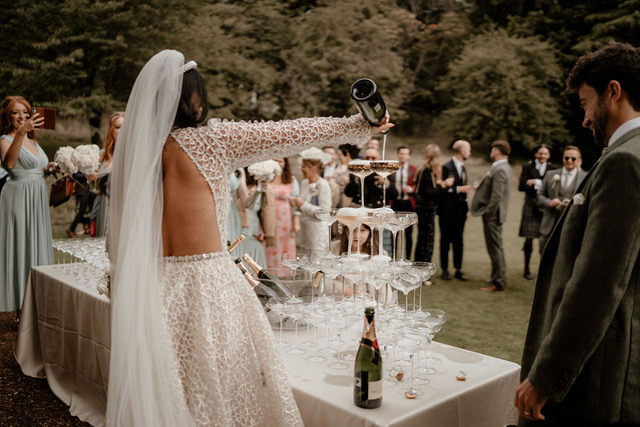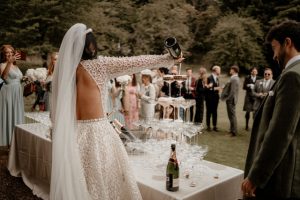 Where is the suit from? Why was it the perfect fit?
James suit was from Henry Poole on Savile Row. I was reluctant when he told me he wanted green wool (GAH) but it was perfect and I admitted I was wrong to question his choice. He looked so unbelievably handsome when I got to the altar. I couldn't see him as I walked down the aisle through my tears.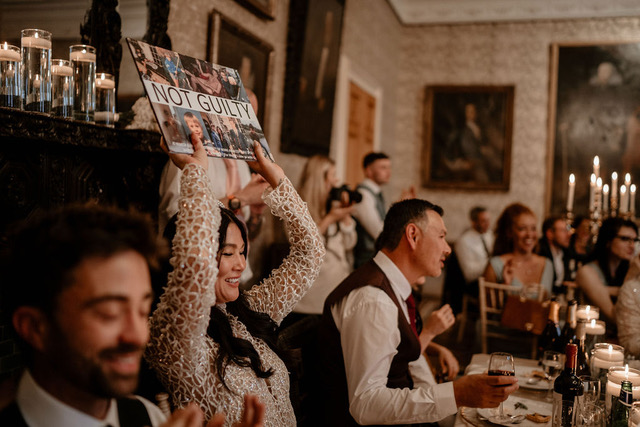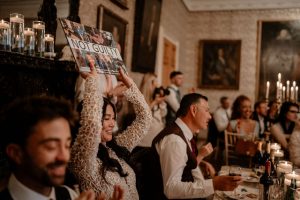 Did you have speeches? Who performed them?
My friend Wenna opened the speeches with a funny poem she had written about us, followed by my Brother as my Dad couldn't make it over from Hong Kong.
James had five best men. They set up like a Judge and Jury and had everyone one creasing except one friend who was a little too worse for wear (he went a little too big on the Friday) James finished the speeches with our little dog Bruce by his side – Bruce was also ring bearer at the church!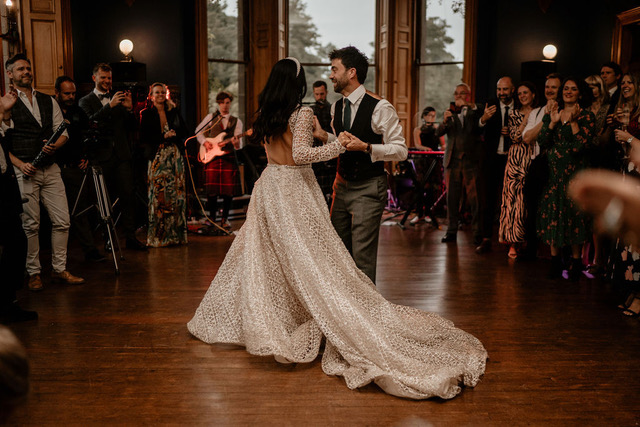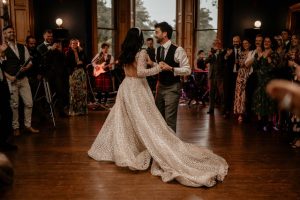 Did you have a first dance? What song did you choose and why? How was the performance?
Our first dance song was Kiss I was made for loving you. We chose this because James had sent it to me after our first date on his train home. We rehearsed the dance for two weeks but it didn't go quite to plan – we didn't care!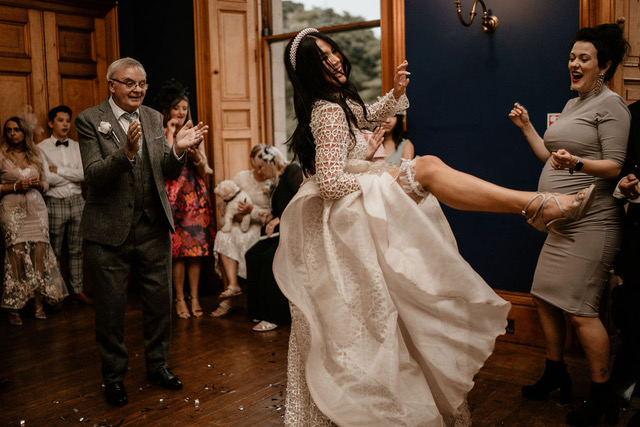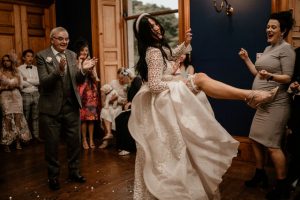 How was the party?
On the Friday we had a hog roast and although James and I went to bed early we some guests partied into the wee small hours. Our wedding ceremony on the Saturday was quite early at 11am. By the time of our first dance the party was well on its way. We had a Scottish celiah band with covers. I was a little worried people wouldn't get involved with the celiah dancing but everyone got involved. Best day ever.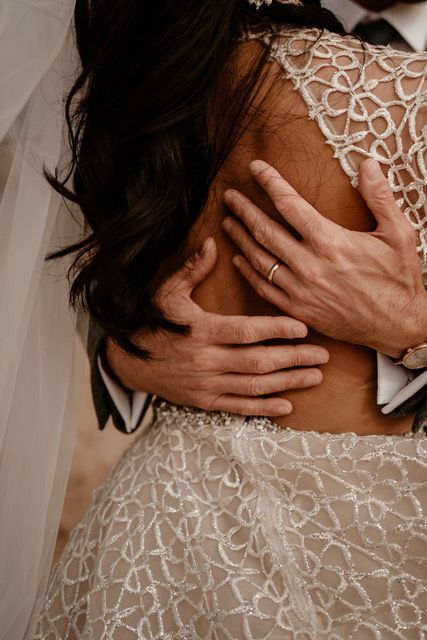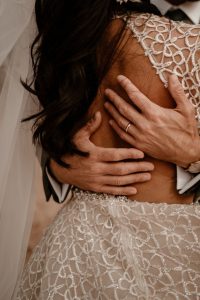 Wedding planning advice for brides to be?
Plan everything down to the last detail but then for on the day delegate so all you have to do is sit back and enjoy.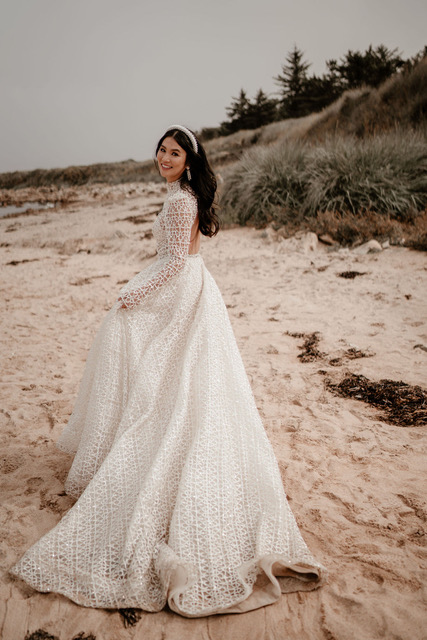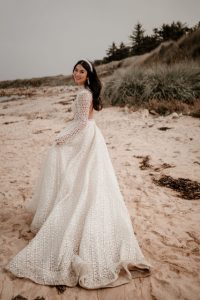 One moment you'll never forget:
My favourite part of the day was in the car back from the church to Cambo. It was just James and I and we kept saying to each other "we're married" my brother had bought us some champagne for the journey too so we were giddy with love.
One other moment I have to mention is on the Friday with everyone at the hog roast, James and I got up on stage to thank everyone for coming and looking out to all our special ones in the same place was just the best feeling ever. Both of those moments seemed to slow down every other minute of the weekend went back so fast!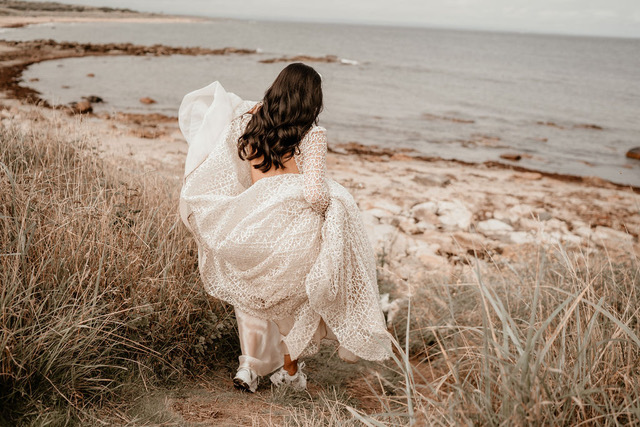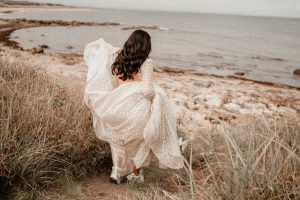 ❤️
Dress – Berta available at The Wedding Club Knightsbridge & Birmingham
Hair & Makeup – Hunky Dory & CarolMMua, ClareParkMakeup
Veil – Morgan Davies Bridal
Suit – Henry Poole
Photographer & Videographer – The Unbridled & Memories By Movie
Venue – Cambo Estate
Flowers – Supernova Wedding Design
Styling – 88Events Company
Cars – Prestige Cars
Catering & Cake – Regis Banqueting & Loren Brand Cakes