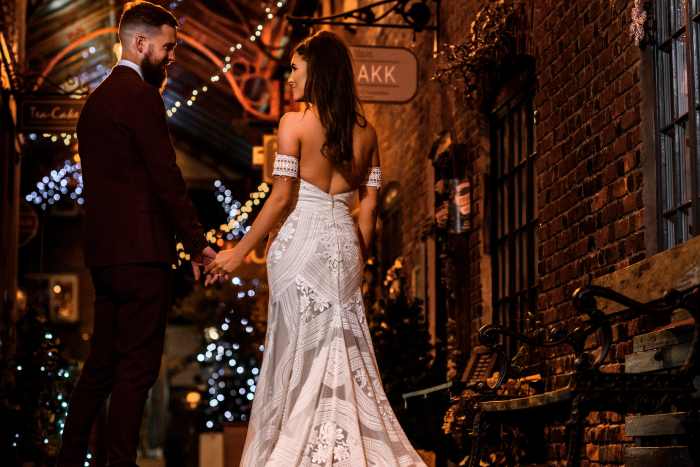 Effortlessly Ethereal Staffordshire Wedding In Rue de Seine Gown
❤️ The TWC Effect – Our brides, their way ❤️
Cara and Andy really delivered the lowkey, boho wedding of dreams! The pair considered eloping but instead threw a effortlessly fabulous winter wedding and we have been lucky enough to hear all about it…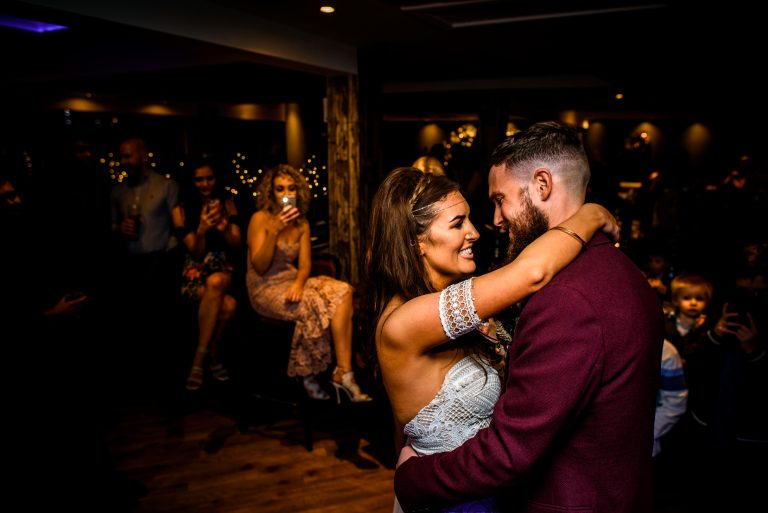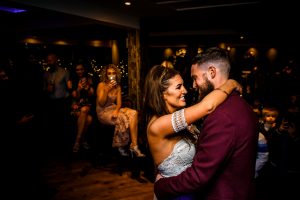 How did you meet?
Andy is a postman, I worked as an estate agent and he used to deliver to my office.
My (happily married!) friend at work used to joke calling him the sexy postman – behind his back! My manager said he had a friend who worked for Royal Mail and found out his name was Kieran.
After a few months 'Kieran' added me on Facebook under the name of 'Andy' which obviously confused me… So, I messaged Andy to tell him I'd been calling him Kieran for the last 12 months, we got talking and just clicked. He asked me out and we were inseparable since!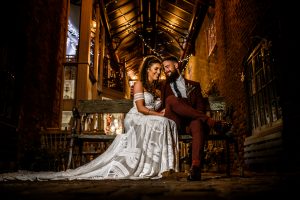 Was it love at first sight?
Not sure if it was love at first sight but he said he'd had his eye on me for a while and his first impressions were 'Wow!' I thought he was good looking and really sweet.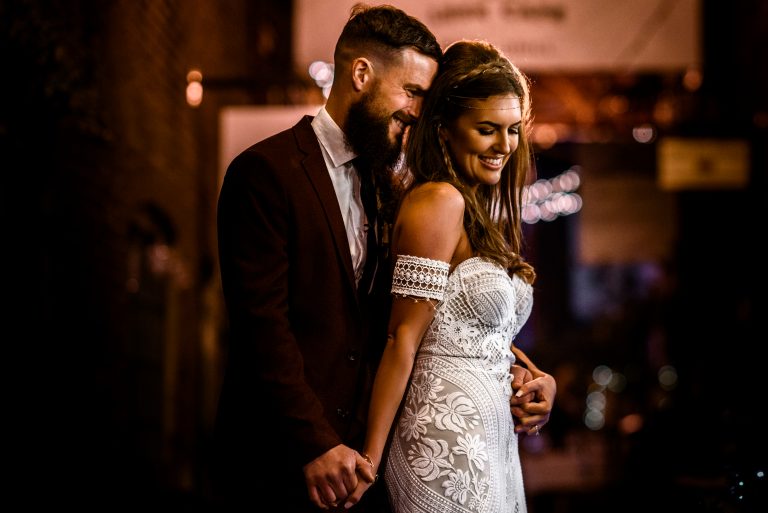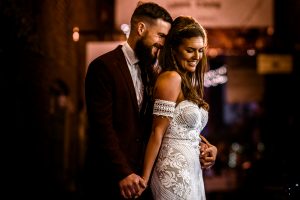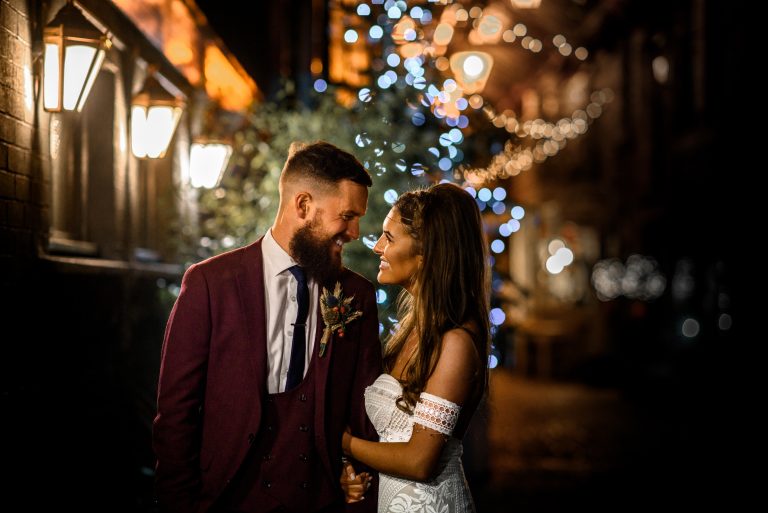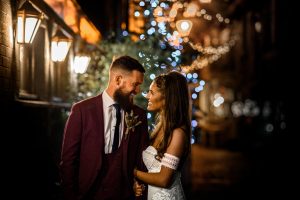 Who proposed and how? Lovely details, please!
Andy proposed.
We'd always joked about our relationship being like a little love story! Things happening by 'fate' being in the right place at the right time on many different occasions.
We quickly found out when we started dating that everything was just so effortless, which was nothing we'd ever experienced and things all fell into place perfectly.
He took me to London for a surprise break and proposed at the Shard after a beautiful meal.
He passed me a letter he'd written and asked me to read it. I opened it and it was titled 'Our Love Story' He wrote me a story of our life together so far, from how we'd met, the time we'd spent together over the 18 months up to this point.
It was completely him, kind, romantic, sweet, hilarious and a bit cheeky!
The last page said 'which leads me to my next question…' I looked up and he was down on one knee with a ring! It was perfect, really special, a beautiful location with the views over London.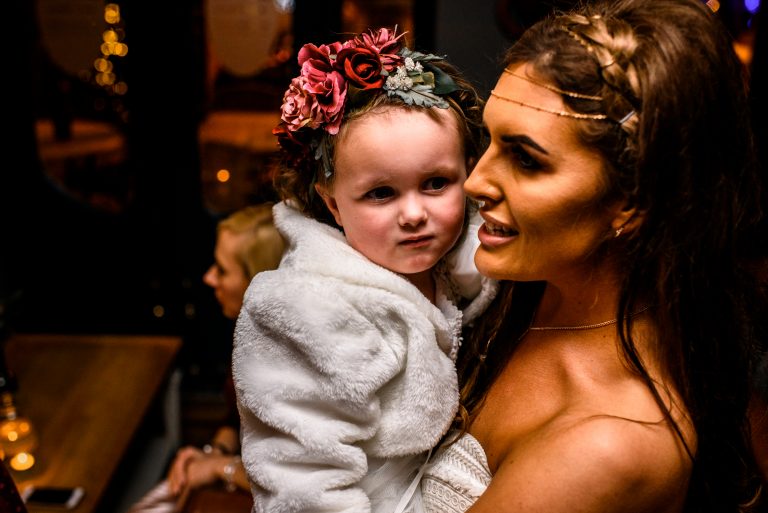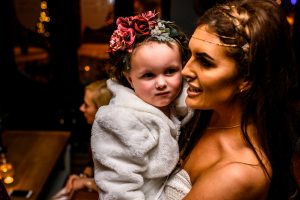 Did you have a theme for your wedding? How did it come about?
A very laid back, relaxed, boho Winter wedding.
I knew I didn't want the usual big, extravagant wedding which I understand a lot of brides dream of, but I knew it just wasn't my thing. We have a daughter together and it was just about marrying my soulmate and sharing our surname as a family.
Initially, we were thinking of eloping with close family but instead decided on an intimate ceremony with immediate family and onto an after party with the rest of our family and friends.
We adopted the boho theme purely due to the dress! I saw the dress & wanted everything to fit around that! We had wine bottles filled with flowers and greenery, candle lit jars on hessian and ivy table runners.
As we had opted for a laid back, evening 'after party' we didn't want a formal sit down meal, instead we had meze platters, mince pies, cakes, sweets and a cheese board. Very informal, exactly what we wanted.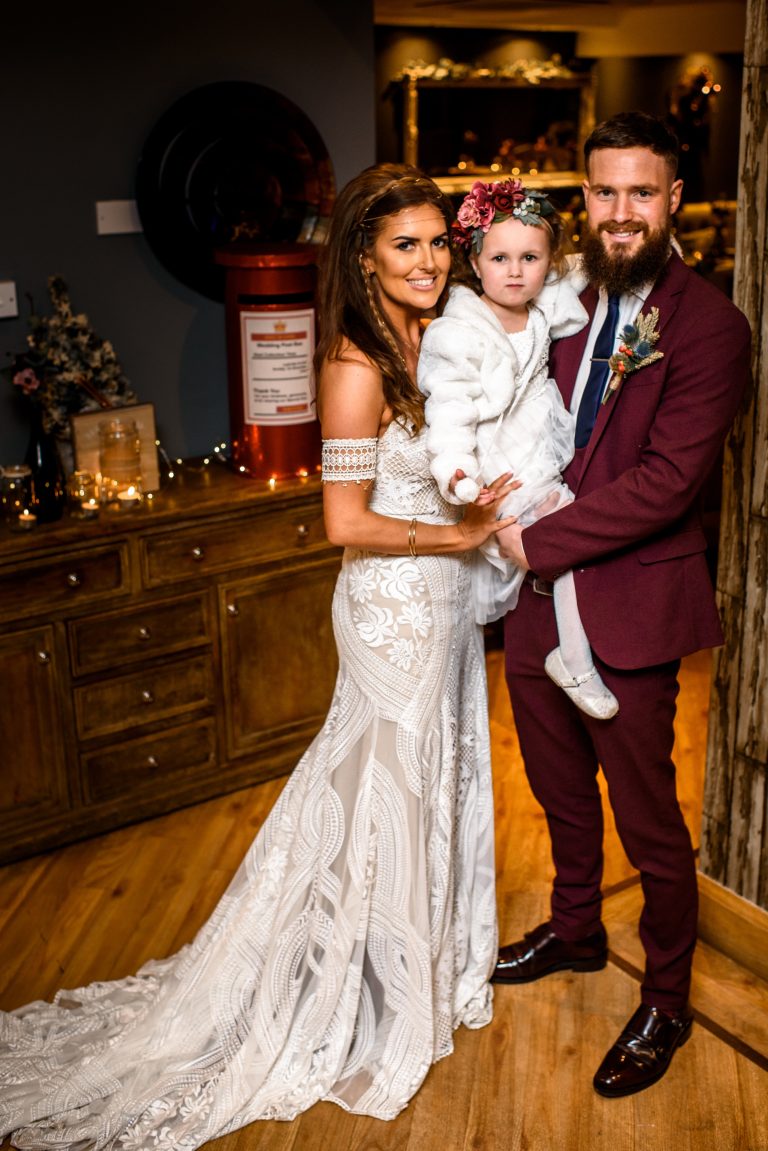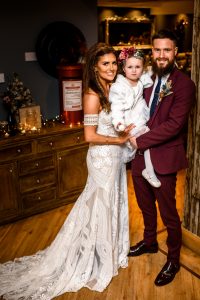 Location and how you found it?
We decided we wanted a very intimate late ceremony with immediate family including both of our parents, my brother, his wife, Andy's brother, girlfriend and niece at the town hall at in the afternoon, then a big party afterwards with all of our friends and the rest of our family.
We held the 'after party' at Leek Bar and Grill, a bar/restaurant at the end of a little covered cobbled street called Getliffes Yard in Staffordshire.
We decided on this location as the area is covered by a glass roof with fairy lights which looks particularly beautiful around Christmas time.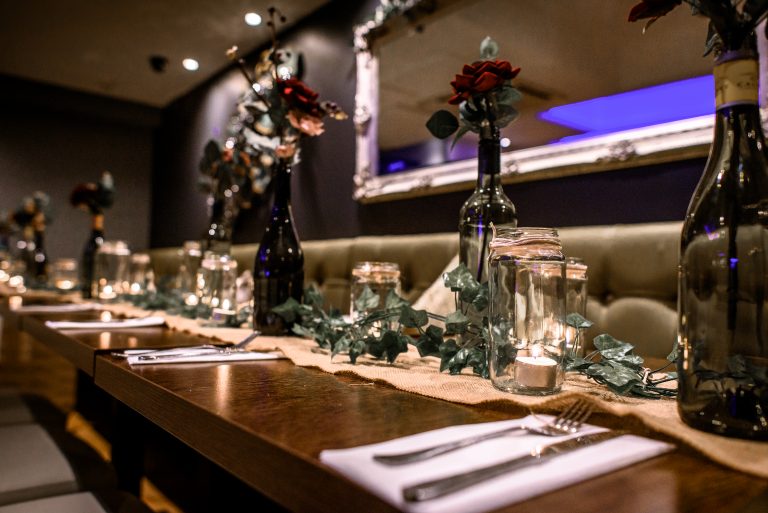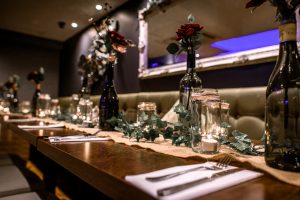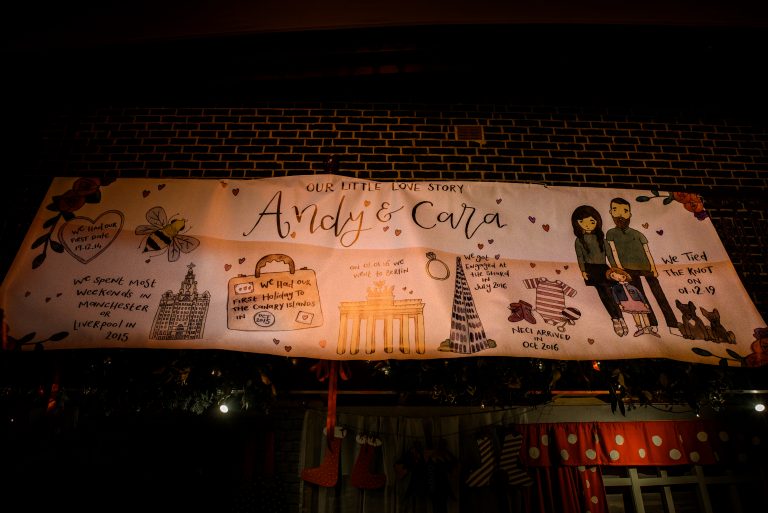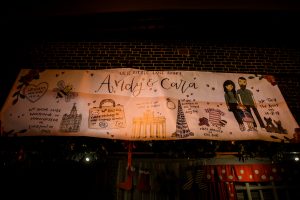 How did you find The Wedding Club? Tell us about that moment when you found and chose your dress – how did it make you feel when you put it on for the first time?
I found the dress online and searched for stockists, I needed to try this dress and I came across the Wedding Club Birmingham who were luckily having a Rue De Seine Trunk show that weekend!
I tried several dresses but just kept going back to the Adara gown – that was my favourite from the moment I saw it on their website. I decided to have the dress without the sleeves initially but when it came to my fitting, I wanted cuffs, Tess the seamstress was amazing and sourced a material to match the dress perfectly.
My Mum then customised the cuffs by adding gold chains to finish the look off. I was so, so happy with my experience at The Wedding Club, they were so helpful from the very first contact.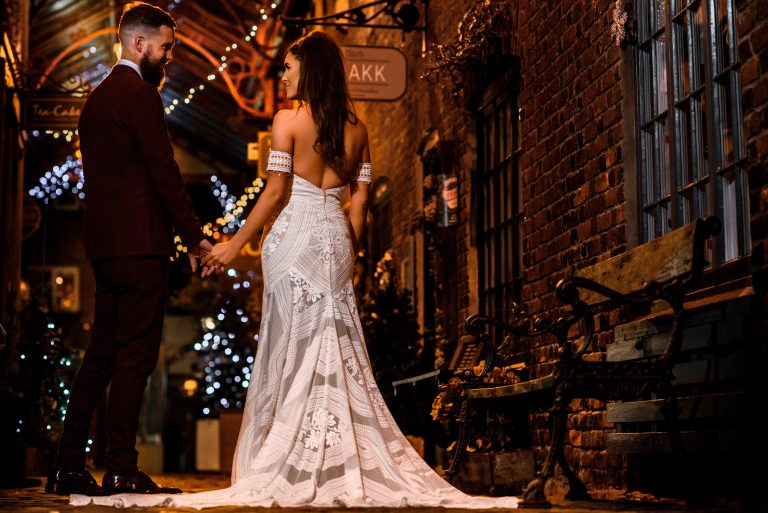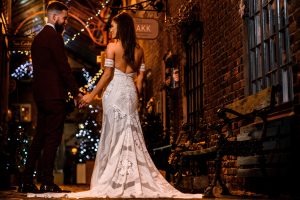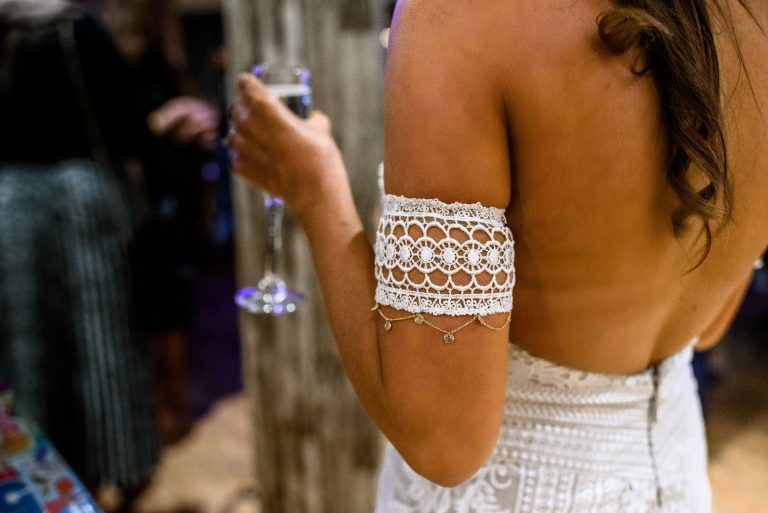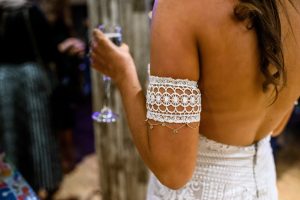 Which designer did you wear?
Rue De Seine, Adara gown. My absolute dream dress!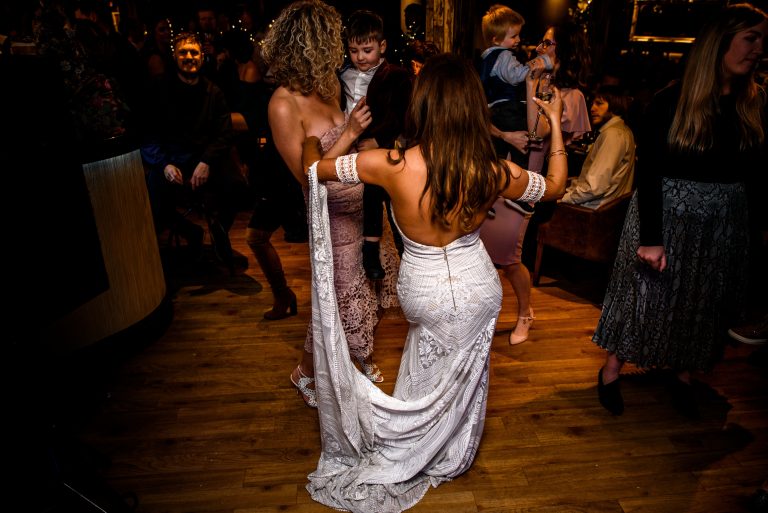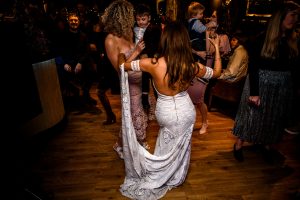 Where is the suit from? Why was it the perfect fit?
Asos. Our colour scheme was deep reds, burgundy, wine, plums etc. He wanted a skinny burgundy suit & navy tie. After a lot of searching, we came across one from Asos Design which was perfect.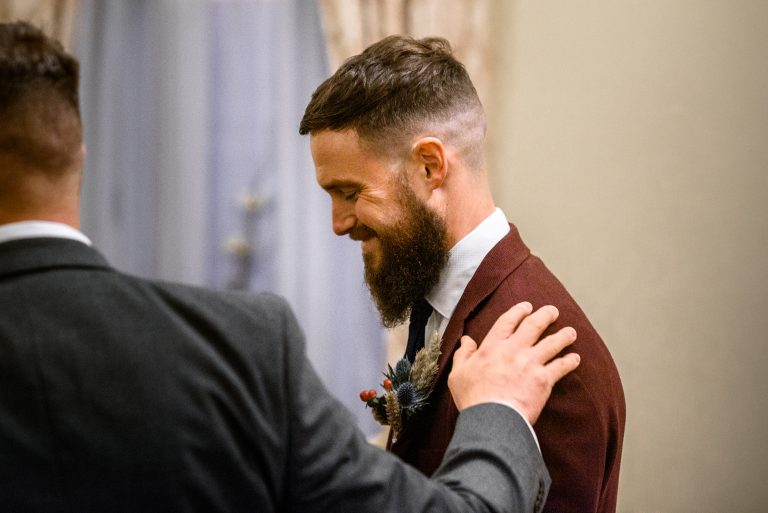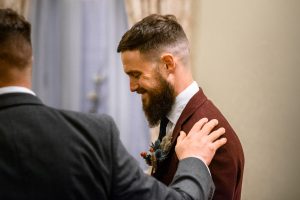 Did you have speeches? Who performed them?
Yes nothing too formal, just Andy, he wanted to thank our parents, raise a toast to family who couldn't be there with us and wanted to say a few things about me.
He'd been quite nervous during the run up to the big day, worrying about his speech but he absolutely nailed it! It was so sweet, personal and heartfelt with just the right amount of funny! It was really lovely.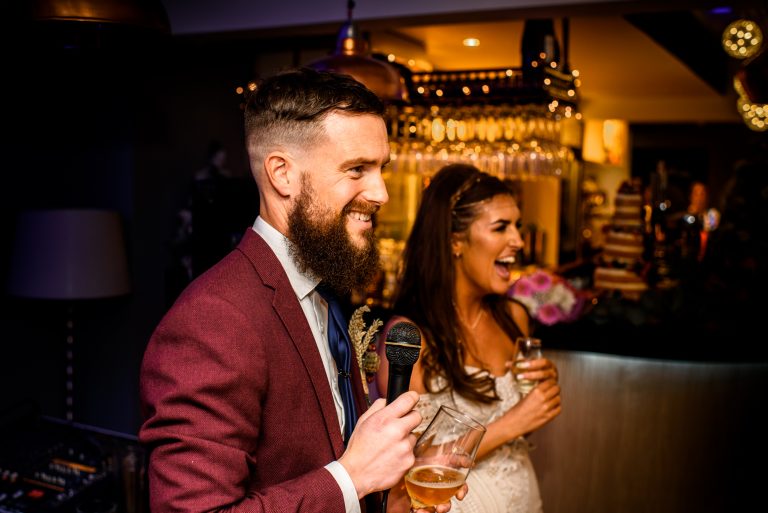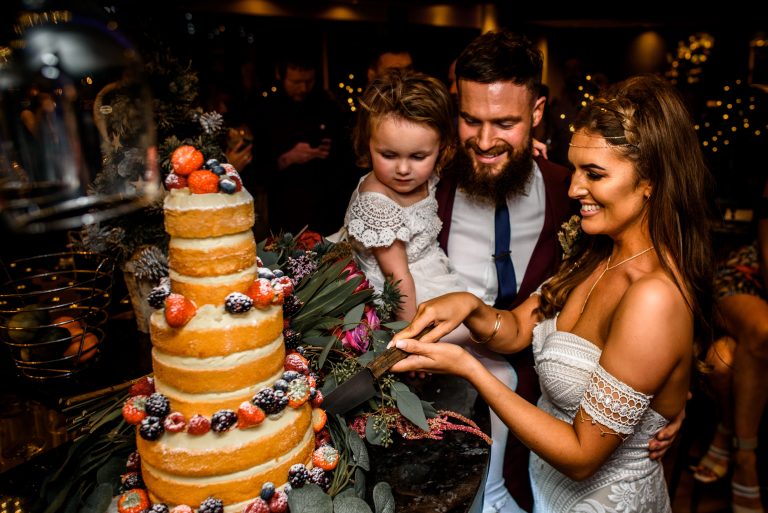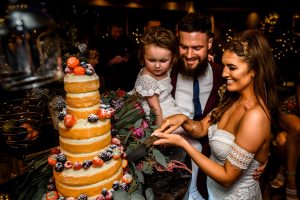 Did you have a first dance? What song did you choose and why? How was the performance?
Yes, Jasmine Thompson Acoustic Ain't Nobody. The version with Felix Jaehn was around a lot the first Summer we had together and brings lots of happy memories.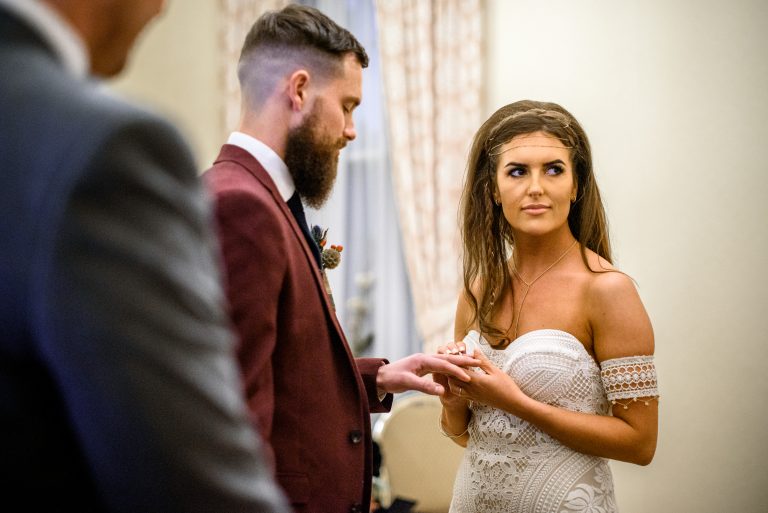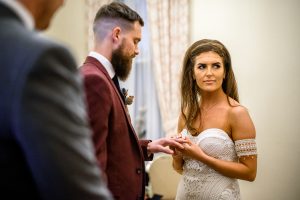 How was the party?
Fantastic, everyone seemed to really enjoy it! They were all very merry and in the Christmas spirit!
We had a singer who did acoustic sets between the DJ getting everyone up dancing.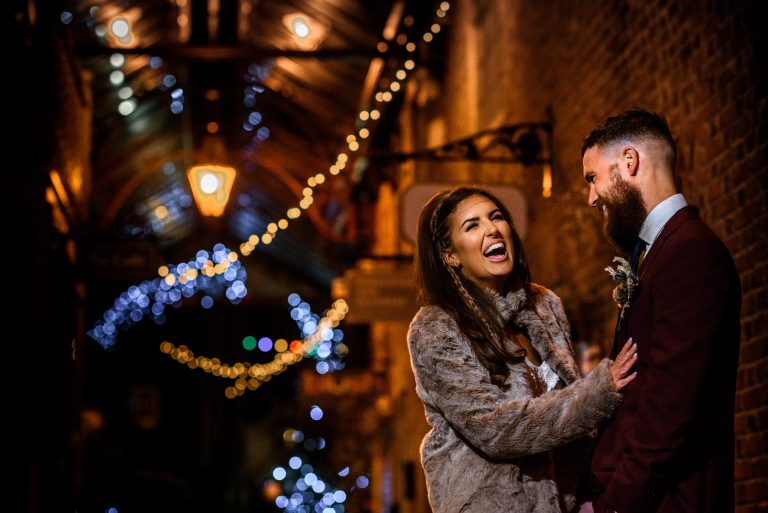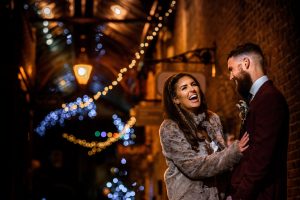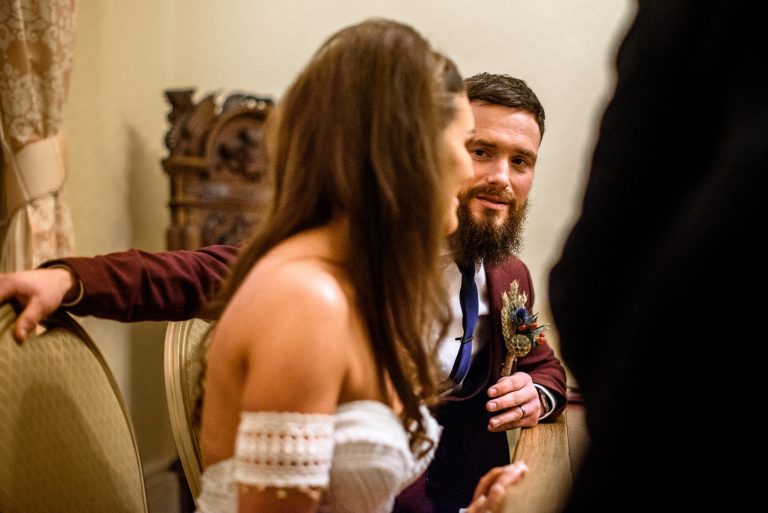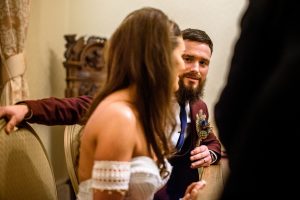 Wedding planning advice for brides to be?
An obvious one really but set up a Pinterest board with your fiancé, it is a great way to share and search for ideas. We were constantly adding things we wanted so had it all in one place.
Also don't put too much pressure on yourself. Remember the reason you're doing it. Just try and enjoy it all, it goes so quickly, cherish every moment.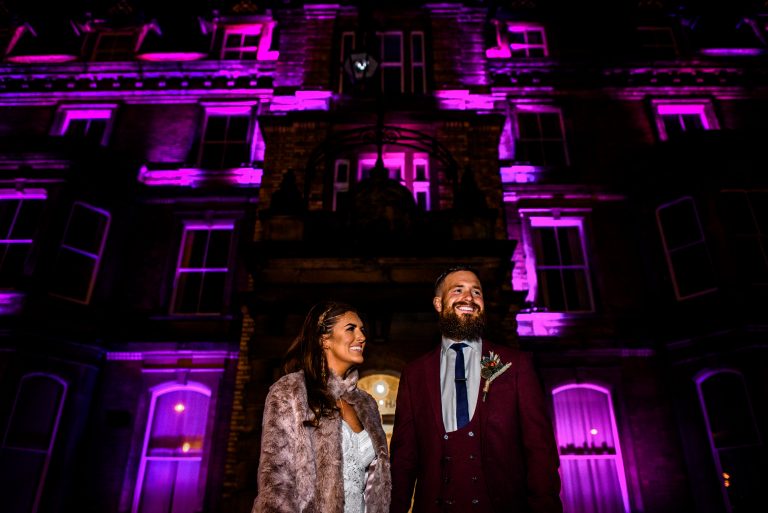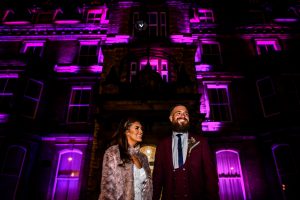 One moment you'll never forget:
I actually have two.
It wasn't planned but our 3 year old daughter walked me (well got carried by my Dad!) down the aisle so actually gave me away with my Dad.
We had planned for her to walk ahead of me with our 6 year old niece but she got stage fright 2 minutes beforehand and clung to her Pappy!
The other was seeing Andy standing at the end of the aisle holding back tears as I reached him!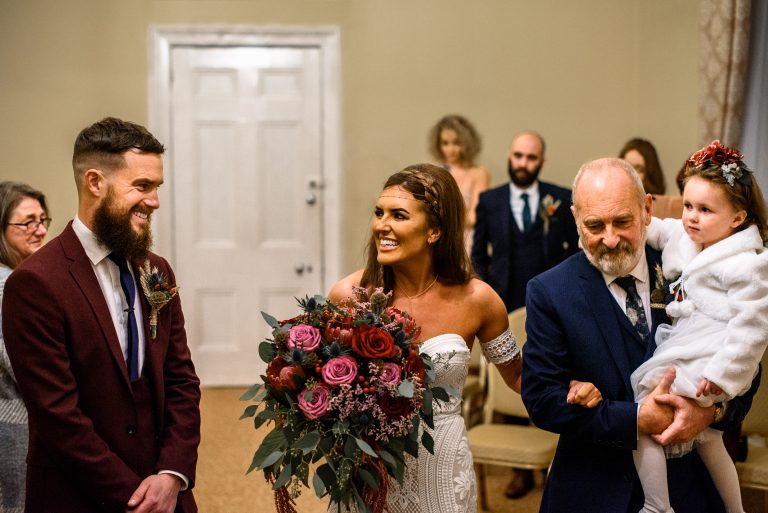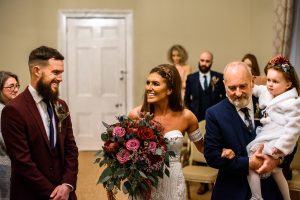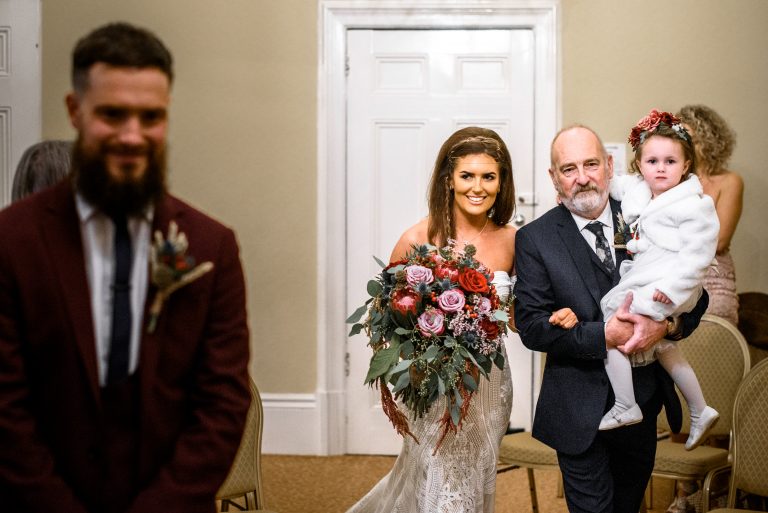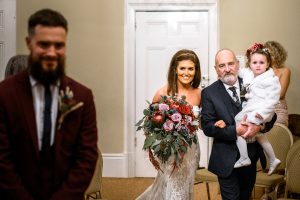 ❤️
Dress – Rue de Seine available at The Wedding Club Birmingham
Photography – Adam Lowndes
Makeup – Laura Whitehurst
Flowers – Marie's Flowers
Venue – Leek Bar & Grill