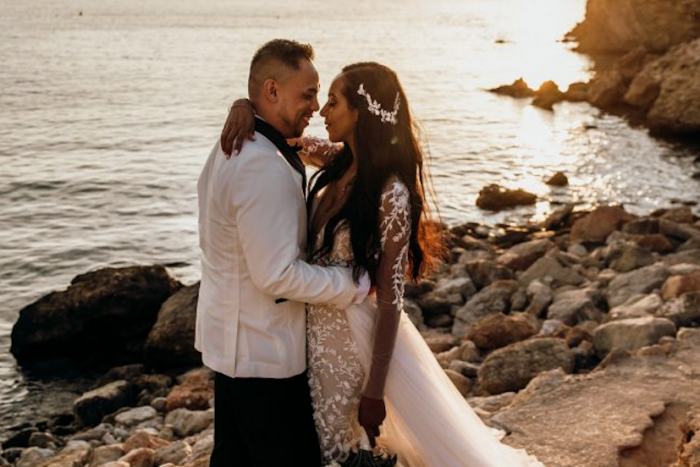 Scenic & Bright Ibiza Wedding In Berta Gown
❤️ The TWC Effect – Our brides, their way ❤️
Today we are off to Ibiza with Denise and Marco who have made sure their love of travel was a big focus on their big day. The fashionista couple looked super suave, and pulled off the perfect destination wedding full of fun and dancing!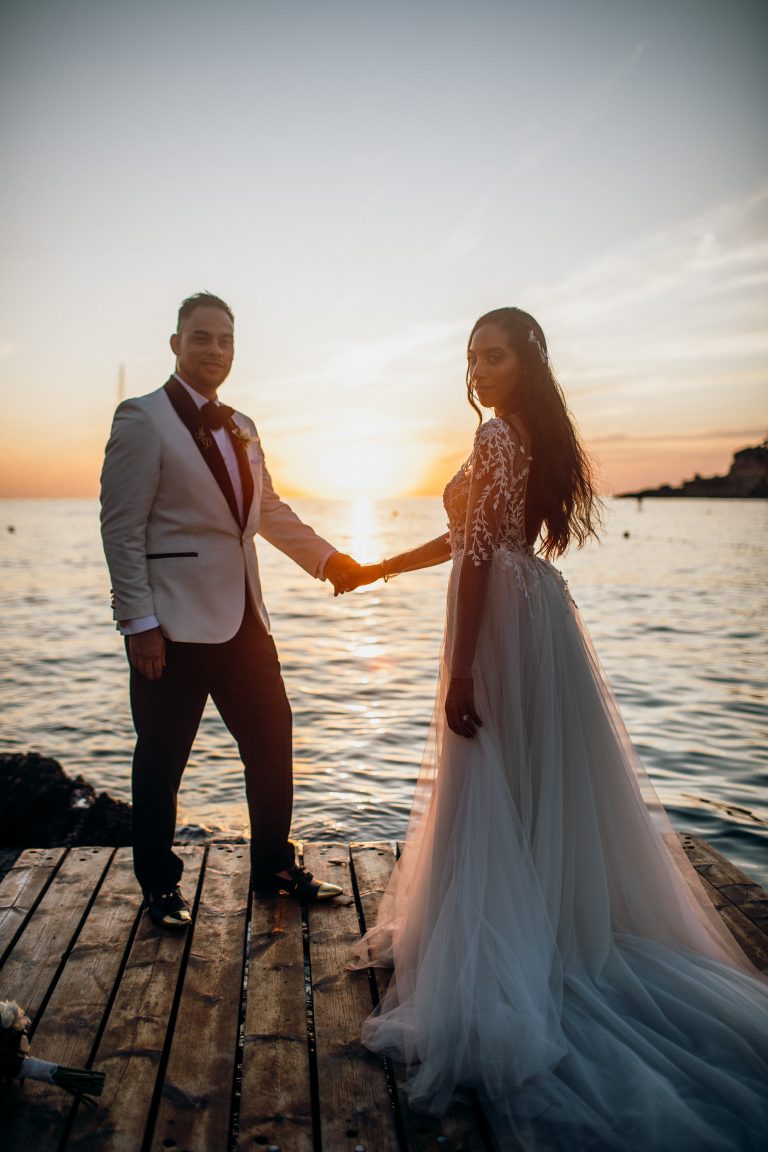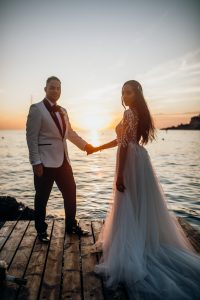 How did you meet?
Weboth attended the State University of New York at Stony Brook, but at different times. In 2008 we were introduced by Caroline Sanchez (the Matron of Honor), who is a mutual friend. Caroline unknowingly even crashed our first date! Marco had asked me out to see a movie, and without knowing it was a date, I invited Caroline too. When we showed up, it was clear it was supposed to be a date. Oops!
Marco then pulled me aside and asked me out again, this time making it clear he was asking me on a date. As you say, the rest was history…Days turned into weeks, weeks into months, and months later we adopted our furry son Chico who has become the centerpiece of our loving relationship.
In 2016, Marco received a huge promotion opportunity from his company, which required us to leave family and friends in NYC. Along with Chico, we decided to pack their bags and move across the pond to London, England for a new exciting adventure!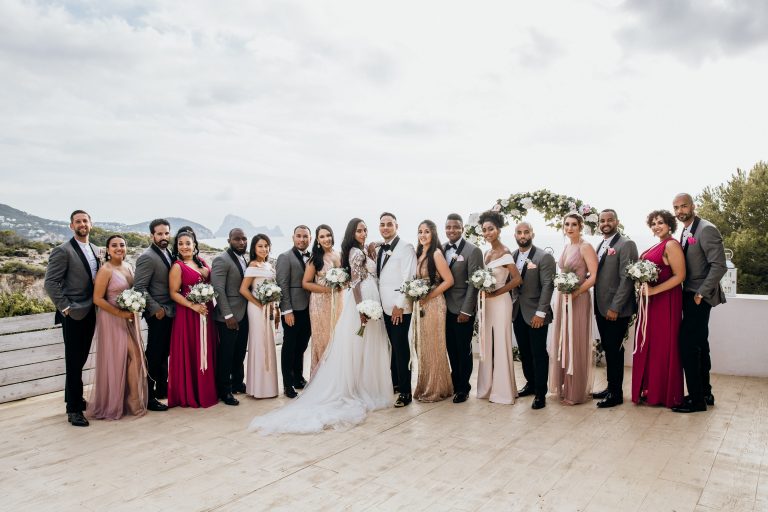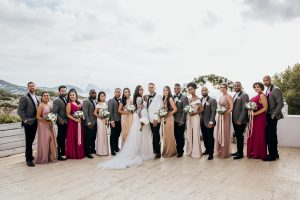 Was it love at first sight?
I wouldn't say love at first sight, but definitely attraction at first sight. We were drawn to each other immediately and used any excuse to meet up, call or text each other.
I was still away at university, so Marco would come and spend the weekends on campus with me. After a few months, we had the tiniest silliest argument. I take the blame here, I can be very indecisive when it comes to choosing restaurants.
I remember asking him "why are you upset?" Marco just blurted "IT'S BECAUSE I LOVE YOU" – Not sure how that was related to food, but he must've just been thinking about saying those words all day! I started crying immediately saying "I love you too" for the first time. From that moment forward, we both knew this was a different kind of love and one that was definitely meant to be.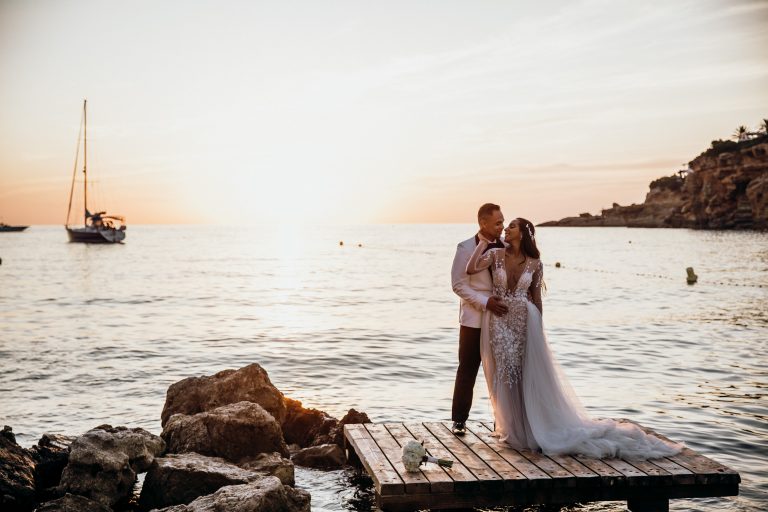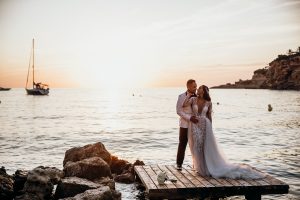 Who proposed and how? Lovely details, please!
While in the UK we caught the travel bug, quickly adding more stamps to our passports, something we had always aspired to do. In 2018, we took an epic trip to Greece, visiting the islands of Mykonos and Santorini, and the capital city of Athens.
While in Santorini, and during our tenth year of dating, unbeknownst to me, Marco had a special dinner planned. To my surprise, I turned a corner and saw Marco stood inside a heart of candles, with the sunset into the Aegean sea set as the backdrop.
After a decade of love, he dropped to one knee, and asked me mate to marry him! I said yes of course! Marco thought of it all, including flying in my best friend Caroline from NYC to witness this special moment. However it didn't end there. As we boarded our flight from Santorini, Marco asked "What is your favorite European city" To which I responded with "Paris". Marco put his arm around me and said "We're off to Paris so you can have your dream engagement photo shoot".
Keep in mind this was our ten year anniversary, making it even more spectacular.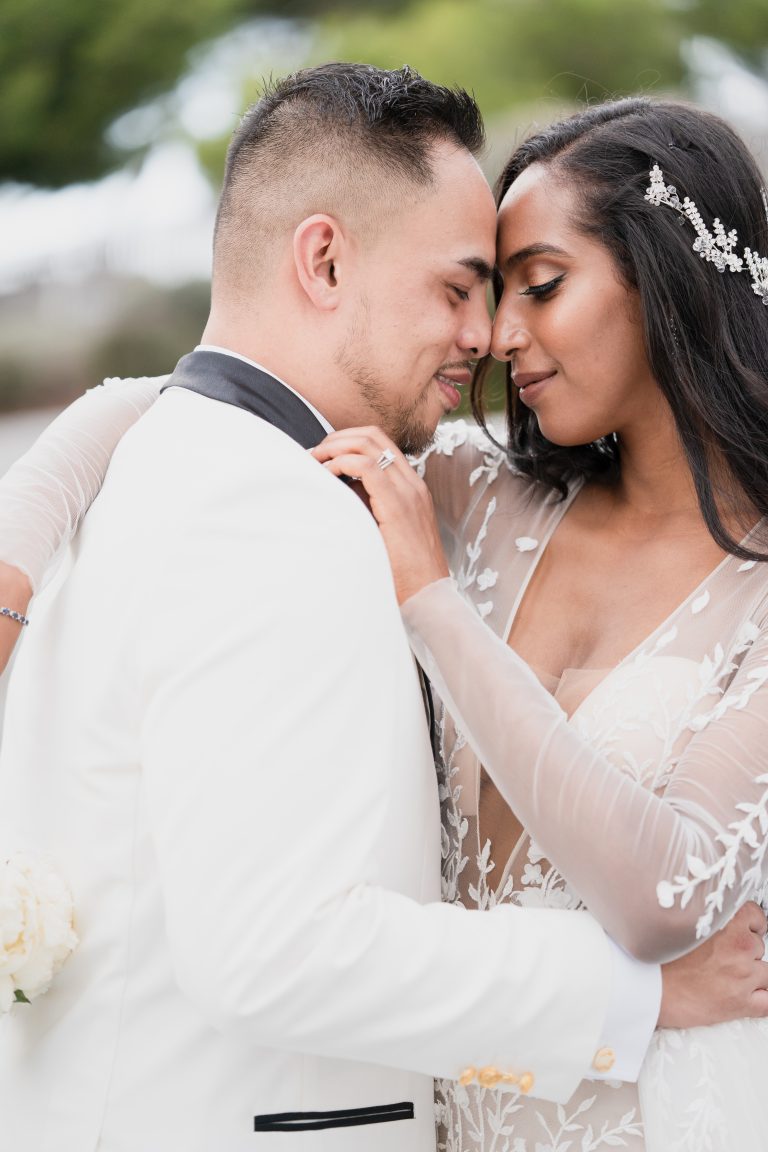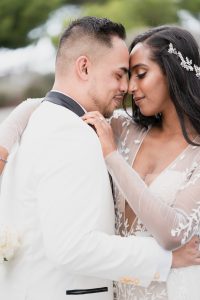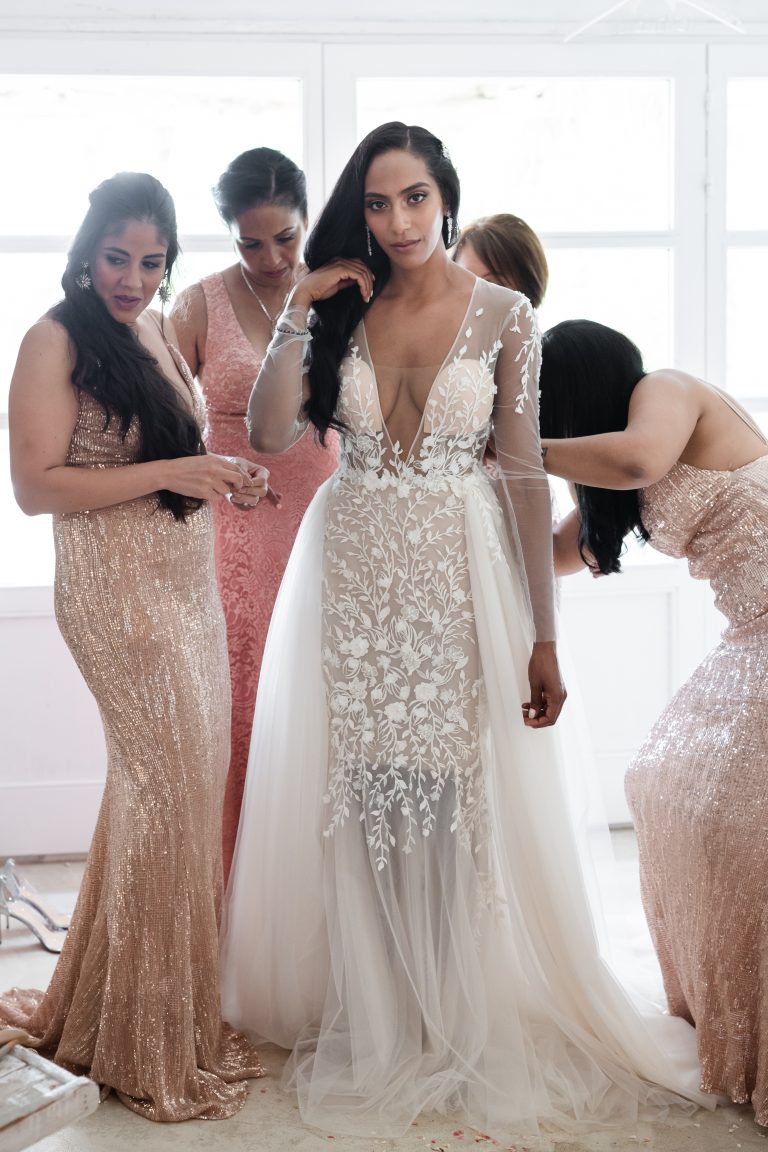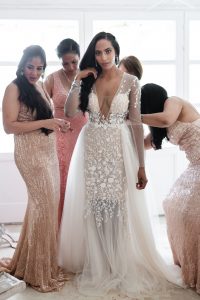 Did you have a theme for your wedding? How did it come about?
We did! We wanted to incorporate our love for travel into our wedding. We had our wedding invitations custom made by "The Paper Doll". We wanted a unique invite that wasn't done before. That's when we came up with the idea of an American passport.
The team at "The Paper Doll" took our ideas and created the most luxurious passport invites for us. For favours we gave mirror gold luggage tags custom made from "Sketch and Etch Creative". They doubled up as placement cards as each one was personalised with each guest's name. Having a destination wedding was the icing on the cake.
We also wanted our wedding to have a luxurious romantic feel to it. Having a fabulous venue with breathtaking views made it easy to accomplish. We added plenty of romantic flowers and kept the colours light. It all came together beautifully.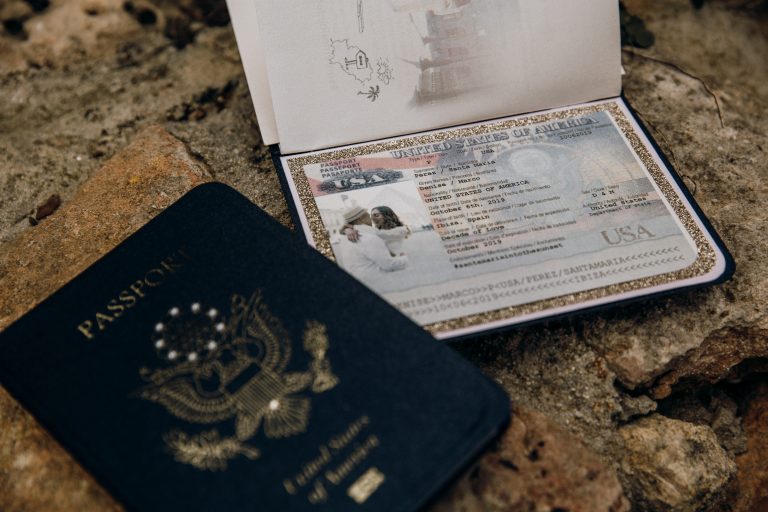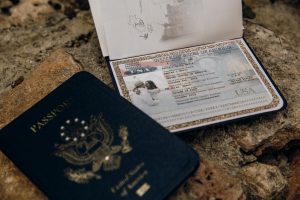 Location and how you found it?
We always knew we wanted a beach destination wedding because we both have a genuine love for the ocean. We chose Ibiza because of its beauty and energy. When we first visited the island we felt a sense of peace and acceptance unlike anything we've felt before. We couldn't quite put our finger on it but we kept going back, and each time we continued to feel nothing but pure magnetism.
We read up on the history of Ibiza and how ES Vedra is said to be the third most magnetic point in the world, and the source of Ibiza's inexplicable energy. When we saw Es Vedra, we felt it's beautiful spirit. We then immediately knew this was where we wanted to bring our friends and family to witness our union.
We wanted a venue that had a clear view of Es Vedra with both a ceremony and reception area so our guests wouldn't have to travel. Having phenomenal food was also a must!
We also didn't want our wedding in the sand as we both love shoes a bit too much to be barefoot on our wedding day. When we saw Elixir, our hearts skipped a beat. It's nestled on a beautiful cliff side with breathtaking views of Es Vedra and Cala Codolar beach. The food and the staff were just as wonderful, and with all of our boxes ticked, we knew it was meant to be.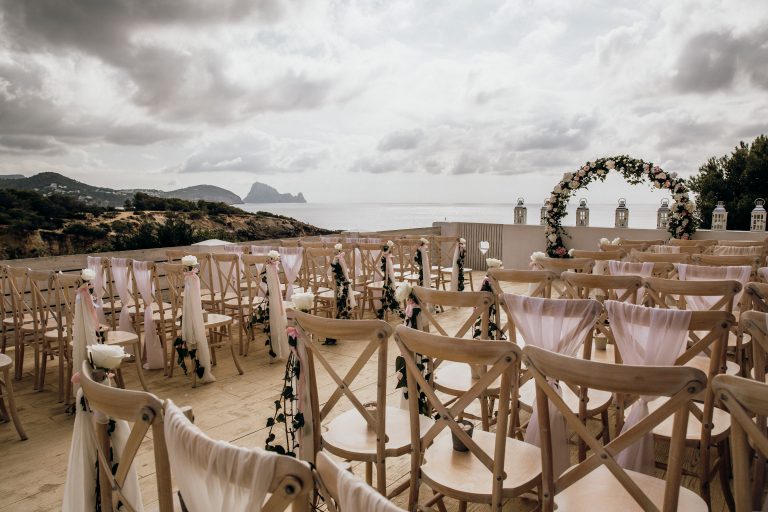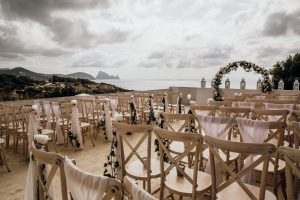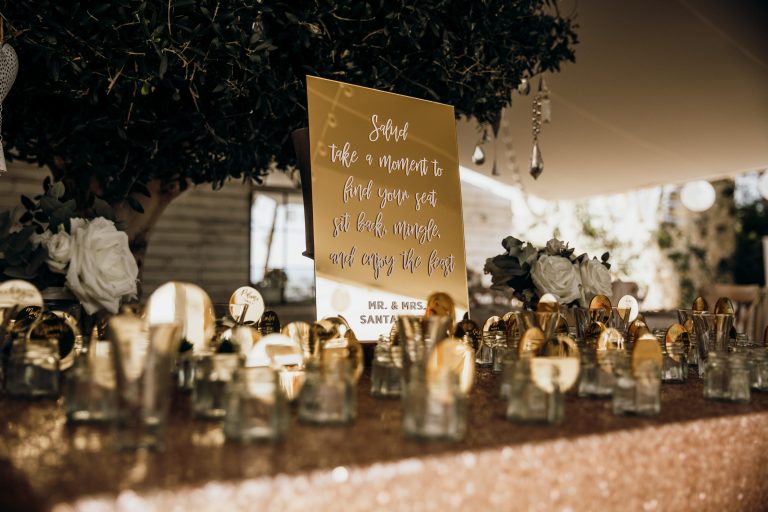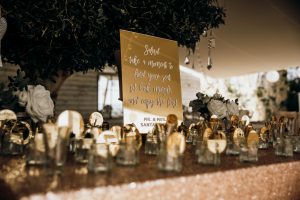 How did you find The Wedding Club? Tell us about that moment when you found and chose your dress – how did it make you feel when you put it on for the first time?
I did my research on where Berta dresses were sold. To my surprise "The Wedding Club" was the only boutique in London who carried the brand. I only made one appointment, knowing that if I were to find my dream dress in London, "The Wedding Club" would be the only place I would find it.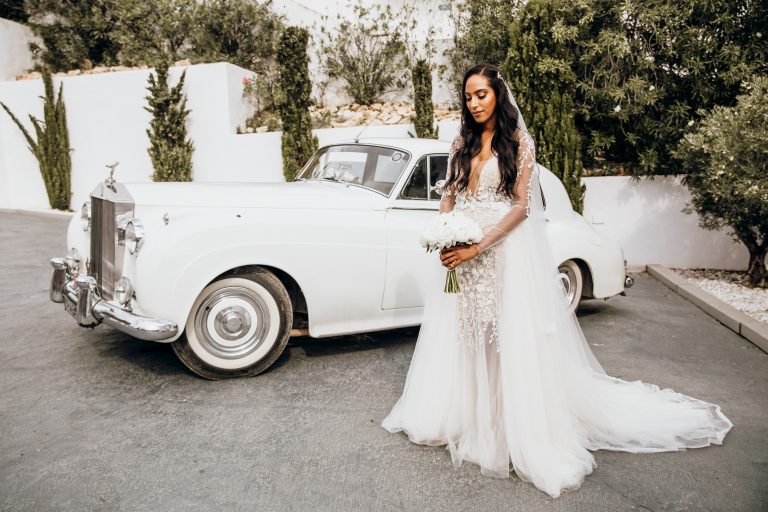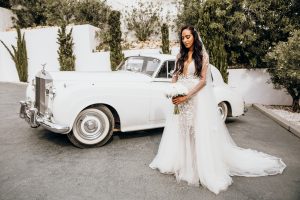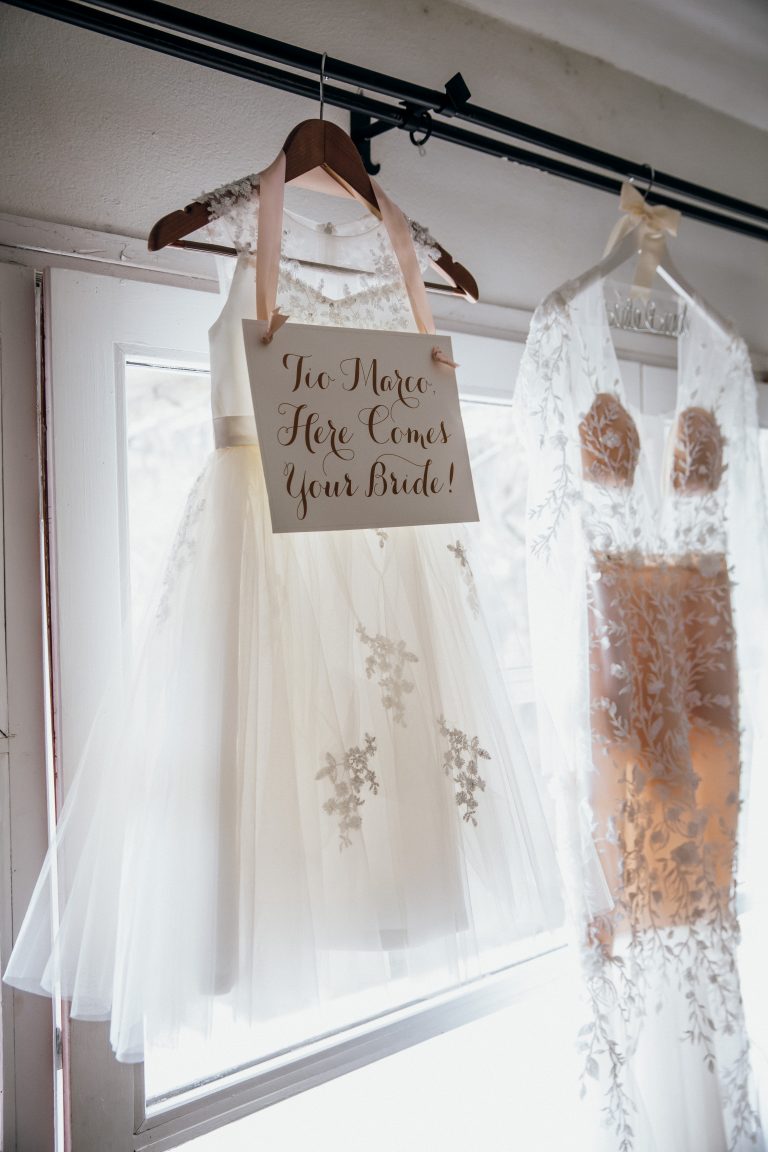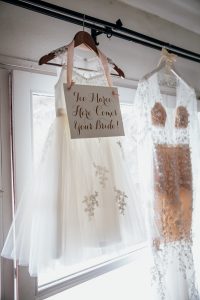 Which designer did you wear?
I fell in love with Berta about five years ago when I saw how modern, and sexy yet tasteful their dresses were. I remember working that much harder because when the time came, I knew that I would marry in Berta.
I wanted a dress that would give me two looks, as I didn't want two dresses. My dress was the second wedding dress I had ever tried on and when I first saw myself in the mirror I lost it and though it may sound cliche, that dress chose me.
It was 5AM in NYC when I called my mom, who unfortunately couldn't be with me in London. When she saw me, she was speechless and couldn't control her tears either. My two bridesmaids who flew in from NYC also couldn't control their emotions. So with a room full of super emotional women, I said YES to my Berta dream dress.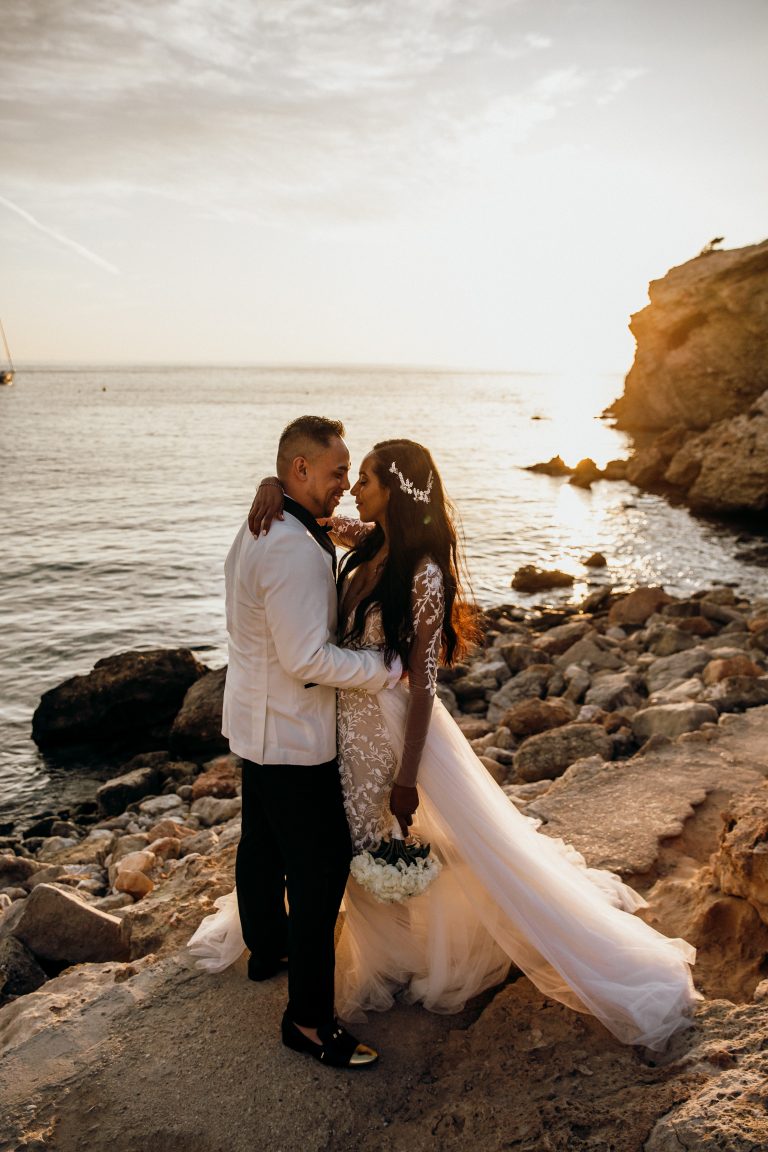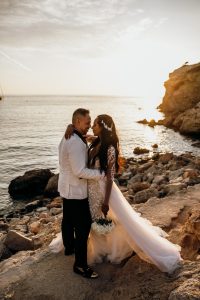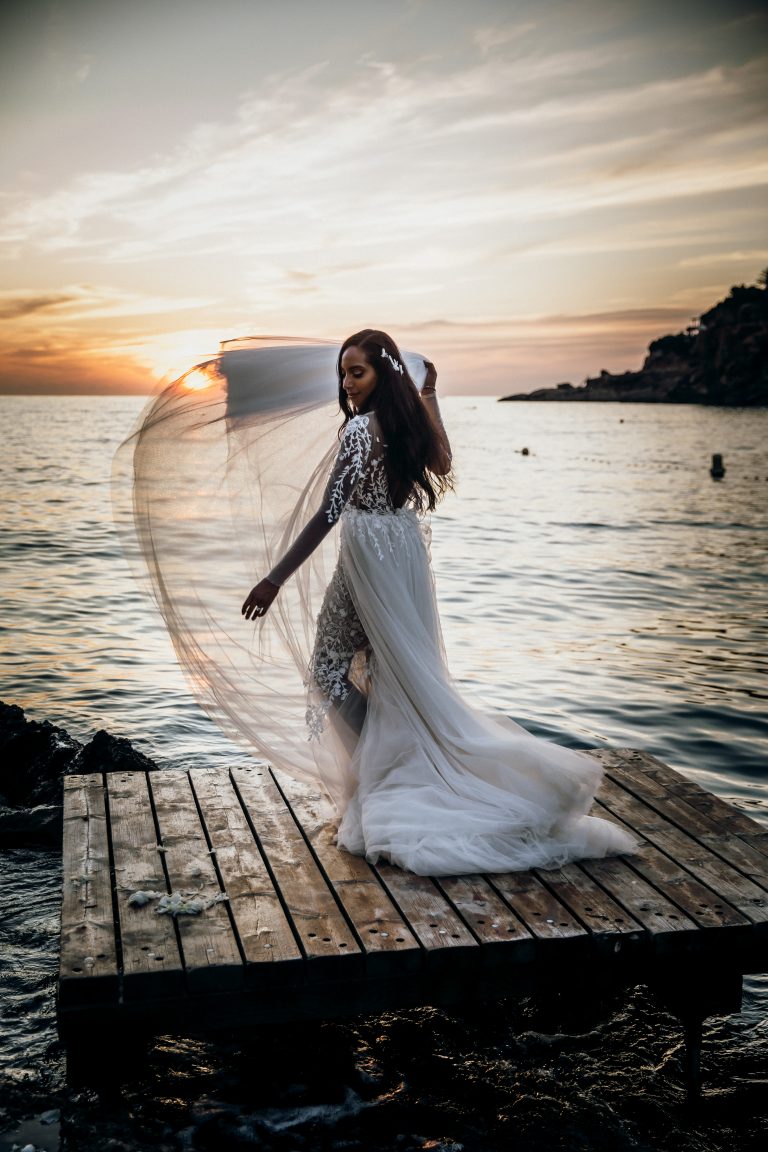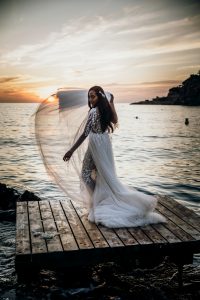 Where is the suit from? Why was it the perfect fit?
Marco's suit was tailor made by a family friend. He's the fashionista in the couple. He knew exactly what he wanted and since he couldn't find it, he designed it himself and had it made. He kept the entire process a secret from me, including the colours so that on the wedding day we both could have that epic first look moment.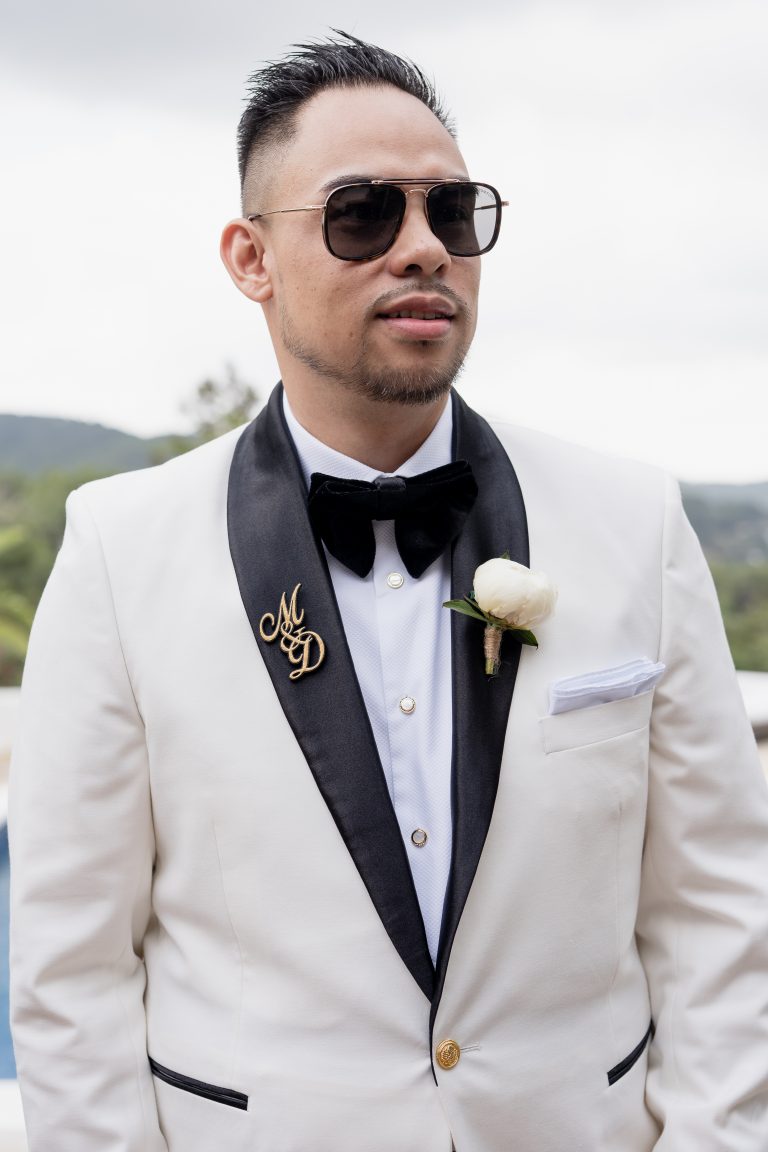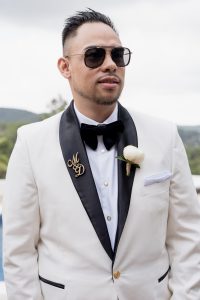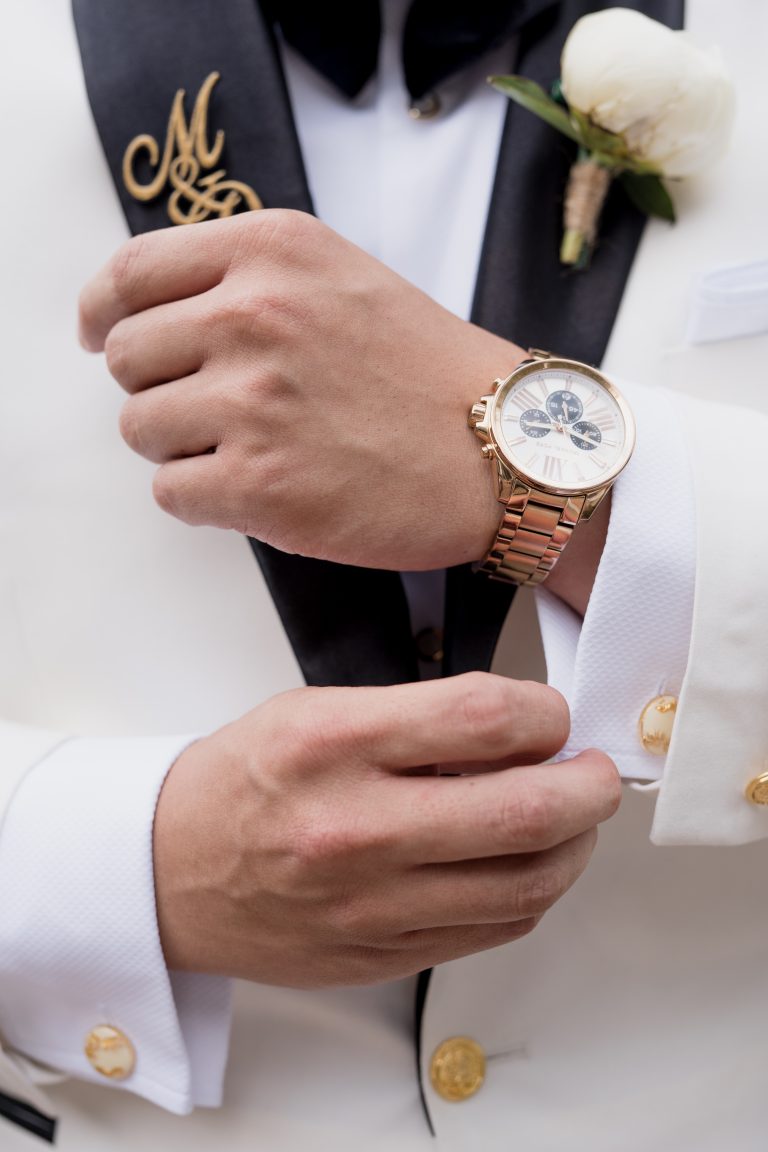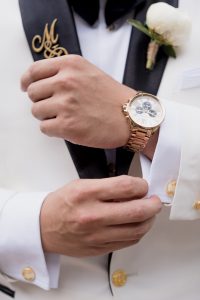 Did you have speeches? Who performed them?
Being American our wedding speeches are quite different from what is traditionally done in the UK. We had two maids of honour and two best-men. All four had speeches to perform. They were all phenomenal!
My sister (maid of honour) in her speech mentioned how we would fight as kids from our bunk beds for the TV, her wanting to watch "WWE"and me "Charmed". All of our guests burst out into laughter, it was such a memorable moment!
However, leave it to Marco's brother (best-man) to try and top it. In his speech he mentioned how he had the opportunity to live with us for some time, and how his favourite part was always coming home to dinner (cooking is my passion), he ended his speech with "Thank you bro for never letting Denise know I can cook". All four of them gave beautiful, heartfelt, yet funny speeches, and our guests loved every bit of it.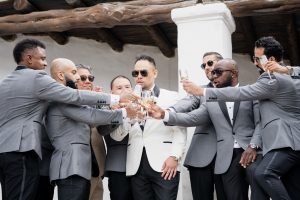 Did you have a first dance? What song did you choose and why? How was the performance?
Our first dance was to "A Thousand Years" by Christina Perri. We picked this song mainly because of the lyrics and how well they portrayed our love story perfectly. Marco is a fabulous dancer and choreographed our dance. I have two left feet so it was simple, but also full of romantic moments and dips that had the crowd going. It was perfect!
I had a father daughter dance to "Stand By Me" by Prince Royce. Coming from a Hispanic background, I always knew my father-daughter dance would be in Spanish. My step-father is someone who has supported Marco and I in ways that words would never express. I danced with him to show him that he also was an important man in my life.
Growing up, for most of my life, my mom was often both parents (until my step-father joined our family). We would celebrate her both on Mother's Day as well as on Father's Day. We planned to surprise my mom, and we did just that! Mid way through the song, my step-father walked toward my mom and passed me off to her so we could finish the dance, making it a father-daughter-mother dance. It was an incredible moment for all of us, especially for my mom.
Marco had also been planning his mother-son dance since I could remember. He picked his song long before we ever thought about getting married. He's extremely close with his mom and this moment was everything for him. They danced to "Song for Mama" by Boyz 2 Men. While they danced he sang to her as he held her close, yes Marco can sing too, he's beyond talented and artistic! There wasn't a dry eye insight.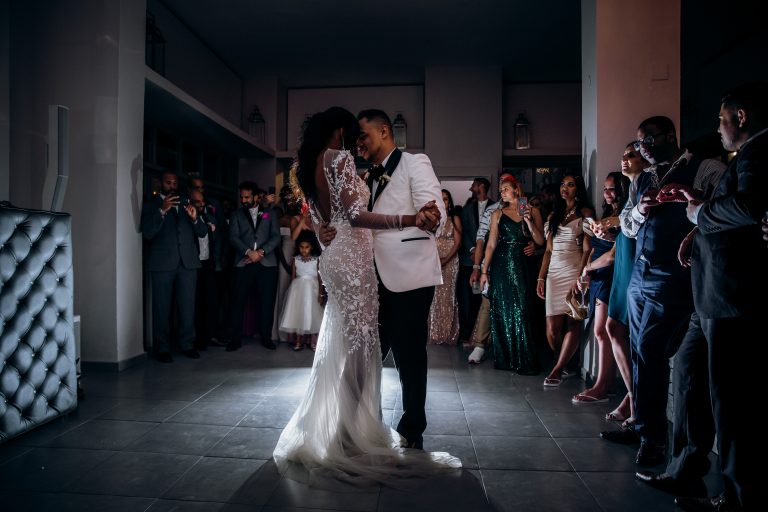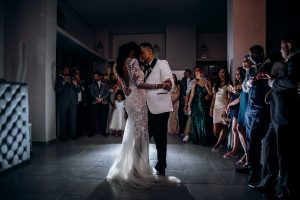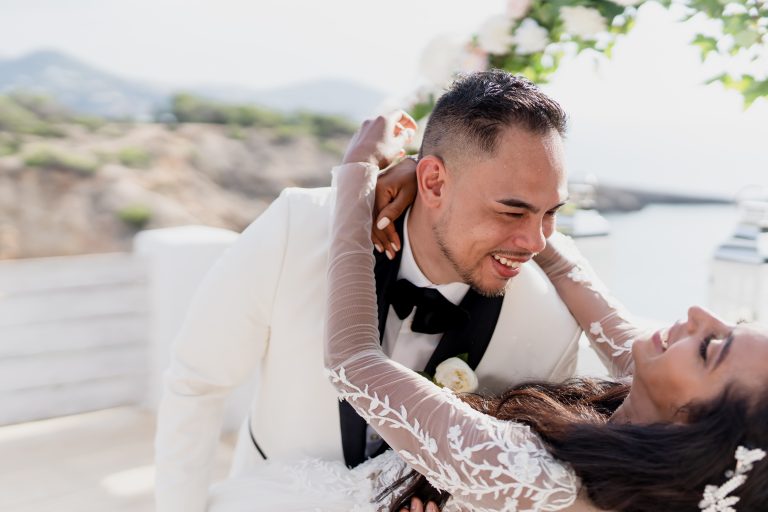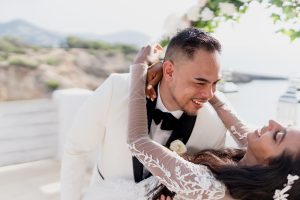 How was the party?
The party was phenomenal! We had an MC introduce the bridal party as they entered the party room. Before we were introduced as the new Mr and Mrs Santa Maria we had a quick wardrobe change. I had taken off my over-skirt and had the beauty team give me a second look. Everyone loved my dress previously, but when I took off the over-skirt all you heard were a bunch of ooos and ahhhs. We were ready to party and looked fabulous!
After the first dances we had a bouquet toss, followed by the garter removal. Marco yet again had something up his sleeve! As I sat on a chair in the middle of the room, "Nice and Slow" by Usher came on. Marco had a full choreographed dance! It was sexy, hilarious and completely unexpected! I blushed and threw my head back in laughter as he pulled off the garter, not with his hands, but with his mouth! Where was mom you might ask? Well, she was right next to us recording the entire thing on her phone, yelling that's my son! It was phenomenal!
We hired a sax player to play during the party, nothing says Ibiza like a sax player while guests are waving their LED wands in the air! Everyone loved it! You couldn't get Marco's parents off the dance floor. We finished the party with Spanish music. My family ran out of nowhere to the dance floor yelling "FINALLY"! It was hilarious! Everyone joined in and it brought everyone so much closer. My friends and family pulled those who didn't "know" how to dance to the music on to the dance floor, and showed them. It was a beautiful moment.
We ended the party with "Something Just Like This" by The Chainsmokers. We had the first verse of the song done as a reading by my aunt during our ceremony. We thought it was the perfect way to end such a wonderful day and tie everything together.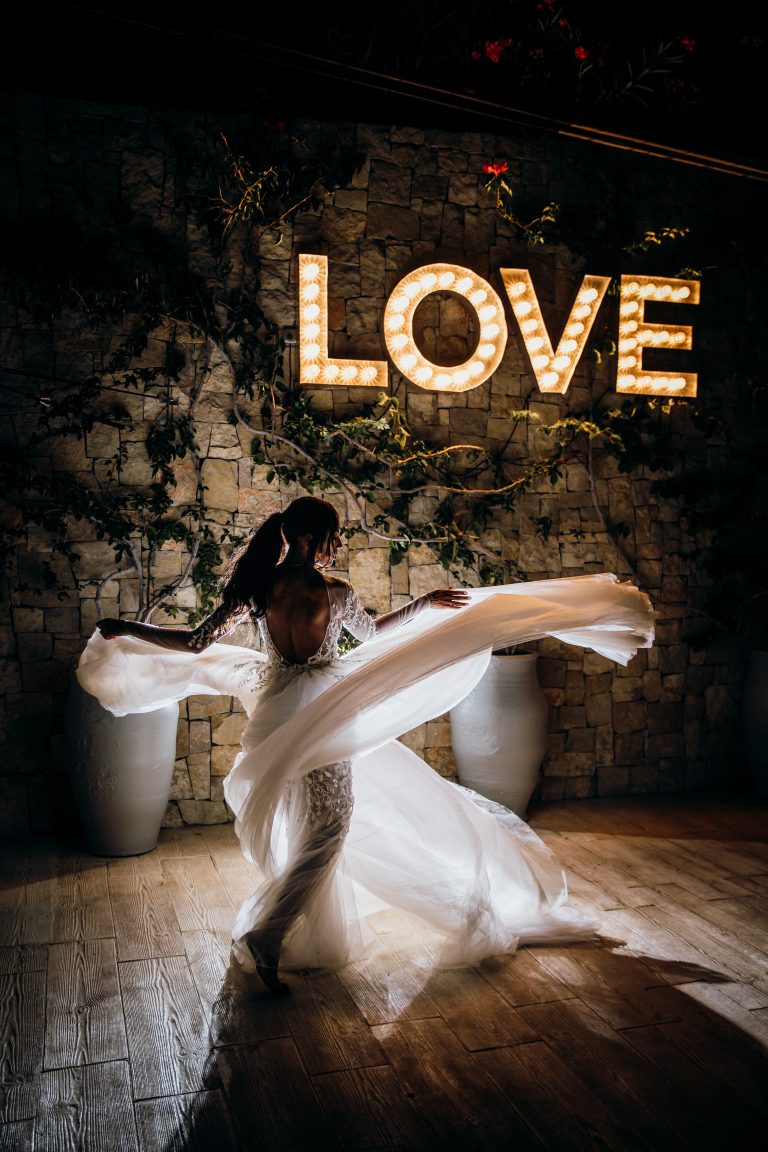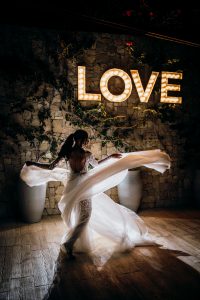 Wedding planning advice for brides to be?
When it comes to wedding planning, start with a proper budget and try to stick to it, but do leave some wiggle room as things do tend to come up. If your budget allows for it, hire a wedding planner or at least a day of coordinator so that you're free to enjoy every moment of your wedding day. Last thing you want is to answer calls from vendors on our wedding morning. But most importantly, have fun! Enjoy your engagement period as it flies by so quickly.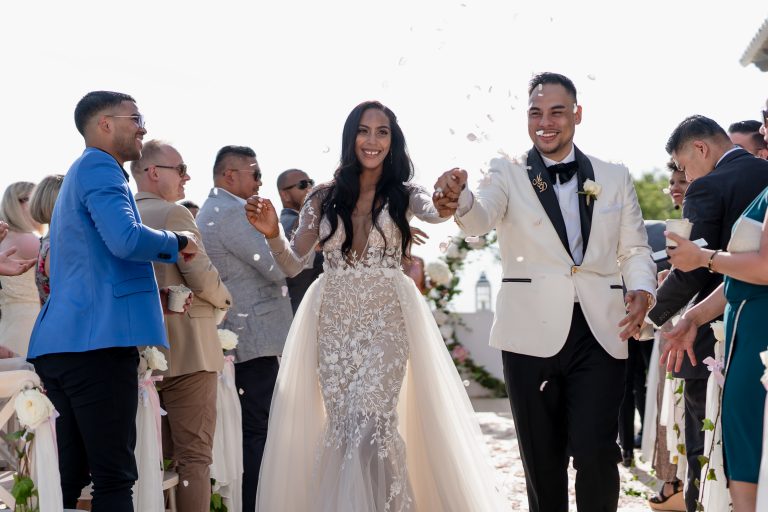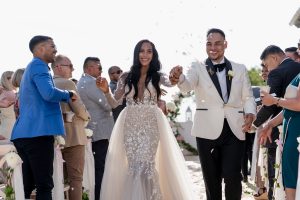 One moment you'll never forget:
I'll never forget the moment I saw Marco standing at the altar as I walked down the aisle towards him. His smile was the biggest it has ever been, filling my heart completely. When I reached him, naturally I just wanted to kiss him, but he squeezed my hand and smiled letting me know it would be worth the wait.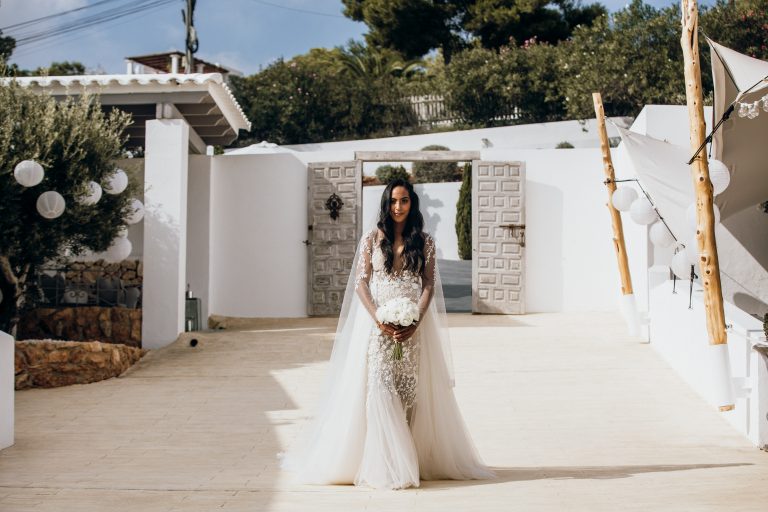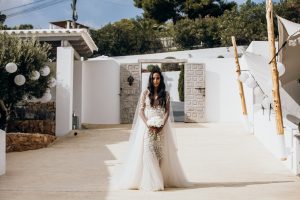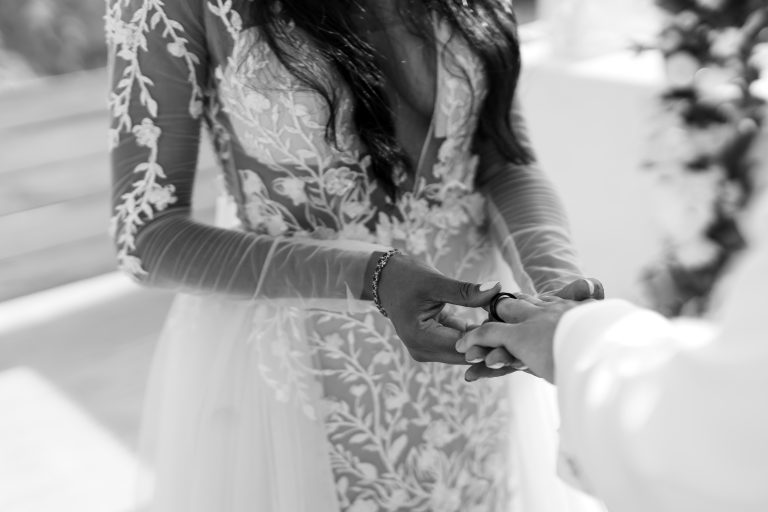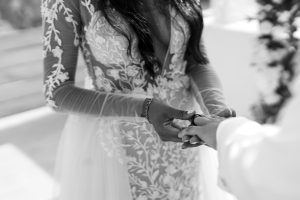 Dress – Berta available at The Wedding Club Knightsbridge & Birmingham
Suit – Custom made
Photographers – David Christopher & Matt Morgan
Planner – Leah Lyons
Celebrant – Danielle Alex
Videographer – Shout It Yourself
Performer – Grabo Bakos
Venue – Elixir
Jewellery – Victoria Percival
Groom's Accessories – Gre-Dee Arts & Saran Kohli
Flowers – El Ramo de Flores
Hair – Elia Martine
Makeup – Jo
Invitations – The Paper Doll
Favours & Decor – Sketch and Etch & Sugar Box
Wedding Hashtag – #SantamariaIntoTheSunset